Fiat CR.42 Falco

The CR.42 Falco (Falcon) was the last of the great biplane fighters entering flight testing in late May 1938. It was a successor of CR.32 that had claimed great success in the Spanish skies during the civil war.
The CR.42 was manufactured in larger numbers than any other Italian fighter, remaining in production as late as 1943. Extremely light on the controls, universally viewed as a delight to fly, superbly agile and innately robust, the CR.42 synthesised a decade-and-a-half of continuos fighter development; it was a thoroughbred with a distinguished pedigree carrying fighter biplane evolution to its apex. But its intrinsic qualities were those demanded of an earlier era in aerial warfare than that in which it was to find itself. The CR.42 was nevertheless to see combat throughout WWII and, curiously, was to fight against the Luftwaffe, alongside the Luftwaffe and with the Luftwaffe itself, singing the swan song of the fighter biplane while doing so.
The CR.42 was exported to Belgium, Sweden and Hungary, seeing combat in both Belgium and Hungary. Regia Aeronautica used them on all fronts (e.g. North Africa, Mediterranean, Battle of Britain and East Africa). The Luftwaffe used more than 100, as night attack aircraft in relatively quiet theatres and as fighter-trainers.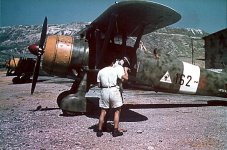 An excellent colour photograph of a CR.42 of 162a Sq. employed on the Aegean front in 1941; Apparently, the camouflage is consisting of a base in light green instead of the usual sand colour.
© Archive D'Amico-Valentini
Image kindly via Ferdinando D'Amico.
Click on the image to see it in full size.
The CR.42 saw service in: Belgium (23), Germany (100+), Hungary (72), Italy (IAF, RSIAF, IcoAF), South Africa (2 captured ex-Italian), Sweden (72)
Total production: 1780+
Technical details
Type:__________Fighter and Reconnaissance
Span:__________9.7 m
Length:________8.25 m
Engine:________Fiat A.74 RC 38 / 840 hsp
Max speed:_____430 km/h
Max ceiling:___10200 m
Range:_________775 km
Armament:______2x12.7 mm machine guns + 200 kg of bombs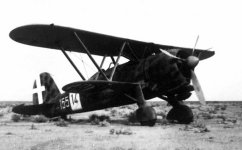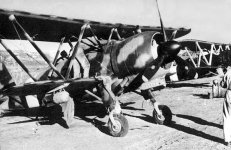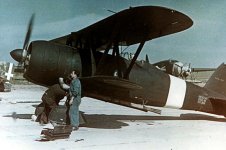 Left: A rare shot of a CR.42 of 155a Sq., 3o Gruppo Caccia in North Africa in December 1941. The use of this aircraft as attack plane is evidenced by the two bombs hung under the wings. © Archive D'Amico-Valentini
Middle: Seen in Sicily on June 1943, this is one of the CR.42s employed as "last-ditch" effort against the Allied landings. Several interesting details are noticeable: the sand filter under the nose; the large new spinner, and the elimination of the wheel pants to improve a fast maintenance of the leg oleo struts. The late camouflage consisting of dark green overall with big sand blotches is even more noticeable here. © Archive D'Amico-Valentini
Right: A late CR.42 "Serie XIII" C.N. (Caccia Notturna - modified for night-fighter role) still to be delivered to the operational unit. The long exhaust flame dampers and the machine gun flame dampers are particularly interesting. © Archive D'Amico-Valentini


Images kindly via Ferdinando D'Amico.
Click on the images to see them in full size.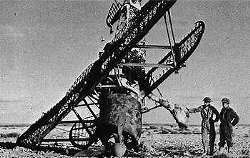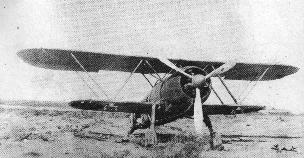 Right: CR.42 damaged by one of 33 Squadrons Gloster Gladiators, Libya, 1940.
Image from Operation Mercury - Marcel G. Comeau, 1991 kindly via Yuriy Svoyskiy.
The famous test-pilot Captain Eric M. Brown, RN, had an opportunity to fly the captured CR.42 MM5701, which was captured after a forced-landing in the later stages of Battle of Britain. He reported that the aircraft was an aerobatic gem. It was remarkably fast for a biplane with a top speed of 270 mph at 12,400 ft and a marginal stability, the hallmark of a good fighter. The CR.42 was a superb biplane that gave an outstanding performance for its type, but as a fighter it was under-gunned. Though highly manoeuvrable, like all aircraft with a lot of fabric covering it was very vulnerable to enemy fire.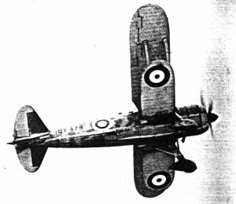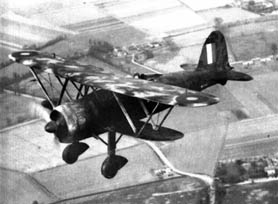 MM5701 while under test by the RAF.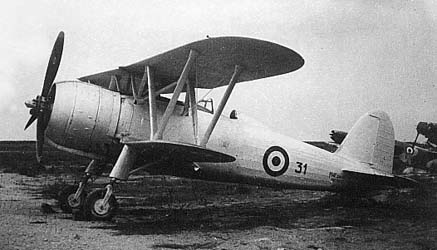 A very rare post-war photo taken in 1946-47 probably at Lecce Flying School of one of the last surviving CR.42s still in service in Italy. Notice the overall silver finish, the OD anti-glare area painted in front of the cockpit and the engine, the lack of both spinner cap and wheel spats. © Archive D'Amico-Valentini.
Image kindly via Ferdinando D'Amico.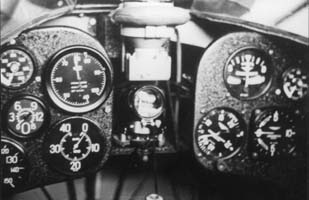 Cockpit instrumentation.
Image kindly via Peter Taghon.

Source:
Combat Aircraft of World War Two - Elke C. Weale, 1985
Courage Alone - Chris Dunning, 1998
Duels in the sky - Eric M. Brown, 1988
Air Enthusiast/Twenty

The Fiat CR.42 in Regia Aeronautica service
Swedish Air Force use of the Fiat CR.42 Falco
The Falco in the Battle of Britain
Fiat CR.42s and Gloster Gladiators over Malta 1940-42
The Fiat CR.42 in the Belgian Air Force service during the Second World War
The Fiat CR.42 in the Free French Air Force service during the Second World War
The Fiat CR.42 in the Hungarian Air Force service during the Second World War
The Fiat CR.42 in the Luftwaffe service during the Second World War
The Fiat CR.42 in South African Air Force service during the Second World War