The Fiat CR.42 in the Belgian Air Force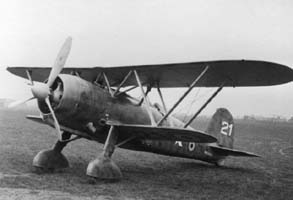 Belgian Fiat CR.42.
Image kindly via Peter Taghon.
In late September 1939 a Belgian purchasing mission arrived in Turin. The mission was charged with negotiating the purchase of 34 (alternative 40) fighters to meet the urgent re-equipment needs of its air arm's IIème Group de Chasse (Fighter Group) and comprising the 3ème and 4ème Escadrilles to replace their ageing Fairey Fireflies. The Italians demanded a high price for the CR.42, but offered delivery within three months of placing the contract. The negotiations were completed in early December and resulted in the second foreign contract of the CR.42. The price of the 34 aircraft exceeded FrBel 3m, and the first CR.42s arrived at the Evere Établissements Généraux de l'Aéronautique Militaire for assembly on 6 March 1940 still carrying Italian camouflage. Each Escadrille was to receive 15 CR.42s (which were assigned the serials R-1 to R-30), the remaining four aircraft being intended as attrition replacements, and the first unit to convert was the 3ème Escadrille. Both Escadrilles transitioned to the Italian fighter in April. IIème Group de Chasse (Fighter Group) was based at Nivelles, south of Bruxelles and led by Major Lamarche, who had been a fighter pilot during the First World War. Its two Escadrilles used as insignia Willy Coppens' cocotte, a paper duck, white for 3/II and red for 4/II.
The first CR.42s to fire their guns in anger were the newly acquired CR.42s of Belgium's Aéronautique Militaire when they were to be involved in a brief but vain attempt to oppose the Luftwaffe. When, on 10 May 1940, the Wermacht launched its assault on the Low Countries, the Aéronautique Militaire had accepted 25 CR.42s, one of which (R-10) had been lost in an accident upon its arrival in March. The 3ème Escadrille of the IIème Group had achieved its full statutory 15-aircraft strength, but only 8 or 9 aircraft had been taken on charge by the other component unit, the 4ème Escadrille, although this was to receive an additional aircraft (R-26) from the Etablissements Généraux on the day of the German attack. One other CR.42 (R-27) was at the Etablissements were technicians were endeavouring to resolve a propeller vibration problem.
On 10 May Major Jacques Lamarche, commander of the IIème Group, was sensing a German attack and the Air Force personnel were roused at 01:15. The base was evacuated in an orderly fashion to Landing Field No 22 at Brustem, which was nearer the battle line, and close to the German border.
At 04:15, the first of twenty-three Fiat CR.42s of the two Escadrilles took to the air led by R-43 flown by Major Lamarche. The first Stukas appeared overhead just as the last seven aircraft were about to take off and two CR.42s were hit (R-2 & R-14).
The pilots of the IIème Group had enjoyed only a few weeks in which to familiarise themselves with their new equipment, and as the first group landed at Brustem, R-30 flown by 1er Sergent Marcel Michotte of the 4ème Escadrille ended up on its nose and was written-off. When the last aircraft were preparing to land, the flight led by Capitaine Jean de Callatay spotted a formation of Ju 52/3ms over Tongres. The transports were from 17/KGzbV5 tasked with dropping dummy parachutists. The three CR.42s took on the Ju 52s and Callatay scored hits on a Ju 52 near Alken at 05.30. This aircraft crash-landed at Maastricht. The Belgian pilot were immediately pounced on by escorting Bf 109s from I/JG1 and the three Belgian pilots broke off the engagement and headed back to Nivelles thinking that the field at Brustem had been put out of action by German bombers. Callatay was later credited with a destroyed Ju 52/3m.
Five Fiat CR.42s took off from Brustem at 06:05 to provide cover for the airfield. The first patrol (Lieutenant Charles Goffin and Sergent Delannay) tangled with some Bf 109s east of Waremme. Delannay's aircraft was shot down. He baled out and as he descended was mortally wounded by a shot from the ground. Goffin had better luck and damaged a Bf 109, which left the fray trailing a long plume of smoke. This plane appears to have been a Bf 109E flown by Leutnant Erwin Dutel from 2/JG1, whose aircraft was hit and he was forced to bale out over Aix-la-Chapelle (Aachen). Dutel had been a part of nineteen Bf 109s escorting forty Ju 52s in the St Trond/Tongres. The German fighter pilots repored that they encountered five "Gladiators" of which one was shot down.
The second patrol (Sous-Lieutenant Jean Offenberg, 1er Sergent Jean Maes and 1er Sergent Alexis Jottard) attacked Dornier Do 17s and a Bf 109. Offenberg claimed one destroyed Do 17, and fired on one other aircraft, which dived away. One of the aircraft he shot at was a Dornier Do 17 of II/KG77, which was damaged east of Waremme at 06.30 (there are some confusion regarding Offenberg's claims and some sources only credits him with a damaged Do 17). Jean Maes damaged a Dornier Do 17 of II/KG77, near St Trond at 06.30. This claim is not confirmed.
Three CR.42s escored a Renard R-19 piloted by Sous-Lieutenant Duchesne from Escadrille 9/V/1 to reconnoitre Maaseik at 09:50. In spite of a barrage of flak, the mission was completed without incident.
Lieutenant Prince Werner de Mérode of 3/II/2, took off at 12:50 accompanied by two other pilots to protect a reconnaissance flight over the Albert Canal bridges.
At 14:15 a German reconnaissance plane flew directly over Brustem and it was a sign that worse was to come. Straight away, Major Lamarche ordered the aircraft to be dispersed in the adjacent undergrowth but there was not enough time to camouflage all of them. Twenty-five minutes later, at 14:40, two hedgehopping Bf 109s strafed the field and scored strikes on two Fiat CR.42s. de Mérode returning from his escort mission, spotted a Do 17 (probably the plane that flew over the field) and he claimed it shot down in flames near Waremme at 14.40. This aircraft was a Do 17P flown by Oberleutnant V. Schaezler from 2(F)/123 that made a belly landing at Mönchengladbach.
Just before 15:00, the sky over Brustem was filled with Ju 87Bs from I/St.G.2 who proceed to wreak havoc. Fourteen CR.42s out of a total of twenty-two were put out of action. The only survivors were the aircraft that were hidden under cover and the 3ème Escadrille, unable to scramble in time, lost all 14 of its remaining CR.42s on the ground.
On the following day, the seven surviving fighters of the 4ème Escadrille were re-deployed to Nieuwkerke-Waas, in the northern Belgium.
On 14 May, the IIème Group took into action its remaining serviceable aircraft to cover the retreat of the French 7th Armée from Fleurus. The two-hour sortie saw a bitter clash with the 8./JG3 in the Flerus area at 13.55 and one Bf 109E was claimed destroyed by Capitaine Jean de Callatay and another was damaged by 1er Sergent Marcel Michotte. Also during this sortie Sergent E. de Moerlose claimed a damaged enemy Do 17. 8./JG3 claimed five of the Fiats during this combat. Claiming Luftwaffe pilots were Oberleutnant Wilhelm Gäth (victory no. 1 of 14), Oberfeldwebel Willi Bauer, Unteroffizier Rudolf Saborowski (victory no. 1 of 39), Unteroffizier Karl Flebbe and Unteroffizier Josef Keil (victory no. 1 of 16).
It seems that the Belgian unit didn't suffer any losses and it has not been possible to verify if 8./JG3 sustained any losses in this combat.
On 15 May there was another Fiat/Messerchmitt fight. During this days the IIème Group claimed one more victory (Lieutenant Charles Goffin) while losing one of their Fiats.
On 16 May, the decision was taken to evacuate the remnants of the Aéronautique Militaire to France. An attempt was made to fly out the CR.42 that had remained at the Etablissements, but the fighter was intercepted and shot down by the Luftwaffe. More success attended the six surviving IIème Group CR.42s, however, and these succeeded in reaching Chartres. It was supposed that the pilots should wait here for the arrival of some Brewster Buffaloes.
Three more Belgian CR.42s (R-28, R-29 and R-30 or R-31, R-32 and R-33 depending on source) that had already been despatched from Turin prior to the Wermacht invasion of Belgium were to reach Bordeaux on 1 June, and, after assembly, were to join their fellows at Chartres. The remaining four aircraft on the Belgian order being absorbed by the Regia Aeronautica.
On 3 June two enemy bombers (Do 17?) were claimed damaged by Lieutenant Charles Goffin and 1er Sergent Alexis Jottard near Chartres.
On 28 June Belgium asked Germany for an armistice. By then IIème Group had flown 35 operational missions and claimed 5 aerial victories for the loss of only two Fiats in combat. Except for five aircraft sabotaged by Belgian personnel after the armistice the ultimate fate of the remaining Belgian CR.42s at Chartres is uncertain, but it is likely that it was these aircraft that were subsequently employed as fighter-trainers by Jagdgeschwader 107 at Toul. The Luftwaffe trainee pilots nicknamed the CR.42 as "Die Pressluftorgel" (the Pneumatic Organ), presumably on account of its profusion of pneumatic systems. It is also possible that the Germans destroyed the remaining aircraft on the ground.
Overall, despite technical problems with the synchronising gear and ammunition, the Italian biplane had not fared too badly under Belgium's black-yellow-red flag.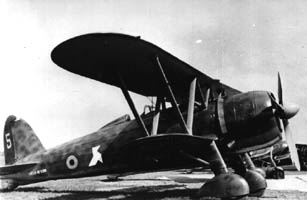 Fiat CR.42 'R5' of 4/II/1 Aé.
Image kindly via Michel Terlinden.
Sources:
Air Enthusiast/Twenty
Désastre à Schaffen - Christian-Jacques Ehrengardt, 2000, Aéro Journal No. 12
Fiat CR.42 - Giorgio Apostolo, 1995 La Bancarella Aeronautica, Torino
Luftwaffe Claims Lists - Tony Wood
The Fiat CR.42 - Gianni Cattaneo, 1971 Profile Publications, Berkshire
Twelve Days In May - Brian Cull and Bruce Lander with Heinrich Weiss, 1999 Grub Street, London, ISBN 1-902304-12-8



Last modified 02 August 2002