Biplane fighter aces

Finland

Luutnantti Antti Ilmari "Pitkä-Jim" Joensuu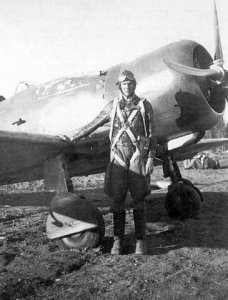 19 March 1916 – 8 November 1963
Ilmari Joensuu, called Pitkä-Jim (Long-Jim) by his friends, was born on 19 March 1916 in Pori.
He received flying training in 1938-39 at RAOK 5.
He was promoted to alikersantti (under sergeant) on 12 August 1939 and posted to LLv 26 on 16 November 1939.
During the Winter War in February 1940, he shot down four enemy aircraft flying Gloster Gladiator GL-256.
Oiva Tuominen, Ilmari Joensuu, Lauri Lautamäki, Pentti Tevä, Jörn Ulrich, Knut Kalmberg and Lentomestari Artola were attached to the nine-plane detachment Kivinen, led by luutnantti Ensio Kivinen. They transferred first on 5 February 1940 to Mensunkangas and from there to Värtsilä on 9 February 1940. There their mission was to protect the troop movements by IV corps and group Talvela from Russian aerial attacks.
First combat occurred on 11 February, when Lautamäki claimed one Polikarpov I-16 out of a formation of fifteen over Jalovaara.
Around midday on 12 February, a Gladiator pair led by luutnantti Knut Kalmberg (GL-261) intercepted a formation of eight SB bombers from 18 SBAP north of Lake Ladoga. Alikersantti Joensuu (GL-256) shot down one over Jänisjärvi at 11:45 while Kalmberg claimed a second over Loimolanjärvi at 12:15.
It seems that only one SB was lost. This was an aircraft from 18 SBAP, 8 VA, flown by Leytenant Shapovalov.
Detachment Kivinen encountered various enemy formations north of Ladoga on 13 February. One of the formations they encountered during the day was I-16s from 49 IAP, 8 VA (neither side sustained any losses).
In the afternoon on 13 February, lentomestari Lauri Lautamäki (GL-253) and ylikersantti Oiva Tuominen (GL-255) were first scrambled at 14:00 and sent to Matkaselkä. After this there was an alarm - a large Russian bomber formation was approaching! Luutnantti Knut Kalmberg (GL-260) and Kivinen took off first as they were in readiness with running engines. Five others followed so all nine Gladiators of Kivinen's unit were airborne. They met nine I-15bis fighters and engaged them. Six Russians tried to form a "Spanish ring"-defensive circle. Kalmberg attacked these Russians, but as he started shooting, three other Russians attacked him and hit his Gladiator. He tried to disengage by diving, but his plane went into a spin and dived into the ground at Havuvaara, killing him. Meanwhile, Kivinen's Gladiator was hit in the engine. He disengaged with a steep dive and landed at Värtsilä. The rest of the Gladiators were now dogfighting with the Russians. In the dogfight Jörn Ulrich was hit and wounded. He made a forced landing with the last of his strength between Kuhilasvaara and Havuvaara. His Gladiator GL-257 was badly damaged and not repaired anymore. In this fight, Joensuu (GL-256) claimed one I-15bis at 14:40 while Ulrich was credited for the destruction of two between 14:15 and 15:05. Other Finnish pilots in this engagement were Pentti Tevä and lentomestari Niilo 'Arpinaama' Artola. Artola was not a pilot of LLv 26 but a Blackburn Ripon pilot of LLv 16. He was on a familiarization flight with a Gladiator when the Soviet fighters appeared. He joined the battle although he was not sure how to operate the guns! However, he managed to fire a bust on an I-15 chasing a Finnish Gladiator. It seems that the I-15bis fighters were from 49 IAP, which lost Starshii Politruk M. A. Kochmala (I-15bis), who was KIA after claiming two Gladiators. 49 IAP also claimed a Fokker during the day when leytenant Yakov Filippovity Mikhin of Aviagruppa Tkachenko claimed one in a "taran" ramming attack at Värtsilä. Mikhin managed to return to his airfield with his damaged I-16.
As Lautamäki and Tuominen were returning from their uneventful flight, they met nine enemy bombers from 39 SBAP, 8 VA, which had taken off from Lotinanpelto (at River Svir) at 13:00, with the task of bombing fortifications north of Pyhäjärvi (hill 108,8) and dropping leaflets. In the ensuing dogfight Tuominen claimed 3 and 1 shared SBs in seven minutes and 1 I-152 while Lautamäki claimed the second half in the shared SB (this aircraft was claimed at Jänisjärvi). Ylikersantti Tuominen reported:
"When I was patrolling with lentomestari Lautamäki in Jänisjärvi station area, I noticed nine SBs arriving east of Suojärvi and heading west. I signalled lentomestari Lautamäki and turned towards the enemy planes. The enemy formation banked to east and east of Soanjoki I caught them and shot the port wing aircraft into fire. It crashed in the woods. So did the next one after a minute. And the third crashed into a small pond.
Then nine more bombers arrived from Loimola direction joining the others. At first I thought they were fighters as the distance grew a little, but I caught them over Kivijärvi and shot at the starboard wing aircraft. When I fired a second burst, it crashed in flames to the north bank of Kivijärvi Lake.
At the same time an I-15 took off from the ice, I shot it immediately down at the edge of the forest, where it crashed in fire. My fighter had two bullet holes in the wings fired from the ground.
Own aircraft GL-255."
39 SBAP lost three SBs, all of them from the 5th eskadrilya. They had taken off at 13:00 from Lodejnoye pole to bomb hill 108,8 east of Pyhäjärvi and to drop leaflets when they become involved in air combat over Suistamo. The first lost was c/n 14/217, which crashed at Jänisjärvi with crew-members mladshiy leytenant N. M. Parshikov, kapitan S. N. Pitek and starshina A. A. Baranov killed. The second was c/n 16/115, which crashed at Kivijärvi with crew-members leytenant I. A Tarasenko, starshiy leytenant N. V. Begichev and starshina I. Ye. Dunayev killed. The third was c/n 11/219, which crashed at Roikonkoski after having been hit in both fuel tanks and catching fire with crew-members leytenant A. G. Lazarykov, starshina V.Grudinin and starshina Sibirkulin killed while leytenant I. S. Kramtsov parachuted at 14:50 (Moscow time) and was taken POW the following day. This was the second operational mission by the 5th eskadrilya; the first one was made the day before.
Lautamäki and Tuominen landed again at 15:30.

At 10:50 on 20 February, luutnantti Paavo Berg (GL-280) of LLv 26 attacked a detachment of 30 bombers above Kouvola. He attacked a bomber in the middle of the formation but this was a mistake, as he ended up in the middle of murderous crossfire from the bomber formation. His Gladiator caught fire and Berg opened the canopy and unstrapped himself to jump. He, however, got stuck when his boot got jammed in the cockpit and he struggled for a few moments, trying to remove his stuck boot and the flames burnt his face before he fell free from his blazing Gladiator. Later Berg heard that the SB he had attacked dived burning into ground. He was hospitalised for the rest of the winter war.
It seems that the bomber shot down by was SB c/n 7/216 of 5./54 SBAP, which was shot down in air combat over Kouvola and crashed at Kattilainen, Ruokolampi. Leytenant Yevgenij Mikhailovich Filonenko was KIA and mladshiy leytenant Vasiliy Yefimovich Kufakov was killed at arrest. Shturman leytenant Mikhail Ivanovich Maksimov was believed to have been taken prisoner after the forced landing on the ice of Gulf of Finland and on 17 July 1940, the Soviet Legation inquired whether Maksimov had been taken prisoner; in fact he died of wounds on 21 February.
On the same day alikersantti Joensuu (LLv 26) shot down a DB-3 over Laatokka (possibly from 54 SBAP).
During the day six SBs and one DB-3 were lost for various reasons.
149 IAP reported that six I-16s and eleven I-153s were escorting 36 SB-bombers to target no. 32 (Kouvola Junction). Finnish fighters intercepted on the return flight south of Utti and mladshiy leytenant Oleg Filatov (I-153) claimed one Fokker and got one hit on his own aircraft. No Finnish Fokkers were lost on this date.

On 25 February 1940, three Gladiators from LLv 26's detachment Siiriäinen were sent to intercept Russian artillery observation planes above Muolaa. The pilots were luutnantti Pentti Tevä (GL-254), alikersantti Matti Sukanen (GL-258) and alikersantti Joensuu (GL-256). They met nine R-5 planes near Muolaanjärvi, attacked and shot down four of them. Sukanen claimed one and one damaged at 15:30 while Tevä shot down two at 16:10 and Joensuu finally claimed one at 16:15. The Soviet aircraft were in fact R-Zs from 4 LBAP, 13 VA, of which two were lost. It seems that one was R-Z 2253, which crashed at Suolajärvi with pilot starshiy leytenant Fedor Z. Boldyrykhin and observer starshiy leytenant Valentin Georgiyevich Belyayev (who died of wound on 27 February). There were also six Russian I-153s from 13 OIAP (Soviet 13th Independent [O] fighter [I] regiment [AP]) in this area as an escort to the R-Zs. These intercepted and shot down and killed Tevä. His GL-254 was seen to dive straight into ground from the altitude of 3000 m without any attempts to pull up or jump, so Tevä was probably hit himself. Sukanen was also shot down. He was wounded and crashed his Gladiator at RistseppäläJoensuu was forced to make forced landing with a damaged fighter.
One more Gladiator was lost on the same day when Gl-266 crashed due to engine problems behind enemy lines at Kämärässä. The pilot alikersantti T. Begman was safe and returned by foot.
At 16:10 on the same day, vänrikki Lauri Sihvo (GL-279) claimed a damaged R-5 over Sippola.
It is possible that some of the Finnish Gladiators had been in combat with I-16s from 68 IAP, which reported that six I-16s lead by starshiy leytenant Plotnikov patrolled in the region of Mäkelä village and were engaged in combat with eight Bulldogs. The task of this group was to cover SB bombers attacking a target in the same area. Soon after that the SBs dropped their bombs, the I-16s saw the first Bulldog, which flew to north at the altitude of 2500 metres. It was attacked and downed by starshiy leytenant Plotnikov. According to the pilot report, the aircraft smoked and fell into the forest.
Just after that, at 17:05 Russian time, the I-16s turned to the opposite direction and saw a group of R-Z aircraft, which were flying below them and also seven other Bulldogs. Two Bulldogs attacked one R-Z and it came over Soviet territory losing altitude. Leytenant Safronenko's flight attacked one of these Bulldogs and shot it down. The Bulldog crashed into the forest on the Finnish side.
At the same time, Plotnikov's flight flew towards five other Bulldogs flying 1000-1500 metres higher and not seeing the Soviet fighters. While climbing, the I-16s got onto the tail of the enemy formation and all together fired a burst that missed and the Bulldogs began to turn towards the Soviet fighters. The I-16s continued to turn and shot down one more enemy fighter (claimed as a shared by the whole flight), which was observed by a command post of a Soviet Army Corps. Then the flight separated and in the following combat, leytenant Emirov shot down one Bulldog. Emirov was wounded in the hand, while his I-16 received 85 holes, but he returned safely to the airfield. At the same time, leytenant Sergey Maev got into a head on attack with a Bulldog, but simultaneously two other Bulldogs got behind his tail. Maev's I-16 got 56 bullet holes, but the Bulldog attacked by him was hit and fell to the ground out of control. Maev returned safely.

On 23 March 1940, he was promoted to kersantti (sergeant).

He was demobilized on 16 May 1940.

On 19 June 1941, he was mobilized again to LLv 26.

On 13 August 1941, LLv 26 escorted an artillery fire-control aircraft over Aunuksenjoki, south of River Tuulos, Lake Ladoga.
At 14:00, when luutnantti Lauri Hämäläinen's (FA-3) swarm (kersantti Joensuu (FA-35), alikersantti Klaus Alakoski (FA-28) and ylikersantti Sulo Suikkanen (FA-18)) was changing the shift with luutnantti Olli Puhakka's (FA-1) swarm (vänrikki Eero Enroth (FA-3), lentomestari Lauri Lautamäki (FA-26) and one unknown pilot), nine I-153s of 195 IAP and 197 IAP attacked the fire controller. In five minutes of combat, the eight Fiats claimed all Russians. The victories were claimed by Hämäläinen, Joensuu (one and one damaged), Alakoski, Suikkanen (two I-153s), Puhakka (two I-153s), Enroth and Lautamäki. Puhakka initially claimed one damaged and one destroyed, but the Air Force HQ recorded it as two destroyed:
"At Hoski, I saw two I-153s at about 200 m altitude, I attacked and shot the latter quite close and saw the bullets hit the fuselage. Then I saw two more above me and pulled up. When I looked back to the scene, I saw already two Fiats having attacked and saw one I-153 parting company and sliding to southeast. It came down at Alavoinen and catching fire. After that I tried to get behind the tail of another. The other two were already fired at by other Fiats. The whole battle occurred in a small area. When I finally got behind one and shot very near, I saw after pulling up and going down again that no Chaikas remained. My plane was FA-1."
Hämäläinen's swarm's mission lasted from 13:00-14:10 while Puhakka's swarm's mission lasted from 13:45-14:45.
The 195 IAP lost two I-153s (leytenants I. D. Vinogradov and A. F. Ilyin KIA) and 197 IAP lost one (leytenant K. F. Meshalkin KIA).

On 28 February 1942, he began the reserve officer school and was accepted as a cadet to MaaSK on 1 July 1942.

He was promoted to vänrikki (pilot officer) on 17 July 1942.

He was promoted to luutnantti (lieutenant) on 13 April 1943 and posted to back LeLv 26 on 27 June 1943. On 27 June 1944, he was posted to HLeLv 34 and managed to fly Messerschmitts although not increasing his score.

During the war, he had flown 100 combat sorties and claimed 4 biplane victories and a total of 5.
During his career, he was decorated with the Vapauden Mitali 1st Class, the German Eisernes Kreutz 2nd Class and the Vapauden Risti 4th Class.

He resigned from the service on 22 January 1945.

At 16:20 GMT on 8 November 1963, Aero O/Y Flight 217 left Turku on the Helsinki-Turku-Mariehamn flight. The last leg of the flight was carried out at an altitude of 2000 feet. At 16:57, the crew reported over the MAR NDB on the inbound track to runway 20. During the approach to Mariehamn, the aircraft (Douglas C-47A-35-DL c/n 9799 OH-LCA) struck trees in a nearly horizontal attitude 1470m before the threshold of the runway at 16:59. The aircraft flipped over and caught fire.
The crew of three was killed in the accident together with 22 of the passengers (including Joensuu). The remaining two passengers were injured. At the time of the accident, Joensuu had retired from Aero O/Y (nowadays Finnair). He had been sitting in the cockpit on the auxiliary/extra seat and he was travelling without ticket but at that time Aero's captains had powers to allow a passenger sit on the aux/extra seat in cockpit but not a person who was travelling without ticket or written permission as Joensuu was. However, the Aviation Accident Board concluded that he had no part in the accident and they stated:
"The Board considered that the ultimate cause of the accident was the pilot's misconception of his altitude. It was impossible to determine whether this was due to a wrong indication of the altimeter or human error. The defect, found in the pilot-in-command's altimeter, was regarded however as sufficient to have brought a wrong indication of the altitude which the pilot could not foresee. The cause of the accident was therefore established as follows: As a result of a wrong indication of the aircraft's pilot's altimeter during an instrument approach carried out in weather conditions worse than the weather approved for runway 20 at Mariehamn, the aircraft came below the safe flying altitude and hit trees on the approach line."
Claims:

| | | | | | | | | | |
| --- | --- | --- | --- | --- | --- | --- | --- | --- | --- |
| Kill no. | Date | Time | Number | Type | Result | Plane type | Serial no. | Locality | Unit |
| | 1940 | | | | | | | | |
| 1 | 12/02/40 | 11:45 | 1 | SB (a) | Destroyed | Gladiator II | GL-256 | Jänisjärvi | LLv 26 |
| 2 | 13/02/40 | 14:40 | 1 | I-15bis (b) | Destroyed | Gladiator II | GL-256 | Havuvaara | LLv 26 |
| 3 | 20/02/40 | | 1 | DB-3 (c) | Destroyed | Gladiator II | GL-256 | Kurkijoki | LLv 26 |
| 4 | 25/02/40 | 16:15 | 1 | R-5 (d) | Destroyed | Gladiator II | GL-256 | Muolaanjärvi | LLv 26 |
| | 1941 | | | | | | | | |
| 5 | 13/08/41 | 13:00-14:10 | 1 | I-153 (e) | Destroyed | Fiat G.50 | FA-35 | Tuulos-Aunus | LLv 26 |
| | 13/08/41 | 13:00-14:10 | 1 | I-153 (e) | Damaged | Fiat G.50 | FA-35 | Tuulos-Aunus | LLv 26 |
Biplane victories: 4 destroyed.
TOTAL: 5 destroyed, 1 damaged.
(a) Claimed in combat with SBs from 18 SBAP, 8 VA. LLv 26 claimed two SBs in this combat but it seems that only one was lost. This was an aircraft flown by Leytenant Shapovalov.
(a) Claimed in combat with Polikarpov I-15bis from 49 IAP, which lost one I-15bis while claiming 2 Gladiators. LeLv 26 claimed 3 I-15bis and 1 probable while losing 2 Gladiators and getting a third damaged.
(c) During the day three SBs from 18 SBAP and 54 SBAP, 7 VA, were lost.
(d) Claimed in combat with R-Zs from 4 LBAP, 13 VA. Two were lost against claims for four by LLv 26.
(e) Claimed in combat with I-153s from 195 IAP and 197 IAP. LLv 26 claimed nine victories but it only seems that 195 IAP lost two I-153s (Leytenants I. D. Vinogradov and A. F. Ilyin KIA) and 197 IAP lost one (Leytenant K. F. Meshalkin KIA).

Sources:
Aviation Safety Network
CAO Accident Digest No.15 - Volume II, Circular 78-AN/66 (201-207)
Hävittäjä-Ässät (Finnish Fighter Aces) - Kalevi Keskinen, Kari Stenman and Klaus Niska, 1994 Apali, Tampere, ISBN 952-5026-00-0
Ilmavoitot, osa 1 - Kalevi Keskinen and Kari Stenman, ISBN 952-99432-8-8
Ilmavoitot, osa 2 - Kalevi Keskinen and Kari Stenman, ISBN 952-99432-8-8
LeR 2 - Kalevi Keskinen and Kari Stenman, 2001 Suomen Ilmavoimien Historia 17, ISBN 951-98751-0-7
Red Stars 7 - Talvisota Ilmassa - The Winter War In the Air - Carl-Fredrik Geust, 2011 Apali Oy, Tampere, ISBN 978-952-5877-04-5
Soviet Fighter Pilots 1936-1953 - Mikhail Bykov
Suomen Ilmavoimat part II – 1928-40 – Kalevi Keskinen and Kari Stenman, 2006, ISBN 952-99743-0-2
Suomen Ilmavoimat part III – 1941 – Kalevi Keskinen and Kari Stenman, 2007, ISBN 978-952-99743-1-3
Additional information kindly provided by Alexey Andreev, Carl-Fredrik Geust and Juha Vaittinen.




Last modified 20 February 2020