Biplane fighter aces

Finland

Luutnantti Lauri Olavi Sihvo
21 February 1909 –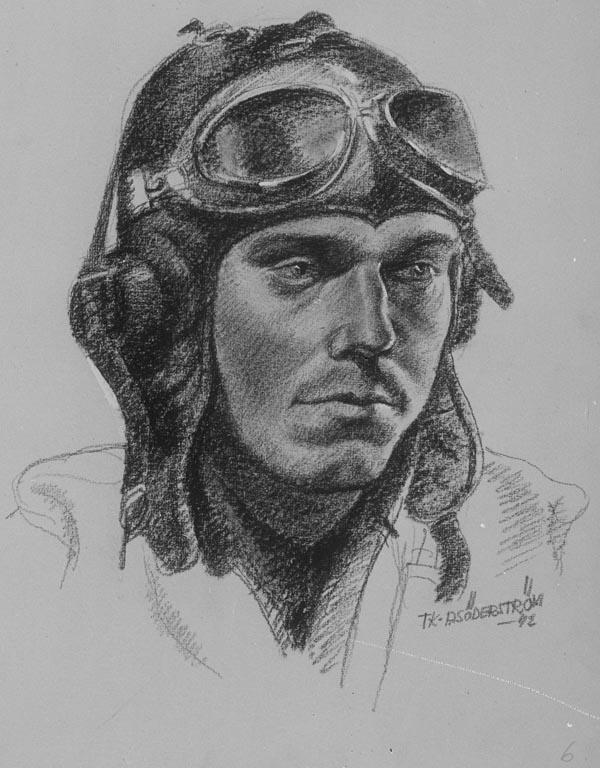 Source SA-Kuva.
Lauri Shivo was born at Metsäpirtti on 21 February 1909.
He received flying training at IRUK 8 in 1938-39.
On 8 February 1940, he was assigned to LLv 26 as a vänrikki. This unit was at this time equipped with Gloster Gladiators.
On 15 February, his detachment of LLv 26 was subordinated to detachment Luukkanen of LLv 24.
On 19 February, luutnantti Paavo Berg's three-strong patrol of LLv 26 was chasing a formation of 32 SB bombers when it was engaged in combat with various I-153 fighters above Sippola at 15:25. One of the enemy fighters was shot down by Berg and another was shared between luutnantti Poul Christensen and vänrikki Sihvo. The rest of the enemy fighters broke off and headed towards Suomenlahti.
They had been in combat with I-153s from 149 IAP, 7 VA, which reported that at 15:40, seven I-153s and four I-16s were escorting 35 SB-bombers. After bombs were dropped, five "Bulldogs" attacked, with four I-153s responding. I-153 c/n 7142 and 7158 did not return from Sippola. Starshiy Leytenant N. Yu. Iyentish and Starshiy Leytenant V. S. Osipov (CO of the 2nd eskadrilya) became POWs. Leytenant Makarov fore-landed at Kotly after lack of fuel while Leytenant Semenov returned with 47 bullet holes in his aircraft.
Berg later told about his experience with Chaikas:
"The Chaika has a back armour plate for the pilot so firing at them directly behind with Gladiators rifle-calibre guns is useless. Dogfighting them is the best chance to get a Chaika if you are good at it."
Berg himself had flown the Bulldog for nearly 5 years before the war and thus he had become a skilful pilot and a marvellous deflection shooter.

On 25 February 1940, three Gladiators from LLv 26's detachment Siiriäinen were sent to intercept Russian artillery observation planes above Muolaa. The pilots were luutnantti Pentti Tevä (GL-254), alikersantti Matti Sukanen (GL-258) and alikersantti Ilmari Joensuu (GL-256). They met nine R-5 planes near Muolaanjärvi, attacked and shot down four of them. Sukanen claimed one and one damaged at 15:30 while Tevä shot down two at 16:10 and Joensuu finally claimed one at 16:15. The Soviet aircraft were in fact R-Zs from 4 LBAP, 13 VA, of which two were lost. It seems that one was R-Z 2253, which crashed at Suolajärvi with pilot Starshii Leitenant Fedor Z. Boldyrykhin and observer Starshii Leitenant Valentin Georgiyevich Belyayev (who died of wound on 27 February). There were also six Russian I-153s from 13 OIAP (Soviet 13th Independent [O] fighter [I] regiment [AP]) in this area as an escort to the R-Zs. These intercepted and shot down and killed Tevä. His GL-254 was seen to dive straight into ground from the altitude of 3000 m without any attempts to pull up or jump, so Tevä was probably hit himself. Sukanen was also shot down. He was wounded and crashed his Gladiator at Ristseppälä. Joensuu was forced to make forced landing with a damaged fighter.
One more Gladiator was lost on the same day when Gl-266 crashed due to engine problems behind enemy lines at Kämärässä. The pilot alikersantti T. Begman was safe and returned by foot.
At 16:10 on the same day, vänrikki Sihvo (GL-279) claimed a damaged R-5 over Sippola.
It is possible that some of the Finnish Gladiators had been in combat with I-16s from 68 IAP, which reported that six I-16s lead by Starshii Leitenant Plotnikov patrolled in the region of Mäkelä village and were engaged in combat with eight Bulldogs. The task of this group was to cover SB bombers attacking a target in the same area. Soon after that the SBs dropped their bombs, the I-16s saw the first Bulldog, which flew to north at the altitude of 2500 metres. It was attacked and downed by Starshii Leitenant Plotnikov. According to the pilot report, the aircraft smoked and fell into the forest.
Just after that, at 17:05 Russian time, the I-16s turned to the opposite direction and saw a group of R-Z aircraft, which were flying below them and also seven other Bulldogs. Two Bulldogs attacked one R-Z and it came over Soviet territory losing altitude. Leitenant Safronenko's flight attacked one of these Bulldogs and shot it down. The Bulldog crashed into the forest on the Finnish side.
At the same time, Plotnikov's flight flew towards five other Bulldogs flying 1000-1500 metres higher and not seeing the Soviet fighters. While climbing, the I-16s got onto the tail of the enemy formation and all together fired a burst that missed and the Bulldogs began to turn towards the Soviet fighters. The I-16s continued to turn and shot down one more enemy fighter (claimed as a shared by the whole flight), which was observed by a command post of a Soviet Army Corps. Then the flight separated and in the following combat, Leitenant Emirov shot down one Bulldog. Emirov was wounded in the hand, while his I-16 received 85 holes, but he returned safely to the airfield. At the same time, Leitenant Sergei Maev got into a head on attack with a Bulldog, but simultaneously two other Bulldogs got behind his tail. Maev's I-16 got 56 bullet holes, but the Bulldog attacked by him was hit and fell to the ground out of control. Maev returned safely.

Shivo continued to serve with LLv 26 during the Continuation War.

In the evening on 3 August 1941, vänrikki Sihvo's pair (the other pilot was lentomestari Oiva Tuominen in FA-26) of 1/LLv 26 encountered three MBR-2 flying boats at the mouth of River Svir. Sihvo reported:
"At 17:30-17:55 hours, I observed soon after the take off, three flying boats over Lake Ladoga. I was the first to catch them and shot the left wing plane into smoke. It moved then into the centre of the formation (at the same time came another FA, in front of which it exploded). After that, I attacked another plane, which caught fire and crashed. I attacked against the third, but the ammunition in machine-guns ran out in the middle of a burst. The speed of the boats was about 220 km/h, they flew in a tight formation and went down to the surface after the first attack. I had a bullet hole in a propeller blade. My plane was FA-33."
Sihvo and Tuominen were each credited with one shot down and a third as a shared.
The MBR-2s came from Group Hrolenko. They each claimed one enemy aircraft and claimed a third as a shared.

On 3 September 1941, the Karelian Army started the advance to River Svir making it in four days. Thereon the attack continued eastwards and northwards to Petrozavodsk.
On the first day, a LLv 26 Fiat swarm was on air combat patrol over the spearhead in the Säntämä-Aunus area between 11:45 - 12:40. The swarm consisted of lentomestari Oiva Tuominen (FA-26), kersantti Onni Paronen (FA-6) and vänrikki Sihvo (FA-3) and vänrikki Carl-Erik Bruun (FA-1) (on his 44th mission). Three Chaikas of 65 ShAP and two Ratas of 155 IAP were engaged and all were claimed shot down.
Tuominen shot down one of the I-16s, Paronen claimed an I-153 and Sihvo claimed a second I-153 (from 65 ShAP). Bruun shot down one monoplane but he believed that he had shot down an own Curtiss and did not at that time admit the victory. The victory was shared at that time between Tuominen and Paronen.
The last I-153 was seen leaving for Soviet territory by Bruun, Tuominen and Paronen. Tuominen flew slightly to the side and behind of the enemy fighter. When he fired the shots went to the right of the I-153 and he had to turn away. Paronen was next and his fire hit the armoured seat and sparkles was seen to fly around but the fire couldn't penetrated the seat since the Finnish fighters wasn't yet equipped with armour-piercing ammunition. Bruun was next and he followed the I-153 at low altitude over the fields at a speed of 360 km/h. He opened fire but to no effect. At this time, Tuominen was flying to the right of the enemy fighter and Paronen to the right. Bruun saw the enemy pilot looking at the other Finnish pilots but he probably couldn't spot him since he was less than ten meters behind him. At the edge of a wood, the Soviet fighter was forced to climb a little and at this time, Bruun opened fire and probably hit the pilot. The I-153 turned over the right wing and crashed into the woods.
A new pair of Soviet I-153s was spotted to the left but these chose not to engage and they turned south. The Finnish pilots also turned towards home since they began to be low on fuel.
Paronen's combat report stated:
"At 11:50-12:40 hours. I shot first at one I-16 from straight behind and thereafter in a bank. The plane caught fire and smoked heavily. I pulled away, when lentomestari Tuominen shot at the plane when it crashed to the ground. After this, I attacked an I-153 from above and behind. The aircraft did not dodge at all, but crashed to the ground in a shallow bank and caught fire. After this, I fired at the last I-153, which was set aflame by vänrikki Bruun. I saw altogether four aircraft being shot down. My plane was FA-6."
65 ShAP lost one I-153 and the pilot Leytenant S. P. Korolev was killed while 155 IAP lost one I-16.
When they returned to base Bruun asked Tuominen why he didn't shot down the I-153 and he answered that he had been trying to hit the wing-support since he wanted to see the wings folding on the enemy fighter!
Carl-Erik Bruun was the only piloting officer that served all the war 1941-1944 in LeLv 26. He as born on 6 January 1920 in Turku and passed away on 9 October 2001 in the same town.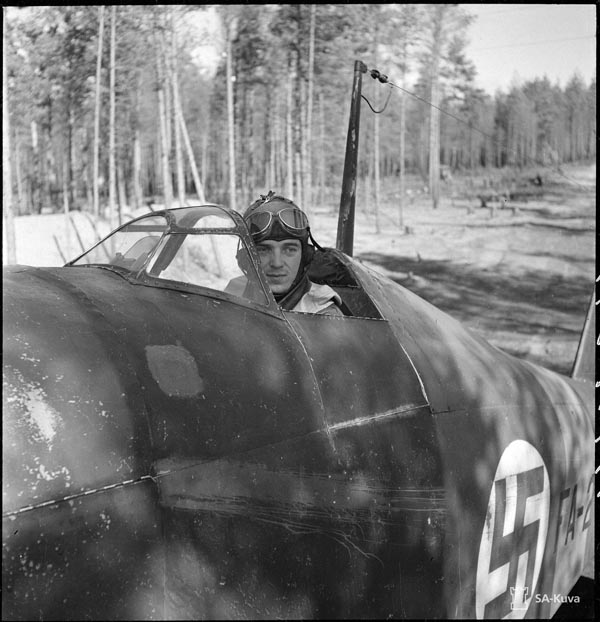 Luutnantti Sihvo at Rautu on 15 August 1942.
Source SA-Kuva.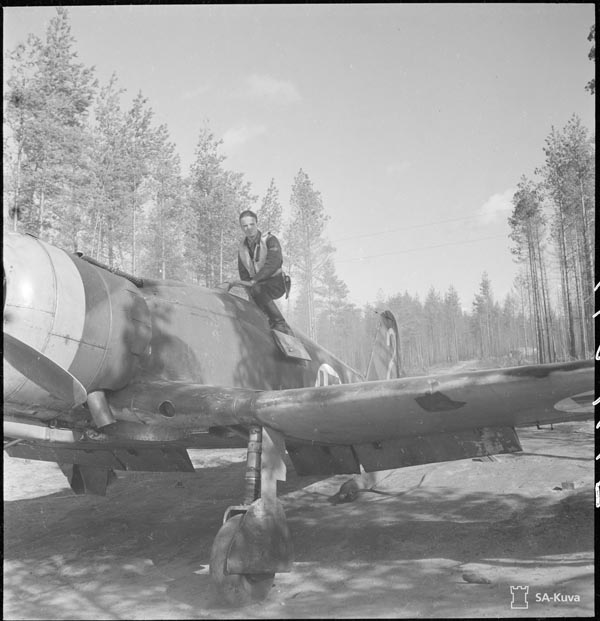 Luutnantti Sihvo at Rautu on 15 August 1942.
Source SA-Kuva.
On 16 September, LLv 26 was transferred to LeR 3 and transferred to Immola.
Sihvo was promoted to luutnantti on 30 March 1942.
On 3 May 1942, there was a reorganisation of the Finnish Air Force and at the same time there was a redesign of the names of the units and thus LLv 26 became LeLv 26.
LeLv 26 clashed with I-152 between 08:25-09:10 on 9 July 1942 over Tappari – Miikkulainen. One of them were claimed by luutnantti Shivo (FA-29) and a second was claimed by luutnantti Olli Puhakka (FA-25).
He was transferred to LeSK on 14 April 1944 as instructor.
On 2 December 1944, he was demobilized.
Sihvo ended the war with one shared biplane victory and a total of 3 victories.
During the war he was awarded with two Vapauden Risti 4th Class and the German Eisernes Kreutz 2nd Class.
After the war he worked as a pr-manger.
Claims:

| | | | | | | | | | |
| --- | --- | --- | --- | --- | --- | --- | --- | --- | --- |
| Kill no. | Date | Time | Number | Type | Result | Plane type | Serial no. | Locality | Unit |
| | 1940 | | | | | | | | |
| | 19/02/40 | 15:25 | ½ | I-153 (a) | Shared destroyed | Gladiator II | GL-276 | Sippola | LLv 26 |
| | 25/02/40 | 16:10 | 1 | R-5 | Damaged | Gladiator II | GL-279 | Sippola | LLv 26 |
| | 1941 | | | | | | | | |
| 1 | 03/08/41 | 17:30-17:55 | 1 | MBR-2 (b) | Destroyed | Fiat G.50 | FA-33 | Laatokka | LLv 26 |
| | 03/08/41 | 17:30-17:55 | ½ | MBR-2 (b) | Shared destroyed | Fiat G.50 | FA-33 | Laatokka | LLv 26 |
| 2 | 03/09/41 | 11:45-12:40 | 1 | I-153 (c) | Destroyed | Fiat G.50 | FA-3 | Aunus | LLv 26 |
| | 1942 | | | | | | | | |
| 3 | 09/07/42 | 08:25-09:10 | 1 | I-152 | Destroyed | Fiat G.50 | FA-29 | Tappari-Miikkulainen | LeLv 26 |
Biplane victories: 1 shared destroyed, 1 damaged.
TOTAL: 3 and 2 shared destroyed, 1 damaged.
(a) Claimed in combat with I-153s from 149 IAP, 7 VA. The Finnish Gladiators claimed two aircraft and Leytenant Iyentish and Leytenant Osipov were shot down and taken POWs while a third I-153 was damaged.
(b) Claimed in combat with MBRs from Group Hrolenko.
(c) Claimed in combat with I-153s from 65 ShAP and I-16s from 155 IAP. LLv 26 claimed three I-153s and two I-16s. At least one I-153 from 65 ShAP was lost.

Sources:
Englantilaiset Hävittäjät - Keskinen, Stenman, Niska
Ilmavoitot, osa 2 - Kalevi Keskinen and Kari Stenman, ISBN 952-99432-8-8
Kohtalokkaat lennot 1939-1944 - Jaakko Hyvönen
LeR 2 - Kalevi Keskinen and Kari Stenman, 2001, ISBN 951-98751-0-7
LeR 3 - Kalevi Keskinen and Kari Stenman, 2002 kindly provided by Jari Lappalainen
Red Stars 7 - Talvisota Ilmassa - The Winter War In the Air - Carl-Fredrik Geust, 2011 Apali Oy, Tampere, ISBN 978-952-5877-04-5
Soviet Fighter Pilots 1936-1953 - Mikhail Bykov
Suomen Ilmavoimat part II – 1928-40 – Kalevi Keskinen and Kari Stenman, 2006, ISBN 952-99743-0-2
Suomen Ilmavoimat part III – 1941 – Kalevi Keskinen and Kari Stenman, 2007, ISBN 978-952-99743-1-3
Information kindly provided by Alexey Andreev, Göran Bruun, Tuomo Lukkari, Lars Larsson and Pentti Perttula.




Last modified 10 September 2019