Biplane fighter aces

Finland

Lentomestari Martti Aarre Kalevi Perälä
26 April 1917 – 15 June 1944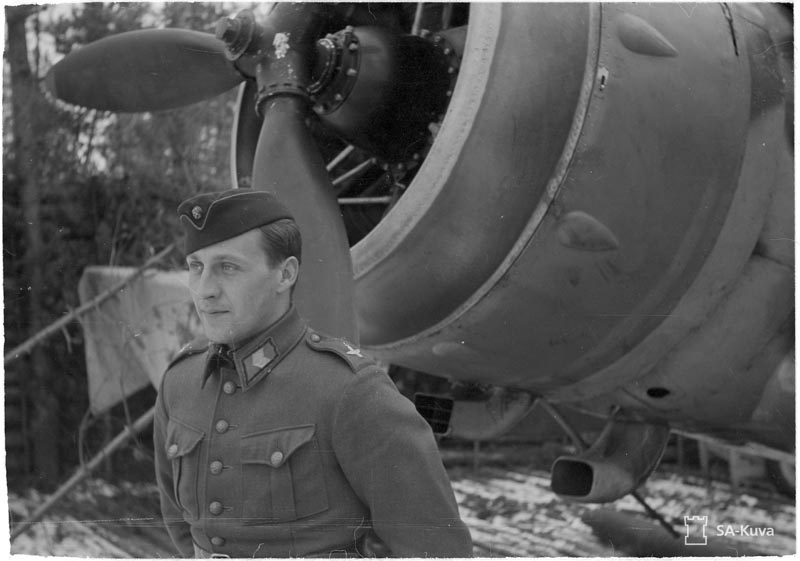 Vääpeli Martti Peräla at Immola on 19 October 1941.
Source SA-Kuva.
Martti Perälä was born on 26 April 1917 in Helsinki.
He received flying training in 1936-37 at RAOK 3 and AOK 6.
On 1 March 1938, he was posted to LLv 14 as an alikersantti.
He was promoted to kersantti on 1 October 1938.
During the Winter War, he continued to serve in LLv 14, which started to operate Gloster Gladiators in the middle of February 1940.
He was promoted to ylikersantti on 28 February.
LLv 14 was taken from the eastern part of the Karelian Isthmus to repel the Russian invasion across the frozen Gulf of Vyborg. The morning mission report on 5 March 1940 says:
"Aircraft and crews: FK-110 vänrikki Ala-Panula and luutnantti Honkanen, FK-107 vänrikki Arkko and vääpeli Harju, GL-267 luutnantti Ollikainen, GL-273 luutnantti Pitkänen, GL-274 luutnantti Kuula, GL-276 vänrikki Malinen, GL-278 ylikersantti Perälä and GL-279 alikersantti Roine.
Task: Reconnaissance, bombing and strafing on the columns and camps in Häränpäänniemi-Pulliniemi-Teikarsaari-Vilaniemi.
Take-off at 06:05 hours and retrun at 07:30 hours.
Observations: On ice between Pulliniemi and Teikarsaari a continuous row of trucks towards Tuppuransaari Island. Tuppuransaari-Vilaniemi ice road full of troops, trucks and tanks. At Vilaniemi on the beach 20 tanks. Flak battery at Teikarsaari shooting at us. At Teikarsaari one kilometre long column of troops heading SE from Teikarsaari. At Vilaniemi bay several company strong waves of troops heading towards the beach. Dropped 2x50kg, 3x25kg and 6x3,5kg bombs and strafed with 2000 rounds. Enemy fighters at 5 kilometres distance north of Vyborg."
Between 13:25 and 14:20 in the afternoon on the same day, ylikersantti Perälä (GL-278) claimed an I-153 over Äyräpää. This was an I-153 from 68 IAP, 13 VA, which according to Soviet sources crashed on the ground with no apparent cause.
According to 68 IAP's war diary, pilots kapitan Petr Povoroznikov and Semin, while escorting a group of SB bombers, saw a flight of four Bulldogs. Two Bulldogs escaped to the clouds, while the other two entered into a combat. At 15:40, Povoroznikov shot down one Bulldog in the region of Vuoksenranta. Semin got onto the tail of the other enemy aircraft and while making a tight turn at the altitude of 150-200m got into a spin and crashed with no apparent cause.

On 7 March 1940, luutnantti Tauno Ollikainen (GL-279) led a group of six Gladiators from LLv 14 flying top cover for ground troops at Tienhaara (west of Viipuri). Between 15:15 and 15:25 and despite being outnumbered, three Russian I-153s attacked over Tervajoki. LLv 14 reported:
"Aircraft and crews: GL-279 luutnantti Ollikainen, GL-273 luutnantti Pitkänen, GL-274 luutnantti Kuula, GL-276 vänrikki Malinen, GL-278 ylikersantti Perälä and GL-279 alikersantti Roine.
Mission between 14:35 and 16:10 hours.
When patrolling over Tienhaara, two pairs of I-16s were observed, no contact. Over Tervajoki village met three I-153s, which pulled over, turned and attacked the second pair. The first pair turned around and started the combat, which was carried out between 15:15 and 15:25 hours, from 300 metres to the surface. The wind shifted the participants west of Tervajoki. Two I-153s were shot down and they both crashed in the forest. Luutnantti Ollikainen claimed one witnessed by luutnantti Kuula. The other was claimed by vänrikki Malinen and witnessed by luutnantti Pitkänen. Alikersantti Roine made a successful emergency landing to Löytöjärvi after being hit in the fuel tank. Ylikersantti Perälä's wing touched the wing on an I-153, breaking the starboard tip of the upper wing."
These aircraft were claimed in combat with three I-153s from 3./148 IAP led by major N. V. Gavrilov (CO) and including starshii leitenant Ivan Rybin and mladshii leitenant Yevgenii Ivanovich Zaichikov (I-153 c/n 7325). When they returned, Gavrilov claimed two Gladiators while Rybin claimed one. Zaichikov was killed in the combat, the wreck of his fighter was located in Chulkovo (former Tervajoki) only in October 2009.
The same day, both surviving Soviet pilots were decorated with the Order of the Red Banner.

On 1 February 1942, Perälä (FR-109) claimed an R-5 as a shared destroyed on the ground at Kolmajärvi/Viena together with kersantti Hugo Estama (FR-90). Luutnantti Veli Hakola (FR-105) and vänrikki A. Parviainen (FR-106) from the same unit destroyed a second R-5 together in the same area during the day.

He was promoted to vääpeli on 4 February 1941.

On 3 May 1942, there was a reorganisation of the Finnish Air Force and at the same time, there was a redesign of the names of the units and thus LLv 14 became LeLv 14.

He flew with LeLv14 until august 1942. During this time, he flew Gladiators in 1940-41 and Fokker D.XXIs in 1941-42. He might have flown some missions on Curtiss Hawk 75As since LeLv 14 operated some of these for a few weeks in 1941 but this has not been possible to verify.

On 28 August of 1942, he was posted to twin-engine training at LeLv 48, and after this was completed, he was assigned to 1st Flight of LeLv 44 on 7 April 1943. This unit operated Junkers Ju 88A bombers.

He was promoted to lentomestari on 7 august 1943.

On 14 February 1944, the frontline squadrons received a task prefix into their name and LeLv 44 thus became PLeLv 44.

He was killed on 15 June 1944 at Kesälahti when the port engine on Ju 88 JK-264 caught fire 20 minutes after taking off for a bombing mission to Siiranmäki. The crew baled out successfully with the exception of Perälä, who was the last one to bale out. He did this too low and the parachute failed to open in time. His body was found 50m from the wreckage of his aircraft.

At the time of his death, Perälä was credited with 1 biplane victory.
During his career, he was awarded with the Vapauden Mitali 1st Class and 2nd Class, the Vapauden Risti 4th Class twice and the German Eisernes Kreutz 2nd Class.

Claims:

| | | | | | | | | | |
| --- | --- | --- | --- | --- | --- | --- | --- | --- | --- |
| Kill no. | Date | Time | Number | Type | Result | Plane type | Serial no. | Locality | Unit |
| | 1940 | | | | | | | | |
| 1 | 05/03/40 | 13:25-14:20 | 1 | I-153 (a) | Destroyed | Gladiator II | GL-278 | Äyräpää | LLv 14 |
| | 1942 | | | | | | | | |
| | 01/02/42 | | ½ | R-5 | Shared destroyed on the ground | Fokker D.XXI | FR-109 | Kolmajärvi/Viena | LLv 14 |
Biplane victories: 1 destroyed.
TOTAL: 1 destroyed, 1 shared destroyed on the ground.
(a) Pilot Semin of 68 IAP, 14 VA, shot down. Fate of pilot unknown.

Sources:
Englantilaiset Hävittäjät - Keskinen, Stenman, Niska
Ilmavoitot, osa 2 - Kalevi Keskinen and Kari Stenman, ISBN 952-99432-8-8
Kohtalokkaat lennot 1939-1944 - Jaakko Hyvönen kindly provided by Tuomo Lukkari
Pommituslentolaivue 44 - Matti Hämäläinen, 2003 Koala – kustannus kindly provided by Tuomo Lukkari
Red Stars 7 - Talvisota Ilmassa - The Winter War In the Air - Carl-Fredrik Geust, 2011 Apali Oy, Tampere, ISBN 978-952-5877-04-5
Soviet Fighter Pilots 1936-1953 - Mikhail Bykov
Suomen Ilmavoimat part II – 1928-40 – Kalevi Keskinen and Kari Stenman, 2006, ISBN 952-99743-0-2
Additional information kindly provided by Alexey Andreev, Lars Larsson and Tuomo Lukkari.




Last modified 23 November 2021