Biplane fighter pilots

Greece

Anthiposminagos Anastasios Bardivilias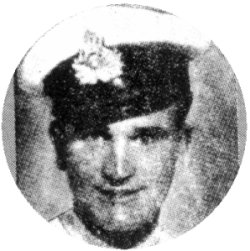 Anthiposminagos (Second Lieutenant) Anastasios Bardivilias served in 21 Mira (squadron) during the Italian invasion of Greece.
21 Mira started the conflict equipped with PZL P.24 but re-equipped with ex-RAF Gladiators in late 1940.
On 9 February 1941 18 S.79s from the 104o Gruppo were out to bomb in the Kelcyre-Tepelene area. These bombers were escorted by twelve Fiat G.50bis fighters from the 24o Gruppo led by Maggiore Eugenio Leotta, and twelve Fiat CR.42s from the 160o Gruppo, led by Tenente Edoardo Crainz. Four Greek Gladiators of 21 Mira (Sminagos Ioanis Kellas (CO of 21 Mira), Anthiposminagos Bardivilias, Episminias Ilias Dimitrakopoulos and Episminias Nikolaos Kostorizos) and eight PZLs from 22 and 23 Mire intercepted the formation.
The Greek fighters didnít manage to penetrate the fighter screen and a series of hectic dogfights started with the Italian escort. Overclaiming was heavy on both sides and the Greek pilots claimed eight enemy fighters, Kellas claimed two while Bardivilias, Dimitrakopoulos and Kostorizos claimed one enemy aircraft each. Episminas Epaminondas Dagoulas of 22 Mira claimed one fighter while Yposminagos Marinos Mitralexes from the same unit claimed one fighter over Berat; Mitralexes also claimed one additional fighter and a probable during the combat. The Greek Army confirmed the eight victories and this was also confirmed by a Mr. Roussos, a journalist of the newspaper ELEYTHERON BHMA, who was on the ground with the troops as a war correspondent. His report is a first hand account and also gives the enthusiasm of the Greek soldiers while the Italian planes fell to the ground.
The Gladiators flown by Kellas and Dimitrakopoulos were both hard hit during the combat but it was possible to repair these fighters. Yposminagos Kotronis was shot down, but he managed to force-land his PZL, totally destroying it in the process. He escaped, however, only lightly wounded. A second PZL was shot up by three fighters and Episminias (Sergeant) John Michopoulos of 22 Mira was wounded in the thigh, but he managed to get back to Salonika/Sedes and land. Other aircraft returned damaged.
The G.50bis pilots in return claimed one Gladiator and three PZLs shot down, while the pilots from the 160o Gruppo submitted claims for three Gladiators (one each by Tenente Crainz, Sergente Maggiore Luciano Tarantini and Sergente Maggiore Aurelio Munich) and two PZLs (Sottotenente Raoul Francinetti and Sergente Antonio Crabbia).
It seems that no Italian fighters were lost on this occasion.
On 10 February four PZL P.24s of 23 Mira together with four PZLs of the 22 Mira and four Gladiators of 21 Mira patrolled near the Premeti area. The Gladiators (Sminagos Ioanis Kellas (CO of the 21 Mira), Sminagos Dimitrios Skaltsogiannis, Anthiposminagos Bardivilias and Episminias Ilias Dimitrakopoulos) acted as top-cover for the PZLs.
The Greek fighters intercepted three formations of 47o Stormo Z.1007bis and five S.79s from the 104o Gruppo, which were out to attack Yanina. It also seem that thirteen BR.20s from the 37o Stormo were involved in this interception. The Italian bombers were escorted by 154o Gruppo C.T. G.50bis fighters, led by Maggiore Eugenio Leotta. The 22 and 23 Mire attacked the bombers and the 23 Mira claimed three shot down; one by Sminagos Grigorios Theodoropoulos (CO of 23 Mira), one by Sminago Basileio Skroubelos and one by Yposminago Panagioti Mpousio. One more was claimed as a probable by Sminias S. Depountis. The 22 Mira claimed two more bombers and two probables. Pilot claiming were Sminagos Andreas Antoniou, Yposminago Marino Mitralexi, Sminago Grigorio Fanourgaki (who claimed one of the propables) and Episminia Ioanni Michopoulo.
According to the diary of the commander of 23 Mira, Sminagos Theodoropoulos, the 21 Mira shot down three Italian fighters when they were trying to intercept the PZLs.
Michopoulos was shot down during the combat and he made a forced-landing, but due to the damages on his fighter, it was completely destroyed and the pilot was wounded. Scroubelosí aircraft was also hard hit although he managed to return to base. Back to base two PZLs were destroyed during landing. However, against all odds and working all the night, the Greek Mechanics, managed to reconstruct a new aircraft from the parts of the two written-off ones, receiving the admiration of the RAF personnel. The Italians claimed four PZLs and one Gladiator. It seems that Maggiore Leotta claimed the shot down Gladiator.
At 17:20 on 11 February, 17 CR.42s of the 150o Gruppo led by Capitano Luigi Mariotti (363a Squadriglia) took off to strafe Yanina's Katzika airfield. At 17:45 they attacked covered by 15 G50.bis of the 154o Gruppo.
Two Gladiators from 21 Mira flown by Anthiposminagos Bardivilias and Episminias Nikolaos Kostorizos were scrambled but were quickly overwhelmed. Bardiviliasís Gladiator was shot down and the pilot killed while Kostorizosí aircraft received many hits but the pilot managed to safely land at Yanina airfield.
The Italian pilots claimed two Gladiators shot down, one of them by Capitano Mariotti, who claimed one Gladiator as it was taking off. 364a Squadriglia pilots claimed three more biplanes slightly damaged on the ground. Three CR.42s of the 363a Squadriglia flown by Capitano Mariotti, Sottotenente Ugo Drago and Sergente Maggiore Bruno Benassi, made further strafing attacks, damaging another Gladiator. The three pilots then set fire to a lorry and damaged four others at Yanina. They also attacked a sailing ship spotted at Corfu. Totally three aircraft were claimed destroyed on the ground and 15 more damaged; three Gladiators were slightly damaged on the ground.
Ground AA fire claimed to have hit one of the CR.42s and it was believed to have crashed some miles to the south, but all in fact returned.
At the time of his death, Bardivilias was credited with one victory, this one claimed while flying Gloster Gladiator.
Claims:

| | | | | | | | | |
| --- | --- | --- | --- | --- | --- | --- | --- | --- |
| Kill no. | Date | Number | Type | Result | Plane type | Serial no. | Locality | Unit |
| | 1941 | | | | | | | |
| 1 | 09/02/41 | 1 | Enemy fighter (a) | Destroyed | Gladiator | | Kelcyre-Tepelene area | 21 Mira |
Biplane victories: 1 destroyed.
TOTAL: 1 destroyed.
(a) Claimed in combat with fighters from 24o and 160o Gruppi. The 21, 22, 22 Mire claimed eight enemy fighters for the loss of one PZL while several more were damaged. The Italian fighters claimed five PZLs and four Gladiators without loss.

Sources:
53o Stormo - Marco Mattioli, 2010 Osprey Publishing, Oxford, ISBN 978-1-84603-977-5
Air war for Yugoslavia, Greece and Crete - Christopher Shores, Brian Cull and Nicola Malizia, 1987 Grub Street, London, ISBN 0-948817-07-0
Luftwaffe Claims Lists - Tony Wood
Personal letter to Lars Larsson from Greek Airforce historical archive.
Additional information kindly provided by Dimitrios Vassilopoulos.




Last modified 12 April 2011