Biplane fighter aces

Italy

Sergente Maggiore Antonio Crabbia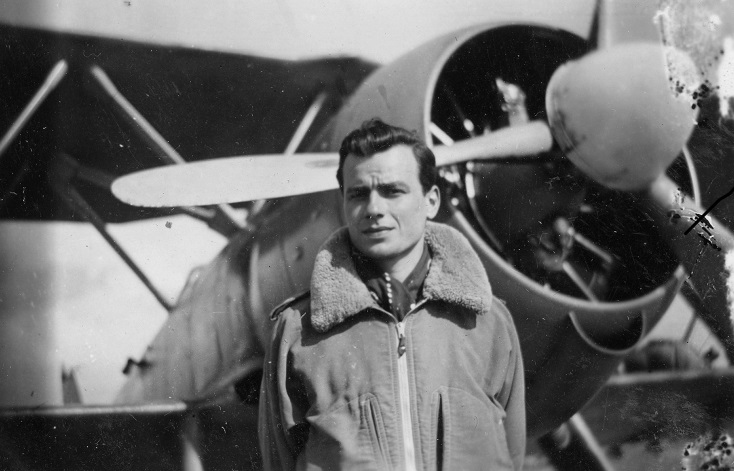 Sergente Maggiore Antonio Crabbia in Albania
Image kindly provided by Pierpaolo Maglio
In February 1941, Crabbia belonged to the 160o Gruppo C.T. At this time this unit took part in the Greek campaign and was equipped with Fiat CR.42s.
On 9 February 1941 18 S.79s from the 104o Gruppo were out to bomb in the Kelcyre-Tepelene area. These bombers were escorted by twelve Fiat G.50bis fighters from the 24o Gruppo led by Maggiore Eugenio Leotta, and twelve Fiat CR.42s from the 160o Gruppo, led by Tenente Edoardo Crainz. Four Greek Gladiators of 21 Mira (Sminagos Ioanis Kellas (CO of 21 Mira), Anthiposminagos Anastasios Bardivilias, Episminias Ilias Dimitrakopoulos and Episminias Nikolaos Kostorizos) and eight PZLs from 22 and 23 Mire intercepted the formation.
The Greek fighters didn't manage to penetrate the fighter screen and a series of hectic dogfights started with the Italian escort. Overclaiming was heavy on both sides and the Greek pilots claimed eight enemy fighters, Kellas claimed two while Bardivilias, Dimitrakopoulos and Kostorizos claimed one enemy aircraft each. Episminas Epaminondas Dagoulas of 22 Mira claimed one fighter while Yposminagos Marinos Mitralexes from the same unit claimed one fighter over Berat; Mitralexes also claimed one additional fighter and a probable during the combat. The Greek Army confirmed the eight victories and this was also confirmed by a Mr. Roussos, a journalist of the newspaper ELEYTHERON BHMA, who was on the ground with the troops as a war correspondent. His report is a first-hand account and also gives the enthusiasm of the Greek soldiers while the Italian planes fell to the ground.
The Gladiators flown by Kellas and Dimitrakopoulos were both hard hit during the combat but it was possible to repair these fighters. Yposminagos Kotronis was shot down, but he managed to force-land his PZL, totally destroying it in the process. He escaped, however, only lightly wounded. A second PZL was shot up by three fighters and Episminias (Sergeant) John Michopoulos of 22 Mira was wounded in the thigh, but he managed to get back to Salonika/Sedes and land. Other aircraft returned damaged.
The G.50bis pilots in return claimed one Gladiator and three PZLs shot down, while the pilots from the 160o Gruppo submitted claims for three Gladiators (one each by Tenente Crainz, Sergente Maggiore Luciano Tarantini and Sergente Maggiore Aurelio Munich) and two PZLs (Sottotenente Raoul Francinetti and Sergente Crabbia).
It seems that no Italian fighters were lost on this occasion.
Later 160o Gruppo C.T. returned to Italy for a rest and at the end of 1941 the unit was in North Africa on ground attack duties.
At daylight on 27 January 1942 Blenheims of 21 Squadron were sent off from Malta to search for an enemy convoy, Squadron Leader C. A. White leading a sweep from east of the Gulf of Gabes, to Zuara. Some 20 miles off Zaezis, a freighter of an estimated 5000 tons was located, escorted by a destroyer and three CR.42s of 160o Gruppo Autonomo C.T. As White manoeuvred his formation, seeking an opportunity to strike, one of the patrolling fighters, flown by Sergente Crabbia, broke away and latched onto two of the Blenheims, forcing the formation to scatter and, hence, the leader to call off the attack. Both Pilot Officer Booth's Z7288/S and Sergeant G. R. Cameron's Z7341/X were hit; the latter aircraft had its cupola shot away, Sergeant George Hancock, the Welsh air gunner, narrowly escaping injury.
In 1943, Crabbia flew Re.2001s from Olbia-Venafiorita (Sardinia) and while doing so claimed two P-38s.
In August he got malaria and was transferred to Hospital in Pisa.
Crabbia ended the war with 1 biplane victory and a total of 3.
During his career, he was decorated with two Medaglie d'argento al valor militare.
Claims:

| | | | | | | | | |
| --- | --- | --- | --- | --- | --- | --- | --- | --- |
| Kill no. | Date | Number | Type | Result | Plane type | Serial no. | Locality | Unit |
| | 1941 | | | | | | | |
| 1 | 09/02/41 | 1 | PZL P.24 (a) | Destroyed | Fiat CR.42 | | Kelcyre-Tepelene area | 160o Gruppo |
| | 1942 | | | | | | | |
| | 27/01/42 | 1 | Blenheim (b) | Damaged | Fiat CR.42 | | 20 miles off Zaezis | 160o Gruppo |
| | 27/01/42 | 1 | Blenheim (b) | Damaged | Fiat CR.42 | | 20 miles off Zaezis | 160o Gruppo |
| | 1943 | | | | | | | |
| 2 | 24/05/43 | 1 | P-38 | Destroyed | Re.2001 | | | 160o Gruppo |
| 3 | 24/06/43 | 1 | P-38 | Destroyed | Re.2001 | | | 160o Gruppo |
Biplane victories: 1 destroyed, 2 damaged.
TOTAL: 3 destroyed, 2 damaged.
(a) Claimed in combat with fighters from 21, 22, 22 Mire. The 24o and 160o Gruppi claimed five PZLs and four Gladiators without loss. The Greek fighters claimed eight enemy fighters for the loss of one PZL while several more were damaged.
(b) Blenheims Z7288/S (Pilot Officer Booth) and Z7341/X (Sergeant G. R. Cameron) of 21 Squadron damaged.

Sources:
53o Stormo - Marco Mattioli, 2010 Osprey Publishing, Oxford, ISBN 978-1-84603-977-5
Air war for Yugoslavia, Greece and Crete - Christopher Shores, Brian Cull and Nicola Malizia, 1987 Grub Street, London, ISBN 0-948817-07-0
Malta: The Spitfire Year 1942 - Christopher Shores and Brian Cull with Nicola Malizia, 1991 Grub Street, London, ISBN 0-948817-16-X
Spitfires over Sicily – Brian Cull with Nicola Malizia and Frederick Galea, 2000 Grub Street, London, ISBN 1-902304-32-2
USAAF (Mediterranean Theater) Credits For The Destruction Of Enemy Aircraft In Air-To-Air Combat World War 2 - Frank Olynyk, 1987 Victory List No.6
Additional information kindly provided by Pierpaolo Maglio and Dimitrios Vassilopoulos.




Last modified 26 August 2020