Biplane fighter aces

Hungary

Hadnagy Mátyás 'Matyi' Pirity

28 December 1911– 17 May 2003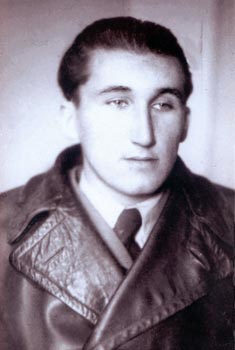 Image kindly provided by Göran Bruun.
Mátyás Pirity was born on 28 December 1911.
Hadnagy (2nd Lieutenant) Pirity served in the 1/1. "Íjász" vadászszázad's (Fighter Squadron) 3. Section operating Fiat CR.32s from Ungvar airfield during the border skirmishes against the Slovaks in the spring of 1939.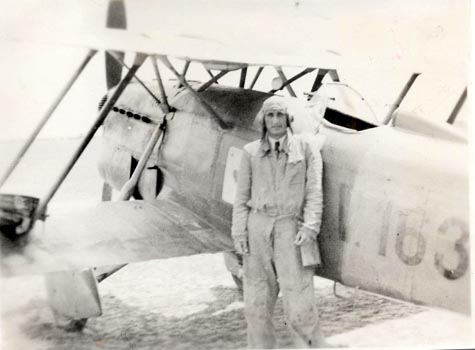 Hadnagy Pirity in front of a Fiat CR.32 (V-163) of the 1/3. 'Kör Ász' vadászszázad.
Image kindly provided by Jukka O. Kauppinen.
At 15.00 on 24 March 1939 the whole squadron scrambled at 15:00 hours. They formed in three Vs in the air; főhadnagy Béla Csekme leading with hadnagy V. Gemeinhardt and őrmester M. Tarr as wingmen. Negró's trio flew on the starboard side and on the port side flew főhadnagy László Palkó's 3. Section, with wingmen főhadnagy Antal Békássy and hadnagy Pirity. The CR.32s reached the cloud-base at about 6200 feet and then flew into fog. Soon there was a hole in the clouds and at the same moment Palkó and Pirity noticed three Avia B-534s and three Letov Š.328s on the port side. The 1. Section did not appear to notice the enemy and they flew on and were soon swallowed by the fog. The Avias, which were from 45th letka, jumped Negró's 2. Section but opened fire too soon, outside the range of their machine-guns. Negró, turned the table and shot down one Avia flown by rotmajster Ján Hergott southeast of Bánovce nad Ondavou. A second Avia, flown by František Hanovec, was shot down by Szojak near Senné.
The Letovs, which were from 12th letka on their way to bomb Hungarian troops at Sobrance, were deserted by their escort and offered a tempting target. They were 300 feet higher thus, in order to gain speed and altitude, Palkó threw his machine into a short dive and then climbed behind the Letovs. He dipped the nose of his CR.32 and sent a burst into the belly of the nearest one. The aircraft caught fire and crashed north of Pavlovce nad Uhom. The pilot slobodník Gustáv Pažický and the observer porucík Ferdinand Švento were both killed. A second Letov was claimed shot down by Pirity. This was a Letov flown by slobodník Jozef Drlicka and his observer podporucík L. Šronk and they made an emergency landing near Strazske.
Three more Avias were discovered and Palkó's wingmen were now locked in combat with the enemy fighter. Békássy pursued one over the border and emptied a total of a thousand rounds from both machine guns into it before shooting it down. This aircraft was flown by desiatnik Martin Danihel from 45th letka and he made an emergency landing near Brezovice nad Torysa. After having expending all his ammunition Békássy returned to Hungary.
Looking around Pirity saw streams of tracers scorching the sky then noticed an Avia some 1500 feet below. Pirity dived on it but he had to pull out because another CR.32 crossed his path with guns blazing. The sky was now empty, Palkó, staying in the area for a minute or two, sighted Negró's machine. One by one the other Fiats joined them. Békássy and Szojak had already landed at Ungvar.
The Hungarian pilots totally claimed five Avias and two Letovs in the air combat over Paloc. Negró, Békássy, Szojak, Béla Csekme (not confirmed) and Kertész (one not confirmed over Michalovce) reported the destruction of the Avias, while Palkó and Pirity claimed the Letovs. Gemeinhardt and Tarr had no chance to fire their guns in anger. The Slovakian forces lost three Avia B-534s and two Letovs. Slovakian pilots Hanovec and Danihel both claimed one Fiat but this was not confirmed with the Hungarians.
Porucík Ferdinand Švento, the observer of one of the Letovs, baled out and was wounded in the stomach while descending in his parachute. He fell near a group of Hungarian hussars. Upon impact he forced himself to sit up and reached inside his flying gear. The move was misunderstood and Švento was mortally shot. The hussars found his identification papers in his hand instead of a pistol. Švento was buried with full military honors.
He was decorated with the Magyar Érdemrend Lovagkeresztje hadiszalagon kardokkal for his performance in this conflict.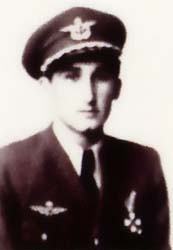 Image kindly provided by Göran Bruun.
He later volunteered for service in Finland during the Finnish-Soviet Winter war in 1939-40 and joined the Finnish Air Force on 16 December together with Vilmos Békássy (the brother of Antal Békássy). During this conflict he served in LLv 26.
On 8 February 1940 the Hungarian volunteers vänrikki Békássy and luutnantti Mátyás Pirity was to ferry Fiat G.50-fighters from Västerĺs, Sweden, to Turku together with luutnantti Kauko Linnamaa. Békássy was flying FA-7 and Pirity FA-3. Linnamaa's aircraft didn't start and the two Hungarians took off alone at 14:45. It was snowing heavily and Pirity lost contact of Békássy's Fiat, which had dropped behind, and turned back. Békássy didn't have any blind-flying experience or experience of formation flying; he didn't even have a map. He was last seen above Svenska Högarna flying east.
At the time Békássy was suspected of having defected to Paltiski though now it is known that the range of G.50 would not have been enough to reach Estonia (occupied by Soviet Union). Békássy had flown in the Spanish Civil War.
At 12:20 on 15 February 1940 Pirity took off from Sweden in FA-3 for Finland together with luutnantti Mattelmäki and vääpeli Aaltonen flying two other Fiats. Vääpeli Aaltonen had orders to keep an eye on Pirity's Fiat and open fire if suspecting that Pirity might try to defect to Paltiski.
After 20 minutes Pirity was forced make an emergency landing on the sea ice due to lack of fuel in the Naantali region. He received fuel from civilians and arrived at Utti - Haukkajaravira.
On 1 March LLv 26 was transferred to Hollola airport.
At 11:45 on 2 March he took part in his first combat sortie, flying FA-1.
He flew a second sortie on the same day at 16:15.
He flew a third sortie at 11:30 on 5 March.
On 9 March he took off for a sortie in FA-22 at 11:10 but was forced to abort after ten minutes due to a faulty landing gear.
According to some sources he claimed a damaged SB while flying a Fiat G.50 in March 1940.
Pirithy flew 22 sorties during Winter War and received the Finnish Flying Badge "Honoris Causa" n:o K 60.
He left Finland for Hungary on 28 March 1940 and arrived back home two days later.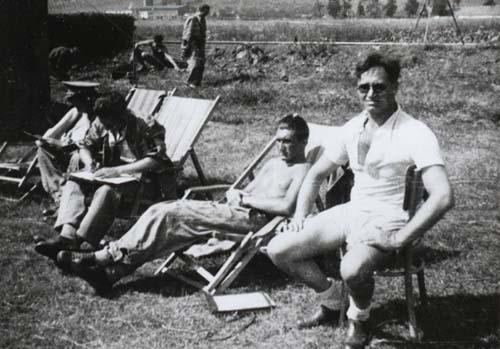 Pirity (second from right) during the summer of 1941 at Felsoábrány airfield.
Image kindly provided by Csaba Becze.
He returned to Hungary and later in the war he served as a Ju 52 pilot in the 102/1. futárszállító század together with Miklós Kun.
Pirity ended the war with 1 biplane victory.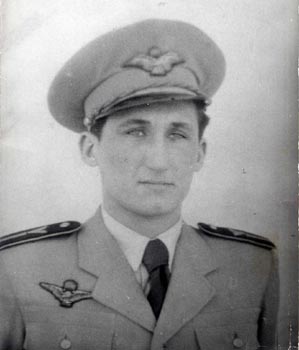 Image kindly provided by Jukka O. Kauppinen.
In 1948 Pirity emigrated to Australia after having been black-listed by the Hungarian Communist Party due to his participation in the Winter War on the "wrong" side.
In Australia he later received the Finnish Talvisodan Muistomitali (Winter War Campaign Medal).
In 1993 he returned to Hungary and to live in Budapest.
Pirity passed away on 17 May 2003.
He was buried on 29 May in the presence of many pilots together with the Finnish consul and military attaché.
Claims:

| | | | | | | | | |
| --- | --- | --- | --- | --- | --- | --- | --- | --- |
| Kill no. | Date | Number | Type | Result | Plane type | Serial no. | Locality | Unit |
| | 1939 | | | | | | | |
| 1 | 24/03/39 | 1 | Letov Š.328 (a) | Destroyed | Fiat CR.32 | | near Strazske | 1/1. vadászszázad |
| | 1940 | | | | | | | |
| | ??/03/40 | 1 | SB | Damaged | Fiat G.50 | | Finland | LLv 26 |
Biplane victories: 1 destroyed.
TOTAL: 1 destroyed, 1 damaged.
(a) Letov Š.328 from 12th letka flown by slobodník J. Drlicka and his observer podporucík L. Šronk, which made an emergency landing near Strazske.

Sources:
Csaba Becze: A magyar királyi 1. honvéd éjjeli vadász repülőszázad Magyar Repüléstörténeti Társaság Konferencia Közleményei 1999 kindly provided by Csaba Becze
Biplane Against The Red Bear - Julius R. Gaal, 1974 Air Combat Spring/1974 kindly provided by Santiago Flores
Harcok az orosz égen Budapest - Tomor László, 1942 kindly provided by Csaba Becze
Hungary in the WW2 lexicon A-Zs kindly provided by Milán Szekelyhidi
Hungarian pilots in the "winter war" - Mujzer Péter, 2002 Top Gun Magazine 2002/6 kindly provided by Milán Szekelyhidi
Hävittäjälentolaivue 26 - Carl-Erik Bruun kindly provided by Göran Bruun
Slovenské Letectvo 1939-1944 - Juraj Rajninec, Bratislava, 1997
Tűzkeresztség - Csaba Becze
Additional information kindly provided by Csaba Becze, Göran Bruun and Jari Lappalainen




Last modified 20 October 2004