Biplane fighter aces

Hungary

Zászlós Márton 'Lapaj' Szönyi
- 7 September 1944
Between October 1938 and May 1940 approximately 200 Hungarian pilots (including Márton Szönyi, Károly Baranyai and Lajos Göcsei) got their theoretical and flying training in Grottaglie, near Taranto (South Italy). The theoretical instructors were Hungarians and the flying instructors were Italians. The reasons for these arrangements were Hungary's "peace" dictate after the First World War (military flying was forbidden until 1938 for Hungarians).
Zászlós (Ensign) Szönyi was attached to 1/3. vadászszázad (1/3. Fighter Squadron) at the time of the assault on Soviet Union. The unit was equipped with Fiat CR.42s.
On 11 August 1941 two sections of the squadron and the Reggiane Re2000 flight, which was attached to the squadron for testing of this fighter under combat conditions, took of under the command of Százados (Captain) László Tomor to escort Föhadnagy (Lieutenant) Szakonyi's Caproni Ca135 detachment. The mission was to destroy the important bridge over the river Bug at Nikolayev since this bridge was the last remaining escape route of the encircled Soviet army. The bridge was however strongly defended by antiaircraft batteries and fighters. On the way to the target the antiaircraft fire was heavy. Most of the bombers were hit but yet they destroyed the bridge and severely damaged the railway station. On the return flight the Hungarian aircraft were attacked by Soviet I-16s. The Hungarian fighters flew above the bombers when they left the target area and when the Russian leader selected the first Caproni he was intercepted by Szakaszvezetö (Senior Aircraftsman) Lajos Göcsei and Hadnagy (Second Lieutenant) Seres. A turning dogfight followed but the Hungarian CR.42s stayed behind the desperate Russian until Göcsei found himself in a favorable position. He sent a long burst into the fuselage of the I-16, flames leapt from the aircraft and it fell towards the ground like a spinning torch. Almost at the same time Zászlós (Ensign) Kun had shot down another I-16 which just flew in front of his machine guns. When Tomor rejoined the bombers he discovered a lone I-16 behind one of the Capronis. He dived on the enemy and shot it down in flames. At the same time Szönyi and Zászlós Baranyai, who were escorting a crippled Caproni, encountered two I-16s and shot them down promptly. Seres, who flew back to search for the two fighters and the bomber, saw the two Soviet fighters hitting the deck. This was the 1/3. "Kör ász" vadászszázad first five claims during the Second World War and all CR.42s were hit but none were lost. The Re2000s claimed 2 more Soviet fighters, but had lost a pilot. The crippled Caproni claimed 3 and another Caproni claimed 1 additional Soviet fighter.
On 26 August, Hadnagy (Second Lieutenant) Seres' section flew a sortie over Dniepropetrovsk when they noticed three enemy fighters below. The CR.42s dived on them immediately. On of the Soviet fighters noticed the Hungarians and dived away but Seres sat behind on of the other I-16s and sent burst after burst into the fuselage. The chase ended when the I-16 flew into a group of trees. Szönyi managed to creep up on the other I-16 undetected and sent a long burst into it. Within a minute the machine exploded among the houses of a village. While this happened Zászlós Baranyai found himself face to face with five more I-16s. He raced towards them with machine guns firing and managed to break through. Then he turned back and attacked one of the Russian fighters. Soon, however, another I-16 began to shoot at him from behind. And when he managed to evade the bullets, another I-16 appeared from the opposite direction. He did not quite know how long this deadly play went on but he was wounded in the leg, his oil tank was holed and there were bullet marks all over the aircraft. He remained cool and kept using the CR.42s excellent manoeuvrability and survived until Seres and Szönyi reappeared on the scene. Now the Hungarians surprised the Russians and within seconds Seres and Szönyi shot down an I-16 each in flames. At long last Baranyai had his opportunity to pick an adversary. His long burst penetrated the I-16 and, trailing black smoke, it hit the ground beside the Samara River. When Baranyai landed not a drop of oil was left in his tank. Fortunately his wound was not serious and he was soon patched up by the medics and flew again the next day.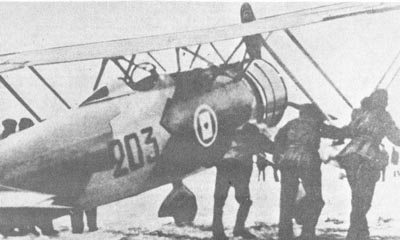 V-203, which was used by Szönyi on 26 and 27 August 1941.
The image is however from the 1939/40 period since the 1/3. "Ace of Hearts" vadászszázad insignia was changed during 1940 to a more simple form without the red disc in the background. The camouflage of the aircraft is also the old three-tone variant. Also from April 1941 yellow bands were painted on the fuselage behind the cockpit.
Next day he shot down a fourth enemy aircraft over Western Ukraine. However minutes later he was shot down himself, forced to make an emergency landing and taken POW.
Later on he was "re-educated" by the NKVD and trained in sabotage and diversion techniques. Alongside other Hungarian and Soviet agents and saboteurs he was dropped over Hungary on 8 August 1944.
On 7 September 1944 he was killed by Hungarian csendör (gendarme) troops.
Totally Szönyi claimed 4 victories, all of them while flying Fiat CR.42, before he was captured.
Claims:

| | | | | | | | | |
| --- | --- | --- | --- | --- | --- | --- | --- | --- |
| Kill no. | Date | Number | Type | Result | Plane type | Serial no. | Locality | Unit |
| | 1941 | | | | | | | |
| 1 | 11/08/41 | 1 | I-16 | Destroyed | Fiat CR.42 | | Nikolayev area | 1/3. vadászszázad |
| 2 | 26/08/41 | 1 | I-16 | Destroyed | Fiat CR.42 | V-203 | Dniepropetrovsk area | 1/3. vadászszázad |
| 3 | 26/08/41 | 1 | I-16 | Destroyed | Fiat CR.42 | V-203 | Dniepropetrovsk area | 1/3. vadászszázad |
| 4 | 27/08/41 | 1 | soviet a/c | Destroyed | Fiat CR.42 | V-203 | Western Ukraine | 1/3. vadászszázad |
Biplane victories: 4 destroyed.
TOTAL: 4 destroyed.

Sources:
Becze Csaba: A magyar királyi 1. honvéd éjjeli vadász repülöszázad Magyar Repüléstörténeti Társaság Konferencia Közleményei 1999 kindly provided by Csaba Becze
Biplane Against The Red Bear - Julius R. Gaal, 1974 Air Combat Spring/1974 kindly provided by Santiago Flores
Fejezetek a magyar katonai repülés történetéböl - S. Nayyváradi, Miklós M. Szabó and L. Winkler, 1986 kindly provided by Dénes Bernád
Harcok az orosz égen Budapest - László Tomor, 1942 kindly provided by Csaba Becze
Additional information kindly provided by Csaba Becze and Dénes Bernád.




Last modified 03 May 2003