Biplane fighter aces

Italy

Sottenente Carlo Brigante Colonna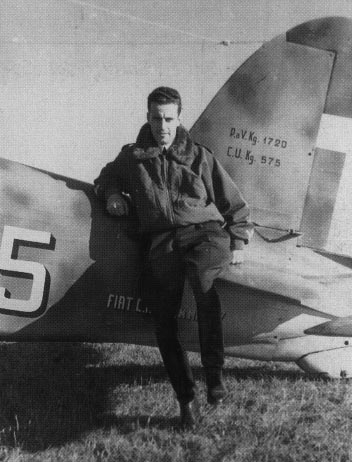 Tenente Carlo Brigante Colonna in front of a CR.42 while servicing in 95a Squadriglia of the 18o Gruppo C.T.
On 21 July 1941 a new convoy sailed for Malta (codename 'Substance') and by late afternoon on the 23rd the ships were coming within range of aircraft from Sicily and Malta. Five of 272 Squadron's Beufighters were sent off to give escort at 16:20, followed by six more at 17:03, joining the convoy near Bizerta. Meanwhile from Sicily S.79sil torpedo-bombers of the 278a Squadriglia, escorted by 23o Gruppo CR.42s were on their way, followed by S.79 bombers of the10o and 30o Stormo, and Ju 87s of the 101o Gruppo Tuff, plus 27 escorting MC200s from 54o Stormo. The bombers gained one hit on the destroyer HMS Firedrake, which was damaged, but it seems that the Beaufighters on patrol attacked both the bombers and the torpedo-bombers. The CR.42 pilots reported that aircraft identified as Blenheims attacked the 278a Squadriglia aircraft near the Califfe islands, and one of these was claimed shot down by Tenente Giorgio Solaroli and Sottenente Carlo Brigante Colonna. This was almost certain the Beaufighter flown by 26-year-old Sergeant William Matthew Deakin (RAF No. 938058) and 24-year-old Sergeant Clifford Franklyn Jenkins (RAF No. 909257) of 272 Squadron, which failed to return from the mission.
At the beginning of 1942, the 23o Gruppo joined the 18o Gruppo to establish the 3o Stormo again. The units reassembled at Mirafori to be re-equipped with Macchi MC.202s.
The unit returned to North Africa and took part of the Axis offensive into Egypt during the summer and fall of 1942.
On 31 July 1942 a formation of 12 MC.202s from 70a and 74a Squadriglias surprised a squadron of Kittyhawks, who were attacking German lines at Bir Mukeisin with a squadron of Spitfires as escort. Totally was the allied group twice as big as the Italian was.
Despite this the Italian fighters attacked and during the following dogfight five of the enemy fighters were claimed as destroyed. In this combat enemy aircraft were claimed by Capitano Giorgio Tugnoli, Capitano Claudio Solaro, Sergente Maggiore Celso Zemella, Sergente Maggiore Mantelli. The fifth was claimed jointly by Tenente Moruzzi, Tenente Spinelli, Sottotenente Sprinelli Barrile and Sottotenente Brigante Colonna. Capitano Tugnoli and Sergente Maggiore Stefani claimed two more aircraft as probables. Eleven more of the enemy aircraft was shot at.
All the Italian aircraft returned to base.
On 9 October 1942 five MC.202s of 23o Gruppo were led by the German Freya radar at El Dab to intercept a large formation of Martin Baltimore and B-25 Mitchell bombers escorted by P-40 Kittyhawks.
In the ensuing combat Maggiore Luigi Filippi claimed a Kittyhawk while Sottottenente Brigante Colonna claimed a second as a probable.
Brigante Colonna ended the war with 1 shared biplane victory and a total of 2 shared destroyed.
Claims:

| | | | | | | | | |
| --- | --- | --- | --- | --- | --- | --- | --- | --- |
| Kill no. | Date | Number | Type | Result | Plane type | Serial no. | Locality | Unit |
| | 1941 | | | | | | | |
| | 23/07/41 | ½ | Beaufighter (a) | Shared destroyed | Fiat CR.42 | | near Califfe islands | 23o Gruppo |
| | 1942 | | | | | | | |
| | 31/07/42 | 1/4 | Enemy aircraft (b) | Shared destroyed | MC.202 | | Bir Mukeisin area | 70a Squadriglia |
| | 09/10/42 | 1 | P-40 | Probable | MC.202 | | North Africa | 23o Gruppo |
Biplane victories: 1 shared destroyed.
TOTAL: 2 shared destroyed, 1 probable.
(a) Beaufighter of 272 Squadron.Sergeant W. M. Deakin and Sergeant C. F. Jenkins missing.
(b) Claimed in combat with P-40 Kittyhawks and Spitfires.
Sources:
3o Stormo, storia fotografica - Dai biplani agli aviogetti - C. Lucchini and E. Leproni, 1990 Gino Rossato Editore kindly provided by Jean Michel Cala with translations kindly provided by Birgitta Hallberg-Lombardi
Courage Alone - Chris Dunning, 1998 Hikoki Publications, Aldershot, ISBN 1-902109-02-3
Italian Aces of World War 2 - Giovanni Massimello and Giorgio Apostolo, 2000 Osprey Publishing, Oxford, ISBN 1-84176-078-1
Malta: The Hurricane Years 1940-41 - Christopher Shores and Brian Cull with Nicola Malizia, 1987 Grub Street, London, ISBN 0-89747-207-1
The Commonwealth War Graves Commission




Last modified 07 April 2004