Biplane fighter aces

Italy

Sottenente Carlo Brigante Colonna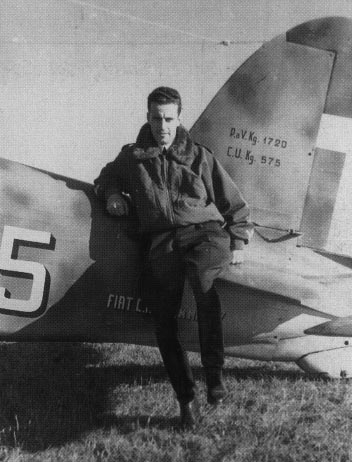 Tenente Carlo Brigante Colonna in front of a CR.42 while servicing in 95a Squadriglia of the 18o Gruppo C.T.
On 21 July 1941 a new convoy sailed for Malta (codename 'Substance') and by late afternoon on the 23rd the ships were coming within range of aircraft from Sicily and Malta. Five of 272 Squadron's Beufighters were sent off to give escort at 16:20, followed by six more at 17:03, joining the convoy near Bizerta. Meanwhile from Sicily S.79sil torpedo-bombers of the 278a Squadriglia, escorted by 23o Gruppo CR.42s were on their way, followed by S.79 bombers of the10o and 30o Stormo, and Ju 87s of the 101o Gruppo Tuff, plus 27 escorting MC200s from 54o Stormo. The bombers gained one hit on the destroyer HMS Firedrake, which was damaged, but it seems that the Beaufighters on patrol attacked both the bombers and the torpedo-bombers. The CR.42 pilots reported that aircraft identified as Blenheims attacked the 278a Squadriglia aircraft near the Califfe islands, and one of these was claimed shot down by Tenente Giorgio Solaroli and Sottenente Carlo Brigante Colonna. This was almost certain the Beaufighter flown by 26-year-old Sergeant William Matthew Deakin (RAF No. 938058) and 24-year-old Sergeant Clifford Franklyn Jenkins (RAF No. 909257) of 272 Squadron, which failed to return from the mission.
At the beginning of 1942, the 23o Gruppo joined the 18o Gruppo to establish the 3o Stormo again. The units reassembled at Mirafori to be re-equipped with Macchi MC.202s.
The unit returned to North Africa and took part of the Axis offensive into Egypt during the summer and fall of 1942.
Between 09:15-10:30 on 31 July 1942, a formation of 12 MC.202s from the 23o Gruppo led by Capitano Giorgio Tugnoli flew a free sweep over the lines. Over Bir el Mukheisin they surprised a squadron of Kittyhawks, who were attacking the German lines with a squadron of Spitfires as escort (they reported meeting 20 enemy aircraft). The Italian fighters returned claiming five P-40s destroyed, two probables and many more being damaged (they reported shooting at eleven).
Pilots claiming victories were Capitano Tugnoli (74a Squadriglia), who also claimed a probable, Capitano Claudio Solaro (70a Squadriglia), Sergente Maggiore Celso Zemella (70a Squadriglia), Sergente Maggiore Mario Mantelli (74a Squadriglia) and Sergente Maggiore Emilio Stefani (74a Squadriglia). Sottotenente Brigante Colonna (74a Squadriglia) claimed the second probable. They didn't suffer any losses, and all returned even if Sottotenente Brigante Colonna's MC.202 MM8375 was damaged in the combat, but returned safely.
They seem to have been in combat with Kittyhawk Ias from 250 and 260 Squadrons which only suffered the loss of Kittyhawk AK671, which was shot down and the pilot, Pilot Officer N. E. McKee was wounded in combat. Warrant Officer L. G. Edwards (AK779/Z) and N. P. W. Hancock (ET525/Y) from 250 Squadron returned claiming a shared damaged MC.202 4miles south-west of El Mreir 11:00-11:30. Warrant Officer Edwards returned with his fighter with Cat. 1 damage as did Pilot Officer D. W. M. Rogerson (AK811/V).
Five MC.202s from the 23o Gruppo, led by Maggiore Luigi Filippi, were scrambled at 11:50 from Abu Haggag on 9 October 1942. Twenty kilometres south of Daba, they met a formation of 18 'Bostons' (as the British twin-engined bombers were invariably identified by the Italians) and fighters. A fight occurred during which Maggiore Filippi claimed a P-40 and Tenente Brigante Colonna a Spitfire probable. The 23o Gruppo landed again at 13:00.
At the same time (11:55-13:05), three MC.202s from the 91a Squadriglia were scrambled from Fuka and Maresciallo Leonardo Ferrulli claimed a 'P-46' south of Qutaifiya.
At 12:15, eight MC.202s from the 96a Squadriglia led by Tenente Emanuele Annoni scrambled from Fuka. They headed to Daba were a formation of 20 Bostons, escorted by Kittyhawks and Spitfires was engaged. Tenente Annoni claimed a Spitfire with a 'P-46' reportedly shot down by Sottotenante Alberto Giampaoli. The Italians suffered no losses.
Seven Bf 109s of II.Gruppe JG 27 were scrambled. This time the German fighters claimed three fighters when Feldwebel Alfred Heidel (4./JG 27) claimed a Spitfire south-east of Daba at 12:05, Feldwebel Fritz Lüer (6./JG 27) claimed a P-40 north-east of Daba at 12:15 and Oberleutnant Ernst Börngen (5./JG 27) claimed a Spitfire north of Sanyet Qotaifiya at 12:20. Unteroffizier Jens Bahnsen from 8./JG 53 seems to have scrambled somewhat later and he claimed a P-40 north-west of Sanyet Qotaifiya at 13:15. Four Bf 109s were lost during the day:
Bf 109 F-4 trop WNr 8598 White 9 from 6./JG 27 was shot down by P-40s over Fuka – Qotaifiya. The aircraft was destroyed and Oberfeldwebel Hans Wurschunger was KiA.
Bf 109 F-4 trop WNr 8572 from 7./JG 27 crashed at Fuka due to combat with the pilot baling out safely.
Bf 109 F-4 trop WNr 13019 White 6 from 7./JG 27 was shot down in combat with P-40s 20-25km south-east of El Alamein. Feldwebel Werner Fingerhuth baled out to become a PoW.
Bf 109 F-4 trop WNr 8648 from 7./JG 27 crash-landed after combat at Bir el Abd and was destroyed. The pilot was safe.
At 12:10, twelve Kittyhawks of 250 Squadron with other aircraft of 239 Wing escorted twelve Baltimores and six B-25s over LGs. 21 and 104, nine Spitfires of 92 Squadron providing top cover. After the bombing 20 Bf 109s and MC.202s attacked the formation. Sergeant A. A. W. Orr from 250 Squadron (Kittyhawk III FR287) claimed one Bf 109 E shot down over Daba at 13:20 but one was Kittyhawk shot down when Pilot Officer D. W. M. Rogerson (Kitthawk FL898) was shot down by MC.202s over Daba and Rogerson became a PoW. Two more were damaged; Kittyhawk FR287 with Sergeant A. A. W. Orr WiA and Kittyhawk FR238, which crash-landed at base at 13:45 but with the pilot Flying Officer C. W. Tribken safe. One Spitfire of 92 Squadron was also lost when Pilot Officer T. Harvey (Spitfire V BR479/E) failed to return and Harvey was posted as MiA.
Brigante Colonna ended the war with 1 shared biplane victory and a total of 2 shared destroyed.
Claims:

| | | | | | | | | | |
| --- | --- | --- | --- | --- | --- | --- | --- | --- | --- |
| Kill no. | Date | Time | Number | Type | Result | Plane type | Serial no. | Locality | Unit |
| | 1941 | | | | | | | | |
| | 23/07/41 | | 1/2 | Beaufighter (a) | Shared destroyed | Fiat CR.42 | | near Califfe islands | 23o Gruppo |
| | 1942 | | | | | | | | |
| | 31/07/42 | 09:15-10:30 | 1 | P-40 (b) | Probable | MC.202 | MM8375 | Bir el Mukeisin | 70a Squadriglia |
| | 09/10/42 | 11:50-13:00 | 1 | Spitfire (c) | Probable | MC.202 | | 20km S Daba | 74a Squadriglia |
Biplane victories: 1 shared destroyed.
TOTAL: 1 shared destroyed, 2 probably destroyed.
(a) Beaufighter of 272 Squadron.Sergeant W. M. Deakin and Sergeant C. F. Jenkins missing.
(b) Claimed in combat with 250 and 260 Squadrons, which lost 1 Kittyhawk (pilot safe) and got 2 more damaged. 23o Gruppo claimed 5 and 2 probable P-40s while getting 1 MC.202 damaged.
(c) Claimed in combat with fighters from 92 and 250 Squadrons, which claimed 1 Bf 109 while losing 1 Spitfire (pilot MiA) and 1 Kittyhawk (pilot PoW) and getting two more Kittyhawks damaged. II./JG 27, 8./JG 53 and 9o, 10o and 23o Gruppi claimed 8 destroyed and 1 probable without losses.

Sources:
3o Stormo, storia fotografica - Dai biplani agli aviogetti - C. Lucchini and E. Leproni, 1990 Gino Rossato Editore kindly provided by Jean Michel Cala with translations kindly provided by Birgitta Hallberg-Lombardi
A History of the Mediterranean Air War 1940-1945: Volume Two – Christopher Shores and Giovanni Massimello with Russell Guest, Frank Olynyk & Winfried Bock, 2012 Grub Street, London, ISBN-13: 9781909166127
Courage Alone - Chris Dunning, 1998 Hikoki Publications, Aldershot, ISBN 1-902109-02-3
Italian Aces of World War 2 - Giovanni Massimello and Giorgio Apostolo, 2000 Osprey Publishing, Oxford, ISBN 1-84176-078-1
Malta: The Hurricane Years 1940-41 - Christopher Shores and Brian Cull with Nicola Malizia, 1987 Grub Street, London, ISBN 0-89747-207-1
The Commonwealth War Graves Commission




Last modified 30 May 2022