Biplane fighter aces

Italy

Maresciallo Vincenzo Joseph Patriarca
1914 – 1995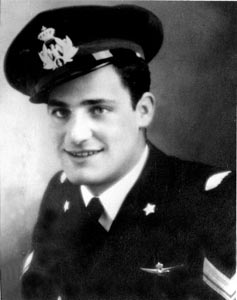 Photo kindly provided by GORIZIA ed il QUARTO STORMO.
Decorations

| | | |
| --- | --- | --- |
| Date | Decoration | Note |
| ??/??/42 | Medaglia di bronzo al valor militare | 1940-43 |
Vincent Joseph Patriarca was born in 1914 in New York from Italian parents and was a neutralised American citizen.
He went to Italy to learn the business of flying and enlisted in the Regia Aeronautica.
He took part in the war in Ethiopia.
Patriarca served in the 4o Stomro CT before taking part in the Spanish Civil War using the Nom de Guerre 'Vincenzo Boccolari'.
At dawn on 14 August 1936, the Italian freighter Nereide entered the port of Melilla, on the Mediterranean coast of Spanish Morocco. This important town had been occupied four weeks earlier by Nationalist forces led by general Franco himself. The vessel's cargo consisted of 12 CR.32s, which had been embarked in the Italian port of La Spezia a week earlier.
As well as spare parts for the Fiat fighters, the ship had also transported 18 volunteers from the Regia Aeronautica to North Africa, their passports bearing false details. Amongst them were the first 12 Italian fighter pilots to arrive on Spanish territory. They were led by Capitano Vincenzo Dequal ('Paride Limonesi') of the 1o Stormo CT and his flight leaders were Tenente Vittor Ugo Ceccherelli ('Vaccarese'), also of the 1o Stormo CT, Tenente Ernesto Monico ('Preti') of the 4o Stormo CT and Sottotenente Giuseppe Cenni ('Vittorio Stella') of the 1o Stormo CT. The remaining enlisted pilots were Sergente Maggiore Giuseppe Avvico ('Nannini') the 4o Stormo CT, Sergente Maggiore Bruno Castellani ('Ribaudi') of the 6o Stormo CT, Sergente Maggiore Sirio Salvadori ('Salvo') of the 4o Stormo CT, Sergente Angelo Boetti ('Ilacqua') of the 1o Stormo CT, Sergente Adamo Giuglietti ('Guglielmotti') of the 1o Stormo CT, Sergente Giovanni Battista Magistrini ('Marietti') of the 1o Stormo CT, Sergente Patriarca ('Boccolari') of the 4o Stormo CT and Sergente Guido Presel ('Sammartano') of the 6o Stormo CT. The groundcrew consisted of just three aircraft riggers and three mechanics.
After being welcomed by Spanish officers and the local Italian Consul, the pilots and groundcrew were immediately enrolled into the Tercio Extranjero with their equivalent ranks.
The CR.32s were assembled at Nador (Melilla) over the course of several days and eventually transferred by air to Tablada (Seville), in southern Spain.
The 12 CR.32s were integrated into the Aviación del Tercio and these, the first fighter unit of this force became the Primera Escuadrilla de Caza de la Aviación del Tercio (1a Escuadrilla de Caza del Tercio) and was commanded by Capitano Dequal.
The new squadron's initial operations consisted of patrols and single sortie missions as dictated by the particular operational requirements and limited efficiency of its aircraft. The CR.32 pilots struggled at first to have an impact on their Republican counterparts because only two of the dozen Fiat fighters in-theatre boasted compasses following a supply oversight in Italy! Unfamiliarity with Spanish terrain and inadequately detailed maps further compounded the unit's navigational problems when in the air, and the end result was pilot disorientation culminating in emergency landings and damaged aircraft.
Initially, the CR.32s were assigned defensive duties, patrolling overhead Nationalist forces in Andalusia and protecting them from aerial attack, as well as escorting S.81 bombers. The Italian biplanes also provided air cover for the infantry columns of the African Army that had been transported to Spain in the Ju 52/3ms. These troops were particularly vulnerable to attack from the numerically superior Republican air force in the early weeks of the war as they advanced north, occupying western Extremadura. The African Army's next target was the Spanish capital, Madrid, which it intended to occupy so as to claim international recognition in favour of a new Nationalist administration.
At dawn on 11 September 1936, the 1a Escuadrilla de Caza del Tercio took off from Cáceres with the orders to intercept Republican aircraft in the Talavera area.
Here three CR.32 led by Capitano Vincenzo Dequal and with Sergente Maggiore Giuseppe Avvico and Sergente Patriarca intercepted Breguet XIXs escorted by some Nieuport Ni-H.52s. Dequal and Avvico each claimed one Breguet while Sergente Patriarca claimed one of the Nieuports. The Ni-H.52 was flown by British pilot Brian Griffin of the Escuadra Internacional, who was killed. Francisco Portillo Ortega flew the Breguet claimed by Dequal and he escaped back to Republican lines but the observer was killed.
On 13 September 1936, a patrulla of Aeronáutica Naval Vickers Vildebeests arrived at Getafe from Los Alcázares to reinforce the surviving Breguet XIXs of Grupo No 31. Heading for the Talavera de la Reína front, and escorted by two Ni-H.52s flown by teniente Félix Urtubi Ercilla (a former Nationalist pilot) of the Grupo de Caza No 11 and auxiliary naval pilot Carlos Colom Moliner, the Vildebeests were intercepted at dawn by three CR.32s led by capitán Joaquín García Morato and including Sergente GianLino Baschirotto and Sergente Patriarca.
The bombers managed to escape but Baschirotto quickly shot down one of the Ni-H.52s. The Republican pilot, teniente Félix Urtubi Ercilla, crashed on the Nationalist side and his body was never recovered nor was the wreckage of his aircraft ever found. Urtubi Ercilla was posthumously promoted to capitán.
Patriarca, meanwhile, got involved in combat with a second Ni-H.52 with which he collided. The Republican pilot, Aeronáutica Naval pilot Colom Moliner, was killed and the charred remains of his body were recovered and identified by his squadron mates. Patriarca, however, managed to parachute. As soon as he landed he was captured by Republican troops and was only saved from a summary execution by showing his American passport. He was later trailed and sentenced to death. Because of the uproar occasioned by the capture of an American citizen, the US State Department successfully applied pressure to the Republican government and Patriarca was released and sent back to the U.S. in November 1936.
Patriarca's CR.32 was the only lost in combat during September-October 1936.
Legend soon had it that it was Félix Urtubi Ercilla who collided with the aircraft flown by Patriarca (perhaps due to his illustrious past). Following the release of a brief communique, government war correspondents asked for the name of the airman involved to be released so that "all the Spanish people can engrave it on their hearts".
The following day Republican newspapers named teniente Félix Urtubi Ercilla, and they attempted to give more details of the combat that had ended in his death. El Noroeste contained a reasonably accurate version of events:
"Five enemy aircraft - two tri-motors and three fighters - were sighted over the Navalmoral road, but the tri-motors quickly turned tail in the presence of a loyal fighter pilot, who opened intense machine gun fire. He hit one of the tri-motors and then, when the latter vanished, began a hair-raising pursuit in the clouds, trying to hunt down the three enemy fighters. The loyal fighter pilot hit another enemy aeroplane, which also escaped, but he then pounced on a third enemy aeroplane and almost broke it in two. It was a dreadful clash. The enemy pilot parachuted from his aircraft. Our fighter also crashed. Our brave pilot succumbed to his injuries. Teniente Félix Urtubi is the name of our hero."
But the dead Republican pilot was not Félix Urtubi Ercilla. The remains were those of Aeronáutica Naval pilot Carlos Colom Moliner. This was made clear in the Madrid evening newspaper La Voz on 16 September. Under the heading "Urtubi or Colom?" the paper reported:
"Today, we have been visited by two comrades from the Aeronáutica Naval who asked us to partially correct the information in the Madrid press on teniente Urtubi's alleged death. The corpse of the airman recovered from the Toledo field is that of auxiliar naval Carlos Colom. The fact that Urtubi was also flying at the same time over the same spot and on the same mission created all the confusion.
Both airmen fought courageously, as we reported yesterday. It is thought that Carlos Colom succumbed when he attacked the enemy aeroplane with his aircraft. There is no news of Urtubi's whereabouts. We hope that he will be found safe. Whatever happens, Félix Urtubi and Carlos Colom have written a new and heroic page in the feats of loyal aviators."
He later returned to Italy and reportedly re-entered Spain late in 1937.
After the Spanish Civil War he returned to Italy and joined the Regia Aeronautica.
In November 1940 a night-fighter flight was formed under 356o Squadriglia based at Capodichino, Naples, and equipped with Fiat CR.42s.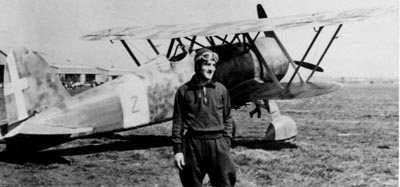 Patriarca in front of a CR.42.
Image kindly provided by Fulvio Chianese at GORIZIA ed il QUARTO STORMO.
During the night between 5th and 6th December 1941 twenty Wellingtons from 40 and 104 Squadrons attacked the Royal Arsenal at Naples. Maresciallo Patriarca from 356a Squadriglia, 21o Gruppo, took off from Capodichino airfield to intercept the incoming bombers. At 21:35 he spotted Wellington R1066 of 40 Squadron, flown by Pilot Officer D. F. Hutt, and engaged it in a long fight, firing 408 rounds of 12.7 mm ammunition before he finally shot it down. Pilot Officer Hutt and the second pilot, Pilot Officer I. E. Miller managed to bale out near the port and became POWs while the rest of the crew were killed (25-year-old navigator Pilot Officer Arthur John Pyle (RAF no. 103034), 21-year-old wireless operator Sergeant William Henry Poole (RAF no. 1284492), front gunner Sergeant Arferault and rear gunner Sergeant Abbott).
Patriarca landed at Capua almost out of fuel, and with the tail of his fighter damaged by return fire.
Later in the war he flew Macchi MC.200s.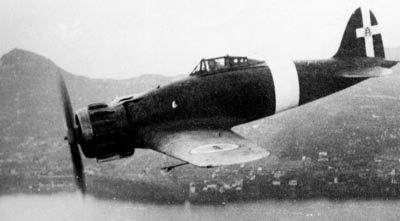 Patriarca flying an early series MC.200 with enclosed cockpit and retractable tail-wheel.
Image kindly provided by Fulvio Chianese at GORIZIA ed il QUARTO STORMO.
Patriarca ended the war with 3 biplane victories.
He continued to serve in the Italian Air Force after the war during which he flew P-51s and Vampires during the 1950's.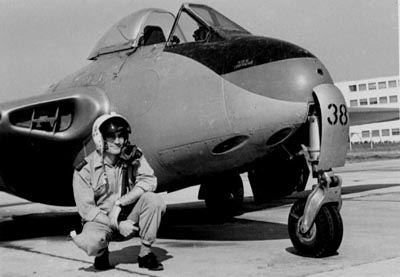 Patriarca in front of a Vampire in the 1950's.
Image kindly provided by Fulvio Chianese at GORIZIA ed il QUARTO STORMO.
He passed away in Naples during the Christmas of 1995.
Claims:

| | | | | | | | | | |
| --- | --- | --- | --- | --- | --- | --- | --- | --- | --- |
| Kill no. | Date | Time | Number | Type | Result | Plane type | Serial no. | Locality | Unit |
| | 1936 | | | | | | | | |
| 1 | 11/09/36 | dawn | 1 | Ni-H.52 (a) | Destroyed | Fiat CR.32 | | Talavera area | 1a Escuadrilla de Caza del Tercio |
| 2 | 13/09/36 | dawn | 1 | Ni-H.52 (b) | Destroyed | Fiat CR.32 | | Toledo area | 1a Escuadrilla de Caza del Tercio |
| | 1940 | | | | | | | | |
| 3 | 05/12/41 | 21:35 | 1 | Wellington (c) | Destroyed | Fiat CR.42 | | Naples area | 356a Squadriglia |
Biplane victories: 3 destroyed.
TOTAL: 3 destroyed.
(a) Ni-H.52 of the Escuadra Internacional flown by British pilot Brian Griffin, KIA.
(b) Claimed in a collision with Carlos Colom Moliner, who was KIA.
(c) Wellington R1066 of 40 Squadron shot down. The two pilots parachuted safely but the four others were killed.

Sources:
Courage Alone - Chris Dunning, 1998 Hikoki Publications, Aldershot, ISBN 1-902109-02-3
Crickets against Rats. Regia Aeronautica in the Spanish Civil War 1936-1937. Vol. 1 - Marek Sobski, 2014 Kagero, Lublin, ISBN 978-83-64596-16-2
Due Volte Asso - Giovanni Massimello, 1997 Storia Militare Nr. 49 Ottobre 1997 kindly provided by Massimo Cappone
Elenco Nominativo dei Militari dell' A. M. Decorati al V. M. Durante it Periodo 1929 - 1945 2 Volume M - Z
Fiat CR.32 Aces of the Spanish Civil War - Alfredo Logoluso, 2010 Osprey Publishing, Oxford, ISBN 978-1-84603-983-6
GORIZIA ed il QUARTO STORMO
La caccia notturna Italiana 1940-1942 - Giancarlo Garello, 1996 Aerofan nr. 57 apr-giu 1996 kindly provided by Jean Michel Cala
Malta: The Hurricane Years 1940-41 - Christopher Shores and Brian Cull with Nicola Malizia, 1987 Grub Street, London, ISBN 0-89747-207-1
Regia Aeronautica: The Italian Air Force 1923-1945 - An Operational History - Chris Dunning, 2009 Ian Allan Publishing, Hersham, Surrey, ISBN 978-1-906537-02-9
Spanish Republican Aces – Rafael A Permuy López, 2012 Osprey Publishing, Oxford, ISBN 978-1-84908-668-4
The Legion Condor - Karl Ries and Hans Ring, 1992 Schiffer Publishing, ISBN 0-88740-339-5




Last modified 14 June 2022