Biplane fighter aces

Japan

Captain Yonesuke Fukuyama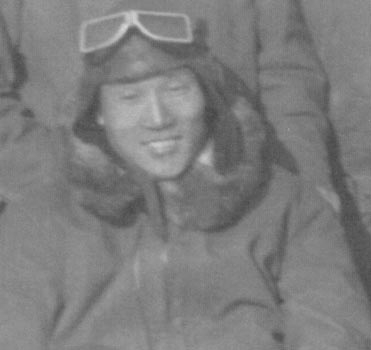 1904 – 10 April 1938
Fukuyama was born in Owase, Wakayama Prefecture, in 1904 as the second son of a charcoal burner.
After graduating from higher elementary school, he worked as a cable layer in the mountains until 1926, when he joined the Army.
He graduated from the Tokorozawa Flying School in May 1929 with the 29th NCO Cadet intake, and was posted to the 3rd Rentai.
He was later transferred to the 5th Rentai, where as a relative veteran pilot he joined he joined Captain Kojiro Matasumura in flying a round trip to Hachijo Shima from Tachikawa in January 1934. This was the first time Army fighters had made an oversea flight.
In April they flew back from Tachikawa to Seoul, Korea, and in June flew a round trip to Formosa and back.
In late 1934 Fukuyama entered the Army Military Academy, receiving a commission and being posted back to the 5th Rentai.
He was posted to the 2nd chutai, 2nd Daitai, as fighting in China broke out, and by which time he had nearly 5000 hours of flying in his logbook.
On 8 March 1938 the 2nd Daitai (Ki-10s) took off from Yuncheng for a bomber escort mission to Sian. Over Sian, eight Ki-10s of the 2nd chutai claimed three Gladiators and three Polikarpov I-15s shoot down. The three Gladiators were claimed by Captain Juichi Morimoto, Warrant Officer Umekawa and Sergeant Major Hatanaka. One of the I-15s was claimed by Lieutenant Fukuyama, who pursued an I-15 into a valley near Sian at low altitude and shot it down for his first victory. A second I-15 was claimed by Sergeant Tokuya Sudo while flying as third pilot in First Lieutenant Iori Sakai's section. The third I-15 was claimed by Segeant Majors Suzuki and Aito Kikuchi, who had turned back when their shotai mate, Tokuya Sudo's aircraft had developed engine trouble.
Only five Chinese aircraft were able to take off to intercept the Japanese raid on Sian airfield but none of them were shot down. However, one SB and one I-15 under repair and another I-15 were hit on the ground.
While returning from Sian, the 1st chutai encountered four Chinese I-152s. Captain Tateo Kato claimed one and First Lieutenant Kosuke Kawahara claimed one while the chutai finished off the rest.
During the day, a combined group of twelve I-15bis from the 17th and 25th PS flew from Sian to attack Fenglingdu. After dropping 25kg bombs, they ran into Japanese fighters. They lost four I-15bis when the pilots Rong Guang-Cheng and Lo Chun-Tun were shot down and killed, Liu Jin-Guang and Liu Yi-Ji were wounded and Zhou Zin-Gyan parachuted. It is possible that these are fighters that run into to the 2nd Daitai.
Kawahara's claim made him the Japanese Army Air Force's first ace (in the Western tradition with five victories).
On 11 March 13 Ki-10s, led by the new 2nd Daitai commander, Major Tamiya Teranishi, escorted bombers to Sian. Lieutenant Fukuyama's shotai of three Ki-10s encountered nine Chinese fighters and engaged them in a dogfight at 18,000 ft. Fukuyama engaged the leader (reportedly a Soviet volunteer) for ten minutes before finally shooting him down with eight bursts at 2,000 ft (according to some sources the enemy aircraft was a Gladiator). He then shared an I-15 with Sergeant Yohei Machiba. Sergeant Major Matsui claimed two more I-15s while Warrant Officer Umekawa claimed a forth I-15.
On 25 March 1938 the 1st chutai of the 2nd Daitai (Ki-10s), commanded by Captain Tateo Kato fought with Chinese I-152s over Guide. Although outnumbered 5 to 18 the Japanese pilots took a heavy tool of the Chinese aircraft. Captain Kato shot down four I-152s, Flight Sergeant Tanaka shot down two and Sergeant Major Hiroshi Sekiguchi shot down one. First Lieutenant Kosuke Kawahara (leading the second element) was seen to shoot down two and pursue a third to the ground, when his aircraft was hit from behind and burst into flames. He waved to his wingman, Sekiguchi, before diving into the ground. First Lieutenant Mitsugu Sawada shared in the destruction of a large aircraft. Also in this combat was Tanaka forced to make an emergency landing and Sekiguchi was badly wounded in the thigh but managed to land and being transported to hospital.
The 2nd chutai of the 2nd Daitai also took part in this combat claiming 9 more victories, one of these being claimed by Fukuyama. Totally the 2nd Daitai's 16 fighters claimed 19 victories for the loss of Kawahara.
According to Chinese records it seems that at least the 3rd PG took part in this combat. They lost six I-15bis and got three pilots killed when they where attacked by 19 Kawasaki Type 95 (Ki-10) biplane fighters of the 2nd Daitai near Kwei-teh airfield (Koi-toh in Japanese).
On return Kato could not believe that such a brilliant pilot as First Lieutenant Kawahara had been lost, and waited at the airfield until sunset in the hope of his late return. Next day as a sign of mourning, he shaved off a much beloved moustache.
On 10 April there was a second air combat in the Hsuchow area. In this Second Battle of Kuei teh, the Chinese sent 18 I-15bis from the 3rd and 4th PG to again attack Japanese Army field headquarters at the elementary school in the town of Chao Chuang.
Zhu Jia-Xun was flying one of the seven 3rd PG I-15bis led by Major Lin Tsuo. Of the remaining I-15bis five were from the 22nd PS, 4th PG and six from the 23rd PS, 4th PG. The Chinese planes bombed and strafed their target to great effect, setting many fires in the school compound and scattering many Japanese Army horses. On their return journey, the 3rd PG took the high cover position at 4,500m, 500m above the 4th PG aircraft. Near Ma Mu Chi, the lower formation of Chinese aircraft was attacked by three Ki-27s (Nakajima Type 97 monoplane fighters; this was the combat debut of this type) from the 1st chutai, 2nd Daitai, flown by Captain Tateo Kato, Warrant Officer Morita and Sergeant Major Risaburo Saito and 12 Ki-10s (Kawasaki Type 95 fighters) of the 2nd Daitai (HQ flight) led by Major Tamiya Teranishi.
The 3rd PG I-15bis were in a perfect position to "bounce" the Japanese fighters. Zhu Jia-Xun caught the Ki-27 of Sergeant Major Saito (NCO50) as it was diving on a 23rd PS I-15bis. Zhu Jia-Xun apparently hit the Japanese pilot with his fire and Saito crashed his plane into that of Lieutenant Chen Hui-Min. Chen managed to bail out with a wounded leg but Saito was killed. Afterwards, Zhu Jia-Xun was surrounded by a number of IJAAF fighters and his I-15bis was damaged. His engine cowling was shot away but Zhu Jia-Xun managed to land his I-15bis safety in a wheat field. Most of the Chinese fighters were already short of fuel when the fighting started, nevertheless, they gave a good account of themselves. In the melee, two other 4th PG I-15bis were shot down, one pilot bailed out and the other was lost. Three other 4th PG aircraft force landed due to damage and fuel starvation but they were recovered. The 3rd PG lost one I-15bis and its pilot. Two, including Zhu Jia-Xun, force-landed due to damage or fuel starvation but both aircraft were recovered. Two other 3rd PG pilots were slightly injured by Japanese gunfire but returned to base safely.
As for the IJAAF, in addition to Sergeant Major Saito, one other pilot, Lieutenant Fukuyama died of his wounds. Fukuyama, flying a Ki-10 and despite repeated gun stoppages, managed to claim three Chinese fighters shot down when being heavily engaged together with Sergeant Major Shimokata before being hit and severely wounded in the right arm and left leg. Fukuyama flew part of the way back to Ching Chow airfield while holding the stick with his mouth! He managed to crash-land his plane at the airfield after covering the 200-kilometre flight in 50 minutes. He was immediately removed to hospital but died of his wounds four days later. Two other damaged IJAAF fighters crash-landed back at Ching Chow airfield and two crashed landed at the battlefield. Of the latter, one of the IJAAF pilots was picked up by his wingman who landed in no-man's land between the Chinese and Japanese Armies.
Tokuya Sudo from the 2nd chutai of the 2nd Daitai claimed two I-15bis in this combat while Iori Sakai from the same chutai claimed three victories. Captain Tateo Kato's 1st chutai of the 2nd Daitai (Ki-27s) fought against eight I-15bis and Kato personally claimed two of the Chinese fighters while Warrant Officer Morita claimed two more.
According to Japanese records fifteen Japanese fighters took part in this combat over Guide claiming 24 victories from 30 encountered while losing two fighters.
Fukuyama was posthumously awarded an individual citation by the commanding officer of the Flying Division, General Tokugawa, whilst his bloodstained aircraft was shipped home and put on display.
At the time of his death Fukuyama was credited with 6 biplane victories.
Claims:

| | | | | | | | | |
| --- | --- | --- | --- | --- | --- | --- | --- | --- |
| Kill no. | Date | Number | Type | Result | Plane type | Serial no. | Locality | Unit |
| | 1938 | | | | | | | |
| 1 | 08/03/38 | 1 | I-15 (a) | Destroyed | Ki-10 | | Sian area | 2nd Daitai |
| 2 | 11/03/38 | 1 | I-15 | Destroyed | Ki-10 | | Sian area | 2nd Daitai |
| | 11/03/38 | ½ | I-15 | Shared destroyed | Ki-10 | | Sian area | 2nd Daitai |
| 3 | 25/03/38 | 1 | I-15bis (b) | Destroyed | Ki-10 | | Guide | 2nd Daitai |
| 4 | 10/04/38 | 1 | I-15bis (c) | Destroyed | Ki-10 | | Guide | 2nd Daitai |
| 5 | 10/04/38 | 1 | I-15bis (c) | Destroyed | Ki-10 | | Guide | 2nd Daitai |
| 6 | 10/04/38 | 1 | I-15bis (c) | Destroyed | Ki-10 | | Guide | 2nd Daitai |
Biplane victories: 6 and 1 shared destroyed.
TOTAL: 6 and 1 shared destroyed.
(a) It is possible that these were claimed in combat with a combined group of I-15bis from the 17th and 25th PS, which lost at least three aircraft when the pilots Song Gua-Cheng and Lo Chun-Tun were shot down, Liu Jin-Guang and Liu Yi-Ji were wounded and Zhou Zin-Gyan parachuted. 2nd Daitai claimed seven Polikarpovs and three Gladiators over Sian during a mission on this day.
(b) In this combat the 2nd Daitai totally claimed 19 victories for the loss of 1st Lieutenant Kawahara.
(c) Claimed in combat with 18 I-15bis from 3rd PG and 22nd PS and 23rd PS of 4th PG. According to Japanese records fifteen Japanese fighters took part in this combat claiming 24 victories while losing two fighters (Sergeant Major Risaburo Saito and Fukuyama) and four crash-landed. The Chinese fighters claimed two victories while losing three aircraft and five force-landed. Two pilots were killed and two pilots wounded.

Sources:
Japanese Army Air Force fighter units and their aces 1931-1945 - Ikuhiko Hata, Yasuho Izawa and Christopher Shores, 2002 Grub Street, London, ISBN 1-902304-89-6
Ki-27 'Nate' Aces – Nicholas Millman, 2013 Osprey Publishing, Oxford, ISBN 978-1-84908-662-2
Soviet Fighters in the sky of China, Part II - Anatolii Demin, 2000 Aviatsiia Kosmonavtika 10 (translated by George M. Mellinger)
Additional information kindly provided by Edward Chan, Raymond Cheung, Tom Chan and Nick Millman.




Last modified 04 December 2013