Biplane fighter aces

Japan

Major Iori Sakai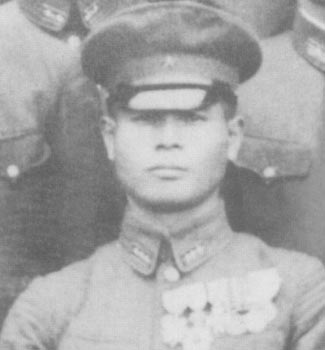 Sakai was born in Gifu City on 6 August 1909.
He attended Gifu Middle School and then the Tokorozawa Flying School as a civilian.
Graduating as a pilot, he joined the NCO Reserve in February 1928, and was posted to the 6th Rentai at Pyongyang, Korea.
He remained six months with the unit on Shandong Dispatch from May 1928 (following the move of Chiang Kai-Shek's Army into northern China in April 1928, a Japanese infantry division was despatched there to defend the Japanese in the Shandong Peninsula; a reconnaissance chutai was also sent there for six months, then being replaced by another, which also remained for a similar period).
In 1932 he entered the Army Military Academy, following which he undertook a commander's course at Akeno, then serving there and at Tokorozawa as an instructor.
In March 1938 he was posted to the 2nd chutai of the 2nd Daitai in northern China.
On 8 March 1938 he took part in his first aerial combat over Sian.
On 25 March he was flying as leader of the second element when he engaged I-15bis' over Yanzhou, claiming one shot down.
On 10 April, there was a second air combat in the Hsuchow area. In this Second Battle of Kuei teh, the Chinese sent 18 I-15bis from the 3rd and 4th PG to again attack Japanese Army field headquarters at the elementary school in the town of Chao Chuang.
Zhu Jia-Xun was flying one of the seven 3rd PG I-15bis led by Major Lin Tsuo. Of the remaining I-15bis five were from the 22nd PS, 4th PG and six from the 23rd PS, 4th PG. The Chinese planes bombed and strafed their target to great effect, setting many fires in the school compound and scattering many Japanese Army horses. On their return journey, the 3rd PG took the high cover position at 4,500m, 500m above the 4th PG aircraft. Near Ma Mu Chi, the lower formation of Chinese aircraft was attacked by three Ki-27s (Nakajima Type 97 monoplane fighters; this was the combat debut of this type) from the 1st chutai, 2nd Daitai, flown by Captain Tateo Kato, Warrant Officer Morita and Sergeant Major Risaburo Saito and 12 Ki-10s (Kawasaki Type 95 fighters) of the 2nd Daitai (HQ flight) led by Major Tamiya Teranishi.
The 3rd PG I-15bis were in a perfect position to "bounce" the Japanese fighters. Zhu Jia-Xun caught the Ki-27 of Sergeant Major Saito (NCO50) as it was diving on a 23rd PS I-15bis. Zhu Jia-Xun apparently hit the Japanese pilot with his fire and Saito crashed his plane into that of Lieutenant Chen Hui-Min. Chen managed to bail out with a wounded leg but Saito was killed. Afterwards, Zhu Jia-Xun was surrounded by a number of IJAAF fighters and his I-15bis was damaged. His engine cowling was shot away but Zhu Jia-Xun managed to land his I-15bis safety in a wheat field. Most of the Chinese fighters were already short of fuel when the fighting started, nevertheless, they gave a good account of themselves. In the melee, two other 4th PG I-15bis were shot down, one pilot bailed out and the other was lost. Three other 4th PG aircraft force landed due to damage and fuel starvation but they were recovered. The 3rd PG lost one I-15bis and its pilot. Two, including Zhu Jia-Xun, force-landed due to damage or fuel starvation but both aircraft were recovered. Two other 3rd PG pilots were slightly injured by Japanese gunfire but returned to base safely.
As for the IJAAF, in addition to Sergeant Major Saito, one other pilot, Lieutenant Yonesuke Fukuyama died of his wounds. Fukuyama, flying a Ki-10 and despite repeated gun stoppages, managed to claim three Chinese fighters shot down when being heavily engaged together with Sergeant Major Shimokata before being hit and severely wounded in the right arm and left leg. Fukuyama flew part of the way back to Ching Chow airfield while holding the stick with his mouth! He managed to crash-land his plane at the airfield after covering the 200-kilometre flight in 50 minutes. He was immediately removed to hospital but died of his wounds four days later. Two other damaged IJAAF fighters crash-landed back at Ching Chow airfield and two crashed landed at the battlefield. Of the latter, one of the IJAAF pilots was picked up by his wingman who landed in no-man's land between the Chinese and Japanese Armies.
Tokuya Sudo from the 2nd chutai of the 2nd Daitai claimed two I-15bis in this combat while Sakai from the same chutai claimed three victories. Captain Tateo Kato's 1st chutai of the 2nd Daitai (Ki-27s) fought against eight I-15bis and Kato personally claimed two of the Chinese fighters while Warrant Officer Morita claimed two more.
According to Japanese records fifteen Japanese fighters took part in this combat over Guide claiming 24 victories from 30 encountered while losing two fighters.
On 20 May, 24 Ki-27s from the 2nd Daitai clashed with Chinese fighters over Lanfeng. Captain Mitsugu Sawada of the 1st chutai claimed three I-15s. A fourth I-15 was claimed by Katsumi Anma in his first combat when he was flying as the third pilot in Sawada's element. Sakai of the 2nd chutai claimed another victory. Totally, the 2nd Daitai claimed 12 victories over Lanfeng for no losses.
Further action followed over central and southern China, following which in August 1939 he moved to the Manchurian/Mongolian border with the 2nd chutai of the 64th Sentai, operating here from 20 August until the end of the Nomonhan Incident in mid-September.
Following the death of Captain Shuichi Anzai in combat on 1 September 1939, he succeeded him as chutai commander, often flying seven sorties a day, his flight claiming more than eight victories.
Following the conclusion of the fighting here, he was based at Dongjingcheng, training his pilots on what became termed the 'Sakai Method' of combat.
In July 1941 he returned to Akeno as an instructor.
He was promoted to Major in March 1943 and was posted to the Flight Test Center, where he undertook testing of Ki-61s.
When the B-29 raids commenced, he led a defensive section at the Centre, shooting down one of these bombers.
He later became Chief Test Pilot of the Ki-100, first flying this aircraft on 11 February 1945.
He remained a pilot in the Army for more than 18 years, gaining great mastery of his art.
Sakai ended the war with 3 biplane victories and a total of 9.
Claims:

| | | | | | | | | |
| --- | --- | --- | --- | --- | --- | --- | --- | --- |
| Kill no. | Date | Number | Type | Result | Plane type | Serial no. | Locality | Unit |
| | 1938 | | | | | | | |
| 1 | 25/03/38 | 1 | I-15bis | Destroyed | Ki-10 | | Yanzhou | 2nd Daitai |
| 2 | 10/04/38 | 1 | Enemy aircraft (a) | Destroyed | Ki-10 (b) | | Guide | 2nd Daitai |
| 3 | 10/04/38 | 1 | Enemy aircraft (a) | Destroyed | Ki-10 (b) | | Guide | 2nd Daitai |
| 4 | 10/04/38 | 1 | Enemy aircraft (a) | Destroyed | Ki-10 (b) | | Guide | 2nd Daitai |
| 5 | 20/05/38 | 1 | Enemy aircraft | Destroyed | Ki-27 | | Lanfeng | 2nd Daitai |
| 9 | ??/??/?? | 1 | B-29 | Destroyed | Ki-61 | | | Army Flight Test Centre |
Biplane victories: 3 destroyed.
TOTAL: 9 destroyed.
(a) Claimed in combat with 18 I-15bis from 3rd PG and 22nd PS and 23rd PS of 4th PG. According to Japanese records fifteen Japanese fighters took part in this combat claiming 24 victories while losing two fighters (Sergeant Major Risaburo Saito and Lieutenant Yonesuke Fukuyama) and four crash-landed. The Chinese fighters claimed two victories while losing three aircraft and five force-landed. Two pilots were killed and two pilots wounded.
(b) Probably claimed while flying a Ki-10.

Sources:
Japanese Army Air Force fighter units and their aces 1931-1945 - Ikuhiko Hata, Yasuho Izawa and Christopher Shores, 2002 Grub Street, London, ISBN 1-902304-89-6
Ki-27 'Nate' Aces – Nicholas Millman, 2013 Osprey Publishing, Oxford, ISBN 978-1-84908-662-2
Additional information kindly provided by Edward Chan.




Last modified 08 January 2014