Biplane fighter aces

Soviet Union

Nikolay Ivanovich Miroshnichenko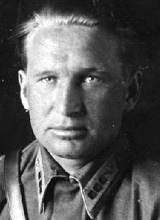 1909 –
Nikolay Miroshnichenko was born in 1909.
He graduated from Orenburg Flight School in 1933.
In October 1936 he went to Spain (arriving on 20 October) as a member of the first group of volunteers to fly in the Spanish Civil War.
In Spain, he served in Escuadrilla Rychagov, which was equipped with I-15s.
On 4 November, the I-15s were put in their first air-battles. There were four missions during the day.
Commanded by Petr Pumpur and starshiy leitenant Pavel Rychagov, I-15 fighters in squadron strength engaged the enemy planes over Carrabanchel during the day's first mission. The Soviet pilots claimed four victories in the clash that lasted barely 10 minutes.
It seems that Yevgeniy Yerlykin and Mirosnichenko took part in this mission since it's known that they made claims in the Madrid area in the morning when Yerlykin claimed a Ro.37 destroyed and Miroshnichenko claimed a shared CR.32 together with another pilot.
The aim of the second mission was to intercept six Ju 52/3ms escorted by fighters. Commanded by starshiy leitenant Rychagov the squadron shot down one Ju 52/3m.
During the third mission a squadron led by starshiy leitenant Georgiy Zakharov (in his first mission) fought against two flights of bombers, which were escorted by ten fighters. I-15s claimed one enemy fighter. There were no losses of I-15s even if it seems that Zakharov's I-15 was badly damaged. Of this combat, Zakharov recalled:
"Here I am above Madrid. I look around and there's no one there, neither friend nor foe. Then I scrutinize the horizon in the direction of the glaring sun. With flickering eyes I finally detect the remote shapes of friendly biplanes. Stressing my vision, I manage to count them 12! So Pavel must have decided to ensure the most favorable conditions for our attack, thus heading north of Madrid so as to lead the flight into the attack from down-sun, That's where I should have looked for them right from the start.
They approach the city in a wide arc and I am inside that arc, so I can quickly catch up, flying headlong towards them. I want to make my way towards the leading aircraft and take up my position on Rychagov's left. Well, I've been too hasty and popped up in front of the leader. Now I need to he spotted by my comrades, so I reduce speed and rock my wings. I believe they will see me and soon catch up. What happens next I still regard as being beyond my comprehension. I will forever remember that feeling, which is hard to explain in mere words, when the burst of enemy gunfire narrowly missed cutting off my wing. However, it was instinct that saved me, rather than training or rational thinking. Before I realized where I was and what was happening I had already swerved away into a steep turn to spoil the enemy's aim. Yet I still felt I was a target, and I felt it with my entire physical being.
Today I see that the only reason I survived was that there were too many hunters after me. The entire swarm was engaged in pursuing me and they got in each other's way. Otherwise, the first one to approach me from behind would easily have split my aircraft in two with his first burst. Instead, they all began to shoot erratically. My fighter was hit but I was alive! I was spinning between them while trying to draw them towards Madrid where, I felt, I could save myself. My comrades-in-arms would soon come to my rescue, I thought. The g-forces were almost blinding but I knew I couldn't give up and fly straight and level for more than a second! The aircraft had to withstand the punishment. I prayed that it wouldn't fall apart.
Three times Heinkels popped up into my gunsight and I pushed the firing buttons. And here I was, finally, approaching my airfield. Well, I could do better than reveal its location to the enemy, but I had no choice. My aeroplane's bracing wires had been shot away and the wing curved upwards to the verge of collapse. I looked back, just in time to meet another blast of gunfire. My instrument panel was smashed and my upper machine guns were out of order. A Heinkel kept close behind me to finish me off, but I made it and landed from a hedgehopping approach.
The mechanics promptly pulled me out of the cockpit and we escaped to shelter under the nearest trees. I pressed my back against a tree-trunk and suddenly felt that my lips were being wetted - oh, it was just some water from a friend's flask."
It seems that Zakharov is credited with one victory in this combat.
The last, forth mission at the end of the day was an alert scramble. A squadron led by starshiy leitenant Rychagov claimed one more enemy fighter.
In all, the I-15s claimed five enemy fighters and two Ju 52/3m bombers on this day - 7 victories without losses. One of the fighters, a He 51, was claimed by starshiy leitenant Rychagov. Two I-15s however became lost and the pilots made forced landing in Segovia.
Sources from the Nationalist side at least partially confirmed this tally. During the day, Capitano Vincenzo Dequal and his wingman Sergente Giovanni Battista Magistrini of the 1a Escuadrilla de Caza del Tercio were on a reconnaissance mission over Madrid when they saw a Nationalist Romeo Ro.37 coming under attack by seven biplane fighters the likes of which they had not seen before over Spain. The Italian fighter pilots managed to distract their Soviet opponents long enough for the Ro.37 to escape, albeit with a wounded Spanish observer on board and some damage to the airframe (Yerlykin's claim?).
Overwhelmed by the well-flown Republican machines, both CR.32 pilots were eventually shot down. Capitano Dequal lost consciousness after suffering wounds from a bullet that hit him in the forehead. He woke up next to his parachute in enemy territory, at which point he realised that he had fallen out of his stricken aircraft and the 'chute had opened automatically. Despite suffering further injuries to his legs and chest when he was yanked out of this fighter, Dequal somehow managed to limp back to friendly territory, where he was rescued by Nationalist soldiers and hospitalised in Talavera. Sergente Magistrini, meanwhile, had landed his badly shot up CR.32 behind the Nationalist frontline, but he subsequently succumbed to serious wounds later the same day in a local field hospital. Although seriously damaged, Sergente Magistrini's aircraft was recovered. Two more Fiat CR.32 suffered damage in landing accidents at Torrijos. Two Nationalist bombers also suffered this day. One German Ju 52/3m from the Pablos y Pedros squadron, flown by Leutnant Kolbitz, was shot down over Humanes and a Spanish Ju 52/3m from Luis Padron's squadron was badly damaged and had to force-land at Esquivias. The observer Captain Aquirre was fatally wounded.

Around 16:00 on 8 December 1936, leitenant Miroshnichenko and starshiy leitenant Yevgeniy Yerlykin (Escuadrilla Rychagov) claimed a shared Ju 52/3m over Alcala de Henares (20 km east of Madrid) while flying I-15s.
This was a Ju 52/3m from K/88 which was lost together with Unteroffizier Wilhelm Harjes and his crew.

On 2 January 1937, he was decorated with the Order of the Red Banner.

Miroshnichenko left Spain on 7 April 1937.
During his time in Spain he claimed four and three shared victories flying the I-15.
The information from his career in Spain is incomplete and the claims with unknown dates are from his own accord.

He received a second Order of the Red Banner on 17 July 1937.

On 30 January 1940, Miroshnichenko became CO of 21 IAP.

When Germany invaded the Soviet Union on 22 June 1941, major Miroshnichenko served in 21 IAP and with this unit he flew I-16s and LaGG-3s on the North-Western Front.

On 30 September, major Miroshnichenko left the command of 21 IAP.
After this and until the end of the war, he worked as a eskadrilya commander and assistant chief for flight training at the Kachin VASHP (Military Aviation Administration).

On 3 November 1944, he was decorated with a Medal for Military Merit.

Miroshnichenko ended the war with 4 biplane victories and a total of 5.

Post-war, he was decorated with Order of the Red Star on 18 August 1945, a second Order of the Red Star on 6 November 1947 and a third Order of the Red Banner on 20 April 1953.

Claims:

| | | | | | | | | | |
| --- | --- | --- | --- | --- | --- | --- | --- | --- | --- |
| Kill no. | Date | Time | Number | Type | Result | Plane type | Serial no. | Locality | Unit |
| | 1936 | | | | | | | | |
| | 04/11/36 | morning | 1 | CR.32 | Shared destroyed | I-15 | | Madrid area | Escuadrilla Rychagov |
| | 08/12/36 | 16:00 ca | 1 | Ju 52/3m (a) | Shared destroyed | I-15 | | Alcala de Henares | Escuadrilla Rychagov |
| 1 | ??/??/3? | | 1 | Enemy aircraft | Destroyed | I-15 | | Spain | Escuadrilla Rychagov |
| 2 | ??/??/3? | | 1 | Enemy aircraft | Destroyed | I-15 | | Spain | Escuadrilla Rychagov |
| 3 | ??/??/3? | | 1 | Enemy aircraft | Destroyed | I-15 | | Spain | Escuadrilla Rychagov |
| 4 | ??/??/3? | | 1 | Enemy aircraft | Destroyed | I-15 | | Spain | Escuadrilla Rychagov |
| | ??/??/36 | | 1 | He 51 | Shared destroyed | I-15 | | Spain | Escuadrilla Rychagov |
| | 1941 | | | | | | | | |
| 5 | 19/08/41 | | 1 | Bf 110 | Destroyed | LaGG-3 | | North-Western Front | 21 IAP |
| | 19/08/41 | | 1/2 | Bf 110 | Shared destroyed | LaGG-3 | | North-Western Front | 21 IAP |
Biplane victories: 4 and 3 shared destroyed.
TOTAL: 5 and 4 shared destroyed.
(a) Ju 52/3m from K/88 shot down (crew KIA).

Sources:
Air Aces Home Page - Jan Safarik
Air War over Spain - Jesus Salas Larrazabal, 1974 Ian Allan Ltd, Shepperton, Surrey, ISBN 0-7110-0521-4
All aces of Stalin 1936-1953 – Mikhail Bykov, 2014
Condor: The Luftwaffe in Spain 1936-1939 - Patrick Laureau, 2000 Hikoki Publications, Ottringham, ISBN 1-902109-10-4
Polikarpov I-15, I-16 and I-153 Aces - Mikhail Maslov, 2010 Osprey Publishing, Oxford, ISBN 978-1-84603-981-2
Soviet Aces 1936-1953
Soviet Fighter Pilots 1936-1953 - Mikhail Bykov
Additional information kindly provided by Ondrej Repka.




Last modified 18 August 2020