Biplane fighter aces

Soviet Union

General Leitenant Pavel Vasilevich Rychagov HSU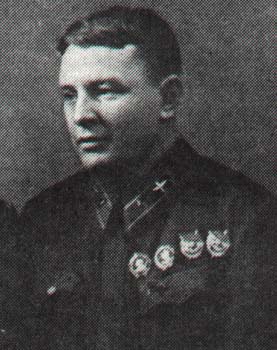 2 January 1911 – 28 October 1941
Pavel Rychagov was born in Nizhnie Likhobory on 2 January 1911 (this village now forms part of the city of Moscow).
He joined the army in 1928, graduating two years later from the Leningrad Military College of the Air Forces. He then undertook a further course in 1931 at the 2nd Military College for Pilots, which was later renamed V. P. Chkalov Military Air School for Pilots at Borisoglebsk.
He then served in the 5th Aerobrigada, leading a zveno, and later a detachment.
Rychagov served for five years as a regular fighter pilot, prior to being appointed commander of 109 IAE (Istrebitelniy Aviatsionnaya Eskadrilya - Fighter Aviation Squadron) of the 36 IAB ( Istrebitelniy Aviatsionnaya Brigada - Fighter Aviation Brigade) in the Kiev Military District. This suggests that he was considered to be both an experienced pilot and a promising commander.
In January 1936, starshiy leitenant Rychagov was awarded the Order of Lenin for exemplary service.
In October 1936 he went to Spain (arriving on 20 October) as a member of the first group of volunteers to fly in the Spanish Civil War, using the nom de guerre 'Pablo Palancar' (he is also known as 'Grinberg'). His unit was under the command of Petr Pumpur.
The first batch of aircraft to arrive in Spain from the Soviet Union included 40 I-15 fighters. On 28 October 1936 the steamship Carl Lepin docked in the Spanish Mediterranean port of Cartagena, having sailed from Sebastopol with 15 pilots (including starshiy leitenant Georgiy Zakharov), led by starshiy leitenant Rychagov, and 25 dismantled I-15s. A few days later a further group of ten pilots, headed by Boris Turzhanskii, and 15 I-15s arrived at Bilbao, in the north of Spain.
The first group was quickly sent to Alcantarilla airfield near Murcia, where the fighters were promptly assembled in an olive grove by Soviet technicians and then flight-tested. According to starshiy leitenant Zakharov, the I-15s were assembled on the day of their arrival, 28 October. Spanish Republican markings of red wingtips and fuselage stripe and red, yellow and violet striped rudders were also hastily applied.
From October of 1936 until February of 1937, starshiy leitenant Rychagov served as commander of the so-called Escuadrilla Palancar.
In November of 1936, Pumpur's unit consisted of about 50 I-15s and I-16s fighters. From October of 1936 till February of 1937 starshiy leitenant Rychagov was a commander of an I-15 Fighter Regiment of three I-15 Squadrons in the Madrid sector. Concurrently he flew combat missions as a commander of an I-15 Squadron (the so-called Escuadrilla Palancar).
In November, the Soviet I-15 escuadrilla (1a/Gr.26) led by starshiy leitenant Rychagov at Alcalá de Henares, in Madrid, included tenientes Andrés García La Calle (he was promoted to teniente during November), Roberto Alonso Santamaría, López Trinidad, Galera Macías, Cuartero Pozo, Guaza Marín, Roig Villalta, Jesús García Herguido, Alfonso Jiménez Bruguet, Manuel Aguirre López and Robledano Ruiz. The escuadrilla fought on the Madrid front.
La Calle had continued flying the last remaining fighters available in Madrid until 28 October, when he left for Barcelona on leave. Posted to the Soviet I-15 Escuadrilla, he flew combat missions from 4 November over Madrid initially as a wingman in the patrulla led by Soviet pilot kapitan Ivan Kopets. Later, La Calle became patrulla CO after Kopets assumed command of the Escuadrilla Rychagov when Rychagov was removed from frontline duties. Soviet sources credit La Calle with an aerial victory during this period.
On 4 November 1936, the I-15s were put in their first air-battles. There were four missions during the day.
Commanded by Petr Pumpur and starshiy leitenant Rychagov, I-15 fighters in squadron strength engaged the enemy planes over Carrabanchel during the day's first mission. The Soviet pilots claimed four victories in the clash that lasted barely 10 minutes.
It seems that Yevgeniy Yerlykin and Nikolay Mirosnichenko took part in this mission since it's known that they made claims in the Madrid area in the morning when Yerlykin claimed a Ro.37 destroyed and Miroshnichenko claimed a shared CR.32 together with another pilot.
The aim of the second mission was to intercept six Ju 52/3ms escorted by fighters. Commanded by starshiy leitenant Rychagov the squadron shot down one Ju 52/3m.
During the third mission a squadron led by starshiy leitenant Georgiy Zakharov (in his first mission) fought against two flights of bombers, which were escorted by ten fighters. I-15s claimed one enemy fighter. There were no losses of I-15s even if it seems that Zakharov's I-15 was badly damaged. Of this combat, Zakharov recalled:
"Here I am above Madrid. I look around and there's no one there, neither friend nor foe. Then I scrutinize the horizon in the direction of the glaring sun. With flickering eyes I finally detect the remote shapes of friendly biplanes. Stressing my vision, I manage to count them 12! So Pavel must have decided to ensure the most favorable conditions for our attack, thus heading north of Madrid so as to lead the flight into the attack from down-sun, That's where I should have looked for them right from the start.
They approach the city in a wide arc and I am inside that arc, so I can quickly catch up, flying headlong towards them. I want to make my way towards the leading aircraft and take up my position on Rychagov's left. Well, I've been too hasty and popped up in front of the leader. Now I need to he spotted by my comrades, so I reduce speed and rock my wings. I believe they will see me and soon catch up. What happens next I still regard as being beyond my comprehension. I will forever remember that feeling, which is hard to explain in mere words, when the burst of enemy gunfire narrowly missed cutting off my wing. However, it was instinct that saved me, rather than training or rational thinking. Before I realized where I was and what was happening I had already swerved away into a steep turn to spoil the enemy's aim. Yet I still felt I was a target, and I felt it with my entire physical being.
Today I see that the only reason I survived was that there were too many hunters after me. The entire swarm was engaged in pursuing me and they got in each other's way. Otherwise, the first one to approach me from behind would easily have split my aircraft in two with his first burst. Instead, they all began to shoot erratically. My fighter was hit but I was alive! I was spinning between them while trying to draw them towards Madrid where, I felt, I could save myself. My comrades-in-arms would soon come to my rescue, I thought. The g-forces were almost blinding but I knew I couldn't give up and fly straight and level for more than a second! The aircraft had to withstand the punishment. I prayed that it wouldn't fall apart.
Three times Heinkels popped up into my gunsight and I pushed the firing buttons. And here I was, finally, approaching my airfield. Well, I could do better than reveal its location to the enemy, but I had no choice. My aeroplane's bracing wires had been shot away and the wing curved upwards to the verge of collapse. I looked back, just in time to meet another blast of gunfire. My instrument panel was smashed and my upper machine guns were out of order. A Heinkel kept close behind me to finish me off, but I made it and landed from a hedgehopping approach.
The mechanics promptly pulled me out of the cockpit and we escaped to shelter under the nearest trees. I pressed my back against a tree-trunk and suddenly felt that my lips were being wetted - oh, it was just some water from a friend's flask."
It seems that Zakharov is credited with one victory in this combat.
The last, forth mission at the end of the day was an alert scramble. A squadron led by starshiy leitenant Rychagov claimed one more enemy fighter.
In all, the I-15s claimed five enemy fighters and two Ju 52/3m bombers on this day - 7 victories without losses. One of the fighters, a He 51, was claimed by starshiy leitenant Rychagov. Two I-15s however became lost and the pilots made forced landing in Segovia.
Sources from the Nationalist side at least partially confirmed this tally. During the day, Capitano Vincenzo Dequal and his wingman Sergente Giovanni Battista Magistrini of the 1a Escuadrilla de Caza del Tercio were on a reconnaissance mission over Madrid when they saw a Nationalist Romeo Ro.37 coming under attack by seven biplane fighters the likes of which they had not seen before over Spain. The Italian fighter pilots managed to distract their Soviet opponents long enough for the Ro.37 to escape, albeit with a wounded Spanish observer on board and some damage to the airframe (Yerlykin's claim?).
Overwhelmed by the well-flown Republican machines, both CR.32 pilots were eventually shot down. Capitano Dequal lost consciousness after suffering wounds from a bullet that hit him in the forehead. He woke up next to his parachute in enemy territory, at which point he realised that he had fallen out of his stricken aircraft and the 'chute had opened automatically. Despite suffering further injuries to his legs and chest when he was yanked out of this fighter, Dequal somehow managed to limp back to friendly territory, where he was rescued by Nationalist soldiers and hospitalised in Talavera. Sergente Magistrini, meanwhile, had landed his badly shot up CR.32 behind the Nationalist frontline, but he subsequently succumbed to serious wounds later the same day in a local field hospital. Although seriously damaged, Sergente Magistrini's aircraft was recovered. Two more Fiat CR.32 suffered damage in landing accidents at Torrijos. Two Nationalist bombers also suffered this day. One German Ju 52/3m from the Pablos y Pedros squadron, flown by Leutnant Kolbitz, was shot down over Humanes and a Spanish Ju 52/3m from Luis Padron's squadron was badly damaged and had to force-land at Esquivias. The observer Captain Aquirre was fatally wounded.

Two air battles took place on 6 November, at 10:00 and 14:00. In the latter, five Fiats led by capitán Ángel Salas attacked seven "Chatos" and claimed four victories even if only two claims could be confirmed by ground observers. Salas was thought to have destroyed one machine from a patrol of three, this aircraft trailing smoke as it veered into a cloud and disappeared from sight. Sottotenente Giuseppe Cenni, Tenente Vittor Ugo Ceccherelli and Sottotenente Bernardino Serafini claimed an I-15 each over the Madrid area.
One of the aircraft destroyed was the I-15 flown by leitenant Voronov, who died two days later in hospital from injuries suffered when he crash-landed upon his return to base.
The Nationalist bulletin claimed two aircraft destroyed, while the Government bulletin, which referred only to the earlier engagement, claimed the destruction of two Heinkels, these two most probably claimed by starshiy leitenant Rychagov, who claimed two enemy aircraft during the day, but it also possible that one of them was claimed by Karp Kovtun (3a Escuadrilla) who seem to have claimed a victory during the day (according to some sources this was claimed by ramming and thus probably on 13 November when he was killed).
Bonomi confirmed that the Fiats had shot down two fighters, and this was also confirmed by the Air Force communiqué, which admitted the loss of a Fiat and a Junkers. This latter machine was probably flown by Captain Larrauri, who managed to reach Talavera with one engine out of action, the other developing only restricted power, and his aircraft riddled with bullet holes. Von Morau, leader of the Pablos y Pedros squadron, also had to force-land near Madrid at this time.

The air-battles for air superiority over Madrid were extremely heavy. Only on 7 November the Soviet fighters flew more than 100 missions altogether.

On 13 November, 14 Fiat CR.32s escorted five "Junkers" and three "Romeos". Over the Paseo de Rosales (Madrid) they were surprised by 16 I-15s led by starshiy leitenant Rychagov, which dived on them from above out of the sun. Despite immediately being on the defensive, the Fiat pilots managed to protect the bombers as the air battle broke up into a series of individual combats.
The Soviet pilots claimed six victories (three of them fell in Republican territory) while two I-15s were lost when Karp Kovtun and Petr A. Purtov were shot down by Fiats and killed. Kovtun's death was witnessed by Starshii Leitenant Georgiy Zakharov, who also took part in this combat.
On their return flight, the Nationalist pilots encountered five Katiuskas, bombing Getafe and Cuatro Vientos from a height of 5000m. Capitán Ángel Salas damaged one so severely that the crew had to take to their parachutes, and capitán Joaquín García Morato damaged three others.
Totally the CR.32 pilots were credited with ten victories (nine "Curtisses" and one SB). Sergente GianLino Baschirotto (who reported that the I-15 was seen falling out of the sky smoking) and Corrado Ricci were among the Italians to be awarded a "Curtiss" each while Capitano Guido Nobili was credited with a probable. A Soviet fighter, whose pilot escaped by parachute, was shot down by Capitano Goliardo Mosca. The latter was in turn badly wounded in his right thigh and forced to limp back to Talavera, where he crash-landed. Capitano Mariotti force-landed outside the airfield at Getafe, but without damaging his aircraft. Capitán Morato claimed one I-15 (plus three damaged SBs), capitán Salas damaged three I-15s (plus one SB destroyed) and Julio Salvador claimed another I-15.
Capitán Morato recounted:
"Fiat Squadriglia. Bomber escort. "Junkers" and "Romeos" bombing Rosales (Madrid) clashed with 13 "Curtiss fighters". I shot down one that caught fire in the air, and then machine gunned three "Sophias" till my ammunition ran out. Saw Anti-aircraft fire.
Total flying time 1 hour 30 minutes."
Capitán Salas recalled:
"Fiat number 128. 1 hour 30 minutes.
Torrijos to Madrid, escorting five Junkers. Fourteen Fiats attacked 13 "Curtiss fighters" – three combats, one frontal, fired on the second while banking, and on the third from behind. Noticed several hits on the fuselage of one aircraft, but could not follow him due to the presence of others. Remained alone throughout, and eventually saw five "Martin bombers" attacking Getafe and Cuatro Vientos from 5000 metres. I fired at them twice until my guns stopped. On landing, Noreña, Celier and Betancour told me that one of the bombers I had attacked lost a wing and fell to the ground, its crew escaping by parachute."
In the afternoon, nine He 51s from the German Legion Condor took off from Ávila to provide escort for five German-flown Ju 52/3ms and three He 46s, which were to attack the Republican positions on the west bank of the Manzanares. It seems that at least six CR.32s also were present.
At 15:00, twelve I-16 type 5 "Moscas" and twelve I-15s intercepted them over Madrid. The I-16s were led by the Russian squadron leader kapitan Sergey Tarkhov ('Antonio') (he was the commander of the first and newly created escuadrilla of I-16s) in their first combat while the I-15s (Escuadrilla Palancar) were again led by starshiy leitenant Rychagov. All Republican pilots taking part in this combat were Russians.
The Republican fighters dove on the Henrici Kette. Unteroffizier Ernst Mratzek was able to claim an I-16 as it dove past. Oberleutnant Oskar Henrici claimed a Russian fighter in the same way as the He 51s dove into the clouds. A bitter dogfight raged over Madrid at 1,500 meters. The Knüppel Kette dove into a cloud, reversed course in a steep turn and re-emerged below the Republican aircraft. Oberleutnant Herwig Knüppel and Unteroffizier Erwin Sawallisch claimed two I-15s; Sawallisch made his way home with some difficulty with shot-up tail surfaces. The Eberhardt Kette had remained above the bombers as top cover. Oberleutnant Kraft Eberhardt collided with an enemy fighter he had shot down and was killed when his fighter crashed to the ground at Casa de Campo; the Russian pilot was able to bail out. Oberleutnant Henrici took a bullet through the lung, but was able to land his aircraft in friendly territory at Alcorcon. As he left his aircraft, however, he collapsed and died. The German Staffel became completely scattered, each pilot seeking cover in cloud and making his own way back to Avila. Leutnant Henning Strümpell and Leutnant Dietrich von Bothmer reported the destruction of two further I-15s.
Henrici was probably shot down by leitenant Sergey Chernykh, (I-16 in Escuadrilla Kolesnikov). It seems that Eberhardt collided with Tarkhov since it's reported that he single-handed fought against a number of He 51s before being forced to bail out after a collision. While hanging in his parachute, Republican soldiers mistook him for Nationalist pilot and opened fire, hitting him six times. Tarkhov landed in Madrid but was attacked by the public because they thought he was a German. He died of his injuries at Gómes Ulla hospital on 23 November. This led General Miaja to the issue following order the next day:
"Any aviator who jumps from his aircraft using a parachute is out of the battle and, therefore, I order all forces defending Madrid not to shoot at parachutists under any circumstances. They may be our own men, but, if they prove to be enemies they can provide us with valuable information, which will be of great use for our operations."
A second Russian pilot was killed when starshiy leitenant Vladimir Mikhailovich Bocharov ('Jose Galarza'), after claiming a He 51, was wounded and made a forced-landing in enemy territory with his I-16 "Black 9". He died of wounds or was killed by Nationalists; according to Russian sources, the next day a wooden box was dropped by an enemy aircraft. When opened it was found to contain the mutilated corpse of Bocharov (who was a detachment leader in Escuadrilla Tarkhov).
Totally, the Nationalists claimed seven victories (2 I-16s and 5 I-15s). Five of them were later confirmed; the two unconfirmed was those made by the killed Henrici and Eberhardt (I-16) for the loss of two aircraft (Henrici and Eberhardt) (other sources claims four lost He 51s).
The Republicans claimed four victories while losing four aircraft and pilots (including Bocharov and Tarkhov). The fourth victory seems to have been claimed by leitenant Nikifor Balanov (I-16), who reportedly claimed a He 51 on this date. Bocharov and Tarkhov were posthumously awarded the Gold Star of the Hero of the Soviet Union on 31 December 1936.
Oberleutnant Herwig Knüppel recorded:
"13 November 1936 was the blackest day for the Jagdstaffel Eberhardt. We flew in the afternoon as escort for the Kampfstaffel of Oberleutnant von Moreau, starting out from Ávila and heading to Madrid. Following the second bombing run, we were attacked by around 24 low-winged and biplane fighters (Ratas and "Curtisses") from above on the eastern border of Madrid at an altitude of between 1200-1500 metres. It developed into an exceedingly hard air battle."
Leutnant Wolf-Heinrich von Houwald recorded:
"On Friday, 13 November 1936, we encountered the Ratas for the first time and a wild melee resulted. We downed five of them, but what were these victories when compared with the loss of our Staffelführer? This only served to show that our good old He 51s were too slow compared with the new Ratas - they could play with us as they wanted. Furthermore, the Soviet "Martin Bombers" [Tupolev SB], which were arriving daily, were 50 km/h faster than us, and the people were scared of them. Feverishly, we waited for the Bf 109s to arrive from Germany."
Following Eberhardt's death, Hauptmann Knüppel became the new Staffelkapitän. Eberhardt and Henrici were awarded a posthumous Cruz Laureada de San Fernando. This was the He 51s first combat with Soviet fighters.

In the afternoon on 15 November, starshiy leitenant Rychagov claimed a Junkers Ju 52/3m in the Madrid area. He was then shot down and baled out of his I-15, landing on to the Castellana.
No losses of Ju 52/3ms are known on this date.

In the afternoon on 16 November, there was an air battle between CR.32s providing escort for bombers and four I-16s escorting nine I-15s over Madrid. Starshiy leitenant Rychagov's (CO Escuadrilla Palancar) I-15 was initially hit by return fire from a Ju 52/3m, before being finished off by Sergente Maggiore Brunetto di Montegnacco. Although Rychagov was forced to abandon the aircraft on altitude of only 150 meters, he managed to parachute and survive. He landed in the Paseo de la Castellana, near the War Ministry.
During the same engagement, Sergente Maggiore Vittorino Daffara recorded his very first individual kill when he shot down an SB.
The Nationalists claimed two fighters while one Italian pilot was wounded but managed to reach his base. The Republicans claimed five victories, two of them by starshiy leitenant Rychagov, and one loss (Rychagov).
Rychagov was slightly wounded and during his recovery, the Escuadrilla Palancar was commanded by Petr Pumpur. The two detachments were in turn led by Yevgeniy Yerlykin and starshiy leitenant Georgiy Zakharov.

On 31 December 1936, seven Soviet pilots were decorated with the Gold Star of the Hero of the Soviet Union and the Order of Lenin for their performances in Spain; Vladimir Bocharov (posthumously – KIA on 13 November 1936), Sergey Chernykh, Karp Kovtun (posthumously – KIA on 13 November 1936), Rychagov, Nikolay Shmelkov, Sergey Tarkhov (posthumously – KIA on 13 November 1936), and Boris Turzhanskii.
At this time (by 9 December), Rychagov was credited with three He 51s, two CR.32s and one Ju 52/3m (totally he claimed six and 14 shared victories in Spain).

At the end of the winter of 1936-1937, Rychagov's I-15 group had claimed about 40 victories.

Rychagov left Spain on 6 February 1937 with 105 flying hours recorded in his logbook during his time in Spain.

Returning to the Soviet Union in 1937, he was promoted Mayor, but he remained in this rank only briefly. He had shown considerable competence, and due to shortage of experienced commanders he was promoted to kombrig (Brigadier General) before the year was out, and while still only 26.

In December 1937 he led the first group of volunteers to China, where he commanded a fighter group until April 1938, adding the Order of the Red Banner to his earlier decorations.

In the summer of 1938, he commanded the group of VVS units during the short border clash with Japanese units over Lake Khasan, on the Mandzukuo and Korea border.
The VVS units consisted of around 180 bombers and 70 fighters. They didn't met any Japanese opposition in the air since the use of aircraft was not permitted by the Japanese command since they didn't want to broaden the conflict.

In December 1939 came further promotion to General Major, and he was appointed commander of the Air Force of the 9th Army for operations against Finland during the Winter War.

In May 1940 he received a third Order of the Red Banner and was promoted to general leitenant on 6 June.
He was appointed Head of Red Army Air Force Administration.

In December 1940, he became a member of the Red Army Chief Military Council.

He became commander of the VVS RKKA on 28 August 1940 after Yakov Shmushkevich and remained in this post until 14 April 1941.

The late 30's and early 40's were times of great purges in the Soviet Union. There were two waves of purges in the VVS RKKA. The first was in 1937-1939 and ended when Beria took command of the NKVD after Jezov. 5616 officers from the VVS were purged during this period and of these only 892 returned to service.
The second purge against the VVS RKKA started in April 1941. At least 18 high air force commanders were arrested under false accusations of a conspiracy against Stalin made up by the NKVD. The conspiracy was supposedly led by general Kiril Meretskov (a veteran from Spain), who had been chief of the General Staff (August 1940 – 14 January 1941). Rychagov was arrested on 24 June 1941. Other arrested included the Commander of the PVO general Pulkovnik F. M. Stern (a veteran who had served in Spain, Lake Khasan, Khalkin Gol and Finland - as commander of the Air Force of the 8th Army), the deputy commander of the General Staff Yakov Shmushkevich (arrested on 14 June 1941), the deputy commander of the VVS RKKA Academy kombrig F. K. Arzenuchin, the chief of Staff VVS P.O P. S. Volodin, the Commander of the VVS Moscow Military District Petr Pumpur (who had been fighter commander in Spain 1936-1939) and several others. All of them were badly tortured during the NKVD questioning.
When German troops closed in on Moscow during the autumn of 1941, government and political institutions were evacuated. 300 high ranking Soviet officers in prison in Lubjanka were executed by the NKVD due to lack of transportation but the group of 18 high VVS commander were evacuated earlier to Kuybyshev (now Samara). However, to order for execution followed them and Rychagov (together with his wife; major Maria Nesteryenko - commander of independent aviation unit) was executed on 28 October 1941. Other executed this day included Shmushkevich, Stern and Laktyonov.

At the time of his death, Rychagov was credited with 6 biplane victories.
During the war he had also been decorated with a second Order of Lenin.

After Stalin's death in 1953, Rychagov was rehabilitated in 1954.

Claims:

| | | | | | | | | | |
| --- | --- | --- | --- | --- | --- | --- | --- | --- | --- |
| Kill no. | Date | Time | Number | Type | Result | Plane type | Serial no. | Locality | Unit |
| | 1936 | | | | | | | | |
| 1 | 04/11/36 | | 1 | He 51 | Destroyed | I-15 | | Madrid area | Escuadrilla Rychagov |
| 2 | 06/11/36 | | 1 | He 51 | Destroyed | I-15 | | Madrid area | Escuadrilla Rychagov |
| 3 | 06/11/36 | | 1 | He 51 | Destroyed | I-15 | | Madrid area | Escuadrilla Rychagov |
| 4 | 15/11/36 | afternoon | 1 | Ju 52/3m (a) | Destroyed | I-15 | | Madrid area | Escuadrilla Rychagov |
| 5 | 16/11/36 | afternoon | 1 | CR.32 (b) | Destroyed | I-15 | | Madrid area | Escuadrilla Rychagov |
| 6 | 16/11/36 | afternoon | 1 | CR.32 (b) | Destroyed | I-15 | | Madrid area | Escuadrilla Rychagov |
Biplane victories: 6 and 14 shared destroyed.
TOTAL: 6 and 14 shared destroyed.
(a) No losses of Ju 52/3ms are known on this date.
(b) The CR.32s claimed 2 fighters and 1 SB while one Italian pilot was wounded but managed to reach his base. The Republicans claimed 5 victories while losing 1 I-15.


Sources:
Air War over Spain - Jesus Salas Larrazabal, 1974 Ian Allan Ltd, Shepperton, Surrey, ISBN 0-7110-0521-4
Fiat CR.32 Aces of the Spanish Civil War - Alfredo Logoluso, 2010 Osprey Publishing, Oxford, ISBN 978-1-84603-983-6
Giuseppe Cenni, pilota in guerra – Giuseppe Pesce, 2002, USSMA, Rome, kindly provided by Stefano Lazzaro.
Na pomotsch Respublike - N.Yakuba, 1989 Krylia Rodiny kindly provided by Alexei Stepanov
Polikarpov I-15, I-16 and I-153 Aces - Mikhail Maslov, 2010 Osprey Publishing, Oxford, ISBN 978-1-84603-981-2
Russian Fighter Aces of 1914-1953 years
Skjut de galna hundarna - Arkadij Vaksberg, 1990, kindly provided by Thomas Nilsson
Soviet airmen in the Spanish civil war 1936-1939 - Paul Whelan, 2014 Schiffer Publishing Ltd, ISBN 978-0-7643-0
Spanish Republican Aces – Rafael A. Permuy López, 2012 Osprey Publishing, Oxford, ISBN 978-1-84908-668-4
Stalin's Falcons - Tomas Polak and Christhoper Shores, 1999 Grub Street, London, ISBN 1-902304-01-2
The first Heroes of Soviet Union - I.M.Dzoga and N.I. Kuznetcov, Irkutsk, 1983 kindly provided by Alexei Stepanov
The Heroes of Soviet Union, Part 2 - Moscow, 1987 kindly provided by Alexei Stepanov
The Legion Condor - Karl Ries and Hans Ring, 1992 Schiffer Publishing, ISBN 0-88740-339-5
The Military-Encyclopaedia Dictionary - Moscow, 1984 kindly provided by Alexei Stepanov
V bo'y vstupa'yut istrebiteli - V.A.Su'yazin, 1986 My – internacionalisty kindly provided by Alexei Stepanov
Additional information kindly provided by Stefano Lazzaro, Ondrej Repka, Alexei Stepanov and Mirek Wawrzynski.




Last modified 12 August 2020