Fighter aces

Soviet Union

General Major Petr Afanasevich Pokryshev HSU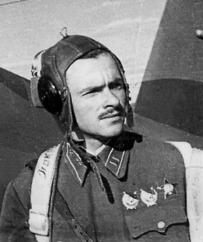 24 August 1914 – 22 August 1967
Petr Pokryshev was born in Golaya Pristan in the Kherson area on 24 August 1914.
He enlisted the VVS for flight training in 1934 and was graduated as a pilot at Odessa military flying school a year later.
He took part in the "Winter War" against Finland with 4./7 IAP flying the Polikarpov I-16.
According to some sources, Pokryshev is credited with three biplane victories during the Winter War, but this seems not to have been the case since he flew with the 4th Eskadrilya of the 7 IAP, which was equipped with the Polikarpov I-16.
The first contact between Soviet aircraft and Finnish fighters happened at 11:45-11:55 on 1 December 1939 when six Polikarpov I-16s from 7 IAP jumped a Bulldog pair of LLv 26. While the other Bulldog was separated, BU-64 piloted by ylikersantti Toivo Uuttu was left alone to fight the Russians. After scoring hits on one I-16, he himself was also shot down and he crashed at Muolaanjärvi getting injured in the process. Uuttu's victim reportedly also crashed and became the first aerial victory ever over Finland. Since the claim wasn't witnessed it was only credited to him as a probable.
Uuttu reported:
I flew southeast of Muolaanjärvi but I did not see any movements so I descended lower. Suddenly I saw tracers flying all around me. When I looked over my shoulder, I saw three I-16s attacking me. I pulled up and left and as they overtook me, I was able to fire a short burst on passing I-16. I hit his engine and saw black smoke coming out of the engine. It started sliding downward smoking. Tracers were flying all around my plane. Suddenly my plane shuddered and when I pulled on stick, it did not move. I considered jumping, but in fear that they might shoot me on parachute I decided to fight it out to the last. I continued evading my attackers using only rudder and aerlions. We had descended to altitude of 200m and when I looked behind, I saw one still shooting. I shut off my engine and tried to make a forced landing to forest. When landing, I pulled with all of my strength on the stick and it moved back a little bit, but then the Bulldog hit the woods and I passed away.
The fighters of 4./7 IAP claimed one reconnaissance aircraft shot down between 12:30-13:15 at Muolaa. The aircraft was claimed as a shared between Starshiy Leytenant Fedor Shinkarenko (Eskadrilya leader), Starshiy Politruk Gabriel Didenko and B. A. Grigoryev. Leytenant Pokryshev from the same eskadrilya force-landed his I-16 at Kerrola, Muolaa, after reportedly engine-malfunction and it is thus possible that he also had been involved in the combat with ylikersantti Uuttu.

At 16:26 on 20 December, a group of I-16s from 4./7 IAP led by Starshiy Politruk Gabriel Didenko escorted SB bombers. At Karpela, three Fokker D.XXIs were encountered at 2,500m and all three were claimed shot down. Didenko and Starshiy Leytenant Porphyry Mihajlyuk each claimed one while the third was claimed as a shared between Didenko, Mihajlyuk, Starshiy Leytenant Pokryshev, Zobov and Zolotaryev.
Starshiy Leytenant Pokryshev force-landed in Raivola, his I-16 burned.
It is possible that had been involved in combat with Fokker D.XXIs from LLv 24, which claimed two fighters and one bomber over the Karelian Isthmus. These were claimed ylikersantti Leo Rautakorpi (FR-90) and luutnantti Jaakko Vuorela (FR-87), which both claimed an I-16 each over Kämärä at 14:00 and by luutnantti Tatu Huhanantti (FR-76), who claimed a SB over Lempaala between 14:10-15:00. The Finnish fighters didn't suffer any losses during the day.

On 23 December, SBs from 24 and 44 SBAP attacked targets in the Vipurri - Laatokka area around 11:00.
44 SBAP suffered heavily during these attacks and SB c/n 14/97 of the regiment HQ was shot by fighters at Äyräpää, and crashed at Heinjoki. The pilot Kapitan Ivan Yegorovich Borodin escaped by parachute and became a POW (Kapitan Ivan Leontyevich Pratsuk and Nikolay Nikolayevich Dementyev KIA). The task had been to attack an AA battery presumed located at Suursaari (Hogland) in Muolaanjärvi.
The target of 4./44 SBAP was Heinjoki railway station. SBs c/n 18/94 and c/n 4/92 were lost after air combat. The pilot of 18/94, Leytenant Ivan Kuzmich Sorokin was taken POW (Leytenant Fedor Ignatyevich Bannikov and Valentin Mikhailovich Bessonov KIA) and on the next day the MG-gunner of 4/92, Nikolay Ivanovich Lyakhov was captured (Starshiy Leytenant Boris Fedorovich Glazov and Starshiy Leytenant Vasiliy Nikolayevich both KIA).
5./44 SBAP was to bomb a Finnish strongpoint at Oinala (south-west of Muolaanjärvi) with six SBs. Two SBs (c/n 3/136 and c/n 14/72) were shot down at Antrea. The crew in c/n 14/72 (Leytenant Mikhail Grigoryevich Zaitsev, Starshiy Leytenant Nikolay Ivanovich Kapustin and Sergey Pavlovich Kuznetsov) was killed. SB c/n 3/136 was hit by ground fire and by fighters and crashed in no-man's land at Noisniemi. The pilot, Starshiy Leytenant M. G. Golovanov, was able to reach own lines but shturman Starshiy Leytenant Aleksandr Gerasimovich Makovenko was killed durring arrest while the MG-gunner Konstantin Ivanovich Drozdetskiy was taken POW in the sector of the Finnish 8th Infantry Division.
It is also possible that a sixth SB from 44 SBAP was shot down with the pilot Leytenant Petr Smorodin becoming POW (Starshiy Leytenant Beloglazov and unknown MG-gunner KIA).
24 SBAP lost two SBs. SB c/n 14/220 "4" of 2./24 SBAP was shot down by ground fire at Ilmatorjunta with the crew KIA (Leytenant Aleksey Ivanovich Moskalev, Leytenant Mikhail Vasilyevich Korneyev and Fedor Timofeyevich Muravyev). SB c/n 6/220 "8" of 4./24 SBAP force-landed at Bazarevo (Nikulas) after air combat with Nikolay F. Kolosov WIA, Leytenant Viktor Nikolayevich Sazonov KIA and PAvel Ivanovich Baskakov KIA.
Between 11:17-12:26 on 23 December, 13 I-16s from 7 IAP led by Starshiy Leytenant Fedor Shinkarenko (4./7 IAP) flew to cover the SB operations in the Vipurri area. In the region of Kaislahti at an altitude of 2,000m, they saw three SBs that flew to the east-southeast and that twelve enemy aircraft (nine Fokker D.XXIs and three Bulldogs) flew from Noraa east-wards. One enemy flight got behind the tails of the SB flight. Two SBs caught fire, while the third begun to fall down disorderly. Meanwhile Shinkarenko's Eskadrilya tried to overtake the enemy and finally caught them over Pienpero station at 11:40. Seven Fokker D.XXIs were claimed shot down and these were claimed by Shinkarenko, Starshiy Politruk Gabriel Didenko, Leytenant A. D. Bulayev, Starshiy Leytenant Porphyry Mihajlyuk, Leytenant Pokryshev, Leytenant G. P. Larionov and Leytenant Boris Aleksandrovich Grigoryev (all of 4./7 IAP). According to some sources, an unknown pilot also claimed a Bulldog. At Honkaniemi-Pilppula, two of the I-16s were shot down in combat and Leytenant Vladimir Vasilyevich Zoltarev (I-16 tip 10 c/n 1021779) and Leytenant Grigoryev (unsuccessful parachute jump from I-16 tip 5 c/n 5210836) were both killed.
At 11:50, 13 I-16s from 68 IAP led by Bataljonnyj komissar Yakovenko reportedly clashed with four Fokker D.XXIs at Karhusuo. Two Finnish aircraft were claimed shot down, and one pilot escaped by parachute. Finnish troops observed a mid-air collision of two I-16s, but only one parachute. This was Starshiy Leytenant Iosif Iosifovich Kaval'kov of 3./68 IAP, who parachuted from I-16 "228" at Ylä-Säiniö and was captured by Finnish ground forces at Kangaspelto, Muolaa (Koval'kov had arrived to 68 IAP from 25 IAP). Karchenko reportedly landed his I-16 with 30 hits in the aircraft.
LLv 24 and 26 was heavily involved in the attacks on midday engaging both I-16s from 7 and 68 IAP and SB bombers from 24 and 44 SBAP.
Shortly before 11:00 they clashed with the enemy aircraft beginning with I-16s of which three were claimed shot down in the Muolaanjärvi area. These were claimed by kersantti Lauri Nissinen (LLv 24) in FR-98 (1 and 1 damaged I-16 at 10:40 over Muolaanjärvi), luutnantti Aapo Nieminen (LLv 26) in FR-96 (1 and 1 damaged I-16 over Muolaanjärvi between 10:40-10:55), vänrikki Heikki Ilveskorpi (LLv 24) in FR-117 (1 I-16 over Muolaa at 10:45) and ylikersantti Kelpo Virta (LLv 24) in FR-84 (1 damaged I-16 over Kämärä/Kannas at10:48).
At 10:48, a SB (probably from 44 SBAP) was claimed shot down over Heinjoki by three pilots from LLv 24; luutnantti Jorma Karhunen (FR-112), lentomestari Y. Turkka (FR-83) and lentomestari Viktor Pyötsiä (FR-110). Lentomestari Turkka claimed another SB at 10:50 over Pölläkkälä.
The I-16s from 7 IAP intervened and vänrikki Pekka Kokko (LLv 24) in FR-78 claimed a damaged I-16 over Muolaanjärvi at 10:50. Kersantti Pentti Tilli (LLv 26) in FR-103 claimed an I-16 at 10:55 over Kämärä and a second at 11:10 over Noskuanselkä (both probably from 7 IAP).
Luutnantti Jorma Sarvanto (LLv 24) in FR-97 claimed and SB at 11:08 over Ristseppälä and a second as a probable at 11:15 over Noisniemi (both probably from 44 SBAP).
A Bulldog patrol from LLv 26 led by luutnantti Pentti Tevä took off on an interception mission towards Lake Laatokka (Ladoga). Over Käkisalmi at 11:55, they encountered a formation of 6 to 7 SBs from 24 SBAP, which were bombing from the altitude of 1700 m and 100 meters above clouds. Tevä shot one down and it crashed into the Lake Ladoga confirmed by the coastal units. Lentomestari Lennart Mildh dove after the formation but could not gain enough speed until surprisingly one SB passed beneath him. He had an opportunity to fire at the SB for several minutes. The SB received hits and dove steep into a low-lying cloud and Mildh was credited with a damaged aircraft.
Finally at 12:00, majuri Gustaf Magnusson (LLv 24) in FR-99 claimed a SB (probably from 44 SBAP) over Lempaalanjärvi. He described the combat with the SBs:
Kersantti Kinnunen flying on the left flank observed nine SB planes above Vuoksenranta. I dived after kersantti Kinnunen, who pulled away thinking I was an I-16.
I continued after the formation and caught it at Kiviniemi. I chose as my target the rear-most bomber on the left flank. First I fired in the starboard engine, which started to smoke, thereafter I shot the port engine into fire, when the plane began to descend.
Tactically the enemy unit worked well, e. g. lowering the landing gears simultaneously for speed reduction and the next to the one under attack lowered speed in order to obtain a better position for it's rear gunner.
At 12 o'clock the aircraft hit the ground at Lempaalanjärvi."
During these combats, one Fokker D.XXI was shot down when FR-111 of LLv 24 crashed in the forest at Lyykylä and kersantti Tauno Kaarma was wounded after combat with I-16s.
Totally during these somewhat confusing combats, the pilots from LLv 24 and 26 claimed 11 (6 SBs and 5 I-16s) victories, 1 probable SB and 5 damaged (4 SBs and 1 I-16) while losing 1 fighter.
Totally the Russians lost 8 SBs and 3 I-16s (another I-16 damaged) while claiming 9 fighters (at least 7 Fokker D.XXIs).

On 4 February 1940, the 4./7 IAP claimed three Finnish fighters destroyed on the ground.
These were claimed as shared between Starshiy Politruk Gabriel Didenko, Starshiy Leytenant Porphyry Mihajlyuk, Leytenant G. P. Larionov, Leytenant Pokryshev and Kulikov.
These claims can't be verified with Finnish records.

Totally he claimed three victories during the "Winter War".

On 22 June 1941, the day when Germany invaded the USSR, Starshiy Leytenant Pokryshev served with the 154 IAP, stationed near Leningrad.

It seems that he claimed his first victory of the Great Patriotic War on 23 June when he according to some sources claimed He 111 near Pskov.

With his I-16 Ishak, he shot down a Junkers Ju 88 reconnaissance plane over Leningrad on 25 June 1941. This was the second victory ever over that city.

He next added doubles on 29 June and 3 July. These claims might possibly be shared.

The summer and fall of 1941 were hard times for the Soviet Air Force. Led by Major Hannes Trautloft, the German JG 54 "Grünherz" - the main Luftwaffe fighter unit on the Leningrad front during the entire war - claimed no less than 1,123 Russian aircraft's shot down from June to November of that year. But one Soviet fighter unit in this area, 39 IAD (Fighter Wing) distinguished itself by its repeated successes against superior German aircraft. During the month of August 1941, 39 IAD was credited with half of the 213 German aircraft claimed shot down by the Russians in this combat zone. Petr Pokryshev contributed to this total with four personal kills.

Following his successes during the first, difficult months of the war, Pokryshev was assigned as an eskadrilya leader to Lieutenant Colonel Matveyev´s 154 IAP, which was one of the first Russian units to be equipped with the Curtiss P-40 Lend-Lease fighters. It was behind the controls of this U.S. made fighter that Pokryshev´s real success rate started.

On 17 December 1941, five P-40B Tomahawks led by Kapitan Pokryshev was out on an escort mission for Il-2 Stormoviks, as they were bounced by a group of Messerschmitt 109s - according to the Russian report "of the newest 'F, Friedrich' model". In the ensuing combat, Pokryshev managed to turn the table and downed one Bf 109 over Novaja Ladoga - the first of this new 'Friedrich-version' to be destroyed. The enemy fighter reportedly crashed in the Soviet Lines killing its pilot and displaying 15 victory bars on its rudder. Unfortunately the German pilot's identity has not been established.

During the winter of 1941/42, the Tomahawks of 154 IAP were entrusted with the fighter cover of the vital "life line" to the starving Leningrad. During 1942, the unit received their first P-40E Warhawks and "White 50" became Pokryshev's personal mount.

As the Luftwaffe launched 165 bombers, Stukas and Messerschmitt 109s against the harbor of Kronstadt on 24 and 25 April 1942, the "Hawks" of 154 IAP met them. During the fierce aerial combats on these two days, the Russians claimed to have shot down or damaged 35 German aircraft for the loss of five fighters. Through this victory, they forced the Germans to call off any further raids against Kronstadt.

In June 1942, Kapitan Petr Pokryshev´s score stood at 11 personal and 7 "collective" victories. These were claimed during 211 sorties and 38 engagements.
During the summer and autumn of 1942, he doubled his score.

On 30 August, four Il-2s from 15 GShAP and three Il-2s from 57 ShAP-KBF attacked Gorodets airdrome, south of Luga, where III/StG 1 just had arrived. The attack was successful and with the Il-2s were 17 Hurricanes from 3 GIAP-KBF and seven P-40Kittyhawks from 154 IAP, the latter led by Mayor Pokryshev, which took part in the strafing attack. According to the Soviet post mission photos they destroyed nine German aircraft and damaged four, of which at least two Ju 87s and a KG 53 He 111 can be verified with German loss records.
During the return flight the Soviet aircraft was bounced by Unteroffizier Josef Brechtl of 7./JG 54, who in a surprising gunnery run from above managed to shoot down one of the 153 IAP P-40s, killing the pilot (claimed as a LaGG-3 at 12:50). Kapitan Sergey Sukhov of 3 GIAP-KBF meanwhile filed an unsubstantiated claim for a shot down Bf 109.

Not least due to Pokryshev´s feats, 154 IAP was awarded the honoree title "Guards Fighter Regiment" in November 1942, being adopted as 29 GIAP.

His success rate was quite remarkable: during 282 combat missions until February 1943, Pokryshev was involved in a total of 50 air combats, during which he brought down no less than 29 Luftwaffe-planes (7 of them together with other pilots).

On 10 February 1943, he was awarded the Golden Star of Hero of the Soviet Union and the Order of Lenin for 11 and 7 shared victories claimed during 211 sorties and 38 engagements as of July 1942 as a token of a Hero of the Soviet Union - the highest Soviet military award.
In the spring of 1943, the 29th "Guards" faithful P-40s were delivered to 196 IAP, as the unit was equipped with the new Yak-7B.

On 19 June 1943, now promoted to Guards Major, Pokryshev took command of the 159 IAP, equipped with La-5s.
On this day, during his transfer to his new unit, he claimed one German bomber and an Fw190.

He was to serve as a commander of the 159 IAP until the close of the war earning a reputation for cool, decisive leadership.

In his last 27 aerial combats, Pokryshev blasted another 18 German aircraft out of the sky.

On 24 August 1943 he was decorated with his second Gold Star of Hero of the Soviet Union for 22 and 7 shared victories claimed during 282 sorties and 50 air combats.

Shortly after that, Major Pokryshev was seriously injured. But fate and his skills would not let any German pilot to put this gallant pilot "out of order". During a training flight on an UTI-4 (a two-seat trainer version of the Polikarpov I-16) together with the pilot Kudravtsev, the engine suddenly caught fire at an altitude of 400 metres. They tried to reach the airfield, but failed. The ensuing crash put an end to Pokryshev's fighter career.

Aircraft constructor Alexander Yakovlev made a special prepared Yak-9 for the crippled Pokryshev, and with this he remained in charge of 159 IAP until the end of the war. Under his command, the 159 IAP developed into one of the most successful Soviet fighter units, counting among its pilots famous aces such as Vladimir Serov (39 kills) and Petr Likholetov (25 kills).

Pokryshev was also decorated with the Order of the Red Banner (three times), Order of Aleksandr Nevskij, the Order of the Patriotic War 1st Class and the Order of the Red Star (twice) during the war.

Pokryshev ended the war with 38 personal and 8 shared victories claimed on 309 missions, which had led to 77 aerial combats (other sources says 23 and 7 shared victories claimed during 300 sorties and 72 combats).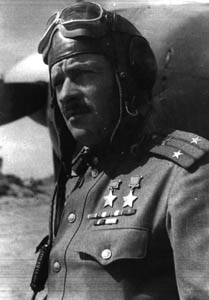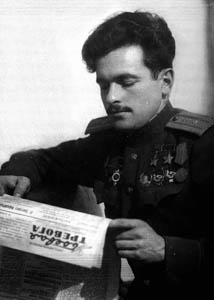 Left: Podpolkovnik Pokryshev in front of a La-7.
Right: Major Pokryshev reading the frontline newspaper "Boyevaya Trevoga" (Battle Alert).

Pokryshev stayed in the service after the war and graduated from the General Staff Academy in 1954. He came off active duty with the rank of General Major in 1961.
After his military career he became Director of Leningrad Airport.
Petr Pokryshev died on 22 August 1967.
Claims:

| | | | | | | | | | |
| --- | --- | --- | --- | --- | --- | --- | --- | --- | --- |
| Kill no. | Date | Time | Number | Type | Result | Plane type | Serial no. | Locality | Unit |
| | 1939 | | | | | | | | |
| | 20/12/39 | 16:26 | 1/4 | Fokker D.XXI (a) | Shared destroyed | I-16 | | Karpela | 4./7 IAP |
| ? | 23/12/39 | 11:40-12:26 | 1 | Fokker D.XXI (b) | Destroyed | I-16 | | Pienpero Station | 4./7 IAP |
| | 1940 | | | | | | | | |
| | 04/02/40 | | 1/5 | Enemy fighter (c) | Shared destroyed on the ground | I-16 | | Finland | 4./7 IAP |
| | 04/02/40 | | 1/5 | Enemy fighter (c) | Shared destroyed on the ground | I-16 | | Finland | 4./7 IAP |
| | 04/02/40 | | 1/5 | Enemy fighter (c) | Shared destroyed on the ground | I-16 | | Finland | 4./7 IAP |
| | 1941 | | | | | | | | |
| 4 | 23/06/41 | | 1 | Ju 88 | Destroyed | I-16 | | near Pskov | 154 IAP |
| 5 | 25/06/41 | | 1 | Ju 88 (d) | Destroyed | I-16 | | Leningrad area | 154 IAP |
| 6 | 29/06/41 | | 1 | Enemy bombers (e) | Destroyed | I-16 | | Leningrad area | 154 IAP |
| 7 | 29/06/41 | | 1 | Enemy bombers (e) | Destroyed | I-16 | | Leningrad area | 154 IAP |
| 8 | 03/07/41 | | 1 | Enemy bombers (f) | Destroyed | I-16 | | Leningrad area | 154 IAP |
| 9 | 03/07/41 | | 1 | Enemy bombers (f) | Destroyed | I-16 | | Leningrad area | 154 IAP |
| 10 | ??/08/41 | | 1 | Enemy aircraft | Destroyed | I-16 | | | 154 IAP |
| 11 | ??/08/41 | | 1 | Enemy aircraft | Destroyed | I-16 | | | 154 IAP |
| 12 | ??/08/41 | | 1 | Enemy aircraft | Destroyed | I-16 | | | 154 IAP |
| 13 | ??/08/41 | | 1 | Enemy aircraft | Destroyed | I-16 | | | 154 IAP |
| ? | 17/12/41 | | 1 | Bf 109F (g) | Destroyed | P-40B | | Novaja Ladoga | 154 IAP |
| | 1943 | | | | | | | | |
| ? | 19/06/43 | | 1 | Enemy bomber | Destroyed | | | | During transfer |
| ? | 19/06/43 | | 1 | Fw190 | Destroyed | | | | During transfer |
TOTAL: 38 destroyed, 8 shared destroyed, 3 shared destroyed on the ground.
(a) Possible claimed in combat with LLv 24, which didn't suffer any losses.
(b) Probably claimed in combat with Fokker D.XXIs from LLv 24 and LLv 26. The Finnish fighters claimed 5 I-16s while losing 1 Fokker. The Soviet pilots from 7 and 68 IAP claimed nine Fokkers while losing 3 I-16s.
(c) Not verified with Finnish records.
(d) The second Soviet victory over the Leningrad front.
(e) Possibly shared victories.
(f) Possibly shared victories.
(g) The first Soviet victory over a Bf 109F.

Sources:
Black Cross/Red Star Volume I - Christer Bergström and Andrey Mikhailov, 2000 Pacifica Military History, ISBN 0-935553-48-7
Black Cross/Red Star Volume II - Christer Bergström and Andrey Mikhailov, 2001 Pacifica Military History, ISBN 0-935553-51-7
Black Cross/Red Star Volume III - Christer Bergström, Andrey Dikov and Vlad Antipov, 2006 Eagle Editions Ltd, Hamilton, ISBN 0-9761034-4-3
Luftwaffe Claims Lists - Tony Wood
Red Stars 7 - Talvisota Ilmassa - The Winter War In the Air - Carl-Fredrik Geust, 2011 Apali Oy, Tampere, ISBN 978-952-5877-04-5
Suomen Ilmailuhistoriallinen Lehti 2/1999 kindly provided by Jari Lappalainen.
Suomen Ilmavoimat part II – 1928-40 – Kalevi Keskinen and Kari Stenman, 2006, ISBN 952-99743-0-2
Stalin's Eagles - Hans D. Seidl, 1998 Schiffer Publishing, ISBN 0-7643-0476-3
Stalin's Falcons - Tomas Polak and Christhoper Shores, 1999 Grub Street, London, ISBN 1-902304-01-2
Additional information kindly provided by Ondrej Repka.




Last modified 19 January 2014