Biplane fighter aces

Soviet Union

Starshii Leitenant Nikolay Fedorovich Repnikov HSU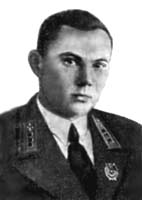 1914 – 4 December 1941
Nikolay Repnikov was born in Petrograd in 1920.
Repnikov learned to fly in an aeroclub, then becoming a flying instructor.
He joined the Red Army in 1936.
He took part in the Soviet-Finnish Winter War in 1939-40 and was decorated with the Order of the Red Banner.
In June 1941, he served as an eskadrilia commander in the 152 IAP.
Flying an I-16, he claimed 152 IAP's first victory.
The unit the moved to the Karelian Front, where he was to undertake many strafing sorties, claiming considerable numbers of target on the ground as destroyed.
On 21 September, I-153s from 152 IAP intercepted a Fokker over Rukajärvi and it was shot down by Starshii Leitenant Repnikov.
This was Fokker C.V FO-71 of 2/LLv 10, which was shot down at 06:00, killing the pilot alikersantti Åke Ginström and observer vänrikki Kauko Salmi.
On 2 November, 152 IAP was pulled back to a rear area outside the city of Arkhangelsk to re-equip with Hawker Hurricanes.
Two weeks later, on 16 November, the regiment returned to the front with its first ten fighters.
After conversion to the Hurricane, 152 IAP became part| of 103 SAD (Combined Air Division), which had been formed within the Red Army Air Force on the Karelian Front at the end of October. The unit was based at the Segezhsk airfield complex and given the task of defending the southern sector of the Karelian Front, specifically the areas of Medvezhegorsk, Mosalsk and Rebolsk. The principal enemy in this sector was the Finnish Air Force.
On 4 December, a swarm of 3/LLv 28 was engaged in combat with three 'I-18s' over Maaselkä. Both parties lost one aircraft in a mid-air collision. Ylikersantti Pekka Vassinen participated in this fight:
At 13:00-13:05 hours. When we approached Maaselkä from south-west at 1,000 meters (I flew on the left wing and at the moment about 400m aside) I observed two (I-18s) climbing from below and behind in about 45 degrees angle, the enemy having considerable speed advantage still at our altitude. Kersantti Tomminen had also observed one I-18, which was shooting at ylikersantti Jussila from 100 metres behind. Kersantti Tomminen shot at the I-18 straight from the side getting hits behind the engine to the cockpit. The I-18 suddenly pulled up, when kersantti Tomminen hit the wing of the I-18 snapping it off. Kersantti Tomminen's plane flipped on its back flying a while in this position and then the nose slowly sank into a vertical dive. A moment later, I saw the aircraft burning on the ground. I went to the surface, but did not observe any parachutes hovering. The aircraft shot by kersantti Tomminen crashed in flames. The climb rate of the I-18 was obviously good since a while earlier kersantti Tomminen had been to the surface without observing anything. The Russians opened fire from a relatively close range. My plane was MS-620."
Kersantti Toivo Tomminen flew Morane MS-329. Ylikersantti Oskari Jussila (MS-315) claimed a damaged 'I-18' in this combat.
They had been in combat with three Hurricanes from 152 IAP led by Starshii Leitenant Repnikov (Hurricane BD761). The war diary of 152 IAP reported:
"At 12:55-14:10 hours [Moscow time] three aircraft carried out the reconnaissance of enemy positions in the areas of railway junction No. 13, Medvezhegorsk, Par-guba, Kamselga, Kumsa and west of Pokrov. The mission was accomplished. The aircraft were then engaged in a combat two km south of Kriv with seven Heinkels and Me109s. The result of the battle was two enemy fighters shot down, additionally Starshii Leitenant N. F. Repnikov rammed from straight ahead on one Me109, our pilot getting killed."
Though the regiment war diary states the enemy aircraft being Heinkels and Me 109s, in the claim list of 152 IAP these three appeared as Brewsters, one of which Starshii Leitenant Vladimir Basov and Starshii Leitenant Stepan Ivanov reported having claimed one each, while Repnikov was credited with the third in a "taran" ramming attack.
Both Repnikov and Tomminen were killed.

At the time of his death, Repnikov had claimed 1 biplane victory and a total of 3. These had been claimed in 51 sorties.

On 22 February 1943, Repnikov was posthumously decorated with the Gold Star of the Hero of the Soviet Union and the Order of Lenin.

Claims:

| | | | | | | | | | |
| --- | --- | --- | --- | --- | --- | --- | --- | --- | --- |
| Kill no. | Date | Time | Number | Type | Result | Plane type | Serial no. | Locality | Unit |
| | 1941 | | | | | | | | |
| 1 | ??/??/41 | | 1 | Enemy aircraft | Destroyed | I-16 | | | 152 IAP |
| 2 | 21/09/41 | 06:00 | 1 | Fokker C.V (a) | Destroyed | I-153 | | Rukajärvi | 152 IAP |
| 3 | 04/12/41 | 13:00 | 1 | Brewster (b) | Destroyed | Hurricane | BD761 | Maaselkä | 152 IAP |
Biplane victories: 1 destroyed.
TOTAL: 3 destroyed.
(a) Fokker C.V FO-71 of 2/LLv 10 shot down killing the pilot alikersantti Åke Ginström and observer vänrikki Kauko Salmi.
(b) Kersantti Teivo Tomminen of 3/LLv 28 (MS-329) KIA in a "taran" ramming attack.

Sources:
Aeroram
All aces of Stalin 1936–1953 – Mikhail Bykov, 2014
Soviet Aces 1936-1953
Soviet Hurricane Aces of World War 2 – Yuriy Rybin, 2012 Osprey Publishing Limited, Oxford, ISBN 978-1-84908-741-1
Stalin's Falcons - Tomas Polak and Christhoper Shores, 1999 Grub Street, London, ISBN 1-902304-01-2
Suomen Ilmavoimat part III – 1941 – Kalevi Keskinen and Kari Stenman, 2007, ISBN 978-952-99743-1-3
Additional information kindly provided by Ondrej Repka.




Last modified 03 July 2017