Biplane fighter aces

Soviet Union

Major Aleksey Dmitrievich Slutskov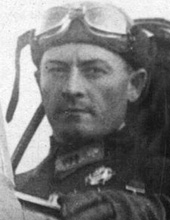 1908 –
Aleksey Slutskov was born in 1908.
He graduated from a flight school in Stalingrad in 1936.
As a starshiy leytenant, he served as a volunteer in China from April until August 1938. During his time in China, he flew the Polikarpov I-15bis.
He returned from China after having claimed two Ki-10s and one shared enemy bomber. These had been claimed during 50 combat missions and 4 air combats.
He was decorated with the Order of the Red Banner on 14 November 1938.
On 22 February 1939, he was decorated "for bravery".
As a major, he took part in the Nomonhan conflict with Japan, serving in 70 IAP between June and September 1939, flying I-16s and I-153s.
70 IAP was in combat with Ki-27s on 25 August and mladshiy leytenant Evgeniy Petrov (I-153) claimed one during the day as did mayor Slutskov (I-153). Starshiy leytenant Philip Sergeev (I-16) claimed one shared with another pilot between Dzhinzhin-Sume.
He received a second Order of the Red Banner on 29 August 1939.
In the afternoon on 1 September, 188 Soviet fighters (145 I-16s and 43 I-153s) from 22, 56 and 70 IAPs fought a reported 100-120 Ki-27s and Ki-30s in mixed groups pursuing diverse tactical objectives. The fight took place at between 3500 and 5000m and featured the stepped arrival of most participants. They fought for over an hour, with the spinning ball of fighters attracting reinforcements and shedding burning machines or those whose fuel had become critical.
The two sides report from the combat was very different to each other.
The returning Japanese claimed 32 destroyed and 8 probables. Of these, the 64th Sentai claimed 11 destroyed and three probables when they fought about 80 enemy aircraft over Noguchi airfield for half an hour. Sergeant Major Tokuya Sudo was seen to shoot down one (10th victory) but was then overcome by numbers and killed.
The 1st and 11th Sentais was also involved in this combat and Sergeant Takayori Kodama (Sho-3) of the 2nd chutai, 1st Sentai, who had been flying as wingman to the acting commanding officer Major Makino since the end of July was shot down and killed about 20km south of Jiangjun Miao. At the time, he had flown 46 sorties and claimed 11 victories.
Totally, the Japanese lost four aircraft and pilots; Sudo (Sho-1), Captain Shuichi Anzai (Class 44) of the 64th Sentai (CO 2nd chutai), Sergeant Kodama and 1st Lieutenant Yosokichi Kato (NCO41) of the 64th Sentai. It was reported that one Japanese pilot baled out, landed within Mongolia, and shot himself shortly before being taken prisoner. Captain Fumio Maruta from the 64th Sentai (CO 1st chutai) was wounded in this combat.
The Soviet pilots claimed 19 Ki-27s (mostly reported as "I-97s") and one Ki-30 in combat between 14:20-15:30.
22 IAP (I-16) was in combat over Lake Usur-Nur and Mikhail Abzianidze claimed a Ki-27 during the day while Nikolai Arsenin claimed a shared Ki-27 together with Vasily Naydenko, kapitan Andrey Dekhtyarenko, leytenant Ivan Krasnoyurchenko and one other pilot. Naydenko claimed a third Ki-27 as a personal victory and a fourth Ki-27 was claimed by leytenant Pavel Solntsev in the Lake Usur-Nur area. Leitenant Krasnoyurchenko claimed one Ki-27 as an individual claim.
From 56 IAP (I-16) claims were made by leitennat Vasiliy Dmitriyev, who claimed one destroyed Ki-27 and two more as shared (in group) while kapitan Mikhail Dolbyshev and starshiy leytenant Dmitri Kuzovoi claimed six shared Ki-27s (in group). Starshiy leytenant Kuzovi also claimed one individual Ki-27. Starshiy leytenant Stepan Baranov claimed two shared Ki-27s over Lake Usur-Nur (one together with another pilot and the second in group).
70 IAP also reported claims when starshiy leytenant Iosef Geibo of 5./70 IAP (I-153) claimed a Ki-27 between Lake Usur-Nur and Lake Yanhu. Nikolai Viktorov (I-16) claimed one and one shared Ki-27s (together with one other pilot) in the same area while Egor Ankudinov claimed a shared Ki-27 together with three other pilots. Kapitan Grigory Boychenko (I-153) claimed a Ki-27 in the same area. Mayor Slutskov claimed one Ki-27 destroyed.
Leitenant Aleksandr Moshin (flying an I-16 from an unknown unit) claimed two shared Ki-27s over Lake Usur-Nur. He was wounded in this combat and sent to Chita military hospital.
Three I-16s failed to return along with their pilots. Two of them died in the wreckage, while M. Kulak baled out and was captured (he was later exchanged). Deputy eskadrilya CO starshiy leytenant Fedor Cheremukhin was forced to land with a holed petrol tank in the steppe not far from Tamsag-Bulak.
During the Nomonhan conflict, he flew 85 combat missions and took part in 10 air combats.
He was decorated with the Order of Lenin on 17 November 1939.
As a major, he flew I-16s in 68 IAP during the Finnish-Soviet Winter war between November 1939 and March 1940.
Mayor Slutskov became CO of 292 IAP in July 1941. This unit was initially equipped with I-16s but re-equipped with LaGG-3s during the autumn of 1942.
He remained CO until 14 August 1942.
On 19 August, he became CO of 27 IAP.
He left 27 IAP on 10 February 1943. During his shot time with this unit he flew La-5s.
On 12 July, he became CO of 964 IAP, which was equipped with Hurricanes.
In May 1944, the unit re-equipped with Kittyhawks.
Slutskov left this unit on 17 July 1944.
Slutskov ended the war with 4 biplane victories.
On 6 November 1946, he was decorated with the Order of the Red Star.
Claims:

| | | | | | | | | | |
| --- | --- | --- | --- | --- | --- | --- | --- | --- | --- |
| Kill no. | Date | Time | Number | Type | Result | Plane type | Serial no. | Locality | Unit |
| | 1938 | | | | | | | | |
| 1 | ??/??/38 | | 1 | I-96 | Destroyed | I-15bis | | China | |
| 2 | ??/??/38 | | 1 | I-96 | Destroyed | I-15bis | | China | |
| | ??/??/38 | | 1/2 | Enemy bomber | Shared destroyed | I-15bis | | China | |
| | 1939 | | | | | | | | |
| 3 | 25/08/39 | | 1 | Ki-27 | Destroyed | I-153 | | Nomonhan | 70 IAP |
| 4 | 01/09/39 | 14:20-15:30 | 1 | Ki-27 | Destroyed | I-153 | | Nomonhan | 70 IAP |
Biplane victories: 4 and 1 shared destroyed.
TOTAL: 4 and 1 shared destroyed.

Sources:
All aces of Stalin 1936-1953 – Mikhail Bykov, 2014
Soviet Aces 1936-1953
Soviet Fighter Pilots 1936-1953 - Mikhail Bykov




Last modified 17 March 2020