Biplane fighter aces

Soviet Union

General Major Iosif Ivanovich Geibo HSU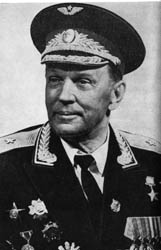 Iosif Ivanovich Geibo was born on 24 or 25 April 1910 in the Lugansk region village of Valuskoye.
He entered the army in 1933 and in December 1934 after graduation from Kachino flight school he was certified as a military pilot and junior commander of VVS RKKA. He was attached to the 35th Squadron of the 56th Air Brigade, which was based near Zhitomir. He participated the First of May Air Parade in Moscow in 1936 and 1937.
Later Geibo was sent to the Far East, where a new fighter regiment was formed. The chief of this air-unit was Major Victor Matiynin who had returned from the Spain Civil War.
In the May 1939 the war between Soviet and Japanese forces in Nomonhan began. Major Voloshenko (at that time the commander of Geibo's Air Regiment) told the pilots that they were to be send there and from the end of June 1939 Starshii Leitenant Geibo flew Polikarpov I-152 biplanes in Mongolia. He was attached to the 5th Squadron of the 70 IAP (Fighter Regiment) under command of V. M. Zabalyev and the Air Regiment comprised of six fighter squadrons. Geibo flew 25 missions in his I-152. Most of them were strafing or patrolling sorties but on 26 June, Starshiy Leytenant Geibo's unit from 70 IAP reportedly claimed ten Japanese aircraft for the loss of three I-152.
Soon the 5th Squadron was equipped with new fighters in the form of Polikarpov I-153 'Chaika's' (Seagull).
Geibo was then temporarily attached to another squadron, which was commanded by the prominent Soviet ace Sergei Gritsevets.
In the Nomonhan conflict Geibo flew totally 30 missions (alternatively he flew as many as 82 sorties and was engaged in combat on 18 occasions) and claimed 3 victories (alternatively he claimed 3 victories both individual and shared). The first one was probably an I-95 (the Soviet name of Kawasaki Ki-10); the second victory was an I-97 (Nakajima Ki-27).
He was awarded his first Lenin Order for the fighting at Nomonhan and he was also awarded the Order of the Red Banner for his service in the East.
After the beginning of Winter War, Geibo's Squadron was transferred to Moscow. There a new Fighter Regiment was formed. The regiment was deployed in the Karelia area at the end of 1939. Its I-153s were used for strafing, patrolling and escorting of Soviet bombers.
In February Geibo and his wingman Eugeny Petrov was on a patrol with orders to intercept any Finnish reconnaissance aircraft in the area of Soviet reserve troops concentration. A quarter of hour after taking off Geibo noticed a Bristol Blenheim in the clouds. Geibo broke through the mist, but he only saw the white silhouette of the bomber, which was speeding west. The black fumes from its engines at max power were clearly seen. The distance between the planes was about one kilometre and it was not reducing; though Geibo was flying at the highest possible speed with Petrov behind and a little lower. Geibo decided to dive and then pulled up. His fighter gained speed but lost some attitude. He repeated this manoeuvre and caught up with the enemy aircraft. The I-153 was now however 300 meters below the bomber but the bomber crew was not able to see the Soviet fighter anymore and the Finnish pilot reduced speed. Geibo used this chance and began to zoom. His plane gained the attitude little by little. Geibo attacked the bomber from the right side. The attack was a complete surprise for the air gunner of the bomber. Though his twin-machine guns were trained towards the I-153 the gunner was not able to open fire. After the first long burst the gunner disappeared. The bomber burst into flames and one of its fuel tanks exploded. The Finnish pilot bailed out but his parachute failed to open. And the end of this combat Geibo was in the vicinity of an enemy airfield where the Finnish planes were seen parked in a semicircle. Two scrambled Finnish fighters tried to intercept Geibo, but he took shelter in the clouds and successfully returned back. When he returned his white I-153 was spotted with black patches of oil and fuel from the exploded enemy bomber. This was the only proof of his victory, because Geibo wingman went astray in the clouds during the attack.
Geibo was awarded a second Lenin order for the destroyed Blenheim a month later.
Some sources claims the date of the combat to be on 28 February 1940 but no Finnish Blenheims were lost during this day. However Finnish sources states that during the day LeLv 44 (equipped with Blenheims) made three reconnaissance flights for the Finnish IV Corps fighting north-east of Lake Ladoga (Karelian area). One of these missions was aborted due to fighter attack but the Blenheim and crew made it back to base. The closest loss in time of a Finnish Blenheim is BL-119, which was lost on 26 February at Salmi (Ladoga) due to fighter attack. In Geibo's memoirs the date is determined vaguely as "after the big push through the Mannerheim line". The Soviets pushed through the Mannerheim line on 13 February and on 18 February Blenheim BL-113 was shot down over Lake Ladoga at 11:15. The Blenheim was flying over Lake Ladoga, returning from a reconnaissance sortie flown over Salmi-Pitkäranta area (both villages lies on the north-east bank of Lake Ladoga) to photograph roads and to bomb suitable targets at the same area. The crew was probably easing up after completing their mission and they were well inside Finnish lines when they were caught by surprise by a Soviet fighter and the aircraft caught fire before the crew could react. The pilot, kersantti Kaarle V. Westermark parachuted successfully, but the observer vänrikki Erkki Laamanen and the gunner ylikersantti Toivo E. S. Koivuneva were both killed inside the burning Blenheim, which crashed on the ice between the islands Heinäsenmaa and Rahmansaari. Westermark later described the flight:

"We completed both our missions successfully. We had a well thought out plan which had worked in that we approached our targets over Ladoga, through enemy airspace, took the photographs from the altitude of 7500 metres as fast as we could and gave a farewell bombing. All went according to the plan. We did not spot any enemy fighters.
I was concerned about one detail tough. I tried to alternate our height to get rid of the contrails we were making, but that was not possible on that day, humidity and cold air made my efforts in vain. I told the other crewmembers to give a more alert lookout because I knew Soviet fighters would be drawing contrails too.
To make our return flight as safe as possible I suggested to Laamanen that we'd return to home over Ladoga. All went well. We flew west over Ladoga and we were quite near to our own shore when suddenly there was a loud bang. Our aircraft caught fire and I heard Koivuneva shout: "We have been hit!"
I shouted, "use your parachutes"! I tried to open the cockpit hatch, but it had frozen stuck. I struggled together with Laamanen to open the hatch, and another machine gun burst raked our doomed machine. I pushed the Blenheim into a steep dive to avoid any further bullets. We dived steeply towards Ladoga. Then I lost my conciseness.
First thing I remember after this was when I was on the ice of Ladoga. Any bullets had not hit me, but I had burns. Our Blenheim was burning on the ice nearby and engines had penetrated the ice. I did not see my comrades, so they lay dead in the wreck. But how had I made it out?
It could be that the ice on the stuck hatch we were trying to open had melted in the fire and the airflow had pulled me out. But how managed I to open the parachute? I had no idea.
A Finnish infantry patrol was approaching from Heinämaa. I heard gunshots and the bullets whizzed over my head. I waved my hand to stop them shooting at me. They advanced cautiously to a shouting distance and then I was able to tell them that I was a Finnish pilot. They took me to Heinämaa, and from there I was transferred to a military hospital via Käkisalmi.
This matches Geibo's story, the only differences are that the parachute jump was successful and the date. Also if you fly ~70-80 km directly westwards from Salmi, you'll end up over western part of Lake Ladoga, ~10km north of the two islands mentioned in the text (the long chase mentioned by Geibo). There was also a FAF base called Mensuvaara about 40-50 km north of the crash site of the Blenheim. One flight of Lentolaivue 26 Gladiators was based there and these Gladiators reportedly flew "several missions with no contacts with Soviet aircraft" on 18th. These might be the FAF fighters Geibo evaded. Therefore it seems that his claim was made on 18 February 1940.

During the Winter War he claimed at least 3 more victories.

When Germany attacked on 22 June 1941, he was serving as a Kapitan in the 46 IAP.

In August his unit exchanged its I-16s with LaGG 3s, but on 18 August after claiming two victories, he was wounded and remained in hospital until December.

On recovery, he was promoted to Major and posted to command the 20 IAP, based at Kaluga, near Moscow, and equipped with Yak 1s. Subsequently he was sent on an advanced course at the Chkalov Military Air Collage, and was then posted as deputy commander of the 263 IAD.

Podpolkovnik Geibo commanded the 309 IAD during the battle of Kursk in July 1943. At the time the 309 IAD consisted of 49 IAP (Yak-1), 162 IAP and 272 IAP.

At the start of 1944, he was promoted to full Polkovnik.

As preparations were made for the liberation of the Crimea, he was transferred in October to command the 6 GIAD, which he later led to Rumania, Hungary and Czechoslovakia.

Flying monoplane fighters Geibo claimed at least five more enemy aircraft during the Great Patriotic war.

On 28 April 1945, Geibo was decorated as a Hero of the Soviet Union.
During the war he was also decorated with three more Order of the Red Banner and the Order of Kutuzov, 2nd Class.

Geibo ended the war with 7 biplane victories (3 of them claimed in the Nomonhan conflict) and a total of 12 (both individual and shared). These were claimed on 177 sorties.

Geibo continued to serve in the Air Force after the war and graduated from the General Staff Academy in 1949. He continued to serve until 1968, when he retired as a General Major.
He settled in Kuybyshev (now again renamed Samara).

He has written an autobiography called Shla dvatsataya minuta voyny (Twenty Minutes after the War began).

Claims:

| | | | | | | | | | |
| --- | --- | --- | --- | --- | --- | --- | --- | --- | --- |
| Kill no. | Date | Time | Number | Type | Result | Plane type | Serial no. | Locality | Unit |
| | 1939 | | | | | | | | |
| 1 | ??/??/39 | | 1 | I-95 (a) | Destroyed | I-153 | | Nomonhan | 70 IAP |
| 2 | ??/??/39 | | 1 | I-97 (b) | Destroyed | I-153 | | Nomonhan | 70 IAP |
| 3 | ??/??/39 | | 1 | Enemy aircraft (c) | Destroyed | I-153 | | Nomonhan | 70 IAP |
| | 1940 | | | | | | | | |
| 4 | 18/02/40 | 11:15 | 1 | Blenheim (d) | Destroyed | I-153 | | Karelian area | 70 IAP |
| 5 | ??/??/40 | | 1 | Enemy aircraft | Destroyed | I-153 | | Winter War | 70 IAP |
| 6 | ??/??/40 | | 1 | Enemy aircraft | Destroyed | I-153 | | Winter War | 70 IAP |
| 7 | ??/??/40 | | 1 | Enemy aircraft | Destroyed | I-153 | | Winter War | 70 IAP |
| | 1941 | | | | | | | | |
| ? | 22/06/41 | | 1 | Ju 88 | Destroyed | I-16 | | Dubno | 46 IAP |
| ? | 23/06/41 | | 1 | Enemy aircraft | Destroyed | I-16 | | | 46 IAP |
| ? | 18/08/41 | | 1 | Bf 109 | Destroyed | LaGG 3 | | | 46 IAP |
| ? | 18/08/41 | | 1 | Ju 88 | Destroyed | LaGG 3 | | | 46 IAP |
Biplane victories: 7 destroyed.
TOTAL: 12 destroyed (both individual and shared).
(a) Kawasaki Ki-10.
(b) Nakajima Ki-27.
(c) Possibly shared.
(d) Finnish Blenheim BL-113.

Sources:
Air War Over Khalkhin Gol: The Nomonhan Incident - Vladimir R. Kotelnikov, 2010 SAM Publications, ISBN 978-1-906959-23-4
Esa mezivalecneho obdobi, part 5 (Plastic Kits Revue 47/96) - T. Polak, 1996 (kindly via Ondrej Repka)
Ilmavoimat talvisodassa - Kalevi Keskinen and Kari Stenman
Iosif Geibo. Shla dvadtsata'ya minuta voyny - Kuybyshev, 1984 (kindly via Alexei Stepanov)
Japan Against Russia In The Sky Of Nomonhan - Dimitar Nedialkov, 2005 Propeller Publishing, Sofia, ISBN 954-9367-33-9
Kohtalokkaat lennot 1939-1944 - Jaakko Hyvönen (kindly via Tuomo Lukkari)
Kursk – The Air Battle: July 1943 – Christer Bergström, 2007, Chevron Publishing Limited, ISBN 978-1-903223-88-8
Shla dvadtsata'ya minuta voyny - Iosif Geibo, 1984 Kuybyshev (kindly via Alexei Stepanov)
Sovetskiye asy Chalchin Gola (AVIO 1996) - I. Gulyas, 1996 (kindly via Ondrej Repka)
Stalin's Eagles - Hans D. Seidl, 1998
Stalin's Falcons - Tomas Polak and Christhoper Shores, 1999
Suomen Ilmavoimien historia 10: Bristol Blenheim - Kalevi Keskinen, Klaus Niska and Kari Stenman (kindly via Tuomo Lukkari)
Talvisodan taistelulentäjät - Joppe Karhunen (kindly via Tuomo Lukkari)
Talvisota Ilmassa - Kalevi Keskinen and Klaus Niska (kindly via Tuomo Lukkari)
Valentin Myasnikov. Vysokoye nebo - Kuybyshev, 1982 (kindly via Alexei Stepanov)
Additional information kindly provided by Börje Henningsson, Tuomo Lukkari, Ondrej Repka and Alexei Stepanov




Last modified 10 August 2011