Biplane fighter pilots

Sweden

Fänrik Carl-Olof Steninger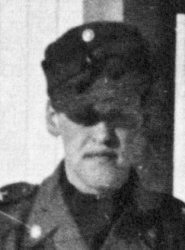 Carl-Olof Steninger was born 8 June 1918.
At the time of his volunteering to F19, he was reservkadett (cadet in the reserve) in the Royal Swedish Air Force reserve.
On 21 February 1941, twenty-six SBs and thirteen DB-3s from 5 OSAP attack Rovaniemi around 1200. They together dropped 14600 kg bombs. Enemy fighters shot down one SB and one DB-3, while air-gunners destroyed two enemy fighters.
A four-plane group from F19 was in the air, but two had to return due to fuel shortage before any contact with the enemy formation. The two remaining Gladiators flown by fänriks (Pilot Officers) Arne Frykholm and Carl-Olof Steninger attacked however. They shared the shooting down of one DB-3 and one SB-2 south-east of Rovaniemi.
The DB-3 ("11", s/n 391695), which landed pretty much intact 18 km north-west of Vuotso, had dropped its bombs over Pajala on the Swedish side of the border! The pilot Lieutenant Aleksej N. Isatshev was captured, but the observer, Lieutenant F. Zaprjagajlev and air-gunner, Sergeant Major V. F. Volkov were killed.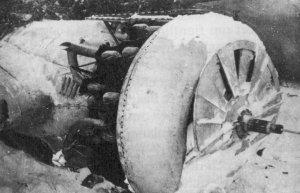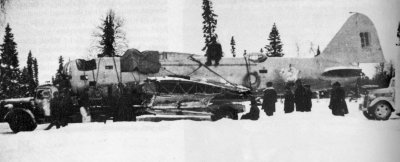 The DB-3 shot down by Arne Frykholm and Steninger on 21 February 1940. The plane landed almost undamaged and was later salvaged by the Finns.
The damaged SB (s/n 5/95) from 3. Group was last seen leaving, trailing black smoke and didn't return. The crew with pilot, Lieutenant Ivan D. Danilenko, observer, Lieutenant Aleksej A. Losev and air-gunner, Sergeant Major A. P. Petrov were reported missing in action.
Soviet air-gunner claims two enemy fighters shot down but F19 doesn't sustain any losses during this combat.
Steninger continued to serve in the Royal Swedish Air Force during the Second World War.
In 1940, he was serving in F 8 at Barkarby, Stockholm, and held the rank of Fänrik.
For protection of Swedish neutrality, three J 8s (Gloster Gladiators nos. 49, 50 and 55) from F 8's 2.division were based on Bulltofta, Malmö, during July-August 1940. Thee pilot were löjtnant Folke Barkman (CO), fänrik Carl-Olof Steninger, kadett Björn Hedberg and kadett Jan Oterdahl. The ground crew was around 15 people. One of the pilots was stationed at the air defence centre in Malmö to by telephone be able to keep the readiness section informed about aerial activities in the Örseund area and over southern Sweden. The German Luftwaffe used Kastrup, Copenhagen, as a fighter base and German fighter daily patrolled the Öresund Straits from Falsterbo in the south to Kattegatt in the north. There were some contacts between German and Swedish aircraft.
The surveillance ended on 25 August 1940 and the three J 8s returned to F 8.
On 29 May 1941, he made a hard landing with J 9 (Republic P-35A) no. 2158 (code 8-20) resulting in major damage to left wing and both landing gear legs with retraction mechanisms. The aircraft also suffered minor damage to right wing and bent propeller blades. The repair costs were estimated to 17,000 SEK.
Steninger ended the war with 2 shared biplane victories.
Claims:

| | | | | | | | | | |
| --- | --- | --- | --- | --- | --- | --- | --- | --- | --- |
| Kill no. | Date | Time | Number | Type | Result | Plane type | Serial no. | Locality | Unit |
| | 1940 | | | | | | | | |
| | 21/02/40 | 12:00 | ½ | SB-2 (a) | Shared destroyed | Gladiator | | SE Rovaniemi | F19 |
| | 21/02/40 | 12:00 | ½ | DB-3 (b) | Shared destroyed | Gladiator | | SE Rovaniemi | F19 |
Biplane victories: 2 shared destroyed.
TOTAL: 2 shared destroyed.
(a) Shared destroyed with Arne Frykholm. SB-2 (c/n 5/95) from 3./5 OSAP crashed; Lieutenant I.D. Danilenko, Lieutenant A.A. Losev and Sergeant Major A.P. Petrov killed.
(b) Shared destroyed with Arne Frykholm. DB-3 (c/n 391695) from 5 OSAP force-landed; Lieutenant A.N. Isatshev POW, Lieutenant F. Zaprjagjev and Sergeant Major V.F. Volkov killed.
Sources:
F19 - en krönika - Greger Falk, Svensk flyghistorisk Förening, Stockholm, ISSN 0345-3413
Ikaros - Flygvapenmusei Årsbok 1997 Flygvapenmuseum, Linköping, ISSN 1102-1926
Ilmavoitot, osa 2 - Kalevi Keskinen and Kari Stenman, ISBN 952-99432-8-8
Additional information kindly provided by Mikael Forslund.





Last modified 29 February 2008