Biplane fighter pilots

Sweden

Sweden didn't produced any aces during the Second World War because it managed to be neutral through the conflict and stay out of it even if sometimes the ways to do this was nothing to be proud of.
However during the Winter War between Finland and Soviet Union a small Swedish voluntary unit served in the Finnish Air Force (other larger Swedish voluntary units served in the other Finnish branches of the armed forces). The unit got the ambitious name F19 (F=Flottilj approx. Wing) and consisted of 12 Gloster Gladiators (Swedish designation - J8A) and 4 Hawker Harts (Swedish designation - B4). A big name for a small unit, but the 12 Gladiators was one third of Sweden's fighter force at the time!
The Winter War started on 30 November 1939 when Soviet Union unprovoked attacked Finland. The Swedish government permitted a voluntary Air unit on 14-15 December 1939. Baptism of fire for the unit was on 12 January 1940 and cease-fire between Finland and Soviet Union took effect at 11.00 the 13 March 1940. During this short period the small unit was opposed by more than 500 Soviet planes of which the unit shot down 10.
Following pilots was credited with victories during this time:
Fighter pilots with biplane claims: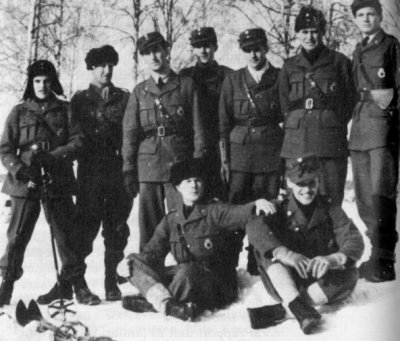 Major parts of the F19 Fighter Squadron.
From left to right: Martin Wennerström, Åke Nettelbladt-Hollsten, Ian Iacobi, Roland Martin, Hans Olof Palme, Per-Johan Salwén and Gideon Karlsson.
Sitting in the snow (l to r): Arne Frykholm and Carl-Olof Steninger.
History of the Gloster Gladiator in the Swedish Airforce
Gloster Gladiator II in Finnish service