Biplane fighter aces

China

Major General Liu Chi-Sheng
22 February 1914 – 18 February 1991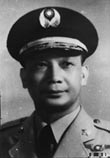 Image kindly provided by Erich Wang.
Liu Chi-Sheng was born in the Hebei Province on 22 February 1914.

His father was a career officer and in 1931 he followed his footsteps when he entered the Central Officer Academy due to the emergency in Manchuria.
In 1934 he changed to the Central Aviation School in 1934. He was graduated from the fifth class of the Central Aviation School in 12 October 1936 with excellent records.
At the start of the Sino-Japanese war, Liu Chi-Sheng was serving in the 21st PS of the 4th PG. This unit was at the time equipped with Curtiss Hawk IIIs.
On 14 August 1937, the IJNAF Kanoya Kokutai dispatched nine Mitsubishi G3M1 Model 11 long-range bombers under the command of Lieutenant Commander Nitta to attack the Schien Chiao Airfield near Hangchou and nine under the command of Lieutenant Commander Asano to attack the Kwang-teh Airfield. The Japanese planes took off from Matsuyama Airfield in Taipei at 14:50 (local Japanese time), each carrying two 250kg bombs.
The raid was soon spotted by the Chinese and the Chinese intelligence reported that a number of Japanese bombers had taken-off from an airfield Taiwan, crossed the Formosa Strait and were heading north over Chekiang in the direction of Hangchou. At this time, Hangchou was only defended by a handful of Hawk IIIs flown by instructors from the Central Chinese Aviation Academy since reinforcements from Chou Chia-Kou hadn't been able to fly in due to bad weather. Colonel Kao Chi-Hang had previously flown from Nanchang to Schien Chiao to await the 4th PG's Hawk III's, which were flying in from Chou Chia-Kou in the Honan Province and which was under his command. The three squadrons of the 4th PG encountered heavy weather en route, with heavy rain and low visibility.
However barely had the warning been received when a number of Hawk IIIs from the 21st and 23rd Squadrons of the 4th PG landed. The newly arrived fighters were hurriedly re-fuelled, but this was far from complete when the air alarm started due to the arrival of Lieutenant Commander Nitta's bombers. Colonel Kao rushed to his aircraft no. IV-1, which had just been landed by Captain Mao Ying-Chu. Ordering Mao to go get another aircraft, Kao jumped into IV-1 and, without waiting to be refuelled, took off immediately. He joined up with Lieutenant Tan Won who had just spotted Nitta's flight (1st Shotai) of three G3Ms.
It's possible that they only saw one G3M since according to Japanese records, Nitta's flight (1st Shotai) did not find Schien Chiao Airfield in their first effort. When they turned back south, the No.3 separated from the flight and Nitta and No.2 missed the airfield again. The latter two could do nothing but flew home. They did not see Chinese aircraft either. The Japanese bomber came in at the low "attack" altitude of 500m, which made it easier for the Chinese to intercept it right after the take-off. The No.3 G3M dropped its bombs on the airfield doing little damage. Tan opened fire on G3M. However, the much more experienced Kao noted that Tan had opened fire from out of effective range. Kao then bore in himself and closed in also on the No.3 Japanese aircraft. He first silenced the two Japanese gunners and then closed in to 20m(!) firing steadily at the left engine. The wing tanks on the left wing caught fire and the G3M crashed burning near the town of Ban Shan near the airfield.
Kao then spotted the 3rd Shotai and attacked the No.2 aircraft between Schien Chiao and Chien Tang River. Again, Kao bore in to close range firing at the fuselage and the left wing on the G3M, putting the left engine out of action. Kao's engine was then hit by return fire forcing him to return to Schien Chiao.
While Kao was attacking the No.2 plane in the 3rd Shotai, 21st PS Squadron Leader Captain Lee Kuei-Tan and his wingmen Lieutenant Wang Wen-Hua and Lieutenant Liu Chi-Sheng caught up with the No.3 plane of the same Shotai. Shooting at the hapless G3M repeatedly, the three brought it down near Ban Shan. This G3M (No.3 from 3rd Shotai) had got separated from the rest of the Shotai long before arriving over Shien Chiao.
The 3rd Shotai reported that No.1 and No.2 made their first pass over Schien Chiao from the west. Due to the bad weather they did not drop the bombs in this pass. Instead, they turned back and made the second pass from the east. After finally dropping their bombs, they turned south and sped away, across Chien Tang River. No.2 got its left engine damaged over Shien Chiao (probably by Kao) and was attacked again by three Chinese fighters at 30 nautical miles and 170 deg off Shien Chiao.
The 22nd PS refuelled at Kwang-teh and took off at 16:20 to fly to Schien Chiao where they landed at around 17:00. The 22nd PS was on the ground, refuelling at Schien Chiao when the Japanese bombers dropped their bombs and they scrambled trying to catch the Japanese bombers that were flying east. They flew to the mouth of the Chien Tang Chiang (river) amid low cloud and bad weather where they lost sight of the Japanese aircraft and returned to base. Pilots included in this chase were flight leader Lieutenant Le Yi-Chin and 2nd Lieutenant Chang Kwang-Ming. However, Lieutenant Cheng Hsiao-Yu of the 22nd PS managed to intercept them. Cheng had taken off too late to intercept Nitta's flights during the attack and flew on to Chien Tang Chiang on a hunch. After passing Weng Chiao Pu Airfield, Cheng reported good visibility below the clouds. Spotting the G3Ms, Cheng gave chase and attacked one of them. Cheng reported shooting at and hitting the right wing of his target. A fire broke out but then quickly went out again. Cheng attacked 6 - 7 times before breaking off when his ammo was exhausted. He reported that it went down at the estuary of Chien Tang River.
It seems that he also had attacked the 3rd Shotai, which reported bombing Schien Chiao 18:20-18:25 Japanese time (17:20-17:25 Chinese time). They reported that they were attacked two different Chinese fighters. The first time was between Schien Chiao Airfield and Chien Tang River (Kao). The second time was approximately 15 minutes after the first attack when the Japanese plane had crossed the Chien Tang River (Cheng). The No.2 plane of the 3rd Shotai was at the receiving end this time as well and managed to limp back to Matsuyama Airfield in Taipei on one engine and made a forced landing. However, as it touched down, the left landing gear collapsed, and the aircraft suffered "moderate damage". The bomber had suffered 38 hits in the plane's fuselage and tail, 14 hits in the left wing with the left engine put out of action and 21 hits in the right wing. The Japanese later took this plane out of service to be displayed in Japan and, to all intents and purposes, it was written off.
Lieutenant Commander Asano's Kwang-teh Attack group, took off from Matsuyama at 14:55 Japanese time (13:55 Chinese time) and got lost shortly after reaching the Chekiang coast at 16:45 Japanese time (15:45 Chinese time) due to a typhoon in the Shanghai area, which made the weather terrible. They headed west to try and find a landmark, reaching Chu Chiang River at 17:00. They then turned north to try and find another landmark. At 17:14, Lieutenant Commander Asano gave up and headed south-east back to the Chekiang coast. At 17:45, they reached the town of Ta Ching near Wenchow on the Chekiang coast. They were then able to plot a course to Kwang-teh using two large lakes, Tai Hu and Nan Hu, as waypoints. At 19:30, the Kwang-teh Attack group reported being attacked by a Chinese Hawk III just short of their target. At 19:40, the group dropped 16 250kg bombs on Kwang-teh airfield. Three G3M from this group were hit in the attack. The No.2 plane of the 1st Shotai was hit once. The No.3 plane of the 5th Shotai was hit twice in the left wing and three times in the right. The No.2 plane in 2nd Shotai was hit in a wing tank and was losing fuel with the crew apparently not realizing the extent of the fuel leak at the time. This G3M eventually ran out of fuel just short of the Taiwan coast and ditched just off the lighthouse at the mouth of Keelung Harbour. The ditching could have been avoided had the crew realized the extent of the fuel leak. The 2nd Shotai had not dropped all of its bombs during the attack on Kwang-teh. They decided to bomb Schien Chiao on the way home. At 20:50, they dropped their remaining bombs on Schien Chiao. However, the No.3 G3M from the Shotai became separated from the other two in the gathering darkness. The leader of the 2nd Shotai, Lieutenant Umebayashi, led his two bombers in a 40 minutes search where the No.3 eventually was found and the 2nd Shotai headed back to Taiwan together. At 22:53, the No.2 bomber ran out of fuel and ditched!
The group led by Lieutenant Commander Asano had run into a single Hawk III flown by Captain Chow Ting-Fong (Squadron Leader of the 34th Provisional Pursuit Squadron made up of cadets flying Hawk IIs). Chow was a flight instructor from the Air Force Academy and he reported intercepting a group of Japanese twin engine bombers after flying alone to Kwang-teh at around 18:30. Chow made four firing passes on the nine Japanese bombers from different directions. The first pass was head-on, followed by a climb and diving attack from the front. Pulling up after this pass, Chow attacked from the rear and below. Finally, Chow attacked from the front and below. The Japanese formation consisted of Asano's leading 1st Shotai with the 2nd Shotai to the left and the 5th Shotai to the right. It is now apparent that Chow attacked each of the Shotais in turn during his firing passes. According to the Japanese reports, one bomber from each Shotai was hit. Since the Kwang-teh attack group did not report being attacked by other Chinese fighters, credit for the No.2 plane of the 2nd Shotai lost in the Keelung Harbour ditching should go to Chow.
The Chinese lost one Hawk III which ran out of fuel when it tried to take off as Nitta's G3Ms arrived overhead. This unfortunate Hawk no. 2105 crashed into a tree, mortally injuring its pilot Lieutenant Liu Shu-Fan. Another pilot from the same flight, Lieutenant Chin An-Yi, was slightly injured when his Hawk no. 2106 also ran out of fuel and ended up force landing next to an AA gun position.
So, the final tally for the day was 3 G3Ms destroyed and one written off on landing. Actually, Chinese pilots made only 3 claims, but AA gun crews also made 3 additional claims. As a result, 6 claims were submitted in total (and publicized for propaganda purposes).
During the night of 14 and 15 August the pilots of the 4th PG at Schien-Chiao airbase had to prepare their fighters themselves since the ground personnel had left the field to take shelter during the air raid on 14 August and had not returned. The pilots carried cans of fuel on their backs from the storage building to the field, punched holes on the cans and fuelled the aircraft themselves. They had not eaten since noon, and were not able to go to bed until 1:30 a.m. They did not sleep long because alarm sounded less than two hours later.
In the early morning on 15 August Colonel Kao Chi-Hang led 21 Hawk III's from the 4th PG to intercept a dawn attack on Hangchou by twelve Type 89 torpedo bombers from the Japanese carrier Kaga. In the confused action in and out of clouds, the 4th PG made 17 claims, more than the total number of Japanese planes in the action. The actual losses were six shot down and two ditched in Hangchou Bay.
Kao quickly shot down one of the Type 89's on the edge of the formation and then attacked another setting it alight. A lucky shot from the starboard quarter hit Kao in the right arm before passing through the instrument panel and damaging the engine in his Hawk 'IV-1'. He was forced to land at Schien-Chiao and was out of action for 2 months.
21st PS's Squadron Leader Captain Lee Kuei-Tan in no. 2101 attacked the no. 2 Shotai, shooting down the no. 2 plane over Chao-Er. Two out of the crew of three were seen to bail out but they were over the Chao-er River and probably did not survive. Lee then teamed up with Lieutenant Cheng Hsiao-Yu of 22nd PS in no. 2202 to claim another Type 89. Return fire from the tightly packed Japanese formation was heavy and Lee's no. 2101 received slight damage to its upper wings while Cheng's no. 2202 took a shot in one of its landing wheels. Cheng's wingman, 2nd Lieutenant Chang Kuang-Ming also claimed a victory in this combat when he attacked the leader of a group of Japanese bombers. He opened fire with his two machine guns. Tracers and bullets truck his target, and the enemy plane turned into a fireball and plunged out of the sky. He broke off immediately and turned around for another strike.
Lieutenant Huang Yan-Po in no. 2107 attacked the first Shotai, claiming to have shot down the no. 3 aircraft in flames. He too took a shot in the landing wheel. Lieutenant Tan Won in no. 2104 also attacked the same Shotai and claimed another Type 89. This may have been the aircraft of the Kaga's Commander, Air Group (CAG) Commander Iwai who was killed in this action along with his deputy. Lieutenant Wang Wen-Hua caught two Type 89's trying to attack Schien-chiao from the south and shot one down in flames. One of the crew, a young ensign, bailed out and was captured. (This unnamed ensign later defected to the Chinese side and helped translate decoded Japanese radio messages). Lieutenant Yuan Chin-Han in no. 2108 went after the no. 1 Shotai in a formation and claimed to have shot down the leader in flames (this may also have been Iwai's plane, it is almost certain that many Chinese pilots shot at the same planes). Lieutenant Liu Chi-Sheng in no. 2102 also claimed one Type 89 over Woong-Chia-Fu but was hit in the fuel tank and force landed at Chaio-shi Airfield where his plane was further damaged by bombing.
Lieutenant Le Yi-Chin from the 22nd PS made no less than 4 claims but these are almost certainly duplicates of other claims or overoptimistic.
Squadron vice-commander Lai Ming-Tang landed to refuel and took off again to claim a shared kill with his wingman Lieutenant Liang Tian-Cheng.
Of the 23rd PS, Captain Mao Ying-Chu, Lieutenant Yang Yu-Ching and Lieutenant Wang Yin-Hua each claimed one Type 89.
In the end of September the 4th PG transferred all its remaining Curtis Hawk IIIs to the 5th PG and departed to get Polikarpov I-16 Type 5s ('Early') and I-15bis. This re-equipment was finished in the end of 1937 and the beginning of 1938.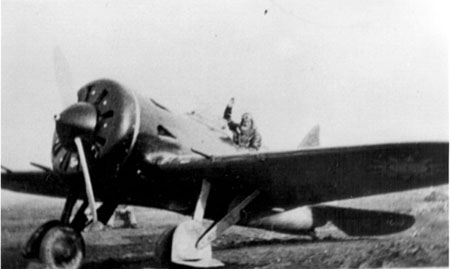 Polikarpov I-16 Type 5 no. 2105.
Image kindly provided by Erich Wang.
As Japanese troop advanced on Wuhan, the temporary capital of the Chinese government, the 4th PG was made responsible for the air defence of the city and was based at Fencheng.
On 18 February 1938 the Japanese attacked the town with a reported 16 bombers, escorted by 26 fighters. In fact the actual composition of the Japanese force was 15 G3M bombers escorted by 11 A5M carrier fighters. The G3Ms were from the Kanoya Kokutai and led by Lieutenant Commander Sugahisa Tuneru. The escorts were from the 12th and 13th Kokutais and led by Lieutenant Takashi Kaneko of the 12th Kokutai.
According to Japanese accounts, there were low clouds over Wuhan, which caused a lot of confusion. Following warning from the air raid warning net, the Chinese interceptors began taking off at 12:45. First came eight I-15bis from the 23rd PS based at Hsiao-Kan led by Captain Lu Ji-Chun. Then came eleven I-15bis from the 22nd PS led by Captain Lee Kuei-Tan, commander of the 4th PG, which took off from Hankou Airfield at 13:00. Finally, ten I-16s of the 21st PS led by the commander Captain Teng Ming-Teh took off from Hankou Airfield at 13:10.
The first Chinese interceptors to encounter the Japanese were the I-15bis from the 22nd PS led by Lee's flight, which included Lieutenant Cheng Hsiao-Yu in the no. 2 position, Lieutenant Chang Kuang-Ming as no. 3 and Lieutenant Pa Ching-Cheng as no. 4, were climbing steeply at about 1500 meters south west of the airfield three minutes after take-off. Japanese planes from the upper rear intercepted them from an altitude thought to be at 4000 meters. Other Chinese accounts indicate that six A5Ms attacked the first six aircraft in the Chinese formation and another 6 (sic) attacked the two flights of five bringing up the rear. It would appear that it was the 12th Kokutai A5Ms led by Lieutenant Kaneko that attacked Captain Lee and the first two flights of the 22nd PS. Other A5Ms, including those from the 13th Kokutai, attacked the two rear flights of the 22nd PS. Caught by surprise, the 22nd PS was hard hit and the Chinese planes were badly scattered. Badly shot up in the initial attack, Lee managed to regain control and headed back to Hankou Airfield. Witnesses on the ground saw him attempting to land his stricken I-15bis. Unfortunately, it would appear that Lee's fuel tanks had been hit and were leaking because, while on final approach, the I-15bis suddenly burst into flames and crashed. Lee, the youngest Commanding Officer of the 4th PG at the time, was killed. Cheng and Pa were hit at the same time and spiralled down. Chang was attacked by three Japanese aircraft more than a dozen times. He damaged one of the enemy aircraft, and landed without injury to himself but counted over 210 bullet holes on his aircraft, including three rounds lodged in his parachute pack seat. Pa was killed when his aircraft crashed but Cheng spiralled down and landed safely. After landing he found his rudder cable severed by a Japanese bullet.
At the rear of the 22nd PS formation, things were just as desperate when they engaged the Japanese at 3000 meters south-west of Hankou. Lieutenant Wang Yi was shot down and killed. Captain Liu Chi-Han, 22nd PS leader, claimed to have shot down the A5M attacking him in a turning fight. However, Liu's own engine was also hit in the fight and it exploded shortly afterwards, forcing Liu to bail out. While descending in his parachute, two A5Ms came in to strafe Liu. Liu recalled that the Japanese bullets zipped by "like hailstones". After dodging couple of passes, Liu allowed his body to go limp and "played dead". Thinking that the Chinese pilot had been killed, the Japanese broke away allowing Liu to land safely. Lieutenant Li Peng-Hsiang, also in the rear of the formation, came under attack by a 13th Kokutai A5M flown by shotai leader PO1c Mitsuga Mori. Lieutenant Wu Ting-Chun tried to intervene by attacking from above and behind Mori. However, Mori turned sharply away from the attack, causing Wu to collide with Li. Wu managed to bail out and survive but Li was killed. According to other sources Wu claimed to have downed a Japanese fighter, and then crashed into another one. On returning, Mori claimed to have downed two other I-15bis (his first 4 victories of a total of 9 – 4 in China). Feng Yu-Ho claimed two Japanese aircraft and Chang Ming-Sheng claimed a Japanese light bomber.
Arriving from Hsiao-Kan, the 23rd PS I-15bis led by Captain Lu Ji-Chun saw the surviving 22nd PS planes being chased all over the skies by the Japanese A5Ms. Joining the melee, the eight I-15bis of the 23rd PS took the heat off the 22nd PS, allowing the badly mauled survivors to escape. The Japanese A5Ms, having come off their success against the 22nd PS, were fighting well with their flights largely intact. The 23rd PS soon found themselves at a disadvantage. It would appear that the Chinese fighters were not able to effectively support each other in the fight. Once again, individual Chinese fighters found themselves under attack by flights of three A5Ms. Somewhere in the melee, Captain Lu was isolated, shot down and killed. Lieutenant Wang Yu-Kun, after claiming to have downed two A5Ms, came under attack by three others. Wang's controls were shot away and the I-15bis went into a long glide towards fields north east of Wuhan. The Japanese planes continued to fire on Wang's plane but, fortunately, the Chinese pilot was not hit. The I-15bis eventually crash-landed in a field, Wang was knocked unconscious but he survived with only a bruised right leg. Liu Chung-Wu and Hsin Sau-Chuan each claimed a victory. Hsin was so close to the Japanese aircraft he shot down that lubricants of the Japanese aircraft splashed on his windshield and totally obstructed his vision and he had to break off action.
Just as it appeared that the 23rd PS was going to suffer the fate of its sister squadron, the tables were turned with the arrival of ten I-16s from the 21st PS. Having climbed to 3500 meters north-west of the airfield, the 21st PS led by Captain Teng, saw the A5Ms dive from approximately 4000 meters altitude and attack the 22nd PS south west of Wuhan. Arriving on the scene with an advantage in altitude, the I-16s were able to surprise the Japanese, which were tangled in a dogfight with the 23rd PS. This time, it was the turn of individual Japanese fighters to be attacked by the Chinese in flights of three. Lieutenant Liu Chi-Sheng scored a solo kill and then joined Captain Teng and Lieutenant Yang Ku-Fan to attack another A5M which was engaged in a turning fight with Lieutenant Liu Chung-Wu of the 23rd PS. Together, the four Chinese fighters shot down this hapless A5M. Lieutenant Yang Ku-Fan then joined with Lieutenant Li Wen-Hsiang, Lieutenant Wang Teh-Lian and Lieutenant Han Sen to down another A5M. Finally, Lieutenant Huang Yuan-Po, Lieutenant Wang Teh-Lian and Lieutenant Kung Yeh-Ti combined to down a fourth A5M.
Soviet volunteers also took part in this combat and according to the recollections of the volunteer Aleksey Dushin, about 10 o'clock in the morning they took off on an alert and at an altitude of 4500 m found themselves under cumulus clouds. An arrow on the ground pointed out the direction from which the Japanese would appear. After a ten-minute flight along this course they turned and flew back, and straightaway they discovered about 1500-2000 m beneath them, three flights, each of nine Japanese bombers flying in a tight formation. Moments later Japanese fighters appeared flying above the clouds. They began to dive on the Soviet volunteers on a meeting course, with the initiative remaining with them. Three Japanese attacked Dushin, and consequently he shot at all three. A cone of bullets, in his words, found one aircraft, but it did not burn. Two A5Ms began to fire at him, but he was rescued by the manoeuvrability of the I-15bis. Dushin was able to escape from them by diving, but on the way out the third Japanese caught him. But an I-16 came to his rescue, which later turned out to have been flown by Aleksey Blagoveshchenskiy (or Ivan Puntus according to other sources). Dushin then chased after "his" Japanese and opened fire at a distance of 25 meters. But the guns suddenly ceased, out of ammunition. Nonetheless the A5M made an unnatural climb upward and vanished from the pilot's field of vision. Several days later a Japanese fighter was found in this region, in Dushin's opinion, the very same one.
Blagoveshchenskiy fought an air-combat with a leader of a Japanese group of fighters and he shot down the Japanese fighter. His own fighter was however damaged and he suffered from a damage control stick, hits on the armour plate and tears on his flight suit.
It seems that Georgii Konev claimed an enemy aircraft in this combat while flying an I-16 and Ivan Puntus claimed an A5M. Leytenant Dimitriy Kudymov (I-16) also claimed an A5M.
In this combat was the commander of the I-15bis squadron N. A. Smirnov killed together with a second volunteer. After the death of Smirnov the commander officially became A. S. Zingaev, though the "chief" of the group remained Blagoveshchenskiy himself. Totally the Soviet volunteers claimed five victories in this combat.
Four Japanese pilots were lost in this combat. They were Lieutenant Takashi Kaneko (Class no. 57), leader of the escorting fighters, PO1c Shigeo Miyamoto (Otsu 1), Sea1c Hiroji Hayakgawa (Pilot 29), all from the 12th Kokutai and PO1c Inao Hamada (Pilot 34) of the 13th Kokutai. In addition, one A5M from the 13th Kokutai was damaged and the pilot, NAP3c Airora Sao, badly injured by two bullets. For their part, Japanese pilots claimed a total of 15 I-15bis (including one probable), two I-16s and one SB. The Chinese pilots totally claimed at least twelve Japanese aircraft in this combat. Captain Lee Kuei-Tan, Captain Lu Ji-Chun, Lieutenant Pa Ching-Cheng, Lieutenant Wang Yi and Lieutenant Li Peng-Hsiang were killed during the battle.
After the battle on 18 February Liu was awarded the "One Star Medal ".
On 31 May, the Japanese executed a new attack on the aerodromes of fighters defending the Chinese capital. The Chinese had received advance information and were ready for them, having been able to concentrate aircraft at the Hankou aerodrome already the day before. In all, there were concentrated more than a hundred fighters.
At 10:15, 18 enemy bombers were spotted over Tung Chin by Chinese air defence lookouts followed by a reported 36 enemy aircraft over Lu-Jiang at 10:45. 46 enemy aircraft were spotted over the Camel Pass at 11:45 followed by a report of 39 enemy fighters near Qing-Shan at 12:00.
Thus, at midday a reported 39 enemy fighters and 18 enemy bombers approached Wuhan. At 11:50 49 Chinese interceptors successively began taking off from Wuhan. The Chinese fighters were four I-15bis from the 3rd PG, eight I-15bis and six I-16s (of the 21st PS) from the 4th PG, 21 I-15bis and ten I-16s from the Soviet volunteers. The 31 Soviet volunteers become the main attack force according to a previously devised plan while the 18 Chinese fighters climbed higher to provide an echeloned covering detachment. The fighters patrolled between Hankou and Qing-Shan.
Even before the appearance of the bombers, one of the groups of fighters flown by the Soviet volunteers was attacked at 12:07 by 18 A5Ms at 4500 meters. The Japanese fighter formation was reported to be 39 aircraft flying in a 'V' formation with 18 fighters at 4500 meters, 12 at 5000 meters and the high-cover of 9 fighters at 6000 meters. Six I-15bis flown by Soviet volunteers arrived to reinforce but at the same time 18 A5Ms joined the fight, leaving only 3 A5Ms as high-cover. At this them the I-16s from the 21st PS also joined the combat while the rest of the slower I-15bis gradually also did this. The formation led by Captain Cheng Hsiao-Yu, consisting of four I-15bis from the 3rd PG and eight I-15bis from the 4th PG didn't manage to join combat since they were farthest away when the combat started and when they arrived north-east of the airport the enemy evaded east.
After the bombers appeared, A. Zingaev's group threw themselves upon them, and with the first attack shot down two. The remaining bombers of the first group and the two remaining groups were not able to force their way through to the aerodrome and they turned back.
According to the recollections of N. G. Kozlov, the encounter with a large group of A5Ms occurred about 15 to 20 km east of the aerodrome. The Japanese attacked leaving one flight at altitude. Following the manoeuvres of his leader, Kozlov in a banking turn gave a burst at a Japanese fighter, which was following K. Opasov. In the turning carousel, this Japanese finally flew directly into the gun sights of Kozlov's I-15bis, but the burst went into an already burning aircraft. A second Japanese began an attack on Kozlov. For their part, the I-16s conducted a battle in the vertical, diving at a steep angle and hitting the Japanese and then soaring upwards, and opening fire at the moment when the Japanese was dependent on his motor, climbing through a half loop. Mainly attacking out of the sun, the Japanese quickly lost the initiative, which gradually passed to the Chinese, as the battle dissolved into a sharp dogfight and gradually dissipated. While departing Kozlov let off a burst at long range at a Japanese under attack by two I-15bis, and the A5M limply began turning wing over wing and tumbled out of control to the ground.
In this combat Anton Gubenko returned in his damaged aircraft and reported that he had shot down one Japanese and rammed another. Aleksey Blagoveshchenskiy also claimed an enemy aircraft in this combat while Grigoriy Kravchenko claimed two.
Totally the Chinese fighters claimed 14 enemy aircraft shot down after a battle that lasted for 30 minutes. The 21st PS Squadron Leader, Captain Lo Ying-Teh, claimed one enemy aircraft shot down, which crashed south of Hou Lake. Lieutenant Liu Chi-Sheng of the 21st PS returned claiming an A5M, which crashed 20 kilometres north of the airfield. The pilot was seen to bale out. Han Sen teamed up with Huang Yan-Po and jointly they attacked one enemy aircraft five times before it crashed near Tian-Xin Shoal. The Soviet volunteers claimed six enemy aircraft shot down; one crashed at She-Kou, killing the pilot while another crashed 30 kilometres from She-Kou with the pilot parachuting.
The Chinese and the Soviet pilots each lost one pilot and one aircraft and several aircraft were seriously damaged. The 21st PS flight leader, Zhang Xiao-Xian, in I-16 no. 2107 was shot down and crashed in the Dai-Jia Mountain killing Zhang. I-15bis no. 90, flown by a Soviet volunteer, crashed near Hang-Dian but the pilot managed to parachute safely.
The Japanese record that 35 A5Ms (eleven from the 12th and 24 from the 13th Kokutais) escorted 18 G3M2 bombers. Poor visibility in the region of the target led to the fighters of the 13th Kokutai failing to discover the enemy, and the A5Ms of the 12th Kokutai became engaged in a battle against a reported 50 fighters. Nine aircraft of the Yoshitomi chutai of the 12th Kokutai reported tangling with about 50 enemy fighters and during the combat PO3c Yoshimi Minami claimed one enemy aircraft (9 victories in China and a total of 15) and Momoto Matsumura clamed three. He then received a hit in his A5M's fuel tank; moreover, he found himself surrounded by twelve enemy aircraft. Since he had run out of ammunition, he employed a ramming tactic. Then, despite the fact that the left wing of his aircraft had been sheared off from the red ball of the rising sun outward, Minami started on his way back to base. He made an emergency landing on the banks of the Yangtze River and set his aircraft on fire. Fortunately for Minami, friendly search aircraft were able to spot him; he was rescued by a patrol boat and returned safely to base. One Japanese fighter (Sea1c Hiromitsu Takahara (Pilot 36) of the 12th Kokutai was killed) was lost in the combat. The Japanese fighters totally claimed 18 victories (alternatively 12 and 6 probables) including an old, unarmed Bellanca 28/90 biplane (evidently a reconnaissance aircraft).
After this battle, Liu was awarded the "Two Star Medal ".
In the morning on 26 June 1938, 18 Japanese land-based bombers escorted by 28 carrier fighters attacked Nanchang. These were intercepted by Chinese fighters, which returned claiming five fighters and one heavy bomber (possibly a G3M). One of these claims were made by Liu Chi-Sheng of the 21st PS.
During the attack, Lieutenant Takahide Aioi of the 12th Kokutai took three A5Ms of the shotai with him and detached his group from the main force. They found themselves surrounded by about twenty enemy fighters and after a hard struggle, each of the aircraft claimed two of the enemy fighters. Aioi himself barely managed to elude his pursuers but did get back and land at Anking.
Totally, the returning Japanese fighters claimed 19 enemy fighters, 4 probables and 2 more destroyed on the ground without losses.
After this battle Liu was awarded the "Three Star Medal ".
In September 1938 the 21st PS replaced their worn-out I-16s with Polikarpov I-15bis at Lanzhou.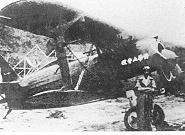 Liu Chi-Sheng in front of his Polikarpov I-15bis no. 2109 on 7 July 1939.
This aircraft was a presentation aircraft from Chinese living in Honolulu, Hawaii.
Image kindly provided by Erich Wang.
In the evening on 25 May 1939 the Japanese attacked Chungking with 26 bombers. Six Chinese fighters intercepted these bombers over the confluence of the Jia-Ling River and Yangtze. The Chinese claimed 2 bombers and one of these was claimed by Liu Chi-Sheng.
For this feat was he awarded with the "Four Star Medal".
On 24 July the Japanese again attacked Chungking. Liu claimed one enemy aircraft in this attack and was awarded the "Five Star Medal".
From the later half of 1939 Liu served as Squadron vice-commander of the 21st PS.
On 6 June 1940 the Japanese attacked the Baishi Yi airfield in the Chungking area. Liu claimed one Ki-21 bomber and was awarded the "Six Star Medal".
At 13:00 on 10 June the Japanese again attacked Chungking with 129 aircraft. The Chinese fighters claimed 5 aircraft in the vicinity of Bishan. During this combat Liu claimed one G3M and was awarded the "Seven Star Medal".
At 12:00 on 12 June 154 Japanese aircraft attacked Chungking. The intercepting Chinese claimed seven aircraft and one of these was claimed by Squadron vice-commander Liu Chi-Sheng of the 21st PS (I-15bis). One aircraft crashed north of Nanchong and two crashed in the town of Ruxi, Two more crashed in Ruichi and one crashed burning near Nantian. The seventh crashed north-west of the city of Peiling.
Yang Ku-Fan and Liu received flesh wounds in this battle.
Liu was awarded with the "Eight Star Medal" after this combat.
On 16 July, 54 Japanese bombers from Wuhan attacked Chungking in two waves. The Chinese sent up an assortment of 31 I-15bis, Hawk IIIs and I-16s, claiming to damage several bombers while Squadron vice-commander Liu Chi-Sheng of the 21st PS (I-15bis no. 2117) claimed one bomber in the Chungking area. This was Liu's last victory and he was awarded the "Nine Star Medal"
One of intercepting I-15bis (no. 2112) from the 21st PS flown by Deng Shou-Kang, was lost when it was shot down. Deng baled out, but later died of loss of blood from his wounds.
In October 1940 he transferred to the 24th PS of the 4th PG and became Squadron Commander of this unit.
25 G3Ms from the Mihoro Kokutai attacked Lanzhou on 22 May 1941.
At 10:20, the 4th PG ordered its aircraft to fly to dispersal strips. Liu Chi-Sheng led seven I-16IIIs towards Wu Wei with an SB-III flown by Yang Chung-An, Squadron Commander 9th BS, providing navigational support.
One of the I-16III could not retract its gears and diverted to Hsi Ku Cheng Airfield at Lanzhou. At 11:02 the remaining I-16IIIs found bad weather in the vicinity of Wu Wei and diverted to Chung Chuan Chun Airfield north of Lanzhou.
Shortly after 12:10 when everyone had landed, the 25 Mihoro Kokutai G3Ms passed overhead. Kao You-Hsin had not yet switched off his engine and he took off, anticipating that the Japanese would turn back to attack the Chinese planes on the ground. Sure enough, nine bombers returned flying at 5,000 meters and were attacked by Kao. The first pass was made from the left side, followed by a pass from the front. Kao fired from 400 meters and dived under the formation after the pass. Two G3Ms; the leader and no. 2 of the 3rd shotai, were seen to emit smoke. Kao made three more passes from the side disrupting the Japanese bomb runs. With the precious time bought by Kao's attack, the Chinese ground crews were able to get the remaining I-16IIIs started. All five remaining fighters got away with only one of them suffering damage from the fragments of 45 bombs that the G3Ms dropped on the airfield.
Kao broke off after firing 600 rounds, one of which holed a propeller blade due to a malfunctioning synchronization gear.
One G3M, flown by Lieutenant Shin-Taro Hashimoto, went down between Hai Yuan and Ching Yuan. All onboard were killed.
Liu ended the war as the leading ace of the Republic of China Air Force with 10 and 2 shared destroyed (7 and 1 shared destroyed while flying biplanes).
He finally rose to the rank of Major General and retired from military service in 1963.
After retirement he lived in Taipei.
At the end of 1990 he visited relatives in Canada. While in Canada he suffered cerebral haemorrhage and passed away on 18 February 1991.
Claims:

| | | | | | | | | | |
| --- | --- | --- | --- | --- | --- | --- | --- | --- | --- |
| Kill no. | Date | Time | Number | Type | Result | Plane type | Serial no. | Locality | Unit |
| | 1937 | | | | | | | | |
| | 14/08/37 | 17:00- | 1/4 | G3M1 (a) | Shared destroyed | Curtiss Hawk III | 2102 | Ban Shan area | 21st PS |
| 1 | 15/08/37 | | 1 | B2M (b) | Destroyed | Curtiss Hawk III | 2102 | Hangchou area | 21st PS |
| | 1938 | | | | | | | | |
| 2 | 18/02/38 | 13:10- | 1 | A5M (c) | Destroyed | I-16 Type 5 | 2105 | SW Wuhan | 21st PS |
| | 18/02/38 | 13:10- | 1/4 | A5M (c) | Shared destroyed | I-16 Type 5 | 2105 | SW Wuhan | 21st PS |
| 3 | 31/05/38 | 11:50- | 1 | A5M (d) | Destroyed | I-16 Type 5 | 2105 | 20km N Wuhan airfield | 21st PS |
| 4 | 26/06/38 | a.m. | 1 | Enemy aircraft | Destroyed | I-16 | | Nanchang area | 21st PS |
| | 1939 | | | | | | | | |
| 5 | 25/05/39 | | 1 | Enemy bomber | Destroyed | I-15bis | | Chungking area | 21st PS |
| 6 | 24/07/39 | | 1 | Enemy bomber | Destroyed | I-15bis | 2109 | Chungking area | 21st PS |
| | 1940 | | | | | | | | |
| 7 | 06/06/40 | | 1 | Ki-21 | Destroyed | I-15bis | 2116(?) | Chungking area | 21st PS |
| 8 | 10/06/40 | | 1 | G3M | Destroyed | I-15bis | 2120(?) | Chungking area | 21st PS |
| 9 | 12/06/40 | | 1 | Enemy bomber | Destroyed | I-15bis | 2101 | Chungking area | 21st PS |
| 10 | 16/07/40 | | 1 | Enemy bomber | Destroyed | I-15bis | 2117 | Chungking area | 21st PS |
Biplane victories: 7 and 1 shared destroyed.
TOTAL: 10 and 2 shared destroyed.
(a) Mitsubishi G3M1 Model 11 from 3rd Shotai of Kanoya Kokutai, IJNAF, which crashed burning near the Ban Shan area.
(b) Claimed in combat with Type 89 torpedo bombers from the Japanese carrier Kaga. The Chinese pilots claimed 17 destroyed enemy aircraft but the actual losses were six shot down and two ditched in Hangchou Bay.
(c) Claimed in combat with A5Ms from 12th and 13th Kokutais, which lost four A5Ms with a fifth damaged while claiming 15 I-15bis (including one probable), two I-16s and one SB. The 4th PG claimed at least 11 A5Ms (and one damaged) and one light bomber while losing at least nine I-15bis (no I-16s) and getting one I-15bis damaged. The Soviet volunteers claimed 5 victories while losing two I-15bis.
(d) Claimed in combat with A5Ms from 12th and 13th Kokutais, which claimed 12 victories (and 6 probables?) for the loss of one A5M. Soviet and Chinese pilots claimed 14 Japanese aircraft for the loss of one I-15bis and one I-16. Claimed as a shared by some sources.

Sources:
Da-gong bao (Very righteous news) kindly provided by Erich Wang.
Japanese Naval Aces and Fighter Units in World War II - Ikuhiko Hata and Yasuho Izawa, translated by Don Cyril Gorham, 1989 United States Naval Institute, Annapolis, ISBN 0-87021-315-6
Polikarpov I-15, I-16 and I-153 Aces - Mikhail Maslov, 2010 Osprey Publishing, Oxford, ISBN 978-1-84603-981-2
Recording of important facts concerning great events of the Republic of China kindly provided by Erich Wang.
Short biographical of Mr. Liu Chi-Sheng - National centre of history kindly provided by Erich Wang.
Soviet Fighters in the sky of China, Part III - Anatolii Demin, 2000 Aviatsiia Kosmonavtika 11 (translated by George M. Mellinger)
Soviet Fighters in the sky of China, Part V - Anatolii Demin, 2001 Aviatsiia Kosmonavtika 1 (translated by George M. Mellinger)
Tidbits from the Sino-Japanese Air Battles - Chang Kuang-Ming, 1998 World News Weekly August 1998 kindly provided by Tom Chan
Most information kindly provided by Raymond Cheung, Michael Fu, Jack Hwang and Erich Wang.




Last modified 27 November 2019