Biplane fighter aces

The Commonwealth

Squadron Leader Jack Hamlyn DFC, RAF no. 40109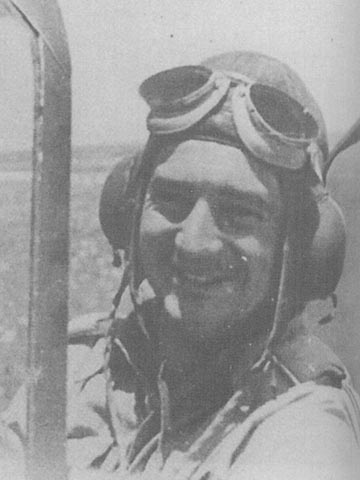 Jack Hamlyn received a short service commission in the RAF in September 1937.
On 16 May 1939, Pilot Officer Hamlyn was posted to 112 Squadron when this unit was formed aboard HMS Argus in Portsmouth, Hampshire.
112 Squadron was sent to Egypt and arrived on 25 May 1939.
In June 1940, he served as Pilot Officer in 'B' Flight.
On 2 June, 'B' Flight moved to Sudan to form a 112 Squadron detachment here.
At 04.30 on 29 June 1940, he took off from Port Sudan in Gladiator L7619 to intercept enemy aircraft. Five miles south at 4500 feet he spotted an Italian trimotor 3000 feet above abroaching from the south. He climbed and delivered a quarter attack, followed by a tail chase, by which time he had identified the machine as an S.81. The bomber dived down to 4500 feet but after Hamlyn had fired about 1000 round from a very close range (around 30 yards) the enemy aircraft swung to starboard and exploded, falling in flames into the Red Sea. Parts of the S.81 damaged the Gladiator's windscreen, airscrew and ring and bead sight and a large piece of piping lodged itself in the engine. Later in the day two of the crew were rescued from a coral reef just off the coast and one turned out to be the Commanding Officer of the10a Squadriglia of the 28o Gruppo B.T., Capitano Umberto Barone, the only of 12 machines to reach the target.
Hamlyn landed again at 05:00 with the aircraft being u/s due to the combat damage. This was 112 Squadron's first victory in the Second World War.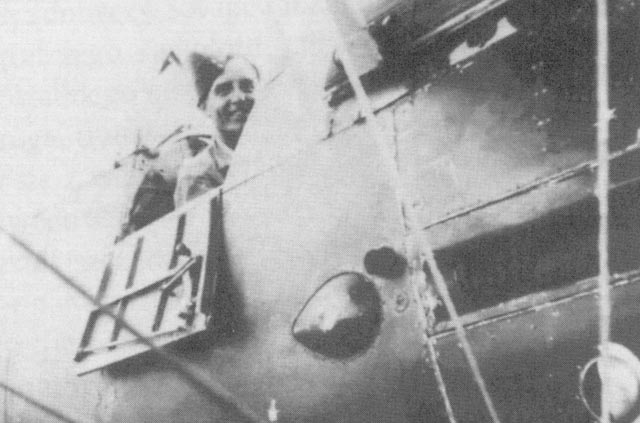 Jack Hamlyn in the cockpit of a Gloster Gladiator.
He was promoted to Flying Officer in July 1940
On 31 August 1940, he was transferred from 112 Squadron to the newly established 'K' Flight in Sudan, which was forming from the 112 Squadron detachment in Sudan.
On the 6 November, the British forces in Sudan launched an offensive to capture the Italian fort at Gallabat as well as occupy Metema, which was just across the frontier. All that the RAF could provide in way of support was six Wellesleys, two Vincents, six Gauntlets, ten Gladiators (drawn from 'K' Flight and 1 SAAF Squadron) and four Hawker Hardys (from the Rhodesian Air Force). The Wellesleys were first into action bombing Gallabat, with the Gladiators requested to over fly the area in large formations. Three Gladiators of 'K' Flight arrived over the advancing troops at low level. They were patrolling to the east of Metema when a formation of an estimated six or seven CR.42s from 412a Squadriglia led by the unit commander Capitano Antonio Raffi attacked them from out of the sun. The Gladiator pilots were taken by surprise; 24-year-old Flight Lieutenant Kenneth Howard Savage (RAF no. 37483) (L7614) was shot down and killed while Pilot Officer Kirk (K7969) was forced to take to his parachute; neither pilot saw their attacker. Pilot Officer Hamlyn evaded the initial onslaught but his aircraft (L7612) was badly damaged and he force-landed, returning later on foot. These three victories were claimed by Capitano Raffi, Tenente Niso Provinciali and Sergente Pietro Morlotti.
Meanwhile, Major Schalk van Schalkwyk (N5855) of 1 SAAF Squadron had also taken off from Azzoza, but on arriving over the front was also attacked by the CR.42s. Observers on the ground at once rang the strip at 'Heston' to report the lone Gladiator in combat with eight opponents, and despite thick mud caused by an unexpected downpour during the night, Captain Brian Boyle at once took off, arriving just in time to see the commanding officer's Gladiator going down in flames, the pilot taking to his parachute with his clothes on fire; he did not survive. Immediately Boyle was also attacked, bullets entering the cockpit and wounding him in hands and legs; desperately he fought on until the engine of N5852 stopped, and he had to crash-land between the lines. Boyle was brought in by Indian troops and sent by ambulance to Wadi Seidna where he was hospitalised for some weeks. He was subsequently warded a DFC (1 SAAF Squadron's first) on 7 January 1941 for his gallant action in going single-handed to van Schalkwyk's assistance.
It seems that Captain Boyle was credited to Sottotenente Fiorindo Rosmino.
Capitano Raffi reported that four victories were claimed as a result of these engagements, but Sottotenente Rosmino's aircraft was hit and he returned with his parachute pack riddled with bullets.
On 9 December, 'K' Flight at Port Sudan despatched six Gladiators Mk.IIs and one Mk.I, accompanied by a Wellesley carrying a fitter and a rigger, to Heliopolis to reinforce 112 Squadron during the upcoming Operation Compass. Flying Officer Oliver Green and Flying Officer R. B. Whittington of this Flight arrived at Sidi Hanaish from Heliopolis on 12 December while Flight Lieutenant John Scoular and Sergeant E. N. Woodward arrived on 16 December. At this later date, Flying Officer Hamlyn had already been detached to 112 Squadron, flying his first known sortie on 13 December.
In April 'K' flight formed the nucleus of 250 Squadron and re-equipped with Tomahawks.
In the afternoon on 8 June, Flying Officer Hamlyn (Tomahawk IIb AK377) and Sergeant Thomas Paxton found a Cant Z.1007 over Alexandria. The Italian bomber was attacked and shot down by Hamlyn 5 miles north-west of Alexandria between 15:40-16:25. According to the squadron's record book Hamlyn "engaged and damaged the aeroplane, which appeared to be about to make a forced landing when it was downed by shore batteries from a height of 600 ft".
Hamlyn was nevertheless credited with the first victory claimed by a Tomahawk and also 250 Squadron's first victory.
It seems that Pilot Officer Clive Caldwell (AK349) also took part in this interception since his logbook records a shared in this claim but this seems not to have been officially credited to him as a share. This seems also have been the case with Sergeant Paxton and perhaps this claim should be considered as a share between all three pilots.
This was a Cant Z.1007bis from 211a Squadriglia, 50o Gruppo, which was lost with Tenente Onorio Socche and his crew that were killed with the exception to the co-pilot Sergente Emilio Bianchi who managed to bale out to become a PoW.
Two day later, on 10 June, four Tomahawks were scrambled, two of which were able to intercept a reconnaissance Ju 88 of 2(F)./123. This was attacked by Flying Officer Hamlyn (AK351) over Alexandria at 11:30 and was last seen at sea level with black smoke pouring from both engines. Hamlyn was credited with 250 Squadron's second victory.
Ju 88A-5 (WNr 0661) was lost and the crew (pilot Unteroffizier Albert Schwarz, observer Oberleutnant Richard Kern and two more unknown aviators) was killed.
On 11 June 250 Squadron moved to Sidi Haneish, Eqypt, in preparation for Operation "Battleaxe", which began on 14 June.
At 05:50 on 18 June, eight of 250 Squadron's P-40s set off to strafe the Capuzzo-Tobruk-El Adem road, but Flying Officer Hamlyn's Tomahawk (AK412) was hit by flak and he force-landed 40 miles east of Tobruk. This was RAF's first Tomahawk loss in the desert.
Hamlyn joined a party of friendly Arabs and returned to Sidi Barrani on 2 July with badly blistered feet. He re-joined his squadron on 4 July, where he was promoted to Flight Lieutenant.
He was promoted to the war substantive rank of Flight Lieutenant on 12 July 1941 (gazetted on 29 August 1941).
He was awarded a DFC, which was gazetted on 19 September 1941.
Hamlyn didn't see further action following the end of his tour, but was promoted Squadron Leader in July 1943.
He was decorated with a DFC on 19 September 1941.
Hamlyn ended the war with 1 biplane victory and a total of 3.
Claims:

| | | | | | | | | | |
| --- | --- | --- | --- | --- | --- | --- | --- | --- | --- |
| Kill no. | Date | Time | Number | Type | Result | Plane type | Serial no. | Locality | Unit |
| | 1940 | | | | | | | | |
| 1 | 29/06/40 | 04:30-05:00 | 1 | S.81 | Destroyed | Gladiator | L7619 | Port Sudan area | 112 Squadron |
| | 1941 | | | | | | | | |
| 2 | 08/06/41 | 15:40-16:25 | 1 | Z.1007 (a) | Destroyed | Tomahawk IIb | AK377 | 5m NW Alexandria | 250 Squadron |
| 3 | 10/06/41 | 11:30 | 1 | Ju 88 (b) | Destroyed | Tomahawk | | Alexandria | 250 Squadron |
Biplane victories: 1 destroyed.
TOTAL: 3 destroyed.
(a) Cant Z.1007bis from 211a Squadriglia, 50o Gruppo, shot down.
(d) Ju 88A-5 (WNr 0661) of 2(F)./123 shot down and crew KIA.

Sources:
Aces High - Christopher Shores and Clive Williams, 1994 Grub Street, London, ISBN 1-898697-00-0
Aces High Volume 2 - Christopher Shores, 1999 Grub Street, London, ISBN 1-902304-03-9
A History of the Mediterranean Air War 1940-1945: Volume One – Christopher Shores and Giovanni Massimello with Russell Guest, 2012 Grub Street, London, ISBN 978-1908117076
Dust Clouds in the Middle East - Christopher Shores, 1996 Grub Street, London, ISBN 1-898697-37-X
Fighters over the Desert - Christopher Shores and Hans Ring, 1969 Neville Spearman Limited, London
Gloster Gladiator Home Page - Alexander Crawford.
Shark Squadron - The history of 112 Squadron 1917-1975 - Robin Brown, 1994 Crécy Books, ISBN 0-947554-33-5
Springbok Fighter Victory: East Africa Volume 1 1940 – 1941 – Michael Shoeman, 2002 African Aviation Series No. 11, Freeworld Publications CC, ISBN 0-958-4388-5-4
The London Gazette
Those Other Eagles – Christopher Shores, 2004 Grub Street, London, ISBN 1-904010-88-1
Tomahawk and Kittyhawk Aces of the RAF and Commonwealth - Andrew Thomas, 2002 Osprey Publishing, London, ISBN 1-84176-083-8




Last modified 15 March 2019