Biplane fighter aces

Italy

Capitano Antonio Raffi
Decorations

| | | |
| --- | --- | --- |
| Date | Decoration | Note |
| ??/??/40 | Medaglia d'argento al valor militare (1st) | O.M.S. |
| ??/??/41 | Medaglia d'argento al valor militare (2nd) | 1940-43 |
| ??/??/40 | Medaglia di bronzo al valor militare | O.M.S. |
Antonio Raffi was from Borgotaro (Parma).
Capitano Raffi took part in the Spanish Civil War using the nom de guerre 'Anton Ramu'.
He took command of the 18a Squadriglia on 6 June after Capitano Marco Larcher.
At 12:15 on 18 July 1938, two 12-aircraft formations of CR.32s from XXIII Gruppo were taking it in turns to patrol over the Viver front south of Barracas. The formations, led by Maggiore Andrea Zotti and Capitano Guido Nobili, were flying at altitudes of 3,600 meters and 4,000 meters, respectively, when they spotted 24 I-15s from Escuadrillas 1a and 3a of Grupo No 26 on a strafing mission. The biplane fighters were escorted by 24 I-16s from Escuadrillas 2a, 3a, 4a and 5a of Grupo No 21, which were flying above them.
The CR.32 pilots engaged the monoplane fighters and Maggiore Zotti described the well-tried tactics adopted by the enemy in his after-action report:
"The Ratas tried to fragment our compactness into a widespread battle, reduce our operational height and bring the broken formation down into the "Curtiss fighters'" engagement zone - a restricted combat zone that would have put us in a disadvantageous position."

Despite the Republican tactic, most Italian pilots stayed in formation and manoeuvred without losing height. The I-16s were tackled first in an engagement that lasted ten minutes, with Republican documents showing that three Polikarpovs were lost and two pilots killed. However, it appears that these aircraft were shot down by Legion Condor Bf 109s that had independently joined the battle at a higher altitude - German pilots claimed to have shot down three Ratas in the vicinity of Segorbe. Three more I-16s were hit by CR.32s or Bf 109s and had to make emergency landings. Two of the fighters collided whilst landing back at their base and one was destroyed, although both pilots survived.
One of the I-16s that force landed at Utiel airfield was flown by flight commander, Starshii Leitenant Sergey Gritsevets of 5a/21. His fighter on this occasion was one of the new four-gun I-16 Type 10s recently delivered to Spain. Gritsevets' aircraft had suffered 25 hits from the guns of CR.32s, although he had also enjoyed success during the dogfight. Indeed, he was credited with two Fiat fighters destroyed, one of which was the aircraft flown by Capitano Giorgio Frattini, second-in-command of the 18a Squadriglia, which fell near Altura (his body was never found). Capitano Raffi (CO 18a Squadriglia) was also hit when an I-16 Type 10 flown by patrol leader Nikolay Prokofevich Zherdev intentionally collided with the tail of his CR.32. Zherdev managed to return to Utiel, thus saving his aircraft, but Raffi was forced to bail out over enemy territory in the vicinity of Teresa, where he was taken prisoner. A fourth Fiat was credited to Starshii Leitenant Pavel Korobkov from 2a/21 in the Viver area.
Zotti's report concluded:
"Having seen off the Ratas, which suddenly vanished, our CR.32s turned their attention to the "Curtiss fighters" that had dived down low in order to engage us in close combat. This tactic left us with no room for a diving attack. In the second action, which lasted a good 20 minutes, we resisted the temptation to make individual attacks. Instead, we remained in formation, thus forcing the Republicans to fight us as a unified mass that dominated the battle from a higher altitude. During this second combat five "Curtiss fighters" were shot down."
Two I-15s had actually been downed by the CR.32s, one from 2a Escuadrilla crashing near Chelva and a machine from 3a Escuadrilla falling in Nationalist territory. According to Teniente Calvo Diago of 2a Escudarilla, all the unit's fighters had been hit in the action. One of the lost I-15s fell in flames after it was attacked by Zotti, but not before it had shot down Sergente Danilo Vestrini's CR.32. His fighter also ablaze, the badly wounded Italian pilot parachuted into enemy territory between Alcublas and Altura, where he was captured. Concluding his report, Zotti wrote:
"Personally, I had fired 745 rounds during the 30-minute combat. Initially, I had attacked three Ratas without success, before going after six or seven "Curtiss fighters", two of which I abandoned [one was the I-15 chasing Vestrini's CR.32] after I saw that they were trailing dark smoke. I landed at Teruel airfield at 1355 hrs when I ran low on fuel.
Nationalist intelligence deciphered a "Red" air force signal during the evening of the 18th saying that following the day's fighting about 15 of their aircraft were missing and no news had been heard of them. From the accounts of pilots that had taken part in the battle it emerged that eight Ratas and five "Curtiss fighters" had certainly been shot down, with the probable destruction of a further two Ratas."
Flying with Zotti was Maggiore Aldo Remondino ("Remotti") on his first combat mission and who was designated to succeed Zotti. Later, Remondino recalled this action, which can give an idea on a typical Spanish War dogfight ("la lucha de perros" in Spanish):
"… I was looking above and below to avoid surprises. I spotted, higher at right, a formation of "Ratas" which was diving on us. I immediately turned into to chase them, while at lower height the combat against "Chatos" was going on. I shot on the first "Rata" that went in front on me, but I was attacked at the rear by three "Ratas", that went away as another CR.32 intervened. Then I shot at two other "Ratas" and I reached 3000 m, where I spotted a "Curtiss" below me. I attacked, shooting at it by close distance quite until the ground […]
I fought with another "Rata" that however dived to escape. After returning in combat area, I saw no more enemies. I landed to Teruel with two other CR.32s, having no enough fuel to reach Puig Moreno."
It seems that Sergente Aldo Buvoli of the 19a Squadriglia claimed one I-16 and a shared I-15 in this combat.
1.J/88 (Bf 109) claimed two and one unconfirmed I-16s. These were claimed by Oberleutnant Wolfgang Schellmann, Unteroffizier Ernst Quasinowski and Feldwebel Erich Kuhlmann (the unconfirmed) while Leutnant Walter Oesau, Stab J/88 (Bf 109) claimed an I-16.
Republicans declared to have fought against about 100 CR.32s and Bf 109s and claimed nine Fiats and a Messerschmitt, but admitted the loss of three "Ratas" and two "Chatos". It seems that the Bf 109 was credited to capitán José María Bravo Fernández, CO 3a/21 (I-16), since he claimed a destroyed Bf 109 during the day. Republican fighter pilots Vicente Yuste Gorbatón (3a/21?) and Belmonte was killed in combat in the Levante area.

In early 1940, the new 412a Squadriglia Autonoma Caccia was formed at Gorizia under the command of Capitano Raffi, with the purpose to be sent to Italian East Africa (Africa Orientale Italiana - AOI). Tenente Mario Visintini was posted as vice-commander of the unit. The personnel sailed by Naples on 5 April, and arrived to Massawa on 13 April. The base of 412a Squadriglia was Gura, 30 kilometres South of Asmara, at that time one of the largest airport of the whole continent.

Having known since 13 October, by aerial reconnaissance, that a Flight of 47 Squadron had been detached to Al Qadarif (Gadaref), pilots of Regia Aeronautica planed a strafing attack on that field. On the 16 October, taking off at 06:00 from the Italian advanced field of Barentu, an S.79 flown by Generale Pietro Piacentini (CO of Settore Aeronautico Nord AOI) himself led in eight CR.42s of the 412a Squadriglia flown by Capitano Raffi, Tenente Mario Visintini, Tenente Carlo Canella, Tenente Di Pauli, Sottotenente Fiorindo Rosmino, Sottotenente Levi, Sergente Maggiore Lugi Baron, and Sergente Pietro Morlotti. Some sources say that nine CR.42s were involved in this strike, but possibly the ninth pilot, newly arrived Sergente Carlo Scarselli, was left to protect Barentu.
At 06:55, the Savoia dropped its bombs on the field, then the fighters strafed between 07:00-07:20 and totally destroyed all eight Wellesleys of 47 Squadron detachment (K7742, K7762, K7779, K7781, L2650, L2675, L2677 and L2688) and, personally by Capitano Raffi, two of 430 Flight's Vincents (K4657 and K4731) while they were taking off, which were claimed as Gladiators shot down. An attempt to call the 1 SAAF fighter detachment at Azaza (some 20 kilometers north-east) was foiled, as the telephone line between Al Qadarif and Azaza was found to have been cut. Italian claims were quite accurate, eleven aircraft being claimed destroyed, together with a munitions dump, some lorries, a searchlight and, it seems, a Packard car, the latter fired on by Tenente Canella.
Capitano Raffi was decorated with a Medaglia d'argento al valor militare as the organizer of the attack, while the other pilots gained a Medaglia di bronzo al valor militare each.

Towards the end of October, Tenente Mario Visintini, Sergente Maggiore Lugi Baron and Sottotenente Levi moved to Bahir Dar, on the south side of Lake Tana, for operations in the Metema-Gallabat border front. Previously, another section led by Capitano Raffi himself had been transferred by Gura to Gondar airport, on the north side of the same lake. In early November, Visintini joined them at Gondar.

On the 6 November, the British forces in Sudan launched an offensive to capture the Italian fort at Gallabat as well as occupy Metema, which was just across the frontier. All that the RAF could provide in way of support was six Wellesleys, two Vincents, six Gauntlets, ten Gladiators (drawn from 'K' Flight and 1 SAAF Squadron) and four Hawker Hardys (from the Rhodesian Air Force). The Wellesleys were first into action bombing Gallabat, with the Gladiators requested to over fly the area in large formations. Three Gladiators of 'K' Flight arrived over the advancing troops at low level. They were patrolling to the east of Metema when a formation of an estimated six or seven CR.42s from 412a Squadriglia led by the unit commander Capitano Raffi attacked them from out of the sun. The Gladiator pilots were taken by surprise; 24-year-old Flight Lieutenant Kenneth Howard Savage (RAF no. 37483) (L7614) was shot down and killed while Pilot Officer Kirk (K7969) was forced to take to his parachute; neither pilot saw their attacker. Pilot Officer Jack Hamlyn evaded the initial onslaught but his aircraft (L7612) was badly damaged and he force-landed, returning later on foot. These three victories were claimed by Capitano Raffi, Tenente Niso Provinciali and Sergente Pietro Morlotti.
Meanwhile, Major Schalk van Schalkwyk (N5855) of 1 SAAF Squadron had also taken off from Azzoza, but on arriving over the front was also attacked by the CR.42s. Observers on the ground at once rang the strip at 'Heston' to report the lone Gladiator in combat with eight opponents, and despite thick mud caused by an unexpected downpour during the night, Captain Brian Boyle at once took off, arriving just in time to see the commanding officer's Gladiator going down in flames, the pilot taking to his parachute with his clothes on fire; he did not survive. Immediately Boyle was also attacked, bullets entering the cockpit and wounding him in hands and legs; desperately he fought on until the engine of N5852 stopped, and he had to crash-land between the lines. Boyle was brought in by Indian troops and sent by ambulance to Wadi Seidna where he was hospitalised for some weeks. He was subsequently warded a DFC (1 SAAF Squadron's first) on 7 January 1941 for his gallant action in going single-handed to van Schalkwyk's assistance.
It seems that Captain Boyle was credited to Sottotenente Fiorindo Rosmino.
Capitano Raffi reported that four victories were claimed as a result of these engagements, but Sottotenente Rosmino's aircraft was hit and he returned with his parachute pack riddled with bullets.
During the morning another 'K' Flight Gladiator was flown up to the front, and shortly after midday Flying Officer Jack Maurice Hayward (RAF no. 40111) joined four Gladiators of 1 SAAF Squadron from 'Heston', which took off at 13:20 in another patrol over the front. There, five Ca.133s were seen at 7,000 feet, 2,000 feet lower than the Gladiators, approaching the battle area. As the fighters prepared to attack, they were bounced from above by six CR.42s and 21-years-old Hayward's aircraft (K7977) was seen to crash in flames, the pilot being KIA (possibly shot down at 15:30 by Tenente Mario Visintini of the 412a Squadriglia). The South Africans at once split up into pairs, Lieutenants John Coetzer and Robin Pare taking on the fighters while Lieutenants Andrew Duncan and John Hewitson went after the bombers. The Caproni attacked by Duncan crashed on the Metema-Gondar road, while Hewitson's fell out of control after he'd fired three burst and crashed; he also damaged a third bomber on the ground. The crew of one of the shot-down bombers survived, and was to return on foot several days later.
While this was going on, the two pilots fighting the CR.42s had managed to drive them off, each claiming one of the fighters shot down; no losses of CR.42s were recorded however, although either or both of those attacked may have been damaged, and force-landed.
By the end of the day, despite the loss of air superiority by the British forces, Gallabat Fort had been captured and the garrison virtually annihilated, only to be lost again the following day, under Italian ground counter-attacks supported by continuous hammering by Caproni and SIAI bombers, as in that moment the Regia Aeronautica had the main control of the air space.

On 23 November, six CR.42s from the 412a Squadriglia (among them Capitano Raffi, Tenente Mario Visintini, Sottotenente Giovanni Levi and Sergente Maggiore Lugi Baron) returned to Gura, leaving at Gondar a section of another six fighters, commanded by Tenente Niso Provinciali.

On 12 December, the 412a Squadriglia launched an airfield strafe on the advanced strip at Gaz Regeb, where 237 Squadron's 'B' Flight was based.
In the morning, five aircraft took off led by a S.79 (Tenente Colonnello Liberati). At 06:10, three of them (Capitano Raffi, Tenente Carlo Canella and Tenente Mario Visintini) attacked the parked Hawker Hardys, destroying K4053, K4308, K4055 and K4307 while the other two CR.42s (Tenente Luciano Cacciavillani (detached from the 413a Squadriglia) and Sottotenente Giovanni Levi) remained above as cover.
Capitano Raffi made several attacks on one aircraft, which consistently refused to burn, but his own aircraft was then hit in the oil sump by fire from the Sudan Defence Force detachment guarding the airfield. Trailing smoke, he headed for his base, but the engine finally seized and stopped some 100 kilometres from the target and he force-landed east of Aroma, near the Atbarah River. Tenente Visintini landed alongside, took his CO aboard and seated on Raffi's knees after dispensing his parachute, took off and returned successfully. Once at Barentu, after refurbishing, Tenente Visintini, Tenente Cacciavillani and Sottotenente Levi returned to destroy Raffi's abandoned fighter to ensure its total destruction.
The Italian pilots claimed to have destroyed five Vickers Vincents on the ground at Qawz Rajab, together with three armoured cars near the downed Fiat.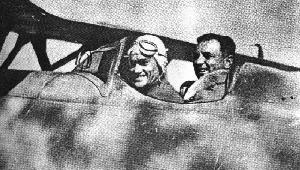 Mario Visintini (left) and Raffi in a Fiat CR.42.
On 16 December, three Wellesleys of 223 Squadron were over Gura. At 03:23, the first bomber (L2714) was attacked by a single CR.42, but managed to return harmlessly. The second (L2690) was attacked at 04:20 by a lone Fiat, which badly damaged it, as the bomber made a one-leg landing at home, being destroyed. The third Wellesley (K7720) was intercepted before arriving over the target by two CR.42s at 04:55, and riddled by several rounds, it was compelled to run away without releasing and land home badly damaged and with full bomb load. Capitano Raffi recalled that the Italian pilots were Tenente Mario Visintini and he himself. The Italians claimed two bombers damaged that night.
Early on 27 December, six CR.42s from the 412a Squadriglia made a strafing attack on Gedaref. The Italian formation is believed to have compromised Capitano Raffi, Sottotenenti Niso Provinciali, Filippo Sola and Fiorindo Rosmino, and two other pilots. They saw two landing grounds, strafed a single aircraft on one and a detachment of Indian cavalry, which was exercising on the other.
Five Gladiators from 1 SAAF's detachment at Azzoza were ordered to scramble, but only three got off, these being directed on to two more CR.42s, which were covering the strafing aircraft. Attacking these, the Gladiators cut off the rearmost aircraft, which attacked them head-on with great desperation. Captain Gerald Le Mesurier's guns jammed as soon as he began firing and an explosive bullet from the Fiat struck the propeller of Lieutenant Thomas Condon's aircraft (Gladiator N5789). Despite this, Condon shot down the Italian fighter in flames five miles east of Gedaref, the pilot, believed to be Sottotenente Sola, being killed.
At 14:00 on 29 January, 1 SAAF Squadron took off to attack Gura, with six Hurricanes (Major Lawrence Wilmot, Captain K. W. Driver, Lieutenants John Hewitson, Andrew Duncan, Hendrik Johannes Piet Burger and Leonard le Clues Theron) flying as top cover to five Gladiators, which would strafe. As they approached the Hurricanes run into several S.79s and a large number of CR.42s, which were seen over the airfield, the bombers having just returned from a raid over the front, and the fighters having scrambled at the approach of the South African aircraft. Captain Driver at once attacked an S.79 as it was going in to land, and shot it down in flames, two members of the crew baling out. The Gladiators then arrived, led by Captain Brian Boyle. These also met the Fiats, Lieutenant H. P. Smith (Gladiator N5851) and Lieutenant E. A. Jarvis each claiming one shot down.
Capitano Raffi, commander of the 412a Squadriglia, was above with two of his pilots, Tenente Luciano Cacciavillani and Maresciallo Aroldo Soffritti (they scrambled at 15:20), and he saw the Hurricane shoot down the S.79 before he could intervene. He then spotted the Gladiators, which he believed to be six strong, and at once, a great dogfight begun, during which the South Africans saw many Fiats falling away. Driver meanwhile had seen Adi Ugri landing ground on which four S.81s were dispersed, and attacking these, he left one (claimed as a S.79) in flames.
On return to base the combat with the Fiats was fully discussed, and it was decided that five had been shot down, one each by Lieutenant Smith and Lieutenant Jarvis, the other three being impossible to allocate to individual pilots. All the SAAF aircraft returned safely, although one Gladiator (N5831) had been hit by a single bullet.
This proves how easy it was to overestimate the damage caused, and indeed the numbers involved, in a whirling dogfight. Although several CR.42s were hit and damaged, none was in fact shot down. Tenente Cacciavillani's CR.42 was badly damaged by 50 hits, and Maresciallo Soffritti's was also damaged. Capitano Raffi's own aircraft was hit five times and he recorded that he took ten bullets in his parachute and lost the fabric in the fuselage close to the cockpit and the tail plane. It seems that Raffi's fire hit and damaged Lieutenant Smith Gladiator, who landed unhurt. The Italians reported combat against four Hurricanes and six Gladiators and reported one Gladiator shot down. Tenente Cacciavillani fired 60 rounds of 7.7mm, and claimed a Gladiator probably destroyed (shared) (strangely enough, this claim has been cancelled by a pen line in his logbook).
Raffi ended the war with 1 biplane victory.
Claims:

| | | | | | | | | | |
| --- | --- | --- | --- | --- | --- | --- | --- | --- | --- |
| Kill no. | Date | Time | Number | Type | Result | Plane type | Serial no. | Locality | Unit |
| | 1940 | | | | | | | | |
| | 16/10/40 | 07:00-07:20 | 1/8 | Wellesley (a) | Shared destroyed on the ground | Fiat CR.42 | | Al Qadarif | 412a Squadriglia |
| | 16/10/40 | 07:00-07:20 | 1/8 | Wellesley (a) | Shared destroyed on the ground | Fiat CR.42 | | Al Qadarif | 412a Squadriglia |
| | 16/10/40 | 07:00-07:20 | 1/8 | Wellesley (a) | Shared destroyed on the ground | Fiat CR.42 | | Al Qadarif | 412a Squadriglia |
| | 16/10/40 | 07:00-07:20 | 1/8 | Wellesley (a) | Shared destroyed on the ground | Fiat CR.42 | | Al Qadarif | 412a Squadriglia |
| | 16/10/40 | 07:00-07:20 | 1/8 | Wellesley (a) | Shared destroyed on the ground | Fiat CR.42 | | Al Qadarif | 412a Squadriglia |
| | 16/10/40 | 07:00-07:20 | 1/8 | Wellesley (a) | Shared destroyed on the ground | Fiat CR.42 | | Al Qadarif | 412a Squadriglia |
| | 16/10/40 | 07:00-07:20 | 1/8 | Wellesley (a) | Shared destroyed on the ground | Fiat CR.42 | | Al Qadarif | 412a Squadriglia |
| | 16/10/40 | 07:00-07:20 | 1/8 | Wellesley (a) | Shared destroyed on the ground | Fiat CR.42 | | Al Qadarif | 412a Squadriglia |
| | 16/10/40 | 07:00-07:20 | 1/8 | Wellesley (a) | Shared destroyed on the ground | Fiat CR.42 | | Al Qadarif | 412a Squadriglia |
| | 16/10/40 | 07:00-07:20 | 1/8 | Gladiator (a) | Shared destroyed on the ground | Fiat CR.42 | | Al Qadarif | 412a Squadriglia |
| | 16/10/40 | 07:00-07:20 | 1/8 | Gladiator (a) | Shared destroyed on the ground | Fiat CR.42 | | Al Qadarif | 412a Squadriglia |
| 1 | 06/11/40 | | 1 | Gladiator (b) | Destroyed | Fiat CR.42 | | E Metema | 412a Squadriglia |
| | 12/12/40 | 07:10- | 1/3 | Vincent (c) | Shared destroyed on the ground | Fiat CR.42 | | Qawz Rajab | 412a Squadriglia |
| | 12/12/40 | 07:10- | 1/3 | Vincent (c) | Shared destroyed on the ground | Fiat CR.42 | | Qawz Rajab | 412a Squadriglia |
| | 12/12/40 | 07:10- | 1/3 | Vincent (c) | Shared destroyed on the ground | Fiat CR.42 | | Qawz Rajab | 412a Squadriglia |
| | 12/12/40 | 07:10- | 1/3 | Vincent (c) | Shared destroyed on the ground | Fiat CR.42 | | Qawz Rajab | 412a Squadriglia |
| | 12/12/40 | 07:10- | 1/3 | Vincent (c) | Shared destroyed on the ground | Fiat CR.42 | | Qawz Rajab | 412a Squadriglia |
| | 16/12/40 | 04:55- | 1/2 | Wellesley (d) | Shared damaged | Fiat CR.42 | | Gura | 412a Squadriglia |

Biplane victories: 1 destroyed, 1 shared damaged, 16 shared destroyed on the ground.
TOTAL: 1 destroyed, 1 shared damaged, 16 shared destroyed on the ground.
(a) According to British sources eight Wellesleys of 47 Squadron (L2650, L2675, L2677, L2688, K7742, K7762, K7779 and K7781) and two Vincents of 430 Flight (K4657 and K4731) were burned on ground, against claims for nine Wellesley destroyed on the ground and two Gladiators shot down during take-off. The latter were unofficially credited to Capitano Raffi.
(b) Claimed in combat with Gladiators from 1 SAAF Squadron and 'K' Flight, which this day lost six aircraft while claiming two CR.42s and two Ca.133s. 412a Squadriglia claimed six Gladiators during the day with no losses, although at least the CR.42 of Sottotenente Rosmino was damaged. Flight Officer Hayward (Gladiator II K7797) of 'K' Flight shot down and killed in the action.
(c) Five Vickers Vincents were claimed destroyed by 412a Squadriglia while actually four Hawker Hardys (K4053, K4308, K4055 and K4307) of 'B' Flight, 237 Squadron were totally burned on ground.
(d) Night claim. Wellesley II (K7720) of 223 Squadron badly damaged, out of service for over three months. Claimed damaged, shared between Raffi and Tenente Visintini.


Sources:
Luciano Cacciavillani's personal logbook courtesy of Cacciavillani family (Luciano jr and Alberto)
Giovanni Levi's personal logbook, courtesy of Michele Palermo
Fiorindo Rosmino's personal logbook, courtesy of Rossella Baron
Aroldo Soffritti's personal logbook, courtesy of Ariella Soffritti
Various documents belonged to Luigi Baron, courtesy of Rossella Baron
Various documents belonged to Antonio Raffi, courtesy of Alide Comba
Collection of Comando Aeronautica AOI War Bulletins, USSMA, Rome, kindly provided by Michele Palermo
410a Squadriglia war diary (1940) kindly provided by Stefano Lazzaro.
Comando Aeronautica Africa Orientale war diary (June 1940) kindly provided by Stefano Lazzaro.
Dust Clouds in the Middle East - Christopher Shores, 1996 Grub Street, London, ISBN 1-898697-37-X
Elenco Nominativo dei Militari dell' A. M. Decorati al V. M. Durante it Periodo 1929 - 1945 2 Volume M - Z
Fiat CR.32 Aces of the Spanish Civil War – Alfredo Logoluso, 2010 Osprey Publishing, Oxford, ISBN 978-1-84603-983-6
Guerra di Spagna e Aviazione Italiana – Ferdinando Pedriali, 2nd ed., 1992 Ufficio Storico Stato Maggiore Aeronautica, Rome, kindly provided by Stefano Lazzaro
In cielo e in terra - F. Pagliano, 1969 editore Longanesi, Milan, kindly provided by Alfredo Logoluso.
Mario Visintini. Storia e Leggenda di un Asso Italiano – Gianni Bianchi, Associazione Culturale Sarasota, kindly provided by Stefano Lazzaro
Le Vittorie Aeree di Mario Visintini in Africa Orientale – Eugenio Eusebi, Stefano Lazzaro, Ludovico Slongo, in: Storia Militare no. 246 (XXII), March 2014, Albertelli Edizioni Speciali, Parma, ISSN 1122-5289
Spanish Republican Aces – Rafael A. Permuy López, 2012 Osprey Publishing, Oxford, ISBN 978-1-84908-668-4
Springbok Fighter Victory: East Africa Volume 1 1940 – 1941 – Michael Shoeman, 2002 African Aviation Series No. 11, Freeworld Publications CC, ISBN 0-958-4388-5-4
The Commonwealth War Graves Commission
The Story of no. 1 Squadron SAAF – Vivian Voss, 1952 Mercantile Atlas (Pty.) Ltd., Cape Town, kindly provided by Ludovico Slongo.
Visintini, il Pilota Solitario - Silvio Platen, 1942 editore Rizzoli, Rome, kindly provided by Alfredo Logoluso.
Additional info kindly provided by Stefano Lazzaro, Alfredo Logoluso and Ludovico Slongo.




Last modified 30 March 2022