Biplane fighter aces

The Commonwealth

Air Marshal Sir Edward Gordon 'Tap' Jones KCB CB CBE OBE DSO DFC, Greek DFC, RAF no. 37357
31 August 1914 – 20 February 2007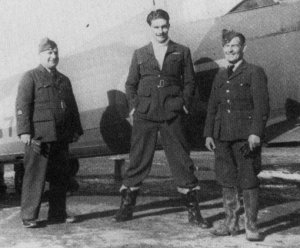 'Tap' Jones (middle) in late 1940.
Edward Gordon 'Tap' Jones was born on 31 August 1914 in Lancashire and was brought up in Widnes, near Liverpool.
After school he entered Liverpool University to study Medicine before deciding to pursue veterinary science. Although he loved shooting, gun dogs and the outdoor life he had no real interest in being a vet, his sole ambition being to fly with the RAF. He neglected his studies, concentrating on rugby and courting his future wife, a fellow student. Eventually, his powerful mother gave up and let him join the RAF.
He joined the RAF in 1935, and in 1937 was serving as Pilot Officer in 17 Squadron's 'B' Flight on Gauntlets, from which 80 Squadron was formed in March of that year; he became the unit's first adjutant in May.
He was married in 1938 to Margery Hatfield.
He was promoted Flying Officer and went with the squadron to the Middle East in April 1938, becoming a flight commander in March 1940.
When the war started in North Africa on 10 June 1940, 80 Squadron was commanded by Squadron Leader R. C. Jonas and based at Amriya. It had 22 Gladiators (mainly Mk.Is) and one Hurricane Mk.I (L1669 – nicknamed Collie's Battleship) on hand. Its main role was the defence of Alexandria. The pilots were divided into three Flights.
'A' Flight included Squadron Leader R. C. Jonas (CO), Flight Lieutenant Jones, Flying Officer George Kettlewell, Pilot Officer Anthony Hugh Cholmeley,Pilot Officer Ernest Mason, Pilot Officer Arthur Weller, Pilot Officer Johnny Lancaster, Pilot Officer P. T. Dowding, Sergeant Donald Gregory, Flight Sergeant T. C. Morris and Sergeant J. C. Hulbert.
On 28 June 1940, he took command of the flight formed in the squadron with the first Hurricanes.
He became temporary commanding officer on 19 August 1940 after Squadron Leader Patrick Dunn left to form 274 Squadron. After the arrival of the new CO, Squadron Leader William Hickey, on 27 August, he was to lead a flight of Gladiators to Greece.
80 Squadron was ordered to Greece and on 18 November the 'B' Flight of 80 Squadron left Egypt and reached Athens with at least nine Gladiator IIs led by Squadron Leader William Hickey and including Flight Lieutenant 'Pat' Pattle, Flying Officers Greg Graham and Sidney Linnard, Pilot Officers Samuel Cooper, 'Heimar' Stuckey and William Vale and Sergeant Charles Casbolt.
"A" Flight of 80 Squadron led by Flight Lieutenant Jones left Egypt for Greece on 23 November.
On 27 November, Squadron Leader William Hickey led nine Gladiators from 80 Squadron off from Trikkala at 12:00 to patrol to the north of Yanina. Pilots taking part were Squadron Leader Hickey (Gladiator II N5759), Flight Lieutenant George Kettlewell (N5858), Flying Officer Harold Sykes (N5812), Pilot Officer Wanklyn Flower (N5854), Sergeant Donald Gregory (N5776), Flight Lieutenant Jones (N5861), Pilot Officer Johnny Lancaster (N5817), Pilot Officer F. W. Hosken (N5786) and Pilot Officer W. B. Price-Owen (N5788).
They they spotted a trio of S.79s escorted by some dozen 150o Gruppo CR.42s, led by Capitano Nicola Magaldi (CO 364a Squadriglia). The British pilots attacked at once with Flight Lieutenant Jones and Sergeant Gregory each claiming one Fiat shot down. After the patrol, at 14:20, 80 Squadron landed at Yanina.
Capitano Magaldi was killed in this combat and Sergente Giovanni Negri returned to base unhurt, but with his aircraft very badly shot up.
Taking off at 09:30 on 28 November 1940, eight Gladiators from 80 Squadron's 'A' Flight flew a fighter mission led by Flight Lieutenant Jones (N5816). Pilots also taking part were Flying Officer W. B. Price-Owen (N5788), Flying Officer H. U. Sykes (N5812), Pilot Officer Wanklyn Flower (N5854), Sergeant Donald Gregory (N5776), Pilot Officer Johnny Lancaster (N5817), Flight Lieutenant George Kettlewell (N5858) and Flying Officer F. W. Hosken (N5785).
Over Delvinakion they reported meeting 20 CR.42s. This was in fact ten aircraft of 150o Gruppo C.T. led by Capitano Giorgio Graffer, CO of the 365a Squadriglia.
In the ensuing dogfight Flying Officer Sykes and Sergente Corrado Mignani collided, both pilots being killed. Flight Lieutenant Jones, after claiming two CR.42s shot down off the tails of fellow pilots, had his Gladiator badly shot-up, his instrument panel smashed, and a bullet wound in his neck. He was escorted back to Yanina by Sergeant Gregory, where he managed to land safely. Sergeant Gregory claimed three destroyed CR.42s in this combat. Flying Officer Wanklyn Flower's Gladiator was also shot-up but believed he had shot down one CR.42 first. Flying Officer Price-Owen's and Flying Officer Hosken's Gladiators were also damaged, but both pilots also claimed one probable CR.42 each. The Gladiators returned individually to base and landed between 10:25 and 11:15. Flight Lieutenant Jones was flown to hospital in Athens for treatment of his wounds.
Apart from Mignani, two more CR.42s were lost, Graffer - one of the most successful Italian fighter pilots of the war thus, with five victories credited to him - being killed, while Sergente Achille Pacini baled out. Maresciallo Guglielmo Bacci's and Sergente Bruno Zotti's CR.42s were damaged and both pilots were wounded but managed to return to base. Four Gladiators and one probable were claimed shot down.
He returned to operations on 21 December and on 27th became commanding officer.
At 10:30 on 9 February 1941, Squadron Leader Jones led off 14 of 80 Squadron's Gladiators on an offensive patrol over the Tepelene area. They took off in four sub-flights led by Jones, Flight Lieutenant "Pat" Pattle, Flying Officer 'Shorty' Graham and Flight Lieutenant "Timber" Woods. During the take-off Flying Officer W. B. Price-Owen, in the last section, experienced engine stoppage as his Gladiator became airborne and he was forced to glide back to the airfield.
Near Tepelene a trio of S.79s were seen, but lost in cloud. It is however possible that Pilot Officer William Vale claimed that he damaged one of these since he did claim one damaged during the day.
Jones took the Squadron round in a wide arc just north of Kelcyre and led them back towards Tepelene. His engine had been running rough for the last fifteen minutes and now it was beginning to vibrate. He called Pattle over the radiotelephone and told him to take over the lead. Then he throttled right back to ease the shuddering. Within a few seconds he was joined by Flying Officer Wanklyn Flower, who was also having trouble with his engine and together they flew back to Yanina.
Meanwhile, the Squadron continued their patrol and just before midday five CR.42s were seen far away off the port beam by Pattle, followed by many more, 30-40 being reported. In fact there were just 16 fighters of the 150o Gruppo, led by Capitano Edmondo Travaglini, commander of the 365a Squadriglia. The Italian pilots also overestimated the opposition, identifying the eleven Gladiators as 20 strong.
Many individual dogfights developed between Tepelene and Argyrokastron. Pattle shot down one Fiat CR.42, which crashed into the ground at speed on the outskirts of Tepelene, while Flying Officer Nigel Cullen put four bursts into another and reported seeing it crash into the hillside and burst into flames. The Squadron returned to claim four definitely shot down and three probables, but the Greek authorities provided confirmation next day that all seven had crashed, and victories were credited to Flight Lieutenant George Kettlewell, Pilot Officer Vale, Pilot Officer C. H. Tulloch, Sergeant Donald Gregory and Sergeant Charles Casbolt, as well as Pattle and Cullen.
Pilot Officer Vale reported:
"I was slightly behind the main formation … I observed about six or more formations of five CR42s [each] above us and so I gave 'Tally-ho!' and I immediately climbed. A dogfight started and from my position the policy of the e/a seemed to be diving attacks and gaining height straight away. One CR42 dived on me from above but I managed to evade his fire by pulling round and up towards him. I fired a short burst, which seemed to scare him away. I then saw a CR42 diving down on another Gladiator and so carried out a diving quarter attack and he pulled away, which left me in an astern position close in. I carried on firing until the e/a turned over on its back and the pilot left the machine. I saw his parachute open and so gained height and fired a long burst at a CR42, which dived down on me from above. I then broke away from the combat and owing to shortage of ammunition and fuel returned to base with F/O Cullen, who came up and formatted with me. We landed at 1240 and on inspecting aircraft found no damage.
The initial claims had been nearer the truth, for four CR.42s were in fact hit. Sergente Romano Maionica (365a Squadriglia) and Sergente Danilo Birolo (364a Squadriglia) both failed to return, the latter being believed to have baled out (Maionica was KIA and Birolo landed in Yugoslavian territory), while Tenente Enzo Rovetta (364a Squadriglia) was wounded and crashed while attempting to land at base, and Capitano Travaglini force-landed near Tirana. In return, the Italians claimed four Gladiators destroyed and nine damaged. 364a Squadriglia pilots Tenente Alberto Spigaglia, Sottotenente Pasquale Faltoni and Maresciallo Ugo Guidi were each credited with a victory.
Flying Officer F. W. Hosken baled out of Gladiator N5811, wounded in one leg, when his controls were shot away and he came down near Tepelene. Flight Lieutenant Kettlewell force-landed Gladiator N5858 some 50 miles north of Yanina due to lack of oil pressure, but with his aircraft undamaged. Both returned to Yanina aided by the Greek army.

On 28 February HQ 'W' Wing ordered that all available aircraft should patrol between Tepelene and the coast between 15:30 and 16:30, since Intelligence sources indicated the operation of large numbers of Italian aircraft in that area at that time. Hence during the morning all available Gladiators of 80 and 112 Squadrons were flown up to Paramythia in preparation for this action. Patrols were flown during the morning by flights of Hurricanes but nothing was seen.
At about 15:00 Squadron Leader H. L. I. Brown and Squadron Leader Jones led of eleven Gladiators of 112 Squadron and seven of 80 Squadron to patrol over the designated area; they were accompanied by the 'W' Wing leader, Wing Commander 'Paddy' Coote, flying an 80 Squadron Gladiator. Fifteen minutes later Flight Lieutenant 'Pat' Pattle in Hurricane V7589 led Flying Officer Nigel Cullen (V7138), Flying Officer Wanklyn Flower (V6749) and Flying Officer Richard Acworth (V7288) to the same area, while Flight Lieutenant Young led four 33 Squadron Hurricanes to patrol near the coast. Here some S.79s were seen and chased over Corfu, two being claimed damaged, one of them by Pilot Officer D. S. F. Winsland (Winsland was later during the war shot down by Bernardino Serafini). These were probably 105o Gruppo B.T. aircraft, which reported being attacked by Spitfires, one Savoia landing at Tirana with one member of the crew dead.
Meanwhile Pattle's section spotted BR.20s of 37o Stormo B.T. flying south from Valona; they identified the ten-strong formation as comprising 15 aircraft, while the bomber crews reported being attacked by 18 'Spitfires'! Pattle selected one on the starboard flank of the formation, and after three short bursts it broke into flames and went down; a second bomber likewise burst into flames following a further attack by Pattle, and his windscreen was covered in oil from this doomed aircraft. Reducing speed, Pattle attempted to clean the screen with his scarf, but he was then attacked by five G.50bis which dived on him. After a brief skirmish he managed to get away and returned to Paramythia. Both Flower and Acworth also claimed BR.20s. although the latter thought his victim may have been a Z.1007bis. Flying Officer Cullen reported considerable success in the run of claims which was to bring him the award of an immediate DFC. He later recalled:
"The battle extended right across Albania. First I found four Breda 20s (sic). I got one, which went down in flames Then we found three formations of S.79s. I took on one and aimed at the starboard engine. It caught fire, and crashed in flames. I climbed and dived on the next - and he too crashed in flames. Then we attacked ten CR.42s, climbing to get above them. I got behind one, and he caught fire and went down in flames. Up again immediately, dived, fired into the cockpit, and another took fire, rolled over and crashed. I had to come home then - no more ammo."
Three BR.20s were in fact shot down during this combat and a fourth force-landed near Otranto; others returned with wounded crewmembers aboard, plus one dead.
By now the Gladiators had joined the fighting, as had CR.42s of 160o Gruppo and G.50bis of 24o Gruppo. A single Hurricane of 33 Squadron arrived late on the scene. Flying Officer Newton having scrambled from Paramythia when news of the heavy fighting came through. On arrival over the battle area he promptly attacked a CR.42, only to find that it was an 80 Squadron Gladiator! A 112 Squadron Gladiator then got on his tail, obviously taking the Hurricane for a G.50bis, and inflicted damage on his aircraft, chasing him back towards Paramythia. A few of the Gladiators made contact with the bombers, Pilot Officer William Vale claiming an S.79 shot down, whilst Flying Officer Edwin Banks and Pilot Officer R. H. McDonald of 112 Squadron each claimed damage to a BR.20. The Gladiators' main claims were for nine CR.42s and two probables, plus six G.50bis and three probables after that the rest of the Gladiators made contract with the Italian fighters. 80 Squadron made following claims – Squadron Leader Jones (2 CR.42s), Wing Commander Coote (1 CR.42), Warrant Officer Richens (1 CR.42), Pilot Officer Vale (1 S.79 and 1 G.50bis), Flight Lieutenant Kettlewell (1 probable CR.42 and 1 probable G.50bis), Pilot Officer Trollip (1 probable CR.42) and Flying Officer Dowding (1 probable G.50bis). 112 Squadron also made a number of claims – Squadron Leader Brown (1 G.50bis), Flight Lieutenant Fraser (1 CR.42 and 1 G.50bis), Flight Lieutenant Fry (1 CR.42 and 1 G.50bis), Flight Lieutenant Abrahams (1 G.50bis), Flying Officer Cochrane (1 CR.42), Flying Officer Banks (1 and 1 damaged CR.42 and 1 damaged BR.20), Pilot Officer Jack Groves (1 CR.42), Sergeant Donaldson (1 and 1 probable G.50bis), Flying Officer Smith (1 damaged CR.42) and Pilot Officer McDonald (1 damaged BR.20).
Squadron Leader Brown recorded that the G.50bis he attacked turned sharply to starboard on its back and fell away in an inverted spin; he thought he had hit the pilot. Flight Lieutenant Fraser claimed that his victim flew into a mountainside, while the pilot of the CR.42 he claimed baled out, but his parachute failed to open; Sergeant Donaldson's victim was seen to crash on the seashore. Flight Lieutenant Abrahams, after his victory, was attacked by another G.50bis - believed to have been flown by Tenente Mario Bellagambi - and was shot down near Sarande. He recalled:
"The old Glad suddenly went all soft. Nothing would work. I sat there and then decided I had better get out. I couldn't, so I sat there with my hands on my lap, the aircraft spinning like mad. Then, eventually, I did manage to get out. It was so pleasant sitting there in the air than I damn nearly forgot to pull the ripcord. I reckon I did the record delayed drop for all Albania and Greece. I landed, and no sooner had I fallen sprawling on the ground than I was picked up by Greek soldiers who cheered and patted me on the back. I thought I was a hell of a hero until one soldier asked me. "Milano, Roma?" and I realized that they thought I was an Iti. They didn't realize it was possible for an Englishman to be shot down. So I said "Inglese", and then the party began. I was hoisted on their shoulders, and the "here the conquering hero comes" procession started. We wined and had fun. Jolly good chaps."
Following his initial combats, Pattle had returned to Paramythia, landed, and taken off again ten minutes later in another Hurricane (V7724). Returning to the battle area, he spotted three CR.42s in formation, heading back towards Valona:
"I got behind them and put a long burst into all three. One went down vertically at once, but in case it was a trick I followed him. He was in difficulties, that was most obvious, and when it looked as if he was going straight into the sea I decided to go and see what the other two were up to. As I climbed again I was most surprised to see tow parachutes float down past me."
On his return, Pattle claimed two destroyed, those from which he had seen the pilots come down by parachute, and one probable for that which he had followed down. Just before he got back to Paramythia for the second time at 17.40, Flying Officer Flower, who had returned an hour earlier, also took off for a second patrol over the area after his Hurricane had been refuelled and rearmed. There was nothing to be seen - the battle was over.
On the Italian side, the CR.42s of 160o Gruppo had been escorting four S.79s of 104o Gruppo in the Kuc area, between Tepelene and Himare, when British fighters identified as Spitfires, Hurricanes and Gladiators, were encountered. Two Gladiators were claimed shot down and one as a probable, a 'Spitfire' also being claimed. Sottotenente Raoul Francinetti of 394a Squadriglia landed back at base wounded in one leg, and Sottotenente Italo Traini of 394a Squadriglia was shot down and killed. Gunners in the S.79s also claimed two Gladiators shot down, as did the G.50bis pilots of the 24o Gruppo, the latter also claiming two more as probables. Tenente Bellagambi, following his combat with Flight Lieutenant Abrahams, was then shot down and wounded in one arm: he force-landed near Tirana airfield. Capitano Ettore Foschini's aircraft was also hit and he was wounded, also coming down at Tirana.
This day was recorded as RAF's most successful during the Greek campaign. During the large engagements RAF made claims for 5 and 2 damaged BR.20s, 3 and 2 damaged S.79s, 13 destroyed, 3 probable and 1 damaged CR.42s and 6 and 3 probable G.50bis. In fact 4 BR.20s of 37o Stormo B.T. were lost with several damaged, 1 S.79 of 104o Gruppo was damaged, 1 CR.42 of 160o Gruppo and 2 G.50bis of 24o Gruppo were lost. Regia Aeronautica claimed 6 and 2 probable Gladiators and 1 'Spitfire' while in fact only 1 Gladiator of 112 Squadron was lost.
Jones received an immediate DFC, and was also awarded a Greek DFC (gazetted on 25 December 1942) for his performance during the day.

After a spell of leave in Egypt, he returned at the end of March to the unit, now fully re-equipped with Hurricanes, just before the German invasion of 6 April. He acted briefly as Wing Commander at Eleusis before the British forces withdrew from Greece, rejoining the squadron in Crete until the end of the month.

On 29 April Squadron Leader Jones and Flying Officer Wanklyn Flower departed from Crete, leaving the small Malmeme detachment under Flying Officer William Vale's command.

After the withdrawal from Greece, he served with 80 Squadron in Egypt, Palestine and Cyprus until September 1941 and was awarded a DSO.

On 6 September 1941, he left the command of 80 Squadron to Squadron Leader T. M. Morgan DFC.

Following a year with the Rhodesian Air Training Group, he returned to England to command the fighter airfield at Hawkinge, Kent. In July 1943 he was promoted to Group Captain and joined the staff preparing the tactical air plan for the invasion of Europe, responsible for co-ordinating fighter operations in No. 83 Group. The group's headquarters moved to France within days of the invasion to establish fighter strips and co-ordinate the close support operations of its Spitfire and Typhoon squadrons. As the land battle moved eastwards, Jones and his staff followed immediately behind. On his departure after 18 months he was appointed OBE.

In December 1944, Jones returned to operational flying, having been given command of No 121 Wing of four Typhoon squadrons at Vokel, Holland. During constant action against ground targets, the rocket-firing Typhoons became the scourge of enemy transport on roads, railways and canals. As the war in Europe ended, Jones left to join the disarmament staff.

Jones ended the war with 5 victories, all of them claimed while flying Gladiators over Greece.

He remained in the service, where he enjoyed an illustrious career. Uniquely, he never served in the Air Ministry or Ministry of Defence. After serving at the School of Land/Air Warfare he commanded a jet flying school before serving on operational duties at the HQ Second Tactical Air Force. He was attached to the HQ Air Task Force in charge of operations during the Suez crisis, and in 1957 he took command of RAF Wyton, the home of the RAF's strategic reconnaissance force.

On promotion to Air Commodore in January 1959, Jones was appointed AOC the Central Reconnaissance Establishment. He then became AOC, RAF Germany 1961-63, at a time when the Cuban missile crisis brought his squadrons to a high state of readiness. He was then Senior RAF Officer on the Directing Staff of the Imperial Defence College until 1966, when he became AOC, RAF Malta, and Deputy Commander in Chief (Air), Allied Forces, Mediterranean.
On promotion to Air Marshal in November 1966 he was appointed AOC-in-C Near East Air Forces and Administrator of the Sovereign Base Areas in Cyprus. From 1967 to 1969 he was Commander of British Forces, Near East. He retired in August 1969.

Jones was appointed CBE in 1956, CB in 1960 and KCB in 1967.

Jones passed on 20 February 2007.

Claims:

| | | | | | | | | | |
| --- | --- | --- | --- | --- | --- | --- | --- | --- | --- |
| Kill no. | Date | Time | Number | Type | Result | Plane type | Serial no. | Locality | Unit |
| | 1940 | | | | | | | | |
| 1 | 27/11/40 | 12:00-124:20 | 1 | CR.42 (a) | Destroyed | Gladiator II | N5816 | N Yanina | 80 Squadron |
| 2 | 28/11/40 | 09:30-10:25 | 1 | CR.42 (b) | Destroyed | Gladiator II | N5816 | Delvinakion | 80 Squadron |
| 3 | 28/11/40 | 09:30-10:25 | 1 | CR.42 (b) | Destroyed | Gladiator II | N5816 | Delvinakion | 80 Squadron |
| | 1941 | | | | | | | | |
| 4 | 28/02/41 | | 1 | CR.42 (c) | Destroyed | Gladiator II | N5823 | Valona front | 80 Squadron |
| 5 | 28/02/41 | | 1 | CR.42 (c) | Destroyed | Gladiator II | N5823 | Valona front | 80 Squadron |
Biplane victories: 5 destroyed.
TOTAL: 5 destroyed, plus possibly 1 more, of which no details have been found.
(a) 80 Squadron claimed two Fiat CR.42s. 150o Gruppo lost one when the CO Capitano Nicola Magaldi was killed. A second Fiat was damaged but the pilot Sergente Negri was unhurt.
(b) Claimed in combat with 150o Gruppo C.T., which lost 3 CR.42s (2 pilots KIA) and got 2 more damaged. 80 Squadron claimed 7 destroyed and 2 probables while losing 1 Gladiator (pilot KIA) and getting 4 damaged.
(c) During this large engagements RAF made claims for 5 and 2 damaged BR.20s, 3 and 2 damaged S.79s, 13 destroyed, 3 probable and 1 damaged CR.42s and 6 and 3 probable G.50bis. In fact 4 BR.20s of 37o Stormo B.T. were lost with several damaged, 1 S.79 of 104o Gruppo was damaged, 1 CR.42 of 160o Gruppo and 2 G.50bis of 24o Gruppo were lost. Regia Aeronautica claimed 6 and 2 probable Gladiators and 1 'Spitfire' while in fact only 1 Gladiator of 112 Squadron was lost.

Sources:
53o Stormo - Marco Mattioli, 2010 Osprey Publishing, Oxford, ISBN 978-1-84603-977-5
Aces High - Christopher Shores, 1994 Grub Street, London
Aces High Volume 2 - Christopher Shores, 1999, Grub Street, London
Air war for Yugoslavia, Greece and Crete - Christopher Shores, Brian Cull and Nicola Malizia, 1987 Grub Street, London, ISBN 0-948817-07-0
Desert Prelude: Early clashes June-November 1940 - Håkan Gustavsson and Ludovico Slongo, 2010 MMP books, ISBN 978-83-89450-52-4
Fiat CR.42 Aces of World War 2 - Håkan Gustavsson and Ludovico Slongo, 2009 Osprey Publishing, Oxford, ISBN 978-1-84603-427-5
Shark Squadron - The history of 112 Squadron 1917-1975 - Robin Brown, 1994 Crécy Books, ISBN 0-947554-33-5
Strike True - The Story of No. 80 Squadron Royal Air Force - Christopher Shores, 1986 Air Britain (Historians) Ltd, Tonbridge, ISBN 0-85130-126-6
Telegraph.co.uk
The Commonwealth War Graves Commission
The London Gazette
Additional information kindly provided by Clare Gordon Jones and Ludovico Slongo




Last modified 17 March 2023