Biplane fighter aces

The Commonwealth

Squadron Leader William Joseph 'Bill' Hickey DFC, RAF no. 32035
9 May 1907 – 21 December 1940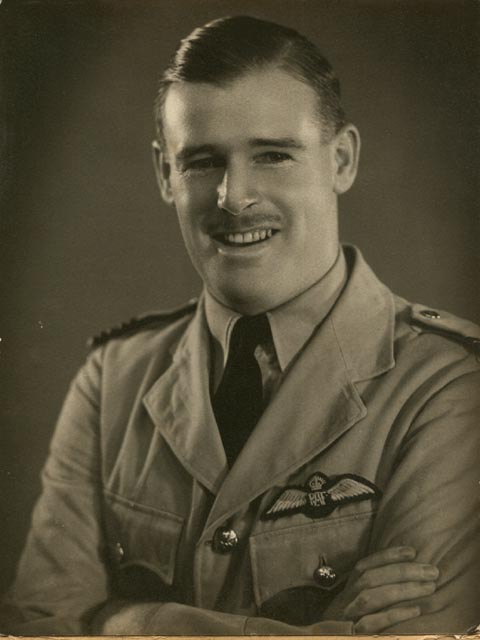 Image kindly provided by David Park.
William Joseph Hickey was born in Sydney Australia on 9 May 1907. He was educated at St. Aloyoysius' College, Milsons Point, Sydney from 1921 to 1926 where he was an outstanding athlete. He was a member of the school's 1st XV in 1924 and 1925, its 1st VIII in 1926 and a member of the school's Athletic Team from 1921 to 1926 placing in the top three at the school athletic championships at various times in the 100 and 200 yards sprint, the hurdles, the high jump and the long jump.
In 1927 and 1928, he attended the University of Sydney and studied engineering but left without graduating to concentrate on a flying career which had been his life long passion as it had been with fellow classmate and friend James Connolly (later with Hawker Aircraft Company, British Aircraft Manufacturing Company and the British Air Ministry). His sacrifice is recorded on the Honour Roll of the University.
During the years 1926 to 1928, Bill Hickey served voluntarily as an aircraftsman in No.3 Citizens Air Force Squadron then stationed at Richmond, New South Wales. He joined the Royal Australian Air Force as a Cadet on 9 December 1929 and was commissioned as a Pilot Officer on 2 April 1930.
On 12 May 1931, he was together with Ron Rae (later Air Vice Marshall) seconded from the Royal Australian Air Force to the Royal Air Force on five years attachment under the pre-war scheme for the interchange of pilots.
The following day he was granted a Short Term Service Commission as Pilot Officer on probation.
After completing training at No 3 Flying Training School at Grantham he was posted to 1 Squadron.
On 26 September 1931, he was posted to 43 Squadron at Tangmere (43 Squadron was at Tangmere from February 1927 to October 1939).
He was promoted to Pilot Officer on 13 May 1932 and to Flying Officer on 13 November the same year.
On 2 January 1933, he was then posted to Calshot for instruction and spending time on flying boats before being posted to Malta.
He was posted to 210 Squadron on 4 June 1933 and was still on strength in April 1935.
On 31 March 1935, he was Supernumerary at RAF Depot.
A posting to 9 Flying Training School in Yorkshire as an Instructor followed (on 30 March 1936 he was on the staff of this unit).
He was promoted to Flight Lieutenant on 1 April 1936 (gazetted on 21 April) and granted a Permanent Commission on 13 May the same year.
On 8 June 1936, he was qualified as Cat B Instructor at CFS Uphaven and on 2 February 1937 he was re-categorised as A2 Instructor.
On 1 December 1937, he was Supernumery at 1 Group.
He was promoted to Squadron Leader on 1 December 1938.
In 1939 he was posted to the Middle East.
Squadron Leader Hickey took command over 80 Squadron on 27 August 1940 replacing Squadron Leader Patrick Dunn who had left the Squadron on 19 August to form 274 Squadron (the temporary commander was Flight Lieutenant Edward Jones). The unit was at the time equipped with Gloster Gladiators and operating in the Western Desert.
On 12 September, he took off at night to intercept a lone bomber attacking Mersa Matruh. As it was being illuminated by searchlights he was able to fire a couple of burst at it but failed to observe any results.
At 07:55 on 3 November, three Gladiators from 80 Squadron were sent out to attack a motor transport concentration near Garn. Two of the aircraft, Squadron Leader Hickey in N5823 and Flying Officer George Kettlewell in N5858 attacked whilst Pilot Officer P. T. Dowding (N5854) stayed above. The attack was most successful and much damage was done. Flying Officer Kettlewell reported that he suffered stoppage to two guns. The three pilots returned to base between 09:20 and 09:35.
80 Squadron was ordered to Greece and on 18 November the 'B' Flight of 80 Squadron left Egypt and reached Athens with at least nine Gladiator IIs led by Squadron Leader Hickey and including Flight Lieutenant 'Pat' Pattle, Flying Officers Greg Graham and Sidney Linnard, Pilot Officers Samuel Cooper, 'Heimar' Stuckey and William Vale and Sergeant Charles Casbolt.
"A" Flight of 80 Squadron led by Flight Lieutenant Edward Jones left Egypt for Greece on 23 November.
Shortly before midday on 19 December, Squadron Leader Hickey led 14 of 80 Squadron's Gladiators up to Yanina, followed by the ground party in a Ju 52/3m. After refuelling, 13 of these fighters were off to patrol over the Tepelene area where five S.79s of the 46o Stormo were seen, escorted by CR.42s and G.50bis. The British pilots at once engaged the bombers, believing that they had shot one down (no loss was actually suffered), but return fire struck N5785 and it went down in flames, Pilot Officer Samuel Cooper being seen to bale out. Squadron Leader Hickey thought that he had shot down one of the escorting CR.42s, which now attempted to intervene, but he then went down to land on a waterlogged field near Argyrokastron to look for his missing pilot. With the aid of some Greek soldiers, the badly wounded Cooper was located, and was transferred to hospital in Argyrokastron, where he died that evening. Meanwhile Sergeant Edward Hewett's N5827 had been hit and badly damaged by AA fire, and he was obliged to force-land 20 miles north of Yanina during the return flight; this Gladiator was later salvaged.
No escorting CR.42s were actually lost in this combat.
At 10.30 on 21 December 1940 80 Squadron took off from Yanina for the front in Greece. They were led by Squadron Leader Hickey and flew in three sections. The first comprised four aircraft and was led by Hickey, the second of three was led by Flight Lieutenant 'Pat' Pattle and the third trio was led by Flying Officer Sidney Linnard.
Near Argyrokastron three enemy trimotor bombers were seen. They were identified as S.79s, and then three more aircraft with twin tails were seen, recognised in this case as Fiat BR.20s. All six were in fact Cant Z.1007bis aircraft from the 47o Stormo B.T. from Grottaglie. The Italian bombers were attacked by the Gladiators and Pattle believed that he had hit one.
At this moment however 15 CR.42s of the 160o Gruppo appeared on the scene. Maggiore Oscar Molinari, the Gruppo commander, was leading these Italian aircraft on an offensive reconnaissance over Yanina, Paramythia and Zitsa. Seeing the bombers under attack by an estimated 20 Gladiators, the Italian attacked, joined by other aircraft from the 150o Gruppo so that 80 Squadron pilots assessed the number of their opponents at 54!
After 25 minutes the air battle broke up and eight of the British pilots returned to claim eight confirmed and three probables. Pilot Officer 'Bill' Vale claimed three, one of them in flames. Sergeant Charles Casbolt claimed one, which blew up and another, which spun down (later down-graded to a probable). Sergeant Donald Gregory claimed another two, again one in flames, but his own aircraft was badly shot up and he was wounded in the right eye. He however managed to return to Yanina. Pattle and Flight Sergeant S. A. Richens also claimed one CR.42 each, Pattle reporting that his victim fell in flames, whilst Flying Officers W. B. Price-Owen and F. W. Hosken both claimed probables. However Flying Officer A. D. Ripley in N5854 was seen to be shot down in flames and killed, while Squadron Leader Hickey was spotted bailing out of N5816; sadly his parachute caught fire, and he died from injuries soon after reaching the ground. Greek troops recovered the bodies of both pilots. Flying Officer Sidney Linnard's aircraft (N5834) was also badly hit and he was hit in the left calf by an explosive bullet and was taken to hospital after landing at Yanina.
In return the 160o Gruppo pilots claimed six Gladiators, two each by Maggiore Molinari and Tenente Edoardo Crainz (in CR.42 '394-7'), and one apiece by Tenente Eber Giudici and Capitano Paolo Arcangeletti. Probables were claimed by Tenente Torquato Testerini, Sergente Maggiore Francesco Penna and Sergente Maggiore Domenico Tufano. The 150o Gruppo pilots claimed two more Gladiators in collaboration, while 47o Stormo gunners claimed one more and a probable. As in the case of the British fighters, actual Italian losses totalled only two aircraft, Tenente Mario Gaetano Carancini and Tenente Mario Frascadore of the 160o Gruppo being lost, while Maggiore Molinari was wounded in the right foot and force-landed near Tepelene with a damaged engine.
On 17 January 1941, he was awarded a posthumously DFC.
At the time of his death, Hickey was credited with 1 biplane victory.
Claims:

| | | | | | | | | |
| --- | --- | --- | --- | --- | --- | --- | --- | --- |
| Kill no. | Date | Number | Type | Result | Plane type | Serial no. | Locality | Unit |
| | 1940 | | | | | | | |
| | 19/12/40 | 1 | CR.42 (a) | Destroyed | Gladiator | | Tepelene area | 80 Squadron |
Biplane victories: 1 destroyed.
TOTAL: 1 destroyed.
(a) No escorting Fiat CR.42s were lost in this combat.

Sources:
Ace of Aces: M T StJ Pattle - E C R Baker, 1992 Crécy Books, Somerton, ISBN 0-947554-36-X
Air war for Yugoslavia, Greece and Crete - Christopher Shores, Brian Cull and Nicola Malizia, 1987 Grub Street, London, ISBN 0-948817-07-0
Desert Prelude: Early clashes June-November 1940 - Håkan Gustavsson and Ludovico Slongo, 2010 MMP books, ISBN 978-83-89450-52-4
Gloster Gladiator Home Page - Alexander Crawford.
The Commonwealth War Graves Commission
Additional information kindly provided by David Park.




Last modified 10 April 2011