Biplane fighter aces

The Commonwealth

Air Vice Marshal Ian D. McLachlan DFC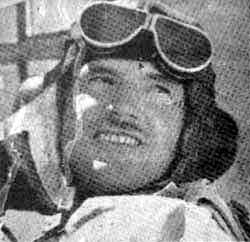 Image kindly from 3 RAAF Squadron Association.
Squadron Leader Ian McLachlan was Commanding Officer of 3 RAAF Squadron when it sailed to the Middle East in July 1940.
On 15 July 1940, 3 RAAF Squadron embarked on RMS Orontes at Sydney for service overseas.
At this time the unit consisted of the following flying personnel:
Squadron Leader McLachlan (CO).
"A" Flight:
Flight Lieutenant Gordon Steege (OC), Flying Officer Alan Gatward, Flying Officer Alan Boyd, Pilot Officer Peter Turnbull and Pilot Officer Wilfred Arthur.
"B" Flight:
Pilot Officer Charles Gaden (OC), Pilot Officer L. E. Knowles, Pilot Officer V. East, Flying Officer Alan Rawlinson and Flying Officer B. L. Bracegirdle.
"C" Flight:
Squadron Leader P. R. Heath (OC), Flight Lieutenant Blake Pelly, Pilot Officer J. M. Davidson, Flying Officer John Perrin and Pilot Officer M D. Ellerton.
Totally the squadron had 21 officers and 271 of other ranks on 24 July.
The squadron left Australia as an Army Co-op Squadron and just prior to sailing, a number of permanent airmen were posted away and replaced by new personnel. Both Squadron Leaders McLachlan and Peter Heath (who lost his life early in the war) were trained as Army Co-op pilots and not as "fighter pilots" and as Senior Permanent Air Force Officers. Neither did a lot of flying (in fact not too many Permanent Officers did a lot of flying). Consequently neither was fully trained for the Squadron's active Desert Air Force role (i.e. that of a Fighter Squadron).
On 7 August, RMS Orontes arrived at Bombay and the unit was transhipped the same day to HT Dilwara.
HT Dilwara sailed on 11 August and arrived at Suez on 23 August where the squadron disembarked.
In the beginning of its time in North Africa the unit was equipped with one flight of Lysanders, one of Gladiators and one of Gauntlets
On 2 November 1940, squadron headquarters and ground personnel of 'B' and 'C' Flights of 3 RAAF Squadron moved by road from Helwan to Gerawla. The move started at 08:15 and was completed at 17:15 the next day.
Squadron Leader McLachlan, Flying Officer Alan Gatward, Flying Officer M. D. Ellerton, Flying Officer Alan Boyd, Flight Lieutenant Charles Gaden, Flying Officer B. L. Bracegirdle, Flying Officer Peter Turnbull and Flying Officer Wilfred Arthur moved from Helwan to Gerawla by air on 3 November.
Flight Lieutenant Gordon Steege, Flight Lieutenant Blake Pelly and Flying Officer Alan Rawlinson left their attachments to 208 Squadron and rejoined 3 RAAF Squadron at Gerawla while Flying Officer John Perrin, Flying Officer L. E. Knowles and Flying Officer J. M. Davidson, who also had been attached to 208 Squadron returned to 'A' Flight at Helwan.
15 Air gunner/Wireless operators from 3 RAAF Squadron were attached to 208 Squadron.
After the completion of these movements the disposition of the squadron was that at Gerawla there were: Officers: 13 pilots, 1 crew, 6 non-flying and 2 (attached) air intelligence liaison.
Airmen: 185 non-flying, 6 (attached) air intelligence liaison and 1 (attached) Royal Corps Signalist.
Aircraft: 10 Gladiators and 4 Gauntlets (two Gauntlets had been left at 208 Squadron, Qasaba, being unserviceable and awaiting spares).
At Helwan ('A' Flight):
Officers: 3 pilots and 1 crew.
Airmen: 5 crews and 32 non-flying.
Aircraft: 6 Lysanders and 2 Gladiators (in reserve for 'B' and 'C' Flights).
Attached to 208 Squadron:
Officers: 2 crew.
Airmen: 5 crew and 15 non-flying.
Attached to 6 Squadron:
Airmen: 6 crew and 14 non-flying.
At Hospital:
2 airmen.
At Abu Sueir (on anti-gas course):
2 airmen.
Between 15:30 and 15:45 on 10 December, a formation from the whole 151o Gruppo took off from A3 to escort Ba.65s in the Bir Enba – Sidi Barrani area. The 366a and 367a Squadriglie flew direct cover of the assault aircraft while the 368a Squadriglia acted as top cover.
Pilots from 366a Squadriglia were Capitano Bernardino Serafini, Tenente Guglielmo Chiarini, Sottotenente Amedeo Guidi, Sottotenente Carlo Albertini, Sergente Maggiore Cesare Chiarmetta, Sergente Maggiore Fiorenzo Milella and Sergente Antonio Camerini. Pilots from the 368a Squadriglia were Capitano Bruno Locatelli, Sergente Maggiore Davide Colauzzi, Tenente Orfeo Paroli (aborted due to mechanical problems), Sergente Ottorino Ambrosi, Tenente Giuseppe Zuffi, Sergente Mario Turchi and Sottotenente Furio Lauri together with Maresciallo Giulio Cesare of the 366a Squadriglia. Not all the participating pilots from the 367a Squadriglia are known but included were Capitano Irzio Bozzolan, Sergente Maggiore Rodolfo Benco, Sergente Maggiore Gino Bogoni, Sergente Tolmino Zanarini, (plus possibly other three pilots).
After the attack of the Bredas, the close escort Squadriglie went down to strafe. The 366a Squadriglia did five passes and then it was the turn of the 367a Squadriglia. The weather in the meantime was again deteriorating and was not possible to maintain visual contact between the two covering Squadriglie and the strafing one.
Because of this, the 367a Squadriglia was surprised from astern by a formation of Glosters while intent in strafing. After a short combat the CR.42s were able to disengage, claiming only a probable victory by an unknown pilot but losing Sergente Bogoni's CR.42 and getting Sergente Maggiore Benco's (wounded in the right foot) and Sergente Zanarini's fighters damaged. Capitano Bozzolan had a narrow escape when pursued by two Gladiators that damaged his engine; he was forced to land in the midst of the enemy armoured cars with a stopped engine. Suddenly the Fiat A74 engine restarted and Bozzolan was able to do a touch-an-go, just managing to return to A3.
They had run into Gladiators from 3 RAAF Squadron. Four Gladiators piloted by Squadron Leader McLachlan, Flight Lieutenant Gordon Steege, Flying Officer Alan Gatward and Flying Officer B. L. Bracegirdle had taken off from ALG 74 at 15:40 to carry out an offensive patrol over Tummar. They reported encountering twelve CR.42s that were ground strafing Allied troops near Tummar West. The Gladiators attacked the enemy aircraft and in the ensuing battle, Squadron Leader McLachlan shot one down which he saw strike the ground whilst Flight Lieutenant Steege and Flying Officer Gatward each got a possible. These were later confirmed. All Gladiators returned to base at 17:10. According to some sources Steege and Flying Officer Gatward each claimed 1 and 1 probable CR.42 in this combat, but this can't be verified with 3 RAAF Squadron's Operations Record Book.
While this combat was taking place the other two Italian Squadriglie didn't notice anything but the sand thunderstorm below them.
While coming back, the 368a Squadriglia intercepted a Hurricane that was strafing along the road between Sidi Barrani and Buq-Buq. It was shot at by Locatelli, Zuffi, Colauzzi, Ambrosi and Cesare and although clearly hit was seen to escape and was claimed only as a damaged. It seems possible that this was the Hurricane of 23-year-old Lieutenant Jacobus George Fischer (SAAF no. 202883), an SAAF pilot attached to 33 Squadron, which was lost during an evening reconnaissance of the road west of Sidi Barrani.
During the landing at Amseat, two Hurricanes attacked the Bredas, shooting at them and then retreating at full speed. The assault planes didn't suffer serious damage. They were the three Ba.65s from the 159a Squadriglia flown by Tenente Adriano Visconti, Sergente Maggiore Pietro Scaramucci and Sergente Paolo Perno, which had reached A3 the same morning to operate with the 168a Squadriglia. Visconti was the one attacked by the British fighters but landed safely with his wingmen at 16:45. Back at base, they reported that the attack, done in awful weather conditions was met by heavy AA fire. Visconti used two 50 kilos bombs, seventy 2 kilos bombs, 320 rounds of 12,7 mm and 370 rounds of 7,7 mm ammunition. The identity of their attackers remains unsure but was probably Hurricanes from 33 Squadron.
On 27 January 1941, many pilots of 3 RAAF Squadron were promoted. Squadron Leader McLachlan was promoted to temporary Wing Commander, Flight Lieutenant D. Campbell and Flight Lieutenant P. Jeffrey was promoted to temporary Squadron Leaders while Flying Officers John Perrin and Alan Rawlinson was promoted to temporary Flight Commanders.
On 31 January 1941, Wing Commander McLachlan of 3 RAAF Squadron was awarded the DFC for "determined leadership, zeal and devotion to duty". The same decoration was also awarded to Flying Officer Ernest Mason of 274 Squadron for "Initiative, courage and devotion to duty".
On 13 February, Wing Commander McLachlan was appointed OC RAF Station Benina and Squadron Leader P. Jeffrey was appointed to temporary CO of 3 RAAF Squadron.
McLachlan ended the war with 1 biplane victory, this one being claimed while flying Gloster Gladiators.
Claims:

| | | | | | | | | | |
| --- | --- | --- | --- | --- | --- | --- | --- | --- | --- |
| Kill no. | Date | Time | Number | Type | Result | Plane type | Serial no. | Locality | Unit |
| | 1940 | | | | | | | | |
| 1 | 10/12/40 | 15:40-17:10 | 1 | CR.42 (a) | Destroyed | Gladiator | | near Tummar West | 3 RAAF Squadron |
Biplane victories: 1 destroyed.
TOTAL: 1 destroyed.
(a) Claimed in combat with the 367a Squadriglia, 151o Gruppo, which lost 1 aircraft and got 3 damaged while claiming 1 probable. 3 RAAF Squadron claimed 1 and 2 probables without losses.

Sources:
3 RAAF Squadron Association
Desert Prelude: Early clashes June-November 1940 - Håkan Gustavsson and Ludovico Slongo, 2010 MMP books, ISBN 978-83-89450-52-4
Fighters over the Desert - Christopher Shores and Hans Ring, 1969 Neville Spearman Limited, London
Gloster Gladiator Home Page - Alexander Crawford.
National Archives of Australia
Those Other Eagles – Christopher Shores, 2004 Grub Street, London, ISBN 1-904010-88-1
Additional information kindly provided by Ludovico Slongo.




Last modified 06 February 2011