Biplane fighter aces

The Commonwealth

Squadron Leader Alan Hill Boyd, RAAF no. 561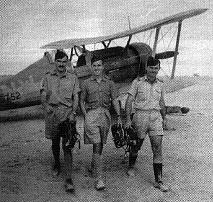 Flying Officer Alan Rawlinson, Flight Lieutenant Blake Pelly and Flying Officer Alan Boyd in front of a 3 RAAF Squadron's Gladiator.
Image kindly via Steve Mazzarelli.
Australian Alan Boyd was born in Quirindi, New South Wales, on 17 March 1916.
He was a regular officer in the RAAF before the war and served with 3 RAAF Squadron.
On 1 May 1940, Air Cadets Boyd, J. H. Davidson, Wilfred Arthur, B Todd, M. D. Ellerton, V. East, C. R. McKenny and F. R. McGrill of 3 RAAF Squadron were granted probationary short service commissions as Pilot Officers as from 3 March 1940.
At this time 3 RAAF Squadron was based at Richmond, Australia.
On 15 July 1940, 3 RAAF Squadron embarked on RMS Orontes at Sydney for service overseas.
At this time the unit consisted of the following flying personnel:
Squadron Leader Ian McLachlan (CO).
"A" Flight:
Flight Lieutenant Gordon Steege (OC), Flying Officer Alan Gatward, Flying Officer Boyd, Pilot Officer Peter Turnbull and Pilot Officer Wilfred Arthur.
"B" Flight:
Pilot Officer Charles Gaden (OC), Pilot Officer L. E. Knowles, Pilot Officer V. East, Flying Officer Alan Rawlinson and Flying Officer B. L. Bracegirdle.
"C" Flight:
Squadron Leader P. R. Heath (OC), Flight Lieutenant Blake Pelly, Pilot Officer J. M. Davidson, Flying Officer John Perrin and Pilot Officer M D. Ellerton.
Totally the squadron had 21 officers and 271 of other ranks on 24 July.
On 7 August RMS Orontes arrived at Bombay and the unit was transhipped the same day to HT Dilwara.
Nine personnel, including Pilot Officer Boyd were transferred from the ship to the British Military Hospital, Bombay, the same day. Boyd and four more of the personnel returned to the ship two days later.
HT Dilwara sailed on 11 August and arrived at Suez on 23 August where the squadron disembarked.
Wilfred Arthur and Boyd were promoted to Flying Officers as off 9 September.
3 RAAF Squadron received a signal from H.Q.M.E. on 16 September advising that it had been decided to re-arm the squadron with two flights of Gladiators and one flight with Lysanders.
In order to carry out this re-arming, the unit was to move from Ismailia to Helwan on 23 September, where the Gladiators were to be taken over from 33 Squadron.
In view of the fact that the propellers and air cleaners had still not been received for the Lysanders, and that stores from overseas were still being received at Ismailia, it was decided that the main portion of the unit would proceed to Helwan on 23 September, whilst the remainder of the unit would remain at Ismailia to complete the erection of six Lysanders and for the sorting of stores. These last remainders moved to Helwan on 9 October.
On 18 September an advance party from 3 RAAF Squadron proceeded to Helwan by road to commence taking over Gladiator aircraft and other equipment from 33 Squadron.
The party consisted of Squadron Leader P. R. Heath, Flight Lieutenant Charles Gaden, Flying Officers John Perrin, Boyd, B. L. Bracegirdle, M. D. Ellerton and Alan Gatward and 14 other ranks.
During 21 to 23 September the advanced party took over four Gladiators from 33 Squadron and the pilots were put on daily stand-by for operational duty, which was defence of Cairo against air attack.
Eleven more personnel followed on to Helwan on 20 September while the rest of the squadron prepared for the move which was made on 23 September.
3 RAAF Squadron's stand-by duty was discontinued on 24 September and the pilots were able to carry out flying training.
An intensive period of training followed and the training was complemented with exercises with 6th division AIF and air fighting tactics with Blenheims from 84 Squadron. The pilots also visited Haskard range for artillery co-operation training on 4 October. This training period continued up until 31 October.
On 2 November 1940, squadron headquarters and ground personnel of 'B' and 'C' Flights of 3 RAAF Squadron moved by road from Helwan to Gerawla. The move started at 08:15 and was completed at 17:15 the next day.
Squadron Leader Ian McLachlan, Flying Officer Alan Gatward, Flying Officer M. D. Ellerton, Flying Officer Boyd, Flight Lieutenant Charles Gaden, Flying Officer B. L. Bracegirdle, Flying Officer Peter Turnbull and Flying Officer Wilfred Arthur moved from Helwan to Gerawla by air on 3 November.
Flight Lieutenant Gordon Steege, Flight Lieutenant Blake Pelly and Flying Officer Alan Rawlinson left their attachments to 208 Squadron and rejoined 3 RAAF Squadron at Gerawla while Flying Officer John Perrin, Flying Officer L. E. Knowles and Flying Officer J. M. Davidson, who also had been attached to 208 Squadron returned to 'A' Flight at Helwan.
15 Air gunner/Wireless operators from 3 RAAF Squadron were attached to 208 Squadron.
After the completion of these movements the disposition of the squadron was that at Gerawla there were: Officers: 13 pilots, 1 crew, 6 non-flying and 2 (attached) air intelligence liaison.
Airmen: 185 non-flying, 6 (attached) air intelligence liaison and 1 (attached) Royal Corps Signalist.
Aircraft: 10 Gladiators and 4 Gauntlets (two Gauntlets had been left at 208 Squadron, Qasaba, being unserviceable and awaiting spares).
At Helwan ('A' Flight):
Officers: 3 pilots and 1 crew.
Airmen: 5 crews and 32 non-flying.
Aircraft: 6 Lysanders and 2 Gladiators (in reserve for 'B' and 'C' Flights).
Attached to 208 Squadron:
Officers: 2 crew.
Airmen: 5 crew and 15 non-flying.
Attached to 6 Squadron:
Airmen: 6 crew and 14 non-flying.
At Hospital:
2 airmen.
At Abu Sueir (on anti-gas course):
2 airmen.
After the capture of Sidi Barrani on 16 September, the Italian Army formed a defensive line composed of big outposts separated by wide desert areas. From north to south there were the 1a Divisione Libica (1st Libyan infantry division) at Maktila, near the sea east of Sidi Barrani and the 4a Divisione Camice Nere (4th Black shirts Division) at Sidi Barrani. South of these were the 2a Divisione Libica (2nd Libyan infantry division) in three strong points called Alam El Tummar East, Alam El Tummar West and Point 90 (also called Ras El Dai). South of this was the motorised "Maletti Group" in the entrenched camp of Nibeiwa (strong points: Alam Nibeiwa and Alam El Iktufa). Then there were a gap of around thirty kilometres (called the Bir Enba gap) and at the extreme south of the Italian front the 63a Divisione di Fanteria (Italian Infantry division) "Cirene" in four strong points around the rocky hill of Bir Sofafi; Alam El Rabia, the crossroads at height 236, the crossroads at Qabe el Mahdi and Height 226 at Bir Sofafi.
This deployment was clearly lacking, in particular, the worst error seemed the wide gap between "Maletti" and "Cirene" a distance that allowed for encirclement of the forces south of Sidi Barrani and north of Bir Sofafi.
On 19 November, General O'Connor ordered a fully motorised support group to enter the gap and stay there as to mark the British supremacy over the important area (in fact he had already planned to use this zone to pass through his troops and attack Nibeiwa). Reconnaissance units of the "Maletti" Group signalled the dangerous presence of British armoured cars and a combined action was planned for the day after.
During the early morning, a formation of 17 fighters of the 151o Gruppo escorted a formation of Bredas attacking enemy troops in the Bir Enba area and a Ro.37bis reconnoitring in the same general area. The mission was uneventful and the 366a Squadriglia went down after the Bredas to strafe enemy vehicles.
Then an armoured column of the "Maletti" Group (420 troopers and 27 officers on 37 trucks with a strong of artillery of six anti-tank and six medium calibre guns and twenty seven M11/39 medium tanks) left Nibeiwa and a column of the 2a Divisione Libica (256 troopers and 17 officers on 29 trucks with four anti-tank and eight medium calibre guns) left Tummar. They had to rendezvous and then explore the Bir Enba gap. British forces opposing them are not known but Italian Intelligence estimated an armoured group of 60 to 70 tanks and armoured cars (the Italian Intelligence generally overestimated the actual force of the Commonwealth troops by a factor of between two to ten).
At 12:40, the "Maletti" group was attacked by the British forces and forced to do battle. Around half an hour later at 13:00 the 2a Libyan's contingent arrived and together they forced the British forces to retreat. While they were coming back to base, the British returned and attacked again, starting a dangerous rearguard action.
At 13:00, 18 CR.42s from the 13o Gruppo were ordered off from Gambut G to patrol the Bir Enba area. After take-off a first group of 12 aircraft led by the newly promoted Tenente Colonnello Secondo Revetria stayed at 3000 meters while a second group of led by Tenente Guglielmo Chiarini covered them 2000 meters higher. Revetria's formation included pilots from the 77a (Capitano Domenico Bevilacqua, Tenente Eduardo Sorvillo, Sottotenente Mario Nicoloso, Sergente Enrico Botti, Sergente Vincenzo Campolo and an unrecorded pilot), 78a (Sottotenente Natale Cima, Sergente Maggiore Salvatore Mechelli, Sergente Cassio Poggi and Sergente Teresio Martinoli) and 82a (Sottotenente Virgilio Vanzan) Squadriglie.
When they arrived over Bir Enba, Revetria made a first pass to better spot targets and observed an artillery duel between Italian guns and British tanks. Immediately the British vehicles, that were encircling the right flank of the Italian troops, stopped to fire and dispersed. Revetria and his eleven pilots attacked in single file causing a lot of damage among the enemies. After the strafing attack, the twelve 13o Gruppo pilots returned undamaged to base where they landed 14:50 after having spent 2200 rounds of 12,7 and 7,7 calibre ammunitions.
In the meantime, Chiarini's formation was down to 4000 meters when they spotted a formation of a reported eight Gladiators that looked as they were trying to attack Revetria's formation. Chiarini immediately attacked with height advantage and surprised the Gladiator. The first pass only managed to break the Gladiator formation without causing losses and then a long dogfight started (Chiarini recorded that it lasted for 25 minutes) after which six British Gladiators were claimed shot down in flames, all shared by the six pilots of the Italian formation; Tenente Chiarini, Sottotenente Gilberto Cerofolini, Sottotenente Giuseppe Bottà, Sottotenente Giuseppe Timolina, Sergente Nino Campanini and Sergente Francesco Nanin. A seventh Gladiator was claimed as seriously damaged and was last seen flying low towards Matruh smoking and without taking evasive actions being claimed as a shared probable and the last Gladiator was also claimed as a shared probable. It was reported that all the victories were confirmed by the Libyan land forces (Chiarini also reported that the wreck of one of the Gladiators was noted on the ground by his pilots). The six Italian fighters came back almost without fuel left, they had used 1595 rounds 12,7 calibre and 2330 round 7,7 calibre ammunitions. Only four of them were slightly damaged. The heaviest damage was suffered by Timolina's aircraft, which landed at an advanced airbase (probably Sollum) and was flown back to base the day after. His aircraft was still not operational at the beginning of Operation "Compass" much more because of the inadequacy of the Italian repair organisation than because of the damage actually suffered.
It seems that the "eight Gladiators" were in fact a formation of four Gladiators from 3 RAAF Squadron. Flight Lieutenant Blake Pelly (N5753), had been ordered to undertake a reconnaissance over enemy positions in the Sofafi-Rabia-Bir Enba areas. Squadron Leader Peter Ronald Heath (N5750), and Flying Officers Alan Rawlinson (L9044) and Boyd (N5752) provided his escort. The aircraft took off from Gerawla at 13:40. Flying at about 5,500 feet and with Pelly some 200 yards in front the escort, they headed for their objective. After about half an hour and about seven miles east of Rabia, 18 CR.42s were spotted below strafing British troops. In accordance to orders, the reconnaissance flight turned around and headed for home. They had barely turned around when they were attacked by the CR.42s. Pelly out in the lead found himself at the centre of attention from nine Fiats. His escort were likewise engaged with a similar number.
Boyd found himself being attacked from astern by three aircraft. By twisting and diving he found himself behind one of them and fired off a long burst into the cockpit area. The Fiat rolled over and dived towards the ground. Pulling up into a tight turn he was able to bring his sights to bear on another enemy fighter. Coming in for a quarter attack, the Fiat fell into an uncontrollable spin with thick black smoke pouring from the engine. With barely a pause Boyd pulled round and went after a third fighter, which was attacking one of the Gladiators. After hitting it with a short burst it fell away. As he was watching it fall away he was attacked from behind by yet another Fiat. Hauling hard back on the stick, he went straight up, with the engine on full power. This caused the enemy fighter to overshoot him. Rolling over, Boyd came down and fired directly into the engine and cockpit area, the Fiat then spun down towards the ground. Looking round, he saw another fighter and set off in pursuit. The Italian saw him and pulled up into a climb, Boyd followed but his engine stalled and he entered a spin, only pulling out when he was within 30 feet of the ground. As he pulled out he was attacked by yet another Fiat. To complicate matters further Boyd's guns had jammed and he struggled with the mechanisms trying desperately to free them, all the while being pursued a few feet off the ground by an enemy fighter. At last he freed up the two fuselage guns and in a desperate measure he yanked back the stick and went up into a loop. Coming over the top, he saw the Fiat below him and at a range of less than 30 yards he let fly with his remaining guns. The cockpit of the Fiat erupted with bullet strikes and it fell away to the Desert floor.
With no more enemy aircraft in the vicinity, Boyd took stock of his situation. He had very little ammo left and only two working guns. In the distance, he saw one aircraft being pursued by two more. Turning in their direction he gained some altitude and closed in. He soon recognised Pelly's Gladiator coming under attack from two Fiats. He immediately attack one which was firing on Pelly, who was about to land with a faltering engine, this aircraft rolled over and dived towards the ground which was only 30 feet away. It seems unlikely that it could have pulled out. Pelly's engine had picked up again and he started to climb away from the area. The remaining Fiat turned on Boyd, whose guns had jammed again, and chased him at low level for about a mile before giving up and turning away. Boyd rejoined Pelly and both pilots made their way home. Along the way Pelly had to land at Minqar Qaim at 14:45 when his engine gave out. It was discovered that his oil tank had been hit and all the oil had drained out (the aircraft was flown back to Gerawla the next day). Boyd continued on his own back to base where he landed at 14:50.
During this combat was 26-year-old Squadron Leader Heath (RAAF no. 87) shot down in flames and killed. He was later buried beside his aircraft.
Boyd was credited with three CR.42s shot down and one probable, Pelly claimed one shot down and one damaged, while Rawlinson claimed a damaged.
Of the dogfight, Pelly wrote:
"While proceeding on reconnaissance to Sofafi area in company with an escort of 3 other Gladiators, I encountered two formations of CR42 aircraft, consisting of eight and nine respectively.
The formation of eight attacked my escort and the other formation cut me off and drove me southwards. The interception occurred at 1400 when I was 7 miles east of Rabia, and my escort were two miles NE of me. I was at 4,000 feet and my escort at 5,000 feet.
I could not get back to my escort, and the repeated attacks of the nine CR42s forced me southwards, and I worked eastwards.
Shortly after the commencement of the battle I found myself meeting one EA head on at 50 feet. We both opened fire and he dived under me and crashed into the ground.
About five EA must have broken off, but at least 3 pursued me and attacked determinedly until 1425 when I worked northwards and rejoined on of my escort (F/O A H Boyd). These three then broke off.
During the battle at approximately 1405 I turned at two EA who were attacking me from rear and got in one good burst. This aircraft issued black smoke, which increased in intensity until he finally broke away. I saw him flying away in a cloud of black smoke."
After the war, Pelly also added that he was also shot at by his own escort during this hectic 25 minute battle. He also recalls being picked up by a Lysander and flown back to base.
This was 3 RAAF Squadron's first combat.
At 13:35, three Gladiators from 3 RAAF Squadron took off from Gerawla for another tactical reconnaissance. The mission was flown by Flight Lieutenant Gordon Steege (N5780), Flying Officer East (N5765) and Flying Officer Alan Gatward (N5766) and intended to cover the Bir Dignaish area. At about 14:10 the three Gladiators encountered Flying Officer Alan Rawlinson returning to base. The reconnaissance was then abandoned and the four Gladiators returned to base in company and landed at 14:40.


At 11:10 on 12 December, a mixed formation from the 4o Stormo took off for a free sweep in the Ogerin Bir El Kreighat area. After the sweep, they were to ground strafe targets of opportunity. Participating pilots from the 91a Squadriglia were Maggiore Carlo Romagnoli (CO 10o Gruppo), Capitano Vincenzo Vanni, Sottotenente Andrea Dalla Pasqua, Sergente Maggiore Leonardo Ferrulli, Sergente Maggiore Natale Fiorito and Sergente Maggiore Giovanni Casero. From 84a Squadriglia came Capitano Luigi Monti, Sottotenente Paolo Berti, Sottotenente Luigi Prati, Sottotenente Bruno Devoto, Sergente Roberto Steppi and Sergente Onorino Crestani.
Sergente Giovanni Battista Ceoletta of the 90a Squadriglia was part of a formation taking off at 11:40 while his squadriglia mates Sergente Maggiore Angelo Savini and Sergente Alfredo Sclavo suffered accidents on take off, which prevented them to take part (and probably wrote off the plane of Sclavo). Tenente Aldo Gon and Sergente Gustavo Minelli from the 96a Squadriglia, 9o Gruppo also took part in this action.
Bad weather prevented the discovery of ground targets, so Romagnoli led his fighters to the Bir Enba area where a formation of Gladiators surprised the 84a Squadriglia formation. A long dogfight started after which the CR.42 of Onorino Crestani was missing and the remaining pilots claimed two victories. Crestani was taken prisoner.
According to the squadriglia diaries, the two confirmed victories were shared among the 91a Squadriglia pilots plus Ceoletta (who used 120 rounds of ammunition during the combat) and the pilots from the 9o Gruppo. Gon and Minelli in fact only claimed a shared probable in a combat against a reportedly six Gladiators, while the 10o Gruppo's Diary downgraded the victories to two probables. Monti, Prati and Steppi were credited with a damaged each while Ceoletta also claimed two damaged Gladiators (according to some Italian historians one Gladiator was shared between Monti, Prati and Steppi and the second shared between Gon and Minelli, while one or two other Gladiators were considered probably shot down but there is however no trace of such claims in the official diaries).
They had run into five Gladiators from 3 RAAF Squadron, which had taken off from ALG 74 at 11:25 to carry out an offensive patrol around Sofafi. The patrol intercepted a reported 16 to 18 CR.42 six miles north-west of Sofafi. During the ensuing combat three of the Italian fighters were claimed shot down, one apiece being credited to Flying Officers Boyd, Wilfred Arthur and Alan Gatward, without loss. The Gladiators returned to base at 13:05.

On an early morning patrol on 13 December, six Gladiators (Flight Lieutenant Gordon Steege, Flight Lieutenant Charles Gaden, Flying Officers Lex D. Winten, Flying Officer Boyd, Flying Officer Wilfred Arthur and Flying Officer Alan Gatward) from the Advanced Detached Flight of 3 RAAF Squadron took off at 08:00 to fly an offensive fighter patrol over Sollum – Fort Capuzzo – Halfaya area. They came across five SM 79s bombing troops at Sollum escorted by a reported eight CR.42s. Diving in to attack Flight Lieutenant Steege shot down one of the bombers and claimed a second as a probable. Before the Gladiators could reform for a second attack, the escorting CR.42s intervened. Flight Lieutenant Gaden (Gladiator N5765) was killed when his aircraft was shot down and crashed into the desert. It was believed that Gaden was shot down by rear gunners of the SM 79s. Flying Officer Winten was hit in the right hand by an explosive bullet and baled out. Flying Officer Boyd claimed two CR.42s before his aircraft had its port flying wire shot away causing him to force land. Flying Officer Gatward was also forced down. Flying Officer Arthur's Gladiator (N5752) was shot to pieces and he decided to bale out. As he clambered out of the cockpit, he became entangled in his oxygen tube. He managed to break free only to be caught up in the interplane bracing wires. Unable to free himself he waited for the inevitable, when at about 1,000 feet he was thrown clear and parachuted to the ground. Later back in the mess he produced from his pocket the ripcord of his parachute, which meant that he did not have to buy drinks all round. Flight Lieutenant Steege was separated from the remainder of the flight, ran out of ammunition and returned to base at 10:30.
The Italians seems to have consisted of five SM 79s from the 60a Squadriglia, 33o Gruppo Autonomo BT, which had taken off from Z1 at 07:30. The formation was led by Tenente Colonnello Ferri Forte, who flew as second pilot in Capitano Loris Bulgarelli's (CO of the 60a Squadriglia) SM 79 and they had been briefed to attack British troop concentrations in a desert area south of Sollum. The pilot of another bomber was Tenente Pastorelli and among his crew of five was Aviere Scelto Armiere Guido Reggiani. The bombers were escorted by ten CR.42s from the 9o Gruppo. The SM 79s were the first bombing effort of the day by the 5a Squadra and attacked a group of 30 British vehicles along the road Sollum-Buq-Buq at 08:45 and immediately after this, another group of 60 armoured vehicles south-east of Halfaya. The escort was led by Capitano Antonio Larsimont Pergameni (temporary CO of the 9o Gruppo since 10 December) and included the 73a Squadriglia (Tenente Valerio De Campo, Tenente Pietro Bonfatti, Tenente Giuseppe Oblach, Sottotenente Giulio Reiner, Sergente Maggiore Sergio Stauble and Sergente Enrico Dallari) and the 97a Squadriglia (Capitano Ezio Viglione Borghese, Sergente Franco Sarasino and Sergente Maggiore Otello Perotti). After 45 minutes of flight, between Sidi Omar and Sollum, they spotted a formation of Gladiators that soon attacked the SM 79s. Aviere Scelto Armiere Reggiani recorded that after the bombing the formation was attacked by a group of ten Gloster Gladiators. The gunners of the Savoias claimed the shooting down of two of them before they were dispersed by a squadriglia of the 4o Stormo's fighters. Capitano Larsimont chased the leader but, while shooting at him from a short distance, he collided with a British wingman that was trying to avoid his bursts. In the collision, the Gladiator lost its wings and fell. Larsimont, whose aircraft was badly damaged in the fuselage and rudders, made an emergency landing on the Menastir M airfield; unfortunately the airstrip was already abandoned by the Italians due to the proximity of the British infantry so Larsimont had to abandon his damaged plane, which became a total loss. It seems possible that Larsimont's victim (the Gladiator surprised while chasing the Savoias and observed to fall minus its wings) was Flying Officer Arthur who later recalled:
"(...) I was chasing some Italian bombers, Savoia-Marchettis I think they were. They were quite a lot faster than our aircraft were which meant you only chance of really catching them was to cut the corner if they were foolish enough to turn very much. In...also, if you're chasing somebody like that you're concentrating very much on that and you are a sitting duck for somebody else. And, in fact, that's what happened to me. Chasing these Savoias I suddenly realised I was being attacked by an Italian aircraft which almost immediately ... a shell went into the top mainplane – do you know what I mean by the top mainplane where it was a biplane - the top main plane tore straight away and swung back towards the tail and the bottom main plane sort of followed it but a bit behind and I had no control at all, just completely loose control column. So I got out quickly (...)
Arthur remembered that the whole affair lasted a short time:
"Probably only fifty seconds or seventy or something like that. I got out of the cockpit quite quickly but by that time the thing was nearly vertically downwards and I got stuck underneath one of the main planes that had folded back against the fuselage and I couldn't get out of that. I was kicking and trying to get myself free when I was very close to the ground and finally did get free but hit the ground very hard because...well, because I hadn't had enough time to slow up, I suppose (...)".
Wilfred Arthur hit the ground facing the wrong way and got dragged for quite a while with the parachute because there was heavy wind. After collapsing the parachute and freeing himself again, he was circled by two Italian aircraft, which he thought would shoot at him but in fact they didn't. After the two Italian left the area, he started walking and after only a couple of hours was found and picked up by a long-range desert patrol.
Viglione fired at several Glosters and claimed one of them (the British pilot was seen parachuting by Bonfatti) while Perotti claimed another in a head-to-head attack (not verified with the Squadriglia diaries). Sarasino claimed damage to several Gladiators. Meanwhile, another formation of Gladiators jumped the 73a Squadriglia from above but these had been alerted and could react properly and a long and harsh dogfight began. Bonfatti, Oblach and Stauble claimed one each, while De Campo, Reiner and Dallari claimed one probable each. Several other Glosters were claimed damaged. Reiner's, Bonfatti's and Oblach's aircraft were slightly damaged in combat but returned to base safely.
The 60a Squadriglia suffered no losses but Capitano Bulgarelli was hit in the head and killed by a burst of fire from one of the Gladiators. The same burst of fire also wounded Tenente Colonnello Forte. The dead Bulgarelli fell over the controls and only after the help of Tenente Pier Luigi Meroni, who managed to rise Bulgarelli body, thus keeping it clear from the controls, was Ferri Forte able to nurse back the damaged Savoia. Meroni remained all the time in front of the broken skull of Bulgarelli with blood and pieces of brain close to his face. (After the war, Meroni became a pilot in civil aviation and was the pilot of the plane in which the then famous football team of Turin (winner of many Italian championships) crashed against the hill of Superga on 4 May 1949; the greatest tragedy in the history of Italian sport). Bulgarelli was a highly regarded leader and during the last days was always at the head of the 33o formations attacking the advancing British troops. He was awarded a posthumous Medaglia d'Oro al valor militare for bravery in this and previous actions. During the landing, back at base Bulgarelli's SM 79 and another one suffered additional damage and were classified RD.
Boyd's force-landed Gladiator was possible to repair on site and he returned to Gerawla at 11:10 with Gatward sitting on his knee.
Out of the six Gladiators that took part in the combat, four were lost and the remaining two were damaged but repairable in the unit.
Flight Lieutenant Gaden was found dead in the cockpit of his Gladiator by the 7th Hussars while they were on the march. He was buried by Lieutenant J. Napier.
It was one of the hardest day of the war for the Australians and Flight Lieutenant Peter Jeffrey, then the Signals Officer of the unit but later to became its CO remembered it this way:
"(…) we had a very bad day on 13th December, it was over Salum (…) we had an extraordinary bad day – ran into a very big lot of CR42s and Flight Lieutenant Gaiden [Gaden] was killed but Arthur, "Wilf" Arthur was shot down (…). Lex Witton [Winten] had an explosive round in one hand and he bailed out. Gatwood [Gatward] and Boyd both crash-landed. So we had five, and that was a really very bad day for the Squadron (…) It was a very traumatic sort of experience but the Squadron was very resilient and picked up very quickly and the people who'd – apart from Witton who was a casualty because of his hand - the others were back flying again next day or in a few days' time. To a certain extent, you know, you expected these things but that was just a bit bigger than we normally expected. And seeing as we'd had so much success prior with virtually no casualties it hit us a bit hard for a start. But it was only a few days later on the 26th when we got our revenge back (…)".
In the meantime Larsimont, finding Menastir deserted, reached the nearby Balbia road and while waiting for a passing truck to stop, was shot at by a low flying Hurricane and had a narrow escape. After the collision, he was presumed dead by his pilots and so on the evening a message of condolences arrived from the HQ in Rome. In fact, he rejoined his unit the same day and at 15:05 was again at the head of his men.
It seems that another Italian fighter took part in this mission since Sottotenente Giuseppe Bottà of the 82a Squadriglia, 13o Gruppo, who was out on a "solo" reconnaissance over the front, discovered four Gladiators. These were attacking a patrol of SM 79s and he claimed to have forced the British fighter to disengage from the bombers with his intervention.

On 22 January 1941, 3 RAAF Squadron commenced the first step for the reequipping with Hurricanes.
Flying Officers Alan Gatward, Jackson and Saunders departed for Amiriya to join Flight Lieutenant Gordon Steege and Flying Officers John Perrin and Boyd for the collection of the first flight of Hurricanes.

In the end of January 1941 the 'A' Flight was withdrawn to Ismailia for conversion to Hurricanes.

Around midday on 19 February, three 3 RAAF Squadron Hurricanes flown by Flying Officer Alan Gatward (Hurricane I V7314), Flight Lieutenant John Perrin (Hurricane I V7757) and Flying Officer Boyd set out for Agedabia, from where they were tasked to carry out an offensive patrol. They encountered a number of Ju 87s from II./StG 2 dive-bombing the village.
Perrin looked around for escorting enemy fighters before attacking together with Gatward, leaving Boyd as cover above. Perrin shot down Ju 87R-1 WNr. 5455 of 5./StG 2 flown by Unteroffizier Kurt Stuber and Unteroffizier Walter Neutwig (gunner). The Ju 87 crash-landed near Nofilia with both members of the crew wounded..
At this time four Bf 110s from 8./ZG 26, which had escorted the Ju 87s attacked the Australian Hurricanes. Unteroffizier Max Hohmann (who claimed a Hurricane at 1,000 ft over El Brega at 11:41) and the Staffelkapitän Oberleutnant Richard Prang probably (who claimed a Hurricane at 1,000 ft over El Brega at 11:48) both attacked Gatward and shot him down.
Gatward was last seen by Perrin in flames and crashing into the seashore. Feldwebel Richard Heller (who claimed a Hurricane at 66 ft over El Brega at 11:48) and Leutnant Alfred Wehmeyer (who claimed a Hurricane at 66 ft over El Brega at 11:42) then probably attacked and shot down Perrin. Perrin however managed to turn around a shot down a Bf 110 before force-landing his burning aircraft. This was Leutnant Wehmeyer's Messerschmitt (WNr. 3886), which he managed to ditch into the sea. Wehmeyer and his wounded gunner, Obergefreiter Wilhelm Wüst got into their dinghy and was picked up 24 hours later by an Axis rescue craft.
These claims were Luftwaffe's first in North Africa!
Flying Officer John Jackson from 3 RAAF Squadron recorded:
"Jock Perrin, Gaty and Boyd had gone ahead earlier and did a patrol down to Agheila. We were just waiting for them to return before taking off, when we heard bombs being dropped to the south, so we hopped into the air and made south. Passed several villages that had just been bombed and came cross Boyd returning on his own, so realised something was wrong. He went back to Agedabia and we flew on a saw an aircraft in flames. We flew low and found it to be a Hurricane burning furiously, much to our sorrow. However, Jeffrey spotted Jock Perrin nearby, waving.
We finished the patrol and got back to Agedabia and found out from Boyd that they had spotted a number of Ju 87s dive-bombing the village just near where we saw them yesterday and, before attacking, Jock had a good look around but could see no other aircraft, so he and Gaty dived to attack - Boyd held back. Jock got a Ju 87 and looked around to see three Messerschmitts on his tail. One came up from under him and set his gravity tank on fire. Anyway he turned and managed to shoot down an Me 110 and then had to force-land with his plane on fire, and luckily got out unhurt. Poor old Gaty was last seen by Boyd in flames, crashing onto the seashore, and evidently he went into the sea as no further trace of him has since been seen. The Me 110s were evidently sitting up above the dive-bombers – we were fortunate yesterday, as they either were not above the Ju 87s or did not see us. The Me 110 is much faster than a Hurricane, accordingly to Boyd, and he reckons he held back because he could see it was just murder. I think he should have shared the fight."
Perrin was wounded in one eye and severely burned. He was picked up by a patrol car and taken to Benina were he related to his colleagues that as he staggered from his burning aircraft following the crash-landing he was repeatedly machine-gunned by the Messerschmitts, which dived on him as, half blinded by oil and blood, he made a desperate dash for shelter of a tree:
"It was the fastest 100 yards I have ever run and, when I barged into that tree in my haste, I saw stars by the thousands."
He was sent to hospital in Tobruk. On the night of his arrival, Tobruk was raided and a bomb exploded close to the hospital, with the result that he ended up on the floor with a window frame draped around his neck. Shortly after this all the hospital patients in Tobruk was evacuated to Alexandria aboard the hospital ship RAMB 111, but Ju 87s sank this en route. He fortunately was lucky to survive.

He was rested in the end of 1941 and returned to Australia. Later Boyd flew Kittyhawks over New Guinea as a flight commander with 75 RAAF Squadron. He subsequently served with 76 and 84 RAAF Squadron, and then commanded 101 and 110 Fighter Control Units during 1944. At the end of the war he was leading 67 RAAF Squadron, a reconnaissance and anti-submarine patrol unit.

Boyd ended the war as a "real" biplane fighter ace with 6 victories flying the Gloster Gladiator. These 6 victories were claimed over a period of six weeks.

It is believed that Boyd is still living in Western Australia.

Claims:

| | | | | | | | | | |
| --- | --- | --- | --- | --- | --- | --- | --- | --- | --- |
| Kill no. | Date | Time | Number | Type | Result | Plane type | Serial no. | Locality | Unit |
| | 1940 | | | | | | | | |
| 1 | 19/11/40 | | 1 | CR.42 (a) | Destroyed | Gladiator II | N5752/NW-G | E Rabia | 3 RAAF Squadron |
| 2 | 19/11/40 | | 1 | CR.42 (a) | Destroyed | Gladiator II | N5752/NW-G | E Rabia | 3 RAAF Squadron |
| 3 | 19/11/40 | | 1 | CR.42 (a) | Destroyed | Gladiator II | N5752/NW-G | E Rabia | 3 RAAF Squadron |
| | 19/11/40 | | 1 | CR.42 (a) | Probable | Gladiator II | N5752/NW-G | E Rabia | 3 RAAF Squadron |
| 4 | 12/12/40 | 11:25-13:05 | 1 | CR.42 (b) | Destroyed | Gladiator II | N5752/NW-G (c) | 6m NW Sofafi | 3 RAAF Squadron |
| 5 | 13/12/40 | 08:00-11:10 | 1 | CR.42 (d) | Destroyed | Gladiator II | N5782 (e) | Sollum | 3 RAAF Squadron |
| 6 | 13/12/40 | 08:00-11:10 | 1 | CR.42 (d) | Destroyed | Gladiator II | N5782 (e) | Sollum | 3 RAAF Squadron |
| | 26/12/40 | | 1 | CR.42 | Probable | Gladiator II | | off Bardia | 3 RAAF Squadron |
| | 26/12/40 | | 1 | CR.42 | Damaged | Gladiator II | | off Bardia | 3 RAAF Squadron |
| | 1942 | | | | | | | | |
| | 18/04/42 | | 1 | Zero | Damaged | Kittyhawk Ia | A29-47 | 40m NE Seven Mile airfield | 75 RAAF Squadron |
| | 21/04/42 | | ½ | Zero | Shared destroyed | Kittyhawk Ia | A29-47 | SE Seven Mile airfield | 75 RAAF Squadron |
| | 21/04/42 | | 1 | Zero | Damaged | Kittyhawk Ia | A29-47 | SE Seven Mile airfield | 75 RAAF Squadron |
Biplane victories: 6 destroyed, 2 probable and 1 damaged.
TOTAL: 6 and 1 shared destroyed, 2 or 3 probables and 3 damaged.
(a) Claimed in combat with the 82a Squadriglia, 13o Gruppo, which claimed six shared Gladiators and one damaged while suffering four lightly damaged fighters. 3 RAAF Squadron claimed four CR.42s, one probable and two damaged while losing one Gladiator and getting one damaged.
(b) Claimed in combat with CR.42s from the 4o Stormo, which claimed 2 probables while losing one CR.42 (Sergente Crestani PoW). 3 RAAF Squadron claimed 3 CR.42s without suffering losses.
(c) Both Alan Boyd and Wilfred Arthur are stated to have flown N5752 in this combat!
(d) Claimed in combat with CR.42s from the 9o Gruppo and S.79s from the 60a Squadriglia. The fighters claimed six Gladiators and three probables for four Fiats damaged (one of them were lost). The bombers claimed two Gladiators without losses (the CO was however killed). 3 RAAF Squadron claimed one S.79 and one probable and two CR.42s for the loss of four Gladiators destroyed and one force-landed.
(e) Both Gordon Steege and Boyd are reported to have flown N5782 in this combat. It seems that one of the pilots however flew N5764 which returned so damaged that it was Struck off Charge on 16 December.

Sources:
Aces High - Christopher Shores and Clive Williams, 1994 Grub Street, London, ISBN 1-898697-00-0
Aces High Volume 2 - Christopher Shores, 1999, Grub Street, London, ISBN 1-902304-03-9
A History of the Mediterranean Air War 1940-1945: Volume One – Christopher Shores and Giovanni Massimello with Russell Guest, 2012 Grub Street, London, ISBN 978-1908117076
Desert Prelude: Early clashes June-November 1940 - Håkan Gustavsson and Ludovico Slongo, 2010 MMP books, ISBN 978-83-89450-52-4
Desert Prelude: Operation Compass - Håkan Gustavsson and Ludovico Slongo, 2011 MMP books, ISBN 978-83-61421-18-4
Diario Storico 77a Squadriglia kindly provided by Ludovico Slongo
Diario Storico 78a Squadriglia kindly provided by Ludovico Slongo
Diario Storico 82a Squadriglia kindly provided by Ludovico Slongo
Fiat CR.42 Aces of World War 2 - Håkan Gustavsson and Ludovico Slongo, 2009 Osprey Publishing, Oxford, ISBN 978-1-84603-427-5
Fighters over the Desert - Christopher Shores and Hans Ring, 1969 Neville Spearman Limited, London
Gloster Gladiator Home Page - Alexander Crawford.
Hurricanes over Tobruk - Brian Cull with Don Minterne, 1999 Grub Street, London, ISBN 1-902304-11-X
Italian Aces of World War 2 - Giovanni Massimello and Giorgio Apostolo, 2000 Osprey Publishing, Oxford, ISBN 1-84176-078-1
National Archives of Australia
Quelli del Cavallino Rampante - Antonio Duma, 1981 Editore Dell'Ateneo, Roma, kindly provided by Stefano Lazzaro
The Commonwealth War Graves Commission
Additional information kindly provided by Gordon Clarke, Russell Guest, Stefano Lazzaro and Ludovico Slongo.




Last modified 12 August 2014