Biplane fighter aces

The Commonwealth

Squadron Leader John Lawrence Waters AFC, RAF no. 39262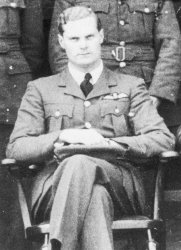 John Waters joined the RAF pre-war, and in early 1940 was a staff pilot with 3 AACU on Malta, as a Flying Officer.
5 to 13 March, he undertook a week's fighter training aboard HMS Glorious with 802 Squadron. During this period, he flew N5533, N5520, N5521, N5527, N5525, N5530 and N5521.
He then joined the Hal Far Fighter Flight on the Italian entry into the war.
He was involved in several of the early interceptions over the island, initially flying one of the original Sea Gladiators, and then Hurricanes.
Shortly before midday on 11 June 1940 a lone S.79 was sent out by the 34o Stormo to reconnoitre the result of the war's first raid on Malta. Gladiators were scrambled and this time two went up to intercept. Flying Officer Waters in N5520 got within range and opened fire. He believed that he had shot down the Italian machine, but in fact, it was merely driven away, making for Sicily without being able to complete its mission.
During the day Waters flew another three sorties in Gladiators, two more in N5520 and one in N5519.
On 13 June, Italian bombers appeared singly over Malta. One S.79 of 60a Squadriglia, 33o Gruppo, 11o Stormo BT was engaged by a number of Gladiators, but escaped. This appears to have been the aircraft attacked by Waters again in N5520. He again believed that he had shot down his quarry, which was not the case.
On 17 June, Flying Officer Waters (in N5519) attacked a formation of five S.79s from astern above Grand Harbour. One of the bombers detached itself from the rest of the formation and started to straggle some way behind the others. Taking advantage of the situation, Waters attacked. The straggler lost height and then flew beneath the other four bombers. Waters stuck to its tail and followed him down, whereupon the bombers above opened fire with their downward-firing, movable guns. The Gladiator was fortunate to escape with only superficial damage.
He claimed the first ever victory with a Hurricane over Malta on 3 July when he was flying one of the new Hurricanes (P2614) and attacked a pair of bombers in the morning. These were from the 259a Squadriglia, 109o Gruppo, 36o Stormo B.T., which unit had just arrived in Sicily. The fire from the Hurricane's eight guns proved devastating and the bomber fell into the sea five miles from Kalafran, breaking up as it went. Tenente Mario Squario's crew of five baled out, but none were ever found. As he returned to land, he was set upon by the escorting CR.42s of 9o Gruppo and his aircraft was badly shot up. As a result he crashed on landing and the aircraft was written off, although he survived unhurt. The Gruppo commander Maggiore Ernesto Botto was personally credited with the victory (initially this claim was recorded as a 'Spitfire'). This was the first Italian fighter victory over Malta.
He was incorporated into 261 Squadron on its formation in August 1940.
At about 12:20 on 2 November, Italian aircraft were reported high to the north of Malta. This was 20 S.79s of the 34o Stormo under a fairly strong fighter escort. Eleven MC.200s from the 71a and 72a Squadriglie led by Maggiore Bruno Brambilla (top cover), and five CR.42s of the 80a Squadriglia led by Capitano Luigi Corsini (close escort) undertook the mission, these squadriglie forming the 17o Gruppo of the 1o Stormo C.T. They reported being involved in a big dogfight with five Hurricanes, Maresciallo Leonida Carozzo claiming one shot down while Sergente Abramo Lanzarini of the 72a Squadriglia was killed when his MC.200 crashed on the island at Zeitun.
261 Squadron had in fact scrambled six Hurricanes of 'B' Flight led by Flying Officer Waters (Hurricane P3730) and two Gladiators including N5520 in the capable hands of George Burges. It is possible that Sergente Lanzarini was shot down by Pilot Officer Allan McAdam, who claimed a Macchi shot down, while Burges attacked a formation which he identified as compromising eight CR.42s. He thought he had shot one of these down but did not see it crash. He also claimed a second damaged. A second MC.200 was claimed probably destroyed by an unknown pilot from 261 Squadron. It is possible that Waters claimed a MC.200 in this combat since it's known that he made a claim around this date and this combat is the one that most fits this claim. Thus the second claim should be a 'confirmed'. AA gunners believed they had shot down a bomber.
Bombs fell on Luqa, where an empty hangar received a direct hit, and on Zabbar where four houses were demolished, fortunately without inflicting any casualties.
After the attack a reconnaissance part of from the 2nd Battalion The Devonshire Regiment was dispatched to the crash site of the Italian aircraft at Buleben il-Kbir between Zeitun and Fgura, arriving to find "the whole village...out in the streets". The unit's War Diary also noted that Lanzarini "was quite dead and the Italian equipment was very poor indeed". Lanzarini had baled out of his stricken aircraft only to plummet to his death when the parachute failed to deploy.
He became 'B' Flight commander of 261 Squadron in early December, but handed over to Flight Lieutenant J. A. F. MacLachlan in January 1941, and on 10 April departed in a Sunderland for the UK.
Here he was engaged in non-operational duties for the rest of the war. In December 1941 he was promoted to Squadron Leader. During the war he was awarded the AFC.
Waters ended the war with 2 biplane victories and a total of 4 - possibly 5 or 6 destroyed.
He remained in the RAF after the war, retiring as a Wing Commander with an AFC.
He was killed while falling down some stairs at home on 18 January 1971.
From his logbook it is believed that he may have claimed, but not recorded, one or two more. The list appended below includes these as estimates only.
Claims:

| | | | | | | | | | |
| --- | --- | --- | --- | --- | --- | --- | --- | --- | --- |
| Kill no. | Date | Time | Number | Type | Result | Plane type | Serial no. | Locality | Unit |
| | 1940 | | | | | | | | |
| 1 | 11/06/40 | | 1 | S.79 (a) | Destroyed | Sea Gladiator | N5520 | Malta | Hal Far Fighter Flt. |
| 2 | 12/06/40 | | 1 | S.79 (b) | Destroyed | Sea Gladiator | N5520 | Malta | Hal Far Fighter Flt. |
| 3 | 03/07/40 | | 1 | S.79 (c) | Destroyed | Hurricane I | P2614 | off Kalafrana | Hal Far Fighter Flt. |
| 4 | 16/10/40 | | 1 | S.79 | Destroyed | Hurricane I | P2645 | Malta | 261 Squadron |
| 6 | 02/11/40 | 12:20- | 1 | MC.200 (d) | Destroyed | Hurricane I | P3730 | Zeitun | 261 Squadron |
| | 1941 | | | | | | | | |
| | 09/01/41 | | 1 | MC.200 | Damaged | Hurricane I | V7474 | Malta | 261 Squadron |
| ? | 18/01/41 (est) | | 1 | Ju 87 | Destroyed | Hurricane I | | Grand Harbour | 261 Squadron |
Biplane victories: 2 destroyed.
TOTAL: 5 - possibly 6 - destroyed, 1 damaged.
(a) S-79 of 34o Stormo B.T., returned to base.
(b) S-79 of 60a Squadriglia, 33o Gruppo, 11o Stormo B.T., returned to base.
(c) S-79 of 259a Squadriglia, 109o Gruppo, 36o Stormo BT fell in the sea 5 miles off Kalafrana. Tenente Mario Squario's crew of five baled out, but none were ever found.
(d) Possibly claimed in combat with MC.200s of 71a and 72a Squadriglie, 17o Gruppo C.T., which claimed 1 Hurricane for the loss of Sergente Abramo Lanzarini, who was KIA. 261 Squadron claimed 2 destroyed alternatively 1 and 1 probably destroyed without losses.

Sources:
Aces High - Christopher Shores and Clive Williams, 1994 Grub Street, London, ISBN 1-898697-00-0
Aces High Volume 2 - Christopher Shores, 1999 Grub Street, London, ISBN 1-902304-03-9
Battle over Malta - Anthony Rogers, 2000 Sutton Publishing Limited, Gloucestershire, ISBN 0-7509-2392-X
Gladiators over Malta: The Story of Faith, Hope and Charity – Brian Cull and Frederick Galea, 2008 Wise Owl Publications, ISBN 978-99932-92-78-4
Hurricanes over Malta - Brian Cull and Frederick Galea, 2001 Grub Street, London, ISBN 1-902304-91-8
Malta: The Hurricane Years 1940-41 - Christopher Shores and Brian Cull with Nicola Malizia, 1987 Grub Street, London, ISBN 0-89747-207-1
Additional information kindly provided by David Batchelor.




Last modified 03 September 2013