Biplane fighter aces

Italy

Tenente Colonnello Ernesto 'Gamba di Ferro' Botto Medaglia d'oro al valor militare
8 November 1907 - 11 December 1984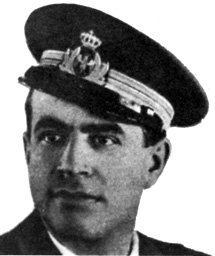 © Archive D'Amico-Valentini
Photo kindly via Ferdinando D'Amico.

Ernesto Botto was born in Turin on 8 November 1907.
Upon graduating from Turin's Technical Institute of Physics and Mathematics, he joined the Regia Aeronautica's Aeronautical Academy in October 1929.
Botto was commissioned (in Servizio Permanente Effettivo) on 1 October 1931.
He received his pilot license in 1932 and his military pilot license in 1933.
In July 1933, he was promoted to Tenente and assigned to the Scuola Caccia Terrestre.
He was assigned to the 1o Stormo C.T. in 1933 and was transferred to the 53o Stormo C.T. in 1936.
In 1936, Mario Bacich, Botto and Duilio Fanali were part of the elite Reparto Alta Velocità (High Speed Unit) at Desenzano sul Garda. The unit trained the very best Italian pilots on the high-speed techniques necessary to fly the Macchi seaplane racers. For those stunt pilots the Roman firm Giusti had produced a limited edition of its standard flying helmets made in red leather.
In seems that Botto continued to use his red flying helmet during the beginning of the Second World War possibly to be better recognizable by his men in the heat of the combat.
He was promoted to Capitano in October 1936 and was assigned to the 4o Stormo in 1937.
On 1 January 1937, Capitano Botto took command over the 84a Squadriglia after Capitano Ercolano Ercolani.
He volunteered for service in the Spanish Civil War in April 1937, leaving the command of the 84a Squadriglia to Paolo Arcangeletti on 13 April.
In Spain he used the nom de guerre "Cantini".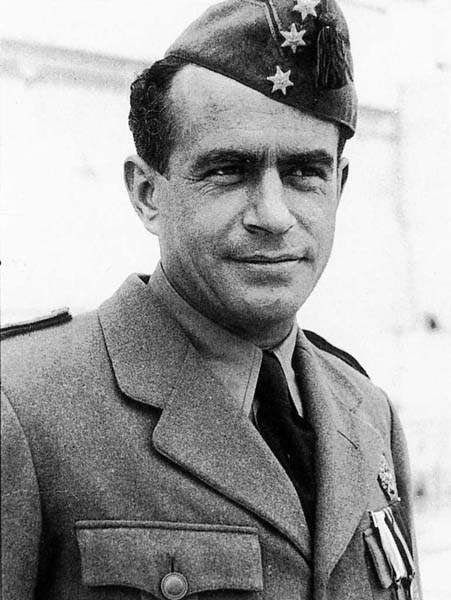 Capitano Botto while serving in Spain.
Capitano Botto arrived in Spain in April 1937.
The VI Gruppo Caccia was formed on 3 May and was commanded by Maggiore Eugenio Leotta ('Leonello'). The Gruppo consisted of:
31a Squadriglia commanded by Capitano Luigi Borgogno ('Benigni')
32a Squadriglia commanded by Capitano Botto
This unit was originally named Gruppo Leonello, but it later became known as Diavoli Neri (Black Devils). The gruppo was brought to its full strength of three squadriglie with the addition of the 33a Squadriglia on 1 October of that same year.

He flew his first operational sortie on 8 May when they escorted a section of Nationalist Ro.37bis.

Until 5 June, the 32a Squadriglia was employed for interdiction and escort duties.

On 12 June, they were transferred to Soria and on 5 July they moved on to Villarcayo.

The Nationalist advance through northern Spain continued in July. Its primary aim was to capture the region's principal town and port, Santander, and both the Corpo Truppe Volontarie and the Aviazione Legionaria played a key part in achieving this. Fighter units initially assigned to this operation were 31a and 32a Squadriglie of VI Gruppo, as neither was involved in operations on the Madrid front. By early July they had been transferred to the advanced base of Villarcayo. CO of the 32a Squadriglia was Capitano Botto (who was the most successful CR.32 pilot in the Santander campaign).

During a patrol north-west of Monte Maza, on the Santander front on 16 July, Capitano Botto's patrol of five CR.32s from the 32a Squadriglia (including Sottotenente Vittorio Barberis) was bounced from above by 13 I-16s. Seeing the diving enemy aircraft just in time to climb up at them, the Italian pilots duly fought a series of individual clashes that lasted for more than 20 minutes. Despite facing two or three opponents at a time, the CR.32 pilots managed to down two I-16s without losses - both kills were confirmed by Nationalist observers at Monte Maza. They were collectively credited to all five pilots, as none of them had had the time to notice that the enemy fighters had in fact been downed during the course of this exhausting combat. This was the Squadriglia's first battle with Republican fighters.
This combat had been fought against the first I-16 Escuadrilla of the Fuerzas Aéreas del Norte.

On 6 August, a group of 'Chatos' and 'Ratas' attacked two Ro.37bis at 2000 meters over Torrelavega.
They were surprised by VI Gruppo, which was escorting the Ro.37bis between Salaya and Torrelavega and flying at 4000 meters. Sergente Gaetano Bortolini claimed an I-16, which was pursuing another Fiat. Meanwhile, Capitano Botto (CO 32a Squadriglia) claimed two I-16s. Tenenete Edoardo Molinari (32a Squadriglia) claimed a Republican fighter over Selaya.
VI Gruppo claimed eight 'Ratas' and a single 'Chato' without any losses.

During the Santander offensive on 14 August VI Gruppo performed many escort missions. Botto flew up to five missions per day.

On 21 August, he claimed 6 I-16 and 1 I-15 as shared destroyed plus two additional I-16 as shared unconfirmed near Ontaneda.

On 22 August, 11 CR.32s from the 32a Squadriglia clashed with 12 I-15s from Escuadrilla de Caza del Norte during an escort mission over Ontaneda on the Santander front. Italian pilots claimed four destroyed and five probables. Capitano Botto claimed two of the I-15s.
Teniente Miguel Galindo Saura, CO of the Republican unit, was injured when he bailed out near Puerto del Escudo and was captured, while squadron mate Angel Martín González died when he crashed trying to force-land his battle-damaged I-15 near Suances.
Teniente Ladislao Duarte Espés replaced Galindo as CO of the Escuadrilla de Caza del Norte.

The next day on 23 August, ten CR.32s from the 32a Squadriglia (one of which was flown by VI Gruppo CO Maggiore Eugenio Leotta and another by the CO of the 32a Squadriglia Capitano Botto) fought I-15s near Ontaneda as the latter tried to defend Santander from being attacked. Italian pilots claimed three "Curtiss fighters" destroyed and three probables, and their demise was again collectively attributed to all participants from the 32a Squadriglia.
The only loss admitted by the Republicans, however, was the I-15 of Francisco De Antonio Sanz, who was shot down near Ontaneda but managed to return to Republican lines.

After the Republican offensive in the Aragon started on 24 August, the Nationalists immediately bolstered the aerial defence of the Aragon front by sending XXIII Gruppo Caccia to Saragossa-Sanjurjo. Led by Maggiore Andrea Zotti, the gruppo was comprised of 18a, 19a and 20a Squadriglie, led by Capitani Guido Nobili, Enrico Degli Incerti and Antonio Larsimont Pergameni, respectively.
On 25 August these units were joined by the CR.32s of capitán Joaquín García Morato's Grupo 2-G-3 and Maggiore Giuseppe Casero's XVI Gruppo, consisting of 24a, 25a and 26a Squadriglie, led by Capitani Bruno Brambilla and Armando François and Tenente Alfiero Mezzetti (CO from 3 August), respectively.
Finally, Maggiore Eugenio Leotta's VI Gruppo was also transferred from Villarcayo to Alfamèn on 28 August with its 31a and 32a Squadriglie, led by Capitani Luigi Borgogno and Botto.
This was virtually all the CR.32s on mainland Spain with both the Spanish CR.32 Grupo and the whole 3o Stormo Caccia dell'Aviazione Legionaria.

During the days after the transfer to Alfamèn, Botto flew three escort missions.

On 1 September, twelve (?) CR.32s from the VI Gruppo chased a mixed squadron of Polikarpovs and claimed one Chatos and two Ratas as shared destroyed plus two I-15s as unconfirmed over Belchite.
Republicans admitted only one Chato lost.

On 12 October, the Republican Air Force intervened heavily to support International battalions and tanks in an attempt to break through the enemy lines at Fuentes del Ebro.
At 07:30, nine CR.32s of the 31a Squadriglia (Capitano Luigi Borgogno) and nine of the 32a Squadriglia (Capitano Botto), VI Gruppo, took off from Alfàmen to patrol the area over Fuentes del Ebro. Each Squadriglia was split in two, so the four patrols were led respectively by Borgogno, Tenente Alessio Neri (31a Squadriglia) at 3,500 meters while Botto ("white 3" NC 623) and Tenente Edoardo Molinari (32a Squadriglia) flew at 5,000 meters.
Over Mediana at 07:55, they spotted Republican fighters escorting R-Z light bombers that were seen to retire without bombing because of CR.32s presence. The Republican escort consisted of 13 I-15s from the 1a Escuadrilla of Grupo No 26 (commanded by Kapitan Antonov) and 19 I-16s from 2a and 6a Escuadrillas of Grupo No 21 (led by Starshii Leitenants Pleshchenko and Gusev). Borgogno waved the wings to warn his pilots and then climbed to 4,000 meters to gain an advantage. The Republicans were to pass unaware below them, but over Lerida, before Borgogno could order the attack, a pilot (Sergente Rigolli, "first wingman" of Neri's patrol) suddenly dived on them, followed by the three of his patrol. Soon the I-15s turned into them. Borgogno had no other choice than to intervene to help his pilots. In the fray, two CR.32s flown by Sottotenente Francis Leoncini (31a Squadriglia) and Sergente Maggiore Ugo Corsi (32a Squadriglia) collided, and both pilots parachuted. Sottotenente Roberto Boschetto ("Boscarelli") was hit and made an emergency landing with his damaged fighter. A "Curtiss" was destroyed and another was damaged. Then, Tenente Neri also was shot down and parachuted.
Botto, meanwhile, kept cool enough to stay above and watch the "Ratas". As the CR.32s were overwhelming the I-15s, the I-16s dived to intervene, but at this point Botto jumped them from 5,000 meters. Botto destroyed a "Rata" over Mediana and dispersed the others, before being hit at his right thighbone by an explosive bullet. He nevertheless managed to reach Saragossa-Sanjurjo and land but the limb had to be amputated. In the combat, Paolo Arcangeletti claimed two additional I-16s while Sergente Maggiore Giuseppe Rigolli was shot down and killed. Two more CR.32s returned to base badly damaged. Overclaiming was heavy and the pilots from 31a and 32a Squadriglie claimed four I-15s and nine I-16s.
It seems that two I-16s of 6a/21 were lost (both flown by Russian pilots), one was shot down with the loss of the pilot while the other crash-landed. One I-15 of 1a/26 piloted by a Spanish pilot, crash-landed in friendly territory. Two I-16s and one I-15 returned damaged.
Boschetto, Leoncini and Corsi were captured and returned home after the war. Neri, who tried to defend himself by shooting at his captors with his handgun, was captured, prosecuted and executed on 16 October 1937. Botto, Neri and Rigolli were decorated with the Medaglia d'oro al valor militare (Italy's highest military award) after this combat, the last two of them posthumously.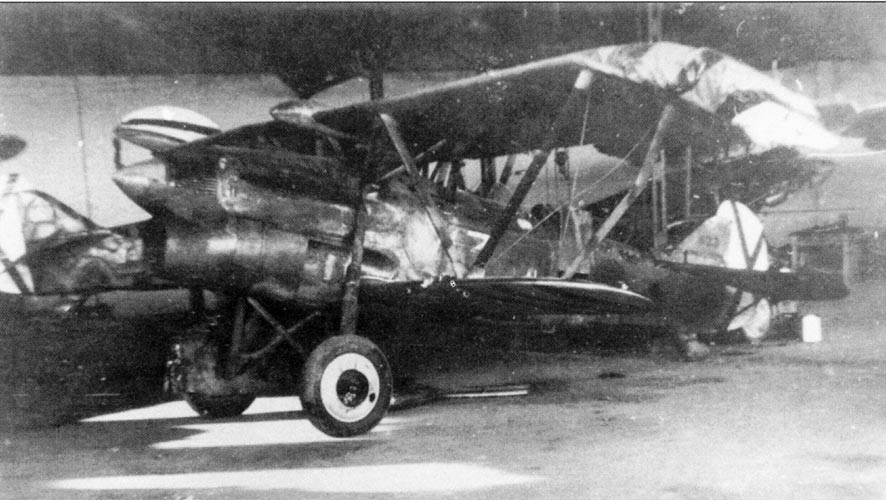 Capitano Botto's Fiat CR.32 "3-1" after the combat on 12 October 1937.
Botto had to undergo further extensive surgery that involved ten blood transfusions. He was hospitalized in Saragossa for nearly six months before returning home.
After this combat Botto became an Italian national hero because apart from winning one of the very few Medaglia d'oro al valor militare not posthumous, he didn't accept to leave active service and stop flying activity. Back at his base without the leg, he discovered that the VI Gruppo, which until then unofficially had been called Gruppo "Lionello" after the nickname of the CO Eugenio Leotta, had been officially christened "Gamba di Ferro" ("Iron Leg") in his honour. A new insignia had been created by Sergente Maggiore Bruno Benassi and adopted by the whole VI Gruppo depicting an iron leg over an axe.
Back in Italy he started to wear an artificial leg and rejoined his unit, the 4o Stormo. Here with the help of Tenente Vittorio Pezzè, he learned how to pilot an aircraft with the use of a prosthesis and in 1939 was able to led the Italian aerobatic patrol that performed in Berlin in honour of the returning Condor Legion veterans. Then he took command of the 9o Gruppo that adopted as Gruppo badge the "Iron leg".
In the Regia Aeronautica Capitano Botto's insignia was later adopted by the 96a Squadriglia of 4o Stormo and, later on in the ANR (which Botto, risen to the rank of Tenente Colonnello, virtually created by emanating a call to arms to all the Italian pilots that caused the adhesion of many), the insignia was adopted by the 3a Squadriglia of IIo Gruppo Caccia.
Botto returned from Spain in May 1938. He claimed 5 biplane victories during this conflict and 15 and 7 probably shared.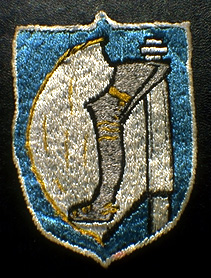 The original "Gamba di Ferro" cloth badge applied on the flying uniform of ANR's 3a Squadriglia, IIo Gruppo Caccia pilots. © Archive D'Amico-Valentini
Photo kindly via Ferdinando D'Amico.

When Botto returned to Italy in May 1938, he was publicly decorated with the Medaglia d'oro al valor militare in Rome by Mussolini himself.
On 18 October 1938, Capitano Botto took command over the 73a Squadriglia of the 4o Stormo C.T. after Tenente Luigi Di Bernardo.
On 30 October 1939, Sottotenente Giulio Reiner took command over the 73a Squadriglia after Capitano Botto.
On 1 November 1939, Maggiore Armando François left the command of the 9o Gruppo to Maggiore Botto.
Maggiore Botto was Gruppo Commander of 9o Gruppo when the unit arrived at Comiso, Sicily, in the beginning of July 1940 to fly missions in the assault on Malta.
The first Italian fighter claim for an aircraft shot down over Malta was made by Botto during the morning of 3 July 1940. Two SM 79s approached the island on reconnaissance, escorted by nine CR.42s, three each from 73a, 96a and 97a Squadriglias, led by the Gruppo Commander, Maggiore Botto. Flying Officer John Waters flying one of the new Hurricanes (P2614), attacked the pair of bombers, which were from the 259a Squadriglia, 109o Gruppo, 36o Stormo B.T., which unit had just arrived in Sicily. The fire from the Hurricane's eight guns proved devastating and the bomber fell into the sea five miles from Kalafrana, breaking up as it went. Tenente Mario Squario's crew of five baled out, but none were ever found. This was the first victory for Hurricanes over Malta. As Waters returned to land, he was set upon by the CR.42s and his aircraft was badly shot up. As a result he crashed on landing and the aircraft was written off, although Waters survived unhurt. Maggiore Botto was personally credited with the victory (initially this claim was recorded as a 'Spitfire').
At dawn on 4 July, 24 CR.42s led by Maggiore Botto took off from Comiso and headed south-east. When they reached the 36th Parallel, they headed towards Malta, thus having the rising sun at their backs. Approaching Hal Far airfield, Botto, Sergente Guglielmo Biffani, Sergente Maggiore Sergio Stauble, Capitano Giuseppe Mauriello (97a Squadriglia), Tenente Riccardo Vaccari and Sergente Maggiore Massimo Salvatore dived to attack.
The escort was composed by six CR.42s of the 73a Squadriglia led by Tenente Vittorio Pezzè 600 m above, six of the 97a Squadriglia led by Capitano Antonio Larsimont at 2000 m and finally by six of the 96a Squadriglia led by Capitano Roberto Fassi at 4000 meters.
Botto and his pilots attacked Hal Far by grazing the ground, and strafed a bomber and seven Gladiators that however did not burn. Intense anti-aircraft fire damaged two aircraft of the 96a Squadriglai; Salvatore's, which had the ailerons shot out of use and Vaccari's, which was hit at the leading edge of left wing. Two British fighters were spotted at 2000 m but these didn't attack the Italians. After the strafe, Botto's flight hid in a cast of clouds and all the CR.42s returned home.
The Italian War Bulletin no. 25 reported:
"A formation of fighters, defying bad weather and intense AA fire, performed a brilliant strafing attack on the airfield of Hal Far (Malta), disabling eight aircraft parked there. All our aircraft came back home."
According RAF records the actual result from the attack was two damaged Swordfishes from 830 Squadron of which both were repairable.

On 12 July 1940, the 9o Gruppo C.T. arrived in North Africa from Gorizia, Italy, to strengthen the fighter component of 5o Squadra Aerea.
The Gruppo was commanded by Maggiore Botto and composed of three squadriglie (73a, 96a and 97a). The 73a Squadriglia was commanded by Tenente Vittorio Pezzè, the 96a Squadriglia was commanded by Capitano Roberto Fassi and the 97a Squadriglia was commanded by Capitano Antonio Larsimont. Together with the 10o Gruppo they formed the 4o Stormo CT.

After a period of acclimatization at Benghasi-Berka "K" airfield the whole Gruppo was called to front line duty on 7 August.
The next day the 73a Squadriglia arrived at El Adem T3 airfield, while Botto still was in Benghasi with the rest of the Gruppo.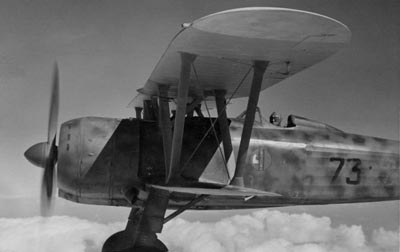 Photo taken of Ernesto Botto flying a 73a Squadriglia CR.42 over North Africa during the return from a mission.
Image kindly provided by Fulvio Chianese at GORIZIA ed il QUARTO STORMO.
During the morning on 4 August, 80 Squadrons 'B' Flight received a signal from the headquarters to provide four Gladiators to escort a Lysander from 208 Squadron flown by Pilot Officer Burwell, which was to observe enemy troops movement at Bir Taieb el Esem on the other side of the Libyan border. 'Pat' Pattle (Gladiator Mk.I K7910) decided to lead the escort and took with him Flying Officer Peter Wykeham-Barnes (L8009), Pilot Officer Johnny Lancaster (K7923) and Sergeant Kenneth George Russell Rew (RAF no. 526687) (Gladiator K7908). They took off at 17:15 and reached the rendezvous point in ten minutes where they found the Lysander circling at 6000 feet. Wykeham-Barnes and Rew took up a position about 3000 feet above and immediately behind the Lysander, whilst Pattle and Lancaster climbed 1000 feet higher on the starboard flank. The aircraft crossed the border a few miles south of Sidi Omar twenty minutes later and followed the sand tracks leading to their target.
During the same morning eleven CR.42s of the 97a Squadriglia went from Benghazi-Berka to El Adem T3 to participate, together with twelve other CR.42s from the 96a Squadriglia, which had arrived the previous day, and with nine CR.42s of the 10o Gruppo, in an aerial covering flight of the 2a Divisione Libica of Regio Esercito. This Division was marching from Bir el Gobi to Gabr Saleh.
In the meantime, a concentration of British armoured vehicles was discovered in the Bir Sheferzen area, around 30 kilometres south-west of Sollum, near the border where a logistic outpost of the Western Desert Force was located and consequently an air attack was planned.
At 16:50, a formation of assault aircraft of the 50o Stormo took off together with an escorting group of Fiat CR.42 fighters of the 4o Stormo heading for it. The assault aircraft took off from Tobruk T2bis and were twelve aircraft of the resident 12o Gruppo Assalto. They included six Breda Ba.65/A80s of the 159a Squadriglia, armed with 2kg bombs (the Bredas could carry up to 168 of these small calibre bombs) commanded by the Squadriglia Commander Capitano Antonio Dell'Oro and flown by Tenente Adriano Visconti, Tenente Fioravante Montanari (who led the second section), Sergente Maggiore Giovanni Bianchelli, Sergente Maggiore Gianni Pappalepore and Sergente Maggiore Paolo Perno. The other six were Fiat CR.32quaters of the 160a Squadriglia, armed with eight 2kg bombs and divided in two groups of three. The first group led by Capitano Duilio Fanali (Squadriglia CO) included Sottotenente Giuseppe Mezzatesta and Sergente Maggiore Corrado Sarti as wingmen while the second group was lead by Sottotenente Giuseppe Rossi with Sottotenente Mirko Erzetti and Maresciallo Romolo Cantelli as wingmen.
The Italian fighter escort took off from El Adem T3 and was composed of 31 CR.42s (ten from the 97a Squadriglia, eleven from the 96a Squadriglia, one from the 73a Squadriglia and nine from the 10o Gruppo). At the head of the two formations were Botto (in the aircraft from the 73a Squadriglia) and Maggiore Carlo Romagnoli. Pilots from the 97a Squadriglia were Capitano Antonio Larsimont Pergameni, Sottotenente Giovanni Barcaro, Sergente Franco Sarasino, Sottotenente Riccardo Vaccari, Sergente Angelo Golino, Sottotenente Jacopo Frigerio, Sergente Maggiore Otello Perotti, Maresciallo Vanni Zuliani, Sergente Maggiore Raffaele Novelli and Sergente Maggiore Massimo Salvatore. Pilots from the 10o Gruppo were apart from Maggiore Romagnoli, Capitano Giuseppe D'Agostinis, Tenente Enzo Martissa, Sottotenente Ruggero Caporali and Sergente Maggiore Lorenzo Migliorato from the 91a Squadriglia, Capitano Luigi Monti and Tenente Giuseppe Aurili from the 84a Squadriglia and Tenente Franco Lucchini and Sergente Amleto Monterumici from the 90a Squadriglia.
The two Italian formations met at a rendezvous point twenty kilometres east of El Adem and then headed for the target. The 4o Stormo's aircraft flew at heights between 3500 and 4500 meters, the Fiat CR.32s at 1000 meters and the Bredas at 300 meters.
On the way towards the frontline, at 5000 m over Ridotta Capuzzo, they spotted a formation of nine Blenheims heading to El Adem, escorted by many Glosters Gladiators. Aircraft of the 96a Squadriglia and the 10o Gruppo attacked the bombers and then chased the fighters. In the fierce combat that followed, Tenente Lucchini claimed a Gladiator with the use of 385 rounds of ammunition. Pilots from the 91a Squadriglia claimed two Gladiators and three Blenheims as shared, with two additional Gladiators as shared probables (one of the Glosters was most probably the same claimed by Lucchini). Capitano Monti and Tenente Aurili claimed to have damaged two Blenheims each and then reported being credited with the three Blenheims shot down by the Stormo's formation as shared. The pilots from the 90a Squadriglia claimed the same three Blenheims and a Gladiator jointly with the 96a Squadriglia and other pilots of the 10o Gruppo plus the individual victory of Lucchini and recorded "other Glosters shot down by pilots of 9o and 10o Gruppi". At the end of the combat, Maggiore Botto, who personally claimed a damaged British bomber with the use of 200 rounds of ammunition, recorded ten enemy aircraft shot down together with other units. Apart from the five confirmed and two probables already detailed, the remaining victories should be those of the 50o Stormo, more prudently the 10o Gruppo's Diary claimed only three Blenheims and a single Gloster shot down.
The 97a Squadriglia, covering at a higher altitude, spotted first six Blenheims, which were attacked by the other Squadriglie and then three other Blenheims that were heading towards Egyptian territory and dived to pursue them. Capitano Larsimont Pergameni and Sergente Sarasino chased them for a while, claiming hits on them.
The fighters from the 97a Squadriglia had most probably attacked a trio of Blenheim Mk.Is (L8667, L8391 and L8530) from 55 Squadron, which had been ordered on short notice to bomb up and meet two other flights from other squadrons over Ma'aten Bagush at 17:00 to attack an Italian M. T. convoy, 13 miles east of Bir El Gobi (obviously the Libyan division). Commanded by Pilot Officer T. O. Walker in L8667, they missed the rendezvous with the other Squadrons over Ma'aten Bagush and headed alone towards the front. After crossing the frontier, the trio spotted a big formation of about 25 CR.42s (4o Stormo's formation). Twelve of these fighters started in pursuit as the Blenheims turned for home (the 97a Squadriglia formation). A running engagement, which lasted seven minutes started after which the Italian fighters broke off without having caused or suffered any damage. The other RAF Squadrons involved in this combat were 211 Squadron and most probably 112 and 113 Squadrons. 211 Squadron was up with two Blenheims piloted by Squadron Leader Bax (L8533) and Flight Lieutenant G. D. Jones (L8532), which were intercepted by a reportedly 40-50 fighters. Sergeant J. McIntosh, gunner of L8532, was wounded in the forearm and it seems that it was badly damaged and forced to land before reaching its base since it was salvaged by 51 RSU at Sidi Barrani on 10 August but Struck off Charge on 20 September. The total lack of records of 113 Squadron and the high level of incompleteness of those of 112 Squadron makes it quite difficult to reconstruct their contribution to the combat. It seems however probable that at least three Gladiators of 112 Squadron were around this area at the time, because it is known that Pilot Officers R. H. Clark, Homer Cochrane and B. B. E. Duff left Maaten Gerawla during the day for Sidi Barrani, with the task of patrolling over Sidi Omar (extremely close to the area where the evening combat developed). No encounters with the enemy are however recorded in the fragmentary reconstructed ORB of the unit.
The formation from the 50o Stormo continued alone towards the border, arriving over Bir Sheferzen (around thirty kilometres south and slightly east of the position where the escort left it) at 17:20, where they discovered numerous British vehicles that were immediately attacked by the Bredas and Fanali's trio of CR.32s while Rossi's stayed at 1000 meters as cover. The Italian aircraft performed two passes over the vehicles and while they were preparing the third the 208 Squadron Lysander and 80 Squadron Gladiators came into the area. The crew of the Lysander spotted the Italians first and alerted the escort with a red Very light before heading due east at low altitude to reach safety. Pilot Officer Burwell carried some bombs that he tried to aim at Italian transports that he saw in the vicinity but missed, then he was forced to return by the strong opposition encountered.
Pattle and Lancaster dived down but failed to spot any enemy aircraft. Wykeham-Barnes and Rew had also disappeared but a few seconds later Pattle heard Wykeham-Barnes over the radio ordering Rew to attack. Immediately afterwards Pattle saw a reported seven Breda Ba.65s in two separate flights - one containing three aircraft in vic formation and the other made up of two pairs, heading east hunting the Lysander.
Wykeham-Barnes and Rew attacked the formation of four Bredas before they could reach the Lysander and Wykeham-Barnes shot down one of them in flames immediately but at the same time was Rew shot down and killed. Pattle and Lancaster meanwhile attacked the other three Italians from astern. The Bredas dispersed and all four Gladiators separated as they each selected a different enemy machine as a target. Pattle attacked two aircraft, which kept close together and turned in a complete circle. The Bredas dropped to around 200 feet and each released two bombs. This reduced weight meant that they slowly began to creep away from Pattle's slower Gladiator. Suddenly they however turned north towards the fighter base at El Adem. Pattle quickly cut inside their turn and closed in to 150 yards. He delivered a quarter attack on the nearest Breda but his two port guns almost immediately ceased firing. His aim had been good however and he had hit one of the Italians who slowed down considerably. He swung in directly astern of it and, after a few more bursts from his remaining two guns, saw a puff of white smoke from the starboard side of the engine. He continued to attack the Breda, which dropped lower and lower and finally force-landed on good grounds five miles further on. The second Breda got away. Lancaster had also been having trouble with his guns. After his initial burst, all four guns jammed and he spent the next ten minutes frantically pulling his Constantinescu gear pistons and aiming at various enemy aircraft, but without any further bullets leaving his guns. Eventually he was forced to go on to the defensive and got an explosive bullet in the left arm and shoulder. Because he feared the loss of blood would cause him to lose consciousness, he wriggled out of the fight and with his right thumb pressed tightly against his left radial artery, held the stick between his knees and waggled his way home. In spite of his wounds and the serious damage to his Gladiator, he made quite a smooth landing before losing consciousness. It is reported, that the fitter who came to examine the aircraft shortly afterwards pronounced it too damaged to repair in situ and ordered it to be burned forthwith! However, in fact it seems that even if 80 Squadron didn't fly it any more, Gladiator Mk.I K 7923 was repaired and later in the year passed to the Greek Air Force.
After claiming the Breda, Wykeham-Barnes was attacked by the CR.32s. He claimed one of them before another, attacked him, which hit his Gladiator, in his Combat Fighter Report he recorded: "The left side of the instrument panel and most of the windscreen went and two bullets came through the back of the seat before I could close the throttle, and the CR 32 passed under me. My machine then fell into a dive and I abandoned it, landing me by parachute." He had received a shrapnel wound. He was also to receive a swollen tongue and a pair of very painful blistered feet before being rescued by a detachment of 11th Hussars, who brought him back to Sidi Barrani.
Four of the Bredas were damaged and in particular that of Sergente Maggiore Perno, which was hit fifty times and the pilot was slightly wounded in the leg, before Fanali's Fiats were able to intervene. In the meantime, it was the section of Sottotenente Rossi, which was waiting higher up for its turn to attack, that first fell over the RAF fighters, taking them by surprise. After the sharp initial attack of the Fiats the combat developed into a WW I style dogfight which lasted fifteen minutes. At the end all the Italian aircraft returned to base claiming three of the enemies; one by Fanali (probably Wykeham-Barnes) and two by Cantelli (probably Rew and Lancaster).
One of the damaged Bredas was piloted by Tenente Adriano Visconti who pressed home his attacks against the enemy armoured vehicles notwithstanding the enemy's fighter opposition. The behaviour of Visconti in this particular combat deeply impressed his commander Capitano Dell'Oro who proposed him for a Medaglia d'argento al valor militare. The motivation of this award that Visconti received "in the field" stated that: "During a strafing attack against enemy's armoured vehicles he pressed home his attacks careless of an enemy fighter that was following him shooting at him from short distance (…) and with its last ammunitions he succeeded in burning one of the armoured cars of the enemy(…)".
After Pattle had claimed the Breda he broke away while attempting, without much success, to clear his port fuselage gun. Immediately, he was attacked by five biplanes (identified as CR.42s) diving towards him from the direction of El Adem, which was approximately 10 miles north-west. He flew on, pretending that he had not seen the Italians, until they were almost in position to open fire and then, with a flick of the wrist and a sharp prod of the foot, shot up and away from the Fiats. The Italians split up and attacked him independently from all directions. The Fiats made repeated attacks simultaneously from the quarter and beam, using the speed they gained in the dive to regain altitude. After each attack Pattle was forced on to the defensive and turned away from each attack, occasionally delivering a short attack on the most suitably target as it dived past. One Fiat on completing its attack turned directly in front of his Gladiator, presenting him with an excellent deflection shot at close range. He fired a long burst with his remaining two guns, which caused the Italian fighter to turn slowly onto its back and then spin down towards the desert. Pattle last saw it spinning at 200 feet and didn't claim it for sure, but was later credited with this victory. Soon after his starboard wing gun also jammed but fortunately, at the same time the remaining Italian fighters broke away. He was now 40 miles behind enemy lines with only one gun operational and he turned for home at 1000 feet altitude.
When some miles north-west of Bir Taieb El Essem, he was again spotted and attacked by twelve CR.42s and three Breda Ba.65s. The Bredas broke away after a few dives while the CR.42s attacked. They used the same tactics as the five earlier had used with quarter and beam attacks. Within a few seconds Pattle's remaining gun jammed because of an exploded round in the breach, so he attempted to make the border by evasive tactics and heading east at every opportunity. He soon discovered that one of the Italian pilots was an exceptional shot who made repeated attacks using full deflection with great accuracy. Each time this particular Italian came in, he had to use all his skill and cunning to keep out of the sights of the Fiat. The remainder of the Italians as a whole lacked accuracy and did not press home their attacks to a decisive range. Nevertheless, their presence and the fact that he had to consider each attack made the work of the more determined pilot very much easier. He managed to keep this up for fully fifteen minutes before the determined Italian came out of a loop directly above Pattle's Gladiator and opened fire. Pattle turned away to avoid the bullets, but flew straight into the line of fire from another Fiat. The rudder controls were shot away, so he could no longer turn. He pulled back on the control column, climbed to about 400 feet and jumped. As he fell the pilot parachute caught his foot, but he managed to kick it free and the main chute opened just in time for him to make a safe landing off the first swing. The time was now around 19:00. He started to walk towards what he thought was Egypt during the night but found out at dawn to his horror that he had actually walked in the opposite direction, deeper into Libya. He turned around and crossed the border at around midday. At 16:00 on 5 August, he was rescued by a detachment from 11th Hussars, which brought him back to Sidi Barrani.
It is possible that Pattle was shot down by Tenente Franco Lucchini.
During a routine armed reconnaissance patrol along the Allied frontline in the Tobruk area on the evening of 12 October, Giulio Reiner of the 73a Squadriglia, 9o Gruppo, accompanied his Gruppo commander, Maggiore Botto.
Having completed an uneventful patrol, the two pilots were approaching their El Adem base when they spotted three Blenheims preparing to bomb the airfield. They immediately attacked and prevented the bombers from releasing their bombs. The Blenheims tried to escape heading out over the sea. Botto finally downed the first, which dived into the water. At this point the other Blenheims turned back over land, pursued by Reiner, who shot down the leader over the El Hagna area and the wingman near Bir el Hannana; both Bristols was left burning on the ground. With his aircraft out of fuel and some bullet hole in its right wing, Reiner successfully made an emergency landing in the dark in the Bug Bug area. He was "captured" by a platoon of Askaris (i.e. African native troops of Regio Esercito), which initially believed that he was a British pilot. He returned to El Adem during the night, but the following day he was back to recover the aircraft.
It seems that they had been in combat with three Blenheims from 55 Squadron, which had taken off loaded with small bombs at 16:15 from Fuka Main (LG 17), Egypt to bomb Italian aircraft on El Adem (LG 144), Libya. The formation made out to sea and climbed to a height of about 18,000 ft, reached a point about 30 miles north of Tobruk, when a turn on the target was made. At 17:50 the attack was carried out from a height of 9,000ft (rather too early, as the sun was still up). During the run in, the formation was attacked by three CR.42s. Bombs fell in the target area and bursts were seen among the aircraft on the north side of the aerodrome. The Italian fighters persisted in their attack, firing .5" tracer from about 800 yards and closing in to fire their small caliber guns. The British formation took evasive action but unfortunately split up. No. 2 (Blenheim L1538) flown by Flying Officer K. D. Potter (RAF no. 72454) was unable to keep up with the leader. No. 3 (Blenheim L8530) flown by Pilot Officer M. S. Singleton (RAF no. 41482) was hit in the starboard engine, the fuselage was riddled, wireless and intercommunication unusable, both rudder control badly damage, the tail-wheel shot through and the rudder trim gear also unusable. Although the Blenheim was badly damaged the pilot managed to return to base. The Blenheim was categorized as Damaged Beyond Repair. The observer Sergeant B. J Fox (RAF no. 544933) and the wireless operator/air gunner Sergeant I. Brownrigg (RAF (VR) no. 751215) escaped uninjured.
The leader, (Blenheim L6659) flown by Flying Officer G. E. P. Green (RAF no. 39517) made for the coast near Ras el Miln and the fighter following him continued the engagement for about 10 minutes before breaking off the attack. This aircraft then continued to base by its self, badly hit. Green was wounded under his right arm - a flesh wound, and the observer, Flight Sergeant W. H. Weller (RAF no. 747800) was slightly hurt by shrapnel. The undercarriage was damaged and the turret and W/T set were both rendered U/S. This aircraft was fired on by shore defences at Mersa Matruh but no further damage was done and it landed on it belly at base with the aid of the observer and the wireless operator/air gunner, Sergeant J. McGarry (RAF (VR) no. 537996). The pilot was awarded a DFC and the observer and gunner awarded mentions in despatches for the action. L6659 was finally lost with 70 OTU on 27 February 1942 in Kenya when it burst a tire on take-off and the undercarriage collapsed at Nakuru.
No. 2 aircraft when left by the formation dived to ground level and escaped. This Blenheim suffered only a few holes in the rudder. The observer Sergeant Duffy (RAF no. 517479) and the wireless operator/air gunner Sergeant B. Noble (RAF no. 545120) escaped uninjured. This aircraft was finally lost when it crashed in bad visibility near Fuka on 18 October 1940.
This combat was witnessed from the ground by Capitano Bruno Locatelli at El Adem, who reported that notwithstanding the attack of two 4o Stormo's fighters three Bristol Blenheims succeeded in releasing some small calibre bombs while being hit by the first bursts from the Fiats. The Blenheims turned around and escaped. One of them was seen to leave the formation and steeply loosing height. Locatelli presumed it was seriously damaged.
On 20 November, 208 Squadron despatched two Lysanders to reconnoitre an area bounded by Sollum, Sofali and Buq-Buq. They were L4724 piloted by Flight Lieutenant Burnard and L4728 piloted by Pilot Officer Waymark that took off from Qasaba at 14:20 and 14:15 landing back at 16:35 and 16:20 respectively (another Lysander, possibly L6874, an attached 6 Squadron aircraft piloted by Flying Officer T. H. Davison, was out in the same area). 33 Squadron provided nine Hurricanes (including Flying Officer Vernon Woodward (N2498), Flight Lieutenant Ernest Dean (P 3818), Flying Officer John Mackie (P3724), Squadron Leader Charles Ryley (P3970), Flight Sergeant Harry Goodchild (N2640), Flying Officer Frank Holman (P3724) and Pilot Officer Charles Dyson (N2640)) as escort. It is possible that the unaccounted pilots were one or two pilots from 274 Squadron since a quartet of Hurricanes from this Squadron, piloted by Flight Lieutenant R. V. Evers-Swindell, Pilot Officer Ernest Mason, Pilot Officer Thomas Patterson and Second Lieutenant Frederick Johannes Joubert, together with Pilot Officer Strange and Second Lieutenant Bester (who followed with the ground party) were detached on attachment to 33 Squadron on 14 November. On 21 November, Evers-Swindell, flew back from Fuka to have repairs on his fighter, reportedly damaged in a running fight with CR.42s. It seems almost sure that the "running fight" was the below described action, so it is possible that R. V. Evers-Swindell was present.
The escort took off from Fuka Satellite airfield at 14:15, with one section of three protecting each Lysander while a third section provided top cover. At the same time, a formation of six Gladiators from 112 Squadron would sweep the same general area.
East of Sidi Barrani, 18 CR.42s intercepted them and one Fiat half-rolled and dived away after being fired on by a Hurricane. It is possible that this aircraft later was credited as a destroyed to Flying Officer Mackie, who in a letter sent home to Canada on 4 December recalled:
"Just before I went on leave we had one of two bits of fun up here. On one occasion, you may have heard about it on the radio, fifteen of us got mixed up with sixty wop fighters. We lost none, and got at least eight of them. I got one of these, although not in a very convincing way from my point of view, as I didn't see it go in. Another pilot saw the start and the finish of it. Anyhow, it sure was a mix-up. I have never seen so many machines milling around in such a small amount of sky."
However, after this both sides started to guard each other without giving battle with the Italians uncertain to tangle with the faster Hurricanes and the British finding it difficult to close in on their more manoeuvrable opponents.
The Hurricanes of the two sections dealing with the direct escort of the Lysanders now started to brake off since they were being out-manoeuvred by their opponents and at this moment a huge formation of a reportedly 25-30 Italian fighters was seen higher. The top cover section of 33 Squadron climbed to engage but reportedly without avail because the Italian turned back towards Libya without engaging.
The Italian formation was composed by 18 aircraft from all three Squadriglie of the 9o Gruppo led by Maggiore Botto (at the head of the 73a Squadriglia). Six of the CR.42s were from the 96a Squadriglia (Capitano Roberto Fassi leading Tenente Aldo Gon, Sottotenente Carlo Agnelli, Sottotenente Armando Moresi and Sergente Vittorio Pozzati together with 4o Stormo's adjutant, Capitano Mario Pluda), five were from the 73a Squadriglia (Tenente Valerio De Campo, Tenente Pietro Bonfatti, Maresciallo Mario Ruffilli, Sergente Maggiore Antonio Valle and Sergente Santo Gino) and six were from the 97a Squadriglia (Capitano Antonio Larsimont Pergameni, Tenente Ezio Viglione Borghese, Sottotenente Jacopo Frigerio, Maresciallo Rinaldo Damiani, Sergente Francesco Putzu and Sergente Franco Sarasino). They had taken off from El Adem at 14:40 to cover Italian troops in the Bir Enba area (and probably indirectly escorting a reconnaissance plane) when Botto discovered a Bristol Blenheim escorted by several Hurricanes flying lower and attacked.
At this moment, with the 9o Gruppo's attention focused elsewhere, the 112 Squadron's Gladiators intervened and managed to surprise the Italian formation over Sidi Barrani. They claimed eight of the Fiats without losses. All of the six pilots made claims and Flight Lieutenant R. J. Abrahams claimed one and one shared with Pilot Officer Richard Acworth, who also claimed one additional. Flying Officer R. J. Bennett claimed one, Pilot Officer Alfred Costello claimed one, Pilot Officer Leonard Bartley claimed two and Sergeant 'Paddy' Donaldson finally claimed one. 112 Squadron didn't record any losses in this combat even if Pilot Officer Acworth in his memories spoke of a couple of planes obliged to force-land and the unit's aircraft retuned to Fuka between 16:20 and 17:25. For this one-sided action, they were noted in the press for the first time.
Richard Acworth remembered this combat in a short story written in the 1960's but never published.
"The Lysanders were to be 'covered' against enemy air attacks by six Gladiators from my squadron… three flying at 12,000 feet, and three, led by myself, at 15,000 feet. 'Top cover' was to be provided by six Hurricanes, flying at 20,000 feet. The Hurricanes had strict orders to beat a hasty retreat if they met with enemy aircraft in large numbers, as it was thought at that time that they would be 'easy meat' for the move manoeuvrable C.R. 42's, the single-seater Italian opposite number of the Gladiator.
We had been patrolling for about 10 minutes, when I reported forty CR 42s, in eight sections of five, flying from the direction of Libya, at approximately 25,000 feet, 5,000 feet higher that the Hurricane 'top-cover'. To my dismay, the Hurricanes were soon speeding home, with a CR 42 sitting neatly on each tail. Our six Gladiators were left to finish the fight, for the Lysanders, their task completed, were heading for home, too.
There was not a friendly cloud in the sky, and the powerful desert sun made the enemy aircraft very difficult to see. Forthwith, they carried out the German tactics of remaining aloft, and sending down their more experienced men to finish us off one by one….but it was not to be!
With the first attacks, we broke formation, and it was every man for himself. I soon found myself very much alone, until unfriendly tracer bullets from behind, passed through the space between my right wings. I immediately steep-turned to the left, and caught sight of my attacker as he completed his dive and prepared to re-join his pals up higher, by means of a roll off the top of a loop.
Seizing my chance, I opened full throttle and followed him to the top of his loop, half rolled in formation with him, and was just about to open fire, when my aircraft stalled and flicked into a spin….not enough speed! I decided my best means of survival was to continue the spin, in the hope that he would think I had been badly hit. This was a fighter tactic from World War I, and it worked! Whilst I was spinning, I looked upwards and caught a glimpse of my adversary circling at his original height, waiting for me to crash into the desert. I came out of the spin at about 8,000 feet, no doubt much to his surprise, and didn't have to wait long for him to dive down to finish me off.
So started a long tail-chasing session. At first, my mouth became rather dry, but after a second or two, my mind became crystal clear, and I was determined to turn the tables on him. Slowly I began to gain ground, and soon part of his tail was in my sights, but I realized it would not have been great enough. When his engine came into my sights, I pressed the firing button, and was immediately cheered to see pieces of fabric or metal ripping off his fuselage, just behind the cockpit.
The Italian pilot turned so quickly in his mad effort to escape, that he pulled his aircraft into a spin, following a 'high-speed stall'. I followed him down, and fired at him as he tried to recover, and he promptly went into another one. On recovering from his second spin, he must have pulled an emergency boost control to give him extra speed, for he left my Gladiator 'standing'.
However, my opponent was not easily scared, and turned about a mile away to come back at me like a bull at a gate. We both opened fire, and when it seemed that a head-on collision was inevitable, he pulled out to my left in a climbing turn. For a second, I was able to fire at his exposed fuselage, and then, with throttle fully open, I climbed into the sun, into an advantageous position. To my horror, my engine stalled near the top of the climb, and I had to carry out the usual drill of closing the throttle and opening it again, slowly. Full power came back, and looking down, I could see my opponent looking for me. This time, I had the advantage of height, and I was nicely lining him up in my sights when he saw me, and tried to turn in underneath me.
Slowly twisting, and with the right deflection, I raked him with bullets from nose to tail, at almost point-blank range. I pulled out of my dive, to regain height, and saw him commence another spin from which he did not recover. I felt immensely relieved, somewhat shaken, and eventually joined up with two stray Gladiators, and returned to Mersa Matruh. I was pleased to learn later that seven aircraft had been shot down in the engagement, and that all the Gladiator pilots had survived the fight, although two had made forced landings.
I shall never forget that day. It was my first one-against-one air battle, and the longest time I had engaged a single enemy aircraft..."
The 9o Gruppo actually lost only three shot down and four damaged but two pilots were killed. The three shot down pilots were Sottotenente Carlo Agnelli of the 96a Squadriglia, who was killed, Sergente Francesco Putzu of the 97a Squadriglia, who was killed, and Tenente Gon (who usually flew CR.42 MM5605/96-2), who recalled:
"This day [strangely enough he recorded it as on 1 November but this is for certain an error] I lost the dearest of all my wingmen [Carlo Agnelli]. We were up with all the Gruppo and the three Squadriglie were stepped at different heights. The lowest escorting a reconnaissance plane, mine (96a Squadriglia) at 3000 metres while the third stay higher. The highest group had already engaged the enemy when I saw one of our planes diving almost vertically followed by a Gloster. I made a violent overturning that my wingmen were unable to follow [again without radio equipment the Italian formation was broken at the beginning of the combat and whatever numerical advantage was impossible to put into full use] when I reach a distance suitable to open fire I had to wait because there was the risk of hitting my comrade [with the same burst aimed at the fighter that was following him] I had to concentrate only on the aim [the wingmen were far away] so I couldn't look around and was attacked by two Glosters. With the first burst of fire they shot away my propeller, so without propulsion I could only manoeuvre to avoid further damage. All the height lost I force-landed and the English pilots that had already stopped firing while I was gliding down for my final approach flew past me waving their hands.
[Gon, tried to burn his plane without success and succeeded to reach an Italian outpost the day after]
Back at base, I discovered that information about the missing pilots (we were three) were lacking.
A sergeant [Sergente Francesco Putzu] was seen to jump with parachute and another of our planes was seen to crash after a hard fight, all believed it was mine because the other missing pilot (my dear wingman) was too "green" to be able to fight against three enemies as the pilot of the crashed plane did.
The encounter with Botto was tragicomically. I went to his room and he was waiting for me near the door and as just as he saw me he threw himself right into my arms through the three steps that divided us. But I was too weak and was unable to sustain him so we fell embraced on the ground."
According to the official records of the 4o Stormo, however, it seems that during the dive Gon's guns went out of synchronisation and when opening fire he cut his propeller with the first shots.
Seven confirmed and probable victories were credited to the pilots of the Gruppo after that they had landed at 16:30. This overclaiming was the result of that the Stormo's records had to be re-recorded in 1941 after they had been lost. This re-recording was done by Tenente Giulio Reiner, who was then adjutant of the Gruppo. Obviously Reiner's reconstruction was not as accurate as a complete debriefing immediately after the battle could be.
Roberto Fassi was credited with a Blenheim, a probable Gladiator and two damaged Gladiators. Pozzati, who was wounded on the right foot, was credited with a Gladiator while Gon was credited with a Gladiator (a victory that he didn't mention at all in his memories). Pluda claimed another Gladiator and Moresi one probable Gladiator. The 73a and 97a Squadriglie claimed one Gladiator and two Hurricanes shot down and four fighters damaged, all shared. Final assessment of the combat was four Gladiators, two Hurricanes and a Blenheim confirmed and two Gladiators probably destroyed (the actual number of confirmed claims varies between the reconstructed Diari of the involved Squadriglias to seven or eight destroyed).

In the afternoon on 9 December, SM 79s were out to bomb British troops at the Sidi Barrani - Bir Enba area. They were to be escorted by 19 CR.42s of the 9o Gruppo led by Maggiore Botto, which had taken off from El Adem at 14:55. The fighters included seven from the 73a Squadriglia (Tenente Valerio De Campo (CO), Tenente Giulio Reiner, Sottotenente Alvaro Querci, Sergente Maggiore Guglielmo Biffani, Sergente Maggiore Enrico Dallari, Sergente Maggiore Antonio Valle and Sergente Santo Gino) seven from the 97a Squadriglia (Capitano Antonio Larsimont Pergameni (CO), Tenente Ezio Viglione Borghese, Sottotenente Riccardo Vaccari, Sergente Maggiore Otello Perotti, Sergente Maggiore Massimo Salvatore, Sergente Angelo Golino and Sergente Alcide Leoni) and four from the 96a Squadriglia (Tenente Aldo Gon and Sergente Giuseppe Tomasi together with two unknown pilots).
More Italian fighters were up to escort the bombers and at 15:10, Sergente Maggiore Fiorenzo Milella of the 366a, 151o Gruppo, attached to a formation of nine CR.42s of the 368a Squadriglia (Capitano Bruno Locatelli, Sergente Maggiore Davide Colauzzi, Sergente Ernesto De Bellis, Sottotenente Furio Lauri, Sergente Maggiore Annibale Ricotti, Tenente Orfeo Paroli, Sergente Piero Hosquet, Sergente Stefano Fiore, Sergente Ottorino Ambrosi) were out to escorted Italian bombers in the Bir Enba area.
The rendezvous with the bombers over A3 failed and after 20 minutes, the fighters of the 9o Gruppo arrived and together they proceeded towards the front on a free sweep. Three SM 79s were discovered and escorted for a while. Over Buq-Buq, a Hurricane strafing along the coastal road was discovered and the SM 79s were left to the 9o Gruppo while the CR.42s of the 151o Gruppo attacked the British fighter. The Hurricane was claimed shot down in flames and credited to the formation (but in fact only Locatelli, Lauri, Paroli and De Bellis fired their guns).
The 151a Gruppo fighters returned to base at 16:50.
Meanwhile the fighters from the 9o Gruppo continued and 30 km south of Bir Enba they spotted some Gladiators at a lower level and dived on them, but suddenly the CR.42s were jumped by a reported two Squadrons of Hurricanes or Spitfires, attacking respectively the 73a Squadriglia and the 96a Squadriglia with the 97a Squadriglia. A large dogfight started and after 20 minutes of combat many claims were submitted by the Italian pilots
Tenente Vaccari fought alone against four Hurricanes, claiming one destroyed (as a Spitfire) and damaging the others before his Fiat was hit in the fuel tank and in the engine. He crash-landed near Sollum, the aircraft turning over and caught fire; he was burned in the face and hands. Sergente Maggiore Salvatore claimed a Spitfire and several damaged before being wounded in his left arm. He managed however to return to base. Sergente Golino was hit in his back, but managed to claim his attacker before being compelled to evade and land at Amseat A3. Sergente Maggiore Biffani (Fiat CR.42 MM5599/73-9) claimed a Hurricane but was at the same shot down by his victim and was captured. He recalled:
"In the afternoon of 9 December we were flying between Mersa Matruh and Buq-Buq, when my wingman, Sottotenente Alvaro Querci, warned me that we had enemies behind us. I alerted Botto by shooting a burst [Note that the CR.42 had no radio during this period], then I realized they were near my tail, so I made a 180-degree turn and I saw them pass: they were three Hurricanes. I climbed almost vertically and saw the 73a Squadriglia in front, the three Hurricanes behind it and 96a and 97a Squadriglia behind them, all in a vertical line that went down to the ground. Then I discovered a Hurricane that was breaking off from the combat, clearly he had seen the other Italian fighters on its tail. I continued to climb, now I was the highest fighter of them all, then I dived down at full throttle [towards the escaping Hurricane]. I arrived near it and then I reduced speed and put the revolutions between 1850 and 2250 because otherwise I would had cut my propeller as happened to Gon and others, because the airscrew went out of gear and the round was fired when it passed in front of the gun (…) . When I closed to it, I opened fire. I aimed and saw the explosive bullets that exploded on the wing. Why didn't anything happen? Was there no fuel at all? I fired at the other wing but it was the same, the bullets exploded but nothing happened. I fired into the engine, nothing happened. I saw the tracers very well, and after all, it wasn't the first time I was shooting. At Gorizia I used to hit the target balloon with ten rounds only. In the meantime, I was losing speed and falling behind, O.K. Goodbye! It passed and turned towards me again -so I hadn't caused any damage to it- , and I did the same. We found ourselves face to face at a distance of around 500-600 metres. I started firing and saw my tracers hitting it, then its wings lit up and in the same moment my plane caught fire, it was just an instant. My plane was severely damaged and while I was trying to land I saw the Hurricane that dived into the ground and exploded. I saw no parachute. I force-landed among British MTs and was immediately taken prisoner. I went back home after 63 months of POW!"
Additional Hurricanes were claimed by Botto, Sergente Dallari, Sergente Valle and an unknown pilot of the 73a Squadriglia (it is possible that this was a shared claim). It seems possible that also Sergente Maggiore Perotti claimed a victory (this claim is disallowed in the 97a Squadriglia diary, who only credits him with some Spitfires damaged).
Sergente Gino claimed a probable before his aircraft was badly damaged and he made an emergency landing near the frontline. Additional probables were claimed by Sottotenente De Campo and Reiner. Sergente Alcide Leoni together with other pilots claimed several damaged fighters. Capitano Larsimont Pergameni was attacked but was able to evade without claiming any hits on any enemy aircraft. Tenente Viglione was soon hit by a Hurricane, but manoeuvred to shoot at and damage it; however he was hit again in the engine by another enemy fighter, so he had to made an emergency landing near Buq-Buq.
Totally the Italian pilots claimed seven shot down (Biffani's claim was not initially credited since he was taken POW) and three probables (it's possible that some of the probables were claimed as shared). The Gruppo's Diary reduced these claims to four confirmed and three probables.
Totally during the combat one Fiat was shot down (Biffani POW) and three CR.42s carried out emergency landings (Viglione, Vaccari and Gino). Three pilots were wounded; Vaccari, Golino and Salvatore. Both Reiner's and Valle's aircraft returned lightly damaged while Tenente Aldo Gon and Sergente Giuseppe Tomasi landed at Amseat due to lack of fuel.
It seems that they had clashed with fighter from at least two RAF Squadrons. 12 Hurricanes from 33 Squadron had taken off with 10 minutes intervals to ground strafe the enemy's rear areas, concentrating on troops and motor transports. They reportedly caused much damage before they were intercepted by three formations of CR.42s. During the day, 33 Squadron's pilots claimed three Italian fighters and reported another going down out of control. One of the Squadron's Hurricanes had to force-land but the pilot was saved (this was probably claimed by the 151o Gruppo pilots). Considering that one of the claims should relate to the loss of Sergente Francesco Nanin in the morning then the other two are probably connected with this specific engagement. It is also known that Flying Officer Vernon Woodward shot down two of the Fiats claimed by his unit, one of them in flames, and damaged a third.
The second Squadron was five Hurricanes (Squadron Leader Patrick Dunn (P3723), Flight Lieutenant John Lapsley (V7293), Flying Officer Thomas Patterson (P3720), Flight Lieutenant Peter Wykeham-Barnes (V7300) and Pilot Officer Ernest 'Imshi' Mason (P3722)) from 274 Squadron, which had taken off at 15:00. They were flying in two vics at 15,000 feet when they spotted 27 CR.42s in tight vics (four main formations of 8, 7, 6 and 6 aircraft) over the Sidi Barrani-Sofafi area at 16:08. The Italian fighters were discovered at 9 o'clock, 10-12 miles away and stepped so that they were slightly above and 2000 feet below. The RAF pilots succeeded in approaching unobserved and then delivered a multiple direction attack followed by a general dogfight. The Hurricane pilots reporting five confirmed victories and three probables for one Hurricane damaged. In the unit's ORBs Form 541 victories were claimed by Flight Lieutenant Wykeham-Barnes (plus one probable), Squadron Leader Dunn (plus two probables), Flying Officer Patterson, Flight Lieutenant Lapsley and Pilot Officer Mason. However, in the unit's ORB Form 540, the number of confirmed victories raises to six with three more CR 42s severely damaged; the identity of the claimant of this last victory, however remained unknown even if the CFRs of the action would suggest Squadron Leader Dunn.
Squadron Leader Dunn (he delivered an aster attack) reported:
"The enemy engaged in dogfight. Claim one E a/c for certain (saw it hit the ground). Attacked two in tight vic and was at 200 yards point blank range and fell certain must have killed pilots. Got another good and point blank deflection shot at another. Closed from optimum to point blank range at first. Must (?) have shot down the first two but could not spare time to confirm. 3rd point blank deflection shot likely and fourth adversary saw it hit the ground (claim 1 confirmed and 2 others which I feel certain about but must go down as unconfirmed)."
Flight Lieutenant Lapsley (he delivered a head-on attack) reported:
"The enemy fired back. 1 CR 42 shot down and seen to hit the ground without burning. Several other machines were shot at individually. They can out manoeuvre a Hurricane but one can get away and then come back."
Pilot Officer Mason (he was discovered during the approach and had to dogfight from the beginning) reported:
"The enemy tried to turn inside me. 1 CR 42 shot at short range from above into cockpit. Aircraft turned (unreadable) with sparks from it. Followed it down until attacked by others CR 42s. Using 15o flap climb (unreadable) but not quite equal to 42. Speed on level far superior. Possible when attacked from above to turn and deliver short head on burst."
Flight Lieutenant Wykeham-Barnes reported:
"The enemy dog fought, during dogfight damaged two enemy and sent one down out of control but could not see it crash as another was in my tail. The enemy fairly aggressive."
Flying Officer Patterson (he delivered a quarter attack from port side) reported:
"The enemy started a general dogfight. 1 CR 42 shot down and seen to burn out on the ground".
The 274 Squadron Hurricanes all had landed at 17:00.
It is also highly likely that 112 Squadron's Gladiators were present. They were up, patrolling the Bir Enba area, and were noted and attacked by 9o Gruppo's pilots. The Squadron flew at least two patrols during the day but the unit's ORB don't report any engagement.
The escorted bombers were three SM 79s of the 29o Gruppo (one of 11a Squadriglia and two of 63a Squadriglia) commanded by Colonnello Mario Aramu that attacked at around 16:40 while the RAF fighters were busy with the CR.42s of 9o Gruppo. Aramu noted the combat between Italian and Commonwealth fighters and claime an effective bombing from 3000 metres coming back at Gambut at 17:50 while the other formation were four SM 79s of the 6a Squadriglia, 44o Gruppo, commanded by Maggiore Andrea Bosi who had taken off at 14:25 from Tmini M2. Before the mission Bosi had received order not to press home his attack (but to turn back) in case he failed the rendezvous with the escorting fighters over Sollum, so when the rendezvous with the escort failed he turned back and landed at Tmini M2 at 16:40. His were the bombers that were discovered by 9o Gruppo flying back towards Libya.

That same day, after landing, Botto was involved in a car accident; he suffered a fracture at the base of the skull, but luckily again survived.

After convalescence, he received administrative work.

On 26 June 1941, he was promoted to Tenente Colonnello.

He was later assigned as commander of the Fighter School.

After the Italian surrender in September 1943 he virtually created the A.N.R. (Aeronautica Nazionale Repubblicana) after that the Mussolini headed Repubblica Sociale Italiana (RSI) had been formed. He was however sacked from A.N.R. in March 1944.

Botto ended the war with 8 biplane victories. 5 of these were claimed during the Spanish Civil War.

During his career, he was decorated with the Medaglia d'Oro al valor militare, the Medaglia d'argento al valor militare, the Croce al merito di Guerra, the Medaglia commemorativa della campagna di Spagna and the Medaglia di benemerenza per i volontari della guerra Spagna.

Ernesto Botto passed away on 11 December 1984.

Claims:

| | | | | | | | | | |
| --- | --- | --- | --- | --- | --- | --- | --- | --- | --- |
| Kill no. | Date | Time | Number | Type | Result | Plane type | Serial no. | Locality | Unit |
| | 1937 | | | | | | | | |
| | 16/07/37 | | 1/5 | I-16 (a) | Shared destroyed | Fiat CR.32 | | NW Monte Maza | 32a Squadriglia |
| | 16/07/37 | | 1/5 | I-16 (a) | Shared destroyed | Fiat CR.32 | | NW Monte Maza | 32a Squadriglia |
| 1 | 06/08/37 | | 1 | I-16 | Destroyed | Fiat CR.32 | | Selaya-Torrelavega | 32a Squadriglia |
| 2 | 06/08/37 | | 1 | I-16 | Destroyed | Fiat CR.32 | | Selaya-Torrelavega | 32a Squadriglia |
| | 21/08/37 | | 1/28 | I-16 | Shared destroyed | Fiat CR.32 | | near Ontaneda | 32a Squadriglia |
| | 21/08/37 | | 1/28 | I-16 | Shared destroyed | Fiat CR.32 | | near Ontaneda | 32a Squadriglia |
| | 21/08/37 | | 1/28 | I-16 | Shared destroyed | Fiat CR.32 | | near Ontaneda | 32a Squadriglia |
| | 21/08/37 | | 1/28 | I-16 | Shared destroyed | Fiat CR.32 | | near Ontaneda | 32a Squadriglia |
| | 21/08/37 | | 1/28 | I-16 | Shared destroyed | Fiat CR.32 | | near Ontaneda | 32a Squadriglia |
| | 21/08/37 | | 1/28 | I-16 | Shared destroyed | Fiat CR.32 | | near Ontaneda | 32a Squadriglia |
| | 21/08/37 | | 1/28 | I-15 | Shared destroyed | Fiat CR.32 | | near Ontaneda | 32a Squadriglia |
| | 21/08/37 | | 1/28 | I-16 | Probably shared destroyed | Fiat CR.32 | | near Ontaneda | 32a Squadriglia |
| | 21/08/37 | | 1/28 | I-16 | Probably shared destroyed | Fiat CR.32 | | near Ontaneda | 32a Squadriglia |
| 3 | 22/08/37 | | 1 | I-15 (b) | Destroyed | Fiat CR.32 | | Ontaneda area | 32a Squadriglia |
| 4 | 22/08/37 | | 1 | I-15 (b) | Destroyed | Fiat CR.32 | | Ontaneda area | 32a Squadriglia |
| | 23/08/37 | | 1/10 | I-15 (c) | Shared destroyed | Fiat CR.32 | | Ontaneda | 32a Squadriglia |
| | 23/08/37 | | 1/10 | I-15 (c) | Shared destroyed | Fiat CR.32 | | Ontaneda | 32a Squadriglia |
| | 23/08/37 | | 1/10 | I-15 (c) | Shared destroyed | Fiat CR.32 | | Ontaneda | 32a Squadriglia |
| | 23/08/37 | | 1/10 | I-15 (c) | Probably shared destroyed | Fiat CR.32 | | Ontaneda | 32a Squadriglia |
| | 23/08/37 | | 1/10 | I-15 (c) | Probably shared destroyed | Fiat CR.32 | | Ontaneda | 32a Squadriglia |
| | 23/08/37 | | 1/10 | I-15 (c) | Probably shared destroyed | Fiat CR.32 | | Ontaneda | 32a Squadriglia |
| | 01/09/37 | | 1/12 | I-16 (d) | Shared destroyed | Fiat CR.32 | | Belchite | 32a Squadriglia |
| | 01/09/37 | | 1/12 | I-16 (d) | Shared destroyed | Fiat CR.32 | | Belchite | 32a Squadriglia |
| | 01/09/37 | | 1/12 | I-15 (d) | Shared destroyed | Fiat CR.32 | | Belchite | 32a Squadriglia |
| | 01/09/37 | | 1/12 | I-15 (d) | Probably shared destroyed | Fiat CR.32 | | Belchite | 32a Squadriglia |
| | 01/09/37 | | 1/12 | I-15 (d) | Probably shared destroyed | Fiat CR.32 | | Belchite | 32a Squadriglia |
| 5 | 12/10/37 | 07:55- | 1 | I-16 (e) | Destroyed | Fiat CR.32 | NC623/3 | Mediana | 32a Squadriglia |
| | 1940 | | | | | | | | |
| 6 | 03/07/40 | | 1 | Hurricane (f) | Destroyed | Fiat CR.42 | | Hal Far | 9o Gruppo |
| | 04/08/40 | 16:50- | 1 | Blenheim (g) | Damaged | Fiat CR.42 | | Ridotta Capuzzo area | 9o Gruppo |
| 7 | 12/10/40 | | 1 | Blenheim (h) | Destroyed | Fiat CR.42 | | El Adem area | 9o Gruppo |
| | 20/11/40 | 14:40-16:30 | 1/12 | Gladiator (i) | Shared destroyed | Fiat CR.42 | | Sidi Barrani area | 9o Gruppo |
| | 20/11/40 | 14:40-16:30 | 1/12 | Hurricane (i) | Shared destroyed | Fiat CR.42 | | Sidi Barrani area | 9o Gruppo |
| | 20/11/40 | 14:40-16:30 | 1/12 | Hurricane (i) | Shared destroyed | Fiat CR.42 | | Sidi Barrani area | 9o Gruppo |
| | 20/11/40 | 14:40-16:30 | 1/12 | Enemy fighter (i) | Shared damaged | Fiat CR.42 | | Sidi Barrani area | 9o Gruppo |
| | 20/11/40 | 14:40-16:30 | 1/12 | Enemy fighter (i) | Shared damaged | Fiat CR.42 | | Sidi Barrani area | 9o Gruppo |
| | 20/11/40 | 14:40-16:30 | 1/12 | Enemy fighter (i) | Shared damaged | Fiat CR.42 | | Sidi Barrani area | 9o Gruppo |
| | 20/11/40 | 14:40-16:30 | 1/12 | Enemy fighter (i) | Shared damaged | Fiat CR.42 | | Sidi Barrani area | 9o Gruppo |
| 8 | 09/12/40 | 14:55- | 1 | Hurricane (j) | Destroyed | Fiat CR.42 | | 30 km S Bir Enba | 9o Gruppo |
Biplane victories: 8 and 20 shared destroyed, 7 probably shared destroyed. 1 and 4 shared damaged.
TOTAL: 8 and 20 shared destroyed, 7 probably shared destroyed. 1 and 4 shared damaged.
(a) Claimed in combat with I-16s from first I-16 Escuadrilla of the Fuerzas Aéreas del Norte.
(b) Claimed in combat with I-15s from Escuadrilla Galindo. The 32a Squadriglia claimed 4 I-15s destroyed and 5 probables. At least 2 of these claims are verified.
(c) The 32a Squadriglia claimed 3 I-15 destroyed and 3 probables. Only 1 I-15 is confirmed with Republican records when Francisco De Antonio Sanz was shot down.
(d) Not confirmed with Republican records.
(e) Claimed in combat with fighters from 1a/26, 2a/21 and 6a/21, which lost 2 I-16s and 1 I-15, together with two I-16s and an I-15 damaged. 31a and 32a Squadriglie claimed 4 I-15s and 9 I-16s for the loss of 5 CR.32 (2 pilots KIA and 3 POW) and 3 damaged.
(f) Hurricane (P2614) of Hal Far Fighter Flight shot down while attempting to land. Pilot Flying Officer John Waters survived unhurt.
(g) Claimed in combat with bombers probably from 55 and 211 and/or 113 Squadrons and probably Gladiators from 112 Squadron. One Blenheim from 211 Squadron seems to have force-landed and was lost in this combat. None of other RAF units reported any losses or claims. The Italian fighters from the 9o and 10o Gruppi totally claimed 3 Blenheims and 2 and 2 probable Gladiators.
(h) Claimed in combat with three Blenheims from 55 Squadron. All three was claimed shot down but the three Blenheims (L6659, L8530 and L1538) were all damaged; L8530 beyond repair.
(i) Claimed in combat with Hurricanes from 33 and 274 Squadrons and Gladiators from 112 Squadron. 9o Gruppo claimed seven victories and two probables while losing three CR.42s, getting four more damaged and losing two pilots KIA. 112 Squadron claimed eight victories for no losses, 274 Squadron possibly suffered one damaged Hurricane while 33 Squadron possibly claimed a CR.42 without losses.
(j) Probably claimed in combat between 9o and 151o Gruppi and 33 and 274 Squadrons. 9o Gruppo claimed eight shot down, three probables and several damaged while losing two CR.42s and four force-landed. The 151o Gruppo claimed one Hurricane without losses. 33 and 274 Squadrons claimed seven or eight CR.42s and three probables while one Hurricane (33 Squadron) had to force-land and a second (274 Squadron) was damaged.

Sources:
3o Stormo, storia fotografica - Dai biplani agli aviogetti - Carlo Lucchini and Leproni Enrico, 1990 Gino Rossato Editore
9o Stormo da Bombardamento Terrestre (1934-1943) - Giovanni Tonicchi, 1997, Tarquinia kindly provided by Stefano Lazzaro
33 Squadron Operations Record Book
Ace of Aces: M T StJ Pattle - E C R Baker, 1992 Crécy Books, Somerton, ISBN 0-947554-36-X
Aces High - Christopher Shores and Clive Williams, 1994 Grub Street, London, ISBN 1-898697-00-0
Aces High Volume 2 - Christopher Shores, 1999 Grub Street, London, ISBN 1-902304-03-9
Air War Italy 1944-45 - Nick Beale, Ferdinando D'Amico and Gabriele Valentini, 1996 Airlife Publishing, Shrewbury
Ali in Spagna - Giuseppe Federico Ghergo and Angelo Emiliani, kindly provided by Ludovico Slongo
Ali nella tragedia - Giulio Lazzati, 1970 Mursia, Milan, ISBN 88-425-2132-9, kindly provided by Stefano Lazzaro
Assi Italiani Della Caccia 1936-1945 - 1999 Aerofan no. 69 apr.-giu. 1999, kindly provided by Jean Michel Cala
Aviatori Italiani - Franco Pagliano, 1964 Longanesi Milano, kindly provided by Ludovico Slongo
Aviabrigada X - Alfredo Logoluso, 2001 no. 97, 98 and 99 of Storia Militare (October-December 2001), kindly provided by Ludovico Slongo
Buscaglia e gli Aerosiluranti - Orazio Giuffrida, 1994 Ufficio Storico Aeronautica Militare, Rome kindly provided by Stefano Lazzaro
Dai Biplani agli Aviogetti - Carlo Lucchini and Enrico Leproni, 1990 Gino Rossato Editore, Valdagno kindly provided by Stefano Lazzaro
Desert Prelude: Early clashes June-November 1940 - Håkan Gustavsson and Ludovico Slongo, 2010 MMP books, ISBN 978-83-89450-52-4
Desert Prelude: Operation Compass - Håkan Gustavsson and Ludovico Slongo, 2011 MMP books, ISBN 978-83-61421-18-4
Diario Storico 73a Squadriglia kindly provided by Ludovico Slongo
Diario Storico 97a Squadriglia kindly provided by Ludovico Slongo
Ernesto Botto, Gamba di Ferro - Ferdinando Pedriali, Storia Militare no. 96 (IX), September 2001 kindly provided by Stefano Lazzaro
Esa mezivalecneho obdobi - Tomas Polak, 1995 Plastic Kits Revue 43/95, Ostrava, Czech Republic kindly provided by Ondrej Repka
Fiat CR.32 Aces of the Spanish Civil War - Alfredo Logoluso, 2010 Osprey Publishing, Oxford, ISBN 978-1-84603-983-6
Fiat CR.42 Aces of World War 2 - Håkan Gustavsson and Ludovico Slongo, 2009 Osprey Publishing, Oxford, ISBN 978-1-84603-427-5
Fighters over the Desert - Christopher Shores and Hans Ring, 1969 Neville Spearman Limited, London
Gloster Gladiator - Alex Crawford, 2002 Mushroom Model Publications, ISBN 83-916327-0-9
GORIZIA ed il QUARTO STORMO
Guerra di Spagna e Aviazione Italiana - Ferdinando Pedriali, 1992 USSMA, Rome, kindly provided by Stefano Lazzaro
Hurricanes over the sands: Part One - Michel Lavigne and James F. Edwards, 2003 Lavigne Aviation Publications, Victoriaville, ISBN 2-9806879-2-8
Hurricanes over Tobruk - Brian Cull with Don Minterne, 1999 Grub Street, London, ISBN 1-902304-11-X
Il 5o Stormo - Giuseppe Pesce and Nicola Malizia, 1984 STEM Mucchi, Modena kindly provided by Stefano Lazzaro
Il 23o Gruppo Caccia - Nicola Malizia, 1974 Bizzarri, Roma kindly provided by Stefano Lazzaro
Il 101o Gruppo Tuffatori - Giuseppe Pesce, 1975 STEM Mucchi, Modena kindly provided by Stefano Lazzaro
Il Caccia Re 2000 e la storia delle "Reggiane" - Sergio Govi, 1983 Giorgio Apostolo Editore, Milan kindly provided by Stefano Lazzaro
Il caccia RE 2001 - Sergio Govi, 1982 Giorgio Apostolo Editore, Milan kindly provided by Stefano Lazzaro
Il Fiat CR 42 l'ultimo biplano da caccia Italiano – Nicola Malizia, 2003 Editrice Innocenti, Grosseto, kindly provided by Ludovico Slongo
Il Walzer del 102o Gruppo - Giuseppe Pesce, 1976 STEM Mucchi, Modena, kindly provided by Stefano Lazzaro
Italian Aces of World War 2 - Giovanni Massimello and Giorgio Apostolo, 2000 Osprey Publishing, Oxford, ISBN 1-84176-078-1
Le Giovani Aquile – Antonino Trizzino, 1972 Longanesi, Milano, (narration by Guglielmo Biffani at GORIZIA ed il QUARTO STORMO) kindly provided by Ludovico Slongo
La Regia Aeronautica - volume I: Dalla non belligeranza all'intervento – Nino Arena, 1981 USSMA, Rome kindly provided by Stefano Lazzaro
Malta: The Hurricane Years 1940-41 - Christopher Shores, Brian Cull and Nicola Malizia, 1987 Grub Street, London
Messerschmitt Bf 109 - Gregory Alegi and Marco Gueli, 2002 Ali Straniere in Italia no. 1, La Bancarella Aeronautica, Turin, kindly provided by Stefano Lazzaro
Quelli del Cavallino Rampante - Antonio Duma, 1981 Editore Dell'Ateneo, Roma, kindly provided by Stefano Lazzaro
Royal Air Force Aircraft L1000-N9999 - James J. Halley, 1993 Air-Britain (Historians) Ltd, Kent, ISBN 0-85130-208-4
Storia Aeronautica Italiana
Storia degli Aerosiluranti Italiani - Carlo Unia, 1974 Edizioni Bizzarri, Rome, kindly provided by Stefano Lazzaro
Stormi d'Italia - Giulio Lazzati, 1975 Mursia, Milan kindly provided by Stefano Lazzaro
Storia Militare no. 96 (IX), September 2001, kindly provided by Stefano Lazzaro
The Desert Air War 1939 – 1945 – Richard Townshend Bickers, 1991 Leo Cooper, London, kindly provided by Ludovico Slongo
The Messerschmitt 109 in Italian service 1943-1945 - Ferdinando D'Amico and Gabriele Valentini, 1989 Monogram Aviation Publication, Boylston, ISBN 0-914144-30-8, kindly provided by Stefano Lazzaro
The Legion Condor - Karl Ries and Hans Ring, 1992 Schiffer Publishing
Wings Over Spain - Emiliani Ghergo, 1997 Giorgio Apostolo Editore, Milano
Additional information kindly provided by Christer Bergström, Ian Acworth, Ferdinando D'Amico, Stefano Lazzaro, Alfredo Logoluso, Giovanni Massimello, Ludovico Slongo and Pelham Temple.




Last modified 29 January 2017