Biplane fighter aces

Soviet Union

Mayor Sergey Ivanovich Gritsevets HSU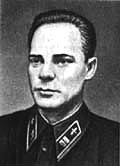 19 July 1909 – 16 September 1939
Sergey Gritsevets was born on 19 July 1909 (alternatively on 6 July) in Borovtsy, near Brest.
He joined the army in 1931 and was trained as a pilot at the Orenburg Air College. Completing his training here a year later, he subsequently undertook further training in aerial combat techniques at the Odessa School during 1936.
In 1938, now a Starshiy Leytenant, he went to Spain as a volunteer, initially being attached to a section led by F. V. Rodin.
He arrived in Spain on 10 June 1938 and served in the 5a/21.
Here he saw action over the Ebro River during July of that year.
At 12:15 on 18 July, two 12-aircraft formations of CR.32s from XXIII Gruppo were taking it in turns to patrol over the Viver front south of Barracas. The formations, led by Maggiore Andrea Zotti and Capitano Guido Nobili, were flying at altitudes of 3,600 meters and 4,000 meters, respectively, when they spotted 24 I-15s from Escuadrillas 1a and 3a of Grupo No 26 on a strafing mission. The biplane fighters were escorted by 24 I-16s from Escuadrillas 2a, 3a, 4a and 5a of Grupo No 21, which were flying above them.
The CR.32 pilots engaged the monoplane fighters and Maggiore Zotti described the well-tried tactics adopted by the enemy in his after action report:
"The Ratas tried to fragment our compactness into a widespread battle, reduce our operational height and bring the broken formation down into the "Curtiss fighters'" engagement zone - a restricted combat zone that would have put us in a disadvantageous position."

Despite the Republican tactic, most Italian pilots stayed in formation and manoeuvred without losing height. The I-16s were tackled first in an engagement that lasted ten minutes, with Republican documents showing that three Polikarpovs were lost and two pilots killed. However, it appears that these aircraft were shot down by Legion Condor Bf 109s that had independently joined the battle at a higher altitude - German pilots claimed to have shot down three Ratas in the vicinity of Segorbe. Three more I-16s were hit by CR.32s or Bf 109s and had to make emergency landings. Two of the fighters collided whilst landing back at their base and one was destroyed, although both pilots survived.
One of the I-16s that force landed at Utiel airfield was flown by flight commander, Starshii Leitenant Gritsevets of 5a/21. His fighter on this occasion was one of the new four-gun I-16 Type 10s recently delivered to Spain. Gritsevets' aircraft had suffered 25 hits from the guns of CR.32s, although he had also enjoyed success during the dogfight. Indeed, he was credited with two Fiat fighters destroyed, one of which was the aircraft flown by Capitano Giorgio Frattini, second-in-command of the 18a Squadriglia, which fell near Altura (his body was never found). Capitano Antonio Raffi (CO 18a Squadriglia) was also hit when an I-16 Type 10 flown by patrol leader Nikolay Prokofevich Zherdev intentionally collided with the tail of his CR.32. Zherdev managed to return to Utiel, thus saving his aircraft, but Raffi was forced to bail out over enemy territory in the vicinity of Teresa, where he was taken prisoner.
Zotti's report concluded:
"Having seen off the Ratas, which suddenly vanished, our CR.32s turned their attention to the "Curtiss fighters" that had dived down low in order to engage us in close combat. This tactic left us with no room for a diving attack. In the second action, which lasted a good 20 minutes, we resisted the temptation to make individual attacks. Instead, we remained in formation, thus forcing the Republicans to fight us as a unified mass that dominated the battle from a higher altitude. During this second combat five "Curtiss fighters" were shot down."
Two I-15s had actually been downed by the CR.32s, one from 2a Escuadrilla crashing near Chelva and a machine from 3a Escuadrilla falling in Nationalist territory. According to Teniente Calvo Diago of 2a Escudarilla, all the unit's fighters had been hit in the action. One of the lost I-15s fell in flames after it was attacked by Zotti, but not before it had shot down Sergente Danilo Vestrini's CR.32. His fighter also ablaze, the badly wounded Italian pilot parachuted into enemy territory between Alcublas and Altura, where he was captured. Concluding his report, Zotti wrote:
"Personally, I had fired 745 rounds during the 30-minute combat. Initially, I had attacked three Ratas without success, before going after six or seven "Curtiss fighters", two of which I abandoned [one was the I-15 chasing Vestrini's CR.32] after I saw that they were trailing dark smoke. I landed at Teruel airfield at 1355 hrs when I ran low on fuel.
Nationalist intelligence deciphered a "Red" air force signal during the evening of the 18th saying that following the day's fighting about 15 of their aircraft were missing and no news had been heard of them. From the accounts of pilots that had taken part in the battle it emerged that eight Ratas and five "Curtiss fighters" had certainly been shot down, with the probable destruction of a further two Ratas."
Flying with Zotti was Maggiore Aldo Remondino ("Remotti") on his first combat mission and who was designated to succeed Zotti. Later, Remondino recalled this action, which can give an idea on a typical Spanish War dogfight ("la lucha de perros" in Spanish):
"… I was looking above and below to avoid surprises. I spotted, higher at right, a formation of "Ratas" which was diving on us. I immediately turned into to chase them, while at lower height the combat against "Chatos" was going on. I shot on the first "Rata" that went in front on me, but I was attacked at the rear by three "Ratas", that went away as another CR.32 intervened. Then I shot at two other "Ratas" and I reached 3000 m, where I spotted a "Curtiss" below me. I attacked, shooting at it by close distance quite until the ground […]
I fought with another "Rata" that however dived to escape. After returning in combat area, I saw no more enemies. I landed to Teruel with two other CR.32s, having no enough fuel to reach Puig Moreno."
It seems that Sergente Aldo Buvoli of the 19a Squadriglia claimed one I-16 and a shared I-15 in this combat.
1.J/88 (Bf 109) claimed two and one unconfirmed I-16s. These were claimed by Oberleutnant Wolfgang Schellmann, Unteroffizier Ernst Quasinowski and Feldwebel Erich Kuhlmann (the unconfirmed) while Leutnant Walter Oesau, Stab J/88 (Bf 109) claimed an I-16.
Republicans declared to have fought against about 100 CR.32s and Bf 109s and claimed nine Fiats and a Messerschmitt, but admitted the loss of three "Ratas" and two "Chatos". It seems that the Bf 109 was credited to capitán José María Bravo Fernández, CO 3a/21 (I-16), since he claimed a destroyed Bf 109 during the day. Republican fighter pilots Vicente Yuste Gorbatón (3a/21?) and Belmonte was killed in combat in the Levante area.

In August, he took command of the 5a/21 (I-16).

On 13 August, he claimed a He 111, which was forced to land in Republican territory near Barcelona. The pilot was a Spaniard named Margalef.

On 3 October, Starshiy Leytenant Gritsevets claimed a CR.32 in the Ebron area.

Later he served as the Soviet group commander over the 2a Escuadrilla.

At the end of 1938, all volunteer pilots were recalled to the Soviet Union and Gritsevets returned on 26 October 1938.
By this time, he had claimed success in 30 combats, all whilst flying the I-16 fighter and was the most successful Russian pilot in the Spanish Civil War. However, modern research seems to indicate that according to Soviet documents, he should only be credited with 6 victories in Spain – the rest of them being claimed as shared. His successes had been claimed during 115 combat hours, 88 combat flights and 42 combats.

On 22 February 1939, he was decorated with the Gold Star of the Hero of the Soviet Union for his service in Spain.

On 29 May 1939, the Soviet Air Force sent a group of well-merited pilots from the Central Aerodrome Frunze in Moscow aboard three Douglas DC-3s to Mongolia (a second group was sent to Mongolia by train). Before they left they all had paid a visit to Marshal Voroshylov, Commissar of Defence, and Komkor A. Laktionov, Commander of the VVS.
The group consisted of 48 airmen, both fighter and bomber pilots and technical staff. Among the fighter pilots were Sergey Gritsevets, Ivan Lakeyev, Viktor Kustov, Grigoriy Kravchenko, Nikolay Gerasimov, Leonid Orlov, Yevgenii Stepanov, A. Nikolayev, Viktor Rakhov. Eleven of the pilots had been decorated with the Gold Star of the Hero of the Soviet Union.
Komkor Yakov Shmushkevich, who after arriving in Mongolia became the commander of the whole Soviet-Mongolian Air Force/Aviation Group, commanded the group. The group had been created immediately after the big defeat of the Soviet air regiments on 27-28 May. In these combat 70 and 22 IAPs had taken part and Soviet officially admitted the loss of twelve pilots KIA and 14 fighters (mostly I-15bis and some I-16 type 5s) to the end of May 1939.
The leading pilot in the DC-3s was Alexandr Golovanov (future Air Marshal of VVS during the Great Patriotic War and commander of the Long-Range Soviet Bombers). The other two pilots were Gratsov and Niuhtinow.
The group took off after midday and the trip lasted for three days before finally landing in Czita (near the border of Mongolia in the Transbaikalyan Military District and approximately 650km from the conflict).
At Czita they collected their aircraft and flew on to Tamtsag-Bulag, which was the main Soviet Air Base and which was situated approximately 120km east of the Khalkin Gol River.
The newly arrived pilots were distributed among the eskadrilyas of the 70 IAP (100 SAB) and 22 IAP (23 SAB). Mayor Gritsevets was posted to 70 IAP of the 100 SAB (Mixed Air Brigade) (150 BAP was also part of 100 SAB) as an advisor in tactical matters to Mayor V. Zabaluyev, commander of the 70 IAP.
22 IAP had been the second regiment arriving in Mongolia and in July 56 IAP arrived equipped with a mix of I-16s and I-153s.
One of the reasons to the Soviet weakness against 11 and 24 Sentais of the JAAF in May had been that most of the higher commanders in Soviet regiments based in Mongolia and Far-East Military District had been relived form their posts and arrested by NKVD during the 1937-1939 purges period. One example was the staff of 22 IAP, which during the transport to the front in Mongolia in May 1939 got their commanders down to the eskadrilyas commanders arrested. A second weakness was the the Polikarpov I-152s, which was inferior to the JAAFs Ki-27s.

70 IAP was based on an airfield called "Leningrad", which was very primitive and out in the hot sun in an open space with no hangars, no trees and no shadow.

Gritsevets took part in several combats during June and made claims while flying the Polikarpov I-16.

At 15:00 on 22 June, 22 I-16s and 14 I-15bis scrambled for the area of Khalkhin Gol River estuary and Chychy-Undur-Obo. At 15:42 they became entangled in combat with two groups of Ki-27s. The first enemy formation consisted of 12 fighters and the second of 27. Eight I-15bis were lost in air combat, two I-16s were set alight on the ground and one was shot down. In return the Soviet pilots claimed seven Japanese fighters as shot down. At 17:34 the Japanese pilots broke off the combat and escaped in direction of Gandzur.
At 15:40, twelve I-16s and 14 I-15bis from 22 IAP scrambled and became engaged with Ki-27s. They returned at 17:15 and three I-16s and six I-15bis failed to return (one I-16 and one I-15bis forced-landed in the area of Hill 704. One pilot was found wounded and admitted to the hospital).
At 16:57 twelve more I-15bis and ten more I-16s from 22 IAP took off for the battle area. They saw no enemy planes and returned at 18:10. According to the pilot Golubjev one Ki-27 was destroyed on the ground in enemy territory during the first mission.
The Japanese reported that Soviet fighters crossed the border at Amkuro, south-east of Kanjur, and the 2nd chutai of the 24th Sentai took off to intercept, followed by the 1st chutai. The 2nd chutai encountered a reported 60 fighters and in the ensuing combat claimed 18 shot down for the loss of four; including the CO Captain Shigenobu Morimoto (Class 42), Sergeant Major Yoshio Yoshino (NCO67), Sergeant Major Kunizo Ishizuka (NCO73), which all three were killed and Sergeant Major Yotutaka Miyajima (NCO54) who was taken POW. A fifth fighter force-landed and the pilot returned later. Meanwhile, the 1st chutai joined the combat somewhat later, claiming six more victories.
An hour later, there was another alarm and the 1st chutai took off again, engaging ten plus I-15bis and a similar number of I-16s. The 2nd chutai had followed, and at once entered the fight, the 24th Sentai's units together claiming 25 further victories, this time without loss. It seems that eight probables were also claimed.
During the second engagement, Captain Saiji Kani (leader of the 1st chutai) claimed five victories and later described the combat:
"How many enemy aircraft there were; but we have the courage, like eagles pursuing swallows, and overwhelmed the enemy. About 5.30 pm I spotted 25-26 more flying at about 2,000 metres - on the first pass one was going down in flames, and one by one others went down in the same way - more new enemy aircraft appeared and entered the battle - they were all around - we left the area of fighting and returned. There were many hits in the wings and tail of my aircraft."
First Lieutenant Shoichi Suzuki of the 1st chutai claimed five victories during the day, but was hit and wounded in his right wrist. Attempting to head for home, he was chased persistently by three Soviet fighters, so turning on these, he shot down all three to bring his total for the day to eight. He was hospitalized next month after this combat.
During the day, Sergeant Major Koji Ishizawa of the 2nd chutai claimed two victories during his first combat flying in First Lieutenant Furakwa's element. However, in this engagement most of the Japanese pilots were hit and wounded, only Ishizawa and one other pilot escaping unscathed. Katsuaki Kira flew as wingman to First Lieutenant Furakawa and claimed one I-16 as his first victory in his first combat.
First Lieutenant Hyoe Yonaga a section leader of the 2nd chutai, 24th Sentai, experienced his first combat when Captain Morimoto led nine Ki-27 from the chutai over the Khalka River, where some 60 enemy fighters were seen in three groups. Yonaga was able to claim one and one shared, but Captain Morimoto was lost and First Lieutenant Furukawa was wounded, Yonaga having to take over as chutai leader until the arrival of Captain Tashiro at the end of the month.
Sergeant Major Goro Nishihara of the 2nd chutai, 24th Sentai, experienced his first combat when flying as third man in Lieutenant Hyoe Yonaga's element. He and eight other pilots attacked 60 Soviet fighters, the combat allowing him to claim three shot down and a fourth probably so.
Chiyoji Saito of the 2nd chutai, 24th Sentai, flew as third pilot in Captain Morimoto's element and claimed three and one probable, but lost sight of his leader, who failed to return.
Sergeant Major Yutaka Kimura of the 1st chutai reportedly claimed one enemy fighter, but then a large 'gaggle' of Soviet fighters attacked, breaking up the Japanese formation. Kimura pulled out of the melee, then dived back in, attacking one after another until he had claimed five destroyed. His own Ki-27 was hit 21 times, several bullets puncturing the fuel tanks, which started to leak. Overcome by fumes, he passed out whilst in a tight turn, and his aircraft fell out of the sky. Just above the ground, he recovered and managed to regain control, heading for base. Seven or eight I-16s gave chase persistently, but eventually he turned into these, evading their attacks for 30 minutes during which he managed to claim yet another shot down before shaking off the rest and making it back to base.
During the second sortie of the day, Sergeant Major Shogo Saito of the 1st chutai, 24th Sentai, claimed three I-16s shot down, forced a fourth pilot of another I-16 to bail out, and then strafed the three downed aircraft. With his ammunition gone, he was attacked by eight I-16s. He at once flew at one of these head-on, and when the I-16 pilot sought to fly below him, cut off its tail with his right wing, seeing it go down. He managed to regain control of his aircraft, flying back to base with half the wing gone. His damaged Ki-27 was later exhibited in Tokyo.
During the two combats, it seems that 17 Japanese fighters totally claimed 47 victories in the air and on the ground (22 in the first combat and 25 in the second one) and 8 probables while losing seven fighters. At least five of the losses were fighters in the second combat (four pilots killed and one parachuted). No losses are noted in the first combat, so two losses remain "unattributed".
Returning Soviet pilots claimed that they had been in combat with 120(!) Japanese fighters of which they claimed 31 shot down. Known claiming pilots from the 22 IAP were:
Mayor Nikolay Georgiyvich Glazykin (CO) two enemy aircraft
Grigoriy Kravchenko one enemy aircraft
Starshii Leitenant Viktor Rakhov (I-16) one enemy aircraft
Arseniy Vorozheikin (I-16) one enemy aircraft
R. Raykov one enemy aircraft.
Known claiming pilots from the 70 IAP were:
Mayor Gritsevets (I-16) one Ki-27
Unknown units:
Nikolay Semenovich Gerasimov one enemy aircraft
Viktorov one enemy aircraft.
Mayor Ivan Lakeev, a unit commander in the 1st Army Group, also claimed an enemy aircraft.
It seems that ten I-15bis and three I-16s were shot down while four aircraft was lost on the ground. Six pilots were killed and five parachuted. Among these was Mayor Nikolay Georgiyvich Glazykin, commander of 22 IAP, who was credited with two victories witnessed by his fellow pilots. Five more pilots of 22 IAP was killed along with five from 70 IAP. One pilot from each of the regiments survived being shot down.
Yevgenii Stepanov took part in this combat flying in the lead of his 4th Eskadrilya of 22 IAP (nine I-15bis) and three aircraft, including Stepanov's I-15bis, made forced-landing after the combat. These three aircraft were destroyed by Japanese fighters strafing them but all three pilots survived. A fourth pilot, Sakin, commander of an eskadrilya of twelve I-16s was wounded when his force-landed I-16 was destroyed by strafing Japanese fighters.
Arseniy Vorozheikin of 22 IAP suffered damage to his fighter during his first encounter in this conflict.
The Soviets identified 25 wrecks on both sides of the front line (14 on the Soviet-Mongol side, eleven on the Japanese side). While they initially held all of those fallen on the Soviet side to be Japanese, it was afterwards discovered that "a lot" of them were Soviet. On the whole this data therefore confirms the total of 24 losses admitted by both sides.

On 26 June, Mayor Gritsevets of the 70 IAP landed his I-16 alongside the aircraft of his commanding officer, Mayor V. Zabaluyev, who had been forced down in hostile territory, 60 kilometres behind the Japanese lines.
He first proposed to Zabaluyev to flown/escape in his aircraft but he couldn't persuade him to leave Gritsevets behind and they returned successfully with both squeezed into the cockpit.
For his effort Gritsevets was decorated with a second Gold Star of the Hero of the Soviet Union on 29 August.
This wasn't a unique incident during the Khalkhin Gol conflict and Japanese pilots landed behind enemy lines at least on five times to pick up stranded pilots.
Also during the day, Mayor Gritsevets claimed two and one shared victories and it's possible that these were claimed in combat with the newly arrived 1st Sentai, which was involved in combat during the evening on this day claiming six Soviet fighters without losses. Whilst on their way to Caiyansuo airfield, the third element, comprising Sergeant Major Mitsuyoshi Tarui and Corporal Shinji Arai, encountered some I-152s. As they prepared to give battle, they were bounced by a reportedly 50-60 more hostile fighters from above. The sheer numbers obviously caused confusion amongst the attackers, for the two Japanese pilots, joined by First Lieutenant Fujio Honma, who sped to their aid, managed to shoot down two each of their opponents, and escape unscathed!

The first twenty I-153s arrived in Mongolia by the end of June 1939. The aircraft were transported to Czita where they were assembled and checked before being sent to Tamsag-Bulag. Totally Soviet sent seventy I-153s to this conflict (28 June - 15 November 1939). 17 of these were lost in combat and 6 were lost in non-combat accidents.
Shmushkevich ordered to pull out the best pilots from 70 IAP and to form an eskadrilya under the command of Mayor Gritsevets, who until this had flown the I-16. The I-153s arrived at the front in the beginning of July and five of them were handed over to 22 IAP, which was commanded by Mayor Kravchenko, who had been a test pilot on the I-153 at the factory before the conflict.
The first combat involving a zveno of three I-153s was one day after arrival (there isn't an exact date for this combat but it occurred before 7 July) and took place over Tamsag-Bulag.

On 7 July nine I-153s of the 70 IAP patrolled along the border. They weren't allowed to cross the border due to orders from Shmushkevich. Mayor Gritsevets led the formation and the I-153s were covered by a group of I-16s led by squadron leader Chistiakov from 22 IAP. Over the Khamar-Daba Mountain they encountered Japanese Ki-27s and according to a pre-planned plan Gritsevets turned his formation around as if fleeing. The Japanese, mistaking the I-153s for I-152s took the bait and followed in hot pursuit. The I-153s turned around again and attacked the surprised Japanese. The Soviet pilots quickly claimed four Ki-27s without losses and the retreating Japanese was also attacked by the I-16s. According to Japanese sources, two Ki-27s were lost although no pilots were killed.
It is possible that Gritsevets claimed two of the Ki-27 since according to some sources he claimed two victories while flying the I-153. However, other sources claim that his I-153 claims were made on 26 August.

When the fighting ended on the last day of August, Gritsevets had totally claimed 11 victories to bring his total in two wars to 18.

On 12 September, at least 20 Soviet pilots (fighters and bombers) were ordered back to Moscow (this was before the end of the Khalkhin Gol air war, but after Soviet land success with encircling and smashing of Japanese army forces in the Khalkhin Gol area). Included were Mayor Gritsevets, Shmushkevich (who became aviation commander on the Ukrainian Front) and Mayor Grigoriy Kravchenko. They travelled by a DC-3. The trip took two or three days and they arrived in Moscow on 14 or 15 September.

When they left Mongolia Gritsevets and his pilots handed over their I-153s to fleet aviation pilots. Fleet aviation pilots (ten from VVS KBF and five from the Black Sea Fleet regiments) had been selected and sent by train to fight in Mongolia. Commander of it was Mayor Novikov and among the pilots were future aces Kapitan Alexey Antonenko and Petr Brinko (both from KBF). They had arrived in the middle of June and been dispersed among the fighter eskadrilyas. In the first half of August they were all gathered again and after the recommendation from Gritsevets they reformed as a "fleet" eskadrilya with his unit's I-153s.

Soviet pilots taking part in the Khalkin Gol air war were awarded the highest rewards (including some Gold Star of the Hero of the Soviet Union on 29 August. Gristsevets, Kravchenko and Shmushkevich received it all for the second time as the first double recipients of this award in the Soviet Army while Yevgenii Stepanov received it for the first time). Gritsevets also received a Mongolian medal at Ulan Bator on 26 August.

On 15 September, Gritsevets received his second HSU during a celebrated meeting with Stalin.

The selected pilots and commanders were then directly transported to the Kiev and Byelorussia Military Districts to take command or act as advisers in Soviet regiments/command staff preparing the invasion of Poland on 17 September 1939. Gritsevets was to act as an adviser in a fighter brigade at Orsha.
Gritsevets chose to fly a fighter during this transport.

At 19:07 on 16 September, three I-16s took off for Bolbasovo. When they landed at 19:50, Gritsevets was killed when Mayor Petr I. Khara's (also a veteran from Spain) aircraft stalled whilst landing and crashing into Gritsevets, who was taxiing on the airfield of Bolbasovo. Khara survived the crash.
According to other sources, he was killed on 17 September.

At the time of his death, he was credited with 2 biplane victories and a total of 18.

During his career, he was also decorated with the Order of Lenin (twice) and the Order of the Red Banner (twice).

Claims:

| | | | | | | | | | |
| --- | --- | --- | --- | --- | --- | --- | --- | --- | --- |
| Kill no. | Date | Time | Number | Type | Result | Plane type | Serial no. | Locality | Unit |
| | 1938 | | | | | | | | |
| ? | 06/07/38 | | 1 | Bf109 | Destroyed | I-16 | | Spain | 5a/21 |
| ? | 06/07/38 | | 1 | Bf109 | Destroyed | I-16 | | Spain | 5a/21 |
| ? | 18/07/38 | 12:15-13:55 | 1 | Fiat CR.32 (a) | Destroyed | I-16 | | Altura | 5a/21 |
| ? | 18/07/38 | 12:15-13:55 | 1 | Fiat CR.32 (a) | Destroyed | I-16 | | Altura | 5a/21 |
| ? | 13/08/38 | | 1 | He111 (b) | Destroyed | I-16 | | Barcelona area | 5a/21 |
| ? | 14/08/38 | | 1 | Fiat CR.32 | Destroyed | I-16 | | Spain | 5a/21 |
| ? | 03/10/38 | | 1 | Fiat CR.32 | Destroyed | I-16 | | Ebron area | 5a/21 |
| ? | 05/10/38 | | 1 | Bf109 | Destroyed | I-16 | | Spain | 5a/21 |
| | 1939 | | | | | | | | |
| ? | 22/06/39 | afternoon | 1 | Ki-27 (c) | Destroyed | I-16 | | Amkuro area | 70 IAP |
| ? | 26/06/39 | | 1 | Enemy fighter (d) | Destroyed | I-16 | | Khalkin Gol | 70 IAP |
| ? | 26/06/39 | | 1 | Enemy fighter (d) | Destroyed | I-16 | | Khalkin Gol | 70 IAP |
| | 26/06/39 | | 1 | Enemy fighter (d) | Shared destroyed | I-16 | | Khalkin Gol | 70 IAP |
| 17 | 07/07/39 (e) | | 1 | Ki-27 | Destroyed | I-153 | | Khalkin Gol | 70 IAP |
| 18 | 07/07/39 (e) | | 1 | Ki-27 | Destroyed | I-153 | | Khalkin Gol | 70 IAP |
Biplane victories: 2 destroyed.
TOTAL: 18 and 1 shared destroyed.
(a) Claimed in combat with CR.32s from XXIII Gruppo. One of the aircraft was Capitano Giorgio Frattini, of the 18a Squadriglia, who become MIA.
(b) He111 forced to land in Republican territory near Barcelona. The pilot was a Spaniard named Margalef.
(c) Claimed in combat with 17 Ki-27s from 24th Sentai, which totally claimed 47 destroyed and 8 probables for the loss of seven aircraft. 22 and 70 IAPs claimed 31 shot down for the loss of 10 I-15bis, 3 I-16s and 6 pilots (four aircraft were lost on the ground.
(d) Possibly claimed in combat with the newly arrived 1st Sentai, which was involved in combat during the evening on this day claiming six Soviet fighters without losses.
(e) According to some sources, these claims were made on 26 August 1939.

Sources:
Air Aces Home Page - Jan Safarik
Air War Over Khalkhin Gol: The Nomonhan Incident - Vladimir R. Kotelnikov, 2010 SAM Publications, ISBN 978-1-906959-23-4
Fiat CR.32 Aces of the Spanish Civil War - Alfredo Logoluso, 2010 Osprey Publishing, Oxford, ISBN 978-1-84603-983-6
Japan Against Russia In The Sky Of Nomonhan - Dimitar Nedialkov, 2005 Propeller Publishing, Sofia, ISBN 954-9367-33-9
Japanese Army Air Force fighter units and their aces 1931-1945 - Ikuhiko Hata, Yasuho Izawa and Christopher Shores, 2002 Grub Street, London, ISBN 1-902304-89-6
Japanese Naval Aces and Fighter Units in World War II - Ikuhiko Hata and Yasuho Izawa, translated by Don Cyril Gorham, 1989 United States Naval Institute, Annapolis, ISBN 0-87021-315-6
Ki-27 'Nate' Aces – Nicholas Millman, 2013 Osprey Publishing, Oxford, ISBN 978-1-84908-662-2
Soviet Fighters in the sky of China, Part II - Anatolii Demin, 2000 Aviatsiia Kosmonavtika 10 (translated by George M. Mellinger)
Spanish Republican Aces – Rafael A. Permuy López, 2012 Osprey Publishing, Oxford, ISBN 978-1-84908-668-4
Stalin's Eagles - Hans D. Seidl, 1998 Schiffer Publishing, ISBN 0-7643-0476-3
Stalin's Falcons - Tomas Polak and Christhoper Shores, 1999 Grub Street, London, ISBN 1-902304-01-2
Tidbits from the Sino-Japanese Air Battles - Chang Kuang-Ming, 1998 World News Weekly August 1998 kindly provided by Tom Chan
Much additional information kindly provided by Raymond Cheung, Tom Chan, Andrei Demjanko, Börje Henningsson and Mirek Wawrzyński.




Last modified 11 October 2016