Biplane fighter pilots

Sweden

Fänrik Josef Gideon Karlsson
10 June 1918 – 7 November 1972
Gideon Karlsson was born on 10 June 1918.
At the time of his volunteering to F19, he was reservkadett (cadet in the reserve) in the Swedish Airforce reserve, but he was promoted to fänrik (Pilot Officer) for the service in F19.
F19 got an early morning alarm on 20 February when a flight of SBs from 3./16 SBAP was reported on its way westward from Uhtua. A rote Gladiators with fänrik (Pilot Officer) Per-Johan Salwén and fänrik Karlsson scrambled at 08:40 from forward base "Ulrik" at Uleåborg. They managed to intercept the attacking bombers 30 minutes later at Vaala at 2500 meters. Salwén hit two of the SBs before he run out of ammunition. The observer in the first SB Lieutenant A. Ja. Avrutskij misunderstood the instructions from the pilot and parachuted to become a POW. The aircraft managed to struggle back to base to do a wheels-up landing. Salwén's fire and/or the wheels-up landing wounded the pilot Lieutenant Mihail A. Borshev and gunner Nikolaj A. Troshenko. The aircraft was a write off. The second SB was damaged and the tailgunner Aleksandr P. Popov was mortally wounded and died a week later on 27 February 1940. Karlsson also hit this second SB.
Salwén's Gladiator was damaged with a bullet-hole in the wing from enemy return fire and a hole trough the propeller due a failing synchronisation.
On 10 March 1940, the TB-3 squadron (ex 1 TAP) of Air Group Spirin attacked Rovaniemi. One aircraft didn't return. This TB-3, flown by Sub Lieutenant Sergej T. Karepov was shot down by fänrik Karlsson, 5km east of Kemijärvi at 14:30.
The aircraft (s/n 22198) force-landed on the ice on Lake Murtoselkä. Five crewmembers were killed among them the pilot, the observer Lieutenant Nikolaj Vorobtshikov, the second pilot Senior Lieutenant Boris M. Kogan and Senior Lieutenant Kirill Shestihin. Three air-gunners were captured. These were Sergeant Majors Nikolaj Grigorjevitj Globa (24 years old), Aleksej A. Zatonov and Grigorij V. Zaharov.
Karlsson who was on a combat air patrol found surprisingly six TB-3s at 2000 meters over Rovaniemi and attacked them. The enemy aircraft turned around without dropping their bombs when he attacked. He concentrated on one of them and managed to damage it. It started to lag behind, dropped its bombs and descended, trying to find a place to force-land with all four engines damaged. Karlsson was forced to return to base after having been hit in the propeller. He had also almost exhausted his ammunition and returned to the rear base.
The enemy aircraft force-landed 5km east of the south end of Lake Kemijärvi. All of the crewmembers survived the crash but when they tried to put on resistance against Finnish ground troops, five of them were killed.
This was the last claim by F19 and cease-fire was established three days later on 13 March 1940.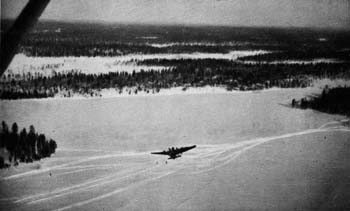 The TB-3 shot down by Karlsson.
Karlsson ended the war with 1 biplane victory.
He was married on 27 July 1962.
Gideon Karlsson passed way on 7 November 1972. At the time he was living in Stockholm.
Claims:

| | | | | | | | | | |
| --- | --- | --- | --- | --- | --- | --- | --- | --- | --- |
| Kill no. | Date | Time | Number | Type | Result | Plane type | Serial no. | Locality | Unit |
| | 1940 | | | | | | | | |
| | 20/02/40 | 09:10 | ½ | SB-2 (a) | Shared damaged | Gladiator | | E Vaala | F19 |
| 1 | 10/03/40 | 14:30 | 1 | TB-3 (b) | Destroyed | Gladiator | | 5km E Kemijärvi | F19 |
Biplane victories: 1 destroyed, 1 shared damaged.
TOTAL: 1 destroyed, 1 shared damaged.
(a) SB-2 from 3./16 SBAP damaged together with Per-Johan Salwén; The Soviet aircraft returned to its base at Uhtua, Airgunner A.P. Popov killed.
(b) TB-3 (c/n 22198) from AG Spirin (ex 1 TAP) crashed; five killed, three airgunners POW.
Sources:
F19 - en krönika - Greger Falk, Svensk flyghistorisk Förening, Stockholm, ISSN 0345-3413
Ikaros - Flygvapenmusei Årsbok 1997 Flygvapenmuseum, Linköping, ISSN 1102-1926
Ilmavoitot, osa 2 - Kalevi Keskinen and Kari Stenman, ISBN 952-99432-8-8
Svenska flygare i österled - Björn Bjuggren, 1942 Åhlen & Åkerlunds Boktryckeri, Stockholm
Sveriges Dödbok 1947-2006 – Sveriges Släktforskarförbund





Last modified 08 September 2009