Biplane fighter pilots

Sweden

Löjtnant Per-Johan Erik Salwén



Per-Johan Salwén was born on 28 June 1917.
He received his pilot training in the Swedish Air Force and was promoted to fänrik (Pilot Officer) on 21 April 1939 at F5 (Wing No. 5).
When he joined F19 he was part of the Reserve of the Swedish Air Force.
At F19 he served as a fighter pilot.
On 17 January, four Gladiators flew an armed reconnaissance against Märkäjärvi-Salla. While undertaking the reconnaissance, four I-15s were spotted at around 12:00. Fänriks (Pilot Officers) Roland Martin and Salwén opened fire at a distance of 400 meters. The Soviet aircraft dived and disappeared. When returning, both pilots were credited with one destroyed each.
The next day the Finnish radio-surveillance reported that a report from the Soviet fighter base at Kairala had been picked up. The report stated that at 12:10 on 17 January, four Finnish unknown aircraft had been spotted above Märkäjärvi on an easterly course. Leytenant Benediktov and another pilot (both from 145 IAP) force-landed at Märkäjärvi with their I-15bis'. The forward part of Benediktov's I-15bis was crushed and the pilot was wounded. Leytenant Bondarenko in a I-15bis from 2./145 IAP made an emergency landing 14 km west of Kuolajärvi. The aircraft was destroyed and the pilot was wounded.
On the morning on 1 February, a three-plane group of Gladiators flew a combat air-patrol on 3000 meters over Rovaniemi. At 10:30, eight DB-3s and twenty-six SBs from 5 OSAP attacked Rovaniemi. They together dropped 23000 kg of bombs. The first group escaped but from the second group, a SB-bomber (s/n 15/59) from 3./5 OSAP was shot down by fänrik Salwén, 78km north of Rovaniemi. The crew of the SB with pilot, Lieutenant Boris M. Babkin, observer, Lieutenant A. U. Melnik and air-gunner, non-commissioned officer B. I. Batorin were killed. The wreck of the Soviet counted over two hundred machine-gun hits.
During the combat Soviet air-gunners reported that they shot down two enemy-fighters of eleven attacking, but F19's three Gladiators didn't sustain any losses.
This victory was the first bomber shot down by F19.
F19 got an early morning alarm on 20 February when a flight of SBs from 3./16 SBAP was reported on its way westward from Uhtua. A rote Gladiators with fänrik (Pilot Officer) Salwén and fänrik Gideon Karlsson scrambled at 08:40 from forward base "Ulrik" at Uleåborg. They managed to intercept the attacking bombers 30 minutes later at Vaala at 2500 meters. Salwén hit two of the SBs before he run out of ammunition. The observer in the first SB Lieutenant A. Ja. Avrutskij misunderstood the instructions from the pilot and parachuted to become a POW. The aircraft managed to struggle back to base to do a wheels-up landing. Salwén's fire and/or the wheels-up landing wounded the pilot Lieutenant Mihail A. Borshev and gunner Nikolaj A. Troshenko. The aircraft was a write off. The second SB was damaged and the tailgunner Aleksandr P. Popov was mortally wounded and died a week later on 27 February 1940. Karlsson also hit this second SB.
Salwén's Gladiator was damaged with a bullet-hole in the wing from enemy return fire and a hole trough the propeller due a failing synchronisation.
On 8 March, Salwén damaged one SB-2 east of Vaala.
After returning from Finland, Salwén served at F 10.
In 1943, he acted as test pilot during the development of the indigenous Swedish FFVS J22 fighter, which had flown for the first time on 20 September 1942.
On 19 June 1943 he performed a test flight in the J22 prototype 22001. The take-off was as usual from Bromma, Stockholm. After manoeuvres over Torresta the aircraft crashed into the ground at high speed and in a very steep angle (60-70 degrees). The aircraft was totally destroyed in the crash and penetrated 3 meters into the ground. Salwén was killed immediately. The cause of the accident has not been established.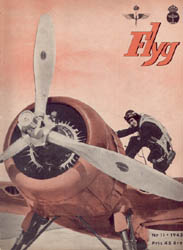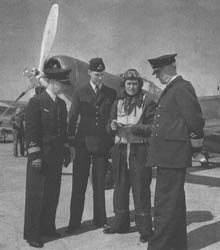 Left: Per-Johan Salwén on the cover of the Swedish aviation magazine "Flyg" in 1943.
Right: Per-Johan Salwén reporting after a test-flight in the J22. To the left is Bo Lundberg, chief designer of the J22.

Claims:

| | | | | | | | | | |
| --- | --- | --- | --- | --- | --- | --- | --- | --- | --- |
| Kill no. | Date | Time | Number | Type | Result | Plane type | Serial no. | Locality | Unit |
| | 1940 | | | | | | | | |
| 1 | 17/01/40 | 12:00 | 1 | I-15bis (a) | Destroyed | Gladiator | "F" | Märkäjärvi-Salla | F19 |
| 2 | 01/02/40 | 10:30- | 1 | SB-2 (b) | Destroyed | Gladiator | | 78km N Rovaniemi | F19 |
| 3 | 20/02/40 | 09:10 | 1 | SB-2 (c) | Destroyed | Gladiator | | E Vaala | F19 |
| | 20/02/40 | 09:10 | ½ | SB-2 (d) | Shared damaged | Gladiator | | E Vaala | F19 |
| | 08/03/40 | | 1 | SB-2 (e) | Damaged | Gladiator | | E Vaala | F19 |
Biplane victories: 3 destroyed, 1 and 1 shared damaged.
TOTAL: 3 destroyed, 1 and 1 shared damaged.
(a) Claimed in combat with I-15bis from 145 IAP, which suffered two force-landed aircraft. Leytenant Benediktov of 145 IAP was wounded when he crashed at Märkäjärvi. (b) SB-2 (c/n 15/59) from 3./5 OSAP; Lieutenant B.M. Babkin, Lieutenant A.U. Melnik and Warrant Officer B.I. Batorin killed.
(c) Initaly claimed only as damaged but Soviet sources verifies this as destroyed. SB-2 from 3./16 SBAP force-landed at Uhtua; Lieutenant M.A. Borshev wounded, Lieutenant A.Ja. Avrutskij parachuted and was captured, Airgunner N.A. Troshsenko wounded.
(d) SB-2 from 3./16 SBAP damaged together with Gideon Karlsson; Plane returned to base at Uhtua, Airgunner A.P. Popov killed.
(e) Not confirmed with Russian sources.
Sources:
Flyg No. 11, 1943
Flyghistorisk Revy No. 35 - J22, 1989
F19 - en krönika - Greger Falk, Svensk flyghistorisk Förening, Stockholm, ISSN 0345-3413
Ikaros - Flygvapenmusei Årsbok 1997 Flygvapenmuseum, Linköping, ISSN 1102-1926
Ilmavoitot, osa 2 - Kalevi Keskinen and Kari Stenman, ISBN 952-99432-8-8
Red Stars 7 - Talvisota Ilmassa - The Winter War In the Air - Carl-Fredrik Geust, 2011 Apali Oy, Tampere, ISBN 978-952-5877-04-5
Additional information kindly provided by Mikael Forslund.





Last modified 13 November 2013