Biplane fighter pilots

Sweden

Fänrik Roland Carl Ludvig Martin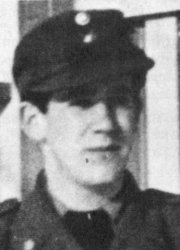 Roland Martin was born on 13 February 1917.
At the time of his volunteering to F19, he was a former kadett (cadet) of the Swedish Air Force.
On 17 January, four Gladiators flew an armed reconnaissance against Märkäjärvi-Salla. While undertaking the reconnaissance, four I-15s were spotted at around 12:00. Fänriks (Pilot Officers) Martin and Per-Johan Salwén opened fire at a distance of 400 meters. The Soviet aircraft dived and disappeared. When returning, both pilots were credited with one destroyed each.
The next day the Finnish radio-surveillance reported that a report from the Soviet fighter base at Kairala had been picked up. The report stated that at 12:10 on 17 January, four Finnish unknown aircraft had been spotted above Märkäjärvi on an easterly course. Leytenant Benediktov and another pilot (both from 145 IAP) force-landed at Märkäjärvi with their I-15bis'. The forward part of Benediktov's I-15bis was crushed and the pilot was wounded. Leytenant Bondarenko in a I-15bis from 2./145 IAP made an emergency landing 14 km west of Kuolajärvi. The aircraft was destroyed and the pilot was wounded.
When he returned to Sweden and continued to serve at the Swedish Air Force.
He returned to the Air Force's training school (F5) at Ljungbyhed to finish his education to officer.
On the night of 4 December 1940 flygkadett nr. 30 (air cadet no. 30) Martin took off together with flygkadett nr. 29 L. G. Rasmusson in Sk14 (North American NA 16) no. 682 ('F5-91') for some night-flying in the area of Ljungbyhed-Munkarp-Ljungbyhed. Martin was in control of the aircraft with Rasmusson in the backseat.
They encountered ground-fog in the area of Sösdala and they were heard from Ljungbyhed to ask for radio-directions over the radio. Unfortunately, the engine failed of the aircraft and they crashed into the ground south-west of the church of Matteröd. Both pilots were killed.
This night was known as "the night of disasters" because of a series of accidents that killed five pilots at F5 during this night.
At the time of his death, Martin was credited with 1 biplane victory.

Claims:

| | | | | | | | | | |
| --- | --- | --- | --- | --- | --- | --- | --- | --- | --- |
| Kill no. | Date | Time | Number | Type | Result | Plane type | Serial no. | Locality | Unit |
| | 1940 | | | | | | | | |
| 1 | 17/01/40 | 12:00 | 1 | I-15bis (a) | Destroyed | Gladiator | "C" | Märkäjärvi-Salla | F19 |
Biplane victories: 1 destroyed.
TOTAL: 1 destroyed.
(a) Claimed in combat with I-15bis from 145 IAP, which suffered two force-landed aircraft. Leytenant Benediktov of 145 IAP was wounded when he crashed at Märkäjärvi.
Sources:
F19 - en krönika - Greger Falk, Svensk flyghistorisk Förening, Stockholm, ISSN 0345-3413
Ikaros - Flygvapenmusei Årsbok 1997 Flygvapenmuseum, Linköping, ISSN 1102-1926
Ilmavoitot, osa 2 - Kalevi Keskinen and Kari Stenman, ISBN 952-99432-8-8
Red Stars 7 - Talvisota Ilmassa - The Winter War In the Air - Carl-Fredrik Geust, 2011 Apali Oy, Tampere, ISBN 978-952-5877-04-5
Additional information kindly provided by Jan Waernberg





Last modified 13 November 2013