Swedish Voluntary Aviators

Vänrikki Kurt V. O. Björkvall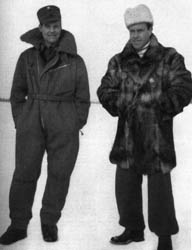 Kurt Björkvall (left) and Torolf von Wachenfeldt in Finland during the Winter War.

Kurt Björkvall was born in 1903.
Before the war Kurt Björkvall was one of the pioneers in Swedish civil aviation and on 28 August 1931 he made the first non-stop flight between Stockholm and London. He made the trip in a de Havilland Puss Moth and the flight took nine hours.
On 6 October 1936 he took off from Floyd Bennet Field in USA with the purpose of reaching Bromma, Stockholm. He was flying a one-engined Bellanca CH 400W Pacemaker. Due to bad weather and problems with the adjustable propeller he was however forced to make an emergency landing in the waters 100 kilometres off the Irish coast and was saved by a French trawler from La Rochelle.
Together with Åke Forsmark he started Björkvallsflyg AB on 27 November 1939.
He volunteered for service in Finland during the Winter War.
Here he flew Bristol Blenheims in LeR 4.
His first combat sortie was against Soviet columns on the ice of the Gulf of Finland. Observer on this mission was luutnantti Lennart Poppius and gunner was kersantti Henrik Austin.
Austin, who was born in 1918, was later lost during a combat sortie over Pisi with LeLv 42 on 21 July 1941 and is presumed to have died as a POW.
It is also known that he flew some additional combat sorties, usually with kersantti Torolf von Wachenfeldt and vänrikki Hans Leuhusen (observer) as the crew.

On 12 March 1940 he received the Finnish Aviation Badge ("Wings").
Kurt Björkvall was killed in explosion in one of F6's hangars on 30 May 1940. Together with Björkvall were his mechanics Hans Björkman and three of F6's personnel. These were also killed in the accident.
Sources:
Article by Eino Ritaranta in "Suomen Ilmailuhistoriallinen Lehti" no. 1/1996 kindly provided by Carl-Fredrik Geust
Døden har vinger - Jörn Ulrich, 1941 Det Schønbergske Forlag
Ni flyger som en ängel! - Pärttyli Virki, 2002 ÖFS meddelande 2 Oktober 2002
Suomen sodissa 1939-1945 menehtyneiden tiedosto
Additional information kindly provided by Carl-Fredrik Geust.




Last modified 11 December 2002