Biplane fighter aces

The Commonwealth

Flying Officer George Barker, RAF nos. 580257 (NCO); 54945 (Officer)
1917 – 1964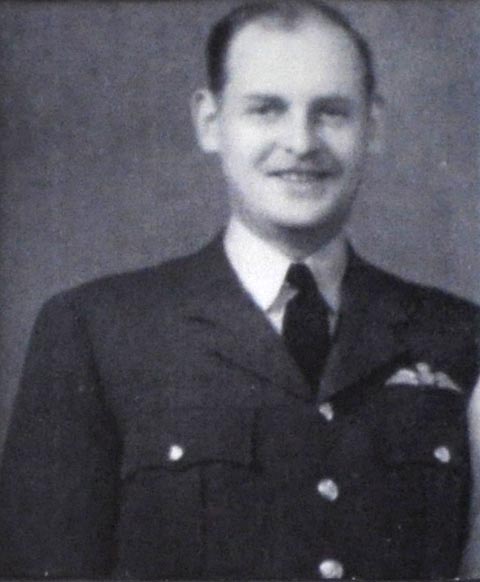 Image kindly provided by Simon Muggleton.
George Barker was born in Ripon Yorkshire in 1917 and he was one of three children born to Bethel and Jenny Barker of Bellwood Farm Ripon.
After leaving school he entered the RAF in 1936 and was sent to No 2 FTS at Digby, and then posted to 80 Squadron at Debden.
On 10 May 1938, the squadron was sent to Ismailia Egypt together with 33 Squadron to protect the Suez Canal.
When the war started in North Africa on 10 June 1940, 80 Squadron was commanded by Squadron Leader R. C. Jonas and based at Amriya. It had 22 Gladiators (mainly Mk.Is) and one Hurricane Mk.I (L1669 – nicknamed Collie's Battleship) on hand. Its main role was the defence of Alexandria. The pilots were divided into three Flights.
'C' Flight included Flight Lieutenant Ralph Evers-Swindell, Flying Officer Peter Wykeham-Barnes, Flying Officer Harold Sykes, Pilot Officer Frankie Stubbs, Pilot Officer Wanklyn Flower, Sergeant Barker, Sergeant J. H. Clarke, Sergeant Edward Hewett and Sergeant Kenneth Russell Rew.
Barker's logbook shows over 153 'sorties' with a flying time of over 300 hrs in this battle zone.
On 4 December, four Gladiators from 112 Squadron on detachment to 80 Squadron arrived at Larissa, flown by Flight Lieutenant Charles Fry, Flying Officer Homer Cochrane, Pilot Officer Robert Higson Smith and 2nd Lieutenant H. H. Geraty. These together with eleven of the resident Gladiators were flown up to Yannina for further operations. From here Squadron Leader William Hickey led 14 aircraft on an offensive patrol over the Tepelene area at 15:05. Here many CR.42s and G.50s were encountered at around 15:30. In cloudy conditions a confusing combat took place with heavy overclaiming (especially from the RAF). The fighters from 80 and 112 Squadrons had returned at 17:05 and made claims for ten destroyed (9 CR.42 and 1 G.50) and five probables (1 CR.32, 3 CR.42 and 1 G.50). One of the Gladiators seems to have been shot down (the unknown pilot was safe) and two more Gladiators were damaged (Flight Lieutenant 'Pat' Pattle and Pilot Officer Robert Higson Smith).
Flight Lieutenant Pattle (Gladiator II N5832) claimed three CR.42s shot down, one into a hillside north of Delvinakion, one in flames from which the pilot baled out, and after his own aircraft had been hit in the main fuel tank and a wing strut, a third from which the pilot was also seen to bale out. He claimed a fourth as a probable when it poured black smoke. He then attacked a fighter, which he identified as a CR.32, which stalled into cloud, claiming this as a probable also. He reported:
"At 15.00 hours on the 4th December, 1940, 14 Gladiators of No. 80 Squadron and No. 112 Detachment took off from Juannuina landing ground to do an offensive patrol over the Tepelene area.
On the way to our patrol area a great number of aircraft were seen ahead of us over Delvinakion and Permedi areas. These aircraft consisted of our bombers and enemy fighters and bombers.
Our height was 7,500 ft.
The Squadron Commander leading the lower section turned towards a large formation of 27 enemy biplane fighters on our port side and was soon engaged.
Leading No. 3 Section I came up astern of a formation of 5 CR.42s and delivered a formation attack which was unobserved. The aircraft I attacked dived steeply towards the ground. I gave it two bursts and broke away but saw it flatten out about 2,000 ft above the ground. I dived again and this time after firing a few more bursts the E.A. crashed into the side of a hill a few miles north of Delvinakion.
On regaining height I found a member Squadron Ldrs. Flight (probably the C.O. himself) hard pressed with several CR.42s milling round him. Selecting a 42 just about to attack I had no difficulty in getting close behind his tail. After a few bursts his cockpit filled with smoke, and I observed flames spurting from his starboard side as he went down.
On turning round I found the sky filled with Gladiators and not a single E.A. in sight. The cloud base was only a few hundred feet above me so I climbed through and was amazed to find all the enemy fighters flying round in circles a thousand feet above me. Their tactics were obvious. They were hoping that the Gladiators would climb through the cloud to attack them and on emerging would be attacked from a superior altitude and probably unobserved.
As I emerged several fighters attacked me. I dived back into the cloud but unfortunately struck a thin patch and one E.A. attacking dead ahead managed to get a burst in, holing my main petrol tank, before I saw him. On my second attempt I managed to get within firing distance of a CR.42 which was flying immediately above me without being seen. I fired when slightly below and astern of him, the plane turned slowly to the right and I observed the pilot baling out. He appeared to almost strike my main plane as I passed him. The petrol streaming out behind me had attracted a certain amount of attention and I had again to resort to the cloud safety.
After several more attempts at penetrating the clouds I managed to get well clear of them and attacked a CR.42 at same altitude. After a short dog fight he went down through cloud in a spin with bluish black smoke pouring from him… this time a 42 attacking from Quarter damaged one of … with a well directed burst. I had several more dog fights but without success. One… spun down after one of the attacks but I am positive it was … to a stall as I spun soon afterwards. Lack of fuel in my … forced me to retire from the area and I landed at 16.15 hours."
Sergeant Edward Hewett (N5858) claimed two CR.42s and a G.50. He reported:
"The first CR.42 I destroyed by a short burst from almost dead astern after a short chase, and a few polished aerobatics on the part of the enemy. The second was a little more difficult but I finally got a long burst into the machine at the top of a loop. The enemy aircraft fell sideways and then burst into flames, it was gutted before it hit the ground. The first CR42 went into a hillside in a vertical dive and I saw the impact.
Gazing below I saw a monoplane flying very low across a snow clad mountain. I dived upon it and as my range closed I saw it to be a G.50. I opened fire and had a long burst at the aircraft and then pulled away. On sighting the aircraft again I saw it skidding violently sideways about 30 ft. up and heading for a hilltop over which there was no possibility of climbing. I was not able to witness the crash because I was distracted at that moment by machine gun fire from behind. A CR.42 was then on my tail. I rolled off the top of a loop and saw him no more.
I then returned to base."
Sergeant Donald Gregory (N5776) claimed one CR.42 and reported:
"I was No. 2 in the leading flight and considered that my position was most trying as a large formation of CR.42s passed over and just astern of my flight. I had to watch each flight of CR.42s pass my tail and gradually gain height on me. However although I was in an unfavourable position to attack, when my flight turned towards the enemy I picked out one of the many CR.42s coming towards me and fired, then dived below the enemy, turning around I saw a Gladiator being engaged by a 42. After taking the 42s attention off the Gladiator I got into a tight corner, having to do tight turns to keep clear. The Gladiator came to my assistance and I was able to get in a close deflection shot, from below and three quarter front.
The CR.42 went into a dive which I had no difficulty in following down and firing at it again, it finally crashed. I was short of ammunition so returned to base.
Examination of guns revealed three stopped with broken parts and one with stoppage."
Pilot Officer William Vale (N5784) and Sergeant Barker (N5811) each claimed one CR.42. Barker's victory was claimed at Klissoura and he wrote:
"I was No. 3 in formation led by F/L. Graham. Which was No. 4 flight in the Squadron formation. We were flying to the right, and above the rest of the echeloned flights.
On approaching Permeti, I observed 9 G.50s on our starboard beam. F/Lt. Graham then began to climb fast. We turned left, and I observed a fight developing on our left, and below us. At this time I observed the CR.42s diving. I was led into the attack, and after the first initial dive, lost sight of my leader.
I went after a CR.42 which turned in front of me, and gave a short burst. The E.A. climbed and then dived away. I could not follow as another 42 was on my tail. Yet another 42 was doing a beam attack on me. A Gladiator took the first E.A. off my tail, and I out manoeuvred the other. The enemy then dived for the ground, I could not close the range, so I gave several long range bursts, and must have done some apparent damage, for his speed decreased. He tried twisting and turning, all the time heading west towards Argyrokoston. The enemy dived towards a hill, probably in the hope that if he would pull up close to it, I should crash into it.
After a slight pull out, however, he crashed into the hillside at high speed.
I then climbed up again, and when about 15,000 ft, I saw a Gladiator going down on three engine bombers. I followed it down, and delivered one attack, which was futile, as I could not hold them. An order was given to return to base, which I did, landing at approx. 16.10 hours."
Flight Lieutenant Greg Graham (N5814) claimed one probable CR.42 and one probable G.50. He reported:
"At 1500 hours on the 4th Dec, 1940, fourteen Gladiators of No. 80 Squadron and No. 112 Sqdn . Detachment, took off from Yannina landing ground to do an offensive patrol over Tepelene area, also covering own bombers.
When proceeding to patrol over area in the vicinity of Delvinakion, I sighted about 27 G.50's slightly above and approaching to starboard. At the same time I sighted the C.O.'s Flight of 3 Gladiators going in to attack a large number of C.R. 42s to port.
I was leading No. 4 Section of Gladiators and I lead them towards the C.R. 42s. The G.50s passed by on the starboard beam and made no effort to attack, instead appeared to climb up above the clouds. I attacked one C.R. 42 and after a short engagement it broke away and dived away towards enemy territory. I then climbed rapidly towards two other C.R. 42s and they disappeared in the cloud later at about 11,000 feet. Also climbing I circled around in the base of the cloud and could see only two or three Gladiators, so climbed up through the cloud. On breaking through, I sighted numerous G.50s and C.R. 42s circling above. I climbed towards one C.R. 42 and it immediately climbed above and ahead of me – I was unable to get my sights on and it disappeared in the clouds at about 19,000 feet. Then another C.R. 42 dived down to attack me and I engaged it, I fired several short bursts and it half rolled and dived steeply. I followed it, firing, and it appeared to slow down, and then pulled slowly out of the dive and I closed right in, and got a long burst at it. It pulled slowly up, stalled and then fell away, falling out of control. I followed it down to the clouds at 12,000 feet before it disappeared still falling out of control. At that moment I sighted one G.50 diving down steeply to attack two Gladiators flying in formation in the top of the clouds. I warned them over the R/T. and they immediately spilt up and avoided the attack. I then attacked the G.50 getting several bursts – it used the usual tactics of diving away. However after several minutes I fired a burst and it pulled out of a dive and climbed steeply, I closed in and could see my incendiaries hitting the vicinity of the engine cowling. The G.50 then stalled and fell away going down in a steep spiral out of control, I followed it down but lost sight of it in the clouds. I circled around for several minutes and as I could see no other aircraft, I returned to base."
Flying Officer Sidney Linnard claimed one probable CR.42 at 15:35. Strangely his name is not included in the Squadron's ORB but he wrote a combat report on this occasion:
"I was No. 2 in the 4th Flight (topmost). I sighted a large number of aircraft to Port Quarter ahead (CR.42s) some miles away and above us and also a number of G.50s passed us on the starboard beam.
Closing with the enemy I engaged a CR.42 which promptly dived for the ground. I followed him down for about 3-4 thousand feet but could not close/on him. I then climbed up and was attacked by a CR.42 from above but managed to evade him and get on his tail and give him several bursts from astern. He half rolled down and I was unable to keep my sights on him.
I managed to get my sights on him again at about 200 yds. And he went into a spin. I fired a few more bursts whilst he was spinning, but did not keep him in sight to the ground as there were a number of E.A. above and my attention was distracted.
I then went through the clouds (about 11,000 ft). On clearing it, saw 5 42s and 2 G.50s above me. I climbed but was unable to reach them. Although they had height on me, they seemed reluctant to attack. Eventually a G.50 dived on me. I evaded him and dived after him but could not get in effective range. I followed him down into the cloud and then lost sight, I climbed again and the above happened several times. The invariable tactics of the enemy was to dive from superior heights, their initial attack being unsuccessful to carry on diving."
The last of the probables was claimed by Sergeant Charles Casbolt (N5788) and it seems that this claim later was upgraded to a destroyed (at least in his logbook) but in his combat report, Casbolt reported it as a probable:
"I was No. 3 in a flight lead by F/L Pattle in vic formation when the approach of 27 CR.42s from ahead and to port and 6 or 9 G.50s from our starboard beam were observed.
F/L Pattle approached and attacked the leading flight of CR.42s and I picked out the E.A. on the left of the leader.
Closing to about 200 yards I fired a burst at the E.A. which immediately half rolled and dived vertically in a spiral. I followed the enemy down to about 500 ft. where the E.A. dived at the hill sides apparently in an attempt to cause me to crash.
Eventually after several short full deflection shots I was able to approach within about 50 to 100 yards firing a long burst as the E.A. turned along the side of the hill.
In order to avoid crashing into the hillside I then pulled sharply away losing sight of my target. When however I turned, the enemy had disappeared, so climbing over the hills as there were no more aircraft visible I returned to base."
Pilot Officer Robert Higson Smith (N5829) became separated during the combat and returned without any claims but with damage in the starboard wing and aileron control as a result of a head-on attack from a CR.42. Flying Officer Cochrane (N5881) reported hits on an enemy aircraft but observed no result from this.
The Italian aircraft were actually twelve CR.42s of the 150o Gruppo led by Tenente Colonello Rolando Pratelli, and ten G.50bis of the 154o Gruppo. The returning G.50bis pilots claimed two Gladiators shot down, but the 150o Gruppo lost two CR.42s, Tenente Alberto Triolo and Sottotenante. Paolo Penna being killed. These were the only Italian losses.

80 Squadron returned to Larissa next day.

On 13 February 1941 the Gladiators of 80 and 112 Squadrons escorted the Blenheims from 84 (these took only part in the first attack) and 211 Squadrons during two attacks on Tepelene.
During the second attack Squadron Leader 'Tap' Jones led the Gladiators down in a machine-gun attack on the Italian positions in the Tepelene area. AA was intense and several Gladiators were hit by shrapnel. Sergeant Barker's N5761 was hit in the engine, and he was obliged to try to force-land 40 miles north of Yanina in a small clearing, but the ground was too soft. The Gladiator somersaulted and was completely wrecked. He was, however, unhurt and returned in a Greek army truck.

At the end of February the squadron's Gladiators were replaced with Hawker Hurricanes.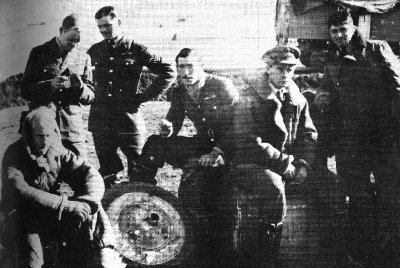 'B' Flight of 80 Squadron at Yanina, Greece, who together shot down more than 100 enemy aircraft.
(Left to right): Sergeant Casbolt, Sergeant Barker, Sergeant Gregory, Pilot Officer Vale, Flight Lieutenant Pattle, Pilot Officer Cullen.

On 6 April Germany declared war on Yugoslavia and Greece and immediately attacked.

On 17 April Sergeant Barker set off to drop a message to the 19th Australian Brigade at Katerine. Having completed his task he was intercepted by three Bf 109s, apparently from JG 77, which he managed to evade, claiming one shot down from which the pilot was seen to bale out in the Mount Olympus area; this was confirmed by the Australian troops.
JG 77 was out to attack shipping and airfields near Volos. One aircraft off III/JG 77 was hit by AA and 60% damaged, the pilot crash-landing at Dojransko on return, but no aerial combats were reported.
On 23 April he claimed an unconfirmed Do 17 shot down south of Argos and a Bf 110 as a probable.
Five replacement Hurricanes arrived at Argos from Maleme later during the day, flown by 80 Squadron pilots. No sooner were those down however, when hordes of Luftwaffe aircraft appeared overhead, the Germans having discovered the whereabouts of the RAF fighters. An estimated 20-25 Do 17s made a level bombing attack from altitude, followed by a similar number of Ju 88s which dive-bombed, escorting Bf 109s from II and III/JG 77 then sweeping down to strafe. A taxiing Hurricane was hit by a cannon shell, run into a ditch and turned over while for more Hurricanes managed to take-off and fly away. Most of the remaining aircraft were destroyed on the ground together with a handful of Greek Avro Tutor trainers.
The hit Hurricane was piloted by Sergeant Barker, who was wounded and burned. Other pilots hauled him out of the cockpit and helped him to a nearby slit trench.
An additional Lysander from 208 Squadron was shot down by Oberfeldwebel Herbert Kaiser (victory no. 4) from 8./JG 77.
Barker was evacuated to Egypt.
According to his logbook he had also claimed a Do 17 over Peleponesus which he records as 'broke up', a CR.42 as a probable (spinning- bits flying off) and a Bf 110 (confirmed bursts seen in the cockpit) during the Greek campaign. These claims were unfortunately made on unknown dates.
After recovery he was posted to 108 Ferry pool and the Met Flight at Ramlesh.
He returned to the UK in June 1942 aboard the troopships Isle of France and Empress of Russia.
He was subsequently commissioned and promoted to Flying Officer on 3 january 1943.
In September 1943 he attended No. 50 Course at Cranwell College and was posted to 15 OTU at Harwell and RAF Eastchurch in March 1944.
He married Mary Blinkhorn in 1943, 'Cas' Casbolt being his best man.
He finished his war service with 1682 Flight at Enstone and 22 OTU at Wellsbourne having several night interceptions recorded.
At the end of the war Barker was credited with one biplane victory and a total of two.
According to his logbook he flew 27 sorties plus 27 patrols in Libya and 96 sorties plus 10 patrols in Greece totally being engaged in 25 combats with enemy aircraft.
Totally he flew 1796 hours.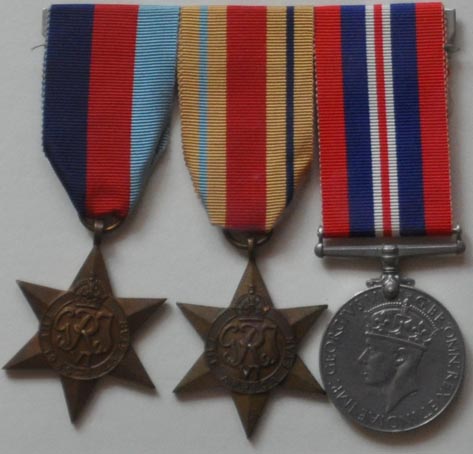 Medals awarded to Barker during the war. From left to right:
1939 to 1945 Star, Africa Star and War Medal 1939-1945.
Image kindly provided by Simon Muggleton.
After the war he became a photographer with his brother in law Martin Blinkhorn and then operated a post office in Watlington, South Oxfordshire, in 1957 with his wife and two daughters.
He died suddenly in 1964.
Claims:

| | | | | | | | | | |
| --- | --- | --- | --- | --- | --- | --- | --- | --- | --- |
| Kill no. | Date | Time | Number | Type | Result | Plane type | Serial no. | Locality | Unit |
| | 1940 | | | | | | | | |
| 1 | 04/12/40 | 15:30 | 1 | CR.42 (a) | Destroyed | Gladiator II | N5811 | Klissoura area | 80 Squadron |
| | 1941 | | | | | | | | |
| 2 | 17/04/41 | | 1 | Bf 109 (b) | Destroyed | Hurricane | | Mount Olympus area | 80 Squadron |
| | ??/04/41 | | 1 | Do 17 (c) | Unconfirmed | Hurricane | | Peleponesus area | 80 Squadron |
| | ??/04/41 | | 1 | CR.42 (c) | Probable | Hurricane | | Greece | 80 Squadron |
| | ??/04/41 | | 1 | Bf 110 (c) | Probable | Hurricane | | Greece | 80 Squadron |
| | 23/04/41 | | 1 | Do 17 (c) | Unconfirmed | Hurricane | | S Argos | 80 Squadron |
| | 23/04/41 | | 1 | Bf 110 (c) | Probable | Hurricane | | Argos area | 80 Squadron |
Biplane victories: 1 destroyed.
TOTAL: 2 destroyed, 2 unconfirmed, 3 probables.
(a) Claimed in combat with CR.42s from the 150o Gruppo and G.50bis from the 154o Gruppo. The 150o Gruppo C.T. lost two CR.42s (Tenente Alberto Triolo and Sottotenante Paolo Penna KIA) while the 154o Gruppo claimed two Gladiators shot down. 80 Squadron and 112 Squadron detachment claimed ten destroyed (9 CR.42 and 1 G.50) and five probables (1 CR.32, 3 CR.42 and 1 G.50). One of the Gladiators seems to have been shot down (the unknown pilot was safe) and two more Gladiators were damaged.
(b) Probably claimed in combat with Bf 109s from JG 77, which didn't report any aerial combat neither suffered any losses.
(c) Claimed in his logbook but not officially credited to him.

Sources:
Ace of Aces: M T StJ Pattle - E C R Baker, 1992 Crécy Books, Somerton, ISBN 0-947554-36-X
Air war for Yugoslavia, Greece and Crete - Christopher Shores, Brian Cull and Nicola Malizia, 1987 Grub Street, London, ISBN 0-948817-07-0
Desert Prelude: Early clashes June-November 1940 - Håkan Gustavsson and Ludovico Slongo, 2010 MMP books, ISBN 978-83-89450-52-4
Those Other Eagles – Christopher Shores, 2004 Grub Street, London, ISBN 1-904010-88-1
Additional information kindly provided by Simon Muggleton.




Last modified 10 January 2020