Biplane fighter aces

Commonwealth

Flight Lieutenant Edward William Foott 'Ted' Hewett DFM AFC, RAF nos. 580333 (NCO); 49250 (Officer)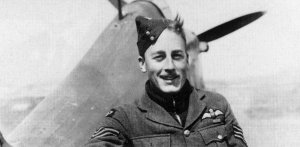 1918 – 5 August 1968
Edward Hewett was born in Cork, Ireland in 1918.
A pre-war NCO pilot, Ted Hewett enlisted in June 1936 and served with 29 Squadron before joining 80 Squadron in early 1938. He accompanied this unit to Egypt.
When the war started in North Africa on 10 June 1940, 80 Squadron was commanded by Squadron Leader R. C. Jonas and based at Amriya. It had 22 Gladiators (mainly Mk.Is) and one Hurricane Mk.I (L1669 – nicknamed Collie's Battleship) on hand. Its main role was the defence of Alexandria. The pilots were divided into three Flights.
'C' Flight included Flight Lieutenant Ralph Evers-Swindell, Flying Officer Peter Wykeham-Barnes, Flying Officer Harold Sykes, Pilot Officer Frankie Stubbs, Pilot Officer Wanklyn Flower, Sergeant George Barker, Sergeant J. H. Clarke, Sergeant Hewett and Sergeant Kenneth Russell Rew.
Following the unit's move to Greece late in 1940, he was to make claims for 16 victories and two probables by the time the squadron was withdrawn in April 1941.
On 4 December four newly arrived Gladiators from 112 Squadron on detachment to 80 Squadron and 11 of the resident Gladiators were flown up to Yanina for further operations, from where Squadron Leader William Hickey led 14 aircraft on an offensive patrol over the Tepelene area. Here an estimated 27 CR.42s were seen.
Flight Lieutenant 'Pat' Pattle claimed three CR.42s shot down, one onto a hillside north of Delvinakion, one in flames from which the pilot baled out, and after his own aircraft had been hit in the main fuel tank and a wing strut, a third from which the pilot was also seen to bale out. He claimed a fourth as a probable when it poured black smoke. He then attacked a fighter, which he identified as a CR.32, which stalled into cloud, claiming this as a probable also.
Sergeant Hewett claimed two CR.42s and a G.50, whilst Pilot Officer William Vale, Sergeant Donald Gregory and Sergeant George Barker each claimed one CR.42 for a total of nine victories and two probables. Barker's victory was claimed at Klissoura.
The Italian aircraft were actually 12 CR.42s of 150o Gruppo led by Tenente Colonello Rolando Pratelli, and ten G.50bis of the 154o Gruppo. The returning G.50bis pilots claimed two Gladiators shot down, but 150o Gruppo lost two CR.42s, Tenente Alberto Triolo and Sottotenente Paolo Penna being killed. These were the only Italian losses.
80 Squadron returned to Larissa next day.
Shortly before midday on 19 December Squadron Leader William Hickey led 14 of 80 Squadron's Gladiators up to Yanina, followed by the ground party in a Ju 52/3m. After refuelling, 13 of these fighters were off to patrol over the Tepelene area where five S.79s of the 46o Stormo were seen, escorted by CR.42s and G.50bis. The British pilots at once engaged the bombers, believing that they had shot one down (no loss was actually suffered), but return fire struck N5785 and it went down in flames, Pilot Officer Samuel Cooper being seen to bale out. Squadron Leader Hickey thought that he had shot down one of the escorting CR.42s, which now attempted to intervene, but he then went down to land on a waterlogged field near Argyrokastron to look for his missing pilot. With the aid of some Greek soldiers, the badly wounded Cooper was located, and was transferred to hospital in Argyrokastron, where he died that evening. Meanwhile Sergeant Hewett's N5827 had been hit and badly damaged by AA fire, and he was obliged to force-land 20 miles north of Yanina during the return flight; this Gladiator was later salvaged.
No escorting CR.42 were actually lost in this combat.
At 15:00 on 27 February, nine Blenheims, six from 211 Squadron and three from 11 Squadron, set off to bomb Valona, escorted by five 80 Squadron Hurricanes and four more from 33 Squadron. An hour later, as the formation arrived over Valona, 13 CR.42s of the 150o Gruppo attacked as the Blenheims were bombing. Although the Hurricane escort engaged them at once, some got through to the bombers and damaged five of them, including all three of the 11 Squadron machines. Two of these (N5379 and T2399) would crash-land on return to Paramythia, both having suffered heavy damage to their hydraulic systems and both were written off. The Hurricanes meanwhile had become involved in a heavy battle with the Fiats during which seven of the Italian fighters were claimed shot down, and two more were reported to have collided with each other after being attacked by Sergeant Hewett and crashed. Claims were made by Flight Lieutenant 'Pat' Pattle, Flying Officer Nigel Cullen, Sergeant Hewett (two), Flying Officer Richard Acworth, and Flying Officer Wanklyn Flower, who shared one with a 33 Squadron pilot, believed to have been Flying Officer H. J. Starrett. The seventh claim was believed to have been made by 33's Flight Sergeant Leonard Cottingham.
In the event it seems that only two CR.42s were lost but it hit the 364a Squadriglia, which had scrambled three fighters since both of them were from the unit. Sottotenente Pasquale Faltoni, the formation leader, baling out after suffering wounds, as did Sergente Osvaldo Bertolaccini, who was almost dead when he hit the ground. Sergente Bertolaccini later succumbed to his wounds. The Italians made no claims and believed that their attackers had been Spitfires (this indicates that Bertolaccini actually shot down two Blenheims and thus made an ace before dying). Pattle's Hurricane suffered a single bullet through the petrol tank - the only damage recorded to the British fighters. A further CR.42 of the Gruppo's 364a Squadriglia was destroyed on the ground by the Blenheims' bombs, and several others were damaged. A dozen drums of fuel went up in flames, and two airmen were wounded.
Pilot Officer Geary, gunner in Blenheim L1481 of the 211 Squadron, recorded his impressions of the raid:
"I had a grandstand view of the whole affair. It was lovely bombing - direct hits all over the aerodrome and on buildings. A large formation of CR42s took of to intercept us. One got on my tail, so I put a burst into him, and he fell away. Then two Hurricanes appeared in a flash, and well, he just fell to pieces. The Hurricanes wheeled and proceeded to deal with the others. The sky was full of crashing aircraft - and they were all enemy. We had a most pleasant tour home, and the scenery looked more lovely than ever."
On 1 March the Hurricanes of 33 and 80 Squadrons were out three times to escort Blenheims of 30 and 211 Squadrons to attack Paraboa (to the north of Bousi), Berat and Valona harbour. As the Hurricanes had set out on one of their sorties, Sergeant Hewett of 80 Squadron realized that he was having trouble with the undercarriage retraction of V7589 and returned to Paramythia. Here the problem was rectified, and he set out again alone fifteen minutes later. He returned to report that near the target area he had encountered five CR42s, claiming to have shot down three of them in flames, at which the others fled.
No Italian account of this engagement has been found.
During the morning on 4 March five Italian warships identified as two cruisers and three destroyers, sortied down the Albanian coast and commenced shelling the coastal road near Himare and Port Palermo, under cover of a strong fighter escort of G.50bis and CR42s from the 24o Gruppo C.T. The flotilla actually comprised of the destroyer Augusto Riboty, the torpedo boat Andromeda and three MAS boats.
An immediate strike was ordered by RAF units, 15 Blenheims being ordered off. Nine 211 Squadron aircraft and five from 84 Squadron (a sixth failed to start) were led to the area by Squadron Leaders Gordon-Finlayson and Jones, escorted by ten Hurricanes, followed by 17 Gladiators, 14 from 112 Squadron and three from 80 Squadron. Four 80 Squadron Hurricanes led by Flight Lieutenant 'Pat' Pattle flew on the starboard flank of the bombers, with four from 33 Squadron to port, and two more above as 'weavers'. At 15:00 the warships were seen ten miles south of Valona, and the Blenheims went in to bomb in line astern; several near misses were seen, but no hits were recorded.
At this point six G.50bis dived on the Hurricanes, shooting down V7801 in flames; 24-year-old Warrant Officer Harry J. Goodchild DFM (RAF No. 517435) was killed. It seems that the Italian fighters did not see the bombers, for they reported only single-engined types - ten 'Spitfires', three 'Battles' (obviously Hurricanes) and 20 Gladiators. Once the Blenheims had completed their run and were on their return flight, Pattle ordered the Hurricanes to hunt in pairs over the warships, where a number of Italian fighters were seen. At once a lone G.50bis attacked Pattle and his No 2 - on this occasion Flying Officer Nigel Cullen - but Pattle promptly shot this down and watched it spiral into a mountainside just north of Himare. At this moment a second Fiat 'jumped' Cullen (Hurricane V7288) and he was not seen again; his aircraft crashed near Himare, and the Australian 'ace' was killed.
Pattle flew on towards Valona, and was attacked by another lone G.50bis which he reported went into the sea south-west of Valona harbour after a brief combat. He then became involved with a third such fighter over Valona harbour and claimed to have shot this down into the sea in flames on the west side of the promontory. Nine CR.42s were then seen below and he dived on these, reporting that one went into a spin with smoke pouring from its engine; he claimed this as a probable. Sergeant Hewett was also heavily engaged, claiming one G.50bis shot down near Himare and three of eight CR.42s near Valona. The only other claim by a Hurricane pilot was made by Pilot Officer William Vale, who claimed another G.50bis.
Meanwhile the Gladiators, led by Squadron Leader H. L. I. Brown, tangled with a reported ten G.50bis and five CR.42s. Flight Lieutenant Joseph Fraser led the third section after some G.50bis which entered clouds, but he claimed one shot down and a second shared with Brown, Pilot Officer Jack Groves and Pilot Officer D. G. H. McDonald. Flying Officer Richard Acworth was about to attack another when he came under fire himself and was driven down to 2000 feet. He got in a few deflection shots, saw smoke issue from his opponent's engine before being attacked by another, and thus only claimed a probable. Flying Officer Edwin Banks attacked a G.50bis which went into a spin; as he saw a parachute in the vicinity he also claimed a probable, and two more such claims were made by Flight Lieutenant Charles Fry and Sergeant 'Paddy' Donaldson, while four more aircraft damaged were claimed by Groves, Brown, McDonald and Flying Officer Homer Cochrane.
In return the 24o Gruppo pilots claimed four Gladiators, one 'Spitfire' and one 'Battle' shot down. Sottotenente Nicolo Cobolli Gigli of 355a Squadriglia, who was flying a CR.42 on this occasion, and Sergente Marcello De Salvia of 354a Squadriglia were both shot down and killed, while Tenente Francesco Rocca of the latter unit was wounded. No losses by other CR.42 equipped units have been discovered. Cobolli Gigli and De Salvia were both awarded posthumous Medaglia d'Oro al valor militare.
His DFM citation, gazetted on 11 March 1941, actually mentioned 13 victories, which is one more than can be listed for him as of that date.
On 6 April Germany declared war on Yugoslavia and Greece and immediately attacked.
At 08:45 on 15 April 25 Ju 88s from I/LG 1 and I/KG 51 appeared over Athens. They were intercepted by six Hurricanes of 80 Squadron and four Blenheims IFs of 30 Squadron. Pilot Officer William Vale claimed two bombers shot down, Sergeant Hewett one and one probable, while one each were claimed by Pilot Officer J. Still and Flight Sergeant Jacques Rivalant (one of the units French pilots). A sixth was claimed by a new pilot, Pilot Officer Roald Dahl (later a well-known author). On this, Dahl's first operational sortie, and with only seven hours' experience on Hurricanes, he came across six bombers. Attacking from astern he was greeted by a hail of fire from the rear gunner but succeeded in getting on the tail of one and, after a short burst, saw pieces fly off its starboard engine. The crippled Junkers slowly tumbled down, three crew being seen to bale out. In spite of intense return fire only one bullet hit Dahl's V7826, this piercing the propeller.
One of these claims was adjudged to be the unit's 100th victory of the war.
45 minutes later two Ju 88s were claimed by Blenheims from 30 Squadron over the capital.
It is believed that 80 Squadron's opponents were the I/KG 51 aircraft, two of which were lost in crash-landings at Krumovo as a result of severe damage. Two more of this unit's Ju 88s landed at Salonika with minor AA damage. 30 Squadron probably engaged the I/LG 1 aircraft, this unit losing Unteroffizier Karl Stütz and his crew in L1+SK. A second aircraft crash-landed at Kozani with engine troubles and was completely destroyed (although the crew survived), while a third crash-landed at Salonika with AA damage and was written off.
On 15 April it was decided that 33 Squadron's remaining Hurricanes would join 30 and 80 Squadrons at Eleusis, while 112 Squadron's Gladiators would share Hassani with 208 Squadron.
Towards the evening on 16 April six 80 Squadron Hurricanes were scrambled to intercept bombers (reported as Ju 88s), which were attacking a munitions factory half a mile from Eleusis. Pilot Officer William Vale and Pilot Officer J. Still each claimed one destroyed near the target, whilst Sergeant Hewett chased another to the north and claimed this shot down as well.
The German bombers appear to have been Do 17Zs of Stabstaffel/KG 2, which lost three such aircraft – reportedly in the Larissa area. These were U5+GA (Leutnant Ludwig Rohr), U5+BA (Leutnant Heinrich Hunger) and U5-DA (Hauptmann Konrad Ebsen); all the crews failed to return.
During the day on 20 April Eleusis was almost under constant attack but in the afternoon there was a pause in activity, which allowed a little time for the ground crews to bring the maximum possible number of Hurricanes up to readiness state. Squadron Leader 'Tap' Jones decided that if no further attack had developed by 18:00, all available Hurricanes would undertake an offensive sweep in an effort to raise morale amongst the civilian population of Athens and the surrounding areas, and as a boost to the defenders of Eleusis as well as to the pilots themselves.
However at about 16:45 a formation of 100 plus Ju 88s and Do 17s, escorted by Bf 109s and Bf 110s was reported approaching Athens. The Ju 88s (from I/LG 1) peeled off to make low-flying attacks on shipping at Piraeus, while individual Bf 110s of II/ZG 26 scoured the area, shooting up likely targets. One appeared over Eleusis just as the Hurricanes (nine of 33 Squadron and six of 80 Squadron) were preparing to take off. Fortunately, none were hit, and all took to the air individually, climbed to 20 000 feet and headed for Piraeus, forming sections of two or three en route.
The first trio to arrive over the port, flown by Flying Officers Peter Wickham, Flight Lieutenant Henry John Starrett (RAF no. 40188) and Percival 'Ping' Newton (a Rhodesian), caught 15 Ju 88s dive-bombing ships in the harbour (the Greek hospital ship Ellenis was sunk during the attack). The three Hurricanes followed them down and attacked as they pulled out of their dives; Wickham claimed one shot down, whilst Newton claimed two more. Just then Pilot Officer William Vale arrived on the scene, reporting seeing some 30 Ju 88s:
"I carried out eight attacks on the Ju 88s. One caught fire and started going down, so I left him and attacked another. Big chunks broke away from his wings and fuselage, and smoke poured from his engines. He went down vertically. I was then attacked by a 109, but I easily outmanoeuvred him, had a crack at some more, and came home when my ammo was exhausted."
One Ju 88 flown by Unteroffizier Helmut Benke (L1+ZH) was lost near Athens with all the crew; a second L1+UK, piloted by Oberfähnrich Werner Ziegler, was hit by a Hurricane's fire and the navigator Gefreiter Heinrich Baumgartner, received three bullets in the head and neck, dying almost at once. The gunners believed that they had shot down the attacking fighter, reporting seeing it fall into the sea near Kalamaki (it was probably the crash of Benke's Ju 88 they had seen or the explosions of bombs). A second Hurricane then attacked, putting the starboard engine out of action. This was also claimed hit by Gefreiter Hans Baumann (radio operator/air gunner) and was seen making for land. However the Ju 88 was rapidly losing height and although the crew threw out all removable equipment to reduce weight, it ditched in shallow water near Karies, at the foot of Mount Athos. The remaining members of the crew survived the crash. A third Ju 88 suffered engine trouble, but struggled back to Krumovo, where it crash-landed.
The Hurricane hit by Baumann was probably that flown by 'Harry' Starrett (V7804), which caught fire as a result. Starrett decided to fly back to Eleusis to attempt to save his aircraft. He made a hard wheels-up landing and the glycol tank blew up, enveloping the aircraft in flames. Starrett managed to get out, but had been very severely burned; he was rushed to hospital but died two days later.
Four more 80 Squadron Hurricanes now joined the battle, Flight Lieutenant William Woods leading Sergeant Charles Casbolt and Flight Sergeant Pierre Wintersdorff (a Frenchman) to attack a formation identified as Bf 110s, but probably composed of Do 17Z from I and III/KG 2, escorted by Bf 110s. Woods carried out two or three separate attacks, believing that he had probably shot down two (but only being credited with one) before breaking off to return to Eleusis to rearm. Wintersdorff claimed one aircraft shot down in flames, which he identified as an 'Fw187', but he was then attacked by a Bf 110 and wounded in one leg; his Hurricane was hard hit and he baled out into the sea from where he was soon rescued. Casbolt claimed two aircraft as Bf 110s, but was also then attacked from astern and had his rudder shot away. Breaking away, he encountered a Bf 109 which he reported he had shot down in flames.
Meanwhile the fourth pilot, Sergeant Hewett found himself above six Bf 109s and later reported:
"I dived on the rear one, and he rolled on his back, and crashed to the ground with smoke pouring out. I made a similar attack on a second, and the pilot baled out. I had a go at a third, but didn't see what happened this time."
These Bf 109s were possibly from III/JG 77, two aircraft from this unit crash-landing, badly damaged. Three Do 17Zs also failed to return; U5+AL (Unteroffizier Helmut Reim), U5+HL (Leutnant Joachim Brüdern) and U5+AR (Oberleutnant Ludger Holtkampe) were all lost with their crews. Apparently Bf 109Es from 4./JG 27 were also involved in combat at this time, possibly with the 80 Squadron aircraft. Oberleutnant Rödel claimed three Hurricanes shot down in just over ten minutes 16:57, 17:01 and 17:08 (victories nos. 18-20), while Oberfelwebel Otto Schulz (victory no. 6) claimed another at 17:10. It seems that Flight Sergeant Leonard Cottingham of 33 Squadron also claimed a Do 17 in this combat.
At Eleusis the returning Hurricanes were being refuelled and rearmed as swiftly as possible, before climbing back into the fray. Squadron Leader Pattle was by now very ill with influenza, his temperature having been recorded as 103o. Nonetheless he took off for the third time of the day together with Flying Officer Vernon Woodward, following Flight Lieutenant William Woods, who was now off for the second time. Pattle and Woodward had not taken off before, as their aircraft had not been ready. Woodward recalled:
"I took off late with Squadron Leader Pattle - we climbed into a swarm of Ju 88s protected by masses of Messerschmitt 110s. We were overwhelmed. In sun I recall shooting down a 110 off Pattle's tail, in flames, then probably a Ju 88. Shortly afterwards Pattle got a confirmed Ju 88 (or Bf 110). Subsequently I lost contact with him, then damaged three more 110s, then, being out of ammunition returned tentatively to Eleusis. It was all over – for that day."
Ahead of Woodward, Pattle was seen going to aid of the Hurricane flown by Flight Lieutenant Woods, which was being attacked by a Bf 110. He opened fire at this aircraft and it was seen to burst into flames (presumably the aircraft Woodward had seem him to destroy), just as Woods' Hurricane also caught fire and dived into Eleusis bay, killing him. Two more Bf 110s latched onto the tail of Pattle's AS988, and it quickly began to blaze – there was an explosion, and the wreckage fell into the sea. Flight Lieutenant George Kettlewell arrived on the scene just in time to see the demise of his gallant leader and attacked one of the two Bf 110s responsible, shooting this down into the Bay also. He claimed a second Bf 110 before he too was attacked by yet another Bf 110, and was forced to bale out when V7807 was badly hit. A large and solid man, he landed heavily, cracking two vertebrae in his spine and spending several months in a plaster cast as a result.
Yet another Hurricane was falling to the Bf 110s at this time; Flight Sergeant Leonard Cottingham had claimed three Bf 110s in flames, but he was hit by a fourth and wounded, baling out of his stricken aircraft. The pilots of II/ZG 26's 5 staffel, led by Hauptmann Theodor Rossiwall, claimed five Hurricanes shot down in this engagement, one each by Rossiwall himself (victory no. 12), Oberleutnant Sophus Baggoe (victory no. 14), Oberfeldwebel Hermann Schönthier, Unteroffizier Fritz Muller and Oberfeldwebel Theodor Pietschmann. However two of the Gruppe's aircraft were lost in return – 3U+EN (Oberleutnant Kurt Specka) and 3U+FN (Feldwebel Georg Leinfelder), while a third crash-landed with severe damage.

After the battle on 20 April, hardly any fighters remained and they were moved to Argos in the Peloponnesus to cover the withdrawal of the British troops to Crete.

On Argos airfield all available Hurricanes had been preparing to take-off at 18:00 on 24 April to carry out an urgently-ordered shipping patrol, but when an estimated 40 Bf 110s of I/ZG 26 – led by Major Wilhelm Makrocki – arrived, only two (Flying Officer Coke and Pilot Officer Dahl) had departed. All remaining Hurricanes were hit, but the pilots managed to scramble clear and reach safety of nearby slit-trenches although Sergeant Hewett received a shrapnel wound in the back while sheltering.


He was commissioned on 5 July 1942 from Warrant Officer.

On 8 June 1944, he received the award of an AFC.

He was promoted to Flight Lieutenant on 5 July 1944.

Details of his subsequent service are not available but he is reported to have flown with 243, 92 and 485 Squadrons on Spitfires and is believed to have been a flight commander in 263 Squadron on Typhoons in August 1944. Some accounts record that he ended the war as a Squadron Leader with an AFC.

Hewett ended the war with 3 biplane victories and a total of 16.

He retired from the RAF on 3 December 1949 on account of medical unfitness for Air Force service, retaining the rank of Squadron Leader.

He died on 5 August 1968 at Royal Hampshire County Hospital Winchester.

Claims:

| | | | | | | | | | |
| --- | --- | --- | --- | --- | --- | --- | --- | --- | --- |
| Kill no. | Date | Time | Number | Type | Result | Plane type | Serial no. | Locality | Unit |
| | 1940 | | | | | | | | |
| 1 | 04/12/40 | | 1 | CR.42 (a) | Destroyed | Gladiator II | | Tepelene area | 80 Squadron |
| 2 | 04/12/40 | | 1 | CR.42 (a) | Destroyed | Gladiator II | | Tepelene area | 80 Squadron |
| 3 | 04/12/40 | | 1 | G.50 (a) | Destroyed | Gladiator II | | Tepelene area | 80 Squadron |
| | 1941 | | | | | | | | |
| 4 | 27/02/41 | 16:00 | 1 | CR.42 (b) | Destroyed | Hurricane I | | Valona | 80 Squadron |
| 5 | 27/02/41 | 16:00 | 1 | CR.42 (b) | Destroyed | Hurricane I | | Valona | 80 Squadron |
| 6 | 01/03/41 | | 1 | CR.42 (c) | Destroyed | Hurricane I | V7589 | Valona | 80 Squadron |
| 7 | 01/03/41 | | 1 | CR.42 (c) | Destroyed | Hurricane I | V7589 | Valona | 80 Squadron |
| 8 | 01/03/41 | | 1 | CR.42 (c) | Destroyed | Hurricane I | V7589 | Valona | 80 Squadron |
| 9 | 04/03/41 | | 1 | G.50 (d) | Destroyed | Hurricane I | | near Himare | 80 Squadron |
| 10 | 04/03/41 | | 1 | CR.42 (d) | Destroyed | Hurricane I | | near Valona | 80 Squadron |
| 11 | 04/03/41 | | 1 | CR.42 (d) | Destroyed | Hurricane I | | near Valona | 80 Squadron |
| 12 | 04/03/41 | | 1 | CR.42 (d) | Destroyed | Hurricane I | | near Valona | 80 Squadron |
| 13 | 15/04/41 | | 1 | Ju 88 (e) | Destroyed | Hurricane I | | Athens | 80 Squadron |
| | 15/04/41 | | 1 | Ju 88 (e) | Probable | Hurricane I | | Athens | 80 Squadron |
| 14 | 16/04/41 | | 1 | Ju 88 (f) | Destroyed | Hurricane I | | N Eleusis | 80 Squadron |
| 15 | 20/04/41 | | 1 | Bf 109 (g) | Destroyed | Hurricane I | | Piraeus | 80 Squadron |
| 16 | 20/04/41 | | 1 | Bf 109 (g) | Destroyed | Hurricane I | | Piraeus | 80 Squadron |
| | 20/04/41 | | 1 | Bf 109 (g) | Probable | Hurricane I | | Piraeus | 80 Squadron |
Biplane victories: 3 destroyed.
TOTAL: 16 destroyed, 2 probables.
(a) 150o Gruppo C.T. lost two CR.42s against RAF claims for 9 and 2 probables when Tenente Alberto Triolo and Sottotenente Paolo Penna were killed.
(b) Claimed in combat with CR.42 of 150o Gruppo. 80 and 33 Squadrons claimed seven Fiats shot down and two more were reported to have collided with each other and crashed. 150o Gruppo lost only two CR.42s when Sottotenente Pasquale Faltoni and Sergente Osvaldo Bertolaccini (DFW) were shot down, both pilots baling out. The Italian aircraft didn't claim anything and the British aircraft didn't suffer any losses.
(c) These claims are not confirmed with Italian records.
(d) Claimed in combat with G.50bis and CR42s of the 24o Gruppo C.T. RAF claimed seven G.50bis destroyed, four probables and four damaged, three CR.42s and one probable, while losing two Hurricanes. 24o Gruppo C.T. lost two CR.42s and got one damaged while claiming four Gladiators, one Spitfire and one Battle. No losses to G.50bis have been found.
(e) Claimed in combat with Ju 88s from I/LG 1 and I/KG 51. 80 Squadron claimed 6 and 1 probable while 30 Squadron claimed 2 more without losses. 2 from I/KG 51 (probably 80 Squadron's claims) was lost and two received AA damage while I/LG 1 (probably 30 Squadron's claims) lost two and got one damage by AA fire.
(f) Believed to have been claimed in combat with Do 17Zs of Stabstaffel/KG 2, 80 Squadron claimed three bombers shot down and KG 2 lost three aircraft in the Larissa area. These were U5+GA (Leutnant Ludwig Rohr), U5+BA (Leutnant Heinrich Hunger) and U5-DA (Hauptmann Konrad Ebsen); all the crews failed to return.
(g) Probably claimed in combat with Bf 109s from III/JG 77. RAF claimed three and one probable and two aircraft from III/JG 77 crash-landed, badly damaged.

Sources:
53o Stormo - Marco Mattioli, 2010 Osprey Publishing, Oxford, ISBN 978-1-84603-977-5
Ace of Aces: M T StJ Pattle - E C R Baker, 1992 Crécy Books, Somerton, ISBN 0-947554-36-X
Aces High - Christopher Shores and Clive Williams, 1994 Grub Street, London, ISBN 1-898697-00-0
Aces High Volume 2 - Christopher Shores, 1999 Grub Street, London, ISBN 1-902304-03-9
Air war for Yugoslavia, Greece and Crete - Christopher Shores, Brian Cull and Nicola Malizia, 1987 Grub Street, London, ISBN 0-948817-07-0
Desert Prelude: Early clashes June-November 1940 - Håkan Gustavsson and Ludovico Slongo, 2010 MMP books, ISBN 978-83-89450-52-4
Fiat CR.42 Aces of World War 2 - Håkan Gustavsson and Ludovico Slongo, 2009 Osprey Publishing, Oxford, ISBN 978-1-84603-427-5
Ministero della Difesa
Luftwaffe Claims Lists - Tony Wood
The London Gazette
Additional information kindly provided by Csaba Becze, Edward Hewett, Giovanni Massimello and Simon Muggleton.




Last modified 06 April 2014