Biplane fighter aces

The Commonwealth

Flying Officer Peter Charles Lindsay Brunton, RAF nos. 779034 (NCO) 89774 (Officer)
– 3 February 1942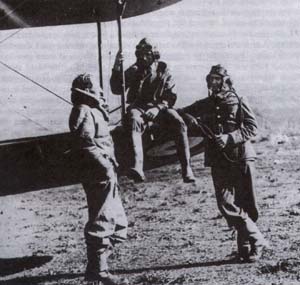 Pilots of 112 Squadron at Yanina, Greece.
(Left to right) Pilot Officer Robert Haldane MacDonald, Flying Officer Acworth and Pilot Officer Brunton.
On 11 November 1940, Leading Aircraftman Brunton was promoted to Pilot Officer (on probation), with seniority from 9 November 1940.
On 14 January 1941, Brunton was posted to 112 Squadron as a Pilot Officer.
Together with the Squadron he took part in the Greek campaign.
During the afternoon of 13 March Squadron Leader H. L. I. Brown led 14 Gladiators from 112 squadron and six of 33 Squadron's Hurricanes off from Paramythia for an offensive patrol over the Kelcyre area. Approaching Kelcyre at 15:30 on an altitude of 17,000 feet an estimated 14 S.79s were seen - aircraft from 104o Gruppo B.T. - with an escort identified as 20 G.50bis and 20 plus CR.42s.
Three of the Hurricanes attacked the mass of fighters, followed by the Gladiators, and many individual dogfights ensued. Squadron Leader Brown attacked the leading fighter of a flight of three, but it evaded him successfully. He then got on the tail of another, which turned and dived and eventually crashed; he claimed a G.50 and another damaged. Flight Lieutenant Joseph Fraser attacked a CR.42, which had not seen him. He reported that it burst into flames and crashed near Bousi. Two more were claimed destroyed by Flying Officer Homer Cochrane and Pilot Officer Jack Groves, while Pilot Officers Neville Bowker and D. G. H. McDonald each claimed a probable CR.42.
The Gladiators reformed, then spotted about 30 more CR.42s with 38o Stormo BR.20s. Seven of Flight Lieutenant Charles Fry's 'C' Flight pilots went after the bombers, while Flight Lieutenant Fraser's 'A' Flight tackled the fighters, claiming seven more shot down. Fraser attacked a CR.42, which flick-rolled and dived away. He followed it down and got in two long bursts after which the enemy aircraft levelled off and lost speed, with the pilot slumped forward in the cockpit. The aircraft then dived vertically into the ground north of Corovode. Fraser then climbed back up to 8,000 feet and got on the tail of another CR.42 firing at it continuously until it burst into flames and was destroyed. Fraser's own aircraft was badly shot up, as was that of Pilot Officer Groves (after having claimed a second CR.42 and one damaged), but both managed to get back to base. Flying Officer Cochrane claimed two more CR.42s while Pilot Officer Brunton and Flying Officer E. H. Brown each claimed a CR.42.
The 'G.50bis' seem to have been 22o Gruppo Macchi MC.200s, 11 of which accompanied 18 CR.42s from the 160o Gruppo over the front. The Italian pilots claimed four Gladiators and one Hurricane shot down, losing just two CR.42s flown by Tenente Gualtiero Bacchi and Sottotenente Enzo Torroni (both from 375a Squadriglia), but no MC.200s. It seems that Capitano Vittorio Minguzzi claimed a probable Gladiator in this combat.
Although no claims were made against the bombers on this occasion, several were in fact hit and damaged, a number of crewmen being wounded.
In his combat report Fraser commented that the CR.42 pilots always tried to flick-roll when attacked.
At 10:30 on 14 March three of 33 Squadron's Hurricanes were off with twelve Gladiators to escort 211 Squadron Blenheims to the Tepelene-Kelcyre area, where a large formation of Italian fighters was reported, variously identified by the Hurricane pilots as twelve CR.42s, twelve G.50bis and twelve MC.200s, and by the Gladiator pilots as 40-50 CR.42s and G.50bis. In addition ten Z.1007bis and five BR.20s were seen - aircraft from 47o and 38o Stormo respectively. The opposing fighters were 16 MC.200s from the 22o Gruppo and twelve CR.42s of the 160o Gruppo reporting meeting 20 Gladiators and eight Hurricanes, escorting five Blenheims.
Flight Lieutenant Charles Fry and his flight attacked the bombers, Fry himself claiming a BR.20 shot down north of Kelcyre near the front line after having attacked three formations of enemy bombers. Flying Officer D. H. V. Smith claimed a damaged BR.20 (and a probable G.50). 'C' Flight led by Flight Lieutenant Joseph Fraser became involved in a swirling dogfight with the Italian monoplane fighters, claiming four shot down, four probables and a damaged. Sergeant 'Paddy' Donaldson claimed two, both of which dived away pouring smoke, while Flight Lieutenant Fraser was attacked head-on by one, but managed to evade this and get on its tail, his fire causing the aircraft to roll onto its back and the pilot to bale out. One Macchi shot the tail off N5916 and Squadron Leader H. L. I. Brown managed to bale out only with the greatest difficulty; Pilot Officer Neville Bowker's Gladiator was also damaged after having claimed a probable G.50, which was seen going down out of control. Pilot Officer Brunton attacked one and appeared to knock bits off it so that it went into a spiral dive with smoke coming from it. Other claims were made by Flying Officer R. J. Bennett (one G.50), Flying Officer Homer Cochrane (one G.50) and Pilot Officer Jack Groves (one probable G.50).
The Hurricanes also engaged the Macchis, 33 Squadron claming two shot down and two probables, but after believing that he had got one of these, Flying Officer Holman was himself shot down and had to bale out. Flight Sergeant Leonard Cottingham claimed one and one probable of the 'monoplanes' while Pilot Officer Starett claimed one probable..
The Italian pilots claimed two Hurricanes and two Gladiators shot down on this occasion. It seems that Capitano Vittorio Minguzzi claimed one of the Hurricanes and a shared in one of the Gladiators during this combat. The 22o Gruppo lost Tenente Luigi Locatelli, who was killed, and Sergente Ferruccio Miazzo, who baled out, while Sottotenente Edgardo Vaghi's fighter was damaged. Gunners in one Cant Z.1007bis claimed one Gladiator shot down, and one bomber was damaged (reportedly by AA) returning with some of the crew wounded.
Early in the afternoon of 26 March, the 153o Gruppo C.T. Macchi MC.200s were out to strafe Paramythia. As they approached in four sections they were met at 12:50 by four 112 Squadron Gladiators from 'A' Flight (Flight Lieutenant Lloyd Schwab, Pilot Officer McDonald, Pilot Officer Brunton and Pilot Officer Neville Bowker (Gladiator N5917)), which they identified as 12 in numbers. One Gladiator was badly damaged, but the pilot managed to land safely, while Flight Lieutenant Schwab pursued the MC.200s to the coast, believing that he had possibly managed to shoot one down into the sea off Perdika. He also shot at a Hurricane in error, not realizing they were in the area. Pilot Officer Brunton claimed a damaged MC.200 in this combat.
During the dogfight, two Macchis broke away and strafed the airfield, claiming two Gladiators and a Wellington destroyed. In fact, they managed to destroy one Gladiator, and hit the wreckage of the Wellington, which they had already destroyed four days earlier.
On 13 April 112 Squadron was in action for the first time since the German attack on Yugoslavia and Greece when Squadron Leader Lloyd Schwab led the Gladiators on an offensive patrol over Koritza. They spotted eight S.79s from 104o Gruppo B.T. escorted by a recorded three Bf 109s and one G.50. The escort was almost certainly all MC.200s of 153o Gruppo C.T. Schwab claimed the 'G.50' shot down, but Pilot Officer Brunton was forced to bale out when the propeller flew off his aircraft. He returned on muleback with the aid of local peasants. Gunners in the S.79s claimed one Gladiator shot down and two probables. 153o Gruppo didn't suffer any losses in this combat.
On 15 April nine G.50bis from the 24o Gruppo C.T. attacked Yanina, while 15 more flew top cover. Six of 112 Squadron's Gladiators managed to get off and a sharp dogfight began. Pilot Officer Brunton got on the tail of one Fiat, but his guns jammed and another attacked him, his aircraft being badly shot-up, while he was wounded. As he came in to land several G.50s followed, but the airfield defences drove them off. Two G.50s were claimed during this fracas, whilst the Italian pilots claimed three Gladiators shot down and three probables, six further aircraft being claimed destroyed on the ground. No RAF losses or casualties were suffered other than to Brunton's aircraft, but the Yugoslav S.79 at this airfield was destroyed, and other Yugoslav aircraft may also have fallen victim to the strafing.
He was reported as wounded or injured in action in Flight magazine from 12 June 1941 but whether this was from the action on 13 April or a later action is not known.
By 12 October 1941, the RAF's fighter units in North Africa had been grouped into three wings for future operation. 258 Wing comprised 112, 250, 2 SAAF and 3 RAAF Squadrons. All equipped with Tomahawks, for offensive actions over Cyrenaica, and to provide escort to bombers and reconnaissance aircraft.
Between 07:30-09:45 on this date, twelve Tomahawks of 2 SAAF and 12 of 3 RAAF Squadron took off to carry out a protective sweep over the army in the Sheferzen area. The Australians, which took off at 07:30 flew at 10,000ft with 2 SAAF Squadron as top cover at 12,000ft. At 09:10 reportedly four Bf 109Es attacked their formation and three Bf 109Fs joined in later. During the combat Flying Officer H. G. H. Roberts aircraft was hit by cannon shells in the elevators and port wing causing his to force land within friendly territory, while Sergeant D. Scott's aircraft was extensively holed by fire from enemy aircraft but he was able to get away and crash-landed with his wheels up at LG.05. Roberts aircraft was later temporarily repaired and flown back to base, and later to 55 RSU for repair. These losses all seem to have accrued to Oberleutnant Ludwig Franzisket (1 P-40 over Bir Sheferzen at 08:08) and Leutnant Hans-Joachim Marseille (2 P-40s over Bir Sheferzen at 08:12 and 08:15) of 3./JG 27, who claimed three 'P-40s' in the opening minutes of the action.
Subsequently, 28-year-old Sergeant Thomas Dudley Parker (RAAF no. 402391) was shot out of a defensive circle, apparently by 2./JG 27's Leutnant Rudolf Sinner (1 P-40 at 09:05 over Sidi Omar). The latter's burst of fire hit the cockpit of the Tomahawk on the port side, cannon shells setting the fuel tank behind this ablaze at which Parker baled out. Possibly, he was already critically wounded, or else fell through a burst of fire, for when he reached the ground he was dead. It was thought at the time that he had been shot on his parachute, but it is most unlikely that in the heat of a dogfight any pilot would have been able to leave the fight and concentrate on such a difficult target as a man swinging beneath a parachute. Immediately after seeing Parker bale, Sinner was targeted by two Tomahawks at which time he pulled his Messerschmitt nearly vertical and stalled. Pulling out of the ensuing dive when he reached a lower defensive circle of Hurricanes, he nosed down at top speed and made for Gambut where he was the first back. The 3 RAAF Squadron claimed one Bf 109F, two probables and three damaged in the Sheferzen area when Sergeant Alan Cameron (AK506) claimed a destroyed Bf 109F at 09:10, Flying Officer Wallace Jewell (AK476) claimed a probable at 09:15, Flying Officer Wilfred Arthur (AN314) claimed one probable and one damaged, Flying Officer Percival Bothwell (AN224) claimed a damaged at 09:25 and Flying Officer Frank Fischer (AK390) claimed the third damaged. By 10:15, all Australians had landed back at base.
The 2 SAAF Squadron took off at 07:45 (and landed 10:25) and reported combat with eight Bf 109s. 27-year-old Lieutenant Charles Albert Whaites (SAAF no. 103316V), who was acting as weaver to the South African unit, was hit, his aircraft gliding down trailing white smoke, but he was found dead in the cockpit when help got to him. Lieutenant Douglas Rogan's aircraft was also shot-up after claiming a Bf 109 damaged, one of three Tomahawks which returned in a damaged condition. Lieutenant Dennis Lacey claimed a probable Bf 109 in this combat.
Shortly behind the first Tomahawks to reach the area, ten more of these aircraft from 112 Squadron appeared (take-off 06:20). They were led by Flying Officer Jack Groves and encountered a reported ten G.50s and 15 Bf 109s. Two more 2./JG 27 pilots, Hauptmann Erich Gerlitz (1 Hurricane 80km south-south-east of Sollum at 09:30) and Leutnant Friedrich Körner (1 P-40 south-east of Sollum at 09:34), at once shot down Pilot Officer F. E. Parker (AN220), who was slightly wounded and Sergeant R. M. Leu (AM396), while Flying Officer Groves' AM444 was badly damaged as was Sergeant C. F. McWilliams' AM481. Pilot Officer Brunton was slightly wounded in the knee (he was sent to Cairo for examination) and he also returned with a damaged Tomahawk (AK503). Pilot Officer R. J. D. Jefferies (AM410) claimed a Bf 109 over Bir Sheferzen-Sofafi while Flying Officer Groves claimed a Bf 109E and a G.50 over Sheferzen. All aircraft from 112 Squadron had landed by 09:00.
The German casualties on this occasion seems to have been one 1.Staffel aircraft (Bf 109E-7 Wnr. 6001) suffering 40% damage in combat, this probably inflicted by the 3 RAAF Squadron pilots. That evening F. E. Parker and R. M. Leu, both having been slightly wounded, were found by troops of the Coldstream Guards, and were back with the unit by the 14th.
On 11 November 1941, Brunton was promoted to Flying Officer, with seniority from 9 November 1941.
In the afternoon on 3 February 1942, six Kittyhawks of 112 Squadron staffed vehicles on the Derna road. During this mission Flying Officer Brunton (Kittyhawk I AK602) was shot down and killed by ground fire.
At the time of his death, Brunton was credited with 1 biplane victory, this one being claimed while flying Gloster Gladiators.
Claims:

| | | | | | | | | | |
| --- | --- | --- | --- | --- | --- | --- | --- | --- | --- |
| Kill no. | Date | Time | Number | Type | Result | Plane type | Serial no. | Locality | Unit |
| | 1941 | | | | | | | | |
| 1 | 13/03/41 | | 1 | CR.42 (a) | Destroyed | Gladiator | | Kelcyre area | 112 Squadron |
| | 14/03/41 | | 1 | G.50 (b) | Damaged | Gladiator | | Tepelene-Kelcyre area | 112 Squadron |
| | 26/03/41 | 12:50 | 1 | G.50 (c) | Damaged | Gladiator | | Perdika area | 112 Squadron |
Biplane victories: 1 destroyed, 2 damaged.
TOTAL: 1 destroyed, 2 damaged.
(a) Claimed in combat with MC.200s from 22o Gruppo and CR.42s from 160o Gruppo. 112 Squadron claimed 10 CR.42s destroyed, 2 probables and 1 damaged and 1 'G.50bis' and 1 damaged without losses. The Italian pilots claimed four Gladiators and one Hurricane shot down, losing two CR.42s flown by Tenente Gualtiero Bacchi and Sottotenente Enzo Torroni (both from 375a Squadriglia), but no MC.200s.
(b) Claimed in combat with Z.1007bis and BR.20s from 47o and 38o Stormo and MC.200s from the 22o Gruppo and CR.42s of the 160o Gruppo, which claimed 2 Hurricanes and 3 Gladiators while losing 2 MC.200s and getting 1 MC.200 and 1 Z.1007bis damaged. 112 Squadron claimed 5 destroyed, 2 probables and 1 damaged G.50s and 1 destroyed and 1 damaged BR.20 while losing 1 Gladiator. 33 Squadron claimed 2 'monoplanes' and 2 probables while losing 1 Hurricane.
(c) Claimed in combat against MC.200s of 153o Gruppo CT., which didn't suffer any losses.

Sources:
53o Stormo - Marco Mattioli, 2010 Osprey Publishing, Oxford, ISBN 978-1-84603-977-5
A History of the Mediterranean Air War 1940-1945: Volume Two – Christopher Shores and Giovanni Massimello with Russell Guest, Frank Olynyk & Winfried Bock, 2012 Grub Street, London, ISBN-13: 9781909166127
Air war for Yugoslavia, Greece and Crete - Christopher Shores, Brian Cull and Nicola Malizia, 1987 Grub Street, London, ISBN 0-948817-07-0
Fighters over the Desert - Christopher Shores and Hans Ring, 1969 Neville Spearman Limited, London
Flight Global RAF 112 Sqn Tribute
Shark Squadron - The history of 112 Squadron 1917-1975 - Robin Brown, 1994 Crécy Books, ISBN 0-947554-33-5
The London Gazette
Additional information kindly provided by Rob Brown and Carlo Minguzzi.




Last modified 14 January 2016