Biplane fighter aces

The Commonwealth

Flight Lieutenant Neville 'Bowks' Bowker DFC, RAF nos. 779035 (NCO) 89773 (Officer)
1918 - 21 May 2005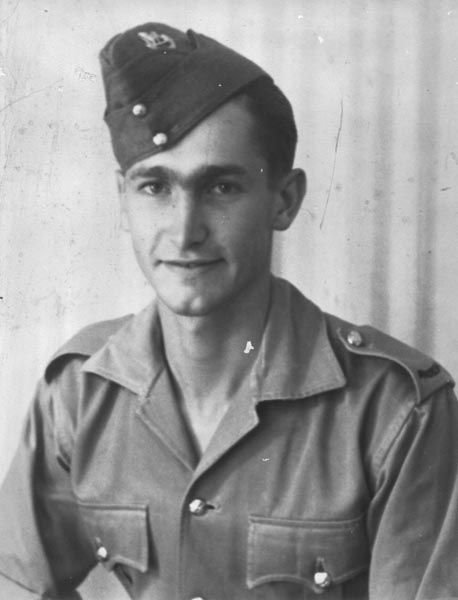 Image kindly provided by Colleen Bowker via Rob Brown
Neville Bowker was born in 1918 in the Orange Free State, South Africa, but was brought up in the Southern Rhodesia.
He joined the SAAF (it is also possible that he joined the SRAF (Southern Rhodesian Air Force)), but transferred to the RAF in mid-1940, being commissioned in the RAFVR.
On 11 November 1940, Leading Aircraftman Bowker was promoted to Pilot Officer (with seniority from 9 November 1940).
He attended 70 OTU at Nakuru, joining 112 Squadron on 14 February 1941.
He served as a Pilot Officer in 112 Squadron, when the unit moved to Greece in early 1941.
On 11 March, 15 of 112 Squadrons aircraft were over the front, this time to escort 211 Squadron Blenheims on a raid in the Bousi area. An estimated 40-50 G.50bis were reported patrolling in the area and nine of these fighters from the 24o Gruppo (led by Maggiore Cesare Valente) engaged the formation, claiming a Blenheim and one Gladiator shot down. The British fighters turned on the attackers and claimed seven shot down, one probable and seven damaged without loss. The claims were made by Flight Lieutenant Joseph Fraser (one and one damaged), Flying Officer Edwin Banks (one and two damaged), Flying Officer Richard Acworth (one), Flying Officer Homer Cochrane (one), Flying Officer Ephraim Hugh Brown (one damaged), Flying Officer Henry Harrison (one), Pilot Officer Bowker (one), Pilot Officer Gerald Westenra (one), Flight Lieutenant Charles Fry (one probable and one damaged), Squadron Leader Harry Brown (one damaged) and Flying Officer Denis Herbert Vincent Smith (one damaged). Bowker and Westenra where both involved in only their second engagements since joining the unit from Flying Training School.
Two G.50bis went down at once. Maggiore Valente and Sergente Luigi Spallacci both were killed, while Sergente Bruno Fava and Sergente Maggiore Ermes Lucchetta were both wounded and crash-landed their Fiats on their bellies. MC.200s of the 22o Gruppo may also have become involved, for Sergente Anselmo Andraghetti of 369a Squadriglia was lost, the cause not being ascertained.
After the combat Banks remarked that the G.50s must be armoured as they stood up to so much punishment. Fry reported that he attacked a G.50, which spun slowly twice then flattened out and turned slowly onto its back with smoke coming from it. It went into cloud and he didn't see it again. He also attacked another G.50bis of 24o Gruppo, which went over onto its back and flew inverted into cloud. Squadron Leader Brown emptied all his rounds into a G.50 without effect. No doubt the all-metal construction of these monoplane fighters helped to hold them together.
During the afternoon of 13 March Squadron Leader H. L. I. Brown led 14 Gladiators from 112 squadron and six of 33 Squadron's Hurricanes off from Paramythia for an offensive patrol over the Kelcyre area. Approaching Kelcyre at 15:30 on an altitude of 17,000 feet an estimated 14 S.79s were seen - aircraft from 104o Gruppo B.T. - with an escort identified as 20 G.50bis and 20 plus CR.42s.
Three of the Hurricanes attacked the mass of fighters, followed by the Gladiators, and many individual dogfights ensued. Squadron Leader Brown attacked the leading fighter of a flight of three, but it evaded him successfully. He then got on the tail of another, which turned and dived and eventually crashed; he claimed a G.50 and another damaged. Flight Lieutenant Joseph Fraser attacked a CR.42, which had not seen him. He reported that it burst into flames and crashed near Bousi. Two more were claimed destroyed by Flying Officer Homer Cochrane and Pilot Officer Jack Groves, while Pilot Officers Bowker and D. G. H. McDonald each claimed a probable CR.42.
The Gladiators reformed, then spotted about 30 more CR.42s with 38o Stormo BR.20s. Seven of Flight Lieutenant Charles Fry's 'C' Flight pilots went after the bombers, while Flight Lieutenant Fraser's 'A' Flight tackled the fighters, claiming seven more shot down. Fraser attacked a CR.42, which flick-rolled and dived away. He followed it down and got in two long bursts after which the enemy aircraft levelled off and lost speed, with the pilot slumped forward in the cockpit. The aircraft then dived vertically into the ground north of Corovode. Fraser then climbed back up to 8,000 feet and got on the tail of another CR.42 firing at it continuously until it burst into flames and was destroyed. Fraser's own aircraft was badly shot up, as was that of Pilot Officer Groves (after having claimed a second CR.42 and one damaged), but both managed to get back to base. Flying Officer Cochrane claimed two more CR.42s while Pilot Officer P. C. L. Brunton and Flying Officer E. H. Brown each claimed a CR.42.
The 'G.50bis' seem to have been 22o Gruppo Macchi MC.200s, 11 of which accompanied 18 CR.42s from the 160o Gruppo over the front. The Italian pilots claimed four Gladiators and one Hurricane shot down, losing just two CR.42s flown by Tenente Gualtiero Bacchi and Sottotenente Enzo Torroni (both from 375a Squadriglia), but no MC.200s. It seems that Capitano Vittorio Minguzzi claimed a probable Gladiator in this combat.
Although no claims were made against the bombers on this occasion, several were in fact hit and damaged, a number of crewmen being wounded.
In his combat report Fraser commented that the CR.42 pilots always tried to flick-roll when attacked.
At 10:30 on 14 March three of 33 Squadron's Hurricanes were off with twelve Gladiators to escort 211 Squadron Blenheims to the Tepelene-Kelcyre area, where a large formation of Italian fighters was reported, variously identified by the Hurricane pilots as twelve CR.42s, twelve G.50bis and twelve MC.200s, and by the Gladiator pilots as 40-50 CR.42s and G.50bis. In addition ten Z.1007bis and five BR.20s were seen - aircraft from 47o and 38o Stormo respectively. The opposing fighters were 16 MC.200s from the 22o Gruppo and twelve CR.42s of the 160o Gruppo reporting meeting 20 Gladiators and eight Hurricanes, escorting five Blenheims.
Flight Lieutenant Charles Fry and his flight attacked the bombers, Fry himself claiming a BR.20 shot down north of Kelcyre near the front line after having attacked three formations of enemy bombers. Flying Officer D. H. V. Smith claimed a damaged BR.20 (and a probable G.50). 'C' Flight led by Flight Lieutenant Joseph Fraser became involved in a swirling dogfight with the Italian monoplane fighters, claiming four shot down, four probables and a damaged. Sergeant 'Paddy' Donaldson claimed two, both of which dived away pouring smoke, while Flight Lieutenant Fraser was attacked head-on by one, but managed to evade this and get on its tail, his fire causing the aircraft to roll onto its back and the pilot to bale out. One Macchi shot the tail off N5916 and Squadron Leader H. L. I. Brown managed to bale out only with the greatest difficulty; Pilot Officer Bowker's Gladiator was also damaged after having claimed a probable G.50, which was seen going down out of control. Pilot Officer P. C. L. Brunton attacked one and appeared to knock bits off it so that it went into a spiral dive with smoke coming from it. Other claims were made by Flying Officer R. J. Bennett (one G.50), Flying Officer Homer Cochrane (one G.50) and Pilot Officer Jack Groves (one probable G.50).
The Hurricanes also engaged the Macchis, 33 Squadron claming two shot down and two probables, but after believing that he had got one of these, Flying Officer Holman was himself shot down and had to bale out. Flight Sergeant Leonard Cottingham claimed one and one probable of the 'monoplanes' while Pilot Officer Starett claimed one probable..
The Italian pilots claimed two Hurricanes and two Gladiators shot down on this occasion. It seems that Capitano Vittorio Minguzzi claimed one of the Hurricanes and a shared in one of the Gladiators during this combat. The 22o Gruppo lost Tenente Luigi Locatelli, who was killed, and Sergente Ferruccio Miazzo, who baled out, while Sottotenente Edgardo Vaghi's fighter was damaged. Gunners in one Cant Z.1007bis claimed one Gladiator shot down, and one bomber was damaged (reportedly by AA) returning with some of the crew wounded.
The 14 remaining Gladiators (only 6 of them being operational) of the 112 Squadron evacuated Greece on 22 April for Crete, where Bowker had arrived the day before.
During the evening on 11 May five Bf 110s of II/ZG 76, which had arrived at Argos from North Germany four days earlier, swept in over Heraklion airfield to strafe. Insufficient warning allowed only a single 112 Squadron Gladiator to get into the air, but Bofors and Lewis gunners opened fire as the Bf 110s swept round the airfield. As they completed their circuit, Pilot Officer Bowker attacked one and a low level dogfight commenced, during which the lone Gladiator pilot attempted to lead his opponents over the gun positions. After a few minutes the Bf 110s made off to the north-west, Bowker landing to claim one probably shot down.
This claim was definitely confirmed destroyed in the Command Intelligence Summaries.
During the defence of Heraklion, Bowker was slightly wounded and captured. He managed to escape from the field hospital and on 29 May he reached Egypt aboard the Orion, where he rejoined his squadron.
In his logbook, Bowker noted 30 hours in the air during his time in Greece and 35 hours over Crete.
Bowker spent the rest of the year flying Tomahawks over the Desert.
On 14 September, six Tomahawks from 112 Squadron received an R/T message that there was a 'bandit' over Mersa Matruh at 19,000 feet. The formation climbed to about 16,000 feet and spotted a S.79 below. Flight Lieutenant Henry Harrison engaged the S.79, which he hit. The Italian bomber was then engaged by Pilot Officer Bowker firing his wing guns only as his .5" machine gun had jammed. He reset and returned to the attack and at 150 yards, he saw petrol streaming from the enemy aircraft. He pumped shots into the starboard engine and the fuselage and the S.79 blew up. This combat took place between 16:25-19:10.
This was 112 Squadrons 77th victory and the first with their new P-40 Tomahawk IIbs.
Harrison did not submit a claim for a share in this victory.
The Italian aircraft was S.79 MM21751 from 19a Squadriglia, 28o Gruppo, undertaking a reconnaissance over the Derna-Mersa Matruh-Sidi Barrani area and it was shot down in the Sidi Rezegh area; Capitano Sergio Fonsili and his crew were KIA.
At 06:20 on 20 November, ten Tomahawks from 112 Squadron and ten from 3 RAAF Squadron, led by Wing Commander P. Jeffrey (258 Wing), took off on an offensive sweep. Between El Adem and Acroma five or six Bf 110 in pairs were surprised near Sidi Rezegh and attacked at once with a height advantage of about 5,000ft.
Between them, the Tomahawk pilots claimed four shot down, two probably so and one damaged. In 3 RAAF Squadron, Sergeant Ronald Simes (AM507) shot down one 20 miles south of Tobruk at 07:30 while another was shared at 07:20 between Wing Commander Peter Jeffrey (AN224), Flight Lieutenant Lindsay Knowles (AN410), Flight Lieutenant J. G. Manford (AK390) and Flying Officer Robert Gibbes (AN465). The landing gear on Flying Officer Gibbes' aircraft was damaged and he landed, uninjured, off the runway at LG 122 with wheels up. All 3 RAAF Squadron aircraft was back at base at 08:40.
In 112 Squadron, Sergeant Kenneth Carson (AN303) made two straightforward attacks on a Bf 110 that took no evasive action and was shot down with smoke pouring from it. Pilot Officer Bowker (AN415) attacked another and its starboard engine blew up. As he broke away from that machine, he encountered another which was already on fire from an attack by another Tomahawk. This aircraft eventually crashed with four Tomahawks chasing it. Pilot Officer R. J. D. Jeffries (AN413) attacked a Bf 110, which began to stream glycol or petrol from both engines, causing it to lose speed and fly left wing low. The rear gunner managed to get some hits on AN413, which caused Jeffries to break off his attack with his aircraft badly damaged. This machine, which he described as being painted in an all blue colour, was claimed as badly damaged. Flying Officer John Soden attacked two aircraft and blew the canopy of the second. In the end, in 112 Squadron, Sergeant Carson was credited with a destroyed Bf 110, Flying Officer Sodden was credited with a damaged, Pilot Officer Jeffries with a probable as was Pilot Officer Bowker, who also was credited with a shared together with Sergeant Ronald Christie and Sergeant Rudolf Leu.
They had been in combat with Bf 110s from III./ZG 26 where 8./ZG lost four aircraft to fighters during an armed reconnaissance south of El Adem. All four aircraft were complete losses; Bf 110E-2N WNr 4005 (Feldwebel Werner Ludwig slightly wounded), Bf 110E-1N WNr 3457 (gunner Obergefreiter Rolf Shön WIA), Bf 110 E-1N Trop WNr 3879 (Obergefreiter Martin Graf) and Bf 110E-1N WNr 4009.
At mid-afternoon on 25 November, a total of 23 Tomahawks of which 13 from 112 Squadron with ten of 3 RAAF Squadron (effectively only seven), and led by Wing Commander Peter Jeffrey (Tomahawk IIb AN337), took off at 15:25 (3 RAAF Squadron at 15:12), arriving just in time (about 15:40) to catch a large enemy formation of aircraft bombing and dive bombing our troops just north of Sidi Rezegh. Reportedly the enemy formation included between 60-80 enemy aircraft and before breaking up, the enemy formation appeared to be a top cover of 20-30 fighters of which very few Bf 109s, the balance G.50s at 15,000 feet. Below this about 20 medium bombers - mostly Bf 110s and a few Ju 88s at approximately 11,000ft. Also at lower level 15 Ju 87s escorted by five unidentified fighters.
3 RAAF Squadron, being above 112 Squadron, dived to attack the Bf 110s which were breaking up formation on spotting them. It seems that 3 RAAF Squadron chased the Bf 110s towards the sea, The Ju.87s dived westwards and made for home while the enemy fighters dived down to attack 112 Squadron.
3 RAAF Squadron landed back at 17:10 and claimed eight destroyed and eight damaged while losing one Tomahawk.
Sergeant Rex Wilson (AK506) clashed with Bf 110s, shooting one down and damaging two more, and then he engaged a Bf 109, which he claimed as a damaged and finally he shot down two Fi 156 Storch aircraft that were passing nearby.
Wing Commander Peter Jeffrey claimed one Bf 110 and another damaged.
Sergeant Frank Reid (AN408) claimed a Bf 110.
Flying Officer Edward Jackson (AM406) claimed a damaged Bf 110 but returned slightly wounded.
Sergeant M. Baillie (AK378) claimed a Bf 109E.
Flying Officer Robert Gibbes (AN374) claimed two G.50bis and three more damaged.
23-year-old Flying Officer Bruce Aitken Evans (RAAF No. 713) (AK343) was shot down and killed in action.
Of this hectic combat, Robert Gibbes later recorded:
"The Wing Leader led the squadrons down after the enemy aircraft as they dived out to sea, slightly east of Tobruk. I started to follow, but noticed quite a lot of fighters above us, so I changed my mind and climbed up alone after them. Luck was with me. They proved to be mainly Italians in G.50s and Macchi 200s who were flying in line astern, in groups of five aircraft, in each formation. They had watched our wing dive down after the bombers, and this appeared to have absorbed their interest, as I seemed to be almost unobserved. On each occasion, they had almost passed by me before I was seen, and the leader, by then, was so committed to his dive, that he was not able to do much about dealing with me, and I found that I was able to get good bursts at numerous machines, without once leaving myself open.
One team of five aircraft came down in a gentle dive, noticed me at the last moment, and the leader tried to pull round onto me. This put me into a very favourable position as I came in at them from the opposite direction on the inside of their turn, and I was able to have a crack at each of the five as they swept by, in line astern. The same thing happened three or four times and although I didn't do much noticeable damage, I did however, succeed in breaking up their formation considerably. Without doubt, I prevented a few co-ordinated attacks on the squadron below.
A G.50 came at me shooting madly. I returned his fire, crouching low behind the engine and feeling the size of a house. He made the mistake of breaking his attack too early, and turned away to starboard. I pulled off a little lead, and saw bits and pieces fly from his cockpit area. The aircraft rolled onto its back to the right and went into an uncontrolled spin, pouring black smoke. I turned my aircraft and watched it plummet down towards the sea below, and then with a jerk, realising my foolishness, I kicked on hard rudder and looked behind. I was just in time. Macchis and G 50s were coming at me from all directions. I gave the old Tommy everything, weaving my way through them, and climbed above. Suddenly, they all seemed to be so very harmless, like clueless children out on a Sunday jaunt, whose aunt had temporarily left them. My morale was terrific, and for the first time, no residue of fear remained. I saw a line of G.50s below my level and dived to attack. They were doing a gentle turn to port when I joined them, making the formation six, but only for a moment. My bullets concentrated around the tail-end aircraft and I don't think he would have known what hit him. His aircraft shuddered, hesitated in its turn, bunted outwards, pulled up into a half loop, then fell away, obviously completely out of control leaving a spiral trail of black smoke behind it. It was probably flown by a dead pilot. I pulled around onto the next aircraft, and when I fired, it flicked onto its back and dived away, but it appeared to be under control. Maybe I didn't damage it too much, but I certainly frightened hell out of the pilot.
The remainder of the flight broke up in all directions, and taking advantage of the superior performance of my aircraft, I climbed up above them, to avoid any tests of manoeuvrability, and to take stock of proceedings, and try to get my machine guns working again, as some had given up the ghost. I noticed a splash in the sea below, but didn't know if it was my G.50 or not, but supposed that it was.
The fight went on and I am afraid that I was now behaving in a childish manner and I was whooping like a wild Indian on the warpath. I do not believe that I shot anything down after this, but things were moving at too fast and furious a rate to get time to observe the results of further attacks. Without doubt I hit the further odd machine as I was able to get into infallible positions. The air-space which had been full of stunting Italians, suddenly cleared like magic as seems to happen in air combat. I looked around and the only aircraft which I could see was a 109 below me. I chased after it at full throttle, climbed up into the sun and positioned myself for an attack. I then saw why the 109 was not more alert. His eyes were fastened on another prey in the form of two unsuspecting Tomahawks cruising in formation below him. He put his aircraft into a gentle dive heading south-west and behind the Tomahawks and I started my dive from the north to north-east, out of the sun, heading him off, coming in at right angles. I called a warning to the two Tommys, and on a converging course, I rapidly closed on the 109 which had now dropped slightly below them in order to stay out of sight. At last I had a complete drop on a 109.
My dreams had materialised and I had one exactly where I wanted it. At high speed, in range, fire. I pressed the trigger and my guns barked in response. By almost a sixth sense my German friend saw me at the last moment, and pulled his stick back making my fire pass below him. He then proceeded to pump-handle his joystick rapidly backwards and forwards, as if following the track of the switchback rail at Luna Park, and I didn't have a hope in hell of hitting him in my first attack. I overshot, pulled around, washing a lot of speed off, and got in an attack from the port rear quarter, which I believe hit him, but did not stop him. I fired again and again, but although he looked a bit sick in the end, he was nevertheless still flying and gradually pulled out of range. I had lost what should have been a certain kill. The Hun beat me by fast thinking and a trick which was too good for me. Full credit to him. I noted this trick and added it to my limited repertoire, and it was later to prove useful in getting out of a similar jam."
112 Squadron also landed at 17:10 and claimed two destroyed and two more as probable while losing a Tomahawk.
Pilot Officer Bowker (AK503), flying with 3 RAAF Squadron shot down a Bf 110 into the sea (confirmed by Wing Commander Jeffrey).
Flying Officer Peter Humphreys (AK505) claimed one CR.42 destroyed west of El Adem and a probable Bf 109F, last seen diving at high speed vertically, 500 feet from the sea off Tobruk Harbour (it was credited as a probable). Confirmation of this was expected from Tobruk as Pilot Officer Bowker and Wing Commander Jeffrey both saw an unidentified plane splash into the sea 5 miles north-west of Tobruk.
Flight Lieutenant Gerald Westenra clashed with ten G.50s that were flying lined up in pairs opposite him. He hit a G.50 that had left the defensive circle and left it spiralling down apparently out of control 5 miles south-west off Tobruk. This aircraft was claimed as a probable.
New Zealander and 20-year-old Sergeant Frederick Dunford Glasgow (RAF No. 402469) (AK461/A) of 112 Squadron flying with 3 RAAF Squadron was KIA.
Pilot Officer Bowker's machine was hit by the machine gunner of the Bf 110, whose plane he had shot down, but repairable at unit and Flying Officer Humphreys' machine was also hit and repairable, but not at unit.
Flying Officer Humphreys was 3 miles east of Tobruk at an altitude of 8000 feet at 16:00, when he spotted the enemy at a bearing of 12 o'clock, at a slightly higher altitude. He gained height and attacked the tail of a Bf 109:
"Put a 5 seconds burst into enemy starting at 200 yards to 500 yards as 109 F drew away after astern attack on myself when I was hit in the tail and wing root. After my attack I was attacked by another 109 and was forced to turn away, and looking back.
Saw E/A joined by another Me.110. Also saw E/A I had attacked then begin to dive steeply towards the sea ..."
At 16:30, Humphreys came down from a greater height and attacked the tail of a CR.42 at an altitude of 100ft above LG 122. He reported:
"E/A seen to wobble after first attack and after second attack dived towards ground and after breaking away after attack saw E/A crash land in cloud of dust."
The Axis formation included both German and Italian aircraft and the force included 17 Ju 87s of I./StG 3, 15 of II./StG 2, 12 Bf 110s III./ZG 26 and 12 Bf 109s of I and II./JG 27. The German fighter pilots made six claims:
Oberleutnant Gustav Rödel of 4./JG 27 claimed one Hurricane I at 15:55 and one P-40 at 15:57; both were claimed north of Tobruk.
Oberfeldwebel Otto Schulz of 4./JG 27 claimed one P-40 north of Tobruk at 16:00.
Leutnant Hans Hufnagel of 9./ZG 26 (based at Derna) claimed one P-40 at 16:01.
Oberfähnrich Gerhard Endmann of 4./JG 27 claimed one P-40 north of Tobruk at 16.05.
Oberfeldwebel Albert Espenlaub of 1./JG 27 claimed one P-40 south-east of Tobruk at 16:05.
It seems that German losses were two Bf 110s from 8./ZG 26 when WNr. 3985 (Oberleutnant Dieter Bidlingmaier and Unteroffizier Gerhard Becker MIA) and WNr. 3181 (Leutnant Joern Scharf and Unteroffizier Hermann Bogler MIA; Scharf later reported to be PoW) both failed to return. The two Fi 156s shot down by Rex Wilson were both aircraft of II./JG 27 which had been unlucky in flying into the combat area when on the way to attend the funeral of Leutnant Scheppa. They were flown by Leutnant Gorny and Oberarzt Heydenreich, who subsequently reported that after crashing, their aircraft were strafed on the ground, Gorny suffering wounds.
The Italian aircraft included four G.50s of the 378a Squadriglia together with two of the 351a Squadriglia, 155o Gruppo, acting as close cover (15:00-16:30). Five G.50s of the 20o Gruppo (two of the 151a, one of the 352a and two of the 353a Squadriglie) provided top cover together with the Bf 109s. They were led by Capitano Riccardo Roveda (14:25-16:40). There were also eleven C.200s of the 153o and one of the 157a Gruppi; presumably they were the close cover. There were also four CR.42Ts (fighter bombers) of the 376a Squadriglia.
The G.50s were on patrol on line abreast at 4,000m, when the target was reached at 15:45. A formation of about ten Hurricanes and P-40s was spotted north of Bu Amud after the bombing and they were engaged in combat (probably over the sea). It would seem that only Capitano Roveda and Sottotenente Alcide Leonio of the 353a Squadriglia engaged the enemy fighters and they claimed to have shot down one P-40 each, firing 235 rounds. The pilots of the 155o Gruppo reported that they limited themselves to sticking close to the bombers without taking part in the combat.
The CR.42 took off at 14:45 and returned to base at 16:30. They encountered very heavy anti-aircraft fire, nevertheless the action was considered to have gone very well and they didn't suffer any losses. The aircraft claimed as a CR.42 by 112 Squadron's Flying Officer Humphreys, appears actually to have been a Ro.37bis of 129a Squadriglia. This had taken off at 15:50 to explore the El Adem-Sidi Rezegh-Hagfet El Haei-bir El Gobi zone but was attacked by a fighter and forced to crash-land at El Adem, and while Tenente Antonio Grillo and Tenente Giuseppe Conti survived unhurt, the biplane was a complete write-off.
It seems that this confusing combat took place when the aircraft were returning from the bomb attack. The Stukas, CR.42s and escort of the 153o and 155o Gruppi were probably not involved in the combat, even if identified by the Commonwealth fighter pilots.
It is interesting to note what was reported by 112 Squadron on the decision by the G.50s to form a defensive circle despite their superiority in numbers.
Totally, the Tomahawks of 3 RAAF and 112 Squadrons claimed ten enemy aircraft, two probable and eight damaged while losing two Tomahawks. The Axis fighters claimed eight Allied fighters shot down while losing two Bf 110s.

Between 08:20 and 08:30 on 30 November, six MC.200s of the 153o Gruppo, five G.50bis of the 378a Squadriglia, 155o and three G.50bis from the 20o Gruppo took off to escort 18 Ju 87s of II/StG 2 out to attack troops of the New Zealand Division. Bf 109s from II/JG 27 was also involved in escorting this mission as top cover. The formation of Ju 87s proceeded to the target in Bir el Gobi in a column, with the G.50bis of the 155o Gruppo on their right in line abreast.
En route to the target they were intercepted by a reportedly five Hurricanes or P-40s. The attack was interrupted by the prompt intervention of the Bf 109s and Oberfeldwebel Otto Schulz of 4./JG 27 claimed two P-40s; one at 09:10 north-east of Bir el Gobi and a second at 09:20 south-west of El Adem.
The Stukas reached the target at 09:10 and here an indefinite number of enemy fighters engaged all the escorting fighters and the combat continued during the return flight. Totally the returning Italian pilots claimed five destroyed, two probable and two damaged. Tenente Colonnello Luigi Bianchi (155o Gruppo) attacked some fighters attacking the rear of the Stukas and he returned claiming one Hurricane shot down and a probable Tomahawk having used 260 rounds of ammunition. Segente Italo Abraim (378a Squadriglia) claimed a destroyed Tomahawk (using only 12 rounds of ammunition!). Tenente Tulio Martinelli, Tenente Giuseppe Bonfiglio and Tenente Vittorio Galfetti (all 378a Squadriglia) returned claiming two shared damaged. Sottotenente Giorgio Oberwerger (352a Squadriglia, 20o Gruppo) and Sottotenente Pietro Zanello (352a Squadriglia, 20o Gruppo) claimed one Tomahawk each while Maresciallo Egeo Pardi (374a Squadriglia, 153o Gruppo) claimed one and one probable Tomahawk. Two G.50s from the 378a Squadriglia were shot down; Sottotenente Eugenio Giunta (MM5967) PoW and Sergente Girolamo Monaldi (MM6023) KIA. The 374a Squadriglia suffered two damaged MC.200s with both pilots wounded (Maresciallo Egeo Pardi and Tenente Mario Mauro) while a third MC.200 from 153o Gruppo, hit in the fuel tank, force-landed near Umm er Rzem. Two more MC.200s returned to base slightly damaged.
They had been in combat with Tomahawks from 112 and 3 RAAF Squadrons which had taken off together for a sweep.
112 Squadron reported that they took off at 08:30 with 12 Tomahawks and joining up with an equal number from 3 RAAF Squadron in an offensive wing sweep over the El Adem area, the wing being led by Wing Commander Peter Jeffrey DFC. They intercepted a force of 35-40 enemy machines in several layers, 15 Ju 87s at 6,000ft, 20 G.50s and MC.200s from 7,000-8,000ft and five Bf 109s as top cover. Wing Commander Jeffrey detailed one section from 112 Squadron to watch the Messerschmitts and the remainder of the squadron, with 3 RAAF Squadron, to concentrate on the middle and lower formations. The Stukas jettisoned their bombs and in the combat, one MC.200 and two G.50s were claimed destroyed by 112 Squadron with one Bf 109 and one G.50 damaged. One of the G.50s were shot down by Sergeant 'Rudy' Leu (AK509) after a stern attack while a G.50 was claimed damaged by Pilot Officer 'Ken' Sands. Pilot Officer Bowker (AN338) claimed one MC.200 destroyed, but he was then shot down by a G.50 and was forced to crash-land on the outskirts of LG 122, his machine being badly damaged. Pilot Officer Neville Duke (AK402/F) chased a G.50 for a long way before finally shooting it down. Two or three Bf 109s and a G.50 or MC.200 then attacked from him astern. He turned and gave one of the Bf 109s a short burst, which appeared to have damaged it. He was followed home by another Bf 109F and was hit in the port wing and main petrol tank. His machine went over onto its back at about 500ft and hit the ground on its belly just as he pulled it round. The aircraft took to the air again with a burst of power and crash-landed. Duke leapt out and had only just cleared the aircraft and hidden himself in the scrub when it was strafed and set on fire. Later he was picked up by a Lysander and returned to base. His victor seems to have been Oberfeldwebel Otto Schulz of 4./JG 27 whose habit was to strafe downed aircraft for good measure.
3 RAAF Squadron reported that 12 Tomahawks took off at 08:40 and joined 112 Squadron in an offensive wing sweep over the El Adem area, the wing being led by Wing Commander Jeffrey DFC. Australian pilots taking part were Sergeant 'Tiny' Cameron (AK506), Flying Officer Robert Gibbes (AN499), Sergeant Derek Scott (AN374), Squadron Leader Alan Rawlinson (AN408), Flight Lieutenant Wilfred Arthur (AN224), Flying Officer Louis Spence (AN457), Sergeant Frank Blunden Reid (AM406), Flying Officer Thomas Trimble (AM384), Sergeant Rex Wilson (AM392), Pilot Officer Eggleston (AN336), Sergeant 'Wal' Mailey (AK446) and Pilot Officer 'Nicky' Barr (AM378). Pilot Officer Barr returned at 09:00 with engine trouble. The patrol intercepted reportedly between 40 and 50 enemy aircraft and in the ensuing combat they claimed 13 destroyed and 18 damaged. Squadron Leader Rawlinson landed back at 09:40 claiming one MC.200 destroyed. Flying Officer Spence followed him. Sergeant Wilson landed with wheels up just off the aerodrome at 09:45 with landing gears unserviceable, and oil running everywhere. He claimed one MC.200, one Ju 87 and one Bf 109 damaged. At 09:55, Flying Officer Trimble, Sergeant Reid and Sergeant Mailey landed. Trimble claimed two MC.200s destroyed and three Ju 87s damaged, Reid claimed three damaged Ju 87s while Mailey claimed one MC.200 and one G.50 destroyed and three damaged Ju 87s. Pilot Officer Eggleston landed at 10:05. At 10:10, Flying Officer Gibbes and Sergeant Scott landed. Gibbes claimed one G.50 destroyed and one Bf 109 damaged and Scott claimed one G.50 and one Ju 87 destroyed and one Ju 87 damaged. Finally, at 10:15, Wing Commander Jeffrey landed sitting well up in the cockpit - he had landed alongside Sergeant Cameron and picked him up in the desert. Sergeant Cameron who after having claimed one G.50 destroyed and four Ju 87s damaged had been shot down and forced to baled out. From this operation Flight Lieutenant Arthur failed to return but he returned to the Squadron at 17:00 in a borrowed Hurricane. He had been forced to land inside the Tobruk fortress when his distributor became unserviceable. He had had a field day claiming two Ju 87s, one G.50 and one MC.200 destroyed.
No Ju 87s were lost in this combat but two from 4./St.G 2 returned with wounded gunners (Unteroffizier Otto Herbert and Gefreiter Manfred Spiegelberg).

At 09:10 on 4 December, 16 German Ju 87s and six Italian of the 239a Squadriglia took off to bomb concentrations of about 150 motor vehicles 20 km north-east of Bir El Gobi, with the top cover of ten Bf 109Fs and close cover of ten MC.200s of the 153o Gruppo, which had taken off at 09:30, and six of the 157o Gruppo. The targets were scattered but nevertheless the bombs were well aimed and a good result was expected.
Ten Tomahawks of 112 Squadron, led by Squadron Leader Morello, with ten Tomahawks of 250 Squadron, took off at 09:30 for a wing sweep over the El Adem and Sidi Rezegh area. Flying at 10,000 feet, with 250 Squadron as top cover, ahead and below was seen a mixed force of about 30 enemy machines.
"…On sighting the enemy, the C.O. ordered one section down to attack about 15 Ju.87s flying in three batches of 4 or 5 at approx. 6,000 ft. At the same time, the C.O. and the second section attacked a mixed bag of about 10 G.50 and Macchi C.200. However, these went down to level of the 87s and top section were attacked by about 5 Me 109E and F. 3 Macchi C.202 were seen but must have been attacked by No. 250 Sqn., who had climbed above us.
A general dogfight developed in the top section as a result of which Sgt. Christie claims a Me 109F probably destroyed and F.O. Humphreys a Me 109F damaged, whilst Sgt. Ferguson was badly shot up and it was a sterling effort to bring his machine back to base. F.Lt. Westenra, P.O. Bowker and P.O. Duke chased their quarries to the West, the latter finishing off a good show by driving a C.200 to earth inside the Tobruk defences, finally landing there before returning to base.
Enemy casualties:
2 G.50s destroyed by F.Lt. Westenra (AN 303)
1 G.50 and 1 Ju.87 destroyed by P.O. Bowker (AN372)
1 C.200 and 1 Ju.87 probably destroyed by P.O. Duke (AN337/F)
1 Me 109F probably destroyed by Sgt. Christie (AK354)
1 Me 109F damaged by P.O. Peter Humphreys (AK415)
Own casualties:
1 Tomahawk (Sgt Ferguson) damaged-airframe beyond repair, engine repairable by RSU.
1 Tomahawk (P.O. Bowker) damaged, but repaired at unit and flying same day."
The claims of 112 Squadron was later somewhat updated when Flight Lieutenant Gerald Westenra claimed two G.50s, Pilot Officer Bowker claimed a G.50 and a Ju 87, Pilot Officer Neville Duke claimed a MC.200, a probable Ju 87 and another damaged while a Bf 109F and a probable were claimed by Sergeant Ronald Christie and a damaged Bf 109F was claimed by Flying Officer Peter Humphreys.
Sergeant Christie reported:
"Type of attack delivered on enemy: dead astern climbing on one 109F. Enemy was attacking one of our sections in usual dive and away tactics. Heavy bursts into enemy at 100 yards. Saw shots entering the fuselage. Consider he was severely hit and as he broke away into a steep dive without further evasive action he was almost definitely destroyed. If destroyed, this aircraft should have landed at Point 420, 390, 300. I claim 1 109F probably destroyed. I also saw a Tomahawk going down in flames but do not think it was one of our Sqn."
Pilot Officer Duke wrote:
"Oh, Boy, another! Encountered the Hun Circus of Ju 87s, 109s, Macchi 200s and G.50s. Got stuck into them. Came across five Ju 87s flying in close formation and sprayed them all. One broke away and went down in a gentle dive, smoking a bit. Couldn't watch him as some 109s appeared and I don't like them!
Pounced on a Macchi 200 and had a pretty good dog-fight. He started beetling off home and I chased him. Once he did a complete roll in front of me. My guns were all haywire and in the end only one cannon was going and I had to keep cocking that. Finally that stopped just as we came roaring over Tobruk at nought feet. The Macchi was still showing fight however, but he suddenly spun in off a steep turn and crashed. I was hoping he would land on the aerodrome as he had put up a good fight - nearly always at ground level, and once we went chasing out to sea. I was making dummy attacks on him as my guns had packed up.
I landed at Tobruk and had lunch. It had bucked the boys up no end to see the fight."
The information relating to 250 Squadron is rather meagre; this unit together with 112 Squadron was carrying out an escort mission for reconnaissance Hurricanes between El Adem and Tobruk. Ten Tomahawks acting as the top cover of 112 Squadron were flying at an altitude of 13,000 feet, when they spotted a formation of enemy fighters at 10:30. They were crossing them at more or less the same altitude. Bf 109s, G.50s (obviously MC.200s) and Ju 87s were recognized. They were in an open or irregular formation. Finally also MC.202s were recognized.
Flight Lieutenant Ronald Bary attacked a Bf 109 from below hitting it with short bursts; therefore the Messerschmitt turned over losing altitude, with smoke coming from the wings and fuselage; it was claimed probable. Flight Lieutenant I. F. Rose also claimed a probable Bf 109. Pilot Officer Kenneth Hart got right near the tail of a MC.200 that strangely, even if the pilot was aware of coming under attack, limited itself to a slight turn to the right. Then the Macchi was seen to dive towards the ground with the pilot probably dead, in view of the rounds that had been fired into the cockpit. Hart also was credited with a damaged Bf 109.
The Messerschmitt pilots reported to have sighted 40 P-40s, declaring to have shot three down in the Bir El Gobi area between 10:16 and 10:20. There were no losses among the German planes. The victories were credited to Oberfeldwebel Otto Schultz (10:16 in the Bir el Gubi area), Oberleutnant Gustav Rödel (10:18 north-east of Bir el Gubi) and Unteroffizier Alfred Heidel (10:20 in the Bir el Gubi area), all of 4./JG27.
AIR 22.401 reported the loss of three Hurricanes, one of them a reconnaissance plane, and three Tomahawks during the day; in its turn AIR 22.364 in reporting the clashes at 09:00 mentions the loss of two Hurricanes and a P-40, but doesn't mention the damaged planes.
Taking into account the report given by Christie it seems that a Tomahawk was shot down in this action, presumably one of 250 Squadron, even if Form 540 doesn't report it. Therefore the German claims had probably referred to this, as well as the bad damage done to Ferguson's plane (that seems to have crash-landed on return). Finally the third could well have referred to the second Hurricane shot down; there is no trace of this in the 1 SAAF and 274 Squadron's diaries but the reconnaissance Hurricane could have been lost in the same clash.
The diary of the 153o Gruppo reported that MC.200s had clashed with the Tomahawks and was hard hit; Tenente Mezzetti, who was slightly wounded on the right heel, landed at Gazala, while another four Macchis had been hit; nevertheless they had managed to protect the Stukas so that they could return to base undamaged. In fact it seems that the Stukas not even had been attacked. In any case they hadn't lost any of their aircraft. Even if it is not reported in the diary of the 153o Gruppo, Sottotenente Arrigo Zancristofaro didn't return to base (KIA). In the end also Tenente Vittorio Conti of the 157o Gruppo was shot down, he parachuted but he also didn't return to base (PoW). The 153o Gruppo didn't claim anything in this combat.
Eleven MC.202s of the 17o Gruppo (six of the 71a Squadriglia, three of the 72a Squadriglia, and two of the 80a Squadriglia), under the command of Tenente Colonnello Bruno Brambilla, took off at 09:45. They were also the top cover for the formation of attack of 09:30. Subsequently they had probably carried out a free sweep over Bir El Gobi. A pilot of the 80a Squadriglia returned to base early because his fighter developed engine trouble. The formation clashed with an enemy estimated to have been about thirty fighters divided between Curtiss P-40s and Hurricanes in poor weather over the target at an altitude of 4,000 metres at 10:20. The Italian pilots claimed eight victories; Capitano Pio Tomaselli (72a Squadriglia, one Hurricane), Sergente Maggiore Gabriele Romagna (72a Squadriglia, one Tomahawk), Sottotenante Renato Bagnoli (80a Squadriglia, one Hurricane), Tenente Colonnello Brambilla (one Hurricane), Capitano Pericle Baruffi (71a Squadriglia, one Tomahawk), Tenente Pierfrancesco Conti (71a Squadriglia one Tomahawk), Tenente Ottorino Cappellini (71a Squadriglia one Tomahawk) and Sergente Egidio Buogo (71a Squadriglia, one Tomahawk). Sergente Carlo Ermo(71a Squadriglia) claimed a probable Tomahawk.
Sottotenente Lorenzo Chellini's (72a Squadriglia) MC.202 MM7864/72-3, was hit in the water radiator after machine gunning an enemy plane and was forced to make an emergency landing near El Duda, about 8 km south east of El Adem. The destruction of the fighter was reported even if from a photo it would seem that the Macchi made a good emergency landing. Maresciallo Marcello Lui (71a Squadriglia) (MM7874) had to land away from the airfield because of engine trouble Another two aircraft had been hit; Brambilla's in the empennages and Conti's in the control panel..
Altogether 2,195 rounds were fired, 387 of them by Pio Tomaselli and Romagna. The Macchis returned to base at 11:00.
The action involved the Hurricane lIs of 1 SAAF and 274 Squadrons, which belonged to the same Wing. Ten of the former took off at 09:15 (one of them returned early because of engine trouble), and twelve of the latter at 09:20.
The ORB of the first unit reported making a free sweep above El Adem, while the second refers to a defence patrol for its own armoured vehicles above Trigh Capuzzo. 1 SAAF Squadron, which was flying as top cover at a higher altitude when it encountered a loose formation of MC 202s at 10:20, 12 km south-west of El Adem. It appeared to be a decoy formation for when Captain C. A. van Vliet climbed to attack, the Italians attacked the flanks of the formation; only now above them were seen six more and above these were some 16 Macchis and Messerschmitts, the former dark-green, the latter identifiable by their square wingtips. The returning pilots claimed two destroyed, three probable and three damaged. All of the claims were MC.202s; Lieutenant Robert Kershaw (one probable and one damaged), 2nd Lieutenant Alan Maclean (one damaged), Lieutenant Vivian Penberthy (one destroyed in DG626), 2nd Lieutenant Lawrence Waugh (one destroyed, one probable and one damaged) and 2nd Lieutenant Charles Willson (one probable). 2nd Lieutenant Waugh caught one pulling out of its attack, half-rolled and sent it down smoking. Another pulling up in front of him went into a spiral and he saw it crash and finally he fired a long head-on burst on a third, which sent debris flying from it. 2nd Lieutenant Willson saw his victim stop a burst, flick onto its back and go down in a trail of black smoke. 2nd Lieutenant Thomas Albert Meek's Hurricane was shot down 40 miles from base and he returned to base on foot next day.
"No 1 Sqn., SAAF, received instructions from 258 Wing RAF to carry out a wing sweep with No.274 Sqn., RAF, over our troops in area 4237, 4736 and 4533 (Purple grid map: 250.000 Egypt and Cyrenaica Sollum-Tobruk Sheet 3). The leaders of the formation of No. 1 and 274 Squadrons agreed that No. 1 should provide the top cover for the sweep. The Hurricane Mk.lls of No. 1 took off from L.G. 124 at 9.15 hrs. flying in formation, i.e. pairs in line abreast. They flew at 10.000 feet, and above No. 274 Squadron's formation. Owing to engine (oil pressure dropping) one Hurricane returned at 9.45 hrs.
After approx. one hour ten minutes flying the leader of No. 1 (which was then flying in a northerly direction) observed about 8 E/A approaching. The E/A were to the left (about 10 O'clock) and slightly above our formation. The 8 E/A, which were in no particular formation, dived towards the rear of our formation and shot down a straggler [2nd Lieutenant Meek]. Then they appeared to break up on either side of No. 1 and climbed into the base of the clouds, at 12000 feet, where they joined other E/A. Another large group of E/A (about 16) were seen to the right and slightly above.
These aircraft did not take part in the general dogfight for several minutes, but remained milling about on their own, while No. 1 was attacked on both flanks by single aircraft. Pilots estimated between 20 and 30 E/A. Most of them were C.202s, but some pilots identified Me109Es with their square wing tips.
Own Tactics.
The leader of No. 1 turned into the 8 E/A that attacked by a climbing turn to the left. But single E/A made attacks from both sides almost at the same time as the climbing turn was begun, and the formation broke up and general dog fighting took place.
Enemy tactics.
The attacks were made generally by single aircraft diving out the base of the clouds, between 12000 and 13000 feet. No enemy aircraft attempted a head-on attack.
The presence of a large group of E/A that remained for several minutes slightly above and to the right of our formation without taking part in the fight worried our pilots. This group of aircraft frequently distracted their attention from the single aircraft that were making repeated attacks from out of the clouds.
Several pilots commented on the astonishing aerobatics that the enemy pilots carried out during the dogfight. Several of them were seen to loop, stall turn, and roll off the top for no apparent reason. One C.202 was attacked when it was inverted at the top of a loop and the tail plane was shot to pieces [possibly Brambilla claimed by Lieutenant Penberthy]. Another C.202 was shot down when it was in a stall turn. It is presumed, because of the aerobatics, that the enemy aircraft were flown by Italians. If they were Italians they had learned from the Germans how to take advantage of the clouds and to pounce immediately on any stragglers in a formation.
Description of the Macchi C.202.
The Macchis encountered were painted in a dark green livery and they had a wide broad white band round the fuselage towards the tail. The wings have rounded tips and the end of wings appears to be as broad as it is at the base. The cockpit is not set well back as on the Me 109 or Tomahawk, and has not therefore a pronounced nose.
Performance.
The C.202 is a highly manoeuvrable aircraft, but the general opinion of the pilots of No. 1 Sqn. who dog fought with them was that the Hurricane Mk. II could outturn them. One pilot dog fought one for several minutes, but neither aircraft fired because at no time could one of the pilots get the other in his sights. Three Hurricanes that chased a Macchi which had a start in a 5000 feet dive, failed to catch up with it. The A.I.S. of the Hurricane was 340 mph, but in the level chase at 2000 ft above the deck, the C.202 pulled away from it.
Armament.
Pilots saw lines of self-explosive cannon fire, which could have been fired through the spindle of the Macchi. This aircraft carries guns its wings, but not many, as the fire seen coming from the wings was not nearly as dense as that when an 8 gun Hurricane fires. One Hurricane of No. 1 which was hit and returned to base was damaged in the starboard wing by machine gun fire. Bullets similar to our new .303 were found in the wing.
Total number of rounds fired pilots of No. 1: 7595 (armour piercing, ball and tracer)."
274 Squadron reported having clashed with Bf 109s and MC.200s and to have claimed one MC.202 damaged (MacDonnell in BD821).
The South Africans, who were particularly pleased with the outcome, returned at 10:45 while 274 Squadron landed between 10:50 and 11:05.
Moreover, it is likely that the MC.202s had also clashed with the Tomahawks of 250 Squadron, so that the 30 enemy fighters divided between Hurricanes and P-40s can be accounted for. The Macchis had almost certainly shot down 2nd Lieutenant Meek, but it can't be counted out that they had shot down at least one of the other aircraft declared lost by 22.364 and 22.401.

At 11:00 on 5 December, 27 German Ju 87s together with nine Italian aircraft of the 239a Squadriglia took off to attack units and depots of enemy motor vehicles 12 km east of Gobi.
The close cover was composed of 14 G.50s of the 20o Gruppo (five of the 352a Squadriglia, six of the 353a Squadriglia and three of the 151a Squadriglia) led by Tenente Colonnello Mario Bonzano and headed for the area south-east of Gobi. The G.50s took off at 11:05 and joined with the Stukas above Gazala at 11:35. The close cover was completed with 13 MC.200s of the 153o Gruppo, whose diary mentions an attack in the Bir El Esem area. There were also two MC.200s of the 157o Gruppo.
Finally, according to Commonwealth sources, twelve Bf 109s of I. and II./JG 27 provided the top cover.
The G.50s were placed in two groups: six of the 353a Squadriglia on the right of the Stukas and eight on the left (the five of the 352a Squadriglia and the three of the 151a Squadriglia flying at an altitude of 3,500 m.
The Bf 109s of the top cover engaged enemy fighters south of El Adem before reaching the target. The German operational report mentions the first clash with twenty enemy fighters. The latter broke off after several short attacks. Italian sources noted that this first group of enemy fighters was machine gunning our motor vehicles in the Bir El Garaat area.
Meanwhile the target was reached at 11:45.
A formation of 15 enemy fighters was encountered after Bir El Gobi before the dive. They turned without attacking, presumably to get into a more favourable position.
The Ju 87s began the dive and as usual were followed by the close cover. As soon as they got together at 1,000m the battle with the above-mentioned 15 enemy fighters began (these must have been Tomahawks of 250 Squadron) and with others that were at a lower altitude. It is not clear who they belonged to (112 Squadron) was higher up.
Of the five pilots from the 352a Squadriglia, Capitano Luigi Borgogno managed to shoot down a P-40, after having got over a critical moment at a low altitude hemmed in by several enemy aircraft. Maresciallo Otello Bonelli found himself in some difficulties against two enemy aircraft and received some rounds on the empennages. However, he got free of one of the enemy fighters and having jousted with the other managed to shoot it down. Sergente Maggiore Francesco Pecchiari also machine gunned several enemy aircraft and shot down one. On engaging an enemy aircraft, Sottotenente Giorgio Oberwerger was in a favourable position but had to abandon it before being able to line it up because he was in his turn threatened by the attentions of a fighter, which was later found out to be a Bf 109. The five pilots of the 352a Squadriglia returned to base without any problems at 12:45.
The three pilots of the 151a Squadriglia were all heavily engaged. Sottotenente Lanfranco Baschiera machine-gunned a P-40 and saw it turn over near the ground but was unable to check how the duel had gone. He fought with two other enemy aircraft, machine-gunning one (totally he used 166 rounds). Sergente Maggiore Luigi Manelli and Maresciallo Ennio Tarantola (15m south of El Adem) both claimed enemy fighters which they then saw burning on the ground. Both hit other aircraft hard (totally using 222 and 544 rounds respectively). Sergente Maggiore Manelli landed at South Gazala w.th the engine overheating; the other two returned to base without problems at 12:50.
Another four fighters were claimed by the pilots of the 353a Squadriglia; Tenente Colonnello Bonzano, Capitano Riccardo Roveda, Sergente Maggiore Tullio Covre (south-east of El Adem) and Sergente Spiridione Guiducci while Sergente Manini machined-gunned another two. It was a fierce battle that split up into individual duels. About half of the G.50s managed to disengage themselves and re-join the escort of the Stukas. At the end of the dive other P- 40s attacked the Stukas (presumably 112 Squadron). The battle also continued on the way back. Tenente Colonnello Bonzano landed at South Gazala with his plane badly damaged, hit on the fuel and oil tanks. Altogether the pilots of the 20o Gruppo claimed nine enemy planes shot down and 12 machine-gunned.
The diary of the 153o Gruppo was very concise; during the dive they were attacked over the target by a wave of planes greater than the one before, which attacked time after time in a mass. The close cover and semi top cover (presumably Italian units) managed to free the bomber formation from the grip the enemy had them in, machine-gunning the enemy aircraft that tried to put themselves on the tail of the bombers and fighter escort. However, it was not possible to check the results. A MC.200 that had been hit on the radiator landed at Gazala.
The German operational report noted that most of the bombs fell on the target and numerous fires were observed. Losses among the Stukas were very heavy; totally six Ju 87s. The 239a Squadriglia lost three "Picchiatellis":
Sergente Mangano (KIA) and 1o Avieri Faienza (PoW)
Sottotenente Steffanina (PoW) and 1o Avieri Spada
Sergente Lanfredi (badly WIA) landed near Gazala.
The heavy anti-aircraft fire hit another three Italian Stukas. The German operational report mentions three German Ju 87s missing. The surviving six returned to base at 13:10.
I./StGW WNr. 6063, forced landing, 50% damage; crew unhurt
II./StGW WNr. 6023, forced landing, 60% damage; crew unhurt
3./StGW WNr. 6153 forced landing, 100% damage; it was destroyed by the bombs of a Ju 87 that was diving down above it and Feldwebel Hans Bremkamp and gunner Wihelm Heger KIA.
All six had probably been hit by enemy fighters.
Finally, the clash of the Bf 109Fs from JG 27 with 30-40 Curtisses was reported; it was noted that five of the latter had been shot down as well as a probable:
Unteroffizier Horst Reuter of 5./JG 27, who claimed one at 11:43 south-east of Bir el Gobi
Leutnant Franz Külp of 6./JG 27, who claimed one at 11:45 over Bir el Gobi
Oberleutnant Gustav Rödel of 4./JG 27, who claimed one at 11:55 north-west of Bir el Gobi
Hautpmann Wolfgang Redlich of 1./JG 27, who claimed one at 12:05 south of Bir el Gobi
Unteroffizier Josef Grimm of 1./JG 27, who claimed one south of Bir el Gobi
II./JG 27 lost (100%) Bf 109F-4 trop WNr. 8429, which was hit in the radiator but the pilot was unhurt, l./JG 27 lost (50%) Bf 109F-4 trop WNr. 8523, above Bir el Gobi, pilot unhurt and plane recovered. Bf 109F-4 trop WNr. 8453 was damaged during the take-off (70%), but the pilot was unhurt.
Squadron Leader Clive "Killer" Caldwell (AK498) led the Commonwealth formation from 250 and 112 Squadrons. 112 Squadron with seven Tomahawks had taken off at 10:50 and returned to base between 12:00-12:25, was the top cover for 250 Squadron with eleven Tomahawks, which had taken off at 11:00. The patrol area was about 10 miles west of El Gobi and was reached at 11:40, when an RT communication warned of the arrival of a large enemy formation from the north-west, at about the same altitude as the two Squadrons (7,000 feet). Both the squadrons immediately gained height and, in the space of a minute, the formation of Stukas (thought to be 40 aircraft) protected by the fighter escort was seen on the right, at the same altitude, south of El Adem. The bombers were flying in sections of three planes, stepped on the left and very close to each other.
112 Squadron had to deal with the Bf 109s, while 250 Squadron attacked the Stukas and the close escort. The sections were also close to each other. Squadron Leader Caldwell thought that they were an easy target but on the other hand it was the best defensive tactic to use, both for the weapons and for the fighter escort. The latter was identified well above the Stukas. The commander led the attack on the Stukas with 250 Squadron in line astern, while 112 Squadron engaged the escort. The attack was delivered from the stern quarter. Before Squadron Leader Caldwell started firing another pilot (presumably Sergeant 'Mac' Twemlow) on his right started firing into the mass of planes from 500 yards. A Stuka that had been hit started to fall leaving a trail of smoke. Caldwell also opened fire from about 300 yards with all his guns blazing on the section leader of the rear section of three. The deflection was not very effective but numbers 2 and 3 were hit, one of which caught fire immediately. The latter came down leaving a trail of smoke and was burnt up after losing 1,000 feet of altitude. Then Caldwell attacked the section leader of a rear section of three on the right of the formation. He opened fire with all his guns from behind and below from a very short distance. The enemy plane turned over with the right wing root in flames. While Caldwell went down to the left to attack the leader of a section of two planes, the latter jettisoned his bombs by making a sharp nose-up manoeuvre to the right, but was immediately shot down by a Tomahawk. Then Caldwell unleashed a short burst at a wingman that was diving. Nevertheless, he managed to remain close to its tail by going flat out and side slipping down to 2,000 feet; again he opened fire from a short distance and the Stuka caught fire on the left wing root, coming down in flames near to lorries full of troops. The latter got out of the way so as not to be hit by the plane. Caldwell regained altitude up to 2,000 feet managing to attack from below, again from a short distance, another Stuka that was shot down in flames. While he was turning he noticed a G.50 500 feet higher up and attacked it, opening fire from a short distance. Unfortunately, all his guns stopped firing. At this point the Italian pilot noticed Caldwell and disengaged by turning over sharply and then diving. A second G.50 saw Caldwell and appeared to want to attack him, but gave up the idea before getting within firing range. Caldwell counted that about 12 planes had come down in flames or left trails of smoke until they crashed into the ground. As well as this he saw three explode in flight. Besides he thought that the Stukas had jettisoned their bombs before reaching their target. In the end he claimed as many as five Ju.87s shot down and a G.50 that was damaged (claimed as a MC.200).
Sergeant Twemlow was in his turn attacked by a G.50 but managed to disengage himself. He was credited with a Ju 87 shot down and two more as probable. Sergeant "Bob" Whittle (AN313) claimed two Ju 87s, with one more initially claimed as probably shot down but this was later upgraded to a "confirmed" after that it had been found crash-landed. Sergeant "Bill" Cable claimed two and one damaged Ju 87. Flight Lieutenant I. F. Rose claimed a probable Bf 109. Pilot Officer Francis Albert Creighton (AM274) claimed one Ju 87 and one damaged Bf 109. It is also possible that R. E. Bary claimed a damaged Bf 109. Totally 250 Squadron claimed twelve Ju 87s shot down, two probables and one damaged, one damaged G.50, one probably destroyed and one damaged Bf 109.
250 Squadron lost four aircraft when Pilot Officer Cole was shot down and wounded as was Sergeant McWilliam, both returning the next day. Sergeant James Ross Gilmour (RAF no. 1365007) and 19-year old Sergeant Edmondson Peter Greenhow (RAF no. 1059800) were both shot down and killed.
112 Squadron reported taking off at 11:20 led by Flight Lieutenant Charles Ambrose (AK475) and including Flying Officer John Soden (AK377), Pilot Officer Neville Duke (AN337/GA-F), Sergeant Rudy Leu (AK354), Pilot Officer "Jack" Bartle (AN372/GA-Q), Pilot Officer Neville Bowker (AK509) and Pilot Officer Joseph Sabourin (AK457). The seven Tomahawks were flying at a higher altitude, at 9,000-10,000 feet, and sighted the enemy formation at about their own altitude, slightly to the left, at 12:00. They saw 30-40 Ju 87s in sections of three with the close cover of 20-25 G.50s and C.200s, mixed up with Stukas in a slightly higher position; while the top cover, composed of twelve Bf 109s, was flying some hundreds of feet higher, divided into two groups of six on both the sides of the formation.
Pilot Officer Sabourin, who mentions a general dogfight, was credited with the shooting down of a Bf 109E, a G.50 and a Ju 87. He saw his rounds enter the cockpit, then these planes came down going into an uncontrollable spin; the first enveloped in smoke and the second in flames. The Stuka came down in the El Adem area. Besides this, he damaged a G.50, a Bf 109E and a Bf 109F. He noted that the wingtips of the enemy aircraft were painted white. Sabourin's plane was slightly damaged by a round.
Sergeant Leu attacked a MC.200 from out of the sun, which spun in and was claimed destroyed. He also attacked a Bf 109F, which "seemed to falter in the air" and then dive, but he did not see it crash but it was credited as a probable.
Pilot Officer Bartle also reported an attack from above and behind. He shot down a Ju 87 and a G.50. He reported that he was on the tail of a G.50 above El Adem, at a distance of 200 yards, when the latter was shot down by enemy anti-aircraft fire.
Pilot Officer Bowker claimed three Ju 87s, two of which exploded in flight, and damaged a G.50 south of El Adem. He noticed that the Ju 87s had a very dark camouflage scheme without the classic crosses. After shooting down a Ju 87, the other two planes of the section closed up tightly low down and continued on the route heading for the target.
In the Tobruk-El Adem area, Flight Lieutenant Ambrose observed many rounds entering the fuselage of a MC.200, so the latter started a shallow dive flying in an irregular way; it was declared probably shot down. He hit the fuselage of a G.50 with several rounds and he declared it damaged (it was later upgraded to a probable). Finally, he commented that the two Italian fighters tried to no avail to get away with a shallow dive after making a full circle.
Flying Officer Soden attacked the tail of a Bf.109 from above; the latter tried to turn against him, but he managed to hit him making him lose the engine cowling and the canopy. He claimed it as a probable. After this, he attacked the stern of the Ju 87s from below. He claimed a Stuka shot down; the tail came away while it came down.
The Stukas appeared to be black and the Bf.109s dark green with a light green shade.
Altogether 112 Squadron claimed to have shot down six Ju 87s, two G.50s, one Bf 109E and one MC.200, two Bf 109F were claimed as probably destroyed as was one G.50 and one MC.200 with two G.50s and two Bf 109s as damaged.
Pilot Officer Duke belly-landed at Tobruk having been hit in the leg by an explosive shell. His radio had failed and his cockpit had sanded up so that he hadn't seen his attacker until cannon shells started hitting his aircraft. He wrote:
"Oh dear, shot down again. Met the Hun Circus again and all the types piled in and got ten down. I stayed up to stave the 109s off but got hit in the right elevator which was carried away, and in the starboard wing where all the trailing edge up to the aileron was shot off.
Spun down from 10.000 ft to about 2-3,000. Undid the straps, etc, preparatory to baling out, but it seemed to fly OK. Made north for Tobruk at ground level. Crash-landed at 150 mph as I could not keep nose up at slower speed; got thrown about the cockpit, and found I'd been hit in the right leg by cannon shell splinters. Hopped out pretty quick. Pinched the compass and clock from the machine as spoils of war!
The chaps were pretty surprised to see me again at Tobruk. I was whisked off to the hospital and X-rayed but the wounds were not very bad. Lucky enough to get a lift back in a Blenheim same evening. Shot down twice within five days – so flying down to Cairo for a few days' leave."

The Commonwealth fighters managed to get through to the Ju 87s easily, notwithstanding a considerable number of escort fighters, even if they were not perhaps sufficient to protect such a large number of bombers. What's more it seems that they weren't taken by surprise. The Axis formation seemed to be well placed; the G.50s and the MC.200s were very close to the Ju 87s and the Bf 109s were at a higher altitude in a position to threaten the attackers. Perhaps the formation was strung out too far, with probably too small number of escort fighters (in a ratio of about 1:1).
250 Squadron had probably mainly encountered the Ju 87s and the close cover.
112 Squadron made claims in its clashes with Bf 109s but also with that of the close cover. Therefore, it must also have clashed with the latter. This would seem strange because there were Germans to hold off. The latter in their turn claimed five P-40s when 112 Squadron only suffered one badly damaged (Pilot Officer Duke) so this seems to indicate that the Bf 109s also clashed with 250 Squadron. Thus it seems that at first the clashes were separate, then to merge into a general one. The estimate that 30-40 enemy planes had encountered Bf 109s is also far from certain; it indicates that perhaps that there was a third Commonwealth unit. The Germans claimed five victories while the Italians claimed as many as nine and only five Tomahawks were lost by the two Squadrons. Apart from the number of claims the effort of the fighters of the 20o Gruppo is also backed up by the fact that 3022 rounds were fired altogether.

On the 27 December 1941, Tomahawks from 112, 250, 2 SAAF and 4 SAAF Squadrons machine-gunned MTs between Agedabia and El Agheila, pilots claiming three destroyed and 50 damaged. Return fire from the ground damaged four of the British fighters and shot down a fifth. This Tomahawk (AN283) was flown by Flying Officer Bowker, who crash-landed and was seen running from his aircraft. The Germans took him prison again, but this time for the rest of the war. The award of a DFC was announced on 1 October 1943, but with effect from 6 January 1942, by which time he had been promoted to Flight Lieutenant.

Bowker was credited with 2 biplane victories and a total of 10 victories at the time of his capture.

After the war, he returned to Southern Rhodesia and married. He farmed together with his wife in Rhodesia and Mozambique and ended in South Africa in Mining machinery.

They retired to Australia in 1992 where he and his son have been instrumental in producing the first machine to remove the meat from coconuts.

Neville Bowker passed away on 21 May 2005.

Claims:

| | | | | | | | | | |
| --- | --- | --- | --- | --- | --- | --- | --- | --- | --- |
| Kill no. | Date | Time | Number | Type | Result | Plane type | Serial no. | Locality | Unit |
| | 1941 | | | | | | | | |
| 1 | 11/03/41 | | 1 | G.50 (a) | Destroyed | Gladiator II | N5817 | Tepelene-Bousi | 112 Squadron |
| | 13/03/41 | | 1 | CR.42 (b) | Probable | Gladiator II | N5817 | Bousi | 112 Squadron |
| | 14/03/41 | | 1 | G.50 (c) | Probable | Gladiator II | N5817 | E Valona | 112 Squadron |
| | 13/04/41 | | 1 | S.79 | Damaged | Gladiator II | | Koritza | 112 Squadron |
| 2 | 11/05/41 | | 1 | Bf 110 (d) | Destroyed | Gladiator II | | Heraklion | 112 Squadron |
| 3 | 14/09/41 | 16:25-19:10 | 1 | S.79 (e) | Destroyed | Tomahawk IIb | AN218 | Sidi Barrani | 112 Squadron |
| | 20/11/41 | 06:30-08:00 | 1/3 | Bf 110 (f) | Shared destroyed | Tomahawk IIb | AN415 | Sidi Rezegh | 112 Squadron |
| | 20/11/41 | 06:30-08:00 | 1 | Bf 110 (f) | Probable | Tomahawk IIb | AN415 | Sidi Rezegh | 112 Squadron |
| 4 | 25/11/41 | 15:40 ca | 1 | Bf 110 (g) | Destroyed | Tomahawk IIb | AK503 | 1-2m off Tobruk | 112 Squadron |
| 5 | 30/11/41 | 09:15- | 1 | MC.200 (h) | Destroyed | Tomahawk IIb | AN338 | El Gobi | 112 Squadron |
| 6 | 04/12/41 | 09:35-10:55 | 1 | G.50 (i) | Destroyed | Tomahawk IIb | AN372 | El Adem-Sidi Rezegh | 112 Squadron |
| 7 | 04/12/41 | 09:35-10:55 | 1 | Ju 87 (i) | Destroyed | Tomahawk IIb | AN372 | El Adem-Sidi Rezegh | 112 Squadron |
| 8 | 05/12/41 | 12:00-12:25 | 1 | Ju 87 (j) | Destroyed | Tomahawk IIb | AK509 | S El Adem | 112 Squadron |
| 9 | 05/12/41 | 12:00-12:25 | 1 | Ju 87 (j) | Destroyed | Tomahawk IIb | AK509 | S El Adem | 112 Squadron |
| 10 | 05/12/41 | 12:00-12:25 | 1 | Ju 87 (j) | Destroyed | Tomahawk IIb | AK509 | S El Adem | 112 Squadron |
| | 05/12/41 | 11:20- | 1 | G.50 (j) | Damaged | Tomahawk IIb | AK509 | S El Adem | 112 Squadron |
Biplane victories: 2 destroyed, 2 probable, 1 damaged.
TOTAL: 10 and 1 shared destroyed, 3 probable, 2 damaged.
(a) Claimed in combat with G.50bis from 24o Gruppo. 112 Squadron claimed seven shot down, one probable and seven damaged without loss. 24o Gruppo lost four aircraft (Maggiore Cesare Valente and Sergente Luigi Spallacci were killed and Sergente Bruno Fava and Sergente Maggiore Ermes Lucchetta were wounded) while claiming a Blenheim and one Gladiator shot down.
(b) Claimed in combat with MC.200s from 22o Gruppo and CR.42s from 160o Gruppo. 112 Squadron claimed 10 CR.42s destroyed, 2 probables and 1 damaged and 1 'G.50bis' and 1 damaged without losses. The Italian pilots claimed four Gladiators and one Hurricane shot down, losing two CR.42s flown by Tenente Gualtiero Bacchi and Sottotenente Enzo Torroni (both from 375a Squadriglia), but no MC.200s.
(c) Claimed in combat with Z.1007bis and BR.20s from 47o and 38o Stormo and MC.200s from the 22o Gruppo and CR.42s of the 160o Gruppo, which claimed 2 Hurricanes and 3 Gladiators while losing 2 MC.200s and getting 1 MC.200 and 1 Z.1007bis damaged. 112 Squadron claimed 5 destroyed, 2 probables and 1 damaged G.50s and 1 destroyed and 1 damaged BR.20 while losing 1 Gladiator. 33 Squadron claimed 2 'monoplanes' and 2 probables while losing 1 Hurricane.
(d) Claimed in combat with Bf 110s from II/ZG 76.
(e) S.79 MM21751 from 19a Squadriglia, 28o Gruppo shot down; Capitano Sergio Fonsili and his crew were KIA.
(f) Claimed in combat with 8./ZG 26 which lost 4 aircraft without claiming anything. Allied fighters claimed 4 destroyed Bf 110s, 2 probables and 1 damaged with 2 damaged Tomahawk IIbs.
(g) In this combat the Tomahawks of 3 RAAF and 112 Squadrons claimed ten enemy aircraft, two probable and eight damaged while losing two Tomahawks. The Axis fighters claimed eight Allied fighters shot down while losing two Bf 110s.
(h) Axis fighters claimed 7 destroyed, 2 probables and 2 damaged in this combat while losing 2 G.50bis (1 pilot KIA and 1 POW) and getting 5 MC.200s damaged. No Ju 87s were lost in this combat. The Tomahawks from 3 RAAF and 112 Squadron claimed 16 destroyed and 20 damaged for the loss of five P-40s (no pilots lost).
(i) 112 and 250 Squadrons claimed 7 destroyed, 4 probables and 3 damaged while getting 2 P-40s damaged. Axis fighters claimed 3 destroyed while losing 2 MC.200s and getting 5 MC.200s damaged.
(j) Claimed in combat with bombers and fighters from Regia Aeronautica and I. and II/JG 27, which claimed 14 P-40s for the loss of 6 Ju 87s and several fighters damaged. 112 and 250 Squadrons claimed 22 destroyed, 7 probables and 8 damaged while losing 5 P-40s.

Sources:
53o Stormo - Marco Mattioli, 2010 Osprey Publishing, Oxford, ISBN 978-1-84603-977-5
A History of the Mediterranean Air War 1940-1945: Volume One – Christopher Shores and Giovanni Massimello with Russell Guest, 2012 Grub Street, London, ISBN 978-1908117076
Aces High - Christopher Shores, 1994, Grub Street, London, ISBN 1-898697-00-0
Aces High Volume 2 - Christopher Shores, 1999, Grub Street, London, ISBN 1-902304-03-9
Air war for Yugoslavia, Greece and Crete - Christopher Shores, Brian Cull and Nicola Malizia, 1987 Grub Street, London, ISBN 0-948817-07-0
Desert Prelude: Early clashes June-November 1940 - Håkan Gustavsson and Ludovico Slongo, 2010 MMP books, ISBN 978-83-89450-52-4
Eagles Strike - James Ambrose Brown kindly provided by Ludovico Slongo.
Fighters over the Desert - Christopher Shores and Hans Ring, 1969 Neville Spearman Limited, London
La Battaglie Aeree In Africa Settentrionale: Novembre-Dicembre 1941 – Michele Palermo, IBN, ISBN 88-7565-102-7
Luftwaffe Claims Lists - Tony Wood
RAF 112 Sqn Tribute
Shark Squadron - The history of 112 Squadron 1917-1975 - Robin Brown, 1994 Crécy Books, ISBN 0-947554-33-5
The London Gazette
Those Other Eagles – Christopher Shores, 2004 Grub Street, London, ISBN 1-904010-88-1
Additional information kindly provided by Colleen Bowker, Rob Brown, Carlo Minguzzi, Michele Palermo and Ludovico Slongo.




Last modified 15 December 2017