Biplane fighter aces

The Commonwealth

Flying Officer Leonard 'Len' Cottingham DFC, RAF no. 565570 (NCO); 49680 (Officer)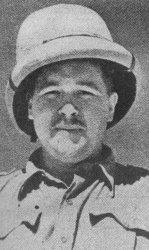 7 February 1916 – 7 February 1983
Leonard Cottingham was born on 7 February 1916 in Market Rasen, Lincolnshire, but lived in Grimsby.
He started school at Macaulay St School, Grimsby. When he was 11years old he had won a scholarship and passed to go to Wintringham Secondary School, Grimsby.
He joined the RAF aged 15 when he after finished education in Grimsby entered RAF Halton as an apprentice in September 1931, at the age of fifteen. He graduated in July 1934 and served at MAEE, Felixstowe, until March 1936, and then 24 Squadron at Hendon.
He volunteered for pilot training in 1937, was accepted and got his wings at 3 FTS in March 1938 with a special distinction. He was posted to 80 Squadron as a Sergeant and accompanied the unit to Egypt in May 1938. At the end of 1938 he was transferred to 33 Squadron
In June 1940, 33 Squadron was based at Mersa Matruh, commanded by Squadron Leader D. V. Johnson and equipped with 21 Gladiators (mainly Mk.IIs) (on 11 June) and six Gloster Gauntlets Mk.IIs kept in reserve. It had 22 pilots in three flights:
'A' Flight included Flight Sergeant Cottingham, Sergeant Roy Leslie Green, Flying Officer Monk, Pilot Officer Eric Woods, Pilot Officer Brown, Pilot Officer Preston, Pilot Officer Perry St. Quintin and Flight Lieutenant G. E. Hawkins.
'B' Flight included Flying Officer Ernest Dean, Sergeant Shaw, Pilot Officer Vernon Woodward, Sergeant J. Craig, Flying Officer Couchman, Flying Officer John Littler and Pilot Officer Alfred Costello.
'C' Flight included Flight Lieutenant Bolingbrooke, Sergeant William Vale, Pilot Officier E. K. Leveille, Flight Sergeant Harry Goodchild, Flying Officier Henry Starrett and Pilot Officier Boulton.
At 08:00 on 4 July, five CR 42s of the 94a Squadriglia (Capitano Franco Lavelli, Tenente Giovanni Tadini, Sergente Maggiore Arturo Cardano, Sergente Maggiore Trento Cecchi and Sottotenente Nunzio De Fraia) took off to escort an IMAM Ro.37bis reconnoitring the front line in the Sollum area. The Italian formation was intercepted by a number of Gladiators, which attacked the Ro.37. The Italian fighters intervened and managed to save the reconnaissance aircraft but almost all of the CR.42s suffered gun-jamming during the combat and two CR.42s were shot down. Tenente Tadini and Sergente Maggiore Cardano were both shot down by the Gladiators and Tadini baled out while Cardano crash-landed; both were taken prisoners.
It seems that they had clashed with Gladiators from 33 Squadron since a flight of three Gladiators from this unit took off to escort the 208 Squadron's Lysander of Flying Officer Webber and met two CR.42s over Sollum at around 08:30, Pilot Officer Eric Woods and Flight Sergeant Cottingham each shooting one down. No losses were reported nor the presence of other Fiats or the Ro.37 reconnaissance aircraft.
During this combat it is often reported the presence of Sergente Maggiore Agostino Fausti and it is also reported that he claimed two Gladiators during this combat. In fact, the existing Italian records do not confirm this information.
In the evening on the same day, at about 18:00, six 33 Squadron Gladiators flying in two sections escorted a Lysander from 208 Squadron flown by Flying Officer Brown over the Capuzzo-Bardia area. Nine CR.42s were seen taking off from Menastir Landing Ground west of Bardia and the Gladiators dived to attack. The No. 2 section, led by Flying Officer Gray-Worcester and including Flight Sergeant Cottingham and Pilot Officer Eric Woods, attacked just as the enemy fighters left ground and Gray-Worcester shot down four of them while Cottingham claimed two and Woods claimed one. The remaining two CR.42s made good their escape.
The British pilots reported that the Italians scrambled more fighters and five CR.42s were attempting to get airborne just as the other three Gladiators, all flown by 112 Squadron pilots (Flying Officer Price-Owen, Flying Officer R. H. Smith and Flying Officer R. J. Bennett), decided to join the fray. Taking the barely flying CR.42s by surprise Smith and Bennett each claimed one shot down.
Price-Owen was forced to leave his aircraft (Gladiator II N5751) after an explosion in the fuselage over Buq-Buq. He parachuted safely and came down 15 miles inside the Egyptian Border. Post war British studies suggested that his aircraft was possibly hit by own anti-aircraft but it seems this was not the case. In fact, Flight Lieutenant Joseph Fraser reported:
"During July 1940, pilots from 112 Squadron, on detachment at Sidi Barrani, were gaining operational experience rapidly and many dogfights resulted around the bay of Sollum between Gladiators and CR 42s, for the CR 42 pilot had not yet learnt to respect the Gladiator – his senior, with its greater manoeuvrability. It was during one of these flights that F/O Price-Owen was badly shot up, though uninjured himself, and then decided to bale out. However, unfortunately, he was wearing a parachute belonging to a friend of far greater stature and on pulling the rip cord, the loose harness gave him a very severe jerk between his legs which almost cost him his manhood – a very serious matter with Price-Owen. He was incapacitated for some time and posted from the Squadron."
Here it is also interesting to note how the British pilots had quickly learned what were the advantage of their machine over the Italians, they however greatly overestimated the speed of their opponent: "(We tried) to get to grips with CR 42s who declined a fight with the feared and more manoeuvrable Gladiator which was outpaced at full throttle by a good 50 mph (!)"
The Italians reported that at 18:05, five CR 42s scrambled against a reported nine Gloster Gladiators that were already orbiting over the airstrip of Menastir. The Italian pilots were Capitano Franco Lavelli, Sottotenente Nunzio De Fraia and Sergente Maggiore Trento Cecchi from the 94a Squadriglia and Tenente Domenico Bevilacqua and Sergente Maggiore Agostino Fausti from the 93a Squadriglia. The Italian pilots started in a helpless position considering the height advantage of the Glosters and the fact that at sea level the Gladiator II had better overall performances than the CR.42, being more manoeuvrable with a top speed (flat) of 346 Km/h against the 342 Km/h of the Italian fighter and with a slightly higher climbing rate (in 1 minute and 25 seconds the Gladiator reached 1184 metres of height while in the same time the CR 42 only reached 1000 metres). In quick succession, Cecchi was shot down and killed and De Fraia was obliged to bale out, wounded, from his burning aircraft. Lavelli was the next to fall and then Bevilacqua, who, although slightly wounded, disengaged and landed a heavily damaged aircraft. Only Fausti remained in flight, fighting against the whole RAF formation. From ground it was seen that his fire hit two enemy fighters that were obliged to leave the combat area (no victories were claimed but one of them seems highly likely to have been Price-Owen) but the other Gladiators didn't give him a chance, hitting his plane while he (probably already wounded) was trying a last evasive manoeuvre diving in westward direction towards the fading sun. Fausti died in his burning plane (Fiat CR.42 MM5543). His proposal for an Medaglia d'argento al valor militare from June was subsequently changed to a posthumous Medaglia d'Oro al valor militare for bravery. Again it was reported that almost all the fighters of the Italian formation suffered gun-jamming during the fight, in particular the plane of Capitano Lavelli was observed not to fire even when he reached very favourable positions. After landing back at base, Bevilacqua told that his guns had ceased to fire almost immediately; he had only managed to fire 57 rounds.
Capitano Lavelli, Sottotenente De Fraia and Sergente Maggiore Cecchi had just escorted a formation of Bredas over the front, landing back at 17:45. Together with a scramble they made at 15:55, this was their fourth mission of the day.
This was the blackest day of the whole war for the 8o Gruppo C.T. and totally they lost seven CR.42s destroyed and one more damaged, three pilots were killed, two were taken prisoners and two wounded.

He claimed four (plus maybe two more with unknown details) victories over the Western Desert before the unit moved to Greece in February 1941.

At 15:00 on 27 February, nine Blenheims, six from 211 Squadron and three from 11 Squadron, set off to bomb Valona, escorted by five 80 Squadron Hurricanes and four more from 33 Squadron. An hour later, as the formation arrived over Valona, 13 CR.42s of the 150o Gruppo attacked as the Blenheims were bombing. Although the Hurricane escort engaged them at once, some got through to the bombers and damaged five of them, including all three of the 11 Squadron machines. Two of these (N5379 and T2399) would crash-land on return to Paramythia, both having suffered heavy damage to their hydraulic systems and both were written off. The Hurricanes meanwhile had become involved in a heavy battle with the Fiats during which seven of the Italian fighters were claimed shot down, and two more were reported to have collided with each other after being attacked by Sergeant Edward Hewett and crashed. Claims were made by Flight Lieutenant 'Pat' Pattle, Flying Officer Nigel Cullen, Sergeant Hewett (two), Flying Officer Richard Acworth, and Flying Officer Wanklyn Flower, who shared one with a 33 Squadron pilot, believed to have been Flying Officer H. J. Starrett. The seventh claim was believed to have been made by 33's Flight Sergeant Cottingham.
In the event it seems that only two CR.42s were lost but it hit the 364a Squadriglia, which had scrambled three fighters since both of them were from the unit. Sottotenente Pasquale Faltoni, the formation leader, baling out after suffering wounds, as did Sergente Osvaldo Bertolaccini, who was almost dead when he hit the ground. Sergente Bertolaccini later succumbed to his wounds. The Italians made no claims and believed that their attackers had been Spitfires (this indicates that Bertolaccini actually shot down two Blenheims and thus made an ace before dying). Pattle's Hurricane suffered a single bullet through the petrol tank - the only damage recorded to the British fighters. A further CR.42 of the Gruppo's 364a Squadriglia was destroyed on the ground by the Blenheims' bombs, and several others were damaged. A dozen drums of fuel went up in flames, and two airmen were wounded.
Pilot Officer Geary, gunner in Blenheim L1481 of the 211 Squadron, recorded his impressions of the raid:
"I had a grandstand view of the whole affair. It was lovely bombing - direct hits all over the aerodrome and on buildings. A large formation of CR42s took of to intercept us. One got on my tail, so I put a burst into him, and he fell away. Then two Hurricanes appeared in a flash, and well, he just fell to pieces. The Hurricanes wheeled and proceeded to deal with the others. The sky was full of crashing aircraft - and they were all enemy. We had a most pleasant tour home, and the scenery looked more lovely than ever."
At 10:30 on 14 March three of 33 Squadron's Hurricanes were off with twelve Gladiators to escort 211 Squadron Blenheims to the Tepelene-Kelcyre area, where a large formation of Italian fighters was reported, variously identified by the Hurricane pilots as twelve CR.42s, twelve G.50bis and twelve MC.200s, and by the Gladiator pilots as 40-50 CR.42s and G.50bis. In addition ten Z.1007bis and five BR.20s were seen - aircraft from 47o and 38o Stormo respectively. The opposing fighters were 16 MC.200s from the 22o Gruppo and twelve CR.42s of the 160o Gruppo reporting meeting 20 Gladiators and eight Hurricanes, escorting five Blenheims.
Flight Lieutenant Charles Fry and his flight attacked the bombers, Fry himself claiming a BR.20 shot down north of Kelcyre near the front line after having attacked three formations of enemy bombers. Flying Officer D. H. V. Smith claimed a damaged BR.20 (and a probable G.50). 'C' Flight led by Flight Lieutenant Joseph Fraser became involved in a swirling dogfight with the Italian monoplane fighters, claiming four shot down, four probables and a damaged. Sergeant 'Paddy' Donaldson claimed two, both of which dived away pouring smoke, while Flight Lieutenant Fraser was attacked head-on by one, but managed to evade this and get on its tail, his fire causing the aircraft to roll onto its back and the pilot to bale out. One Macchi shot the tail off N5916 and Squadron Leader H. L. I. Brown managed to bale out only with the greatest difficulty; Pilot Officer Neville Bowker's Gladiator was also damaged after having claimed a probable G.50, which was seen going down out of control. Pilot Officer P. C. L. Brunton attacked one and appeared to knock bits off it so that it went into a spiral dive with smoke coming from it. Other claims were made by Flying Officer R. J. Bennett (one G.50), Flying Officer Homer Cochrane (one G.50) and Pilot Officer Jack Groves (one probable G.50).
The Hurricanes also engaged the Macchis, 33 Squadron claming two shot down and two probables, but after believing that he had got one of these, Flying Officer Holman was himself shot down and had to bale out. Flight Sergeant Cottingham claimed one and one probable of the 'monoplanes' while Pilot Officer Starett claimed one probable..
The Italian pilots claimed two Hurricanes and two Gladiators shot down on this occasion. It seems that Capitano Vittorio Minguzzi claimed one of the Hurricanes and a shared in one of the Gladiators during this combat. The 22o Gruppo lost Tenente Luigi Locatelli, who was killed, and Sergente Ferruccio Miazzo, who baled out, while Sottotenente Edgardo Vaghi's fighter was damaged. Gunners in one Cant Z.1007bis claimed one Gladiator shot down, and one bomber was damaged (reportedly by AA) returning with some of the crew wounded.
On 6 April Germany declared war on Yugoslavia and Greece and immediately attacked.
As German forces streamed through the Rupel Pass, the Royal Air Force waited tensely for news. Pilot Officer Winsland of 33 Squadron at Larissa later recorded:
"We heard the news before dawn, got up, washed in freezing water- and dressed. Everyone was tense; our feelings and thoughts were confused - what was going to happen now? Our army was on the retreat in Egypt; the Greeks were only just managing to hold the Italians back in Albania; had we sufficient British troops to hold the Germans in Greece? What was going to happen in the air? While we had sufficient to cope with the Italians, surely we were going to be hopelessly outnumbered by the Germans? For weeks past we had heard of colossal German air forces forming up in Bulgaria. What were we in for? Little did we know! In the afternoon (having been on instant readiness all morning, with all available Hurricanes parked at the end of the runway, facing into wind, ready for take off) all available Hurricanes (12) took off for an offensive patrol over Bulgaria. I had the good fortune to be flying next to Sqn Ldr Pattle. Suddenly we spotted eight Me109s and dived to attack. This was my first really good look at a Hun from close quarters. I saw the CO beside me shoot down two of them in a few seconds. What a sight. I shall never forget it. What shooting too. A two second burst from his eight guns at the first enemy machine caused a large piece to break off in mid air, while the machine turned over vertically onto one wingtip as the pilot baled out - his parachute opened while his feet were still in the cockpit but he got clear in spite of the chute opening so soon. A similar fate awaited the second enemy machine which went spiralling down in flames. I did not have time to see what happened to its pilot."
The Bf 109Es were aircraft of 8/JG 27, led on patrol over the Rupel Pass area by Oberleutnant Arno Becker; Becker was one of those shot down and killed, his aircraft -B1ack 2 - crashing in flames. He was possibly Squadron Leader Pattle's second victim; the first was undoubtedly Leutnant Klaus Faber, who baled out to become a prisoner. Flight Sergeant Cottingham claimed a third Bf 109 shot down, from which he saw the pilot bale out. As the German pilot floated down, another Messerschmitt circled round to give protection, and Cottingham promptly attacked this aircraft. It would seem that this was the fighter under attack by Winsland, who added:
"While all this was in full swing and machines were twisting and turning in all directions I found myself directly on the tail of another Hun at whom I let off burst after burst, but either he was made of cast iron or possibly my shooting wasn't so hot! I fear it was the latter as I have had cause to discover several times since. However, I do know the cause - excitement - which is something. I start firing with the centre of the gunsight dead on target, then find myself a few seconds later aiming purely by my tracer - looking round the edge of the sight instead of through it! On this occasion the enemy plane merely "vibrated" all over and started a diving turn to the left. I continued to chase it but still could not get it down. Luckily another Hurricane (F/Sgt Cottingham) suddenly came diving at it as well as myself and at last the enemy "bought his packet."."
The two pilots claimed a half share each, whilst Flying Officer Peter Wickham claimed one more shot down out of a trio he engaged. Apart from the loss of Becker and Faber, Oberfeldwebel Gerhard Fromming was wounded and crash-landed his badly damaged 'Black 8', while a fourth pilot baled out of 'Black 6' and returned to his unit on foot, unharmed.

On 15 April it was decided that 33 Squadron's remaining Hurricanes would join 30 and 80 Squadrons at Eleusis, while 112 Squadron's Gladiators would share Hassani with 208 Squadron.

During a sortie on 16 April, Flight Sergeant Cottingham spotted an Hs 126 observation aircraft of 1.(H)/14 'snooping around' and claimed to have shot it down.
The Germans reported that this aircraft was 40% damaged by AA over Tirnavas, rather than by fighters, Feldwebel Kurt Richter, the observer being killed, although the pilot Leutnant Heinrich Meyer survived unhurt. It seems likely that he failed to spot his attacker, and incorrectly identified the cause of damage suffered.
This claim is not included in Cottinghams total but it is known that he is credited with two victories without any details and it is possible that this one is one of these.

During the day on 20 April Eleusis was almost under constant attack but in the afternoon there was a pause in activity, which allowed a little time for the ground crews to bring the maximum possible number of Hurricanes up to readiness state. Squadron Leader 'Tap' Jones decided that if no further attack had developed by 18:00, all available Hurricanes would undertake an offensive sweep in an effort to raise morale amongst the civilian population of Athens and the surrounding areas, and as a boost to the defenders of Eleusis as well as to the pilots themselves.
However at about 16:45 a formation of 100 plus Ju 88s and Do 17s, escorted by Bf 109s and Bf 110s was reported approaching Athens. The Ju 88s (from I/LG 1) peeled off to make low-flying attacks on shipping at Piraeus, while individual Bf 110s of II/ZG 26 scoured the area, shooting up likely targets. One appeared over Eleusis just as the Hurricanes (nine of 33 Squadron and six of 80 Squadron) were preparing to take off. Fortunately, none were hit, and all took to the air individually, climbed to 20 000 feet and headed for Piraeus, forming sections of two or three en route.
The first trio to arrive over the port, flown by Flying Officers Peter Wickham, Flight Lieutenant Henry John Starrett (RAF no. 40188) and Percival 'Ping' Newton (a Rhodesian), caught 15 Ju 88s dive-bombing ships in the harbour (the Greek hospital ship Ellenis was sunk during the attack). The three Hurricanes followed them down and attacked as they pulled out of their dives; Wickham claimed one shot down, whilst Newton claimed two more. Just then Pilot Officer William Vale arrived on the scene, reporting seeing some 30 Ju 88s:
"I carried out eight attacks on the Ju 88s. One caught fire and started going down, so I left him and attacked another. Big chunks broke away from his wings and fuselage, and smoke poured from his engines. He went down vertically. I was then attacked by a 109, but I easily outmanoeuvred him, had a crack at some more, and came home when my ammo was exhausted."
One Ju 88 flown by Unteroffizier Helmut Benke (L1+ZH) was lost near Athens with all the crew; a second L1+UK, piloted by Oberfähnrich Werner Ziegler, was hit by a Hurricane's fire and the navigator Gefreiter Heinrich Baumgartner, received three bullets in the head and neck, dying almost at once. The gunners believed that they had shot down the attacking fighter, reporting seeing it fall into the sea near Kalamaki (it was probably the crash of Benke's Ju 88 they had seen or the explosions of bombs). A second Hurricane then attacked, putting the starboard engine out of action. This was also claimed hit by Gefreiter Hans Baumann (radio operator/air gunner) and was seen making for land. However the Ju 88 was rapidly losing height and although the crew threw out all removable equipment to reduce weight, it ditched in shallow water near Karies, at the foot of Mount Athos. The remaining members of the crew survived the crash. A third Ju 88 suffered engine trouble, but struggled back to Krumovo, where it crash-landed.
The Hurricane hit by Baumann was probably that flown by 'Harry' Starrett (V7804), which caught fire as a result. Starrett decided to fly back to Eleusis to attempt to save his aircraft. He made a hard wheels-up landing and the glycol tank blew up, enveloping the aircraft in flames. Starrett managed to get out, but had been very severely burned; he was rushed to hospital but died two days later.
Four more 80 Squadron Hurricanes now joined the battle, Flight Lieutenant William Woods leading Sergeant Charles Casbolt and Flight Sergeant Pierre Wintersdorff (a Frenchman) to attack a formation identified as Bf 110s, but probably composed of Do 17Z from I and III/KG 2, escorted by Bf 110s. Woods carried out two or three separate attacks, believing that he had probably shot down two (but only being credited with one) before breaking off to return to Eleusis to rearm. Wintersdorff claimed one aircraft shot down in flames, which he identified as an 'Fw187', but he was then attacked by a Bf 110 and wounded in one leg; his Hurricane was hard hit and he baled out into the sea from where he was soon rescued. Casbolt claimed two aircraft as Bf 110s, but was also then attacked from astern and had his rudder shot away. Breaking away, he encountered a Bf 109 which he reported he had shot down in flames.
Meanwhile the fourth pilot, Sergeant Edward Hewett found himself above six Bf 109s and later reported:
"I dived on the rear one, and he rolled on his back, and crashed to the ground with smoke pouring out. I made a similar attack on a second, and the pilot baled out. I had a go at a third, but didn't see what happened this time."
These Bf 109s were possibly from III/JG 77, two aircraft from this unit crash-landing, badly damaged. Three Do 17Zs also failed to return; U5+AL (Unteroffizier Helmut Reim), U5+HL (Leutnant Joachim Brüdern) and U5+AR (Oberleutnant Ludger Holtkampe) were all lost with their crews. Apparently Bf 109Es from 4./JG 27 were also involved in combat at this time, possibly with the 80 Squadron aircraft. Oberleutnant Rödel claimed three Hurricanes shot down in just over ten minutes 16:57, 17:01 and 17:08 (victories nos. 18-20), while Oberfelwebel Otto Schulz (victory no. 6) claimed another at 17:10. It seems that Flight Sergeant Cottingham of 33 Squadron also claimed a Do 17 in this combat.
At Eleusis the returning Hurricanes were being refuelled and rearmed as swiftly as possible, before climbing back into the fray. Squadron Leader Pattle was by now very ill with influenza, his temperature having been recorded as 103o. Nonetheless he took off for the third time of the day together with Flying Officer Vernon Woodward, following Flight Lieutenant William Woods, who was now off for the second time. Pattle and Woodward had not taken off before, as their aircraft had not been ready. Woodward recalled:
"I took off late with Squadron Leader Pattle - we climbed into a swarm of Ju 88s protected by masses of Messerschmitt 110s. We were overwhelmed. In sun I recall shooting down a 110 off Pattle's tail, in flames, then probably a Ju 88. Shortly afterwards Pattle got a confirmed Ju 88 (or Bf 110). Subsequently I lost contact with him, then damaged three more 110s, then, being out of ammunition returned tentatively to Eleusis. It was all over – for that day."
Ahead of Woodward, Pattle was seen going to aid of the Hurricane flown by Flight Lieutenant Woods, which was being attacked by a Bf 110. He opened fire at this aircraft and it was seen to burst into flames (presumably the aircraft Woodward had seem him to destroy), just as Woods' Hurricane also caught fire and dived into Eleusis bay, killing him. Two more Bf 110s latched onto the tail of Pattle's AS988, and it quickly began to blaze – there was an explosion, and the wreckage fell into the sea. Flight Lieutenant George Kettlewell arrived on the scene just in time to see the demise of his gallant leader and attacked one of the two Bf 110s responsible, shooting this down into the Bay also. He claimed a second Bf 110 before he too was attacked by yet another Bf 110, and was forced to bale out when V7807 was badly hit. A large and solid man, he landed heavily, cracking two vertebrae in his spine and spending several months in a plaster cast as a result.
Yet another Hurricane was falling to the Bf 110s at this time; Flight Sergeant Cottingham had claimed three Bf 110s in flames, but he was hit by a fourth and wounded, baling out of his stricken aircraft. The pilots of II/ZG 26's 5 staffel, led by Hauptmann Theodor Rossiwall, claimed five Hurricanes shot down in this engagement, one each by Rossiwall himself (victory no. 12), Oberleutnant Sophus Baggoe (victory no. 14), Oberfeldwebel Hermann Schönthier, Unteroffizier Fritz Muller and Oberfeldwebel Theodor Pietschmann. However two of the Gruppe's aircraft were lost in return – 3U+EN (Oberleutnant Kurt Specka) and 3U+FN (Feldwebel Georg Leinfelder), while a third crash-landed with severe damage.

He was withdrawn to Crete, where he spent nearly a month before being evacuated to Egypt.

Cottingham remained in hospital and on light duties until September 1941. After recovery he instructed at 71 OUT, in the Sudan, apart from a brief spell as a test pilot at 139 MU, Khartoum, in September 1942.

He received a DFC for his earlier operations on 7 April 1942, the citation crediting him with 14 victories. At the time he was a Warrant Officer.

On 19 May 1942, he was promoted to Pilot Officer on probation (Gazetted 2 October).

In March 1943 he returned to the UK and was posted to the Ministry of Aircraft Production until May, when he attended 1 Air Armament Training School. He was now a commissioned and a specialist armaments officer. Cottingham then briefly served at HQ, Fighter Command, HQ, 11 Group, HQ 70 Group, and at Hornchurch, before going to HQ, 38 Group in December.

In February 1944 he was posted to 150 Airfield, moving with this unit from Bradwell Bay to Newchurch and Matlask, and later in the year to Andrews Field and North Weald. In March 1945 he was posted to 54 OUT, Charter Hall, and then in May to 128 Wing and RAF Turnhouse. From May to August 1945 he was based at Gardermoen, Norway, with the RAF fighter wing detached there.

Cottingham ended the war with 4 biplane victories and a total of 11 victories.

Cottingham continued to serve the RAF after the war and when returning from Norway he went to 3 APS, Hawkinge, until March 1946, when was sent out to AHQ, Greece, in Athens. In November he joined MEDME Communications Squadron at Helopolis, Egypt.

He was back in the UK in January 1947, where he attended 1 EAAS, Manby, then serving as an armament specialist at the Ministry of Supply until September 1949. A brief stay at RAF Lyneham was followed by attendance at the RAF Staff College at Andover until March 1951, when he joined HQ, Technical Training Command. December 1951 - August 1952 were spent at the RAF Technical College, and then he joined the A & AEE at Boscombe Down, where he stayed for more then three and a half years until April 1956. Nine months with HQ, Task Force "Grapple", were followed by a similar period with 160 Wing on Christmas Island in the Indian Ocean. The next three years were spent at P & EE, Pendine, followed by three at Air Ministry. In January 1964 he was off east again to become Chief Armaments Officer, FEAF, at Changi, Singapore. On his return in mid 1966 he joined HQ, Bomber Command, until April 1968, then HQ, Strike Command, until the end of 1968. He concluded his service as RAF Liaison Officer at Portland naval base, retiring as a Wing Commander in 1970 after 39 years of service!

Leonard Cottingham passed away in his home in Yeovil, Somerset on 7 February 1983.

Claims:

| | | | | | | | | | |
| --- | --- | --- | --- | --- | --- | --- | --- | --- | --- |
| Kill no. | Date | Time | Number | Type | Result | Plane type | Serial no. | Locality | Unit |
| | 1940 | | | | | | | | |
| 1 | 04/07/40 | 08:30 | 1 | CR.42 | Destroyed (a) | Gladiator II | N5765 | Sollum | 33 Squadron |
| 2 | 04/07/40 | 18:00 | 1 | CR.42 (b) | Destroyed | Gladiator II | N5765 | Menastir | 33 Squadron |
| 3 | 04/07/40 | 18:00 | 1 | CR.42 (b) | Destroyed | Gladiator II | N5765 | Menastir | 33 Squadron |
| 4 | ??/??/40 | | 1 | S.79 | Destroyed | Gladiator | | | 33 Squadron |
| | 1941 | | | | | | | | |
| 5 | 27/02/41 | 16:00 | 1 | CR.42 (c) | Destroyed | Hurricane I | | Valona | 33 Squadron |
| 6 | 14/03/41 | | 1 | Monoplane (d) | Destroyed | Hurricane I | | Tepelene-Kelcyre area | 33 Squadron |
| | 14/03/41 | | 1 | Monoplane (d) | Probable | Hurricane I | | | 33 Squadron |
| 7 | 06/04/41 | | 1 | Bf 109E (e) | Destroyed | Hurricane I | V7860 | Petrich, Bulgaria | 33 Squadron |
| | 06/04/41 | | ½ | Bf 109E (e) | Shared destroyed | Hurricane I | V7860 | Petrich, Bulgaria | 33 Squadron |
| | 16/04/41 | | 1 | Hs126 (f) | Destroyed | Hurricane I | | | 33 Squadron |
| 8 | 20/04/41 | | 1 | Do 17 (g) | Destroyed | Hurricane I | V7765 | Lama-Carissa | 33 Squadron |
| 9 | 20/04/41 | | 1 | Bf 110 (h) | Destroyed | Hurricane I | | Piraeus | 33 Squadron |
| 10 | 20/04/41 | | 1 | Bf 110 (h) | Destroyed | Hurricane I | | Piraeus | 33 Squadron |
| 11 | 20/04/41 | | 1 | Bf 110 (h) | Destroyed | Hurricane I | | Piraeus | 33 Squadron |
Biplane victories: 4 destroyed.
TOTAL: 11 and 1 shared destroyed, 1 probable + 2 destroyed, detail unknown.
(a) Possibly clamed in combat with the 8o Gruppo, which lost two CR.42s (both pilots PoWs). 33 Squadron claimed two Fiat CR.42s shot down without losses.
(b) Claimed in combat with CR.42s of the 8o Gruppo, which didn't claim anything but lost four CR.42s and got a fifth damaged (three pilots killed and two wounded). 33 Squadron claimed nine shot for the loss of one Gladiator (F/O Price-Owen safe).
(c) Claimed in combat with CR.42 of 150o Gruppo. 80 and 33 Squadrons claimed seven Fiats shot down and two more were reported to have collided with each other and crashed. 150o Gruppo lost only two CR.42s when Sottotenente Pasquale Faltoni and Sergente Osvaldo Bertolaccini (DFW) were shot down, both pilots baling out. The Italian aircraft didn't claim anything and the British aircraft didn't suffer any losses.
(d) Claimed in combat with Z.1007bis and BR.20s from 47o and 38o Stormo and MC.200s from the 22o Gruppo and CR.42s of the 160o Gruppo, which claimed 2 Hurricanes and 3 Gladiators while losing 2 MC.200s and getting 1 MC.200 and 1 Z.1007bis damaged. 112 Squadron claimed 5 destroyed, 2 probables and 1 damaged G.50s and 1 destroyed and 1 damaged BR.20 while losing 1 Gladiator. 33 Squadron claimed 2 'monoplanes' and 2 probables while losing 1 Hurricane.
(e) Claimed in combat with Bf 109Es of 8/JG27. 33 Squadron claimed 5 without losses while 8/JG27 lost four aircraft and a fifth crash-landed. Oberleutnant Arno Becker (Black 2) was killed (possibly by Pattle), Leutnant Klaus Faber baled out and became POW (possibly by Pattle) and Gerhard Fromming (Black 8) was wounded.
(f) Possibly an Hs 126 of 1.(H)/14, which returned with 40% damaged and the observer, Feldwebel Kurt Richter, killed. This claim is not included in Cottinghams total but it is known that he is credited with two victories without any details and it is possible that this one is one of these.
(g) Probably claimed in combat with Do 17Zs of I and III/KG 2, which lost three; U5+AL (Unteroffizier Helmut Reim), U5+HL (Leutnant Joachim Brüdern) and U5+AR (Oberleutnant Ludger Holtkampe) with all their crews against RAF claims for four and one probable.
(h) Claimed in combat with Bf 110s of 5./ZG 26. RAF claimed seven and one probable for the loss of three Hurricanes and two pilots (Pattle and Woods). 5./ZG 26 claimed five for the loss of two aircraft and one crash-landed.

Sources:
2o Stormo - Note storiche dal 1925 al 1975 - Gino Strada, 1975 USSMA, Rome, kindly provided by Ludovico Slongo
53o Stormo - Marco Mattioli, 2010 Osprey Publishing, Oxford, ISBN 978-1-84603-977-5
112 Sqn "Shark Squadron" 1939 - 1941 - Andre R. Zbiegniewski, 2003 Miniatury lotnicze 15, Kagero, Lublin, ISBN 83-89088-55-X
Aces High - Christopher Shores and Clive Williams, 1994 Grub Street, London, ISBN 1-898697-00-0
Aces High Volume 2 - Christopher Shores, 1999 Grub Street, London, ISBN 1-902304-03-9
Air war for Yugoslavia, Greece and Crete - Christopher Shores, Brian Cull and Nicola Malizia, 1987 Grub Street, London, ISBN 0-948817-07-0
Fiat CR.42 Aces of World War 2 - Håkan Gustavsson and Ludovico Slongo, 2009 Osprey Publishing, Oxford, ISBN 978-1-84603-427-5
Fighters over the Desert - Christopher Shores and Hans Ring, 1969 Neville Spearman Limited, London
Geschichte der 1.(H)/14. Tagebuch in Griechenland (Band 3) - Gerd Schröder, Münster kindly provided by Jörg Windmüller
Gloster Gladiator Aces - Andrew Thomas, 2002 Osprey Publishing, London, ISBN 1-84176-289-X
Gloster Gladiator Home Page - Alexander Crawford.
Hurricanes over Tobruk - Brian Cull with Don Minterne, 1999 Grub Street, London, ISBN 1-902304-11-X
L'8oGruppo caccia in due conflitti mondiali - Giuseppe Pesce, 1974 S.T.E.M. Mucchi, Modena, kindly provided by Ludovico Slongo
Luftwaffe Claims Lists - Tony Wood
Ministero della Difesa
Shark Squadron - The history of 112 Squadron 1917-1975 - Robin Brown, 1994 Crécy Books, ISBN 0-947554-33-5
Stormi d'Italia - Giulio Lazzati, 1975 Mursia, Milan, kindly provided by Ludovico Slongo
The Desert Air War 1939 – 1945 – Richard Townshend Bickers, 1991 Leo Cooper, London, ISBN 0-85052-216-1, kindly provided by Ludovico Slongo
The Gloster Gladiator - Francis K. Mason, 1964
The London Gazette
Woody - A Fighter Pilot's Album - Hugh A. Halliday, 1987 Canav Books, Toronto, ISBN 0-9690703-8-1
Additional information kindly provided by Vincent Biondi, Shawn Cottingham, Giovanni Massimello, Carlo Minguzzi, Ludovico Slongo and Jörg Windmüller.




Last modified 06 April 2014