Biplane fighter aces

The Commonwealth

Flying Officer Eric Joseph Woods, RAF no. 41091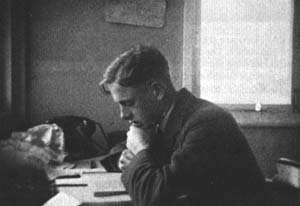 1921 – 17 June 1941
Eric Woods was born in 1921 and was from Sydenham, South London.
He joined RAF on a short service commission in August 1938, being confirmed in the rank of Pilot Officer on 27 June 1939.
From early 1940, he served in 33 Squadron in Egypt.
In June 1940, 33 Squadron was based at Mersa Matruh, commanded by Squadron Leader D. V. Johnson and equipped with 21 Gladiators (mainly Mk.IIs) (on 11 June) and six Gloster Gauntlets Mk.IIs kept in reserve. It had 22 pilots in three flights:
'A' Flight included Flight Sergeant Leonard Cottingham, Sergeant Roy Leslie Green, Flying Officer Monk, Pilot Officer Woods, Pilot Officer Brown, Pilot Officer Preston, Pilot Officer Perry St. Quintin and Flight Lieutenant G. E. Hawkins.
'B' Flight included Flying Officer Ernest Dean, Sergeant Shaw, Pilot Officer Vernon Woodward, Sergeant J. Craig, Flying Officer Couchman, Flying Officer John Littler and Pilot Officer Alfred Costello.
'C' Flight included Flight Lieutenant Bolingbrooke, Sergeant William Vale, Pilot Officier E. K. Leveille, Flight Sergeant Harry Goodchild, Flying Officier Henry Starrett and Pilot Officier Boulton.
At 08:00 on 4 July, five CR 42s of the 94a Squadriglia (Capitano Franco Lavelli, Tenente Giovanni Tadini, Sergente Maggiore Arturo Cardano, Sergente Maggiore Trento Cecchi and Sottotenente Nunzio De Fraia) took off to escort an IMAM Ro.37bis reconnoitring the front line in the Sollum area. The Italian formation was intercepted by a number of Gladiators, which attacked the Ro.37. The Italian fighters intervened and managed to save the reconnaissance aircraft but almost all of the CR.42s suffered gun-jamming during the combat and two CR.42s were shot down. Tenente Tadini and Sergente Maggiore Cardano were both shot down by the Gladiators and Tadini baled out while Cardano crash-landed; both were taken prisoners.
It seems that they had clashed with Gladiators from 33 Squadron since a flight of three Gladiators from this unit took off to escort the 208 Squadron's Lysander of Flying Officer Webber and met two CR.42s over Sollum at around 08:30, Pilot Officer Woods and Flight Sergeant Leonard Cottingham each shooting one down. No losses were reported nor the presence of other Fiats or the Ro.37 reconnaissance aircraft.
During this combat it is often reported the presence of Sergente Maggiore Agostino Fausti and it is also reported that he claimed two Gladiators during this combat. In fact, the existing Italian records do not confirm this information.
In the evening on the same day, at about 18:00, six 33 Squadron Gladiators flying in two sections escorted a Lysander from 208 Squadron flown by Flying Officer Brown over the Capuzzo-Bardia area. Nine CR.42s were seen taking off from Menastir Landing Ground west of Bardia and the Gladiators dived to attack. The No. 2 section, led by Flying Officer Gray-Worcester and including Flight Sergeant Cottingham and Pilot Officer Woods, attacked just as the enemy fighters left ground and Gray-Worcester shot down four of them while Cottingham claimed two and Woods claimed one. The remaining two CR.42s made good their escape.
The British pilots reported that the Italians scrambled more fighters and five CR.42s were attempting to get airborne just as the other three Gladiators, all flown by 112 Squadron pilots (Flying Officer Price-Owen, Flying Officer R. H. Smith and Flying Officer R. J. Bennett), decided to join the fray. Taking the barely flying CR.42s by surprise Smith and Bennett each claimed one shot down.
Price-Owen was forced to leave his aircraft (Gladiator II N5751) after an explosion in the fuselage over Buq-Buq. He parachuted safely and came down 15 miles inside the Egyptian Border. Post war British studies suggested that his aircraft was possibly hit by own anti-aircraft but it seems this was not the case. In fact, Flight Lieutenant Joseph Fraser reported:
"During July 1940, pilots from 112 Squadron, on detachment at Sidi Barrani, were gaining operational experience rapidly and many dogfights resulted around the bay of Sollum between Gladiators and CR 42s, for the CR 42 pilot had not yet learnt to respect the Gladiator – his senior, with its greater manoeuvrability. It was during one of these flights that F/O Price-Owen was badly shot up, though uninjured himself, and then decided to bale out. However, unfortunately, he was wearing a parachute belonging to a friend of far greater stature and on pulling the rip cord, the loose harness gave him a very severe jerk between his legs which almost cost him his manhood – a very serious matter with Price-Owen. He was incapacitated for some time and posted from the Squadron."
Here it is also interesting to note how the British pilots had quickly learned what were the advantage of their machine over the Italians, they however greatly overestimated the speed of their opponent: "(We tried) to get to grips with CR 42s who declined a fight with the feared and more manoeuvrable Gladiator which was outpaced at full throttle by a good 50 mph (!)"
The Italians reported that at 18:05, five CR 42s scrambled against a reported nine Gloster Gladiators that were already orbiting over the airstrip of Menastir. The Italian pilots were Capitano Franco Lavelli, Sottotenente Nunzio De Fraia and Sergente Maggiore Trento Cecchi from the 94a Squadriglia and Tenente Domenico Bevilacqua and Sergente Maggiore Agostino Fausti from the 93a Squadriglia. The Italian pilots started in a helpless position considering the height advantage of the Glosters and the fact that at sea level the Gladiator II had better overall performances than the CR.42, being more manoeuvrable with a top speed (flat) of 346 Km/h against the 342 Km/h of the Italian fighter and with a slightly higher climbing rate (in 1 minute and 25 seconds the Gladiator reached 1184 metres of height while in the same time the CR 42 only reached 1000 metres). In quick succession, Cecchi was shot down and killed and De Fraia was obliged to bale out, wounded, from his burning aircraft. Lavelli was the next to fall and then Bevilacqua, who, although slightly wounded, disengaged and landed a heavily damaged aircraft. Only Fausti remained in flight, fighting against the whole RAF formation. From ground it was seen that his fire hit two enemy fighters that were obliged to leave the combat area (no victories were claimed but one of them seems highly likely to have been Price-Owen) but the other Gladiators didn't give him a chance, hitting his plane while he (probably already wounded) was trying a last evasive manoeuvre diving in westward direction towards the fading sun. Fausti died in his burning plane (Fiat CR.42 MM5543). His proposal for an Medaglia d'argento al valor militare from June was subsequently changed to a posthumous Medaglia d'Oro al valor militare for bravery. Again it was reported that almost all the fighters of the Italian formation suffered gun-jamming during the fight, in particular the plane of Capitano Lavelli was observed not to fire even when he reached very favourable positions. After landing back at base, Bevilacqua told that his guns had ceased to fire almost immediately; he had only managed to fire 57 rounds.
Capitano Lavelli, Sottotenente De Fraia and Sergente Maggiore Cecchi had just escorted a formation of Bredas over the front, landing back at 17:45. Together with a scramble they made at 15:55, this was their fourth mission of the day.
This was the blackest day of the whole war for the 8o Gruppo C.T. and totally they lost seven CR.42s destroyed and one more damaged, three pilots were killed, two were taken prisoners and two wounded.

On 3 September, he was promoted to Flying Officer.

Woods later accompanied 33 Squadron to Greece and took part in this campaign.

He claimed a Fiat G.50 on 5 April over Berat airfield, Albania.

On 6 April, Germany declared war on Yugoslavia and Greece and immediately attacked.

In the end of April, the squadron retreated to Crete.

At 14:40 on 3 May an estimated 24 bombers – Ju 88s of I/KG 51 and I/LG 1 – arrived over Suda Bay to bomb and damage a supply vessel. Four Hurricanes from 33 Squadron and a Sea Gladiator (N5567) were scrambled; Captain L. A. Harris of 805 Squadron in the latter aircraft intercepting three of the bombers but finding to his chagrin that only one of his guns would fire. The Hurricane pilots enjoyed more success; Sergeant G. E. C. Genders (V7800) claimed two Junkers shot down and two others damaged, Flying Officer Woods (V7461) claimed one and one damaged, Flying Officer D. T. Moir a probable and Flying Officer P. A. Newton one more damaged. AA gun teams around Suda Bay submitted two further claims for bombers destroyed but the aircraft seen falling were probably those downed by the Hurricanes.
Two aircraft from 1./KG 51 were lost, Feldwebel Fanderl's '9K+LH' crashing on the island, whilst Leutnant Rudolf Ortner's '9K+GH' went into the sea off Suda Bay, the pilot at least being rescued. Interrogation of prisoners established that 1./KG 51 had only arrived at Krumovo on 18 April with eight aircraft, only three of which had survived to participate in this raid.

At about 18:00 on 4 May, 16 Ju 88s appeared over Suda Bay. The supply ship damaged during the previous day's raid was now sunk, while one of the AA gun positions was also hit and two members of the gun crew were wounded. Four Hurricanes and a Fulmar were scrambled, Lieutenant R. A. Brabner of 805 Squadron in the Naval fighter claiming one bomber shot down over the Bay, while the Hurricanes chased the other off to the north. Flying Officer P. A. Newton claimed one probable, Flying Officer Woods (V7461) and Flying Officer George Noel-Johnson (V7826) each claiming two damaged, only breaking off and returning when the southern extremities of the Greek mainland appeared below. Two more bombers were claimed damaged by the AA guns.
During this attack one Ju 88 from I/KG 51 was badly damaged – possibly by Brabner – and crashed at Krumovo on return and was destroyed. One more bomber from I/LG 1 was also hit, landing at Eleusis with a dead engine.

The squadron reformed in June and was quickly back in action, supporting the unsuccessful Operation 'Battleaxe', and then on defensive duties.

At 16:45 on 17 June, 204 Group ordered the despatch of a dozen Hurricanes to carry out ground strafing sorties along enemy lines of communication and to attack dumps, camps and M/T in the Sidi Omar area. Six of the aircraft were drawn from the 33 Squadron detachment led by Flight Lieutenant Woodward, and two from 229 Squadron detachment, plus one from 73 Squadron, with Flight Lieutenant Dudley Honor leading the 274 Squadron section. Shortly into the flight a large number of enemy aircraft were sighted - Ju 87s from II./StG2 and 239a Squadriglia, with escort provided by Bf 109s of 3./JG27 and G.50bis from 150a Squadriglia (take-off at 15:30).
Three of the pilots managed to successfully engage the Stukas, of which 229 Squadron's Pilot Officer Douglas Edghill (Z4366) claimed two shot down (victories nos. 5 to 6 of a total of 7) and Pilot Officer R. R. Mitchell (Z4630) one, while Flying Officer D. T. Moir (Z4175) of 33 Squadron also claimed one. At least one aircraft of II./StG2 was totally lost (Ju 87 WNr 6047) in which Leutnant Franz Lauberger and Unteroffizier Thomas Mantsch were killed.
Meanwhile, the other Hurricanes soon became embroiled in a series of dogfights with the escort, Flight Lieutenant Vernon Woodward (Z4377) shooting down the G.50bis flown by Tenente Serafino Molinari, who was killed, before he engaged and damaged a second. Sergeant Eric 'Jumbo' Genders (Z4174), also of 33 Squadron, claimed two more (victories nos. 6 to 7 of a total of 8). Gender's claims were initially claimed only as damaged but were later confirmed by the Army. Flight Lieutenant Honor (Z4614) claimed a Messerschmitt damaged and Lieutenant Dudley Dove SAAF (W9298), who was attached to 33 Squadron, reported that he had shot down another, but four Hurricanes failed to return including one (Z4509) flown by 33 Squadron's Flying Officer Woods, who was killed. The 274 Squadron section lost two pilots, Frenchman Sous-Lieutenant Robert Grasset (Z4110) and Pilot Officer Terrence Officer (Z4533), both of whom survived to be taken prisoner, Montpellier-born Grasset's aircraft crashing in the Hasbardia area of Tobruk. The fourth missing Hurricane (W9198) was flown by the sole 73 Squadron representative, Pilot Officer 'Bert' Reynolds, though he returned next day and reported that he had been shot down by AA fire.
The Messerschmitt pilots returned reporting four victories north-east of Gambut. Unteroffizier Heinz Schmidt claiming two at 17:10 and 17:12 (this was Schmidt's victories nos. 5 to 6 and his last before being killed on 28 June 1941), Oberfähnrich Hans-Joachim Marseille claimed one at 17:15 (victory no. 12 of a total of 158) and Feldwebel Karl Mentnich claimed one at 17:20 (his first of a total of 7). The G.50bis pilots also submitted claims for three Hurricanes shot down south of Halfaya, Sottotenente Agostino Celentano, Maresciallo Olindo Simionato and Sergente Maggiore Patriarca being the claimants.
This was 33 Squadron's first encounter with the enemy since Crete.

At the time of his death Woods was credited with 2 biplane victories and a total of 4.

Claims:

| | | | | | | | | | |
| --- | --- | --- | --- | --- | --- | --- | --- | --- | --- |
| Kill no. | Date | Time | Number | Type | Result | Plane type | Serial no. | Locality | Unit |
| | 1940 | | | | | | | | |
| 1 | 04/07/40 | 08:30 | 1 | CR.42 (a) | Destroyed | Gladiator II | | Sollum | 33 Squadron |
| 2 | 04/07/40 | 18:00 | 1 | CR.42 (b) | Destroyed | Gladiator II | | Menastir | 33 Squadron |
| | 1941 | | | | | | | | |
| 3 | 05/04/41 | | 1 | G.50 | Destroyed | Hurricane | | Berat airfield | 33 Squadron |
| 4 | 03/05/41 | | 1 | Ju 88 (c) | Destroyed | Hurricane | V7461 | Suda Bay area | 33 Squadron |
| | 03/05/41 | | 1 | Ju 88 (c) | Damaged | Hurricane | V7461 | Suda Bay area | 33 Squadron |
| | 04/05/41 | | 1 | Ju 88 (d) | Damaged | Hurricane | V7461 | Suda Bay area | 33 Squadron |
| | 04/05/41 | | 1 | Ju 88 (d) | Damaged | Hurricane | V7461 | Suda Bay area | 33 Squadron |
Biplane victories: 2 destroyed.
TOTAL: 4 destroyed, 3 damaged.
(a) Possibly clamed in combat with the 8o Gruppo, which lost two CR.42s (both pilots PoWs). 33 Squadron claimed two Fiat CR.42s shot down without losses.
(b) Claimed in combat with CR.42s of the 8o Gruppo, which didn't claim anything but lost four CR.42s and got a fifth damaged (three pilots killed and two wounded). 33 Squadron claimed nine shot for the loss of one Gladiator (F/O Price-Owen safe).
(c) Claimed in combat with Ju 88s of I/KG 51 and I/LG 1. Two aircraft from 1./KG 51 (Feldwebel Fanderl's '9K+LH' and Leutnant Rudolf Ortner's '9K+GH'; the pilot of the last being rescued). 33 Squadron claimed three Ju 88s shot down, one probable and four damaged while AA claimed two more.
(d) 33 Squadron and 805 Squadron claimed one Ju 88 shot down, one probable and four damaged (two more were claimed damaged by AA fire). One Ju 88 from I/KG 51 was badly damaged and destroyed during landing and a Ju 88 from I/LG 1 returned damaged.

Sources:
2o Stormo - Note storiche dal 1925 al 1975 - Gino Strada, 1975 USSMA, Rome, kindly provided by Ludovico Slongo
112 Sqn "Shark Squadron" 1939 - 1941 - Andre R. Zbiegniewski, 2003 Miniatury lotnicze 15, Kagero, Lublin, ISBN 83-89088-55-X
Aces High - Christopher Shores and Clive Williams, 1994 Grub Street, London, ISBN 1-898697-00-0
Aces High Volume 2 - Christopher Shores, 1999 Grub Street, London, ISBN 1-902304-03-9
A History of the Mediterranean Air War 1940-1945: Volume One – Christopher Shores and Giovanni Massimello with Russell Guest, 2012 Grub Street, London, ISBN 978-1908117076
Air war for Yugoslavia, Greece and Crete - Christopher Shores, Brian Cull and Nicola Malizia, 1987 Grub Street, London, ISBN 0-948817-07-0
Fighters over the Desert - Christopher Shores and Hans Ring, 1969 Neville Spearman Limited, London
Gloster Gladiator Aces - Andrew Thomas, 2002 Osprey Publishing, London, ISBN 1-84176-289-X
Gloster Gladiator Home Page - Alexander Crawford.
Hurricanes over Tobruk - Brian Cull with Don Minterne, 1999 Grub Street, London, ISBN 1-902304-11-X
L'8oGruppo caccia in due conflitti mondiali - Giuseppe Pesce, 1974 S.T.E.M. Mucchi, Modena, kindly provided by Ludovico Slongo
Luftwaffe Claims Lists - Tony Wood
Shark Squadron - The history of 112 Squadron 1917-1975 - Robin Brown, 1994 Crécy Books, ISBN 0-947554-33-5
Stormi d'Italia - Giulio Lazzati, 1975 Mursia, Milan, kindly provided by Ludovico Slongo
The Desert Air War 1939 – 1945 – Richard Townshend Bickers, 1991 Leo Cooper, London, ISBN 0-85052-216-1, kindly provided by Ludovico Slongo
Those Other Eagles – Christopher Shores, 2004 Grub Street, London, ISBN 1-904010-88-1
Woody - A Fighter Pilot's Album - Hugh A. Halliday, 1987 Canav Books, Toronto, ISBN 0-9690703-8-1
Additional information kindly provided by Vincent Biondi and Ludovico Slongo




Last modified 01 September 2015