Biplane fighter aces

The Commonwealth

Squadron Leader Ernest Henry 'Dixie' Dean, RAF no. 39718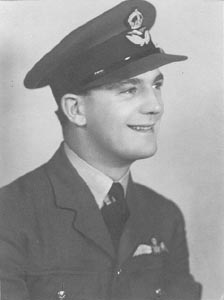 21 October 1917 – 2005
'Dixie' Dean was born on 21 October 1917 in Fulham, London. He was educated at Chelsea Central School and Emmanuel School, where he served in the OTC.
He learnt to fly in a Gipsy Moth from August 1935 to September 1936 as a member of Brooklands Flying Club at Weybridge in Surrey.
On 15 March 1937 he entered the Civil Flying School, Hanworth, which had become 5 E & RFTS, receiving a Short Service Commission for four years. In June he attended 11 FTS, and in September 1937 qualified as a pilot, being posted to 151 Squadron in January 1938.
Three months later he joined 80 Squadron, as it was about to depart for the Middle East, where in September 1938 he was promoted Flying Officer. In April 1940, he was posted to 33 Squadron.
In June 1940, 33 Squadron was based at Mersa Matruh, commanded by Squadron Leader D. V. Johnson and equipped with 21 Gladiators (mainly Mk.IIs) (on 11 June) and six Gloster Gauntlets Mk.IIs kept in reserve. It had 22 pilots in three flights:
'A' Flight included Flight Sergeant Leonard Cottingham, Sergeant Roy Leslie Green, Flying Officer Monk, Pilot Officer Eric Woods, Pilot Officer Brown, Pilot Officer Preston, Pilot Officer Perry St. Quintin and Flight Lieutenant G. E. Hawkins.
'B' Flight included Flying Officer Dean, Sergeant Shaw, Pilot Officer Vernon Woodward, Sergeant J. Craig, Flying Officer Couchman, Flying Officer John Littler and Pilot Officer Alfred Costello.
'C' Flight included Flight Lieutenant Bolingbrooke, Sergeant William Vale, Pilot Officier E. K. Leveille, Flight Sergeant Harry Goodchild, Flying Officier Henry Starrett and Pilot Officier Boulton.
Dean became flight commander of 'B' Flight in June, on the outbreak of war with Italy.
14 June saw the first combats between opposing RAF and Regia Aeronautica fighters over North Africa. This was caused because the 11th Hussars (Prince Albert's Own), joined by elements of 4th Armoured Brigade and 1st Battalion, King's Royal Rifle Corps, assaulted Fort Capuzzo and Fort Maddalena (the two most important Italian frontier posts). The offensive was supported by attacks by Blenheims from 45, 55, 113 and 211 Squadrons. To protect both bombers and ground forces, 33 Squadron flew offensive sweeps as far as Bardia, meeting the Regia Aeronautica two times in the morning.
At 07:35 Flying Officer Dean, Flying Officer R. A. Couchman, Pilot Officer Vernon Woodward and Pilot Officer A. R. Costello of the 33 Squadron took off from Sidi Barrani to provided in-direct escort to Blenheims from45 Squadron. Two Blenheims were out to attack the nearby airstrip of Sidi Azeiz and three bombers were out for Fort Maddalena (that the Italians had already abandoned). One of the bombers (L8524) that attacked Sidi Azeiz was shot down by light AA fire, killing the crew (Flying Officer J. Davies, Sergeant G. Negus and Leading Aircraftman J. Copeland). The fighters of 33 Squadron returned at 09:25 and reported a successful low flying attack carried out on a Ghibli bomber on ground at Sidi Aziez. Advancing British troops later captured the disabled bomber.
It seems that they had run into a Caproni Ca.309 Ghibli of the 2o Gruppo APC. That morning Tenente Adriano Visconti was based at Menastir M airstrip with a section of Ca.309s of the 2o Gruppo APC. The Section received the order to send a plane over Sidi Azeiz, which was attacked by many armoured cars, to report what was happening. Visconti took off immediately (crew: Sottotenente Osservatore Regio Esercito (an officer of the army) Umberto Zolesi and 1o Aviere Montatore Luigi Moroso). Over Sidi Azeiz, reached in a few minutes, he was attacked by three Gloster Gladiators that hit one of the engines and wounded Moroso. Visconti didn't loose control of the plane and force landed on Sidi Azeiz that was already surrounded by the enemy troops. There Visconti dismounted the front gun of the Caproni and with it defended the plane for more than one hour. In the meantime at Menastir, Sergente Maggiore Oreste Speranza, not seeing his commanding officer coming back, took off with the other Caproni of the section. He discovered Visconti on the ground, landed near him and saved him together with Moroso and Zolesi. Visconti's aircraft was captured by the enemy. For this mission Visconti was awarded the Medaglia di bronzo al valor militare for bravery and left the APC to be assigned to 50o Assalto where he became a Breda pilot. The official citation of the award of Visconti stated that: "during a mission he was attacked by three enemy aircraft that damaged seriously his plane. With skilful manoeuvre he landed it and immediately organized the defence of his crew displaying courage and great determination."
Thirty-five minutes later, at 10:00, after refuelling the Gladiators, Dean (Gladiator L9046) and Woodward (Gladiator N5783) were off again, followed a few minutes later by Sergeant J. Craig (Gladiator N5768). Near Fort Capuzzo they intercepted two Caproni Ca.310Bs escorted by CR.32s. Dean shot down one of the CR.32s while Woodward and Craig jointly attacked one Caproni, setting one of the engines on fire. The Italian bomber crash-landed among British tanks near Fort Capuzzo. Woodward also attacked and claimed a second CR.32 (this claim is unconfirmed and no more Italian losses has been possible to verify) before retuning to base with a single bullet hole in one of the wings. Dean later told:
"Soon after being promoted to Flying Officer, I was posted to No 33 Squadron at Mersa Matruh. I had a good flight with Verne Woodward, Peter Wickham and Sergeant Craig. It wasn't long after Italy declared war that we were moved to Sidi Barrani. We had no warning system at all of aircraft movement by the enemy, and only very sketchy and vague locations of both ours and their positions from the Army. We carried out the old traditions of patrolling along and over the border in the beginning in "vics" and pairs. Later, we flew bigger sweeps with more aircraft. The combat of 14 June near Fort Capuzzo was our very first encounter with the enemy. An inoffensive-looking light bomber was seen, and I detached Woodward and Sergeant Craig to attack, whilst I stayed aloft to cover. Within a short spell, I saw six aircraft in line astern heading from the west. I recognised them as CR 32s. I remember being quite calm, and wondering what the heck to do. I flew towards them, keeping them well to my right – with the thought of getting behind them (and shooting them down one by one – silly boy!).
Before I got close enough to them, they split in all directions and formed a ring around me – the sitting duck! I remembered somewhere about flying extraordinarily badly to present a very bad target. I throttled back, yawed and waffled up and down and around, and could hear the thump of their half-inch cannon at each pass, and as each came into my sights having a rapid squirt at them. This seemed to go on for ages, and eventually one of them dropped away and suddenly the remainder disappeared, and I was thankfully alone in the sky and flew back.
I heard upon my return to base that one CR 32 had been destroyed, apparently by me, whilst Woodward and Craig had shared the bomber. I did hear later that the pilot of the CR 32 had been struck by a single bullet through the heart."

They had clashed with six CR.32s from the 8o Gruppo flown by Capitano Martino Zannier (CO 92a Squadriglia), Tenente Ranieri Piccolomini (92a Squadriglia), Tenente Gioacchino Bissoli (93a Squadriglia), Sergente Ernesto Pavan (92a Squadriglia), Sergente Edoardo Azzarone (92a Squadriglia) and Sergente Roberto Lendaro (93a Squadriglia), which had been escorting three Caproni Ca.310s of the 159a Squadriglia, 12o Gruppo, 50o Stormo that had taken of at 09:30 to attack British armoured cars that were surrounding Amseat (Fort Capuzzo). The Italian fighters reported that they had chased seven (or nine) Gladiators and three of them were claimed shot down by Piccolomini, Pavan and Azzarone before Azzarone was shot down and killed (probably by Dean) over the British lines (according to some sources the Italian fighters only claimed two victories; one by Piccolomini and the second shared between Pavan and Azzarone). The Caproni shot down was flown by Sergente Maggiore Stefano Garrisi who parachuted together with Primo Aviere Montatore Alfio Ubaldi while gunner Aviere Scelto Armiere Giuseppe Pascali jumped too low and was killed (his body was recovered near Amseat on 26 December 1940). 130 rounds hit the Caproni of Tenente Mario Virgilio Corda and Sergente Maggiore Giovanbattista Trevisan was wounded. This was the second mission during the war for the 12o Gruppo and it revealed the unreliability of Ca.310s in this role. Breda Ba.65s soon replaced them.

At 08:00 on 30 June, three CR.32s of the 160a Squadriglia took off from Ponticelli to escort a reconnaissance IMAM Ro.37. Over Bir Sceferzen the Italian aircraft were attacked by Gladiators, which immediately shot down the Ro.37, killing the crew and the Fiat of Tenente Ivano Vanni, who parachuted from his burning aircraft. Sergente Aldo Santucci force-landed his CR.32 close to the T5 airfield, west of Tobruk (probably due to combat damage). While doing this he hit an Army truck, seriously wounding the Army driver and writing off the aircraft.
According to some sources Vanni was shot at by the British fighters while descending in his parachute but managed to land safely.
It seems that the Italian aircraft had run into a patrol from 33 Squadron, which claimed two fighters during an early morning patrol over Bardia. The Italian aircraft were variously identified as CR.42s or CR.32s, one of them shot down in flames. One of the planes was claimed by Pilot Officer Peter Wickham while the other fell victim of Flying Officer Dean. One Gladiator was damaged in this combat.
Dean described the combat:
"Peter Wickham and I were patrolling near Bardia, and spotted two CR 42s. We each took one, and within minutes there were two black plumes on the ground. I got involved with another CR 42, a quite aggressive "Eyetie" (most rare), and I unfortunately got into head-on attacks with him, which are not recommended. We had three passes at one another but with no apparent damage, except that when we reached base together I didn't perform any victory rolls, although Peter was performing perfect flick rolls in formation. Lucky for me, because my riggers reported to me that my centre section was badly damaged, and it was well I had overcome my exuberance."
At 16:00 on 24 July, a formation of eleven CR.42s from the 10o Gruppo, backed by six more from the 13o Gruppo took off to patrol the Bir el Gobi – Sidi Omar – Sollum – Bardia area. Leading the 10o Gruppo formation was Maggiore Carlo Romagnoli (using an aircraft from the 91a Squadriglia) and with him were Tenente Franco Lucchini, Maresciallo Omero Alesi and Tenente Giovanni Guiducci of the 90a Squadriglia, Capitano Luigi Monti, Capitano Aldo Lanfranco, Tenente Vincenzo Vanni and Tenente Giuseppe Aurili of the 84a Squadriglia, Tenente Enzo Martissa, Sergente Maggiore Lorenzo Migliorato and Sergente Luigi Ferrario of the 91a Squadriglia. Pilots from the 13o Gruppo were Tenente Giulio Torresi, Tenente Eduardo Sorvillo and Sergente Maggiore Ernesto Scalet of the 77a Squadriglia, Sergente Francesco Nanin of the 82a Squadriglia and Capitano Giuseppe Dall'Aglio with Sottotenente Dario Magnabosco of the 78a Squadriglia.
During the patrol they met a British formation estimated to nine Blenheims, which was attacking Bardia, escorted by 15 Gladiators. The CR.42s attacked the bombers and were in turn attacked by the British escort. Tenente Lucchini was the first to enter combat and damaged three of the British bombers by using 510 rounds of ammunition while the others were dispersed. Tenente Guiducci claimed a Gladiator using 90 rounds of ammunition. The CR.42s of the 84a Squadriglia remained manoeuvring in close formation until a 90a Squadriglia aircraft (Lucchini?) drove them against the enemies breaking their formation. Three aircraft from the Squadriglia returned to base one by one. Tenente Giuseppe Aurili met three Gladiators and damaged one. Capitano Lanfranco became isolated and, attacked by a reported three enemy fighters, was shot down and obliged to bale out in the Sidi Azeiz area. A British patrol took him prisoner a little later. Lanfranco was one of the oldest pilots of the 4o and a few days later a British message was thrown down near Tobruk, telling that he was wounded in Alexandria hospital. Tenente Martissa forced an enemy fighter to force-land then, coming back to base, saw his wingman in difficulties against the determined attack of an enemy fighter and, even with his guns jammed, attacked it, forcing the Gladiator to break away. Sergente Ferrario returned to base with a damaged fighter. According to some sources Tenente Lucchini is credited with an additional Gladiator during the day, but this can't be verified with the Squadriglie's Diaries.
Tenente Torresi claimed another Gladiator with 250 rounds of ammunition. No losses were suffered by the 13o Gruppo formation, which landed back at base between 17:25 and 18:05.
It seems that the Italian formation had been involved in combat with eight Blenheims from 55 Squadron tasked to attack targets in the Bardia area and five Gladiators from 'B' Flight of the 33 Squadron flown by Flying Officer Dean (Gladiator L9046), Pilot Officer Alfred Costello (N5776), Pilot Officer Vernon Woodward (N5768), Sergeant Ronald Slater (N5783) and Sergeant Shaw (N5775), which had taken off from Sidi Barrani at 17:40 and met a reported 18 CR.42s over Sollum at 18:30. In the combat Woodward claimed one of the enemy aircraft shot down and a second as a probable. Slater claimed a second CR.42 destroyed while Costello claimed a third. One more CR.42 was claimed by the other pilots and since Dean doesn't seems to have claimed anything during the day it is possible that this was claimed by Shaw but it haven't been possible to verify this. During the return flight Shaw was forced to land east of Buq-Buq with engine trouble probably caused by combat damage (probably the aircraft claimed by Martissa). Enemy bombing the day after destroyed his aircraft on the ground, although he rejoined his unit unharmed after a long walk across the desert. The other pilots from 33 Squadron landed back at base between 18:55 and 19:35.
Returning crews from 55 Squadron reported that after releasing their bomb load at 18:20, 'A' Flight was attacked by a single CR.42, which was part of a very open formation that didn't attack. The Italian biplane attacked from out of the sun, damaging slightly Blenheim L8667 flown by Sergeant Vignaux. The British bomber was hit by two bullets (one explosive), one in each mainplane. At 18:35, 'B' Flight was also attacked by a single CR.42. The attack was made from above and astern twice but none of the British aircraft were hit. It seems that one or both of these attacks were made by Tenente Lucchini.
At 09:15 on 25 July, Derna El Ftàiah N1 suffered a heavy air attack, which destroyed two SM 79s on the ground and damaging two more heavily (RD). Five personnel were killed and thirteen more wounded. The personnel killed were Aviere Vincenzo Marinelli, Aviere Vincenzo De Fazio, Aviere Danilo Bartin, Aviere Nicola Fioravante and Aviere Paolo Fogliata who were part of the 30o Gruppo, 10o Stormo as were the destroyed SM 79s.
The attack was carried out by six Bristol Blenheims from 211 Squadron led by Flight Lieutenant Gordon-Finlayson. Originally nine bombers were to take part but two Blenheims didn't take off owing to engine troubles and one broke the tail wheel on landing at Sidi Barrani where a refuelling stop was provided. On the return journey L1482 flew by Pilot Officer Dundas lost its port airscrew and reduction gear and was forced to make an emergency landing at Fuka where the port undercarriage collapsed further damaging the plane.
33 Squadron was detailed to sweep the border area to cover eventual stragglers of 211 Squadron. Five Gladiators from the unit's 'B' Flight, flown by Flying Officer Dean (Gladiator L9046), Pilot Officer Alfred Costello (N5761), Pilot Officer Vernon Woodward (N5768), Sergeant Ronald Slater (N5783) and Sergeant Shaw (N5776) encountered a reported seven CR.42s over Bardia. Woodward and Slater each claimed one CR.42, of which Woodward's went down in flames before they shared a third. Slater was then seen spinning down, out of the fight, and Woodward became separated from the remaining Gladiators. He was attacked for seven or eight minutes at low level by several CR.42s before escaping. Costello claimed one shared CR.42 but who he claimed it with is unknown. A fifth CR.42 was also claimed in the combat by an unknown pilot. Dean didn't claim anything in this combat and whether Shaw claimed anything is unknown. Pilot Officer Woodward experienced a very hard combat, probably his hardest against Regia Aeronautica, and was very impressed by his opponents, in fact after this combat he once reflected:

"They were clean fighters, those Wops, and quite the equal of any Hun in the skill of combat flying."
A quite rare recognition from a RAF fighter pilot of the period.
As a curious note, the derogatory term "Wop" referred to an Italian born in the United States with the first immigrants, so it was well known to the Canadian Woodward. Its origin is not completely clear according with some sources it meant "Without Passport" according with others it was a corruption of the Neapolitan word "Guappo" (criminal boss).
It seems that the Gladiators had clashed with CR.42s from the 13o Gruppo. At 09:10, Sergente Maggiore Leone Basso of the 77a Squadriglia scrambled from El Adem following an air alarm. Tenente Giovanni Beduz of the 78a Squadriglia joined him ten minutes later. With them were also Sergente Rovero Abbarchi, Sottotenente Natale Cima and Sergente Ernesto Taddia (all of the 78a Squadriglia). The fighters were directed to an interception course along the probable return route of enemy bombers that had attacked Derna. While cruising over Bardia waiting for the enemy bombers, a formation of British fighters, identified just as "superior in numbers", attacked with height advantage. The Italian fighters (at least part of them because it is not sure that Natale Cima and Ernesto Taddia took part in the combat) turned the tables against their opponents. Sergente Maggiore Basso attacked a Gladiator, which was left smoking after using 250 rounds of ammunition while Sergente Abbarchi followed a Gladiator deep (40 km) inside the British territory and finally claimed it shot down. All the planes returned to base between 09:40 and 10:25. Totally the 78a fighters had used 500 rounds of ammunition.
The ORB of 33 Squadron didn't report any losses after this combat. However, a team of 51 Repair and Salvage Unit moved to Sidi Barrani on 27 July to salvage the "crashed" Gladiators N5768 (Pilot Officer Woodward) and L9046 (Flight Lieutenant Dean) of 33 Squadron, which indicates that they at least suffered some severe damage confirming the Italian claims. L9046 was in fact so damaged that it had to be written off.
According to many post-war British sources Sergeant Slater was shot down in this in combat even if according to the 33 Squadron's ORB, he returned to base at 11:20 together with the other pilots and took part in another patrol with Pilot Officer Costello between 14:00 and 14:40 using Gladiator N5783 again. Some British studies suggested that it was in fact forced down but was able to take off later regaining his unit.
112 Squadron flew a patrol near Bardia during the day and spotted eight CR.42s. Flying Officer Peter Strahan of 'A' Flight claimed one shot down, although he himself was hit and forced to make an emergency landing on the return flight. He was returned to base with an infantry vehicle.
It is highly likely that 33 and 112 Squadrons made a combined operation over Bardia because on the Italian side, the combat of the three 13o Gruppo pilots is the only recorded combat. This could also explain the claim made by an unknown pilot (Flying Officer Strahan?) reported by 33 Squadron.

By mid-December he had claimed at least four Italian fighter shot down over the Egyptian-Libyan frontier area of which two were shot down while flying Gladiators.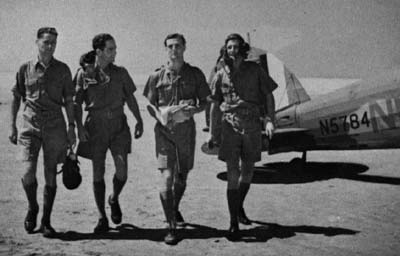 Pilots of 33 Squadron at Helwan.
From left to right: Sergeant Slater, Pilot Officer Vernon Woodward, Flying Officer Dean and Pilot Officer A. R. Costello.
Late in February the squadron began moving to Greece.
In the end of March Flight Lieutenant A. M. Young was posted away from the Squadron and Flying Officer Dean, who was promoted Acting Flight Lieutenant, took his place at the head of 'B' Flight.
On 17 March 1941 he was Mentioned in Despatches.
On 6 April Germany declared war on Yugoslavia and Greece and immediately attacked.
In the afternoon on 14 April pairs of Hurricanes were despatched by 33 Squadron to patrol over troops in the Servia area who were under constant attack by Ju 87s. Flying Officers Vernon Woodward and Dean came across six of these as they were peeling off to attack motor transports, and three were claimed shot down with three others damaged, Woodward claiming two destroyed (one burning and the other spinning into the ground) and one damaged, and Dean the remainder.
Totally Allied fighters claimed five Ju 87s during the day and several Ju 87s were lost in the area. It seems that I/StG 3 lost Oberfeldwebel Rudolf Schnurawa and his gunner over Servia, while 9./StG 2 lost Oberleutnant Christian Banke and Feldwebel Georg Hoser in T6+KT south-west of Mount Olympus. A second 9 staffel aircraft was badly damaged and crash-landed on its return to Prilep-West. Oberfeldwebel Paul Lachmann and his gunner both were having been wounded. 2./StG, recently arrived from Libya, lost A5+EK to fighters near Trikkala (most probably shot down by PZL P.24 flown by Episminias (Sergeant) Argyropoulos of 22 Mira) with Fahnrich Walter Seeliger and Gefreiter Kurt Friedrich were taken prisoner.
At the end of April, after the withdrawal from Greece, he was sent to HQ, Middle East, to the Rest Pool as a supernumerary.
Dean lost his original RAF logbook during the evacuation of Greece. His new logbook, which started from 16 May 1941, includes the previous cumulative hours by aircraft type and the total hours on the main types as follows:
Hawker Hart - 24 hours
Hawker Audax - 21 hours
Hawker Fury - 51 hours
Gloster Gauntlet - 45 hours
Gloster Gladiator - 394 hours (he never flew any Gladiators after May 1941)
Hawker Hurricane - 383 hours

His own personal reflections of combat against the Fiat CR.32 and CR.42 were that:
"the CR.32 which, although armed with heavy cannon, was under-powered and slow and the pilots "weren't very keen".
The CR.42 and the Gladiator were fairly evenly matched. The CR.42 pilots were better too and were much more of a match for the RAF pilots. The CR.42 had a constant speed airscrew whilst the Gladiator had a fixed pitch screw. This gave the CR.42 a much better rate of climb and a higher flat out diving speed. But the Gladiator had slightly better manoeuvrability and the four Browning machine guns were superior to the 12.7mm cannon in the CR.42. The Italians used explosive ammunition, which tended to explode on impact with little penetration.
The Hurricane was greatly superior to the CR.42 in speed and armament and also had armour plating. But the manoeuvrability of the CR42s compared to the Hurricane made then difficult to shoot down once they had seen you."
Dean had the following impressions of the Hurricane Mk.I:
"Having been trained at No.11 FTS, Wittering in 1937 on the Hawker Hart trainer, then the Audax and the Fury, I had formed a great affection for the Hawker stable, particularly the wonderful Fury.
When the first Hurricane arrived in Egypt to 80 Squadron at Amriya, each pilot of the unit was allowed to complete a modest test on it. It flew superbly, balanced and well-trimmed, and was a joy to fly. Take-off and landing was no problem. My love for Hawkers had re-blossomed.
Later, after I had flown with 33 Squadron from the outbreak of the war in the desert and had had a successful time with the Gladiator, we were re-equipped with the Hurricane 1, much to my delight. One felt immediately safer in this well-constructed all-metal machine with the pilot's back protected by thick armour. It was larger overall than the Gladiator and much more aerobative and manoeverable. The powerful cone of shot from the eight Brownings was very impressive.
Some time later, when the desert seemed to be full of fighter squadrons, we were converted to fighter-bombers. The idea was that we would roam far into the desert and bomb a map reference where the presence of enemy troops or vehicles had been reported by returning bombers or recce aircraft. The Hurricane behaved very well in the high-speed dive and getaway. But its tactical use in this role was flawed because the desert is an extremely difficult place in which to navigate and, all to often, the intended target was either not there or too well camouflaged.
The Hurricane was a very effective ground-strafing weapon with its speed and powerful guns. It was also adapted an effective anti-tank weapon fitted with two heavy cannon.
Once, over Greece, after chasing some Ju 87s at full throttle and maximum boost, I received a hit in the throttle connection, which fixed it wide open. The engine overheated and the exhaust pipes became red-hot. I had to switch off to cool it down and then make my way back to base alternately climbing with the engine on and diving with it off. I had to land with a dead-stick at a much steeper angle to maintain gliding speed. But the Hurry behaved perfectly and I made a very good landing.
The other advantage it had, according to the ground crews, was that it was remarkably adaptable to transplanted parts and thus had a good serviceability record.
In July 1941 he was posted to 71 OTU, Ismailia, as an instructor, remaining there until October, when he was posted to 30 Squadron.
On 1 December 1941 he was promoted Temporary Squadron Leader, and on 12 February 1942 joined 274 Squadron as a supernumerary, becoming commanding officer in March.
On 13 July 1942 he returned to HQ, ME, and was sent to the rear HQ in Egypt to train as a fighter controller. In this role he joined HQ, 252 Wing, and then in December 1942, to HQ, 219 Group.
He was awarded a Greek DFC on 29 December 1942.
In September 1943 he became 29 Sector Ops Room Controller, and then in November a controller at 217 Group.
He joined 335 (Greek) Squadron on 20 March 1944 for flying duties, while in June 1944 he was posted to Air HQ, Levant, on a War Course.
On 6 October he joined Air Staff at Air HQ, Egypt, in Cairo.
Dean ended the war with 2 biplane victories and a total of 5.
In October 1945 he went to HQ, ME, as a supernumerary, but from here was at last sent home to the UK.
Following leave, he worked as an Acting Wing Commander in charge of 19 Recruit Centre at Metfield, Norfolk until April 1946, when he went to W/T training school in Yatesbury, Wiltshire. He then served at 3 Radio School in Compton Bassett, Wiltshire until April 1947. He moved to RAF Rudloe Manor in May 1947 as SAdO. On 1 April 1948 he relinquished his war substantive rank and was promoted Squadron Leader substantive, Wing Commander Acting.
On 16 June he took command at HQ, 62 Group (V). He went into the 'A' Class Reserve in November 1950, retaining the rank of Wing Commander.
During his career he flew following types: Gipsy Moth, Blackburn B2, Hawker Hart, Hawker Audax, Hawker Fury, Hawker Hind, Avro Tutor, Gloster Gauntlet I & II, Gloster Gladiator I & II, Hawker Hurricane I & II, Vickers Wellesley, Miles Magister, Curtis Tomahawk, Westland Lysander, North American Harvard I, Supermarine Spitfire Vb, Avro Anson, Fairchild Argus and Percival Proctor.
He left the service post-war and worked as a sales manager for Martini-Rossi.
He lived in retirement in Surrey.
Dean passed away in 2005.
Claims:

| | | | | | | | | | |
| --- | --- | --- | --- | --- | --- | --- | --- | --- | --- |
| Kill no. | Date | Time | Number | Type | Result | Plane type | Serial no. | Locality | Unit |
| | 1940 | | | | | | | | |
| 1 | 14/06/40 | 09:55-11:40 | 1 | CR.32 (a) | Destroyed | Gladiator II | L9046 | near Fort Capuzzo | 33 Squadron |
| 2 | 30/06/40 | 08:00- | 1 | CR.42 (b) | Destroyed | Gladiator I | | Bardia | 33 Squadron |
| 3 | ??/12/40 | | 1 | CR.42 (c) | Destroyed | Hurricane Mk.I | | | 33 Squadron |
| 4 | ??/12/40 | | 1 | CR.42 (c) | Destroyed | Hurricane Mk.I | | | 33 Squadron |
| | 1941 | | | | | | | | |
| 5 | 14/04/41 | p.m. | 1 | Ju 87 (d) | Destroyed | Hurricane Mk.I | | Servia area | 33 Squadron |
| | 14/04/41 | p.m. | 1 | Ju 87 (d) | Damaged | Hurricane Mk.I | | Servia area | 33 Squadron |
| | 14/04/41 | p.m. | 1 | Ju 87 (d) | Damaged | Hurricane Mk.I | | Servia area | 33 Squadron |
Biplane victories: 2 destroyed.
TOTAL: 5 destroyed (2 no details), 2 damaged.
(a) Claimed in combat with CR.32s from 8o Gruppo, 2o Stormo C.T. 33 Squadron claimed one and one unconfirmed CR.32s and one Ca.310 without losses. The 8o Gruppo claimed three (or two) victories for the loss of one CR.32 (Sergente Edoardo Azzarone, 93a Squadriglia, killed).
(b) Claimed in combat with CR.32s of the 160 Squadriglia escorting a Ro.37. The 33 Squadron claimed two victories and the Ro.37 (the crew was killed) and one CR.32 were shot down (Tenente Ivano Vanni parachuted).
(c) No details, but believed to have been CR.42s, claimed in December 1940, whilst flying Hurricane Is.
(d) During the day Allied fighters made claims for five Ju 87s. Four from 2./St G 1, 9./StG 2 (two) and I/StG 3 were lost.

Sources:
2o Stormo - Note storiche dal 1925 al 1975 - Gino Strada, 1975 USSMA, Rome, kindly provided by Ludovico Slongo
33 Squadron Operations Record Book kindly provided by Ludovico Slongo
50o Stormo d'Assalto - Nino Arena, 1979 STEM Mucchi, Modena kindly provided by Stefano Lazzaro
Aces High - Christopher Shores and Clive Williams, 1994 Grub Street, London, ISBN 1-898697-00-0
Aces High Volume 2 - Christopher Shores, 1999 Grub Street, London, ISBN 1-902304-03-9
Adriano Visconti Asso di Guerra - Giuseppe Pesce and Giovanni Massimello, 1997 Albertelli Edizioni Speciali, Parma, ISBN 88-85909-80-9, kindly provided by Ludovico Slongo
Desert Prelude: Early clashes June-November 1940 - Håkan Gustavsson and Ludovico Slongo, 2010 MMP books, ISBN 978-83-89450-52-4
Desert Prelude: Operation Compass - Håkan Gustavsson and Ludovico Slongo, 2011 MMP books, ISBN 978-83-61421-18-4
Diario Storico 77a Squadriglia kindly provided by Ludovico Slongo
Diario Storico 78a Squadriglia kindly provided by Ludovico Slongo
Diario Storico 82a Squadriglia kindly provided by Ludovico Slongo
Diario Storico 84a Squadriglia kindly provided by Ludovico Slongo
Diario Storico 90a Squadriglia kindly provided by Ludovico Slongo
Diario Storico 91a Squadriglia kindly provided by Ludovico Slongo
Fiat CR.42 Aces of World War 2 - Håkan Gustavsson and Ludovico Slongo, 2009 Osprey Publishing, Oxford, ISBN 978-1-84603-427-5
Fighters over the Desert - Christopher Shores and Hans Ring, 1969 Neville Spearman Limited, London
Gloster Gladiator - Alex Crawford, 2002 Mushroom Model Publications, ISBN 83-916327-0-9
Gloster Gladiator Aces - Andrew Thomas, 2002 Osprey Publishing, London, ISBN 1-84176-289-X
Gloster Gladiator Home Page - Alexander Crawford.
Gloster Gladiator in action - W. A. Harrison, 2003 Squadron/Signal Publications, Carrollton, ISBN 0-89747-450-3
Hurricanes over Tobruk - Brian Cull with Don Minterne, 1999 Grub Street, London, ISBN 1-902304-11-X
Il Fiat CR 32 poesia del volo - Nicola Malizia, 1981 Edizioni dell'Ateneo, Roma, kindly provided by Ludovico Slongo
La Regia Aeronautica - volume I: Dalla non belligeranza all'intervento – Nino Arena, 1981 USSMA, Rome kindly provided by Stefano Lazzaro
L'8o Gruppo Caccia in due conflitti mondiali - Giuseppe Pesce, 1974 STEM Mucchi, Modena kindly provided by Stefano Lazzaro
Le giovani aquile – Antonio Trizzino, 1972 Longanesi Milano, kindly provided by Ludovico Slongo
La Regia Aeronautica - volume I: Dalla non belligeranza all'intervento – Nino Arena, 1981 USSMA, Rome kindly provided by Stefano Lazzaro
Operation Compass 1940 - Jon Latimer, 2000 Osprey Publishing, Oxford, ISBN 1-85532-967-0, kindly provided by Ludovico Slongo
Quelli del Cavallino Rampante - Antonio Duma, 1981 Editore Dell'Ateneo, Roma, kindly provided by Stefano Lazzaro
Shark Squadron - The history of 112 Squadron 1917-1975 - Robin Brown, 1994 Crécy Books, ISBN 0-947554-33-5
Storia di 10.000 aeroplani – Franco Pagliano, 2003 Ugo Mursia, Milano, kindly provided by Ludovico Slongo
The Bristol Blenheim: A complete history – Graham Warner, 2002 Crécy Publishing Limited, Manchester, ISBN 0-947554-92-0
The Desert Air Force - Roderick Owen, 1948 Hutchinson, London, kindly provided by Ludovico Slongo
The Desert Air War 1939 – 1945 – Richard Townshend Bickers, 1991 Leo Cooper, London, ISBN 0-85052-216-1, kindly provided by Ludovico Slongo
The Gloster Gladiator - Francis K. Mason, 1964 Macdonald & Co. Ltd. London
Those Other Eagles – Christopher Shores, 2004 Grub Street, London, ISBN 1-904010-88-1
Woody - A Fighter Pilot's Album - Hugh A. Halliday, 1987 Canav Books, Toronto, ISBN 0-9690703-8-1
Additional information kindly provided by Ernest and Peter Dean, Peter Holloway, Stefano Lazzaro and Ludovico Slongo.




Last modified 05 February 2012