Biplane fighter aces

The Commonwealth

Flight Lieutenant Alfred Reuben Costello, RAF no. 41781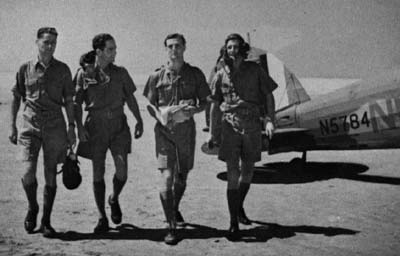 Pilots of 33 Squadron at Helwan.
From left to right: Sergeant Slater, Pilot Officer Vernon Woodward, Flying Officer Ernest Dean and Pilot Officer Costello.
Alfred Costello became a pupil pilot in the RAF on 19 January 1939, and was granted a short service commission two months later.
He was posted to 33 Squadron in Egypt on 1 February 1940.
In June 1940, 33 Squadron was based at Mersa Matruh, commanded by Squadron Leader D. V. Johnson and equipped with 21 Gladiators (mainly Mk.IIs) (on 11 June) and six Gloster Gauntlets Mk.IIs kept in reserve. It had 22 pilots in three flights:
'A' Flight included Flight Sergeant Leonard Cottingham, Sergeant Roy Leslie Green, Flying Officer Monk, Pilot Officer Eric Woods, Pilot Officer Brown, Pilot Officer Preston, Pilot Officer Perry St. Quintin and Flight Lieutenant G. E. Hawkins.
'B' Flight included Flying Officer Ernest Dean, Sergeant Shaw, Pilot Officer Vernon Woodward, Sergeant J. Craig, Flying Officer Couchman, Flying Officer John Littler and Pilot Officer Costello.
'C' Flight included Flight Lieutenant Bolingbrooke, Sergeant William Vale, Pilot Officier E. K. Leveille, Flight Sergeant Harry Goodchild, Flying Officier Henry Starrett and Pilot Officier Boulton.
14 June saw the first combats between opposing RAF and Regia Aeronautica fighters over North Africa. This was caused because the 11th Hussars (Prince Albert's Own), joined by elements of 4th Armoured Brigade and 1st Battalion, King's Royal Rifle Corps, assaulted Fort Capuzzo and Fort Maddalena (the two most important Italian frontier posts). The offensive was supported by attacks by Blenheims from 45, 55, 113 and 211 Squadrons. To protect both bombers and ground forces, 33 Squadron flew offensive sweeps as far as Bardia, meeting the Regia Aeronautica two times in the morning and Costello took part in the first engagement.
At 07:35 Flying Officer Ernest Dean, Flying Officer R. A. Couchman, Pilot Officer Vernon Woodward and Pilot Officer Costello of the 33 Squadron took off from Sidi Barrani to provided in-direct escort to Blenheims from45 Squadron. Two Blenheims were out to attack the nearby airstrip of Sidi Azeiz and three bombers were out for Fort Maddalena (that the Italians had already abandoned). One of the bombers (L8524) that attacked Sidi Azeiz was shot down by light AA fire, killing the crew (Flying Officer J. Davies, Sergeant G. Negus and Leading Aircraftman J. Copeland). The fighters of 33 Squadron returned at 09:25 and reported a successful low flying attack carried out on a Ghibli bomber on ground at Sidi Aziez. Advancing British troops later captured the disabled bomber.
It seems that they had run into a Caproni Ca.309 Ghibli of the 2o Gruppo APC. That morning Tenente Adriano Visconti was based at Menastir M airstrip with a section of Ca.309s of the 2o Gruppo APC. The Section received the order to send a plane over Sidi Azeiz, which was attacked by many armoured cars, to report what was happening. Visconti took off immediately (crew: Sottotenente Osservatore Regio Esercito (an officer of the army) Umberto Zolesi and 1o Aviere Montatore Luigi Moroso). Over Sidi Azeiz, reached in a few minutes, he was attacked by three Gloster Gladiators that hit one of the engines and wounded Moroso. Visconti didn't loose control of the plane and force landed on Sidi Azeiz that was already surrounded by the enemy troops. There Visconti dismounted the front gun of the Caproni and with it defended the plane for more than one hour. In the meantime at Menastir, Sergente Maggiore Oreste Speranza, not seeing his commanding officer coming back, took off with the other Caproni of the section. He discovered Visconti on the ground, landed near him and saved him together with Moroso and Zolesi. Visconti's aircraft was captured by the enemy. For this mission Visconti was awarded the Medaglia di bronzo al valor militare for bravery and left the APC to be assigned to 50o Assalto where he became a Breda pilot. The official citation of the award of Visconti stated that: "during a mission he was attacked by three enemy aircraft that damaged seriously his plane. With skilful manoeuvre he landed it and immediately organized the defence of his crew displaying courage and great determination."

At 16:00 on 24 July, a formation of eleven CR.42s from the 10o Gruppo, backed by six more from the 13o Gruppo took off to patrol the Bir el Gobi – Sidi Omar – Sollum – Bardia area. Leading the 10o Gruppo formation was Maggiore Carlo Romagnoli (using an aircraft from the 91a Squadriglia) and with him were Tenente Franco Lucchini, Maresciallo Omero Alesi and Tenente Giovanni Guiducci of the 90a Squadriglia, Capitano Luigi Monti, Capitano Aldo Lanfranco, Tenente Vincenzo Vanni and Tenente Giuseppe Aurili of the 84a Squadriglia, Tenente Enzo Martissa, Sergente Maggiore Lorenzo Migliorato and Sergente Luigi Ferrario of the 91a Squadriglia. Pilots from the 13o Gruppo were Tenente Giulio Torresi, Tenente Eduardo Sorvillo and Sergente Maggiore Ernesto Scalet of the 77a Squadriglia, Sergente Francesco Nanin of the 82a Squadriglia and Capitano Giuseppe Dall'Aglio with Sottotenente Dario Magnabosco of the 78a Squadriglia.
During the patrol they met a British formation estimated to nine Blenheims, which was attacking Bardia, escorted by 15 Gladiators. The CR.42s attacked the bombers and were in turn attacked by the British escort. Tenente Lucchini was the first to enter combat and damaged three of the British bombers by using 510 rounds of ammunition while the others were dispersed. Tenente Guiducci claimed a Gladiator using 90 rounds of ammunition. The CR.42s of the 84a Squadriglia remained manoeuvring in close formation until a 90a Squadriglia aircraft (Lucchini?) drove them against the enemies breaking their formation. Three aircraft from the Squadriglia returned to base one by one. Tenente Giuseppe Aurili met three Gladiators and damaged one. Capitano Lanfranco became isolated and, attacked by a reported three enemy fighters, was shot down and obliged to bale out in the Sidi Azeiz area. A British patrol took him prisoner a little later. Lanfranco was one of the oldest pilots of the 4o and a few days later a British message was thrown down near Tobruk, telling that he was wounded in Alexandria hospital. Tenente Martissa forced an enemy fighter to force-land then, coming back to base, saw his wingman in difficulties against the determined attack of an enemy fighter and, even with his guns jammed, attacked it, forcing the Gladiator to break away. Sergente Ferrario returned to base with a damaged fighter. According to some sources Tenente Lucchini is credited with an additional Gladiator during the day, but this can't be verified with the Squadriglie's Diaries.
Tenente Torresi claimed another Gladiator with 250 rounds of ammunition. No losses were suffered by the 13o Gruppo formation, which landed back at base between 17:25 and 18:05.
It seems that the Italian formation had been involved in combat with eight Blenheims from 55 Squadron tasked to attack targets in the Bardia area and five Gladiators from 'B' Flight of the 33 Squadron flown by Flying Officer Ernest Dean (Gladiator L9046), Pilot Officer Costello (N5776), Pilot Officer Vernon Woodward (N5768), Sergeant Ronald Slater (N5783) and Sergeant Shaw (N5775), which had taken off from Sidi Barrani at 17:40 and met a reported 18 CR.42s over Sollum at 18:30. In the combat Woodward claimed one of the enemy aircraft shot down and a second as a probable. Slater claimed a second CR.42 destroyed while Costello claimed a third. One more CR.42 was claimed by the other pilots and since Dean doesn't seems to have claimed anything during the day it is possible that this was claimed by Shaw but it haven't been possible to verify this. During the return flight Shaw was forced to land east of Buq-Buq with engine trouble probably caused by combat damage (probably the aircraft claimed by Martissa). Enemy bombing the day after destroyed his aircraft on the ground, although he rejoined his unit unharmed after a long walk across the desert. The other pilots from 33 Squadron landed back at base between 18:55 and 19:35.
Returning crews from 55 Squadron reported that after releasing their bomb load at 18:20, 'A' Flight was attacked by a single CR.42, which was part of a very open formation that didn't attack. The Italian biplane attacked from out of the sun, damaging slightly Blenheim L8667 flown by Sergeant Vignaux. The British bomber was hit by two bullets (one explosive), one in each mainplane. At 18:35, 'B' Flight was also attacked by a single CR.42. The attack was made from above and astern twice but none of the British aircraft were hit. It seems that one or both of these attacks were made by Tenente Lucchini.
At 09:15 on 25 July, Derna El Ftàiah N1 suffered a heavy air attack, which destroyed two SM 79s on the ground and damaging two more heavily (RD). Five personnel were killed and thirteen more wounded. The personnel killed were Aviere Vincenzo Marinelli, Aviere Vincenzo De Fazio, Aviere Danilo Bartin, Aviere Nicola Fioravante and Aviere Paolo Fogliata who were part of the 30o Gruppo, 10o Stormo as were the destroyed SM 79s.
The attack was carried out by six Bristol Blenheims from 211 Squadron led by Flight Lieutenant Gordon-Finlayson. Originally nine bombers were to take part but two Blenheims didn't take off owing to engine troubles and one broke the tail wheel on landing at Sidi Barrani where a refuelling stop was provided. On the return journey L1482 flew by Pilot Officer Dundas lost its port airscrew and reduction gear and was forced to make an emergency landing at Fuka where the port undercarriage collapsed further damaging the plane.
33 Squadron was detailed to sweep the border area to cover eventual stragglers of 211 Squadron. Five Gladiators from the unit's 'B' Flight, flown by Flying Officer Ernest Dean (Gladiator L9046), Pilot Officer Costello (N5761), Pilot Officer Vernon Woodward (N5768), Sergeant Ronald Slater (N5783) and Sergeant Shaw (N5776) encountered a reported seven CR.42s over Bardia. Woodward and Slater each claimed one CR.42, of which Woodward's went down in flames before they shared a third. Slater was then seen spinning down, out of the fight, and Woodward became separated from the remaining Gladiators. He was attacked for seven or eight minutes at low level by several CR.42s before escaping. Costello claimed one shared CR.42 but who he claimed it with is unknown. A fifth CR.42 was also claimed in the combat by an unknown pilot. Dean didn't claim anything in this combat and whether Shaw claimed anything is unknown. Pilot Officer Woodward experienced a very hard combat, probably his hardest against Regia Aeronautica, and was very impressed by his opponents, in fact after this combat he once reflected:

"They were clean fighters, those Wops, and quite the equal of any Hun in the skill of combat flying."
A quite rare recognition from a RAF fighter pilot of the period.
As a curious note, the derogatory term "Wop" referred to an Italian born in the United States with the first immigrants, so it was well known to the Canadian Woodward. Its origin is not completely clear according with some sources it meant "Without Passport" according with others it was a corruption of the Neapolitan word "Guappo" (criminal boss).
It seems that the Gladiators had clashed with CR.42s from the 13o Gruppo. At 09:10, Sergente Maggiore Leone Basso of the 77a Squadriglia scrambled from El Adem following an air alarm. Tenente Giovanni Beduz of the 78a Squadriglia joined him ten minutes later. With them were also Sergente Rovero Abbarchi, Sottotenente Natale Cima and Sergente Ernesto Taddia (all of the 78a Squadriglia). The fighters were directed to an interception course along the probable return route of enemy bombers that had attacked Derna. While cruising over Bardia waiting for the enemy bombers, a formation of British fighters, identified just as "superior in numbers", attacked with height advantage. The Italian fighters (at least part of them because it is not sure that Natale Cima and Ernesto Taddia took part in the combat) turned the tables against their opponents. Sergente Maggiore Basso attacked a Gladiator, which was left smoking after using 250 rounds of ammunition while Sergente Abbarchi followed a Gladiator deep (40 km) inside the British territory and finally claimed it shot down. All the planes returned to base between 09:40 and 10:25. Totally the 78a fighters had used 500 rounds of ammunition.
The ORB of 33 Squadron didn't report any losses after this combat. However, a team of 51 Repair and Salvage Unit moved to Sidi Barrani on 27 July to salvage the "crashed" Gladiators N5768 (Pilot Officer Woodward) and L9046 (Flight Lieutenant Dean) of 33 Squadron, which indicates that they at least suffered some severe damage confirming the Italian claims. L9046 was in fact so damaged that it had to be written off.
According to many post-war British sources Sergeant Slater was shot down in this in combat even if according to the 33 Squadron's ORB, he returned to base at 11:20 together with the other pilots and took part in another patrol with Pilot Officer Costello between 14:00 and 14:40 using Gladiator N5783 again. Some British studies suggested that it was in fact forced down but was able to take off later regaining his unit.
112 Squadron flew a patrol near Bardia during the day and spotted eight CR.42s. Flying Officer Peter Strahan of 'A' Flight claimed one shot down, although he himself was hit and forced to make an emergency landing on the return flight. He was returned to base with an infantry vehicle.
It is highly likely that 33 and 112 Squadrons made a combined operation over Bardia because on the Italian side, the combat of the three 13o Gruppo pilots is the only recorded combat. This could also explain the claim made by an unknown pilot (Flying Officer Strahan?) reported by 33 Squadron.

Costello was posted to 112 Squadron on 30 October 1940.

On 20 November, 208 Squadron despatched two Lysanders to reconnoitre an area bounded by Sollum, Sofali and Buq-Buq. They were L4724 piloted by Flight Lieutenant Burnard and L4728 piloted by Pilot Officer Waymark that took off from Qasaba at 14:20 and 14:15 landing back at 16:35 and 16:20 respectively (another Lysander, possibly L6874, an attached 6 Squadron aircraft piloted by Flying Officer T. H. Davison, was out in the same area). 33 Squadron provided nine Hurricanes (including Flying Officer Vernon Woodward (N2498), Flight Lieutenant Ernest Dean (P 3818), Flying Officer John Mackie (P3724), Squadron Leader Charles Ryley (P3970), Flight Sergeant Harry Goodchild (N2640), Flying Officer Frank Holman (P3724) and Pilot Officer Charles Dyson (N2640)) as escort. It is possible that the unaccounted pilots were one or two pilots from 274 Squadron since a quartet of Hurricanes from this Squadron, piloted by Flight Lieutenant R. V. Evers-Swindell, Pilot Officer Ernest Mason, Pilot Officer Thomas Patterson and Second Lieutenant Frederick Johannes Joubert, together with Pilot Officer Strange and Second Lieutenant Bester (who followed with the ground party) were detached on attachment to 33 Squadron on 14 November. On 21 November, Evers-Swindell, flew back from Fuka to have repairs on his fighter, reportedly damaged in a running fight with CR.42s. It seems almost sure that the "running fight" was the below described action, so it is possible that R. V. Evers-Swindell was present.
The escort took off from Fuka Satellite airfield at 14:15, with one section of three protecting each Lysander while a third section provided top cover. At the same time, a formation of six Gladiators from 112 Squadron would sweep the same general area.
East of Sidi Barrani, 18 CR.42s intercepted them and one Fiat half-rolled and dived away after being fired on by a Hurricane. It is possible that this aircraft later was credited as a destroyed to Flying Officer Mackie, who in a letter sent home to Canada on 4 December recalled:
"Just before I went on leave we had one of two bits of fun up here. On one occasion, you may have heard about it on the radio, fifteen of us got mixed up with sixty wop fighters. We lost none, and got at least eight of them. I got one of these, although not in a very convincing way from my point of view, as I didn't see it go in. Another pilot saw the start and the finish of it. Anyhow, it sure was a mix-up. I have never seen so many machines milling around in such a small amount of sky."
However, after this both sides started to guard each other without giving battle with the Italians uncertain to tangle with the faster Hurricanes and the British finding it difficult to close in on their more manoeuvrable opponents.
The Hurricanes of the two sections dealing with the direct escort of the Lysanders now started to brake off since they were being out-manoeuvred by their opponents and at this moment a huge formation of a reportedly 25-30 Italian fighters was seen higher. The top cover section of 33 Squadron climbed to engage but reportedly without avail because the Italian turned back towards Libya without engaging.
The Italian formation was composed by 18 aircraft from all three Squadriglie of the 9o Gruppo led by Maggiore Ernesto Botto (at the head of the 73a Squadriglia). Six of the CR.42s were from the 96a Squadriglia (Capitano Roberto Fassi leading Tenente Aldo Gon, Sottotenente Carlo Agnelli, Sottotenente Armando Moresi and Sergente Vittorio Pozzati together with 4o Stormo's adjutant, Capitano Mario Pluda), five were from the 73a Squadriglia (Tenente Valerio De Campo, Tenente Pietro Bonfatti, Maresciallo Mario Ruffilli, Sergente Maggiore Antonio Valle and Sergente Santo Gino) and six were from the 97a Squadriglia (Capitano Antonio Larsimont Pergameni, Tenente Ezio Viglione Borghese, Sottotenente Jacopo Frigerio, Maresciallo Rinaldo Damiani, Sergente Francesco Putzu and Sergente Franco Sarasino). They had taken off from El Adem at 14:40 to cover Italian troops in the Bir Enba area (and probably indirectly escorting a reconnaissance plane) when Botto discovered a Bristol Blenheim escorted by several Hurricanes flying lower and attacked.
At this moment, with the 9o Gruppo's attention focused elsewhere, the 112 Squadron's Gladiators intervened and managed to surprise the Italian formation over Sidi Barrani. They claimed eight of the Fiats without losses. All of the six pilots made claims and Flight Lieutenant R. J. Abrahams claimed one and one shared with Pilot Officer Richard Acworth, who also claimed one additional. Flying Officer R. J. Bennett claimed one, Pilot Officer Costello claimed one, Pilot Officer Leonard Bartley claimed two and Sergeant 'Paddy' Donaldson finally claimed one. 112 Squadron didn't record any losses in this combat even if Pilot Officer Acworth in his memories spoke of a couple of planes obliged to force-land and the unit's aircraft retuned to Fuka between 16:20 and 17:25. For this one-sided action, they were noted in the press for the first time.
Richard Acworth remembered this combat in a short story written in the 1960's but never published.
"The Lysanders were to be 'covered' against enemy air attacks by six Gladiators from my squadron… three flying at 12,000 feet, and three, led by myself, at 15,000 feet. 'Top cover' was to be provided by six Hurricanes, flying at 20,000 feet. The Hurricanes had strict orders to beat a hasty retreat if they met with enemy aircraft in large numbers, as it was thought at that time that they would be 'easy meat' for the move manoeuvrable C.R. 42's, the single-seater Italian opposite number of the Gladiator.
We had been patrolling for about 10 minutes, when I reported forty CR 42s, in eight sections of five, flying from the direction of Libya, at approximately 25,000 feet, 5,000 feet higher that the Hurricane 'top-cover'. To my dismay, the Hurricanes were soon speeding home, with a CR 42 sitting neatly on each tail. Our six Gladiators were left to finish the fight, for the Lysanders, their task completed, were heading for home, too.
There was not a friendly cloud in the sky, and the powerful desert sun made the enemy aircraft very difficult to see. Forthwith, they carried out the German tactics of remaining aloft, and sending down their more experienced men to finish us off one by one….but it was not to be!
With the first attacks, we broke formation, and it was every man for himself. I soon found myself very much alone, until unfriendly tracer bullets from behind, passed through the space between my right wings. I immediately steep-turned to the left, and caught sight of my attacker as he completed his dive and prepared to re-join his pals up higher, by means of a roll off the top of a loop.
Seizing my chance, I opened full throttle and followed him to the top of his loop, half rolled in formation with him, and was just about to open fire, when my aircraft stalled and flicked into a spin….not enough speed! I decided my best means of survival was to continue the spin, in the hope that he would think I had been badly hit. This was a fighter tactic from World War I, and it worked! Whilst I was spinning, I looked upwards and caught a glimpse of my adversary circling at his original height, waiting for me to crash into the desert. I came out of the spin at about 8,000 feet, no doubt much to his surprise, and didn't have to wait long for him to dive down to finish me off.
So started a long tail-chasing session. At first, my mouth became rather dry, but after a second or two, my mind became crystal clear, and I was determined to turn the tables on him. Slowly I began to gain ground, and soon part of his tail was in my sights, but I realized it would not have been great enough. When his engine came into my sights, I pressed the firing button, and was immediately cheered to see pieces of fabric or metal ripping off his fuselage, just behind the cockpit.
The Italian pilot turned so quickly in his mad effort to escape, that he pulled his aircraft into a spin, following a 'high-speed stall'. I followed him down, and fired at him as he tried to recover, and he promptly went into another one. On recovering from his second spin, he must have pulled an emergency boost control to give him extra speed, for he left my Gladiator 'standing'.
However, my opponent was not easily scared, and turned about a mile away to come back at me like a bull at a gate. We both opened fire, and when it seemed that a head-on collision was inevitable, he pulled out to my left in a climbing turn. For a second, I was able to fire at his exposed fuselage, and then, with throttle fully open, I climbed into the sun, into an advantageous position. To my horror, my engine stalled near the top of the climb, and I had to carry out the usual drill of closing the throttle and opening it again, slowly. Full power came back, and looking down, I could see my opponent looking for me. This time, I had the advantage of height, and I was nicely lining him up in my sights when he saw me, and tried to turn in underneath me.
Slowly twisting, and with the right deflection, I raked him with bullets from nose to tail, at almost point-blank range. I pulled out of my dive, to regain height, and saw him commence another spin from which he did not recover. I felt immensely relieved, somewhat shaken, and eventually joined up with two stray Gladiators, and returned to Mersa Matruh. I was pleased to learn later that seven aircraft had been shot down in the engagement, and that all the Gladiator pilots had survived the fight, although two had made forced landings.
I shall never forget that day. It was my first one-against-one air battle, and the longest time I had engaged a single enemy aircraft..."
The 9o Gruppo actually lost only three shot down and four damaged but two pilots were killed. The three shot down pilots were Sottotenente Carlo Agnelli of the 96a Squadriglia, who was killed, Sergente Francesco Putzu of the 97a Squadriglia, who was killed, and Tenente Gon (who usually flew CR.42 MM5605/96-2), who recalled:
"This day [strangely enough he recorded it as on 1 November but this is for certain an error] I lost the dearest of all my wingmen [Carlo Agnelli]. We were up with all the Gruppo and the three Squadriglie were stepped at different heights. The lowest escorting a reconnaissance plane, mine (96a Squadriglia) at 3000 metres while the third stay higher. The highest group had already engaged the enemy when I saw one of our planes diving almost vertically followed by a Gloster. I made a violent overturning that my wingmen were unable to follow [again without radio equipment the Italian formation was broken at the beginning of the combat and whatever numerical advantage was impossible to put into full use] when I reach a distance suitable to open fire I had to wait because there was the risk of hitting my comrade [with the same burst aimed at the fighter that was following him] I had to concentrate only on the aim [the wingmen were far away] so I couldn't look around and was attacked by two Glosters. With the first burst of fire they shot away my propeller, so without propulsion I could only manoeuvre to avoid further damage. All the height lost I force-landed and the English pilots that had already stopped firing while I was gliding down for my final approach flew past me waving their hands.
[Gon, tried to burn his plane without success and succeeded to reach an Italian outpost the day after]
Back at base, I discovered that information about the missing pilots (we were three) were lacking.
A sergeant [Sergente Francesco Putzu] was seen to jump with parachute and another of our planes was seen to crash after a hard fight, all believed it was mine because the other missing pilot (my dear wingman) was too "green" to be able to fight against three enemies as the pilot of the crashed plane did.
The encounter with Botto was tragicomically. I went to his room and he was waiting for me near the door and as just as he saw me he threw himself right into my arms through the three steps that divided us. But I was too weak and was unable to sustain him so we fell embraced on the ground."
According to the official records of the 4o Stormo, however, it seems that during the dive Gon's guns went out of synchronisation and when opening fire he cut his propeller with the first shots.
Seven confirmed and probable victories were credited to the pilots of the Gruppo after that they had landed at 16:30. This overclaiming was the result of that the Stormo's records had to be re-recorded in 1941 after they had been lost. This re-recording was done by Tenente Giulio Reiner, who was then adjutant of the Gruppo. Obviously Reiner's reconstruction was not as accurate as a complete debriefing immediately after the battle could be.
Roberto Fassi was credited with a Blenheim, a probable Gladiator and two damaged Gladiators. Pozzati, who was wounded on the right foot, was credited with a Gladiator while Gon was credited with a Gladiator (a victory that he didn't mention at all in his memories). Pluda claimed another Gladiator and Moresi one probable Gladiator. The 73a and 97a Squadriglie claimed one Gladiator and two Hurricanes shot down and four fighters damaged, all shared. Final assessment of the combat was four Gladiators, two Hurricanes and a Blenheim confirmed and two Gladiators probably destroyed (the actual number of confirmed claims varies between the reconstructed Diari of the involved Squadriglias to seven or eight destroyed).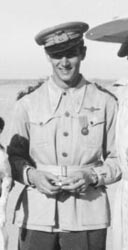 Sottotenente Carlo Agnelli of the 96a Squadriglia, who was killed in combat with Hurricanes from 33 Squadron and Gladiators from 112 Squadron on 20 November 1940.
Image kindly provided by Fulvio Chianese at GORIZIA ed il QUARTO STORMO.

On 1 December 1940, 112 Squadron started to ferry Gladiators to the Royal Hellenic Air Force when Flight Lieutenant R. J. Abrahams, Flight Lieutenant Charles Fry, Flight Lieutenant Joseph Fraser, Flying Officer Edwin Banks, Flying Officer Homer Cochrane, Pilot Officer Costello, Pilot Officer R. H. Smith and 2nd Lieutenant H. H. Geraty (who was about to leave the 112 Squadron to be posted to 3 SAAF Squadron in East Africa) left Sidi Haneish to ferry eight Gladiators.
Costello was promoted to Flying Officer on 4 December 1940.
Twelve of the sixteen 112 Squadron pilots that had left for Greece on ferry flights returned to Sidi Haneish in a Bombay on 7 December. The pilots were Flight Lieutenant Lloyd Schwab, Flying Officer Richard Acworth, Pilot Officer Leonard Bartley, Pilot Officer Jack Groves, Pilot Officer D. G. H. McDonald, Pilot Officer R. H. MacDonald, Sergeant G. M. Donaldson, Flight Lieutenant R. J. Abrahams, Flight Lieutenant Joseph Fraser, Flying Officer Edwin Banks, Flying Officer Homer Cochrane, Pilot Officer Costello. The other four pilots remained in Greece (Flight Lieutenant Charles Fry, Flying Officer R. J. Bennett, Pilot Officer R. H. Smith, Second Lieutenant H. H. Geraty) attached to 80 Squadron.

Costello accompanied 112 Squadron to Greece and took part in this campaign and in the defence of Crete.
On 18 May 1941 two Hurricanes and two Gladiators from Heraklion were airborne and after an air attack on this field they were ordered to land instead at Retimo. The remaining Hurricane and Gladiators at Heraklion were no longer flyable. On arrival at Retimo the four pilots were ordered to evacuate to Egypt, and after refuelling, all took off. Flying Officer A R Costello and Sergeant W Bain flew the two Hurricanes, Flight Lieutenant Dennant and Pilot Officer Gerald Westenra the Gladiators. All arrived safely.
He was posted away from 112 Squadron on 6 October 1941 to serve as an instructor..
On 4 December 1941 he was promoted to Flight Lieutenant.
He returned to 112 Squadron as a flight commander in April 1942. He was, however only to serve for a fortnight before being posted away finally from 112 Squadron on 1 May 1942.
Costello ended the war with 2 biplane victories, these being claimed while flying Gloster Gladiators.
Claims:

| | | | | | | | | | |
| --- | --- | --- | --- | --- | --- | --- | --- | --- | --- |
| Kill no. | Date | Time | Number | Type | Result | Plane type | Serial no. | Locality | Unit |
| | 1940 | | | | | | | | |
| 1 | 24/07/40 | 18:30 | 1 | CR.42 (a) | Destroyed | Gladiator | N5776 | Sollum area | 33 Squadron |
| | 25/07/40 | 10:10-10:50 | ½ | CR.42 (b) | Shared destroyed | Gladiator | N5761 | Bardia area | 33 Squadron |
| 2 | 20/11/40 | 14:40-16:30 | 1 | CR.42 (c) | Destroyed | Gladiator | | Sidi Barrani | 112 Squadron |
Biplane victories: 2 and 1 shared destroyed.
TOTAL: 2 and 1 shared destroyed.
(a) Claimed in combat with CR.42s from 10o and 13o Gruppi C.T., which claimed three or four destroyed and 1 damaged while losing one CR.42 and getting another damaged. 33 Squadron claimed four and one probably destroyed while losing one Gladiator.
(b) Claimed in combat with CR.42s from 13o Gruppo C.T. 33 Squadron claimed five and 112 Squadron claimed one while losing one Gladiator from 112 Squadron and two damaged from 33 Squadron (one a write off). 13o Gruppo claimed one destroyed and one damaged without losses.
(c) Claimed in combat with CR.42s from the 9o Gruppo, which claimed seven victories and two probables while losing three CR.42s, getting four more damaged and losing two pilots KIA. 112 Squadron claimed eight victories for no losses, 274 Squadron possibly suffered one damaged Hurricane while 33 Squadron possibly claimed a CR.42 without losses.

Sources:
2o Stormo - Note storiche dal 1925 al 1975 - Gino Strada, 1975 USSMA, Rome, kindly provided by Ludovico Slongo
33 Squadron Operations Record Book kindly provided by Ludovico Slongo
50o Stormo d'Assalto - Nino Arena, 1979 STEM Mucchi, Modena, kindly provided by Ludovico Slongo
Adriano Visconti Asso di Guerra - Giuseppe Pesce and Giovanni Massimello, 1997 Albertelli Edizioni Speciali, Parma, ISBN 88-85909-80-9, kindly provided by Ludovico Slongo
Air war for Yugoslavia, Greece and Crete - Christopher Shores, Brian Cull and Nicola Malizia, 1987 Grub Street, London, ISBN 0-948817-07-0
Aces High - Christopher Shores and Clive Williams, 1994 Grub Street, London, ISBN 1-898697-00-0
Aces High Volume 2 - Christopher Shores, 1999, Grub Street, London, ISBN 1-902304-03-9
Desert Prelude: Early clashes June-November 1940 - Håkan Gustavsson and Ludovico Slongo, 2010 MMP books, ISBN 978-83-89450-52-4
Desert Prelude: Operation Compass - Håkan Gustavsson and Ludovico Slongo, 2011 MMP books, ISBN 978-83-61421-18-4
Diario Storico 73a Squadriglia kindly provided by Ludovico Slongo
Diario Storico 77a Squadriglia kindly provided by Ludovico Slongo
Diario Storico 78a Squadriglia kindly provided by Ludovico Slongo
Diario Storico 82a Squadriglia kindly provided by Ludovico Slongo
Diario Storico 84a Squadriglia kindly provided by Ludovico Slongo
Diario Storico 90a Squadriglia kindly provided by Ludovico Slongo
Diario Storico 91a Squadriglia kindly provided by Ludovico Slongo
Diario Storico 97a Squadriglia kindly provided by Ludovico Slongo
Fighters over the Desert - Christopher Shores and Hans Ring, 1969 Neville Spearman Limited, London
Gloster Gladiator - Alex Crawford, 2002 Mushroom Model Publications, ISBN 83-916327-0-9
Gloster Gladiator Aces - Andrew Thomas, 2002 Osprey Publishing, London, ISBN 1-84176-289-X
Gloster Gladiator Home Page - Alexander Crawford.
Gloster Gladiator in action - W. A. Harrison, 2003 Squadron/Signal Publications, Carrollton, ISBN 0-89747-450-3
GORIZIA ed il QUARTO STORMO
Hurricanes over the sands: Part One - Michel Lavigne and James F. Edwards, 2003 Lavigne Aviation Publications, Victoriaville, ISBN 2-9806879-2-8
Hurricanes over Tobruk - Brian Cull with Don Minterne, 1999 Grub Street, London, ISBN 1-902304-11-X
Il Fiat CR 32 poesia del volo - Nicola Malizia, 1981 Edizioni dell'Ateneo, Roma, kindly provided by Ludovico Slongo
L'8oGruppo caccia in due conflitti mondiali - Giuseppe Pesce, 1974 S.T.E.M. Mucchi, Modena, kindly provided by Ludovico Slongo
Le giovani aquile – Antonio Trizzino, 1972 Longanesi Milano, kindly provided by Ludovico Slongo
La Regia Aeronautica - volume I: Dalla non belligeranza all'intervento – Nino Arena, 1981 USSMA, Rome kindly provided by Stefano Lazzaro
Operation Compass 1940 - Jon Latimer, 2000 Osprey Publishing, Oxford, ISBN 1-85532-967-0, kindly provided by Ludovico Slongo
Quelli del Cavallino Rampante - Antonio Duma, 1981 Editore Dell'Ateneo, Roma, kindly provided by Stefano Lazzaro
Shark Squadron - The history of 112 Squadron 1917-1975 - Robin Brown, 1994 Crécy Books, ISBN 0-947554-33-5
The Bristol Blenheim: A complete history – Graham Warner, 2002 Crécy Publishing Limited, Manchester, ISBN 0-947554-92-0
The Desert Air Force - Roderick Owen, 1948 Hutchinson, London, kindly provided by Ludovico Slongo
The Desert Air War 1939 – 1945 – Richard Townshend Bickers, 1991 Leo Cooper, London, ISBN 0-85052-216-1, kindly provided by Ludovico Slongo
The Gloster Gladiator - Francis K. Mason, 1964 Macdonald & Co. Ltd. London
Those Other Eagles – Christopher Shores, 2004 Grub Street, London, ISBN 1-904010-88-1
Woody - A Fighter Pilot's Album - Hugh A. Halliday, 1987 Canav Books, Toronto, ISBN 0-9690703-8-1
Additional info kindly provided by Ian Acworth, Stefano Lazzaro, Ludovico Slongo and Pelham Temple.




Last modified 05 February 2012