Biplane fighter aces

Italy

Tenente Giorgio Savoia Medaglia d'oro al valor militare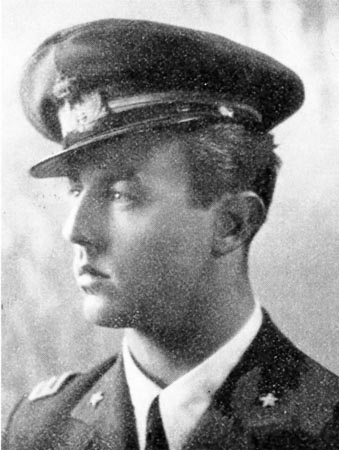 18 January 1916 – 12 March 1943
Decorations

| | | |
| --- | --- | --- |
| Date | Decoration | Note |
| 12/03/43 | Medaglia oro al valor militare (Posthumous) | 1940-43 |
| ??/??/43 | Medaglia d'argento al valor militare | 1940-43 |
Giorgio Savoia was born on 18 January 1916 and was from Milano.
He joined the Regia Accademia in Caserta in 1936 and attended the'Rex' course at the Accademia Aeronautica. He graduated in July 1939.
On 1 October 1938, he was commissioned (in Servizio Permanente Effettivo).
He was promoted to Tenente on 8 April 1940.
When Italy declared war on the Great Britain and France in June 1940 Savoia served in the 92a Squadriglia, 8o Gruppo, 2o Stormo C.T. in Libya.
The 8o Gruppo (92a, 93a and 94a Squadriglie) was commanded by Maggiore Vincenzo La Carruba and started the war based at Tobruk T2 airfield with a full complement of 25 Fiat CR.32Qs.
Pilots in the 92a Squadriglia on 11 June were: Capitano Martino "Nino" Zannier (CO), Tenente Riccardo Marcovich (Gruppo Adjutant), Tenente Ranieri Piccolomini, Tenente Savoia, Sergente Maggiore Guglielmo Gorgone, Sergente Vito Copersino, Sergente Nadio Monti, Sergente Ernesto Pavan and Sergente Bruno Salvi. These pilots had nine CR.32quaters (including Maggiore La Carruba's) and one S.81 (piloted by Savini during the transfer) available on 11 June. On strength, there was also Sergente Giovanni Sessa but he hadn't left Tripoli. A number of pilots had been assigned to the squadriglia before the start of the hostilities; Sottotenente Alfonso Notari (from the 4o Stormo on 8 June), Sergente Augusto Mannu (from 53o Stormo on 8 June), Sergente Guido Piazza (from 53o Stormo on 10 June) and Sergente Clemente Bonfanti (from 53o Stormo on 10 June); these pilots however remained at Tripoli.
At 07:45 on 19 June, four Gladiators from 33 Squadron flown by Squadron Leader D. V. Johnson (N5782), Flight Lieutenant G. E. Hawkins (N5765), Flying Officer A. H. Lynch (N5764), and Sergeant Roy Leslie Green (L9043) accompanied by Flying Officer Peter Wykeham-Barnes (Hurricane Mk.I P2639) of 80 Squadron and two Blenheim IFs from 30 Squadron took off from Mersa Matruh to patrol between Bug Bug and Sollum.
At 09:40, they sighted a formation of nine Fiat CR.42s (in other sources it is stated that it was five CR.42s and either seven CR.32s or Ro.37s). The Fiats were slightly below and to the port side of the British fighters, who were in an ideal position to make an attack.
Wykeham-Barnes shot down the leader of the Italian fighters whilst he was doing a vertical turn, with a short burst at full deflection. The Gladiators claimed two more CR.42s, but lost 24-year-old Sergeant Green (RAF No. 44754) when he was shot down despite some violent aerobatics.
The returning RAF pilots reported that although the enemy was superior in numbers, they lacked the aggression of the Gladiator pilots and gradually retreated towards the Libyan border. Wykeham-Barnes found it difficult to get his sights on the Fiats, because they were so very manoeuvrable, but eventually one of them made a mistake and he was able to get in a good burst of shells, which caused the CR.42 to dive away with smoke trailing behind it. He did not actually see it crash, but it was later confirmed as being destroyed by the ground forces. The Gladiators and the Hurricane were then forced to break off the combat by lack of petrol and ammunition. On their way back to Mersa Matruh they had to land at Sidi Barrani to refuel and rearm. The Gladiators were back at 10:10 and Wykeham-Barnes at 10:30.
The Italian aircraft had been from the Tobruk T2 based 10o Gruppo C.T. At 08:40, five aircraft of the 84a Squadriglia took off to escort a formation of five Breda Ba.65/A80s of the 159a Squadriglia, 12o Gruppo Assalto and nine CR.32s from the 8o Gruppo, heading to attack enemy vehicles between Sollum and Sidi El Barrani. The Bredas took off at 07:20, commanded by Capitano Duilio Fanali. The Italian fighters of the 84a Squadriglia were flown by Tenente Colonnello Armando Piragino, Capitano Luigi Monti, Sergente Maggiore Ugo Corsi, Sergente Giuseppe Scaglioni and Sergente Narciso Pillepich (almost certain MM5552). Monti, who was the pilot with the longer war experience insisted with his commander to increase the number of aircraft participating in the escort, but without avail. The assault planes were out in a search-and-destroy mission and firstly they had to find targets. In doing so they started with a pass between Amseat and Bardia, then a second one going beyond Sollum then a third one. In this way, a lot of time was lost and the RAF could scramble its aircraft. The Fiats were over the Bredas, turning at 2000 metres when a number of Glosters and Hurricanes (the Blenheims were not seen at all while the Hurricane was, as usual, misidentified as a Spitfire) suddenly attacked them. After a sharp engagement, three pilots came back to T2. The missing pilots were Corsi and Piragino. A CR.42s (Corsi, who was killed) was clearly seen to fall into the sea after being hit by a Hurricane, while nothing was known of the second CR.42. The Ba.65s came back safely, without seeing enemy planes that were obviously too busy with the 4o Stormo planes and didn't engage them. However, returning to T2, the Breda flown by Sergente Maggiore Pietro Scaramucci suffered an engine breakdown and crash-landed, being written-off as a consequence.
Sergente Giuseppe Scaglioni returned claiming a Gladiator (probably Green) and a damaged Spitfire, Sergente Pillepich claimed two damaged Gladiators and Capitano Monti claimed a damaged Gladiator. The same evening a "British communiqué" advised that six (!) British fighters were lost in exchange for two Italians. So all participating pilots in this combat were credited with six shared victories because this was the only combat of the day for Italian units. Some days after, a British message dropped on Bardia informed that Piragino was wounded in a leg after crashing at Sollum and prisoner. Scaglioni described the combat:
"Over Bir el Gib we were surprised by a number of Glosters and a Hurricane that attacked with height advantage giving us a lot of trouble. I saw the commander doing a violent overturning while I was doing a break on the left, this manoeuvre put me behind a Gloster that I shot down with my 12,7 mm guns.
I lost sight of the commander immediately and after landing I knew he was missing. In the same combat we lost Sergente Maggiore Corsi shot down by a Hurricane that I attacked trying to distract it from its action but in vain. For sure Corsi was taken by surprise because he was considered a pilot of exceptional skill and the very best aerobatic pilot of the Stormo."

The nine CR.32s from the 8o Gruppo had taken off at 08:25. The formation included six CR.32s of the 92a Squadriglia (Capitano Martino Zannier, Tenente Ranieri Piccolomini, Tenente Savoia, Sergente Maggiore Guglielmo Gorgone, Sergente Nadio Monti and Sergente Ernesto Pavan) and three from the 94a Squadriglia (Capitano Franco Lavelli, Sottotenente Giacomo Maggi and Sottotenente Nunzio De Fraia), which took off loaded with two-kilo bombs with the dual role of escorting the Bredas from the 159a Squadriglia and ground attack.
The formation of the 92a Squadriglia was back at 10:35 claiming the destructions of many trucks (left in flames) with the use of 2765 rounds of ammunition and 96 two-kilo bombs. Tenente Savoia's aircraft was damaged by AA fire but no enemy planes were noted. Lavelli's group was back at 10:55 without suffering losses. They claimed the destruction of Sollum's electrical station by the use of 36 two-kilo bombs but noted enemy fighters that had attacked them. It seems that they also had been engaged by the Gladiators from 33 Squadron, the 80 Squadron Hurricane and the two Blenheims from 30 Squadron.
This was 80 Squadron's first action during the Second World War.

At dawn on 21 June, a Short Sunderland appeared over Tobruk harbour. Sergente Roberto Steppi of the 84a Squadriglia took off immediately and intercepted the seaplane 20 kilometres north of Tobruk were it already was under attack of two CR.32s flown by Tenente Ranieri Piccolomini and Tenente Savoia of the 92a Squadriglia, which had scrambled from Tobruk T2 at 04:30. Diving on the Sunderland, Steppi opened fire aiming at the cockpit but after two bursts of fire, his guns jammed and he was obliged to leave the pursuit.
Tenente Franco Lucchini of the 90a Squadriglia took off after Steppi and joined the fight, following the Sunderland far out over open sea and leaving it off coast with two engines smoking.
Neither Lucchini nor Steppi claimed any victory but, two days later, on 23 June, news arrived from the Navy base at Bardia, that the Sunderland, heavily damaged, had been forced to ditch in the sea off the coast and had been captured with all the crew dead except from the pilot, who was wounded. The victory was assigned to the four pilots collectively although it should be attributed to Lucchini.
This was the first reported Italian meeting with the lumbering Sunderland and its overall dimensions made a strong impression on them. Asked about his feelings during the combat, the "Archduke", as Piccolomini was playfully nicknamed by his comrades, stated graphically – "That was not a plane, that was a tram".
According to British records, the intruder on the evening on 20 June was a 228 Squadron Sunderland (N9025/Y) piloted by Acting Flight Lieutenant T. M. W. Smith DFC and Flying Officer D. R. S. Bevan-John. The British crew reported heavy AA during an evening reconnaissance of Tobruk's harbour and landed at Alexandria by night, undamaged.
Then the attack of the Bombay followed and finally at 02:20, Sunderland L2160/X of 230 Squadron piloted by Wing Commander G. Francis and Flight Lieutenant Garside, took off from Alexandria for a reconnaissance of Tobruk's harbour. Over Tobruk they were intercepted by a reportedly four CR.32s or CR.42s claiming one of them shot down while the others broke off after a 15 minutes engagement. L2160 was however heavily damaged by explosive bullets (0.52'' diameter), principal damage being a large hole in hull (6'' x 8''). The fuel tanks were also extensively holed but these were stopped in air with plasticize.
From Alexandria L2166/U took off at 08:05 piloted by Flight Lieutenant Alington to escort L2160 as a safety aircraft in case it was unable to make it back. It was however unable to join with "X", which in turn landed in Alexandria at 08:30 and was immediately put on the slipway of Imperial Airways for repairs (the aircraft was back in action on 9 July).
L2160 was undoubtedly the plane attacked by Piccolomini, Savoia, Steppi and Lucchini while there is the strong possibility that the aircraft ditched off Bardia was in fact the 216 Squadron's Bombay (perhaps previously hit by AA fire and in fact the AA defences of Tobruk was credited with a victory during the day) that was incorrectly reported as a Sunderland and originated the Italian fighter's claim.

On 9 December, three fighters of the 8o Gruppo, flown by Tenente Vittorio Gnudi (94a Squadriglia), Tenente Savoia (92a Squadriglia) and Sottotenente Nunzio De Fraia (94a Squadriglia), scrambled at 08:25-08:40 from Menastir M against three enemy bombers that were inconclusively attacked; the Italian fighters were back at base at around 10:00.
During the morning, 45 Squadron carried out four sorties against the airfields of Menastir and Gambut while a couple of Blenheims of 39 Squadron attacked Sollum. Over Menastir, the attack was disturbed by three CR.42s described by the returning crews as "pursuing out to the sea for 30 minutes [Flight Lieutenant Paine] making an half hearted attempt to intercept without success [Pilot Officer Thomas]". In fact British post-war studies revealed that attacked by the Italian fighters, Blenheim Mk.I L1534 belly-landed at Sidi el Raniman with the crew (Flight Lieutenant Paine, Sergeant Chaplin and Sergeant Edwards) uninjured while L6663 was damaged beyond repair although the pilot, Pilot Officer C. Thomas and his crew (Sergeant R. Dodsworth and Sergeant Fisher) were safe. It seems that the damage suffered during the crash-landing was more severe to L6663 than the damage suffered during the interception. They were probably the victims of Gnudi, Savoia and De Fraia, which however only claimed damage to their opponents seeing them to escape.

It is possible that he was posted to the 13o Gruppo in the end of 1940 as Commanding Officer of the 77a Squadriglia.

In December the 2o Stormo left their few surviving CR.42s to 4o Stormo and returned to Italy.

1941 found the 13o Gruppo split into local defence sections around the industrial cities of northern Italy and later tackling the Royal Navy in the Ligurian Sea.

The re-equipped with Macchi MC.200s in October 1941 and returned to North Africa in February 1942.

On 8 July 1942 the 13o Gruppo was based at Bu Amud, Tobruk, and still equipped with MC.200s.

In the late afternoon on 15 July, MC.200s of the 13o Gruppo escorted an S.79 flown by Benito Mussolini personally on a visit to front-line units. During this he awarded the Medaglie d'Argento for outstanding acts of valour in North Africa to Tenente Savoia, Tenente Camillo Luglio and Sottotenante Raffaele Velenzano. Several 4o Stormo pilots were also awarded decorations: notably, Capitano Franco Lucchini, Tenenente Luigi Giannella, Tenente Paolo Berti, Maresciallo Leonardo Ferrulli, Tenenente Emanuele Annoni, Sottotenante Alvaro Querci and Tenenente Fernando Malvezzi.

Late in the summer of 1942, the gruppo started to receive their first MC.202s.

On 1 October 1942 the 13o Gruppo was still at Bu Amud with 23 MC.200s (three serviceable), three MC.202s (one serviceable) and eight CR 42s (five serviceable).

On 14 October, Savoia was patrolling over Tobruk when he spotted and intercepted a formation of Stirlings. He attacked them, forcing them to release their bombs prematurely, and claiming three of them damaged before they managed to escape.

On 2 November, while escorting an Axis naval convoy to Tobruk, Savoia attacked some Beaufighters, claiming one shot down. He attacked a second and claimed it as a damaged before it escaped, heading eastward with a long smoke trail.
272 Squadron lost two Beaufighter during the day; one force-landed in the sea and the crew, Pilot Officer Proctor and Pilot Officer Young, was picked up eight days later, having survived in their dinghy for that length of time.

As of 8 November 1942 (on the launch of Operation Torch in North Africa), Tenente Savoia served as CO of the 77a Squadriglia, 13o Gruppo CT. The unit was based at Bu Amud, Libya, and equipped with MC.202s.

Towards 16:00 on 8 November, Tenente Savoia (Commander of the 77a Squadriglia) and Sottotenente Gianmario Zuccarini took off in two MC.202s for the days final traffic protection patrol shift over the Via Balbia. They climbed to around 8000 meters and spread out into patrol formation along the sides of the Balbia, in a pair, 500-600 meters apart. They spotted a huge formation of a reportedly 20 P-40s (identified as P-46s), which they, after a quick radio exchange, attacked individually. The enemy fighters were at a much lower altitude (2000-3000 meters) and when they saw the diving Italian fighters, they dropped their drop-tanks, but the Italian fighters kept the initiative thanks to surprise and speed, splitting up the P-40 formation. Zuccarini managed to hit a P-40, which caught fire and crashed. Thanks to the high speed obtained during the dive (over 750 km/h) the MC.202s rapidly regained height and attacked again. The P-40s had at this time formed a 'Lufberry' circle and the Italian fighter continued to attack until they run out of ammunition. Savoia claimed three damaged P-40s in this combat.
The P-40 claimed by Zuccarini was possibly a Kittyhawk from 450 Squadron flown by Sergeant Markle, who was forced to make an emergency landing (reportedly due to heavy flak) during the day.

On 10 December the 2o Stormo was based at Misurata after having retreated. During the day the 8o Gruppo left Libya for Italy, leaving its aircraft to the 13o Gruppo. Hence, the 13o Gruppo had 33 MC.200s (29 serviceable) and four MC.202s (two serviceable). The following days some other aircraft joined them.

At dawn on 22 January 1943, six MC.202s of the 13o Gruppo were escorting three S.79s of the Squadriglia Comando that were carrying Generale Mario Bernasconi (Commander of the Va Squadra Aerea), Generale Boschi and other officers from Zuara, Libya, to Gabès, Tunisia.
At 07:30, they were intercepted by 24 P-40 Kittyhawks from 450 Squadron and 3 RAAF Squadron, which were engaged in reconnaissance over the stretch of road between Zuara and Pisida. The Kittyhawks attacked the S.79s, which were ferociously defended by the fighters of the 13o Gruppo. Three enemy fighters were claimed shot down and several others were hit. Maggiore Lorenzo Viale's (CO of the 13o Gruppo) and Sergente Maggiore Rovero Abbarchi's aircraft were heavily damaged and they made forced-landings. Tenente Savoia led the remaining Macchis against the enemy and the S.79s, which were trying to escape by flying low over the sea and shooting a hard defensive fire were able to land safely at Sfax together with the rest of the Macchis with the exception of Savoia, who remained alone in the air to protect the bombers and his fighters. His aircraft was hit several times, and badly wounded; he was able to extricate himself and landed off the airfield.
However, he was badly wounded and he died of his wounds on 12 March.
Savoia was posthumously awarded with a Medaglia d'oro al valor militare for this action.
The S.79 of Generale Boschi was also hit, with a gunner wounded and 1o Aviere Montatore Aldo Cinti, who died soon after the landing.
The three destroyed MC.202s were credited to Squadron Leader Gibbes (CO 3 RAAF Squadron), Pilot Officer Winn and Flight Sergeant Hankey.

The same day, the 13o Gruppo was ordered to retreat to Gabes (Tunisia) and to hand over their aircraft to other units before returning to Italy.

Savoia ended the war with 1 shared biplane victory and a total of 1.

Claims:

| | | | | | | | | | |
| --- | --- | --- | --- | --- | --- | --- | --- | --- | --- |
| Kill no. | Date | Time | Number | Type | Result | Plane type | Serial no. | Locality | Unit |
| | 1940 | | | | | | | | |
| | 21/06/40 | 04:30- | 1/4 | Sunderland (a) | Shared destroyed | Fiat CR.32 | | Bardia area | 92a Squadriglia |
| | 09/12/40 | 08:25-10:00 | 1/3 | Blenheim (b) | Shared damaged | Fiat CR.42 | | Menastir | 92a Squadriglia |
| | 09/12/40 | 08:25-10:00 | 1/3 | Blenheim (b) | Shared damaged | Fiat CR.42 | | Menastir | 92a Squadriglia |
| | 09/12/40 | 08:25-10:00 | 1/3 | Blenheim (b) | Shared damaged | Fiat CR.42 | | Menastir | 92a Squadriglia |
| | 1942 | | | | | | | | |
| | 14/10/42 | | 1 | Stirling | Damaged | | | Tobruk area | 77a Squadriglia |
| | 14/10/42 | | 1 | Stirling | Damaged | | | Tobruk area | 77a Squadriglia |
| | 14/10/42 | | 1 | Stirling | Damaged | | | Tobruk area | 77a Squadriglia |
| 1 | 02/11/42 | | 1 | Beaufighter (c) | Destroyed | | | off Tobruk | 77a Squadriglia |
| | 02/11/42 | | 1 | Beaufighter (c) | Damaged | | | off Tobruk | 77a Squadriglia |
| | 08/11/42 | | 1 | P-40 (d) | Damaged | MC.202 | | Sidi el Barrani | 77a Squadriglia |
| | 08/11/42 | | 1 | P-40 (d) | Damaged | MC.202 | | Sidi el Barrani | 77a Squadriglia |
| | 08/11/42 | | 1 | P-40 (d) | Damaged | MC.202 | | Sidi el Barrani | 77a Squadriglia |
Biplane victories: 1 shared destroyed, 3 shared damaged.
TOTAL: 1 and 1 shared destroyed, 7 and 3 shared damaged.
(a) Sunderland L2160/X of 230 Squadron, which returned to base damaged.
(b) Claimed in combat with Blenheims from 45 Squadron, which got L1534 and L6663 damaged.
(c) Possibly claimed in combat with Beaufighters from 272 Squadron, which lost two Beaufighter during the day.
(d) Possibly claimed in combat with P-40s from 450 Squadron.

Sources:
2o Stormo - Note storiche dal 1925 al 1975 - Gino Strada, 1975 USSMA, Rome kindly provided by Ludovico Slongo and Stefano Lazzaro.
A History of the Mediterranean Air War 1940-1945: Volume Two – Christopher Shores and Giovanni Massimello with Russell Guest, Frank Olynyk & Winfried Bock, 2012 Grub Street, London, ISBN-13: 9781909166127
Annuario Ufficiale Delle Forze Armate Del Regno D'Italia Anno 1943. Part III Regia Aeronautica – 1943 Istituto Poligrafico Dello Stato, Roma
Desert Prelude: Early clashes June-November 1940 - Håkan Gustavsson and Ludovico Slongo, 2010 MMP books, ISBN 978-83-89450-52-4
Diario Storico 92a Squadriglia C.T. kindly provided by Ludovico Slongo.
Diario Storico 94a Squadriglia C.T. kindly provided by Ludovico Slongo.
Elenco Nominativo dei Militari dell' A. M. Decorati al V. M. Durante it Periodo 1929 - 1945 2 Volume M - Z
Fiat CR.42 Aces of World War 2 - Håkan Gustavsson and Ludovico Slongo, 2009 Osprey Publishing, Oxford, ISBN 978-1-84603-427-5
Fighters over the Desert - Christopher Shores and Hans Ring, 1969 Neville Spearman Limited, London
Gli Assi Italiani Della Caccia - Santi Corvaja kindly provided by Santiago Flores
Fighters over the Desert - Christopher Shores and Hans Ring kindly provided by Santiago Flores
Finally The "202" – Giovanni Massimello, 2004 Aerofan no. 91 Ott.-Dic. 2004, Giorgio Apostolo Editore, Milan, kindly provided by Stafano Lazzaro
Hurricanes over Tobruk - Brian Cull with Don Minterne, 1999 Grub Street, London, ISBN 1-902304-11-X
Il Savoia Marchetti S.M. 79 nel Secondo Conflitto Mondiale - Bombardamento Terrestre - Ricognizione Strategica - Aviazione Sahariana – Cesare Gori, 2003 USSMA, Rome, kindly provided by Stafano Lazzaro
Italian Aces of World War 2 - Giovanni Massimello and Giorgio Apostolo, 2000 Osprey Publishing, Oxford, ISBN 1-84176-078-1
L'8oGruppo caccia in due conflitti mondiali - Giuseppe Pesce, 1974 S.T.E.M. Mucchi, Modena kindly provided by Ludovico Slongo.
Quelli del Cavallino Rampante - Antonio Duma, 1981 Editore Dell'Ateneo, Roma kindly provided by Ludovico Slongo.
Storia di 10.000 aeroplani – Franco Pagliano, 2003 Ugo Mursia, Milano kindly provided by Ludovico Slongo.
Sunderland Squadrons of World War 2 – Jon Lake, 2000 Osprey Publishing, Oxford, ISBN 1-84176-024-2 kindly provided by Ludovico Slongo.
Additional information kindly provided by Ferdinando D'Amico, Stefano Lazzaro and Ludovico Slongo.




Last modified 07 December 2021