Biplane fighter aces

Soviet Union

General Mayor Pavel Pavlovich Kryukov HSU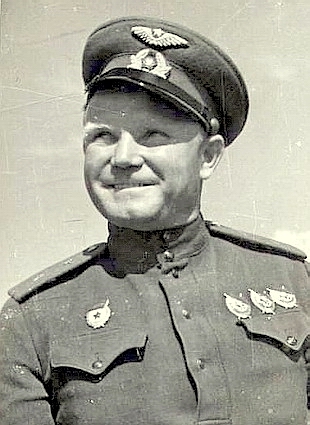 15 December 1906 - 11 November 1974
Kryukov was born on 15 December 1906 in the village of Birevo, near Moscow.
He flew for the first time in 1931 when he flew an R-1 biplane (unlicensed copy of DH-9).
In 1932, he joined the army.
During the summer 1939, he saw action in the 70 IAP equipped with I-15bis against the Japanese over the Khalkhin Gol River in Mongolia.
At 15:00 on 22 June, 22 I-16s and 14 I-15bis scrambled for the area of Khalkhin Gol River estuary and Chychy-Undur-Obo. At 15:42 they became entangled in combat with two groups of Ki-27s. The first enemy formation consisted of 12 fighters and the second of 27. Eight I-15bis were lost in air combat, two I-16s were set alight on the ground and one was shot down. In return the Soviet pilots claimed seven Japanese fighters as shot down. At 17:34 the Japanese pilots broke off the combat and escaped in direction of Gandzur.
At 15:40, twelve I-16s and 14 I-15bis from 22 IAP scrambled and became engaged with Ki-27s. They returned at 17:15 and three I-16s and six I-15bis failed to return. One I-16 and one I-15bis forced-landed in the area of Hill 704. One pilot was found wounded and admitted to the hospital. Starshiy leytenant Anton Blazko was KIA in the Tamsag Bulag area.
At 16:57 twelve more I-15bis and ten more I-16s from 22 IAP took off for the battle area. They saw no enemy planes and returned at 18:10. According to the pilot Golubev one Ki-27 was destroyed on the ground in enemy territory during the first mission.
The Japanese reported that Soviet fighters crossed the border at Amkuro, south-east of Kanjur, and the 2nd chutai of the 24th Sentai took off to intercept, followed by the 1st chutai. The 2nd chutai encountered a reported 60 fighters and in the ensuing combat claimed 18 shot down for the loss of four; including the CO Captain Shigenobu Morimoto (Class 42), Sergeant Major Yoshio Yoshino (NCO67), Sergeant Major Kunizo Ishizuka (NCO73), which all three were killed and Sergeant Major Yotutaka Miyajima (NCO54) who was taken POW. A fifth fighter force-landed and the pilot returned later. Meanwhile, the 1st chutai joined the combat somewhat later, claiming six more victories.
An hour later, there was another alarm and the 1st chutai took off again, engaging ten plus I-15bis and a similar number of I-16s. The 2nd chutai had followed, and at once entered the fight, the 24th Sentai's units together claiming 25 further victories, this time without loss. It seems that eight probables were also claimed.
During the second engagement, Captain Saiji Kani (leader of the 1st chutai) claimed five victories and later described the combat:
"How many enemy aircraft there were; but we have the courage, like eagles pursuing swallows, and overwhelmed the enemy. About 5.30 pm I spotted 25-26 more flying at about 2,000 metres - on the first pass one was going down in flames, and one by one others went down in the same way - more new enemy aircraft appeared and entered the battle - they were all around - we left the area of fighting and returned. There were many hits in the wings and tail of my aircraft."
1st Lieutenant Shoichi Suzuki of the 1st chutai claimed five victories during the day but was hit and wounded in his right wrist. Attempting to head for home, he was chased persistently by three Soviet fighters, so turning on these, he shot down all three to bring his total for the day to eight. He was hospitalized next month after this combat.
During the day, Sergeant Major Koji Ishizawa of the 2nd chutai claimed two victories during his first combat flying in 1st Lieutenant Furakwa's element. However, in this engagement most of the Japanese pilots were hit and wounded, only Ishizawa and one other pilot escaping unscathed. Katsuaki Kira flew as wingman to 1st Lieutenant Furakawa and claimed one I-16 as his first victory in his first combat.
1st Lieutenant Hyoe Yonaga a section leader of the 2nd chutai, 24th Sentai, experienced his first combat when Captain Morimoto led nine Ki-27 from the chutai over the Khalka River, where some 60 enemy fighters were seen in three groups. Yonaga was able to claim one and one shared, but Captain Morimoto was lost and 1st Lieutenant Furukawa was wounded, Yonaga having to take over as chutai leader until the arrival of Captain Tashiro at the end of the month.
Sergeant Major Goro Nishihara of the 2nd chutai, 24th Sentai, experienced his first combat when flying as third man in Lieutenant Hyoe Yonaga's element. He and eight other pilots attacked 60 Soviet fighters, the combat allowing him to claim three shot down and a fourth probably so.
Chiyoji Saito of the 2nd chutai, 24th Sentai, flew as third pilot in Captain Morimoto's element and claimed three and one probable, but lost sight of his leader, who failed to return.
Sergeant Major Yutaka Kimura of the 1st chutai reportedly claimed one enemy fighter, but then a large 'gaggle' of Soviet fighters attacked, breaking up the Japanese formation. Kimura pulled out of the melee, then dived back in, attacking one after another until he had claimed five destroyed. His own Ki-27 was hit 21 times, several bullets puncturing the fuel tanks, which started to leak. Overcome by fumes, he passed out whilst in a tight turn, and his aircraft fell out of the sky. Just above the ground, he recovered and managed to regain control, heading for base. Seven or eight I-16s gave chase persistently, but eventually he turned into these, evading their attacks for 30 minutes during which he managed to claim yet another shot down before shaking off the rest and making it back to base.
During the second sortie of the day, Sergeant Major Shogo Saito of the 1st chutai, 24th Sentai, claimed three I-16s shot down, forced a fourth pilot of another I-16 to bail out, and then strafed the three downed aircraft. With his ammunition gone, he was attacked by eight I-16s. He at once flew at one of these head-on, and when the I-16 pilot sought to fly below him, cut off its tail with his right wing, seeing it go down. He managed to regain control of his aircraft, flying back to base with half the wing gone. His damaged Ki-27 was later exhibited in Tokyo.
During the two combats, it seems that 17 Japanese fighters totally claimed 47 victories in the air and on the ground (22 in the first combat and 25 in the second one) and 8 probables while losing seven fighters. At least five of the losses were fighters in the second combat (four pilots killed and one parachuted). No losses are noted in the first combat, so two losses remain "unattributed".
Returning Soviet pilots claimed that they had been in combat with 120(!) Japanese fighters of which they claimed 31 shot down. 95 Soviet fighters had taken part in combat between 15:00-17:30 and known claiming pilots from the 22 IAP (I-16s) were:
Mayor Nikolay Glazykin (CO) two Ki-27s (one over Tamsag-Bulag)
Mayor Grigoriy Kravchenko one enemy fighter over Hill 704
Starshiy leytenant Viktor Rakhov one enemy fighter
Leytenant Gavriil Raykov one Ki-27
Starshiy politruk Arseniy Vorozheikin one enemy aircraft in the Hill 704 area (Khamardaba mountain)
From 70 IAP:
Mayor Nikolay Gerasimov (I-16) one Ki-27
Unknown units:
Leytenant S. N. Viktorov (I-16) one Ki-27
Mayor Ivan Lakeev (I-16), a unit commander in the 1st Army Group, claimed a Ki-10 (reported as a "I-96".
It seems that ten I-15bis and three I-16s were shot down while four aircraft were lost on the ground. Six pilots were killed and five parachuted. Among these was mayor Nikolay Georgiyvich Glazykin, commander of 22 IAP, who was credited with two victories witnessed by his fellow pilots. Five more pilots of 22 IAP was killed along with five from 70 IAP. One pilot from each of the regiments survived being shot down. The shot down pilot from 70 IAP was leytenant Kryukov, who managed to parachute from his burning I-15bis suffering severe burns.
Yevgenii Stepanov took part in this combat flying in the lead of his 4th eskadrilya of 22 IAP (nine I-15bis) and three aircraft, including Stepanov's I-15bis, made forced-landing after the combat. These three aircraft were destroyed by Japanese fighters strafing them, but all three pilots survived. A fourth pilot, Sakin, commander of an eskadrilya of twelve I-16s was wounded when his force-landed I-16 was destroyed by strafing Japanese fighters.
Arseniy Vorozheikin of 22 IAP suffered damage to his fighter during his first encounter in this conflict.
Valentin Alekseevich Bakaev from 70 IAP was shot down killed in combat in his I-15bis over Tamsag Bulag between 15:40-17:15.
The Soviets identified 25 wrecks on both sides of the front line (14 on the Soviet-Mongol side, eleven on the Japanese side). While they initially held all of those fallen on the Soviet side to be Japanese, it was afterwards discovered that "a lot" of them were Soviet. Overall this data therefore confirms the total of 24 losses admitted by both sides.

For his services during this conflict, he was awarded with the Order of the Red Banner.
According to his own recollections, he claimed three victories against the Japanese but this is not verified with any operational records.

In June 1941, he was a kapitan leading an eskadrilya of the 55 IAP, flying reconnaissance missions in MiG-3s over the river Prut.

On 22 June, pilots of the 55 IAP were tasked with reconnoitring the enemy. Following orders received from divisional level, a pair of MiG-3s took off on a reconnaissance mission deep into Rumania, over Ploeşti. However, neither pilot returned. Not having calculated their fuel reserves correctly, both had to force-land due to fuel shortage. Kryukov, who was flying the MiG-3 only for the second time, was barely able to cross the Danube and made an emergency landing. However, the other pilot, Yakovenko, was not able to reach friendly territory and landed in Rumania. He managed to return to his regiment several days later.

During the autumn, Kryukov commanded a training eskadrilya in the regiment where he together with the ace to be Pokrishkin trained new pilots.

On 7 March 1942, the unit was renamed 16 GIAP. At this time, it was operating on the South-Western Front, and later on the North Caucasus Front.

On 18 May 1942, he claimed a Ju 88.

During the Kuban River operations of early 1943, the unit was re-equipped with P-39 Airacobras. Kryukov was at this time a Major.

On 11 April 1943, he claimed three Bf 109s. this combat was witnessed by general Vershinin who awarded him with a second Order of the Red Banner.
Totally during the Kuban River operations, he flew 50 sorties and claimed 5 victories.

On 24 May 1943, he was awarded with the Gold Star of the Hero of the Soviet Union (# 992) and the Order of Lenin. At this time, he had flown 415 sorties and taken part in 40 air combats.

He continued to lead the regiment on the South East Front, and from the beginning of 1944, on the Ukrainian Front.

In early March 1944, a group of pilots (36 men – 3 squadrons) from the 9 GIAD was dispatched to the Caucasus to pick up and ferry back P-39s, which was arriving by Lend-Lease through Iran. Mayor Kryukov of the 104 GIAP was placed in command of the group.
The aircraft was to be flown from the point of issue to their airfield in Chernigov (approximately 60 miles north-east of Kiev) and Kryukov planned and maintained a route with the fewest possible landings.

On 10 March, the pilots flew in squadron-size sub elements with Kryukov leading the first, mayor Nikolay Lavitskiy leading the second and Anatoliy Komosa leading the third. The planned flight altitude was 6560 to 9845 feet, depending on ceiling and visibility in any overcast they might encounter. A speed was selected that favoured fuel economy and radio listening silence was to be maintained.
When they approached Gudermes station Lavitskiy suddenly called Kryukov that his engine was smoking and Kryukov ordered him to land. A few moments later Lavitskiy radioed that his engine now was on fire and his aircraft was seen burning by his squadron comrades. Kryukov again ordered him to land immediately. Lavitskiy wasn't however able to find any suitable spot to make an emergency landing on and soon his cockpit was full of smoke which made him unable to see the ground. Kryukov now ordered him to bail out but Lavitskiy refused since now he was over the Gudermes station, which was full of men and equipment.
Lavitskiy was able to stretch the glide of his burning aircraft over the station but then began to lose altitude rapidly, went over its left wing and hit the ground at full speed. Lavitskiy was killed instantly.

In July 1944, the whole 9 GIAD transferred to the 2nd Ukrainian Front to take part in the Lvov-Sandomierz campaign.

Kryukov was then promoted to polkovnik given command of the 104 GIAP. He continued to fly until the end of the war on the 1st Ukrainian Front with this unit.

Kryukov ended the war with 11 victories.
These were claimed during 608 combat missions and 62 air combats.

He remained in the VVS after the war and graduated from the General Staff Academy in 1951.
In 1956, he retired as a General Major to live in Moscow.

Kryukov died in Moscow on 11 November 1974.

During his active career, he was decorated the Order the Red Banner (29 August 1939, 22 December 1941, 22 April 1943 and 20 April 1953), the Order of Suvorov 2nd (29 May 1945) and 3rd Class (16 October 1944, the Order of Kutuzov 2nd Class (6 April 1945) and the Order of the Red Star (24 June 1948).

Claims:

| | | | | | | | | | |
| --- | --- | --- | --- | --- | --- | --- | --- | --- | --- |
| Kill no. | Date | Time | Number | Type | Result | Plane type | Serial no. | Locality | Unit |
| | 1942 | | | | | | | | |
| 1 | 27/06/42 | | 1 | Bf 109 | Destroyed | MiG-3 | | Lisichansk | 16 GIAP |
| | 27/07/42 | | 1/3 | FW 189 | Shared destroyed | MiG-3 | | S Novobataysk | 16 GIAP |
| 2 | 30/06/42 | | 1 | He 111 | Destroyed | MiG-3 | | Shkurinskaya | 16 GIAP |
| | 1943 | | | | | | | | |
| 3 | 11/04/43 | | 1 | Bf 109 | Destroyed | Airacobra | | Crimea | 16 GIAP |
| 4 | 11/04/43 | | 1 | Bf 109 | Destroyed | Airacobra | | Crimea | 16 GIAP |
| 5 | 11/04/43 | | 1 | Bf 109 | Destroyed | Airacobra | | Crimea | 16 GIAP |
| 6 | 15/04/43 | | 1 | Ju 88 | Destroyed | Airacobra | | S Crimea | 16 GIAP |
| 7 | 15/04/43 | | 1 | Ju 88 | Destroyed | Airacobra | | Kabardinskaya | 16 GIAP |
| 8 | 18/05/43 | | 1 | Bf 109 | Destroyed | Airacobra | | SE Verkhnebakanskaya | 16 GIAP |
| 9 | 27/05/43 | | 1 | Bf 109 | Destroyed | Airacobra | | SW Moldavia | 16 GIAP |
| | 1944 | | | | | | | | |
| 10 | 31/05/44 | | 1 | Ju 88 | Destroyed | Airacobra | | Valya-Lunga | 104 GIAP |
| 11 | 22/07/44 | | 1 | He 111 | Destroyed | Airacobra | | N Olenitsa | 104 GIAP |
TOTAL: 11 and 1 shared destroyed.

Sources:
All aces of Stalin 1936–1953 – Mikhail Bykov, 2014
Attack of the Airacobras - Dmitriy Loza, 2002 University Press of Kansas, ISBN 0-7006-1140-1
From Barbarossa to Odessa: Volume 1 – Dénes Bernád, Dmitriy Karlenko and Jean-Louis Roba, 2007 Ian Allan Publishing Ltd, ISBN 978-85780-273-3
Sovetskiye asy - Nikolay Bodrikhin, 1998, kindly provided by Ondrej Repka.
Soviet Aces 1936-1953
Stalin's Eagles - Hans D. Seidl, 1998 Schiffer Publishing, ISBN 0-7643-0476-3
Stalin's Falcons - Tomas Polak and Christhoper Shores, 1999 Grub Street, London, ISBN 1-902304-01-2
Additional information kindly provided by Christer Bergström and Ondrej Repka.




Last modified 07 January 2020