Biplane fighter aces

Soviet Union

Polkovnik Yevgeniy Nikolayevich Stepanov HSU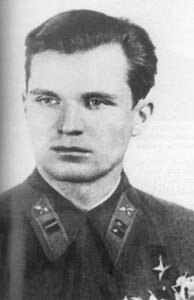 22 May 1911 – 5 September 1996
Decorations

| | | |
| --- | --- | --- |
| Date | Decoration | Note |
| 10/11/37 | Order of the Red Banner | 1st |
| 18/08/39 | Mongolian Order of the Red Banner, 1st Class | |
| 29/08/39 | Gold Star of the Hero of the Soviet Union | No. 152 |
| 29/08/39 | Order of Lenin | |
| ??/??/39 | Medal "For Military Merit" | |
| 11/03/85 | Order of the Patriotic War, 2nd Class | |
| ??/??/?? | Order of the Red Banner | 2nd |
| ??/??/?? | Order of the Patriotic War, 1st Class | |
| ??/??/?? | Order of the Red Star | 1st |
| ??/??/?? | Order of the Red Star | 2nd |
Yevgeniy Stepanov was born on 22 May 1911 in Moscow.
In 1929 he graduated from a technical college as a qualified metalworker.
In 1932 he qualified as a pilot after receiving lessons at a Moscow airfield and logged 80 hours of flying time. During the same year, he joined the army and graduated from the Borisoglebsk Military Air College in 1933.
At first, he was posted to a heavy-bomber unit but after numerous requests and applications he managed to be posted to a fighter unit.
He was posted to 12 IAE (fighter eskadrilya) belonging to the 111 IAB (fighter brigade) in the Leningrad Military District.
As a leitenant he volunteered for service in Spain and posing as Soviet tourists going to an international cultural exhibition in Paris; they took a steamer from Leningrad to Le Havre and, with the assistance of a Spanish support group, flew from there to Valencia arriving in June (or 20 August) 1937 to fly I-15s in 1a Escuadrilla led by Anatoly Serov ('Rodrigo Mateu') and based at Los Alcazares airfield.
Even if he was a leitenant he started to serve as privet pilot.
In August, he claimed a CR.32 at Huesca and a shared destroyed Do 17 near Zaragoza together with Nikita Syusyukalov.
On 24 August, leitenant Stepanov of the 1a Escuadrilla claimed a Bf 109B over Baharalos. This claim can't be verified since it seems that no Bf 109s were lost on this date.
He claimed a CR.32 near Belchite on 1 September.
The autumn of 1937 saw the establishment of the Grupo No 26 (I-15) and on 9 October 1937, capitán Juan José Armario Álvarez was appointed CO of the Grupo, which initially comprised three escuadrillas with 15 aircraft each.
The Soviet 1a Escuadrilla was led by kapitan Yevgeniy Antonov and operated from Sagunto and Sabadel airfields, while teniente Gerardo Gil Sánchez headed up the Spanish 2a Escuadrilla (capitán Chindasvinto González García had handed over command to his deputy, Gil, to act as an interim CO). Both operated on the Aragon front. The Spanish 3a Escuadrilla was formed at Figueras under the command of teniente Juan Comas Borrás, which initially flew defensive patrols over the Catalan coast. The unit's initial cadre of pilots consisted of Leopoldo Morquillas Rubio, Miguel Zambudio Martínez, Juan Olmos, José Redondo Martín, Antonio Britz Martínez, Rafael Sanromá Daroca and Antonio Nieto Sandoval-Díaz. Later, they were joined by José María Campoamor Peláez, Elías Hernández Camisón, Francisco Montagut Ferrer, Jesús Pérez Pérez, Alfredo de Albert Porcar and José Puig. Many of them were surviving pilots from the Northern front and later in the month the unit operated from Reus airfield.
Capitán Armario initially flew with the Soviet patrulla of the staff flight of the Grupo No 26, often accompanying starshiy leitenant Stepanov.
In October, he was appointed commander of the 1a Escuadrilla of Grupo No 26, flying from Sagunto and Sabadel airfields.
During this month, he claimed a Fiat CR.32.
On 12 October 1937, Il'ya Finn (1a/26) claimed a shared Ju 52/3m or Ju 86 over Huesca together with kapitan Anatoly Serov (1a/26) and starshiy leitenant Stepanov.
Nationalist records do not confirm this loss.
On 15 October 1937, capitán Juan José Armario Álvarez, CO of Grupo No 26 led a strafing attack on Garrapinillos airfield, in Saragossa. To ensure the success of this raid, the armourers worked through the night loading the aircrafts' machine guns with incendiary ammunition.
Capitán Armario himself led the I-15s of the 1a and 2a Escuadrillas, which carried out the attack on the parked aircraft.
The 1a Escuadrilla took off from Bujaraloz with twelve I-15s under the command of kapitan Yevgeniy Antonov (starshiy leitenant Stepanov took part in this attack and kapitan Anatoly Serov flew in the 'Plana Mayor').
The 2a Escuadrilla took off with nine I-15s from Sariñena under the command of Aleksandr (?) Smirnov. Two of the pilots taking part in the attack was teniente Gerardo Gil Sánchez (CO 2a/26) and sargento Vicente Castillo Monzó.
The I-15s were covered by the I-16 from Grupo No 21 that flew top cover:
1a/21 - six I-16s from Caspe under the command of Manuel Aguirre López
2a/21 - ten I-16s from Caspe under the command of Pleshchenko
3a/21 - nine I-16s from Hijar under the command of (Boris) Smirnov
5a/21 - seven I-16s from Escatrón under the command of Ivanov (and including Ivan Devotchenko)
6a/21 - eleven I-16s from Puig Moreño under the command of Gusev
About 60 planes were claimed destroyed and damaged by the I-15s but the real total losses were only three Ju 52s, six CR.32s and three He 46s. Other aircraft were damaged by fire. The Republican aircraft only suffered one damaged I-15. This aircraft was from the 1a Escuadrilla and it was unserviceable that afternoon.
During the attack kapitan Serov claimed some aircraft destroyed on the ground. Kapitan Ivan Yeremenko also took part in this attack and according to some sources he led the whole attack.
During a night flight on 19 October, the Soviet patrulla of the staff flight of Grupo No 26 downed a SIAI SM.81 tri-motor over Barcelona, the bomber crashing in flames in Republican territory near Sabadell.
Pilots included in this patrulla was starshiy leitenant Stepanov (CO of the 1a Escuadrilla) and capitán Juan José Armario Álvarez (CO of Grupo No 26).
At 03:00 on the night of 24-25 October three S.81s of the 251a Squadriglia, XXV Gruppo B.N. took off from Alcudia to bomb the airport of Sabadell. The plan was that the formation leader Capitano Nicola Ruggeri should drop his war-load first, so that the fires caused by his incendiary bombs should allow the other two crews, with aircraft carrying 15kg high explosive bombs, to choose the best targets. Reaching their target at a level of 700 meters, the tri-motors were met by the fire of machine-guns placed on the hills south-west of the airfield, and then they were attacked by an I-15 flown by starshiy leitenant Stepanov (1a/26). Stepanov had taken of together with another I-15 flown by Il'ya Finn. Stepanov shot down the second aircraft, flown by Tenente Ezio Maccani, which crashed in flames near Montcada, setting fire to a large wooded area and killing the whole crew of five. He then tried to ram the third S.81 with the left leg of his I-15s undercarriage. The S.81, which was badly hit, manage however to keep contact with his leader. The two diverted to the secondary target, the explosive factory of Badalona, which they bombed at 04:35.
Stepanov returned claiming two victories. According to some sources Finn is credited with the second S.81.
Maccani was posthumously decorated with the Medaglia d'oro al valor militare.
Stepanov was decorated with the Order of the Red Banner for this combat and promoted to kapitan.
In the end of 1937 he took command over the Grupo de Caza No 26 when Serov returned to the Soviet Union.
During December the Grupo was based at Bajaralos during the Teruel offensive, while in January 1938 it operated near Valencia.
On 17 January, there were three clashes between Republic and Nationalist aircraft. In the last combat two groups of I-15s (32 fighters) were out to strafe in the Teruel area, escorted by eight I-16s. Over the target they clashed with a formation of 15 He 111s and 40 Fiat CR.32s. Two I-15s were quickly shot down when leitenant Aleksandr Osipov (patrulla CO 1a/26 in I-15 CA 007) was shot down by fighters but managed to parachute and land in friendly territory. The second was kapitan Stepanov of the Grupo No 26, who was shot down by AA fire over the town of Ojos Negros but managed to bale out. He was taken prisoner and spent the next six months in various prisons (Zaragoza, Salamanca and San Sebastian). One I-16 was shot down and the pilot killed. A third I-15 made a "taran" and the pilot, Romulo Negrin Mijoilar (the son of the prime minister of the Republic of Spain), who served in the 4a/26, was wounded. He had attacked some Fiats, which were attacking Stepanov hanging in his parachute, bringing one of the CR.32 down together with his own fighter; the Italian pilot was killed. Two more I-15s were damaged in forced landing due to lack of fuel and five more returned with battle damage.
Teniente Leopoldo Morquillas Rubio, CO 2a/26 claimed a CR.32 shot down during the day in the Teruel area as did J. Vela Díaz and C. Zuazo Garre from the same unit.
The Republican side claimed four Fiat CR.32s and one bomber. Two more CR.32s were claimed as damaged or probably destroyed.
The Italians from VI Gruppo claimed 11 'Curtiss fighters' but lost two pilots when Maresciallo Bruno Cesna, (33a Squadriglia) and Sergente Maggiore Angelo Boetti (Staff of VI Gruppo) were killed while Sergente Benassi was wounded. One Spanish pilot was also shot down when Pedro Gil Escosin was shot down in his Fiat CR.32 and parachuted. In one of the He 111, one of the crew members, T. Martner, was so badly wounded that he died the next day in hospital.
While as prisoner Stepanov was taken out to be shot on three occasions. The Republican government eventually managed to exchange him (on 9 July 1938) via the International Red Cross for some German PoWs.
He departed Spain on 27 July 1938, passing through France and Belgium, and then on to Leningrad by ship.
Stepanov claimed 7 and 2 shared victories in Spain during more than 70 combat missions and 16 air combats.
During his time in Spain he was involved with combat against Fiat CR.32s, Romeo Ro.37s, S.81s, Bf 109s, Ju 86s, He 111s and Do 17s. He flew 100 hours and was involved in 16 air combats.
He mostly flew the I-15 during his time in Spain and only flew I-16s a few times, and then mainly on reconnaissance missions. He states that the I-15 easily outperformed the Fiat CR.32, especially in horizontal manoeuvres. The I-15 could perform a 360-degree turn in eight to nine seconds. It was unbeatable in horizontal dog fighting. It also had a rapid rate of control and low-speed stability, even when taking off in crosswinds. However, it was inferior to the I-16 in vertical manoeuvrability. The I-16, which he flew both prior and after his time in Spain, was good aircraft, but it was rather unforgiving to inexperienced pilots. He also states that the I-16 was superior to the Bf 109B and C in vertical manoeuvrability.
Following his return to the Soviet Union he was promoted to kapitan, serving in the 19 IAP as a pilot training officer.
On 29 May 1939 the Soviet Air Force sent a group of well-merited pilots from the Central Aerodrome Frunze in Moscow aboard three Douglas DC-3s to Mongolia (a second group was sent to Mongolia by train). Before they left, they all had paid a visit to Marshal Voroshylov, Commissar of Defence, and Komkor A. Laktionov, Commander of the VVS.
The group consisted of 48 airmen, both fighter and bomber pilots and technical staff. Among the fighter pilots were Sergey Gritsevets, Ivan Lakeyev, Viktor Kustov, Grigoriy Kravchenko, Nikolay Gerasimov, Leonid Orlov, Yevgeniy Stepanov, A. Nikolayev, Viktor Rakhov. Eleven of the pilots had been decorated with the Gold Star of the Hero of the Soviet Union.
Komkor Yakov Shmushkevich, who after arriving in Mongolia became the commander of the whole Soviet-Mongolian Air Force/Aviation Group, commanded the group. The group had been created immediately after the big defeat of the Soviet air regiments on 27-28 May. In these combats 70 and 22 IAPs had taken part and Soviet officially admitted the loss of twelve pilots KIA and 14 fighters (mostly I-15bis and some I-16 type 5s) to the end of May 1939.
The leading pilot in the DC-3s was Alexandr Golovanov (future Air Marshal of VVS during the Great Patriotic War and commander of the Long-Range Soviet Bombers). The other two pilots were Gratsov and Niuhtinow.
The group took off after midday and the trip lasted for three days before finally landing in Czita (near the border of Mongolia in the Transbaikalyan Military District and approximately 650km from the conflict).
At Czita they collected their aircraft and flew on to Tamtsag-Bulag, which was the main Soviet Air Base and which was situated approximately 120km east of the Khalkin Gol River.
The newly arrived pilots were distributed among the eskadrilyas of the 70 IAP (100 SAB) and 22 IAP (23 SAB). Stepanov took command of the 4th Eskadrilya of the 22 IAP (I-152s). 22 IAP had been the second regiment arriving in Mongolia and in July 56 IAP arrived equipped with a mix of I-16s and I-153s.
One of the reasons to the Soviet weakness against 11 and 24 Sentais of the JAAF in May had been that most of the higher commanders in Soviet regiments based in Mongolia and Far-East Military District had been relived form their posts and arrested by NKVD during the 1937-1939 purges period. One example was the staff of 22 IAP, which during the transport to the front in Mongolia in May 1939 got their commanders down to the eskadrilyas commanders arrested. A second weakness was the Polikarpov I-15bis, which was inferior to the JAAFs Ki-27s.
At 15:00 on 22 June, 22 I-16s and 14 I-15bis scrambled for the area of Khalkhin Gol River estuary and Chychy-Undur-Obo. At 15:42 they became entangled in combat with two groups of Ki-27s. The first enemy formation consisted of 12 fighters and the second of 27. Eight I-15bis were lost in air combat, two I-16s were set alight on the ground and one was shot down. In return the Soviet pilots claimed seven Japanese fighters as shot down. At 17:34 the Japanese pilots broke off the combat and escaped in direction of Gandzur.
At 15:40, twelve I-16s and 14 I-15bis from 22 IAP scrambled and became engaged with Ki-27s. They returned at 17:15 and three I-16s and six I-15bis failed to return. One I-16 and one I-15bis forced-landed in the area of Hill 704. One pilot was found wounded and admitted to the hospital. Starshiy leitenant Anton Blazko was KIA in the Tamsag Bulag area.
At 16:57 twelve more I-15bis and ten more I-16s from 22 IAP took off for the battle area. They saw no enemy planes and returned at 18:10. According to the pilot Golubev one Ki-27 was destroyed on the ground in enemy territory during the first mission.
The Japanese reported that Soviet fighters crossed the border at Amkuro, south-east of Kanjur, and the 2nd chutai of the 24th Sentai took off to intercept, followed by the 1st chutai. The 2nd chutai encountered a reported 60 fighters and in the ensuing combat claimed 18 shot down for the loss of four; including the CO Captain Shigenobu Morimoto (Class 42), Sergeant Major Yoshio Yoshino (NCO67), Sergeant Major Kunizo Ishizuka (NCO73), which all three were killed and Sergeant Major Yotutaka Miyajima (NCO54) who was taken POW. A fifth fighter force-landed and the pilot returned later. Meanwhile, the 1st chutai joined the combat somewhat later, claiming six more victories.
An hour later, there was another alarm and the 1st chutai took off again, engaging ten plus I-15bis and a similar number of I-16s. The 2nd chutai had followed, and at once entered the fight, the 24th Sentai's units together claiming 25 further victories, this time without loss. It seems that eight probables were also claimed.
During the second engagement, Captain Saiji Kani (leader of the 1st chutai) claimed five victories and later described the combat:
"How many enemy aircraft there were; but we have the courage, like eagles pursuing swallows, and overwhelmed the enemy. About 5.30 pm I spotted 25-26 more flying at about 2,000 metres - on the first pass one was going down in flames, and one by one others went down in the same way - more new enemy aircraft appeared and entered the battle - they were all around - we left the area of fighting and returned. There were many hits in the wings and tail of my aircraft."
1st Lieutenant Shoichi Suzuki of the 1st chutai claimed five victories during the day but was hit and wounded in his right wrist. Attempting to head for home, he was chased persistently by three Soviet fighters, so turning on these, he shot down all three to bring his total for the day to eight. He was hospitalized next month after this combat.
During the day, Sergeant Major Koji Ishizawa of the 2nd chutai claimed two victories during his first combat flying in 1st Lieutenant Furakwa's element. However, in this engagement most of the Japanese pilots were hit and wounded, only Ishizawa and one other pilot escaping unscathed. Katsuaki Kira flew as wingman to 1st Lieutenant Furakawa and claimed one I-16 as his first victory in his first combat.
1st Lieutenant Hyoe Yonaga a section leader of the 2nd chutai, 24th Sentai, experienced his first combat when Captain Morimoto led nine Ki-27 from the chutai over the Khalka River, where some 60 enemy fighters were seen in three groups. Yonaga was able to claim one and one shared, but Captain Morimoto was lost, and 1st Lieutenant Furukawa was wounded, Yonaga having to take over as chutai leader until the arrival of Captain Tashiro at the end of the month.
Sergeant Major Goro Nishihara of the 2nd chutai, 24th Sentai, experienced his first combat when flying as third man in Lieutenant Hyoe Yonaga's element. He and eight other pilots attacked 60 Soviet fighters, the combat allowing him to claim three shot down and a fourth probably so.
Chiyoji Saito of the 2nd chutai, 24th Sentai, flew as third pilot in Captain Morimoto's element and claimed three and one probable, but lost sight of his leader, who failed to return.
Sergeant Major Yutaka Kimura of the 1st chutai reportedly claimed one enemy fighter, but then a large 'gaggle' of Soviet fighters attacked, breaking up the Japanese formation. Kimura pulled out of the melee, then dived back in, attacking one after another until he had claimed five destroyed. His own Ki-27 was hit 21 times, several bullets puncturing the fuel tanks, which started to leak. Overcome by fumes, he passed out whilst in a tight turn, and his aircraft fell out of the sky. Just above the ground, he recovered and managed to regain control, heading for base. Seven or eight I-16s gave chase persistently, but eventually he turned into these, evading their attacks for 30 minutes during which he managed to claim yet another shot down before shaking off the rest and making it back to base.
During the second sortie of the day, Sergeant Major Shogo Saito of the 1st chutai, 24th Sentai, claimed three I-16s shot down, forced a fourth pilot of another I-16 to bail out, and then strafed the three downed aircraft. With his ammunition gone, he was attacked by eight I-16s. He at once flew at one of these head-on, and when the I-16 pilot sought to fly below him, cut off its tail with his right wing, seeing it go down. He managed to regain control of his aircraft, flying back to base with half the wing gone. His damaged Ki-27 was later exhibited in Tokyo.
During the two combats, it seems that 17 Japanese fighters totally claimed 47 victories in the air and on the ground (22 in the first combat and 25 in the second one) and 8 probables while losing seven fighters. At least five of the losses were fighters in the second combat (four pilots killed and one parachuted). No losses are noted in the first combat, so two losses remain "unattributed".
Returning Soviet pilots claimed that they had been in combat with 120(!) Japanese fighters of which they claimed 31 shot down. 95 Soviet fighters had taken part in combat between 15:00-17:30 and known claiming pilots from the 22 IAP (I-16s) were:
Major Nikolay Glazykin (CO) two Ki-27s (one over Tamsag-Bulag)
Major Grigoriy Kravchenko one enemy fighter over Hill 704
Starshiy leitenant Viktor Rakhov one enemy fighter
Leitenant Gavriil Raykov one Ki-27
Leitenant Anton Yakimenko two Ki-27s in the Khamardaba area
Starshiy politruk Arseniy Vorozheikin one enemy aircraft in the Hill 704 area (Khamardaba mountain)
From 70 IAP:
Major Nikolay Gerasimov (I-16) one Ki-27
Major Sergey Gritsevets (I-16) one Ki-27
Major Mikhail Reznik (I-16) one enemy bomber
Major Vyacheslav Zabaluyev (I-16) one Ki-27
Unknown units:
Leitenant S. N. Viktorov (I-16) one Ki-27
Major Ivan Lakeev (I-16), a unit commander in the 1st Army Group, claimed a Ki-10 (reported as a "I-96".
It seems that ten I-15bis and three I-16s were shot down while four aircraft were lost on the ground. Six pilots were killed and five parachuted. Among these was major Nikolay Georgiyvich Glazykin, commander of 22 IAP, who was credited with two victories witnessed by his fellow pilots. Five more pilots of 22 IAP was killed along with five from 70 IAP. One pilot from each of the regiments survived being shot down. The shot down pilot from 70 IAP was leitenant Pavel Kryukov, who managed to parachute from his burning I-15bis suffering severe burns.
Stepanov took part in this combat flying in the lead of his 4th eskadrilya of 22 IAP (nine I-15bis) and three aircraft, including Stepanov's I-15bis, made forced-landing after the combat. These three aircraft were destroyed by Japanese fighters strafing them, but all three pilots survived. A fourth pilot, Sakin, commander of an eskadrilya of twelve I-16s was wounded when his force-landed I-16 was destroyed by strafing Japanese fighters.
Arseniy Vorozheikin of 22 IAP suffered damage to his fighter during his first encounter in this conflict.
Valentin Alekseevich Bakaev from 70 IAP was shot down killed in combat in his I-15bis over Tamsag Bulag between 15:40-17:15.
The Soviets identified 25 wrecks on both sides of the front line (14 on the Soviet-Mongol side, eleven on the Japanese side). While they initially held all of those fallen on the Soviet side to be Japanese, it was afterwards discovered that "a lot" of them were Soviet. Overall, this data therefore confirms the total of 24 losses admitted by both sides.

In July 56 IAP arrived equipped with a mix of I-16s and I-153s.

Stepanov flew five missions with the I-153 during the Khalkin Gol.

During the Khalkin Gol he claimed one victory.

Before the end of the Khalkin Gol air war (but after Soviet land success with encircling and smashing of Japanese army forces in the Khalkin Gol river area) six or seven of the best Soviet pilots (fighters and bombers) and commanders (including Shmushkevich) were ordered away from Mongolia. They received the highest rewards (including some Gold Star of the Hero of the Soviet Union on 29 August. Gritsevets, Kravchenko and Shmushkevich received it all for the second time as the first double recipients of this award in the Soviet Army while Stepanov received it for the first time). These selected pilots and commanders were transported to the Kiev and Byelorussia Military Districts to take command or act as advisers in Soviet regiments/command staff preparing the invasion of Poland on 17 September 1939.

He took part in the occupation of Eastern Poland in September 1939 and then in the Winter War against Finland during the winter of 1939-40 (serving in the 19 IAP and flying I-16s).

During the autumn of 1941 he was a member of the Air Force staff controlling the defence of Moscow, but he saw no further operational flying during the Great Patriotic War.

Stepanov ended the war with 8 biplane victories.

He remained in service after the war and as a polkovnik he was placed in the reserve in 1948.

He returned to live in his home city of Moscow after retirement.

He continued working on the Central Committee of the DOSAAF. He was later Deputy Chief of the Central Aeroclub.

Between 1965-1977, he headed the flight test station of the Moscow Helicopter Plant.

Stepanov passed away on 5 September 1996.

Claims:

| | | | | | | | | | |
| --- | --- | --- | --- | --- | --- | --- | --- | --- | --- |
| Kill no. | Date | Time | Number | Type | Result | Plane type | Serial no. | Locality | Unit |
| | 1937 | | | | | | | | |
| 1 | ??/08/37 | | 1 | CR.32 | Destroyed | I-15 | | Huesca | 1a/26 |
| | ??/08/37 | | 1/2 | Do 17 | Shared destroyed | I-15 | | Zaragoza | 1a/26 |
| 2 | 24/08/37 | | 1 | Bf 109B (a) | Destroyed | I-15 | | Baharalos | 1a/26 |
| 3 | 01/09/37 | | 1 | CR.32 | Destroyed | I-15 | | Belchite | 1a/26 |
| | 12/10/37 | | 1/3 | Ju 52 (b) | Shared destroyed | I-15 | | Huesca area | 1a/26 |
| 4 | 25/10/37 | 03:00- | 1 | S.81 (c) | Destroyed | I-15 | | Barcelona area | 1a/26 |
| 5 | 25/10/37 | 03:00- | 1 | S.81 (c) | Destroyed | I-15 | | Barcelona area | 1a/26 |
| 6 | 16/12/37 | | 1 | CR.32 | Destroyed | I-15 | | Kalamokha | 1a/26 |
| | 1938 | | | | | | | | |
| 7 | 17/01/38 | | 1 | CR.32 | Destroyed | I-15 | | Ojos-Negros | Grupo No 26 |
| | 1939 | | | | | | | | |
| 8 | ??/??/39 | | 1 | Ki-27 | Destroyed | I-15bis | | Khalkin Gol | 22 IAP |
Biplane victories: 8 and 4 shared destroyed.
TOTAL: 8 and 4 shared destroyed.
(a) This claim can't be verified with Nationalist records.
(b) May alternatively have been a Junkers Ju 86. Not confirmed with Nationalist records.
(c) Claimed in combat with S.81s from 251a Squadriglia, XXV Gruppo B.N., which lost one (Tenente Ezio Maccani) and got a second badly damaged. One of these victories was claimed by ramming.

Sources:
Air Aces Home Page - Jan Safarik
Air War Over Khalkhin Gol: The Nomonhan Incident - Vladimir R. Kotelnikov, 2010 SAM Publications, ISBN 978-1-906959-23-4
Fiat CR.32 Aces of the Spanish Civil War - Alfredo Logoluso, 2010 Osprey Publishing, Oxford, ISBN 978-1-84603-983-6
Japan Against Russia In The Sky Of Nomonhan - Dimitar Nedialkov, 2005 Propeller Publishing, Sofia, ISBN 954-9367-33-9
Japanese Army Air Force fighter units and their aces 1931-1945 - Ikuhiko Hata, Yasuho Izawa and Christopher Shores, 2002 Grub Street, London, ISBN 1-902304-89-6
Ki-27 'Nate' Aces – Nicholas Millman, 2013 Osprey Publishing, Oxford, ISBN 978-1-84908-662-2
Soviet airmen in the Spanish civil war 1936-1939 - Paul Whelan, 2014 Schiffer Publishing Ltd, ISBN 978-0-7643-0
Soviet Fighter On Three Fronts - John Guttman, 1995 Aviation History
Spanish Republican Aces – Rafael A. Permuy López, 2012 Osprey Publishing, Oxford, ISBN 978-1-84908-668-4
Stalin's Falcons - Tomas Polak and Christhoper Shores, 1999 Grub Street, London, ISBN 1-902304-01-2
The Legion Condor - Karl Ries and Hans Ring, 1992 Schiffer Publishing, ISBN 0-88740-339-5
Additional information kindly provided by Börje Henningsson, Alfredo Logoluso, Ondrej Repka and Mirek Wawrzynski.




Last modified 13 August 2021