Biplane fighter aces

Soviet Union

Kapitan Yevgeniy Sergeyevich Antonov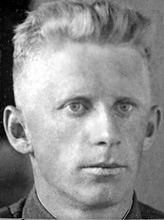 2 March 1910 – 28 June 1942
Decorations

| | | |
| --- | --- | --- |
| Date | Decoration | Note |
| 03/11/37 | Order of the Red Banner | |
| 02/03/38 | Order of Lenin | |
| 22/02/41 | Order of the Red Star | |
Yevgeniy Antonov was born on 2 March 1910.
In 1935, he graduated from Kharkov flight school.
He served as a CO of a Zvena in 35 IAE, 56 IAB, in the Kiev Military District.
Leitenant Antonov volunteered for service in Spain and departed on 31 May 1937. In Spain he used the nom de guerre "Antonio" but was known to the Soviets as "Zhenei".
During the spring of 1937, the second group of Soviet volunteers was sent to Spain. The group was led by Kapitan Ivan Yeremenko and included leitenant Mikhail Yakushin ('Carlos Castejón'), Leonid Rybkin, Mikhail Petrov, Sergei Shalyganov and Ivan Karpov.
They travelled through France with Dutch passports - they didn't speak either foreign language fluently! Not without adventures the Soviet fliers arrived at their destination on 31 May 1937.
Arriving with them where Spanish Republican pilots who had been undergoing fighter training at the Soviet flight school near Kirovabad.
At the same time as this second group of Soviet volunteers arrived, another batch of 31 Chatos arrived from the Soviet Union, taking the total number supplied to the Republicans to 116. These new fighters greatly enhanced the strength of the I-15 Grupo.
After arrival, an escuadrilla of I-16 fighters, designated 1a Escuadrilla of Grupo de Caza No 21 (1a/21), was organized under the command of kapitan Ivan Yeremenko while Andrés García La Calle was to undergo further training in the Soviet Union. Initially this unit performed defensive duties from Cartagena and Elche to Alicante, protecting Republican warships and cargo vessels from insurgent air raids. Following the redeployment of the I-16s to the north, and the poor quality of the latest batch of I-16s to reach Spain and during a period of forced inaction in June 1937, half of the group was sent to Los Alcazares airfield, where it was re-equipped with the new I-15s. The new escuadrilla was later designated 1a/26 and commanded by kapitan Ivan Yeremenko.
The Russian pilots in this escuadrilla included Antonov, Ivan Karpov, Georgii Masterov, Mikhail Petrov, Leonid Rybkin, Anatoly Serov, Nikolai Sobolev, Sergei Shalyganov and Mikhail Yakushin. The 1a/26 was completed by pilots of different origin; three Spanish, two Austrian, two Americans (one of them was Harold Dahl) and the Yugoslav Bozidar Petrovich. It is also known that leitenant Leonid Rybkin served as a Patrulla leader and Harold Dahl was part of this Patrulla. Another Patrulla leader was Antonov.
The escuadrilla, was based at El Soto, had already become operational two days after the Brunete campaign began and where aviation played considerable role. The insurgents increased their presence in the air battles by using German and Italian units armed with the newest aircraft. Nevertheless, Soviet fliers gained considerable success there, claiming numerous enemy aircraft shot down.
He was appointed to the Night Fighter Detachment in late July 1937.
In the morning on 26 August, the CR.32s escorted 19 bombers to Villamajor. Close to the bombers was the 20a Squadriglia, while the 18a and 19a Squadriglie stayed above them. The weather was far from ideal and soon a layer of cloud separated the two higher flying Squadriglie from the rest. The minutes slowly ticked away as the formation moved toward the target area. Suddenly the clouds broke and Capitano Enrico Degli Incerti noticed a swarm of enemy aircraft below. Followed by his wingmen, he dived through the tattered clouds and found himself in perfect position behind an I-15. Five short bursts and the fighter began to fall. Degli Incerti followed his victim and saw it crashing into the Ebro River.
In order to gain altitude, he pulled the stick back – only to discover five I-15s at 3,000 feet, coming straight for him. His wingmen were nowhere in sight. The Republican leader, as he soon found out, was a very able pilot. He attacked the Italian at once, and while he engaged his adversary, the four other I-15s flew around them and sent bursts toward the CR.32 at close range. Bullets smashed the windscreen, tore into the parachute pack and holed the fuselage, but Degli Incerti's luck held. He threw the Fiat into a steep dive, but his foe clung to him. Bullets broke instruments on the panel and one bullet tore the belt off his waist without wounding him. Degli Incerti didn't even try to aim anymore. He just shot wildly in the direction where a winged shadow appeared. Only three minutes went by, yet they seemed an eternity. Using all the tricks he had ever learned or heard of, he somehow managed to evade the fire of his adversaries. Then suddenly, the Republican leader's tail came into sight. His fighter instinct made him aim and fire, but at the same second, another I-15 sent a burst into the Fiat. There was no pain, but the warmth of blood rolling down his leg made him realize that he was wounded. In desperation, he opened the throttle full, but the crippled machine didn't respond. Glancing back, he saw a thin streak of smoke trailing him. The engine's revolutions dropped from 2900 to 1000 and it seemed a miracle that the CR.32 was still airborne. The I-15s attacked with renewed fury and the Fiat descended more rapidly while the Republican leader closed in for the coup de grace. A hail of bullets hit the aircraft but it continued to fly. Degli Incerti noted with some relief that he had just crossed into Nationalist territory. But the attacks of his pursuers became more determined as they tried to finish him off. The I-15s opened up again and he put the Fiat's nose down. Somehow, he managed to pull the machine out and found himself alone. He smelled smoke then felt the rapidly increasing heat of the burning fuselage. To add to his troubles, the engine suddenly stopped. Luckily, however, the ground was only a few meters below, so he switched the fuel off and landed the fighter. The burning Fiat's tail rose into the air and then luckily fell back to the ground. Paralyzing pain knifed into his wounded leg as he tried to get out of the cockpit. However, the will for survival made his muscles move and set his body into motion out of the burning aircraft.
The 20a Squadriglia lost two pilots when Tenente Gilberto Caselli and Sottotenente Enrico Schievano were shot down over Villamajor and killed (Caselli was shot down wounded and captured but died of his wounds in hospital). Both pilots later received a posthumous Medaglia d'oro al valor militare.
It seems that at least some of the bombers escorted by the 20a Squadriglia were He 46s from 3-G-11 led by the unit's CO commandante José Pérez Pardo, who was shot down and killed together with his observer Salvador Blanco. They had possibly been intercepted by I-15s from 1a/26 led by kapitan Anatoly Serov and it seems that they claimed three destroyed He 46s, one of them claimed by Kapitan Antonov.
It also seems that 2a/26 (I-15) took part in this combat and while flying from Alcañiz during the Belchite offensive, sargento Vicente Castillo Monzó claimed one CR.32 over Fuentes de Ebro and a Ro.37 over Caspe.
The CO of the unit, teniente Chindasvinto González García claimed two CR.32s shot down.
Sargento José Redondo Martín was mentioned in dispatches as follows:
"A major air battle over the Aragon front near Saragossa this morning ended in complete success for the Republican air force, which managed to shoot down five enemy aeroplanes - four Fiats and a Romeo - without loss to our escuadrillas. Worthy of mention in this combat is the conduct of a recently graduated sargento, José Redondo, son of the former mayor of Madrid, Cayetano Redondo. In combat with a Fiat, Redondo shot it down, despite numerous machine gun hits to his own aircraft, several of which damaged its port wing. After shooting down the Fiat Redondo flew his aircraft the considerable distance back to his airfield. The groundcrew found it hard to understand how Redondo had managed to make it to their airfield with such damage to his fighter aircraft and a serious leg wound.
The Minister of National Defence congratulated the heroic pilot, and in the presence of all the personnel of the fighter escuadrillas at the airfield, promoted him to teniente. Several captured enemy airmen stated that our offensive in Aragon had occupied a great deal of the aviation forces operating on the Santander fronts. One of the captured airmen, comandante Pérez Pardo, has a serious stomach wound and is in hospital."
The autumn of 1937 saw the establishment of the Grupo No 26 (I-15) and on 9 October 1937, capitán Juan José Armario Álvarez was appointed CO of the Grupo, which initially comprised three escuadrillas with 15 aircraft each.
The Soviet 1a Escuadrilla was led by kapitan Antonov and operated from Sagunto and Sabadel airfields, while teniente Gerardo Gil Sánchez headed up the Spanish 2a Escuadrilla (capitán Chindasvinto González García had handed over command to his deputy, Gil, to act as an interim CO). Both operated on the Aragon front. The Spanish 3a Escuadrilla was formed at Figueras under the command of teniente Juan Comas Borrás, which initially flew defensive patrols over the Catalan coast. The unit's initial cadre of pilots consisted of Leopoldo Morquillas Rubio, Miguel Zambudio Martínez, Juan Olmos, José Redondo Martín, Antonio Britz Martínez, Rafael Sanromá Daroca and Antonio Nieto Sandoval-Díaz. Later, they were joined by José María Campoamor Peláez, Elías Hernández Camisón, Francisco Montagut Ferrer, Jesús Pérez Pérez, Alfredo de Albert Porcar and José Puig. Many of them were surviving pilots from the Northern front and later in the month the unit operated from Reus airfield.
Capitán Armario initially flew with the Soviet patrulla of the staff flight of the Grupo No 26, often accompanying starshii leitenant Stepanov.
On 14 October, kapitan Antonov claimed two shared CR.32s while leitenant Viktor Kustov claimed one shared. These claims were made "in group".
On 15 October, capitán Juan José Armario Álvarez, CO of Grupo No 26 led a strafing attack on Garrapinillos airfield, in Saragossa. To ensure the success of this raid, the armourers worked through the night loading the aircrafts' machine guns with incendiary ammunition.
Capitán Armario himself led the I-15s of the 1a and 2a Escuadrillas, which carried out the attack on the parked aircraft.
The 1a Escuadrilla took off from Bujaraloz with twelve I-15s under the command of Kapitan Antonov (starshii leitenant Yevgeniy Stepanov took part in this attack and kapitan Anatoly Serov flew in the 'Plana Mayor').
The 2a Escuadrilla took off with nine I-15s from Sariñena under the command of Aleksandr (?) Smirnov. Two of the pilots taking part in the attack was teniente Gerardo Gil Sánchez (CO 2a/26) and sargento Vicente Castillo Monzó.
The I-15s were covered by the I-16 from Grupo No 21 that flew top cover:
1a/21 - six I-16s from Caspe under the command of Manuel Aguirre López
2a/21 - ten I-16s from Caspe under the command of Pleshchenko
3a/21 - nine I-16s from Hijar under the command of (Boris) Smirnov
5a/21 - seven I-16s from Escatrón under the command of Ivanov (and including Ivan Devotchenko)
6a/21 - eleven I-16s from Puig Moreño under the command of Gusev
About 60 planes were claimed destroyed and damaged by the I-15s but the real total losses were only three Ju 52s, six CR.32s and three He 46s. Other aircraft were damaged by fire. The Republican aircraft only suffered one damaged I-15. This aircraft was from the 1a Escuadrilla and it was unserviceable that afternoon.
During the attack kapitan Serov claimed some aircraft destroyed on the ground. Kapitan Ivan Yeremenko also took part in this attack and according to some sources he led the whole attack.
Kapitan Antonov, CO 1a/26 (I-15), claimed a Bf 109 destroyed during the day but whether this was claimed in the combat above or in another sortie is not known.
However, J/88 didn't report any combat on this date and thus no losses either.
He returned home on 28 January 1938.
Antonov was credited with two and two shared victories during the Spanish Civil War. These had been claimed during 180 combat missions.
He took part in the Soviet-Finnish Winter War in 1939-40.
He was killed in an aviation accident in the Moscow area while flying a Yak-1 on 28 June 1942.
At the time of his death, he was credited with two biplane victories.
Claims:

| | | | | | | | | | |
| --- | --- | --- | --- | --- | --- | --- | --- | --- | --- |
| Kill no. | Date | Time | Number | Type | Result | Plane type | Serial no. | Locality | Unit |
| | 1937 | | | | | | | | |
| 1 | 26/08/37 | morning | 1 | He 46 (a) | Destroyed | I-15 | | Villamajor area | 1a/26 |
| | 14/10/37 | | 1/? | CR.32 | Shared destroyed | I-15 | | Spain | 1a/26 |
| | 14/10/37 | | 1/? | CR.32 | Shared destroyed | I-15 | | Spain | 1a/26 |
| 2 | 15/10/37 | | 1 | Bf 109 (b) | Destroyed | I-15 | | Saragossa area | 1a/26 |
Biplane victories: 2 and 2 shared destroyed.
TOTAL: 2 and 2 shared destroyed.
(a) 1a/26 claimed three He 46s and at least one was destroyed (crew KIA).
(b) J/88 didn't report any combat on this date and thus no losses either.

Sources:
Air War over Spain - Jesus Salas Larrazabal, 1974 Ian Allan Ltd, Shepperton, Surrey, ISBN 0-7110-0521-4
All aces of Stalin 1936-1953 – Mikhail Bykov, 2014
Fiat CR.32 Aces of the Spanish Civil War - Alfredo Logoluso, 2010 Osprey Publishing, Oxford, ISBN 978-1-84603-983-6
Russian Fighter Aces of 1914-1953 years
Soviet airmen in the Spanish civil war 1936-1939 - Paul Whelan, 2014 Schiffer Publishing Ltd, ISBN 978-0-7643-0
Soviet Aces 1936-1953
Soviet Fighter Pilots 1936-1953 - Mikhail Bykov
Spanish Republican Aces – Rafael A. Permuy López, 2012 Osprey Publishing, Oxford, ISBN 978-1-84908-668-4




Last modified 13 August 2021