Biplane fighter aces

Italy

Tenente Gino Battaggion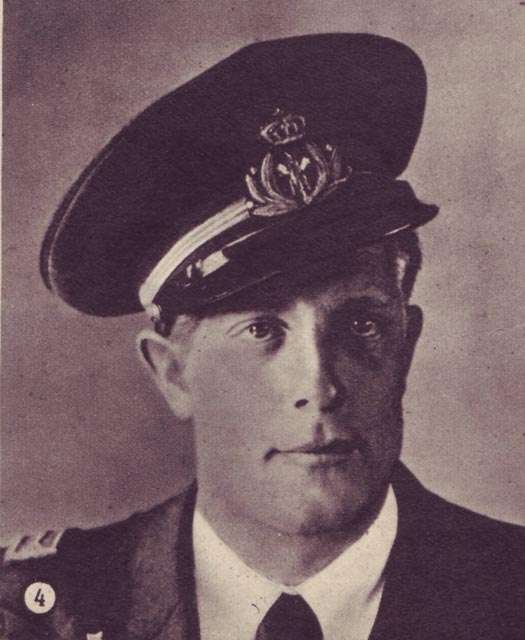 Image from Ali di Guerra 1941.
On 12 July the recently arrived 9o Gruppo C.T. was ordered to fly on to Libya, to operate in the desert. To replace the unit in the missions over Malta two new Gruppi of fighters flew in, the autonomous 23o and the 17o from 1o Stormo C.T. Both units flew their first sorties over Malta on that same day, reporting an engagement with four British fighters. Tenente Gino Battaggion of the 23o Gruppo's 70a Squadriglia claimed one shot down. He identified his victim as a Spitfire. During the same engagement pilots of the 17o Gruppo claimed one more. This aircraft was claimed as a shared between Maresciallo Magli and Sergente Abramo Lanzarini. No RAF losses are recorded.
On 16 December 1940, the 23o Gruppo (previously part of 3o Stormo but now Autonomo) with 20 Fiat CR.42s (70a, 74a and 75a Squadriglie) and three hack Caproni Ca.133s arrived in Tripoli to help trying steam Operation Compass, which was mauling the Italian forces. The Gruppo had experienced brief (and quite unlucky) action at the beginning of the war against France, and then it had moved to Sicily where they had seen extensive action against Malta.
They were led by their CO, Maggiore Tito Falconi (a famous aerobatic pilot that had held the world record in inverted flight going in a Caproni 113 biplane racer from St. Louis to Chicago in 1933 and a veteran of the Abyssinian Campaign where he had gained some ground victories and of the Spanish Civil War where he had claimed many (mostly shared) aerial victories) in a 70a Squadriglia fighter.
Pilots in the 70a Squadriglia were Tenente Claudio Solaro (acting CO), Tenente Battaggion, Sottotenente Oscar Abello, Sergente Ubaldo Marziali, Sergente Balilla Albani, Sergente Maggiore Celso Zemella and Sergente Cesare Sironi.
Pilots in the 74a Squadriglia were Capitano Guido Bobba (CO and already credited with one over Spain and three individual and a probable Hurricanes over Malta, which made him one of the top scoring Italian pilots up to that moment), Tenente Mario Pinna, Sottotenente Sante Schiroli, Sergente Maggiore Raffaele Marzocca, Sergente Emilio Stefani, Sergente Giuseppe Sanguettoli and Sergente Manlio Tarantino.
Pilots in the 75a Squadriglia were Tenente Pietro Calistri (CO), Tenente Ezio Maria Monti, Sottotenente Giuseppe De Angelis, Sottotenente Renato Villa, Maresciallo Giovanni Carmello and Maresciallo Carlo Dentis.
The pilots in the Ca.133s were Tenente Marino Commissoli, Sergente Pardino Pardini (70a Squadriglia), Tenente Lorenzo Lorenzoni (74a Squadriglia), Tenente Milano Pausi, Sottotenente Leopoldo Marangoni (brother in law of Maggiore Carlo Romagnoli) and Sergente Leo Mannucci (75a Squadriglia)).
The Gruppo landed at Tripoli-Castel Benito at 17:15. Celso Zemella's fighter was left behind at Pantelleria after an engine breakdown.
On 19 December the 23o Gruppo moved to Z1 landing ground at Ain el Gazala.
Starting from 09:00 on 19 December, nine Hurricanes from 274 Squadron took off with fifteen minutes intervals during the morning. Then at least seven others took off for a second mission, this time taking off with 25 minutes intervals. Although explicitly ordered to keep clear of fighters they engaged CR.42s on two separate occasions during the day.
Second Lieutenant Talbot (P3721) claimed a confirmed victory over a CR.42. He was flying at 17,000 feet, 30 miles west of Bardia (Great Gambut) when at 13:05 he discovered two formations of six CR.42s stepped up to right and flying one mile to starboard. He approached unobserved and attacked a straggler of the formation. He reported:
"attacked by remainder of formation. 1 CR 42 spiralled down after attack and was later seen burning on the ground by Flying Officer Greenhill. CR 42s where on offensive patrol not escorting bombers."
Flying Officer Greenhill (P3822) reported the height of the Fiats (around 15,000 feet) and added:
"the CR 42s were 11 or 12 in a bunch (no formation). I delivered an attack from astern and the enemy immediately attacked, 1 CR 42 was badly damaged (probably shot down), 6 holes in own aircraft through main spar. Enemy a/c on offensive patrol showing determination. Holes in own aircraft about 303 size (1 e/a seen burning after engagement by 2nd Lieutenant Talbot)."
They had met a formation from the 151o Gruppo, back in action after many days, out for an armed reconnaissance and to strafe targets of opportunity. The formation included four fighters from the 366a Squadriglia (Tenente Guglielmo Chiarini, Sottotenente Amedeo Guidi, Maresciallo Giulio Cesare and Sergente Maggiore Roberto Marchi), four from the 367a Squadriglia (Capitano Simeone Marsan (leading the sortie), Capitano Giuseppe Costantini, Sergente Maggiore Renato Mingozzi, and Sergente Tolmino Zanarini), three from the 368a Squadriglia (Capitano Bruno Locatelli, Sergente Maggiore Davide Colauzzi and Sergente Maggiore Annibale Ricotti) and a single fighter from the 70a Squadriglia (Tenente Battaggion), which had taken off from N1 at 12:15. At 4,000 meters, south of Sidi Azeiz, six-seven British monoplanes (described as Spitfires and Hurricanes) attacked with height advantage. The Italian pilots reacted but many pilots (in particular those of the 366a Squadriglia) were unable to fire their guns because of stoppages caused by the insufficient maintenance of the previous days. Capitano Locatelli used 55 12,7mm and 90 7,7mm rounds of ammunition on two Hurricanes and in the end one fighter was claimed as probable and two-three shared damaged by the whole formation. The formation landed at Z1 at 14:15 and no losses were suffered but Fiat CR.42 MM4325 piloted by Sergente Maggiore Ricotti was damaged and landed unserviceable, having the tanks holed (in fact it was so badly damaged that it was written-off). Three more CR.42s were lightly damaged including Tenente Battaggion's who claimed a damaged Hurricane in return. The 366a Squadriglia didn't suffered combat damages but three out of four of its planes once on land were found u/s, two of them for excessive oil consumption and the other for the broken propeller speed regulator.

At 09:15 on 26 December, eight Gladiators from 3 RAAF Squadron took off from the LG south-west of Sollum to escort a Lysander doing artillery reconnaissance over Bardia. The Lysander failed to appear. At approximately 14:05 (obviously during a third patrol) two flights of five SM 79s escorted by a number of CR.42s were observed a few miles north-east of Sollum Bay. A separate formation of 18 CR.42s was following the bomber formation and escort 2,000 feet higher as top cover. Two Gladiators attacked the bomber formation whilst the remainder climbed to meet the higher formation. The attack on the bombers was broken off when the higher formation attacked the Gladiators. In the ensuing combat, Flight Lieutenant Gordon Steege and Flying Officer Wilfred Arthur each claimed a destroyed (seen to fall into the sea) and a damaged CR.42. Flying Officer Peter Turnbull, Flying Officer John Perrin and Flying Officer Alan Rawlinson each claimed one probable.
The CR.42s were 14 fighters from the newly arrived 23o Gruppo led by the CO, Maggiore Tito Falconi and 22 CR.42s from the 10o Gruppo. The CR.42s from the 23o Gruppo included three from the 70a Squadriglia (Tenente Claudio Solaro, Sergente Pardino Pardini and Tenente Battaggion), five from the 74a Squadriglia (Capitano Guido Bobba, Tenente Lorenzo Lorenzoni, Sottotenente Sante Schiroli, Sergente Maggiore Raffaele Marzocca (forced to return early due to a sudden illness) and Sergente Manlio Tarantino) and five from the 75a Squadriglia (Tenente Pietro Calistri, Tenente Ezio Monti, Sottotenente Renato Villa, Sottotenente Leopoldo Marangoni and Maresciallo Carlo Dentis). The fighters from the the 10o Gruppo included seven from the 91a Squadriglia (Maggiore Carlo Romagnoli, Capitano Vincenzo Vanni, Capitano Mario Pluda, Sottotenente Andrea Dalla Pasqua, Sottotenente Ruggero Caporali, Sergente Maggiore Lorenzo Migliorato and Sergente Elio Miotto), nine from the 84a Squadriglia (Capitano Luigi Monti, Tenente Antonio Angeloni, Sottotenente Luigi Prati, Sottotenente Bruno Devoto, Sergente Domenico Santonocito, Sergente Corrado Patrizi, Sergente Piero Buttazzi, Sergente Luciano Perdoni and Sergente Mario Veronesi) and six from the 90a Squadriglia (Tenente Giovanni Guiducci, Tenente Franco Lucchini, Sottotenente Alessandro Rusconi, Sottotenente Neri De Benedetti, Sergente Luigi Contarini and Sergente Giovanni Battista Ceoletta), which had taken off at 13:00.
They were escorting ten SM 79s from the 41o Stormo under Tenente Colonnello Draghelli and five SM 79s 216a Squadriglia, 53o Gruppo, 34o Stormo, led by Tenente Stringa. The SM 79s had taken off from M2 at 12:25 and attacked Sollum harbour's jetty (reportedly hit) and two destroyers inside Sollum Bay (with poor results because of the heavy AA fire). AA from the ships hit four bombers from the 34o Stormo; one of them, piloted by Sottotenente Bellini had to force land close to Ain El Gazala with the central engine out of action. Returning pilots reported an attempt to intercept by some Gladiators but the escort repulsed the British fighters. They landed without further problems at 15:15.
Over the target, immediately after the bombing, the Italian fighters reported the interception of "enemy aircraft" alternatively "many Glosters" or "Hurricanes and Glosters". The 70a Squadrigli pilots claimed a shared Hurricane, this was possibly an aircraft from 33 Squadron. This unit's ORB reported that during the day's patrols many SM 79s and CR.42s were intercepted with one CR.42 believed damaged. Two Gladiators confirmed and two probables were shared between the whole 10o Gruppo. Another Gladiator was assigned to the 23o Gruppo (in the documents of 75a Squadriglia but this is not confirmed by the other two Squadriglie). Many Glosters were claimed damaged by Tenente Lorenzoni, Sottotenente Schiroli, Sergente Tarantino, Sottotenente Marangoni, Tenente Calistri, Tenente Monti and Sottotenente Villa. The CR.42s were back between 14:30 and 15:05.
No Gladiators were lost even if three of them were damaged (all repairable within the unit). The Australians had done a very good job indeed, facing a formation four times more numerous (even if it seem improbable that all the Italian fighters were able to join the combat). From the Italian reports it seems that only the front sections of the escort (including the 74a, 75a and the 84a Squadriglie) were engaged in a sharp dogfight with the Gladiators. The Australians were able to shot down the CO of the 74a Squadriglia, Capitano Guido Bobba, who was killed when his fighter fell in flames into the sea and damaged Tenente Lorenzoni's fighter, who landed at T2 (and came back to Z1 the day after). Three more CR.42s were damaged when Tenente Angeloni was forced to land at T5 before reaching Z1, Sergente Veronesi's fighter was damaged and Sottotenente Prati was forced to make an emergency landing short of T2 (his fighter was reportedly undamaged and only suffering for a slight engine breakdown). Maggiore Falconi's fighter was also heavily damaged but managed to return. The morning after Angeloni was able to return to Z1 with his aircraft.
Capitano Guido Bobba was awarded a posthumously Medaglia d'Argento al valor militare. He was replaced as CO of the 74a Squadriglia by Tenente Mario Pinna.

At 15:00 on 3 January 1941, Maggiore Tito Falconi led four CR.42s of the 70a Squadriglia (Tenente Claudio Solaro, Tenente Battaggion, Sergente Maggiore Balilla Albani and Sergente Cesare Sironi), five of the 74a Squadriglia (Tenente Mario Pinna, Tenente Lorenzo Lorenzoni, Sottotenente Sante Schiroli, Sergente Maggiore Raffaele Marzocca and Sergente Giuseppe Sanguettoli) and seven of the 75a Squadriglia (Tenente Pietro Calistri, Tenente Ezio Maria Monti, Sottotenente Giuseppe De Angelis, Sottotenente Renato Villa, Maresciallo Giovanni Carmello, Maresciallo Luigi Pasquetti and Sergente Leo Mannucci) in an escort mission for SM 79s attacking mechanized vehicles around Bardia. Fighters from the 10o Gruppo were also present including Sottotenente Bruno Devoto, Sergente Mario Veronesi, Sergente Piero Buttazzi and Sergente Luciano Perdoni of the 84a Squadriglia and Sottotenente Neri De Benedetti, Sottotenente Orlando Mandolini, Sergente Luigi Contarini and Sergente Alfredo Sclavo of the 90a Squadriglia. Hurricanes were intercepted and two of them were claimed damaged by the 70a Squadriglia's pilots. During the return journey, the CR.42s went down to strafe, claiming three armoured vehicles.
They landed back at 17:20.

On 4 January, Hurricane Mk.Is of 33 and 274 Squadrons patrolled the battle area during the British push towards Tobruk in Cirenaica. A pilot from 33 Squadron claimed a CR.42 over Bardia-Tobruk, Pilot Officer S. Godden (V7558) of 274 Squadron claimed two more and Flight Sergeant T. C. Morris also of 274 Squadron claimed a forth. Morris' aircraft (V7293) was however hit in the radiator and he made a forced-landing. Flying Officer T. L. Patterson (P2643) was also hit and obliged to force-land.
These actions had been fought against S.79-escorting CR.42s of 10o and 23o Gruppi. The Italian pilots returned reporting that they had attacked a large British formation and claiming two Hurricanes and a probable Blenheim. One Hurricane was claimed by Tenente Colonello Carlo Romagnoli, 10o Gruppo commander, and the other by Maresciallo Leonardo Ferrulli of 91a Squadriglia. Tenente Claudio Solaro, commander of 70a Squadriglia, returned claiming the probable Blenheim.
The Italians lost three aircraft, Sottotenente Ennio Grifoni of 91a Squadriglia was shot down in flames, Sottotenente Bruno Devoto force-landed at Tobruk's T5 landing ground and Tenente Battaggion of 70a Squadriglia was wounded and force-landed at Ain el-Gazala. Battaggion who had been escorting S.79s bombing armored cars in the Bardia area, recalled:
"At 18,000 feet I saw two Hurricanes in front of me. I began shooting. They shot at me too. Suddenly, I felt a hit. An explosive bullet broke the windshield into many pieces and I was slightly wounded in the head. The explosion broke my goggles and wounded me in one eye. With blood oozing down my face, I lost consciousness for some seconds, perhaps ten or twenty. I recovered consciousness due to the air rushing into the cockpit and found that the aircraft was spinning. I managed to recover from the spin and when I was near the ground fired a burst at some trucks. My wingman signalled to me that one wheel of my aircraft was damaged but I managed to land at Ain el-Gazala, near an ambulance. I landed at the slowest speed possible, holding the weight of the aircraft on the one serviceable wheel, and succeeded in stopping without overturning. The personnel near the ambulance recovered me and for about three months I could not fly because the eye gave me a lot of trouble. Some splinters had been extracted from my head – some of them are still there."
Battaggion ended the war with 1 biplane victory.
Claims:

| | | | | | | | | | |
| --- | --- | --- | --- | --- | --- | --- | --- | --- | --- |
| Kill no. | Date | Time | Number | Type | Result | Plane type | Serial no. | Locality | Unit |
| | 1940 | | | | | | | | |
| | 19/12/40 | 12:15-14:15 | 1 | Hurricane (a) | Damaged | Fiat CR.42 | | S Sidi Azeiz | 70a Squadriglia |
| | 26/12/40 | -15:05 | 1/3 | Hurricane (b) | Shared destroyed | Fiat CR.42 | | Sollum area | 70a Squadriglia |
| | 26/12/40 | -15:05 | 1/13 | Gladiator (b) | Shared destroyed | Fiat CR.42 | | Sollum area | 70a Squadriglia |
| 1 | 12/07/40 | | 1 | Spitfire (c) | Destroyed | Fiat CR.42 | | Malta | 70a Squadriglia |
| | 1941 | | | | | | | | |
| | 03/01/41 | 15:00-17:20 | 1/4 | Hurricane | Shared damaged | CR.42 | | Bardia area | 70a Squadriglia |
| | 03/01/41 | 15:00-17:20 | 1/4 | Hurricane | Shared damaged | CR.42 | | Bardia area | 70a Squadriglia |
Biplane victories: 1 and 2 shared destroyed, 1 damaged.
TOTAL: 1 and 2 shared destroyed, 1 damaged.
(a) Claimed in combat with Hurricanes from 274 Squadron, which claimed 1 and 1 probable CR.42 without losses. 151o Gruppo claimed 1 probable and 2 damaged Hurricanes while suffering 1 badly damaged CR.42 and 2 lightly damaged. The 70a Squadriglia claimed 1 damaged Hurricane while suffering 1 damaged CR.42.
(b) Claimed in combat with Gladiators from 3 RAAF Squadron, which claimed 2 and 3 probables without any losses, and possibly Hurricanes from 33 Squadron, which claimed a damaged CR.42 during the day. The 23o Gruppo claimed 1 Hurricane and 1 Gladiator and the 10o Gruppo claimed 2 and 2 probable Gladiators while losing one CR.42 and getting five more damaged.
(c) No Spitfires operated over Malta at this time. No RAF losses are recorded.

Sources:
Courage Alone - Chris Dunning, 1998 Hikoki Publications, Aldershot, ISBN 1-902109-02-3
Desert Prelude: Early clashes June-November 1940 - Håkan Gustavsson and Ludovico Slongo, 2010 MMP books, ISBN 978-83-89450-52-4
Desert Prelude: Operation Compass - Håkan Gustavsson and Ludovico Slongo, 2011 MMP books, ISBN 978-83-61421-18-4
Fighters over the Desert - Christopher Shores and Hans Ring, 1969 Neville Spearman Limited, London
Hurricanes over Tobruk - Brian Cull with Don Minterne, 1999 Grub Street, London, ISBN 1-902304-11-X
Malta: The Hurricane Years 1940-41 - Christopher Shores and Brian Cull with Nicola Malizia, 1987 Grub Street, London, ISBN 0-89747-207-1
Additional information kindly provided by Ludovico Slongo.




Last modified 22 September 2013