Biplane fighter aces

Italy

Sottotenente Raffaele Marzocca
21 February 1916 – 14 May 1997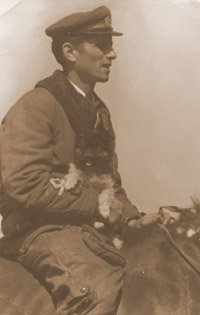 Image kindly provided by Fabio Marzocca.
Decorations

| | | |
| --- | --- | --- |
| Date | Decoration | Note |
| ??/??/41 | Medaglia d'argento al valor militare | 1940-43 |
| ??/??/41 | Medaglia di bronzo al valor militare | 1940-43 |
| ??/??/40 | Croce di guerra al valor militare | 1940-43 |
Raffaele Marzocca was born in Barletta on 21 February 1916.
He served in the 74a Squadriglia, 23o Gruppo, 3o Stormo. This unit was equipped with Fiat CR.42s.
When the war started on 10 June 1940, the 3o Stormo was sent to the French border to take part in the attacks on southern France.
On 15 June 1940, the Italian Headquarters ordered the 150o, 18o and 23o Gruppi C.T. to attack the French airfields in Le Cannet des Maures (2km south-east of Le Luc) and Cuers Pierrefeu (close to the naval base of Toulon), in Provence, with the purpose of destroying and disrupting the French fighter force on the ground.
Le Cannet des Maureswas the base of the GC III/6, which had arrived there on 3 June with its Morane Saulnier MS.406 fighters and was in the midst of converting from that type to the new Dewoitine D.520 (on 15 June 1940 the groupe had at least 13 D.520s on hand). The airfield of Cuers Pierrefeu was the base of the escadrille de chasse AC 3 of the Aéronautique Navale, equipped with eleven Bloch 151 fighters, and the escadrille de bombardement en piquè AB 3 of the Aéronautique Navale, equipped with eleven Vought 156 dive-bombers.
At noon 25 CR.42s from the 23o Gruppo departed from Cervere (a small town in Piedmont near the French border) to attack Le Cannet Des Maures airfield. The first group, under the command of Maggiore Tito Falconi (CO of the 23o Gruppo in a CR.42 from the 70a Squadriglia) was to make the strafing attack. The group was composed of Capitano Luigi Filippi (CO of the 75a Squadriglia), Tenente Mario Rigatti, Tenente Calogero Mazza, Sottotenente Malvezzi, Maresciallo Luigi Pasquetti, Sergente Maggiore Renzo Borro, Sergente Maggiore Davini, Sergente Maggiore Germano Gasperoni (all from the 75a Squadriglia), Capitano Guido Bobba (CO of the 74a Squadriglia), Sergente Maggiore Arnaldo Sala and Sottotenente Domenico Tessera (all from the 74a Squadriglia). The rest of the formation, with fighters from all three Squadriglie, was to act as top cover. This formation was composed of Capitano Ottorino Fargnoli (CO of the 70a Squadriglia), Tenente Claudio Solaro (70a Squadriglia), Sottotenente Oscar Abello (70a Squadriglia), Tenente Ezio Monti (75a Squadriglia), Sergente Maggiore Balilla Albani (70a Squadriglia), Sergente Carlo Scarselli (70a Squadriglia), Sergente Maggiore Celso Zemella (70a Squadriglia), Tenente Lorenzo Viale (74a Squadriglia), Tenente Mario Benedetti (74a Squadriglia), Tenente Mario Pinna (74a Squadriglia), Sergente Maggiore Renzo Bocconi (74a Squadriglia), Sergente Marzocca (74a Squadriglia) and Sergente Emilio Stefani (74a Squadriglia).
They arrived over the target at 13:00 and attacked under heavy AA-fire. They claimed to have hit fifteen "Curtis" fighters and four old bombers that lay on the sides of the airstrip, in particular Capitano Bobba claimed hits on three aircraft as did Sottotenente Tessera while Sergente Sala claimed to have hit two aircraft on the ground (it seems that at least three D.520s were destroyed when Dewoitine D.520 nos. 257, 294 and 304 of GC III/6 went up in flames).
During the strafing a number of French fighters identified as "four or five Morrane" or alternatively "Dewoitine" engaged the strafing Fiats. Capitano Filippi (MM4361), was shot down by Adjutant Pierre Le Gloan of GC III/6. Filippi baled out and was captured. Maresciallo Pasquetti claimed a "Morane" but was also hit, wounded (reportedly by AA fire but possibly by Le Gloan) and returned to Cervere despite large problems. He was later decorated with the Medaglia d'argento al valor militare in the field for this mission. Tenente Rigatti's and Sottotenente Malvezzi's fighters were also damaged (reportedly by AA). Among the pilots of the covering patrol, Sergente Stefani claimed a "Morrane", Tenente Benedetti a probable "Morrane" and Sergente Marzocca a damaged "Morrane". The pilots of the 70a Squadriglia reported an indecisive engagement with no losses caused or suffered and finally Tenente Viale had his fighter seriously damaged by an explosive bullet that hit the junction between the lower wing and the fuselage. Back at base the plane was declared RD (Riparabile in Ditta - Repairable but only in the manufacturer's workshop) and sent to the Aeritalia-Fiat workshops in Turin.
The pilots of the 23o Gruppo observed that despite hits on aircraft on the ground they hadn't burnt. This was found to have been caused by a defective batch of incendiary ammunition.
The formation from the 150o Gruppo departed from Villanova D'Albenga (in Liguria near the sea) at 12:00 and was composed of 27 Fiat CR.42s divided in three groups. Their target was the airfield of Cuers Pierrefeu and they arrived there at 13:00. A first group of eight aircraft commanded by Capitano Giorgio Graffer (CO of the 365a Squadriglia) and composed of Tenente Franco Gatti, Sottotenente Lorenzo Clerici, Maresciallo Felice Sozzi, Maresciallo Virginio Bodini, Sergente Maggiore Guido Fibbia, Sergente Maggiore Felice Squassoni and Sergente Bruno Zotti (all from the 365a Squadriglia) attacked the airfield of Cuers itself. A second group of nine fighters from the 363a Squadriglia led by the Gruppo CO Tenente Colonnello Rolando Pratelli (Capitano Luigi Mariotti (Squadriglia CO), Tenente Pietro Garfagnoli, Sottotenente Mario Daverio, Maresciallo Giuseppe Salvadori, Sergente Maggiore Natale Viola, Sergente Maggiore Bruno Benassi, Sergente Paolo Rossi, Sergente Antonio Lazzari) and a third group of eight aircraft from the 364a Squadriglia under command of the 53o Stormo commander Colonnello Arrigo Tessari (Capitano Nicola Magaldi (Squadriglia CO), Capitano Nino Caselli, Tenente Giuseppe Enrico Zuffi, Tenente Alberto Spigaglia, Maresciallo Delfino Fratini, Maresciallo Ugo Guidi, Sergente Maggiore Virgilio Pongiluppi, Sergente Giovanni Negri and Sergente Achille Pacini) covered Graffer and his men during the strafing attack.
The covering group led by Colonnello Tessari engaged six French fighters, while Graffer's group, after four or five strafing passes enter combat against "Morane fighters" while regaining height. All in all four Morane were claimed shot down (all Bloch 151s from AC 3 and confirmed with French records) and 15 Moranes were claimed on ground (in fact at least six Vought 156s of AB 3 were destroyed). The victories were credited as "shared" to all the pilots of the Gruppo.
The aircraft of Capitano Nino Caselli (MM5579) and Tenente Zuffi of the 364a Squadriglia (MM5590) were lost. Caselli's Fiat was shot down by French fighters and he was killed, while Zuffi landed on Cuers Pierrefeu undamaged due to a breakdown of the throttle. Zuffi was taken prisoner and his undamaged fighter was taken by the French (the only aircraft captured by the Aéronautique Navale), which in the following days painted it with French colours and duly photographed this trophy with pilots posing near it. After the war the Italians had to do great efforts with the Vichy Authorities to finally have back the fighter in August. Additionally the Fiats of Graffer and Clerici were damaged by French fighters during the dogfight.
Finally, 15 Fiat CR.42s the 18o Gruppo took off from Villanova D'Albenga immediately after the 150o Gruppo. They patrolled along the direction of Cuers Pierrefeu - Cannet des Maures - Hyères (the latter an airfield 13 km east of Toulon) to prevent any interference from the French fighter force. Led by the 18o Gruppo's CO Maggiore Ferruccio Vosilla the formation was composed by Capitano Giulio Anelli (CO of the 85a Squadriglia), Tenente Giulio Cesare Giuntella and Sergente Maggiore Giuseppe Ruzzin of the 85a Squadriglia, Capitano Gino Lodi (CO of 95a Squadriglia), Sottotenente Eugenio Salvi, Maresciallo Felice Longhi, Maresciallo Giovanni Ferrari and Sergente Maggiore Giacomo Grillo of the 95a Squadriglia (Vosilla flew with Salvi and Longhi as wingmen) and finally the 3o Stormo Commander Colonnello Fortunato Rolando in a 83a Squadriglia fighter with Maresciallo Francesco Colombo and Sergente Maggiore Evdo Formentini as wingmen together with Capitano Edoardo Molinari (CO of 83a Squadriglia), Sottotenente Carlo Lolli and Maresciallo Gaetano Bortolini.
At a height of 5500 meters over Beau Champ they were intercepted by enemy fighters, which suddenly appeared from a cloud bank. They were identified as "Morane 406 plus another type not sure" and in the ensuing combat three of them were claimed shot down plus four others hit without being able of ascertain the damage inflicted (these claims can't be verified with French sources). It seems that no individual credit was given for these victories that went as shared to all the fifteen pilots participating in the mission. During the combat, two aircraft of the 83a Squadriglia were lost when Sergente Maggiore Formentini (MM4449) and Maresciallo Colombo (MM4366) both were shot down and killed (both were probably shot down by Le Gloan and Assolant of GC III/6, which had attacked the "vic" of the Stormo commander). All the fighters of the 85a Squadriglia suffered gun-jams and were forced to flee, Capitano Anelli, in particular, had to escaped into clouds to get away from enemy fighters, got lost and was obliged to force-land at Dorniella near Grosseto in Tuscany where his plane (MM4372) broke the landing gear and was heavily damaged (RD). Finally Maresciallo Gaetano Bortolini's Fiat was hit by a cannon shell that opened a hole of 60 centimetres in the upper wing. Later during the day two more fighters were heavily damaged (RD) on landing back in Villanova D'Albenga returning from scrambles because of the bad conditions of the ground flooded by heavy rain but this was not connected with the above described combat.
The French reported that in the early hours of 15 June bad wheatear halted flight activities, then, at mid morning, it cleared up. At 10:00, a patrouille composed by Adjutant Diaz, Sergent Pimont and Sous-Lieutenant Stage took-off to cover the reconnaissance mission of a Potez 63. The mission was completed successfully.
At 11:40, the fighter control centre of Toulon signalled big formations of heavy fighters and bombers passing the border and heading south-west. Five minutes later a patrouille simple (three planes group) of Dewoitine D.520s (Adjutant Pierre Le Gloan, Capitaine Jacobi and Capitaine Assolant) of the 5th escadrille of groupe de chasse III/6 (GC III/6) took-off.
The patrouille made for Saint Raphael (on the coast, near the Italian border), where a group of fifteen enemy planes was signalled. Four minutes later (11:49), a second patrouille simple (Capitaine Guerrier, Adjutant Japiot, Sous-Lietuenant Capdeviolle), this time of the 6th escadrille, took off to help the first. However, it took off to late and didn't participate in the combat.
After arriving over Saint Raphael, the patrouille of Le Gloan received by radio the order of going over Saint Tropez (around 30km south-west). At the same time, Capitaine Jacobi was forced to turn back with engine problems.
Le Gloan saw a formation of twelve Fiat CR.42s in the direction of Saint Tropez heading south-west. He reached them rapidly and attacked at 12:00. In a brief combat, Le Gloan and Assolant claimed two shared aircraft shot down. These were the last two aircraft of the Italian formation and one of the Italian fighters (Maresciallo Colombo of the 83a Squadriglia) was seen to go down in flames near Beauvallon (4km south of Grimaud) while the other went down in flames near Ramatuelle; the pilot was seen to bale out (probably Sergente Maggiore Evdo Formentini of the 83a Squadriglia).
At this moment the two pilots of the patrouille was split up. Le Gloan turned over Saint-Tropez and lost contact with the enemy while Capitaine Assolant attacked a third Italian fighter (perhaps Maresciallo Bortolini of the 83a Squadriglia), but his guns ceased to fire and he had to disengage coming back to Le Cannet des Maures.
Adjutant Le Gloan in the meantime, saw anti-aircraft fire in the direction of Hyères airfield (being over Saint Tropez this direction is quite close to the direction of Toulon-Cuers Pierrefeu that was under attack at that moment). Le Gloan flew in that direction and discovered a group of three Fiat CR.42s heading east. He attacked the right hand Fiat of the group and saw that after the first burst of fire it went down near Saint-Amèe, in the bay of Pampalonne. This claim is not confirmed with Italian records but perhaps claimed in combat with an aircraft from 150o Gruppo returning from the attack on Cuers or alternatively against stragglers of the 18o Gruppo formation. He was then attacked by eight Italian fighters and he disengaged by diving away.
At the same time (around 12:15), he received by radio the order of coming back to Le Cannet des Maures which was under attack. He obeyed immediately, arriving over his airfield while the Italians were strafing it. He dived on a couple of fighters and with a single burst of cannon fire he shot down one of them (Capitano Filippi). This plane went down near the farm of the Thermes, just 1km from the airfield of Le Cannet. Continuing his patrol Le Gloan saw a Fiat BR.20 bomber flying a reconnaissance mission over Le Cannet des Maures, probably with the aim of checking the damage inflicted to the airfield. Le Gloan attacked it and, even with no more cannon ammunitions left, shot it down with five passes of his remaining four guns. The bomber fell down near the farm of the Moulin Rouge. This was Fiat BR.20 MM21873 of the 172a Squadriglia Ricognizione Strategica, which in fact went down over Le Luc. Two of the crew were killed; Aviere scelto motorista Giovanni Bonanno and Aviere scelto fotografo Egisto Di Croce. The rest of the crew were taken POWs; Maggiore Mario Salvadori (an intelligence Officer from the Air force HQ aboard as a passenger), Capitano Giorgio Parodi (the Squadriglia's CO) and Aviere scelto armiere Attilio Imparato. Bonanno was posthumously decorated with the Medaglia d'Oro al valor militare for this action because he helped his commander, who was wounded, to jump out of the falling plane, but after that he was unable to jump himself and died in the subsequent crash.
At Cuers Pierrefeu (attacked by the 150o Gruppo), the French reported that the Italian fighters attacked the parked Voughts of AB 3 and destroyed six of them. A section of three fighters of AC 3 had taken took off just minutes before the Italian attack. It was commanded by the Enseigne de Vaisseau Carmeille and included Second-Maitres Saint Vanne and Heff. The section had to patrol between Le Luc en Provence and St Raphael. Near the first locality it became involved in combat with 15 Italian fighters (possibly the 18o Gruppo). The section didn't claim anything and didn't suffer any losses even if, later, it was credited with two shared Italian fighters shot down. After this combat, the three pilots went on patrolling over Toulon.
Two other sections of AC 3 took off while the Italians arrived over Cuers. The section commanded by the Lieutenant de Vaisseau Ziegler (CO AC 3) was composed by the Second-Maitres Miramont and Briet. Gaining altitude over Cuers the section was attacked by the Italian fighters. Ziegler had his Bloch 151 (numbered AC3.1, serial number 77) seriously damaged and wounded, he was forced to crash-land at base with his left landing gear cut in half. Briet was rapidly in difficulties under the attack of the numerically superior Italians, with the ailerons damaged and the reservoir holed he disengaged, rejoining the first section over Toulon. Miramont engaged combat north-east of the airfield, over the hills of Hyères. His Bloch 151 (numbered AC3.3, serial number 69) was seriously damaged, but in the heat of the fight, he found himself 50 meters behind a Fiat CR.42 (Capitano Nino Caselli) and with a single burst of his four MAC guns he shot it down. Miramont was not able to continue the fight after this and had to land at Hyères.
The third section of AC 3 suffered worst. It was commanded by the Adjutant Chef Hourcade (a pilot of the Armée de l'Air attached to the Aéronautique Navale since 1939) (Bloch 151 AC3.15 serial 51) and included Soulimont (Bloch 151 AC3.8 serial 348) and Second-Maitre Le Bihan (Bloch 151 AC3.9 serial 37). A few second after the take-off, Hourcade was shot down and killed by the marauding Fiats; Soulimont engaged the Italians but was immediately put out of action and obliged to force-land with his aircraft riddled with bullets. Le Bihan received a burst of fire in the engine and five minutes after took-off had to land in the narrow of Rocbaron. Unfortunately, his plane hit a tree and burst into flames hitting the ground. He succeeded in extricate himself from the burning wreck, but died five hours later at the hospital. Some time later Le Bihan was credited with an aerial victory obtained by collision, but looking in the initial reports of this combat there is no trace of this victory.
It is interesting to note that all of Le Gloan's claims were homologated by the CO of the Zone D'Opérations Aériennes Alpes (ZOAA). ("L'homologation" was the definitive confirmation of an aerial victory corroborated by evidences, was a recognition quite difficult to obtain in the French Air Force). The victories were credited as follows:
Fiat CR.42 individual, Ramatuelle.
Fiat CR.42 shared with Assolant, Saint-Amé bay of Pampelonne.
Fiat CR.42 individual, Beauvallon.
Fiat CR.42 individual , ferme des Termes near Le Luc.
Fiat BR.20, ferme du Moulin-Rouge near Vidauban.
That is not in complete accordance with the reconstruction above. It is also interesting to note that the victories claimed by AC 3 were apparently not homologated.
In July 1940 the 23o Gruppo moved to Sicily and took part in the attacks on Malta.
On 9 July the 23o Gruppo became Autonomo and the first escort missions over Malta was flown on 12 July.
On 28 November, the British ships of Operation MB 9 arrived off Malta and this brought a response from the Regia Aeronautica.
The first recorded mission was a visual reconnaissance carried out by two SM 79s of 34o Stormo in the Sicilian narrows.
Later during the morning, eight CR.42s of 23o Gruppo took off to reconnoitre the harbours of Malta in search of the British ships. Sergente Maggiore Arnaldo Sala of 74a Squadriglia was hit by AA when over the island and he tried to nurse home his damaged fighter, finally falling over open sea, 40 kilometres from Sicily. He and his plane were never found. Italian sources are quite clear in excluding any involvement of enemy fighters in the action but it is however possible that two machines of 261 Squadron were present, directed by the radar against a group of CR.42s that they attacked at 09:30. The reconnaissance however revealed the presence of enemy ships in harbour and consequently offensive missions were planned.
Six Ju 87Rs of the 97o Gruppo B.a'T. (a unit which had recently replaced the 96o Gruppo in Sicily) (four crews from the 238a Squadriglia and two from the 239a Squadriglia, among them Giuseppe Cenni) headed out towards Malta and the ships. The dive-bombers were covered by sixteen CR.42s of the 23o Gruppo under the command of the units Commander Maggiore Tito Falconi.
The Stukas attacked a Royal Navy formation off Malta, reporting that they were intercepted by Hurricanes, which were immediately counterattacked and dispersed by the escort and that while the first "kette" didn't obtain hits the second probably hit the enemy's ships. In fact, they had attacked the cruiser HMS Glasgow without success and were all back home without losses at 12:55.
The intercepting "Hurricanes" were in fact a group of six Fulmars from the HMs Illustrious' squadrons, three planes from 805 Squadron and three from 806 Squadron. The two Fulmar sections attacked but the operational inexperienced 805 Squadron trio were unable to make contact. Even though the leader Sub Lieutenant R. F. Bryant expended some 3200 rounds in four bursts, he found the Fiats far too manoeuvrable to gain any hits. His observer, Lieutenant John Shuttleworth, recalls:
"During the engagement I fired 'smoke puffs' from the rear cockpit whenever CR.42s got on our tail…I certainly saw one if not two parachutes floating down."
In the meantime, the more experienced 806 Squadron's trio was fighting the CR.42s more successfully. Sub Lieutenant Stanley Orr (N1884) claimed one CR.42 while Sub Lieutenant G. R. Golden and Sub Lieutenant W. H. Clisby claimed damage to two more. Clisby's Fulmar (N1935) was hit in the fight, his TAG, Leading Aircraftman H. Phillips being wounded in the leg, hand and face by an explosive bullet, although not seriously hurt.
The CR.42s claimed four Hurricanes shot down, two confirmed and two probables. Six pilots of the 70a Squadriglia claimed the former jointly, while the other was claimed by Sergente Maggiore Marzocca of the 74a Squadriglia, the two probables being credited to Capitano Guido Bobba and Tenente Lorenzo Lorenzoni of this unit. The Fiats returned without losses.

Early afternoon nine SM 79s from the 30o Stormo attacked the British ships, this time escorted by twelve CR.42s of the 23o Gruppo, again under the command Tito Falconi while ten MC.200s of the 6o Gruppo made a sweep in the same area. For once Malta's Hurricanes were up in time and were able to dive from 5,000 feet above through the Italian fighter escort on to the bombers of which one was shoot down (by Sergeant Robertson) and another damaged. It is also believed that Flight Lieutenant John Greenhalgh claimed a CR.42 shoot down during this combat, while two more were claimed damaged by other 261 Squadron pilots, though possibly the first claim related to Sergente Maggiore Arnaldo Sala's aircraft on the earlier sortie. On this occasion only one Hurricane was claimed shot down by the 23o Gruppo, Sergente Maggiore Marzocca of the 74a Squadriglia making the claim, while a second was claimed by the gunners of the 30o Stormo's bombers. Two more Hurricanes were claimed as 'probables' by the pilots of the 23o Gruppo jointly. It seems that no British fighters were actually lost or damaged on this occasion. The 23o Gruppo suffered no losses in this occasion while the 30o Stormo lost the plane of Sottotenente Gaio Del Cerro (crew: Sergente Giovanni Lazzari, Primo Aviere Motorista Vasco Ventura, Primo Aviere Marconista Italo De Rui, Aviere Scelto Armiere Luigi Conti, Aviere Scelto Armiere Ovidio Venanzi – the body of Venanzi was found later and buried in St. Andrew's Cemetery), clearly the victim of Robertson, and another plane was obliged to force-land on the volcanic island of Linosa (and presumably written off after landing).

On 16 December 1940, the 23o Gruppo (previously part of 3o Stormo but now Autonomo) with 20 Fiat CR.42s (70a, 74a and 75a Squadriglie) and three hack Caproni Ca.133s arrived in Tripoli to help trying steam Operation Compass, which was mauling the Italian forces. The Gruppo had experienced brief (and quite unlucky) action at the beginning of the war against France, and then it had moved to Sicily where they had seen extensive action against Malta.
They were led by their CO, Maggiore Tito Falconi (a famous aerobatic pilot that had held the world record in inverted flight going in a Caproni 113 biplane racer from St. Louis to Chicago in 1933 and a veteran of the Abyssinian Campaign where he had gained some ground victories and of the Spanish Civil War where he had claimed many (mostly shared) aerial victories) in a 70a Squadriglia fighter.
Pilots in the 70a Squadriglia were Tenente Claudio Solaro (acting CO), Tenente Gino Battaggion, Sottotenente Oscar Abello, Sergente Ubaldo Marziali, Sergente Balilla Albani, Sergente Maggiore Celso Zemella and Sergente Cesare Sironi.
Pilots in the 74a Squadriglia were Capitano Guido Bobba (CO and already credited with one over Spain and three individual and a probable Hurricanes over Malta, which made him one of the top scoring Italian pilots up to that moment), Tenente Mario Pinna, Sottotenente Sante Schiroli, Sergente Maggiore Marzocca, Sergente Emilio Stefani, Sergente Giuseppe Sanguettoli and Sergente Manlio Tarantino.
Pilots in the 75a Squadriglia were Tenente Pietro Calistri (CO), Tenente Ezio Maria Monti, Sottotenente Giuseppe De Angelis, Sottotenente Renato Villa, Maresciallo Giovanni Carmello and Maresciallo Carlo Dentis.
The pilots in the Ca.133s were Tenente Marino Commissoli, Sergente Pardino Pardini (70a Squadriglia), Tenente Lorenzo Lorenzoni (74a Squadriglia), Tenente Milano Pausi, Sottotenente Leopoldo Marangoni (brother in law of Maggiore Carlo Romagnoli) and Sergente Leo Mannucci (75a Squadriglia)).
The Gruppo landed at Tripoli-Castel Benito at 17:15. Celso Zemella's fighter was left behind at Pantelleria after an engine breakdown.

On 19 December, the 23o Gruppo moved to Z1 landing ground at Ain el Gazala.

At 15:00 on 3 January 1941, Maggiore Tito Falconi led four CR.42s of the 70a Squadriglia (Tenente Claudio Solaro, Tenente Gino Battaggion, Sergente Maggiore Balilla Albani and Sergente Cesare Sironi), five of the 74a Squadriglia (Tenente Mario Pinna, Tenente Lorenzo Lorenzoni, Sottotenente Sante Schiroli, Sergente Maggiore Marzocca and Sergente Giuseppe Sanguettoli) and seven of the 75a Squadriglia (Tenente Pietro Calistri, Tenente Ezio Maria Monti, Sottotenente Giuseppe De Angelis, Sottotenente Renato Villa, Maresciallo Giovanni Carmello, Maresciallo Luigi Pasquetti and Sergente Leo Mannucci) in an escort mission for SM 79s attacking mechanized vehicles around Bardia. Fighters from the 10o Gruppo were also present including Sottotenente Bruno Devoto, Sergente Mario Veronesi, Sergente Piero Buttazzi and Sergente Luciano Perdoni of the 84a Squadriglia and Sottotenente Neri De Benedetti, Sottotenente Orlando Mandolini, Sergente Luigi Contarini and Sergente Alfredo Sclavo of the 90a Squadriglia. Hurricanes were intercepted and two of them were claimed damaged by the 70a Squadriglia's pilots. During the return journey, the CR.42s went down to strafe, claiming three armoured vehicles.
They landed back at 17:20.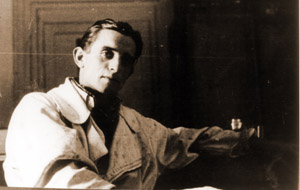 Image kindly provided by Fabio Marzocca.
After the Italy surrendered to the Allies on 8 September 1943 he joined the Italiana Aeronautica Nazionale Repubblicana (ANR) and Io Gruppo Caccia.
In November 1944 Italian pilots were training on Bf 109s. During this time Maggiore Adriano Visconti was contacted by the OKL, which proposed the training of a group of Italian pilots on the Me 163 Komet in preparation for the probable allocation of this rocket-powered interceptor to the Italians. This was an irresistible offer and Visconti asked for volunteers. Only single men were allowed since the training was so hazardous and seventeen pilots were chosen.
The pilots involved were: Capitano Giuseppe Robetto, Tenente Gian Mario Zuccarini, Tenente Lucio Stramese, Tenente Giuseppe Biron, Sottotenente Aurelio Morandi, Sottotenente Raffaele Marzocca, Sottotenente Franco Storchi, Sottotenente Roberto Di Lollo, Maresciallo Luigi Jellici, Maresciallo Silvio Girolami, Maresciallo Danilo Billi, Maresciallo Romano Spazzoli, Sergente Maggiore Gino Pizzati, Sergente Maggiore Mario Veronesi, Sergente Maggiore Giampiero Svanini, Sergente Maggiore Isonzo Baccarini and Sergente Dante Toselli.
Under the command of Capitano Giuseppe Robetto, Second-in-Command of Io Gruppo Caccia, they transferred during early December to Rangsdorf (Berlin) where they were to train on gliders between 5 to 30 December. The gliders used were the two-seater Kranich, the single-seater Grunau and the Habicht 14, 8 and 6 (the number indicates the wing-span in meters). The Habicht 6 was similar in handling to the Me163 during un-powered flight.
After almost three hours of gliding, the Italians were transferred from Rangsdorf to Liegnitz were they finally saw the Komet for the first time. However bad weather and the Russian advance didn't allow any of the Italian pilots to ever fly the Me163 and the pilots returned to Italy at the beginning of February 1945.
Marzocca ended the war with 2 biplane victories.
He continued to serve in the Air Force after the war.
In the 1960s he founded he Carabinieri Air Service (helicopters).
After his retirement from the Italian Air Force in 1979, he became the founder and President of CAI (Compagnia Aeronautica Italiana) - a general aviation company, with a fleet of Falcon aircraft, which provides flights for the Italian government.
Marzocca past away in Rome on 14 May 1997.
Claims:

| | | | | | | | | | |
| --- | --- | --- | --- | --- | --- | --- | --- | --- | --- |
| Kill no. | Date | Time | Number | Type | Result | Plane type | Serial no. | Locality | Unit |
| | 1940 | | | | | | | | |
| | 15/06/40 | 13:00- | 1 | "Morane" (a) | Damaged | Fiat CR.42 | | Le Cannet Des Maures area | 74a Squadriglia |
| 1 | 28/11/40 | a.m. | 1 | Hurricane (b) | Destroyed | Fiat CR.42 | | Malta | 74a Squadriglia |
| 2 | 28/11/40 | p.m. | 1 | Hurricane (c) | Destroyed | Fiat CR.42 | | Malta | 74a Squadriglia |
Biplane victories: 2 destroyed, 1 damaged.
TOTAL: 2 destroyed, 1 damaged.
(a) Probably claimed in combat with Dewoitine D.520s from the GC III/6, which didn't suffer any losses.
(b) Claimed in combat with Fulmars from 806 Squadron, which claimed 1 CR.42 and two more damaged while suffering one damaged Fulmar. The Regia Aeronautica claimed two destroyed and two probables without losses.
(c) It seems that no British fighters were actually lost or damaged on this occasion.

Sources:
Air War Italy 1944-45 - Nick Beale, Ferdinando D'Amico and Gabriele Valentini, 1996 Airlife Publishing, Shrewbury, ISBN 1-85310-252-0
Desert Prelude: Early clashes June-November 1940 - Håkan Gustavsson and Ludovico Slongo, 2010 MMP books, ISBN 978-83-89450-52-4
Desert Prelude: Operation Compass - Håkan Gustavsson and Ludovico Slongo, 2011 MMP books, ISBN 978-83-61421-18-4
Elenco Nominativo dei Militari dell' A. M. Decorati al V. M. Durante it Periodo 1929 - 1945 2 Volume M - Z
L'Aéronautique navale francaise de septembre 1939 à juin 1940 (Hors série Avions nr.1) - Lucien Morareau, January 1994 Le La Presse, Boulogne sur Mer, kindly provided by Ludovico Slongo
La campagne de France, les combars franco-italiens 10 juin-25 juin (Batailles Aeriennes nr. 11) - Matthieu Comas, January 2000 Le La Presse, Boulogne sur Mer, kindly provided by Ludovico Slongo
Malta: The Hurricane Years 1940-41 - Christopher Shores and Brian Cull with Nicola Malizia, 1987 Grub Street, London, ISBN 0-89747-207-1
The Messerschmitt 109 in Italian service 1943-1945 - Ferdinando D'Amico and Gabriele Valentini, 1989 Monogram Aviation Publication kindly provided by Jean Michel Cala
Additional information kindly provided by Fabio Marzocca and Ludovico Slongo.




Last modified 24 November 2022