Biplane fighter aces

Italy

Sottotenente Dario Magnabosco
12 July 1914 – 14 August 1941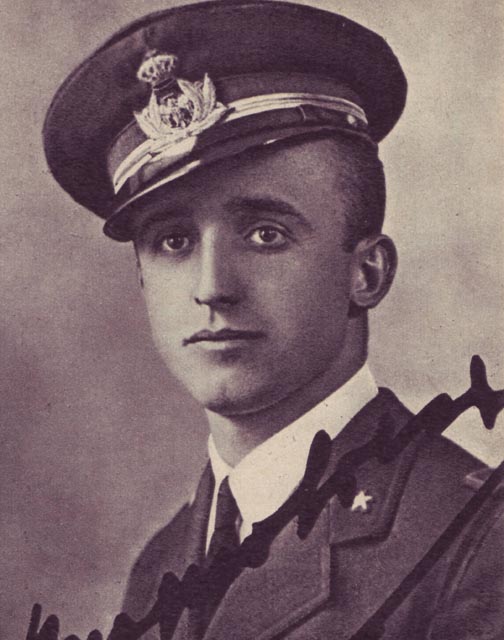 Image from Ali di Guerra 1941.
Decorations

| | | |
| --- | --- | --- |
| Date | Decoration | Note |
| ??/??/41 | Medaglia d'argento al valor militare | 1940-43 |
Dario Magnabosco was born on 12 July 1914 in Roana.
The 13o Gruppo (77a, 78a and 82a Squadriglie) of the 2o Stormo C.T. was commanded by Maggiore Secondo Revetria and started the war based at Tripoli Castelbenito airfield with twenty-five CR.42s and eleven CR.32s on hand (the CR.32s, kept as a reserve, were later passed on to the 50o Stormo Assalto) to guard against a possible French attach from the west.
Pilots in the 78a Squadriglia were: Capitano Giuseppe Dall'Aglio (CO), Tenente Ippolito Lalatta, Tenente Domenico Bevilacqua, Tenente Giovanni Beduz, Sottotenente Natale Cima, Sottotenente Italo Santavacca, Sottotenente Magnabosco, Sergente Maggiore Giuseppe Frigo, Sergente Maggiore Salvatore Mechelli, Sergente Rovero Abbarchi, Sergente Cassio Poggi, Sergente Ernesto Taddia, Sergente Vito Rinaldi, Sergente Marcello Della Rovere and Sergente Aldo Loioli.
At 16:10 on 9 December, three CR.42s from the 77a Squadriglia (Tenente Giulio Torresi, Sottotenente Gianmario Zuccarini and Tenente Eduardo Sorvillo) together with six more from the 78a Squadriglia (Capitano Giuseppe Dall'Aglio, Sottotenente Magnabosco, Sergente Ernesto Taddia, Tenente Giovanni Beduz, Sottotenente Natale Cima and Sottotenente Canneppele) took off to strafe enemy armoured vehicles on the road between Sidi El Barrani and Bir Enba. The attack was done under heavy AA fire and lasted 30 minutes. The attackers used 3000 rounds of ammunition and reportedly caused heavy damage.
Sorvillo was back at Gambut at 17:45 together with the 78a Squadriglia, while Torresi and Zuccarini landed at Menastir because of the growing darkness.

On 17 December, five SM 79 of the 15o Stormo under Tenente Medun took off from Z1 at 09:15 and attacked enemy ships that were bombarding Bardia, with 45 100kg bombs. Gladiators intercepted the Savoias and one of them was reputed shot down. They landed at 11:10.
Their assailants were without doubt Gladiators from 112 Squadron, the unit's ORB reported an offensive morning patrol by Squadron Leader Harry Brown, Flight Lieutenant R. J. Abrahams, Flight Lieutenant John Scoular, Flying Officer R. J. Bennett, Flying Officer Oliver Green, Flying Officer R. B. Whittington and Sergeant E. N. Woodward. The sketchy reconstructed ORB, however, lacks details of the engagement.
The SM 79s were escorted by 13 CR.42s of the 9o Gruppo; three from the 97a Squadriglia (Capitano Antonio Larsimont Pergameni, Tenente Ezio Viglione Borghese and Sergente Maggiore Raffaele Novelli), four from the 73a Squadriglia (Tenente Valerio De Campo, Tenente Pietro Bonfatti, Tenente Giulio Reiner and Sergente Mario Guerci) and six from the 96a Squadriglia, which had taken off at 09:45. With them were two fighters from the 78a Squadriglia (Sottotenente Natale Cima and Sottotenente Magnabosco) on the last mission of the campaign by the 2o Stormo.
The CR.42s didn't notice the Gladiators but over Sollum, the 73a and the 78a Squadriglie entered combat with British monoplane fighters. Reiner and Bonfatti shared a Hurricane, which burned after crashing into the ground, and claimed another shared probable, which was seen returning home leaving a long smoke trail; two more were damaged by De Campo and Guerci. Meanwhile, Magnabosco and Cima were attacked by enemy fighters. Magnabosco claimed one Hurricane shot down with the use of 100 rounds of ammunition while Cima failed to return. The 9o Gruppo's pilots landed at 11:45 and according with his unit's documents Magnabosco landed at 11:30. Although not mentioned by the Squadriglia Diary, it seems that Magnabosco's fighter was damaged (probably during this specific combat) and he was obliged to crash-land behind the British lines. In fact, the motivation for the Medaglia d'argento al valor militare he was awarded with for his overall activity during December states: "In a violent dogfight against numerically superior enemy fighters, he shared in the shooting down of four monoplanes confirmed and two probables [most probably the combat on 14 December]. In another combat against monoplanes, although with his plane hit by enemy fire, he was able to shot down his adversary. Obliged to land behind enemy lines, he destroyed his plane after having removed the most precious instruments and regained our troops on foot (…)"
The identity of their opponents is not completely clear but it is known that during the day 33 Squadron was busy ground strafing the Bardia-Tobruk road and during these missions, one CR.42s was claimed in flames with one probable. Eight Hurricanes of 274 Squadron took off in the morning, starting at 06:16 to patrol the line between Bardia and Gambut. The engine of Pilot Officer Wilson's Hurricane (P3720; the fighter usually allocated to the famous 'Imshi' Mason) caught fire and his mission of was suspended before takeoff, while N2627 failed to return, with Pilot Officer Strong force landing 30 miles west of Matruh. All the other pilots came back without seeing enemy aircraft. It is however possible that Strong was involved in the combat against the 9o and the 13o Gruppi.

Magnabosco was later transferred to 394a Squadriglia, 160o Gruppo CT.

On 10 August 1941, the 160o Gruppo (375a, 393a and 394a Squadriglie) arrived at Tamet, Libya, with CR.42s to replace 18o Gruppo (which returned to Italy).

On 14 August, Sottotenente Magnabosco was killed when he crashed with CR.42 MM7541 when undertaking an engine test at Got Bersis.

At the time of his death, Magnabosco was credited with 1 biplane victory.

Claims:

| | | | | | | | | | |
| --- | --- | --- | --- | --- | --- | --- | --- | --- | --- |
| Kill no. | Date | Time | Number | Type | Result | Plane type | Serial no. | Locality | Unit |
| | 1940 | | | | | | | | |
| 1 | 17/12/40 | 09:45-11:30 | 1 | Hurricane (a) | Destroyed | Fiat CR.42 | | Sollum area | 78a Squadriglia |
Biplane victories: 1 destroyed.
TOTAL: 1 destroyed.
(a) Possibly claimed in combat with Hurricanes from 33 or 274 Squadron, which claimed one CR.42 and another probable while one Hurricane force-landed. The Italian fighters claimed two Hurricanes, one probable and two damaged while losing one CR.42 and getting a second damaged.

Sources:
3o Stormo, storia fotografica - Dai biplani agli aviogetti - Carlo Lucchini and Leproni Enrico, 1990 Gino Rossato Editore
9o Stormo da Bombardamento Terrestre (1934-1943) - Giovanni Tonicchi, 1997, Tarquinia kindly provided by Stefano Lazzaro
A History of the Mediterranean Air War 1940-1945: Volume One – Christopher Shores and Giovanni Massimello with Russell Guest, 2012 Grub Street, London, ISBN 978-1908117076
Buscaglia e gli Aerosiluranti - Orazio Giuffrida, 1994 Ufficio Storico Aeronautica Militare, Rome kindly provided by Stefano Lazzaro
Dai Biplani agli Aviogetti - Carlo Lucchini and Enrico Leproni, 1990 Gino Rossato Editore, Valdagno kindly provided by Stefano Lazzaro
Diario Storico 77a Squadriglia kindly provided by Ludovico Slongo
Diario Storico 78a Squadriglia kindly provided by Ludovico Slongo
Elenco Nominativo dei Militari dell' A. M. Decorati al V. M. Durante it Periodo 1929 - 1945 2 Volume M - Z
Ernesto Botto, Gamba di Ferro - Ferdinando Pedriali, Storia Militare no. 96 (IX), September 2001 kindly provided by Stefano Lazzaro
Fighters over the Desert - Christopher Shores and Hans Ring, 1969 Neville Spearman Limited, London
Gloster Gladiator - Alex Crawford, 2002 Mushroom Model Publications, ISBN 83-916327-0-9
GORIZIA ed il QUARTO STORMO
Hurricanes over Tobruk - Brian Cull with Don Minterne, 1999 Grub Street, London, ISBN 1-902304-11-X
Il 5o Stormo - Giuseppe Pesce and Nicola Malizia, 1984 STEM Mucchi, Modena kindly provided by Stefano Lazzaro
Il 23o Gruppo Caccia - Nicola Malizia, 1974 Bizzarri, Roma kindly provided by Stefano Lazzaro
Il 101o Gruppo Tuffatori - Giuseppe Pesce, 1975 STEM Mucchi, Modena kindly provided by Stefano Lazzaro
Il Fiat CR 42 l'ultimo biplano da caccia Italiano – Nicola Malizia, 2003 Editrice Innocenti, Grosseto, kindly provided by Ludovico Slongo
Il Walzer del 102o Gruppo - Giuseppe Pesce, 1976 STEM Mucchi, Modena, kindly provided by Stefano Lazzaro
Italian Aces of World War 2 - Giovanni Massimello and Giorgio Apostolo, 2000 Osprey Publishing, Oxford, ISBN 1-84176-078-1
La Regia Aeronautica - volume I: Dalla non belligeranza all'intervento – Nino Arena, 1981 USSMA, Rome kindly provided by Stefano Lazzaro
Ministero della Difesa
Quelli del Cavallino Rampante - Antonio Duma, 1981 Editore Dell'Ateneo, Roma, kindly provided by Stefano Lazzaro
Storia degli Aerosiluranti Italiani - Carlo Unia, 1974 Edizioni Bizzarri, Rome, kindly provided by Stefano Lazzaro
Stormi d'Italia - Giulio Lazzati, 1975 Mursia, Milan kindly provided by Stefano Lazzaro
The Desert Air War 1939 – 1945 – Richard Townshend Bickers, 1991 Leo Cooper, London, kindly provided by Ludovico Slongo
Woody - A Fighter Pilot's Album - Hugh A. Halliday, 1987 Canav Books, Toronto, ISBN 0-9690703-8-1
Additional information kindly provided by Stefano Lazzaro and Ludovico Slongo




Last modified 31 January 2023